I have a dog caught in a fly trap ~ oil is needed or peanutbutter!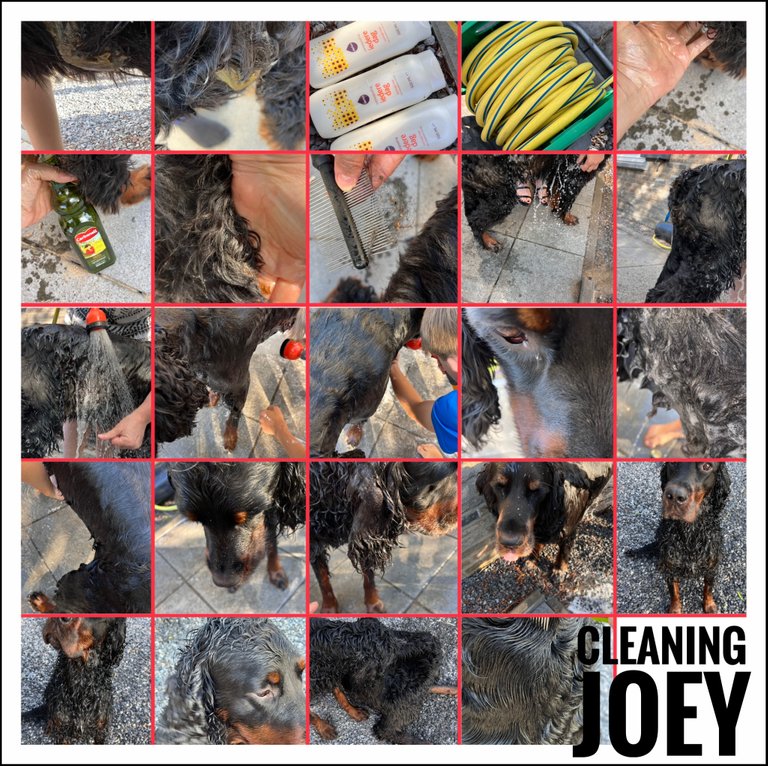 Out of the blue our dog Joey came running into the kitchen, reacting like he was stung by a bee. ( not like Amber Heard said during the court case against Johnny Depp, but while writing this, I had a laugh about the sentence )
Ofcourse we had to catch him by pulling him aside near the table. The fact that our hands glued to the fur, gave away what was happening right under our noses.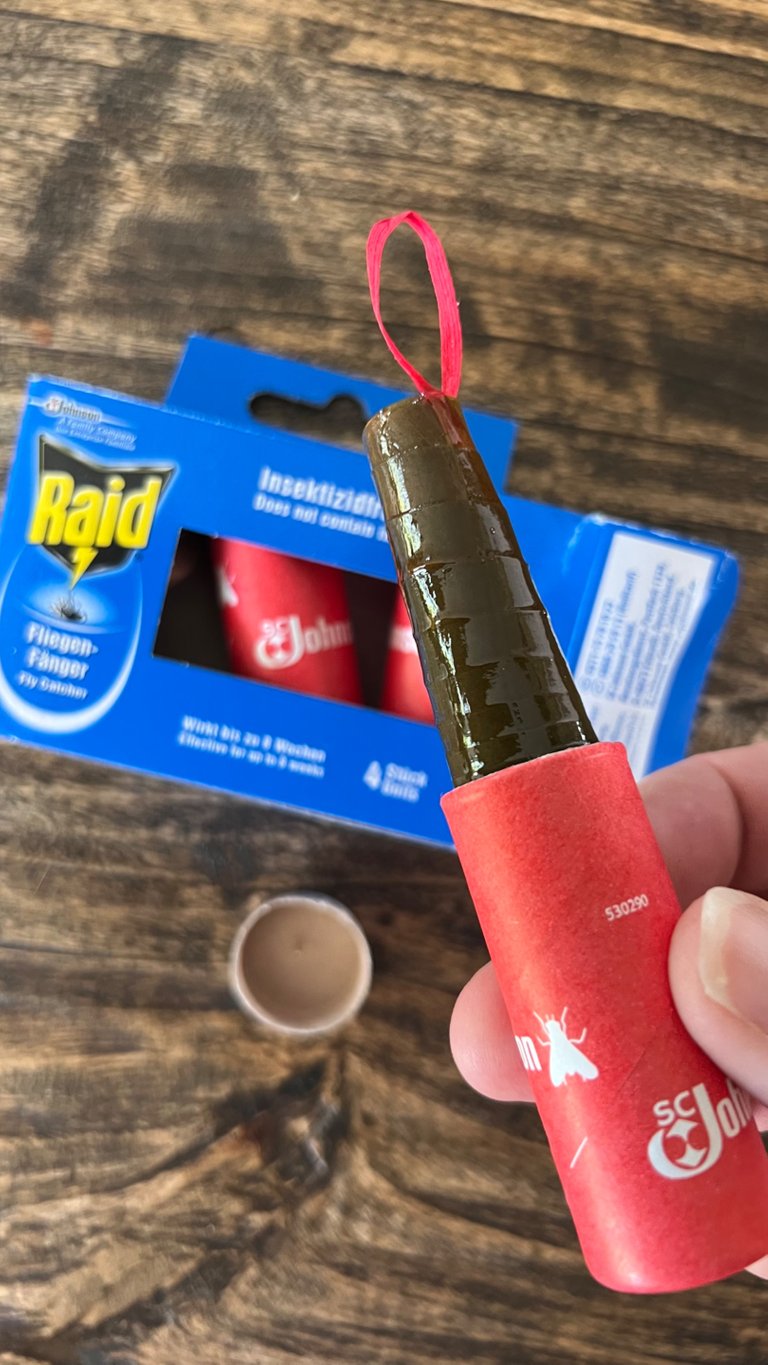 the reason for all the panic and stickeyness
Joey had the fly trap we had in the house in his fur! It was making him crazy and the fact that the strip is 1 meter long that gave me a scare aswell. Cutting with a scissors was not possible because the glue made the scissor not workable. For those of you reading who don't know what a fly trap is , it's a long paper with sticky glue on it to catch flies. It was completely tangled in his fur. Probably because it was on the floor , because it fell from the hook or he walked along side the fly trap and it glued to his fur, causing him to react and role on his back with the worst outcome.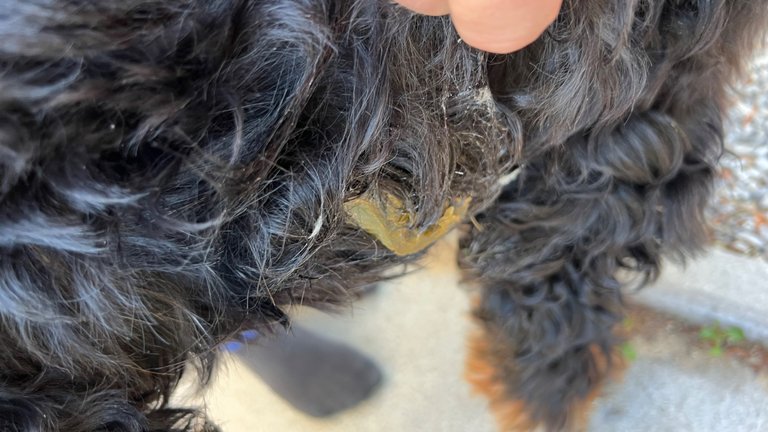 Here you see the yellow paper and the color of the glue in his fur on the side of his body. For those of you who don't know, we have two Gordon setter with a lot of black fur.

I tried everything and my mind was racing trying to come up with the solution. On the package there is nothing that says what to do when a trap is caught in hair. Pets of kids! I tried internet for a solution, and ofcourse mrs. Google had answers. Use oil, peanutbutter of detergent.
Here you see the strip all over his belly area.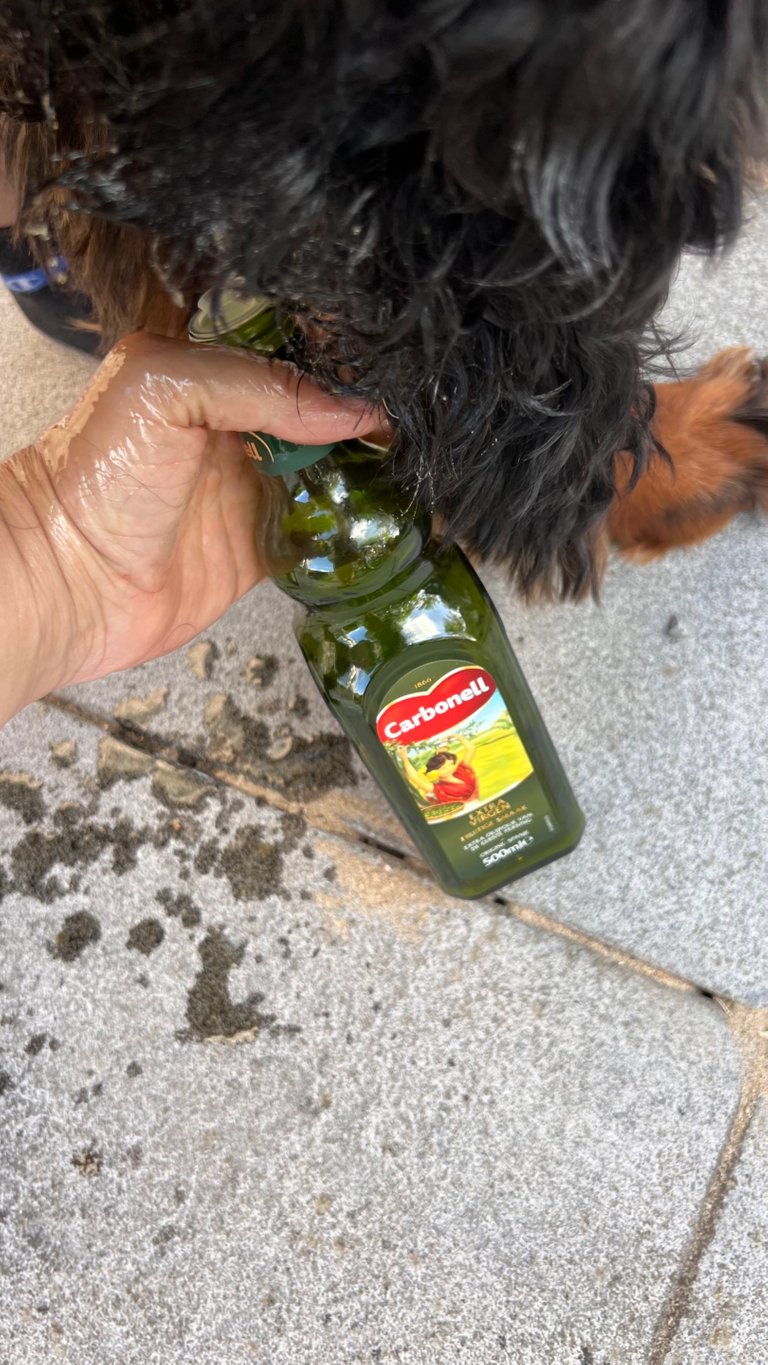 I took out the carbonell olive oil from the kitchen cabinet, that I cook with and got outside, where hubs was comforting really scared Joey. He also was trying to lick it off and the things are poisoness.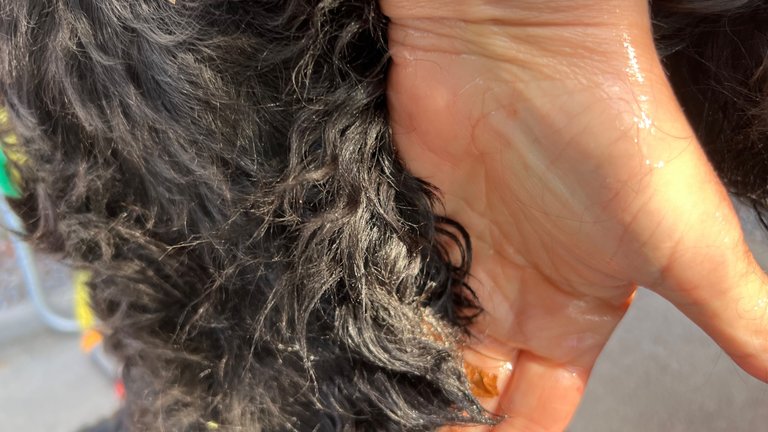 I poured as much oil on the strip and the fur around and was slippery in a few seconds, BUT IT WORKS.
So i dont have to try the peanut butter tip. The detergent i will use for the rinsing of the fur, later on.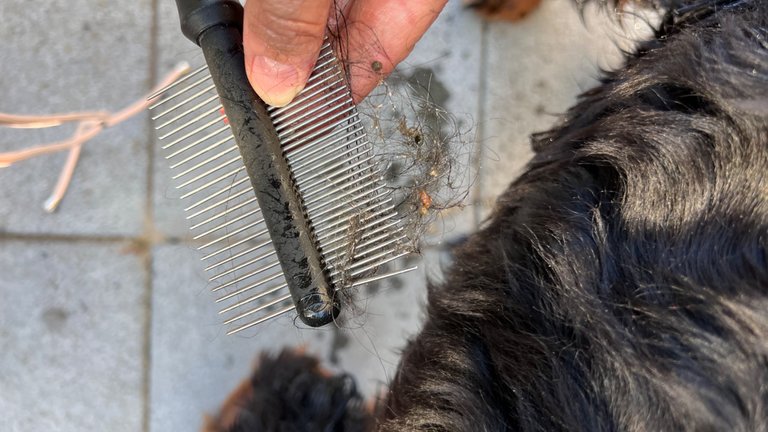 I also took a comb because all the things on the floor stocked to the fur at this moment, like sand and leaves from the garden.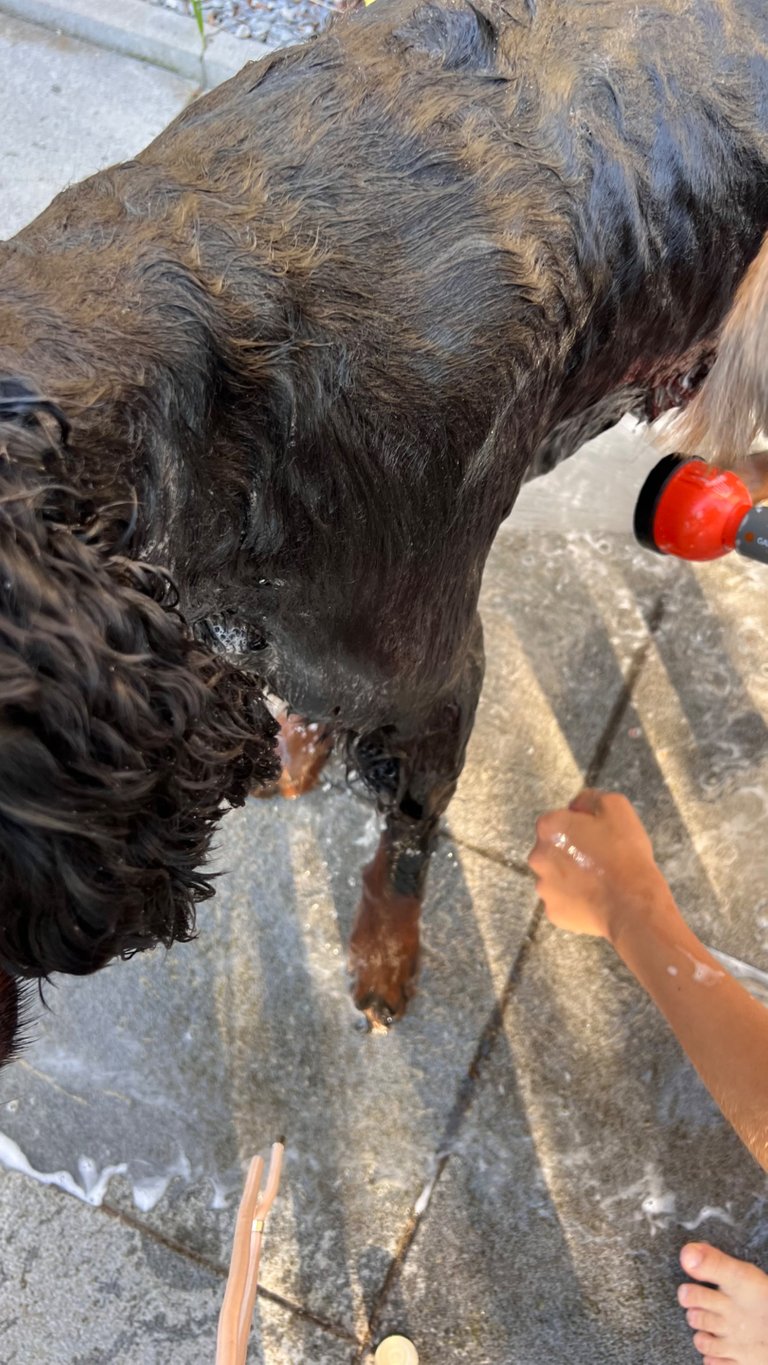 Little D is helping and the warm water is making Joey relax a little bit more. The oil smell is huge and I didn't like it very much at the amount we are using.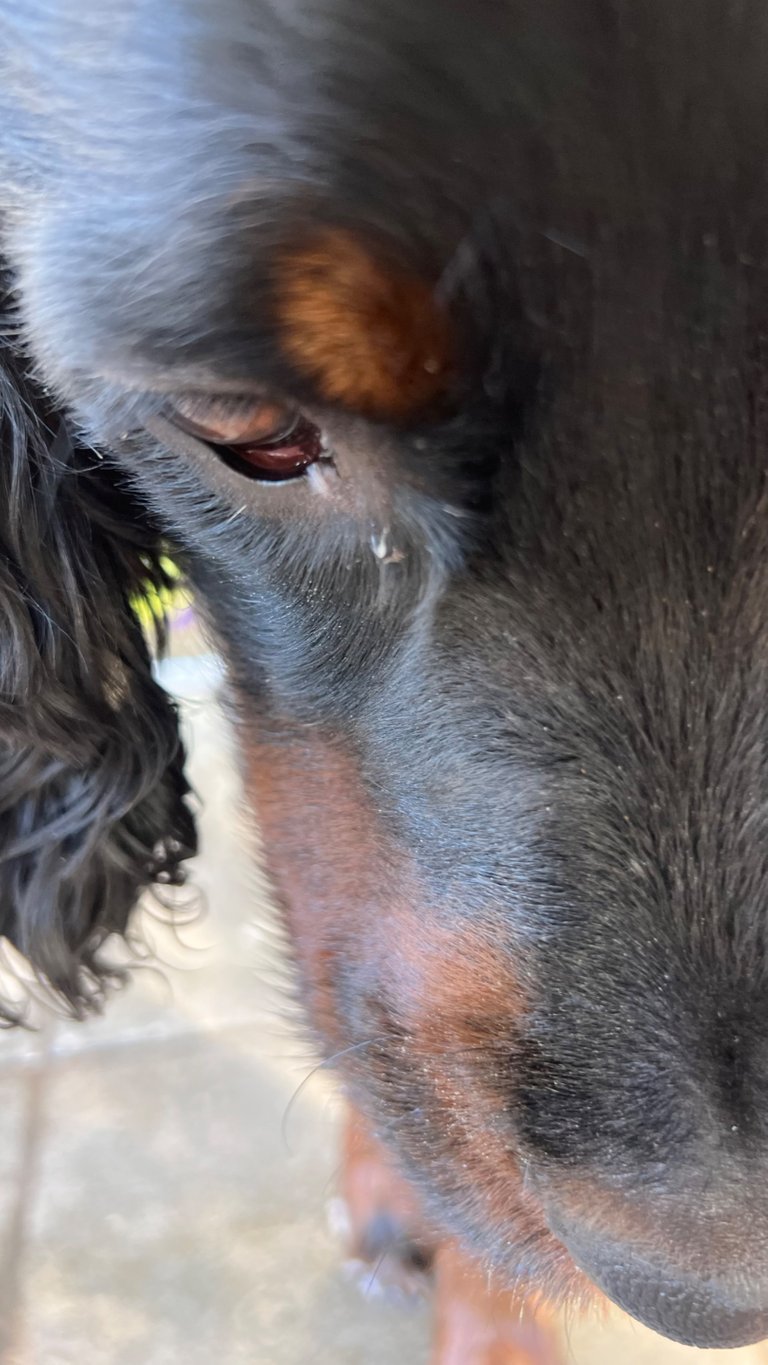 He looks sad, but surrenders to it being done while he stands there.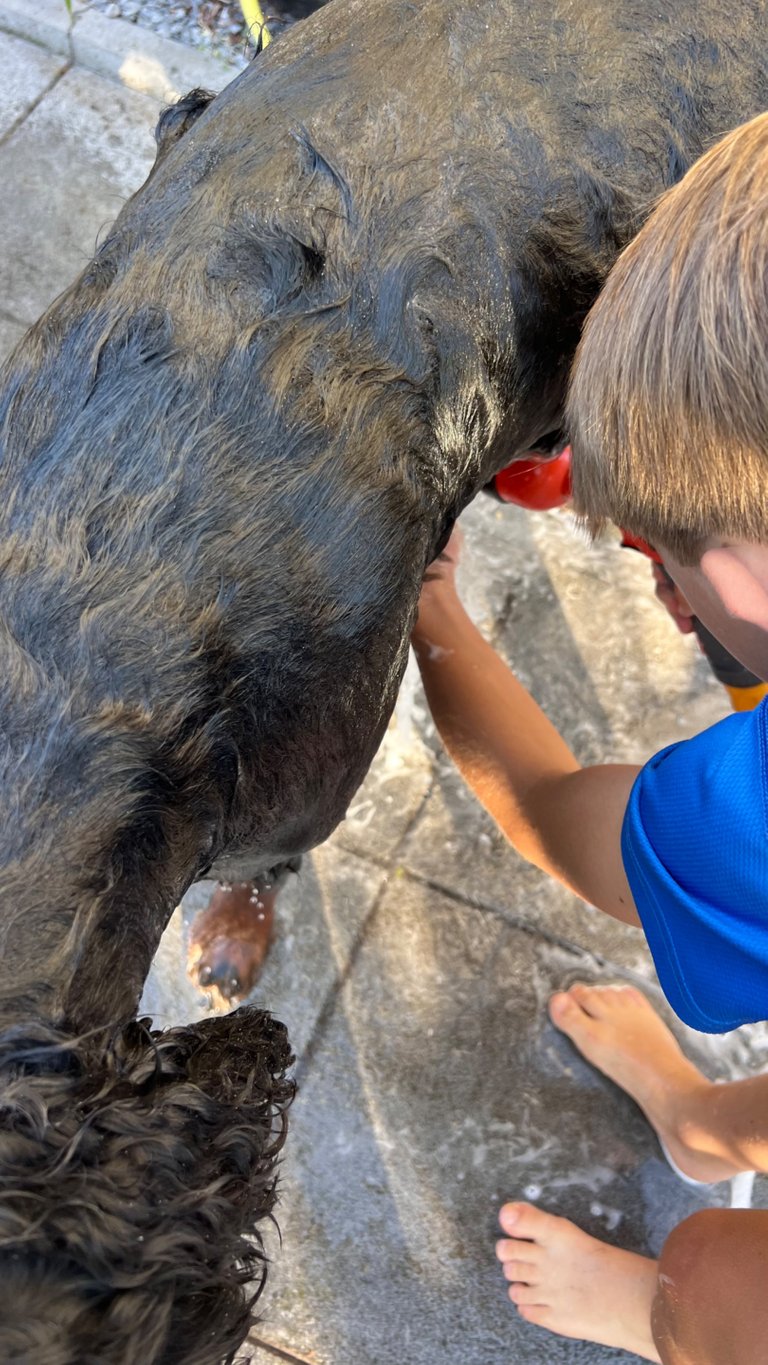 D is doing a lot of work, and feels with his furry brother.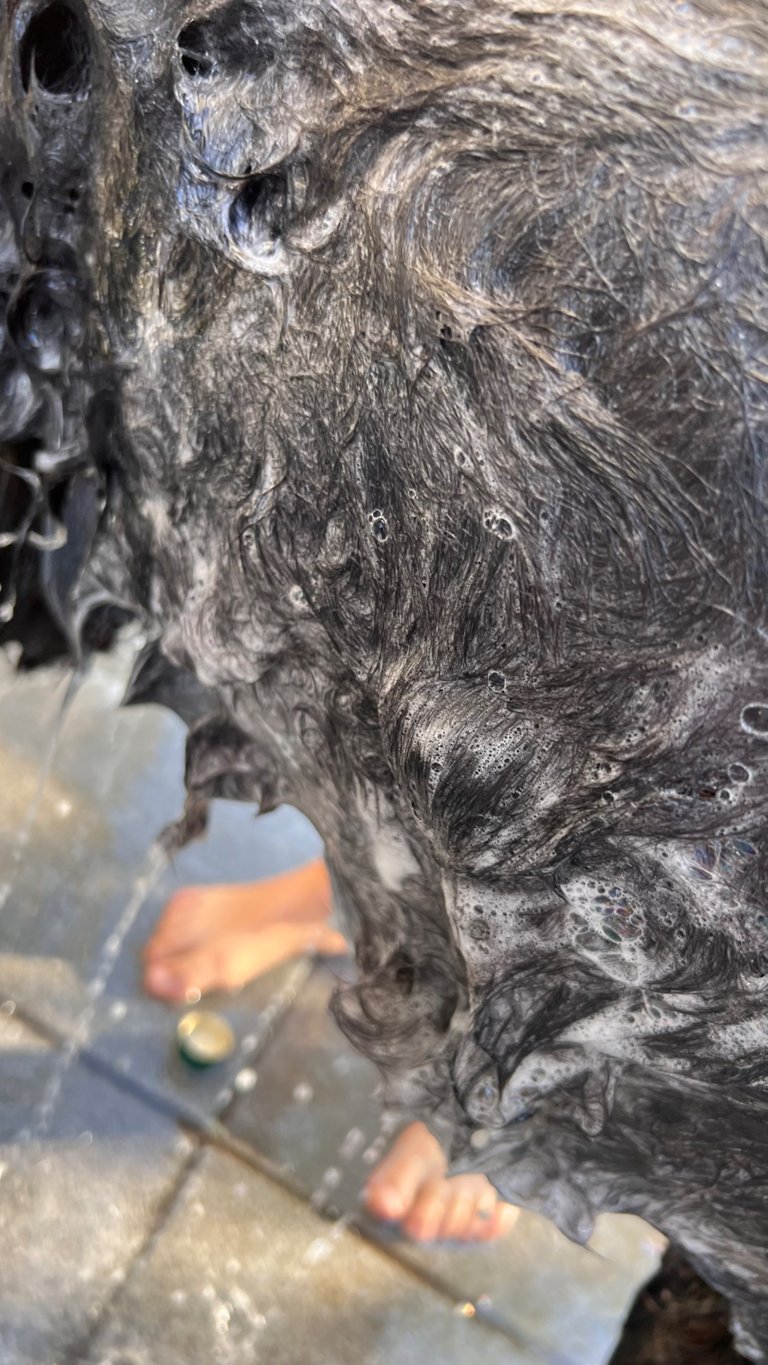 Now its time for soap, detergent and cream rinse. This part smells superb!
Huis fur is shining in the evening sun, and after 40 minutes he is almost ready.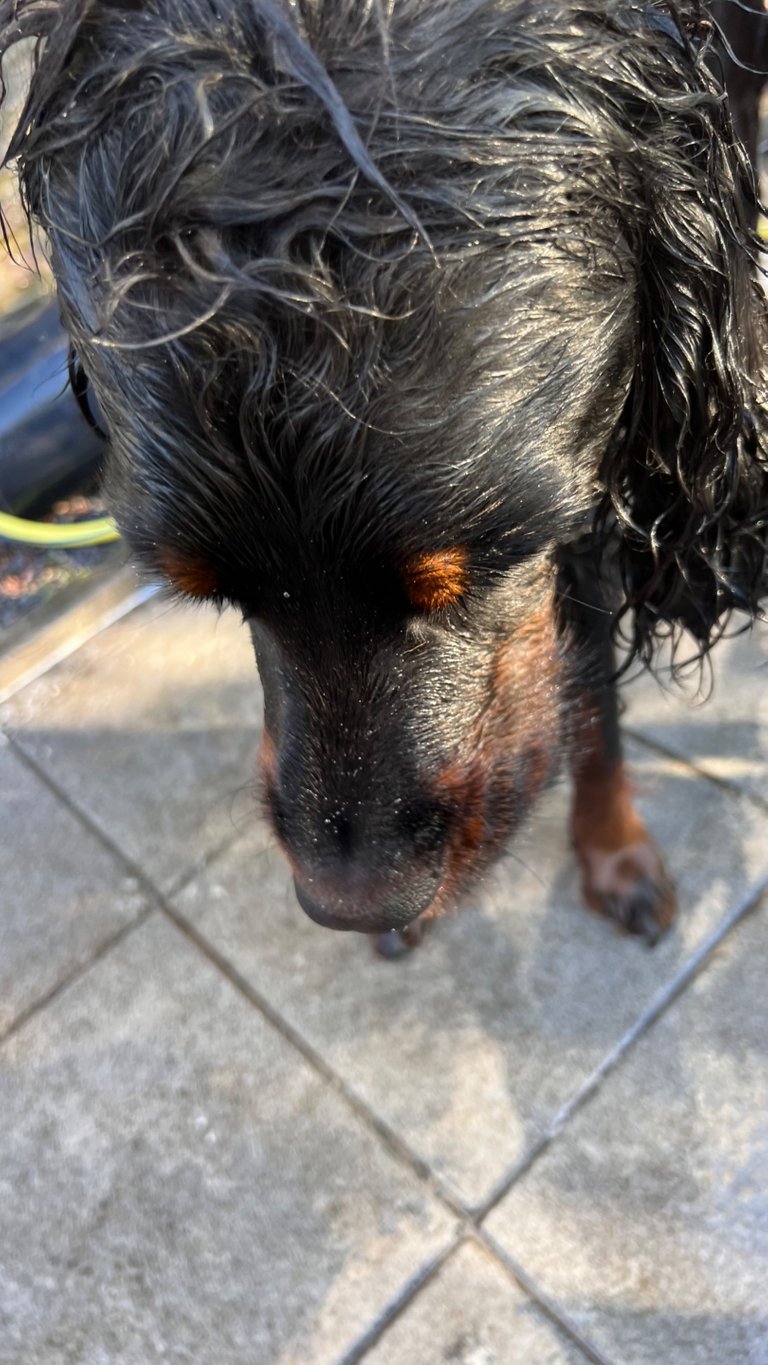 Still undergoing this ordeal and thinking of a bone when he is finished.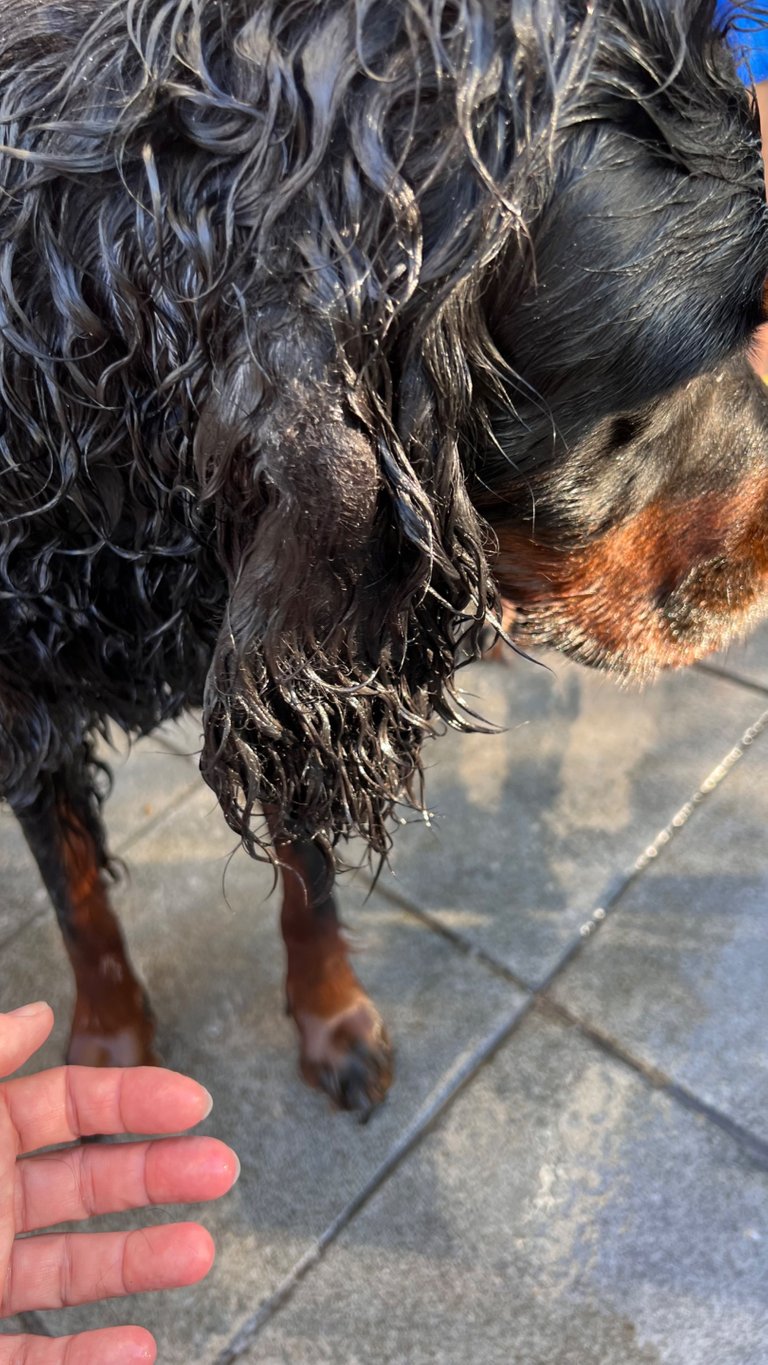 On his ear is a part of his fur that needs to be cut of, to much tangling. Not a problem at all. But it did made me decide to buy a Tondeuse, a clipper electronic that will take of the top part of the fur. Normally the groomer takes care of that but she is on holiday and the next appointment is in september so now i can do it myself.
When Joey was finished, we decided to wash Charlie aswell. That would taje about 5-10 minutes because he didn't have the sticky glue in his fur. And he stocked his tongue out, I don't know if that was to me or because he loved being washed hahahah…..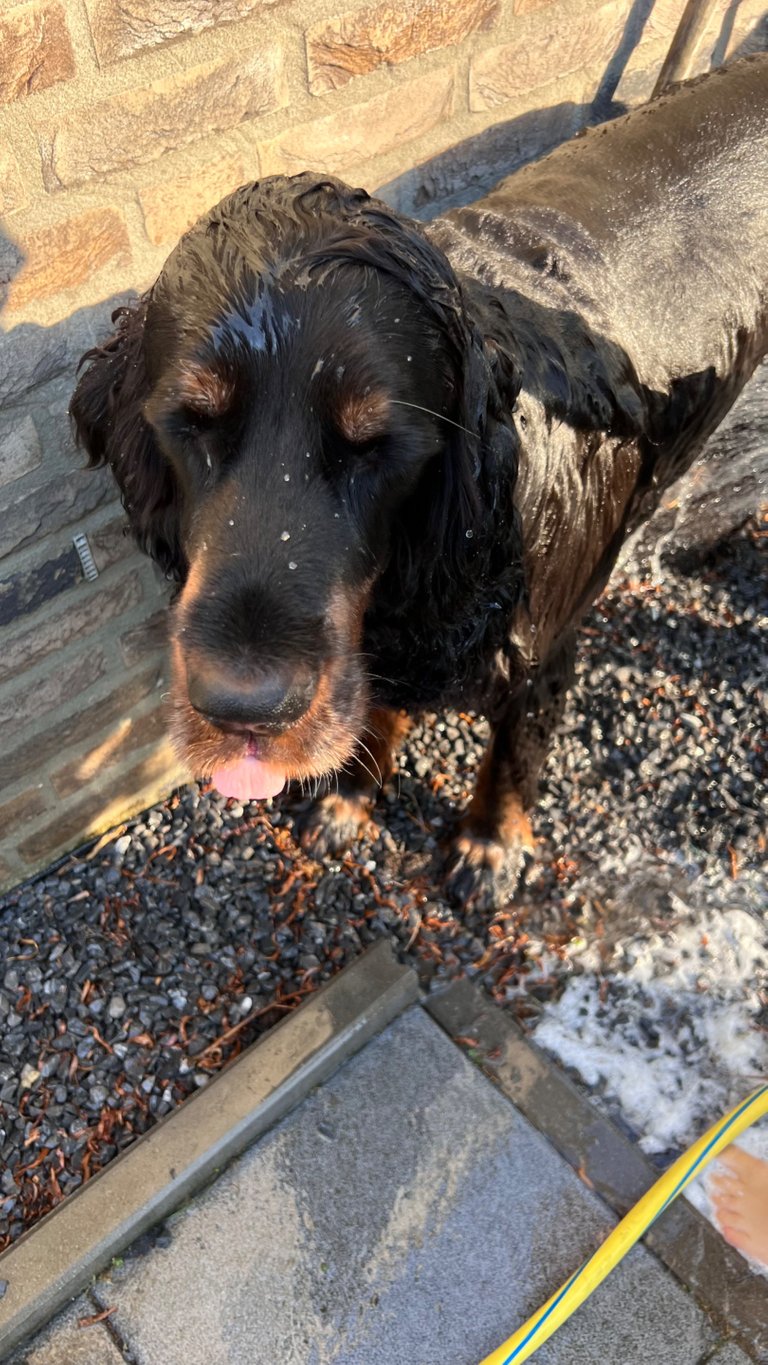 He just had to stand there while we washed him.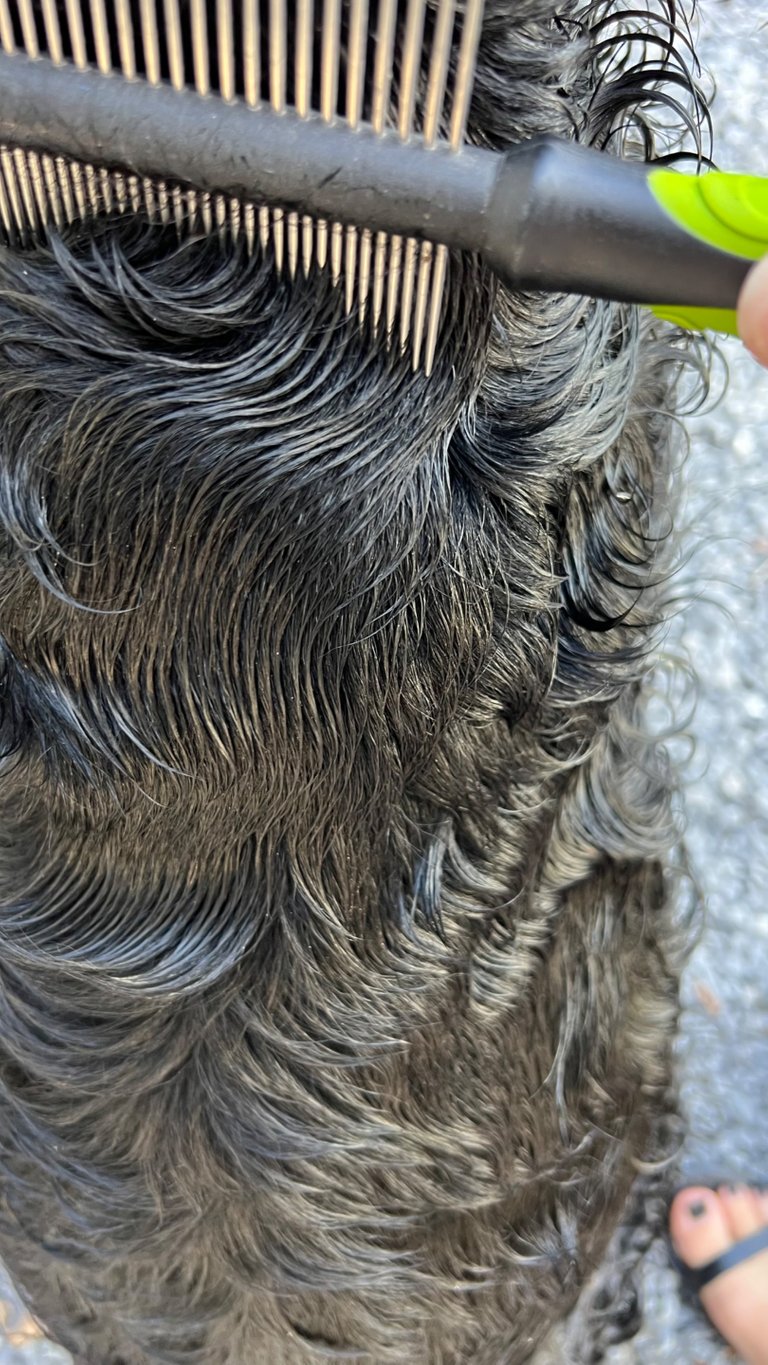 Finally I took the comb and went through a silky soft fur from both and they looked so sweet.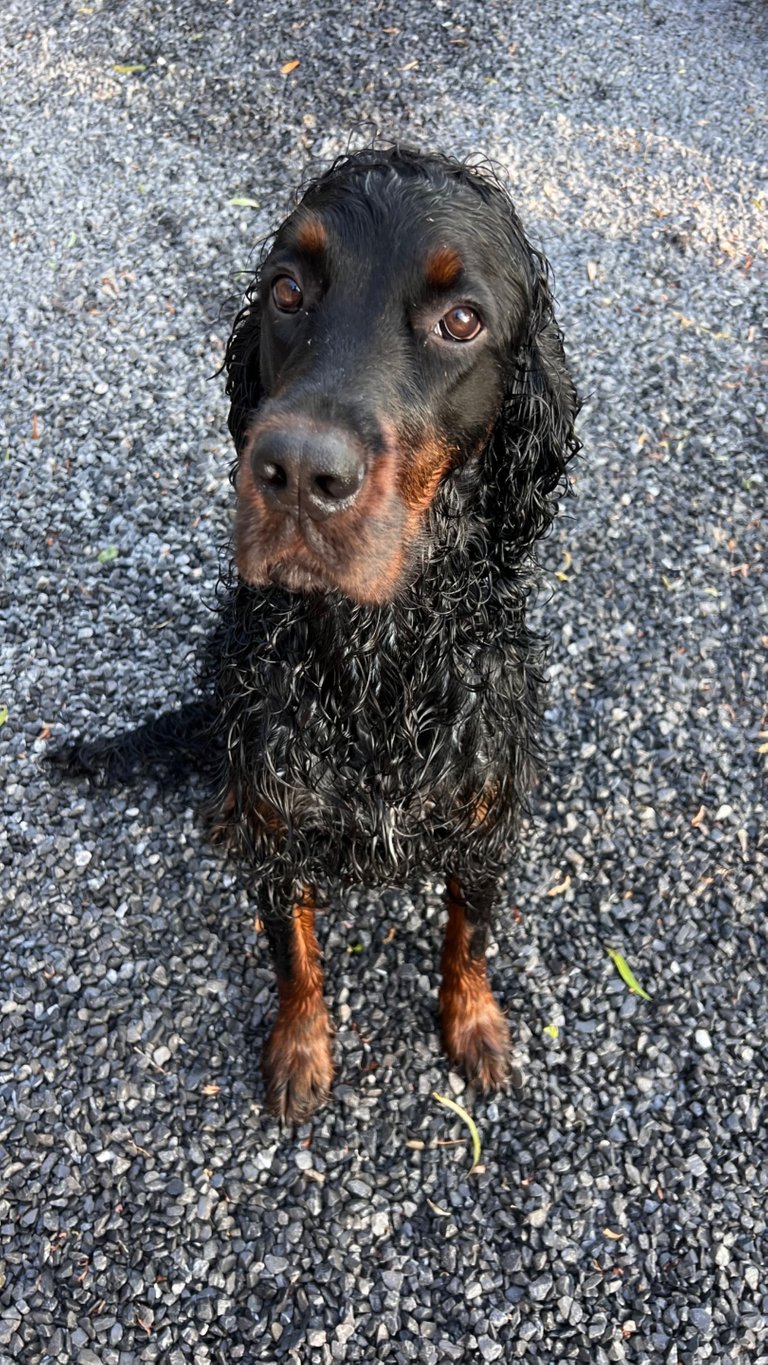 Much smaller than when they are dry, but sweet. And I think also relieved that the ordeal was over and he had no pain anymore.
I gave Joey a bowl of milk, to nutrilize the part that went inside because he licked some of and his whiskers and lips were on this aswell. He loves milk. So thats the evening right there hahahha, but like always also in the daily things there is blog.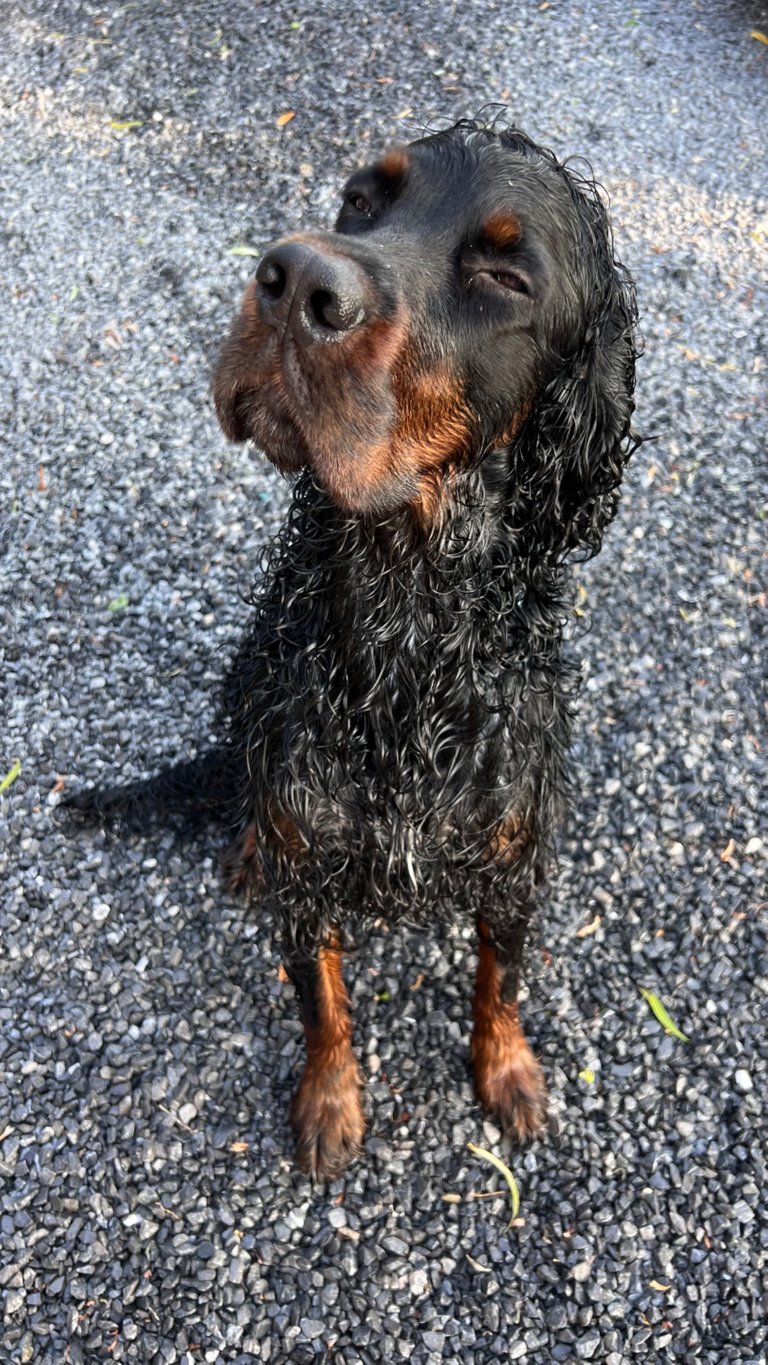 Thank you mum, i feel ok again ,
Just sleepy and need to dry.
From me, D and Joey, enjoy your day,
and stay away from the fly traps!
Untill we read again,
Thanks for stopping by,
its appreciated and remember always focus on being creative
instead of being bee-zy.
Consistent Actions Create Consistent Results.
Not everyone is a blogger but everyone has something great to offer.
Lover of Life and L❤️ve in General - @brittandjosie

I am a proud member off DISCORD #theTerminal
#ladiesofhive and #amazingnature but also
Co founder for @theterminal, @heyhaveyamet @rc-assist and @steem-aide
(c)
All images and photographs are created and owned by me so @brittandjosie originals otherwise it will be specified.
Sources used : It is mentioned in my blog.
When the source is missing, please tell me I am only human and don't want to do anything wrong or even plagiarise. I do make mistakes. I only use a canon camera and my iPhone 13 pro max for my images.
I would like to thank you for reading my blog,
feel free to leave me any feedback, if not,
read you next time. #BENICE
I am being downvoted, and as long I am downvoted
I will self vote my blogs to counter
the downvotes given by some hivians that make it a personal vendetta, just to be clear to all of you.

Your personal Discord terminal invite : https://discord.gg/XZGPGpz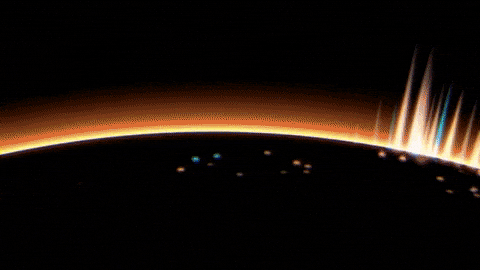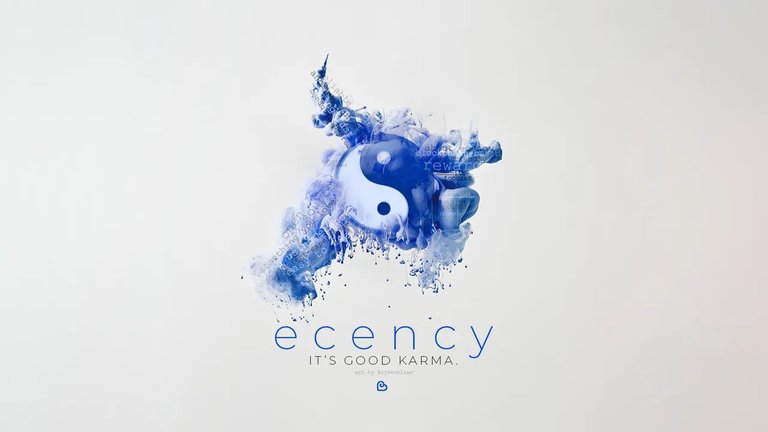 Date : 15 july 2022
---
---