MY THREE SCROOGES AND MY WISH FOR YOU #CONTEST ENTRY WEEK 108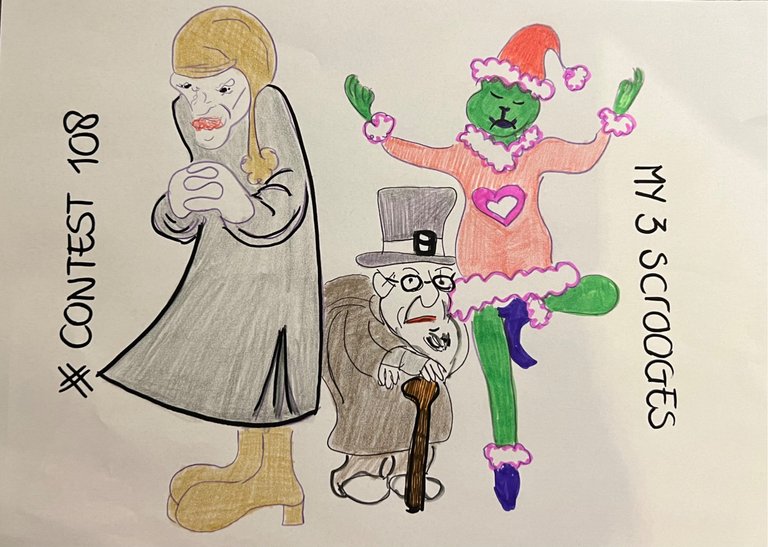 I made this drawing myself, proof is below the blog
👩‍❤️‍👩

This is the text I made as a judge for the #ladiesofhive contest this week:

There is not a more well-known Christmas story more famous than the one about Scrooge. Scrooge was also inspiration for a few movies. Scrooge who, on Christmas Eve, is visited by three ghosts to enjoy Christmas and warm his cold heart. The meaning is to mirror what life can be if it's looked at more positively. You as the writer of the blog entry hold up a mirror to us readers about Scrooge and the three ghosts with a positive message.
So this week the assignment is: show us/me the three ghosts with their message.
The ghosts can be dead or still alive — they can be you, people you know with great advice, or famous people whom you think have a positive message to share. Get blogging and show me the three ghosts and the message to all scrooges!

I know a difficult one but the contest week number 108 is on and its almost christmas so I came up with this one. Because I always enter the one I made as an example here is my entry and ofcourse I cannnot win any prizes.

I drew three ghosts. I choose images that excist but I drew them myself. The fist ghost is HOLLOW EMPTY, the second one is OLD BEARDED WISDOM and number three is GREEN DELIGHT. You might know them from movies or images aswell.

HOLLOW EMPTY

Hollow will always try to show that life is empty. Hollow will try to get you intro his grey life.
I can now tell you that life is not hollow it has something to offer from everybody. Hollow can also be seen as a tunnel of space that might bring you to newer insights.
I say, always try to see your hollow moments as chances to walk toward an unknown road and experience new insights and new worlds. You might like it!
OLD BEARDED WISDOM

Wisdom comes with the years. So my second ghost is old bearded wisdom, he will give advise that will remind you of what your grandfather said to your dad when you werent even born, and I think he is always right.
So I say listen to the elderly and the wise older people in our world, they can teach us. Listen even if you think the advise is old fashioned , why not just try?
GREEN DELIGHT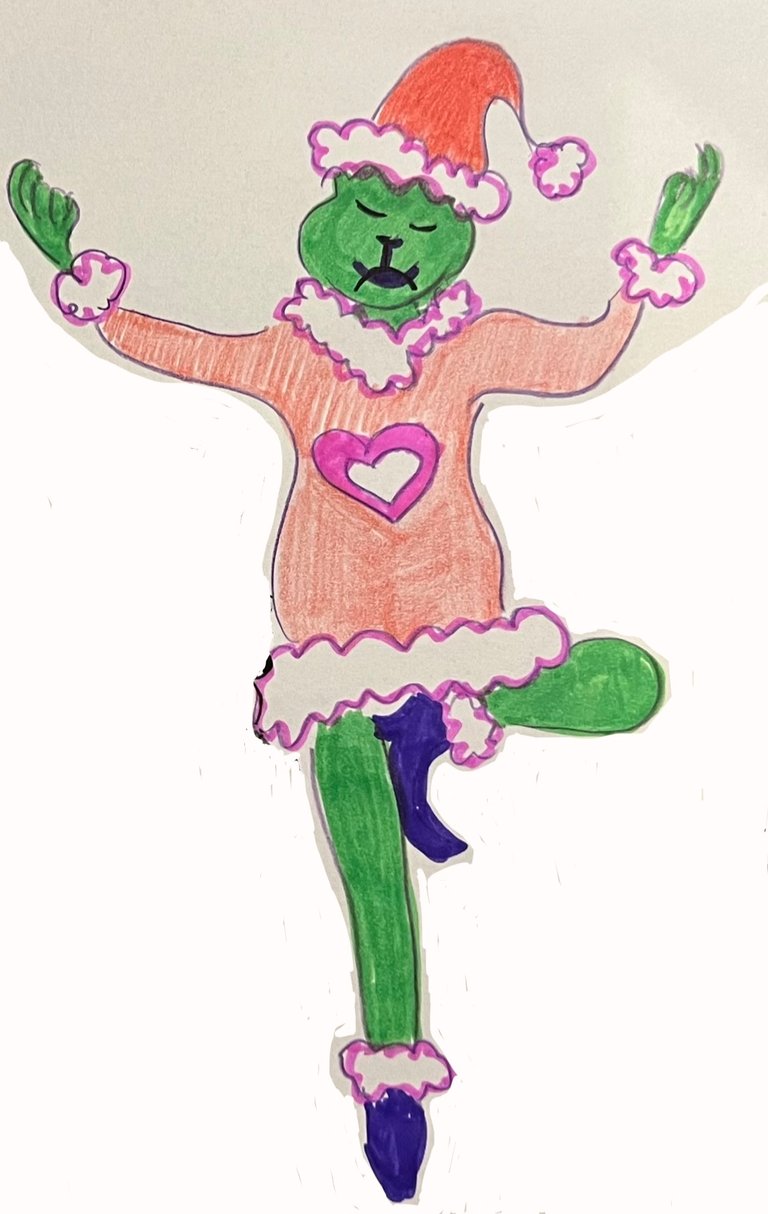 Green delight is amazing and happy. This ghost is a present to all of us. I like positivity like she spreads. She always sees the great in people around her, and never forget everyone has something to offer. Life is beautiful even when it rains.
Ofcourse there are many quotes by famous people that can be used for the blog entry this week.
Maybe you have a person you admire from the entertainment world or from television that made a quote where you live by that can be a christmas wish.
Its a difficult task I know but all the entries till now, left on the contest bog in the ladiesofhive community are wonderful.
Its almost christmas so get into spirit life, and blog away.
From me to you :
Never ever ever underestimate the power you have to change the course of your life. Be nice to yourself, listen to your hart , without judgement, without blame, and be proud, that is the most generous thing you can give your precious hart.
I am almost ready to leave and publish this blog and I will go and prepare my christmas tree. I love it eventhough its only 16 november.
Thanks for reading, untill next time ladies.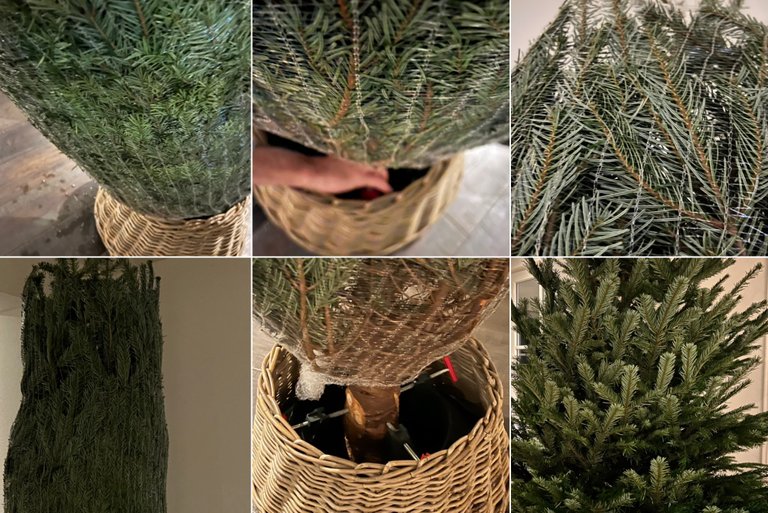 Here is the fases while drawing and coloring my three scrooges.

Until we read again, Thanks for stopping by,
its appreciated and remember always focus on being creative instead of being bee-zy.
Consistent Actions Create Consistent Results.
Not everyone is a blogger but everyone has something great to offer.
Lover of Life and L❤️ve in General - @brittandjosie

I am a proud member of DISCORD #theTerminal
#ladiesofhive and #amazingnature but also
Co founder for @theterminal, @heyhaveyamet @rc-assist and @steem-aide
(c)
All images and photographs are created and owned by me so @brittandjosie originals otherwise it will be specified.
Sources used : my drawing inspired by
https://www.etsy.com/nl/listing/658659031/yoga-kerstkaart-lege-yogakaart-kerstmuts?click_key=f5ca9fc6e9d311946beb38e50b3d4535639d63d9%3A658659031&click_sum=5a6625b0&external=1&ref=pla_similar_listing_top-1&frs=1
https://www.clipartmax.com/middle/m2H7i8A0A0N4d3K9_%5Bimage-credits-for-scrooge-and-ebenezer-scrooge
http://clipart-library.com/clipart - modified by me with pencils
When the source is missing, please tell me I am only human and don't want to do anything wrong or even plagiarise. I do make mistakes. I only use a canon camera and my iPhone 13 pro max for my images.
I would like to thank you for reading my blog, feel free to leave me any feedback, if not, read you next time. #BENICE

Your personal Discord terminal invite : https://discord.gg/XZGPGpz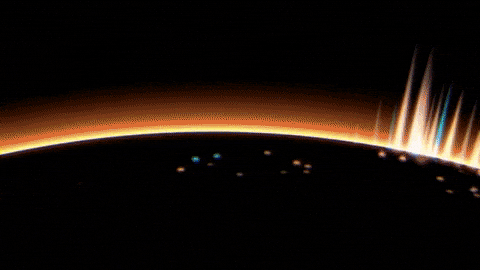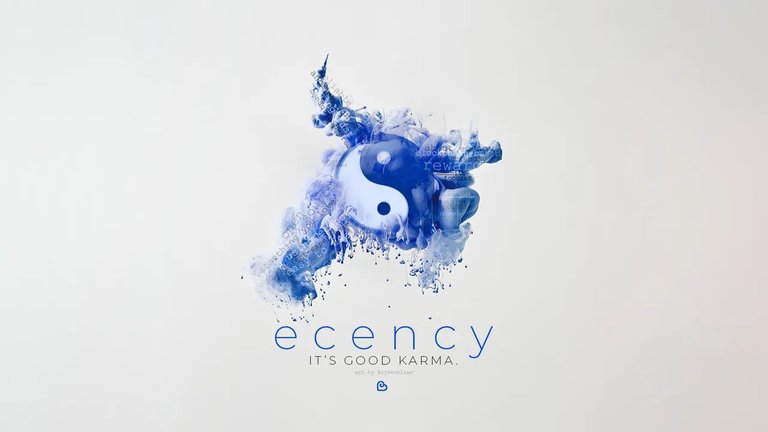 Date : 16 November 2022
---
---