Studio Strak A work related trip on Pentecost Monday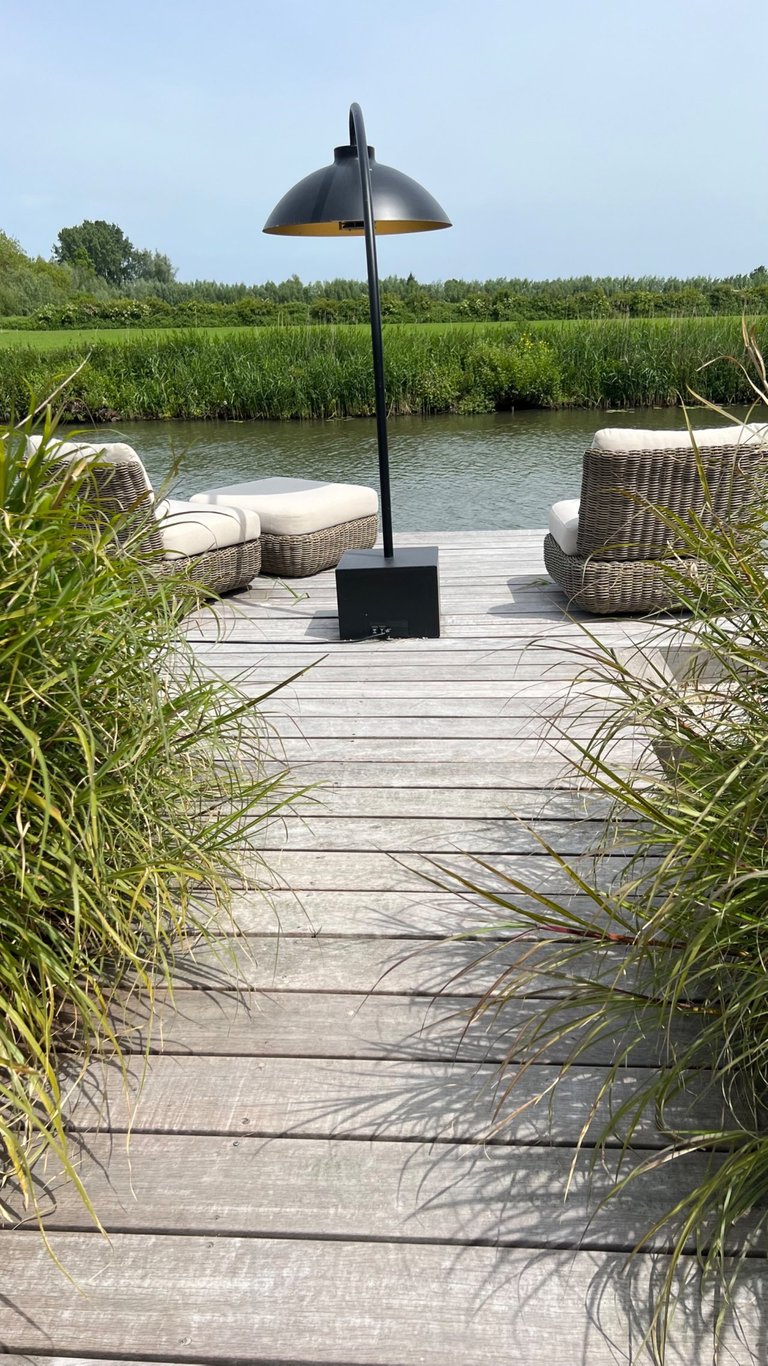 Going to the dutch Betuwe
This is the day we go to visit a designer.

Today we went to Deil, a place in Holland about an hour drive from Rotterdam.
A trip and travel in your own country , we do that to little. We have such a nice and beautiful country, and so bloggable. So i had to take out the camera and document, pin and write about.

We met up and drove with a collegue and had a nice drive. Deil is in the dutch Betuwe. The part of HOLLAND the most fruit producing orchardfarms. Besides the road its possible to buy all kinds of apples ( holland has many great ones ) pears, strawberries and berries. There are little shop stalls where the fresh fruit is presented and you can leave the money owed in a basket. Yes thats still possible. We also have regions where you can buy flowers like I blogged about when we visited teh Keukenhof. The Betuwe also has so many beautiful homes and castles, so the ride alone was a sweet one that didn't feel like it was an hour.

Wikipedia says about this part of Holland :
The character of the region is mainly characterized by horticulture. In particular, the Betuwe is known for fruit growing in orchards; these form a striking aspect especially in spring because of the blossom and are therefore (locally) an attractive element. The region is also known for the relatively high occurrence of surface waters in the landscape. The Betuwe River Linge, which runs right through the region, is a prominent landscape element. The region is also the namesake of the Betuweroute;
this Dutch freight railway runs right through the region. source:Wikipedia

If you want to read about the Betuwe and that part of my country
https://nl.m.wikipedia.org/wiki/Betuwe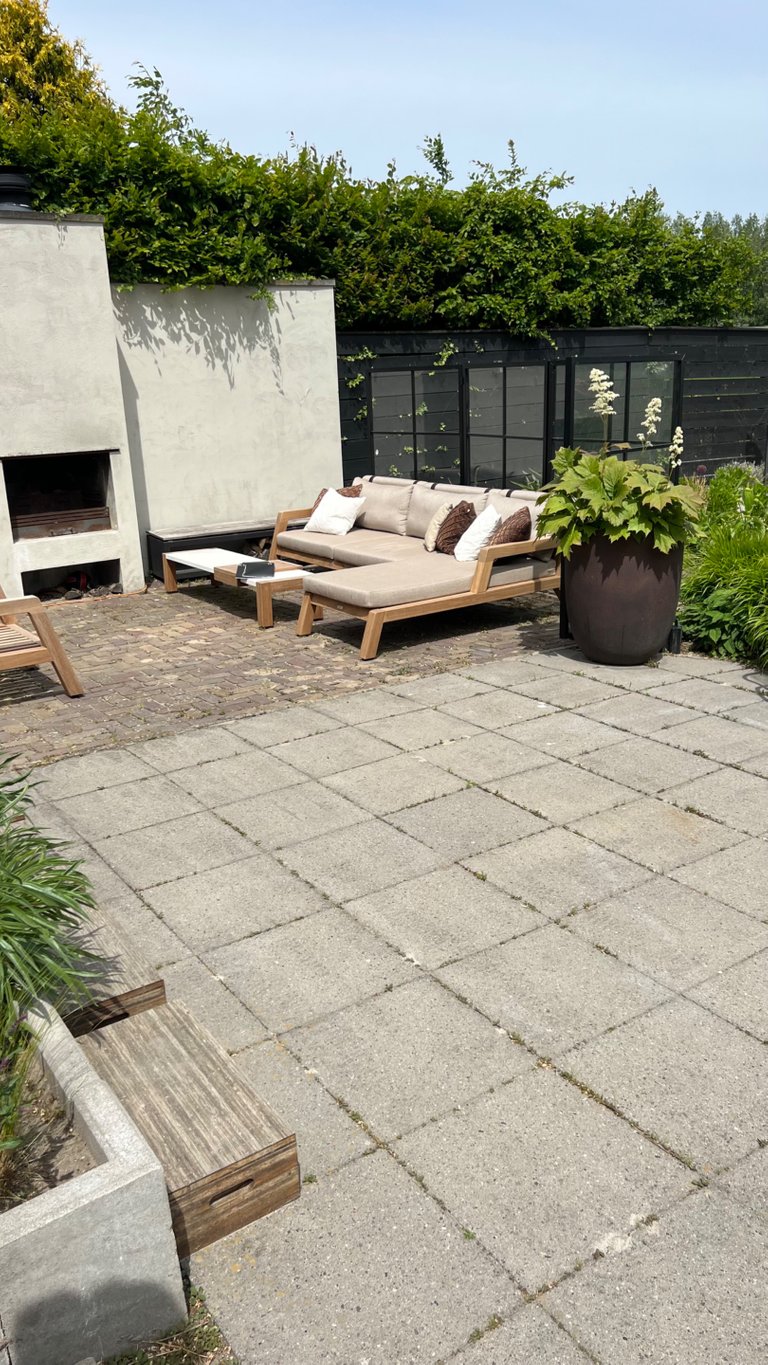 We went to the show garden and the designer there had many new furniture he first drew and designed and then a made. Art by hand and put together as a whole with manufactured assets, like cushions.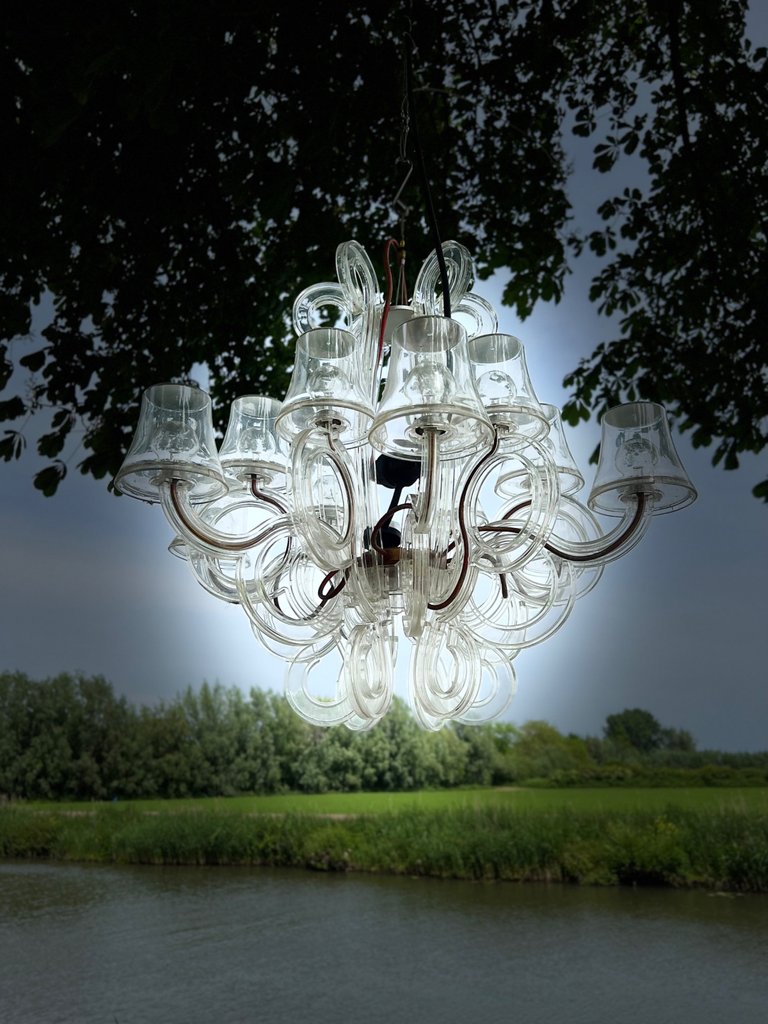 A lamp from recycled Plastic, what's beauty and I wonder what the light effect is when the sun is under and the darkness sets in. I love the shape. Its under the trees so the light must effect the leaves aswell at night and would make some great shadows.
Sorry thinking I tags and contests I know.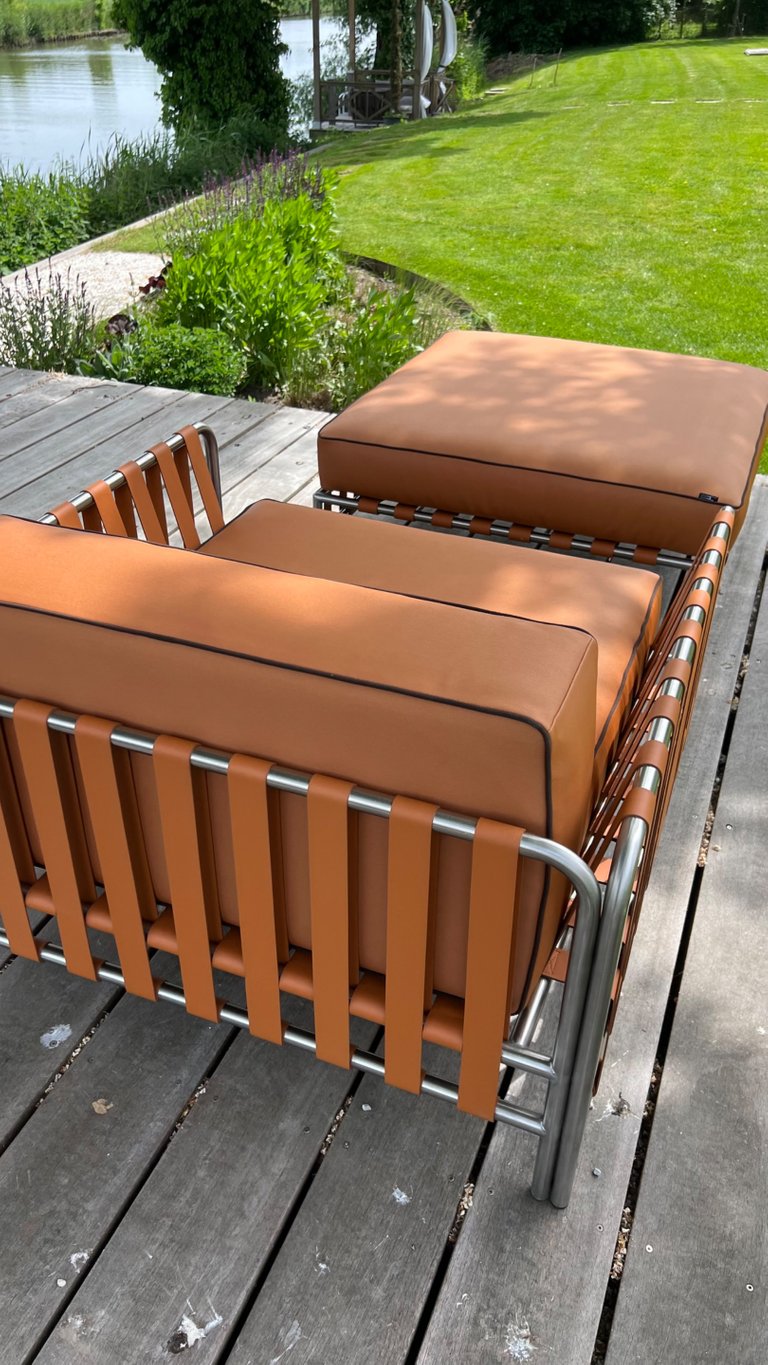 This looked like real leather but is fabric.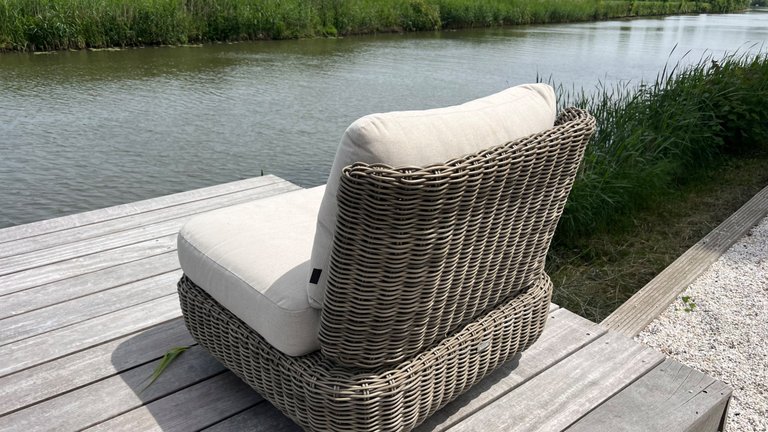 Again plastic but this looks like straw.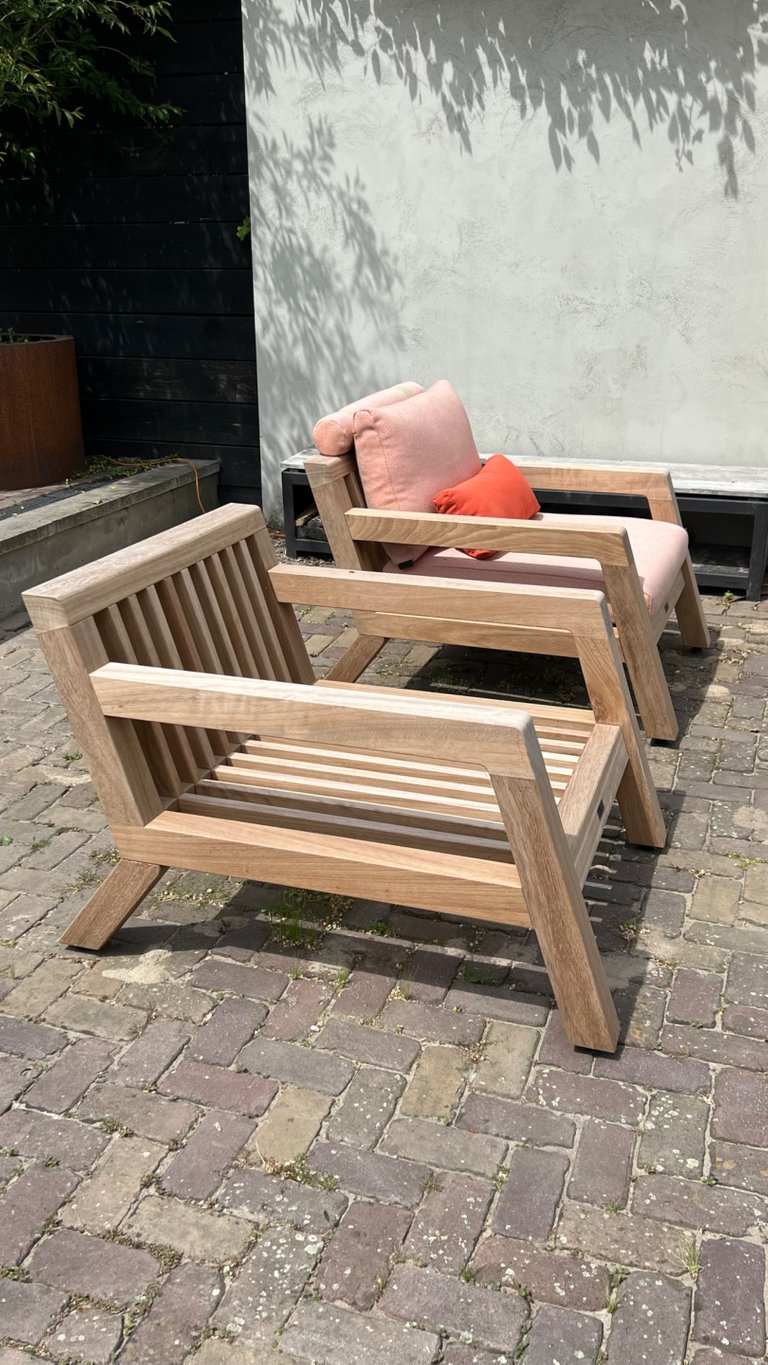 Horizontal wooden chairs, I would love to nap in.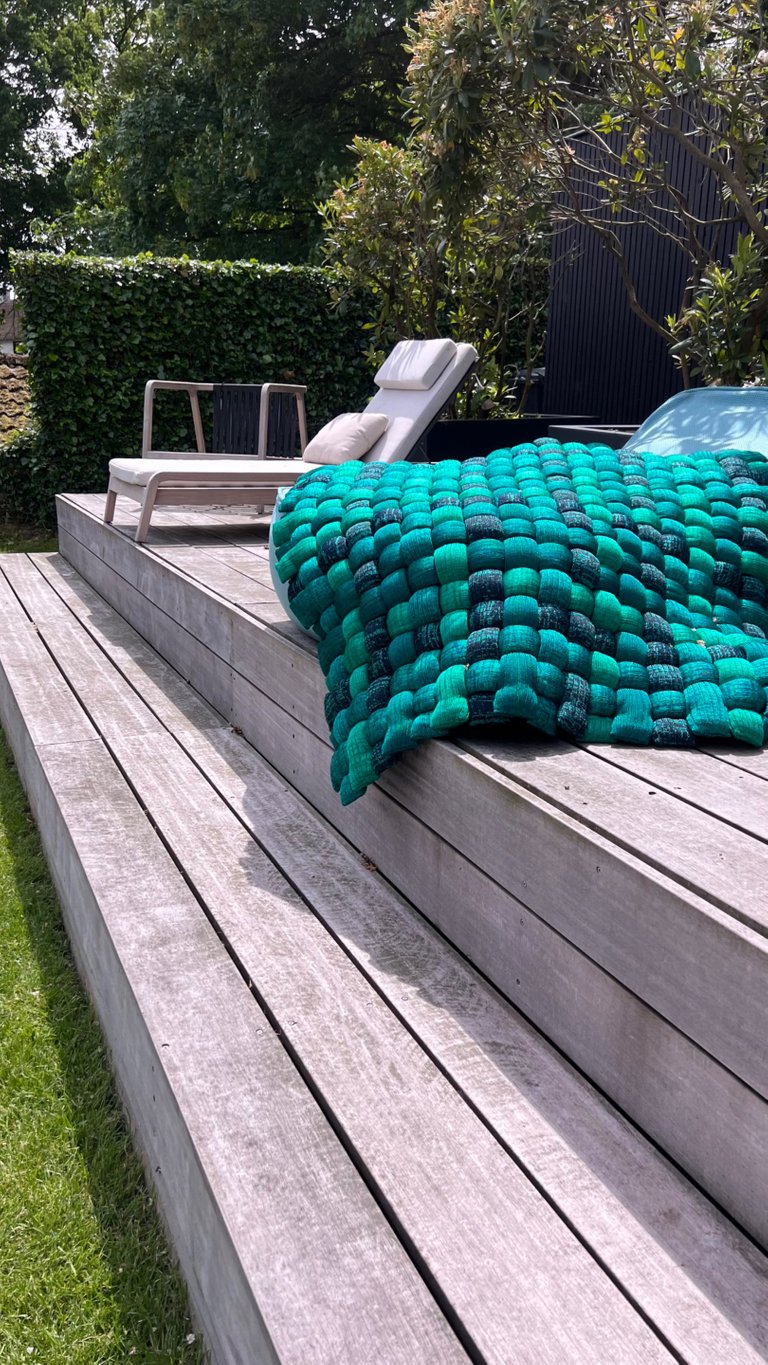 Garden carpets but the carpet is filled with rice or something that absorbs water so it can stay outside.
A paddock where the back cushions are the lounge set backbone. I loved it. I have to say a all we saw is not for our wallet and way to huge for the space we have. But if i ever win the lottery I have some suggestions and ideas of materials and stuff, to look back on.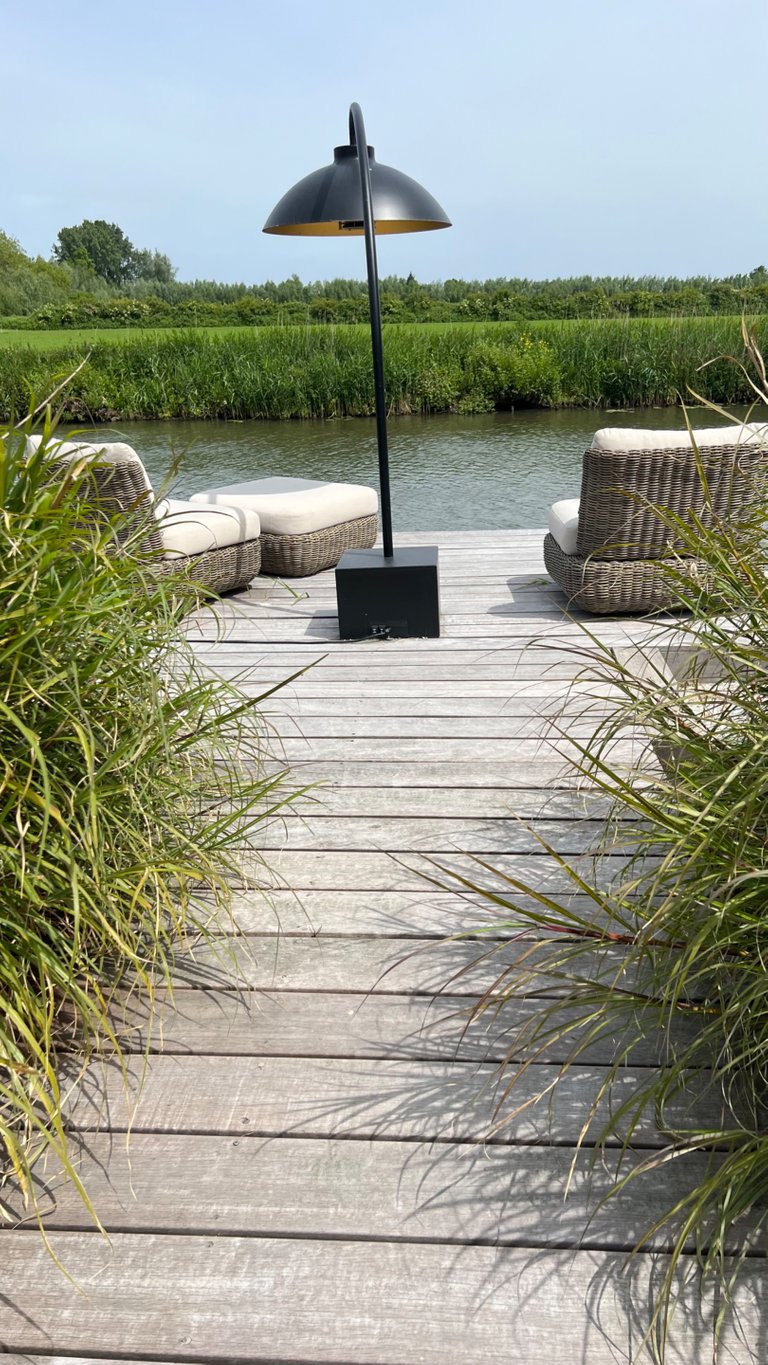 The lamp is not a lamp its designed as a heater. The warmth of the heater will spread light. I haven't seen it when its dark but it sounds amazingly romantic to be at the water and with this along the chairs.
This is along the river Linge as told in the source on Wikipedia.
The silence and the green space is amazing. That is something that is not a available alot in the city center in Rotterdam. I think here there are less house than in the city. Also the person we talked to siad that the houses there are much less expensive than in the cities in Holland. Thats a plus if you want to move away. These parts have so many advantages like green pastures, less houses , great prices and less people living per m2 BUT the time to drive to work is over 1,5 hour minimum due to traffic to and from the city of Rotterdam.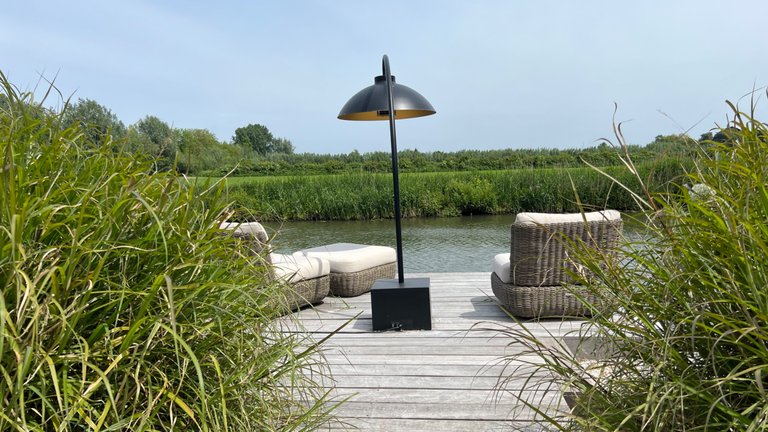 I want a book and sit here and just sip rose wine !!
They also made outside glass room dividers.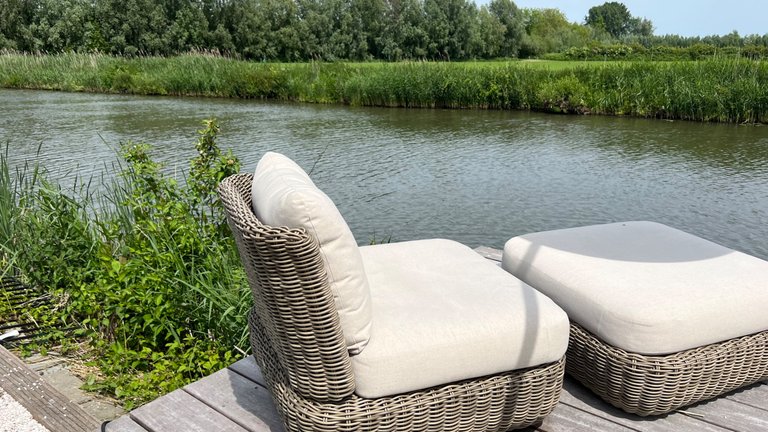 Again a perfect reading and rose spot !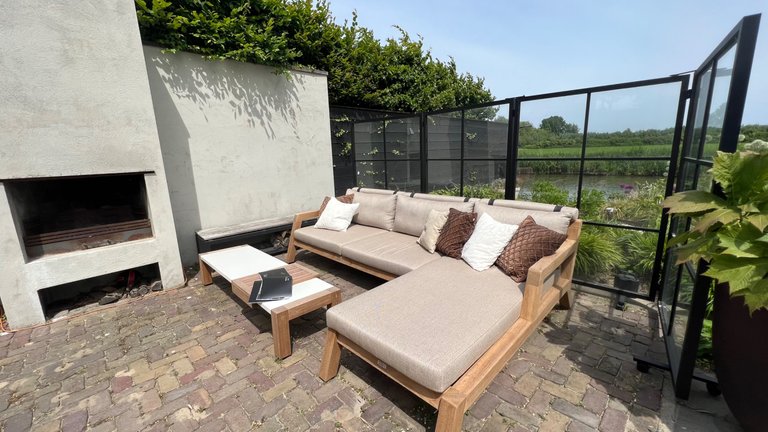 Again the river Linge !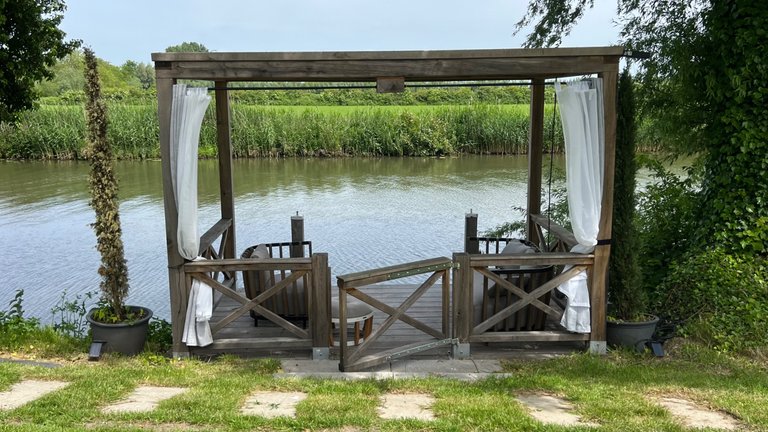 Who doesn't wanna spot along the river and a roof above her head and just sit and watch the boats go by ….
What if we all were millionaires ?
This is aluminium , and huge, for people with a lot of friends. I would have empty seats I tell you.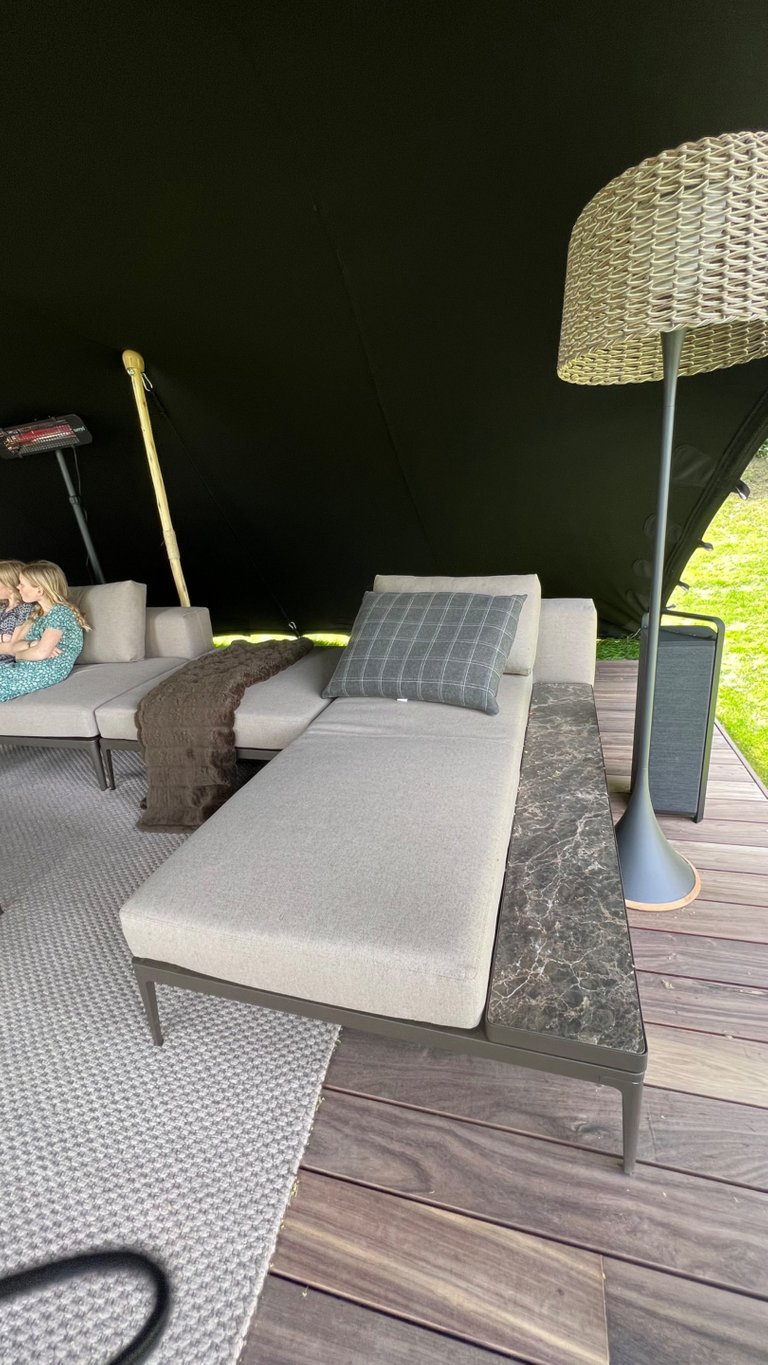 Design loungers with a place to put a glass and a charcuterie board.
The kids of the others guests were not having that much fun, and didnt see the lovely places to sip wine, like I did.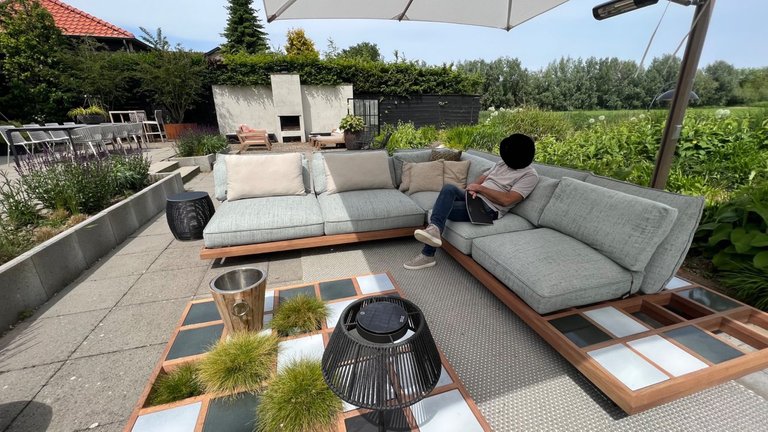 Design again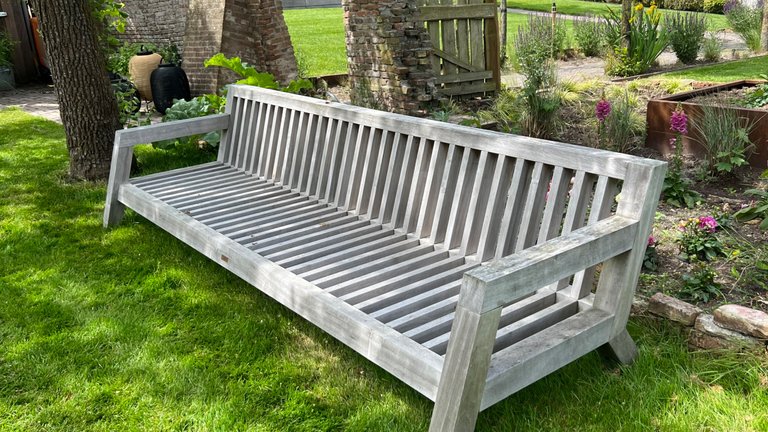 Nice benches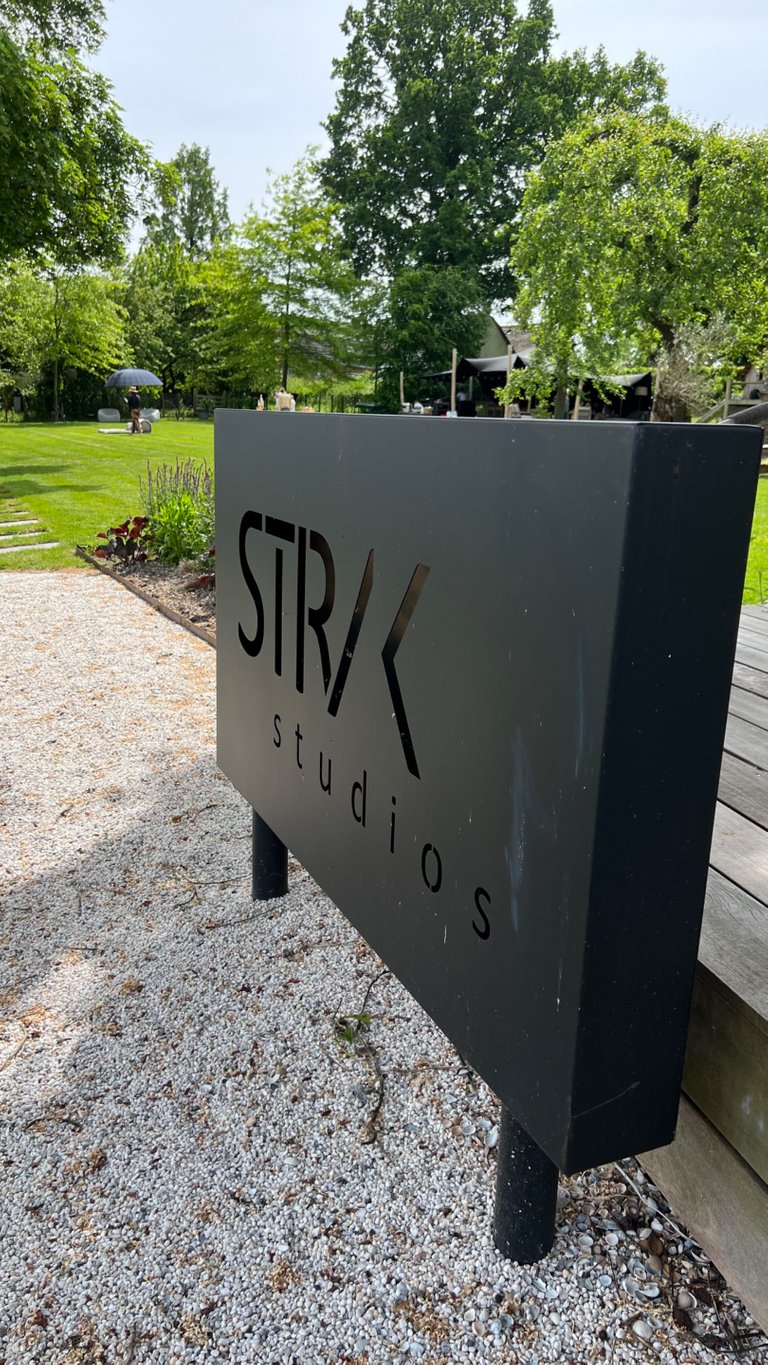 Collegues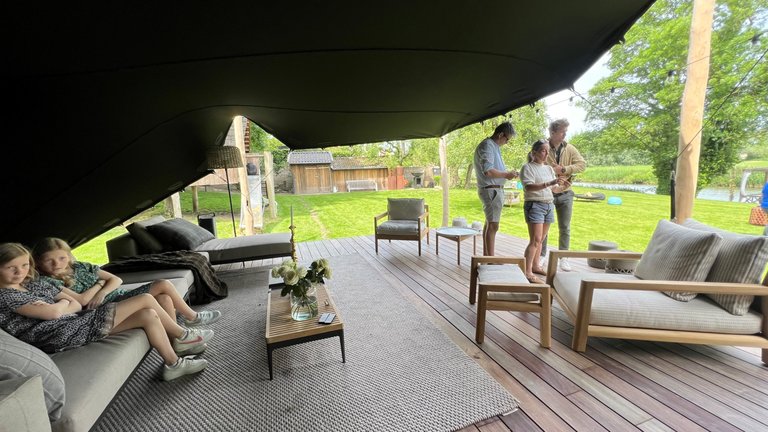 #treetuesday came a day early
There was an immense tree on the property, I thought immediately about a photo for this tag. Hive is life , life is Hive. There is a blog in all you see and all you encounter.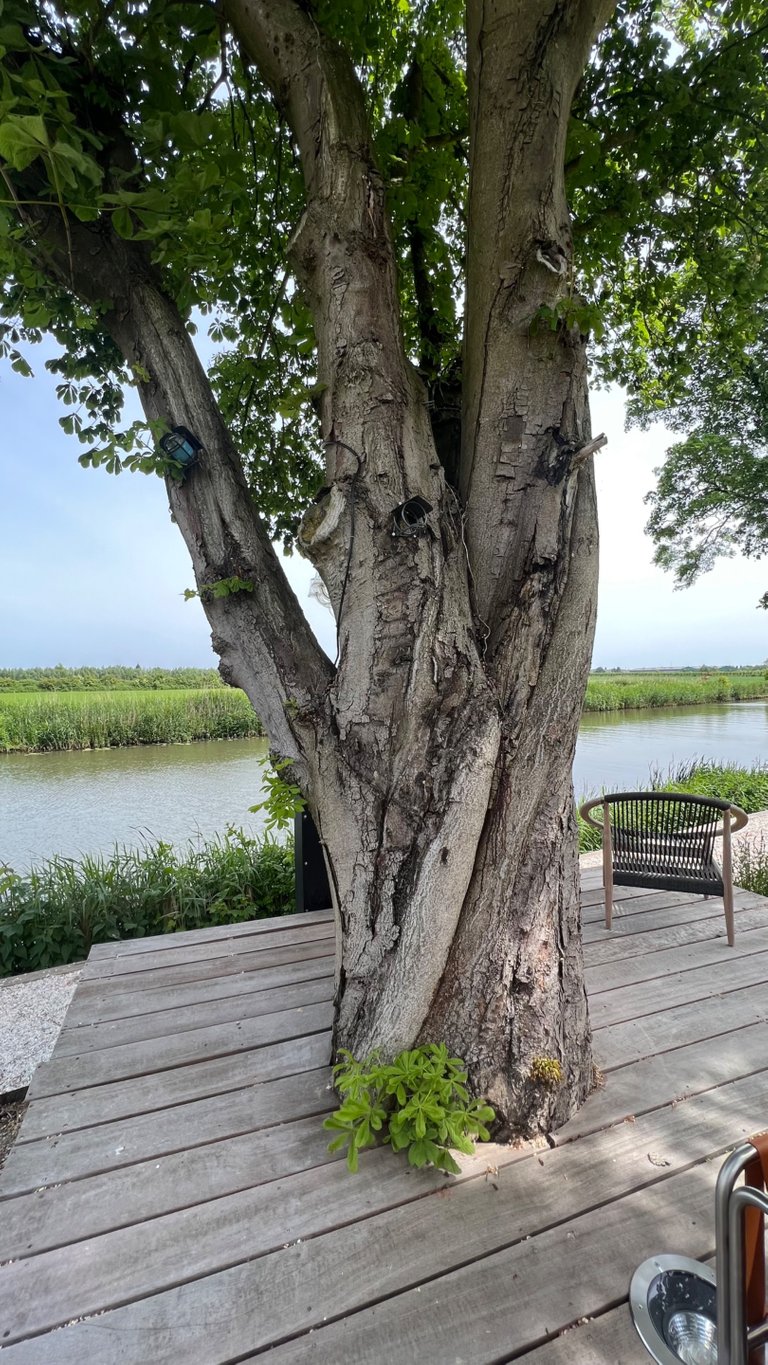 Now the patio with a boat , there were many. Apparently the Linge is a river where many go for boat rides. How cool and you can rent boats.
We dont have one so this is an option of we want to something different with family and friends.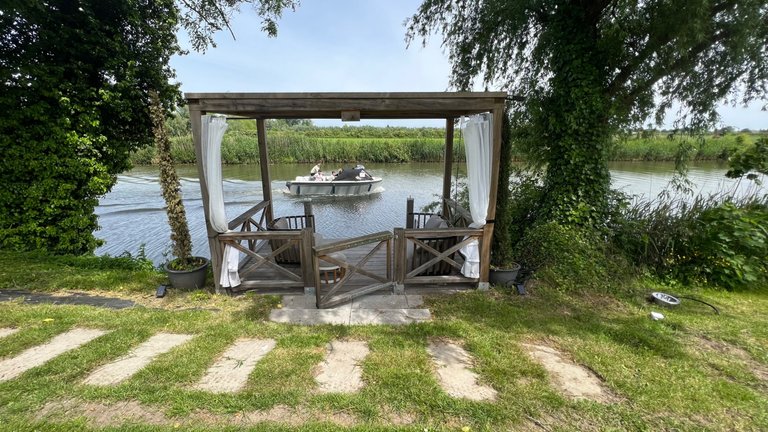 The cushions were designed and everywhere on the property.
We sa a dog lounge bed even.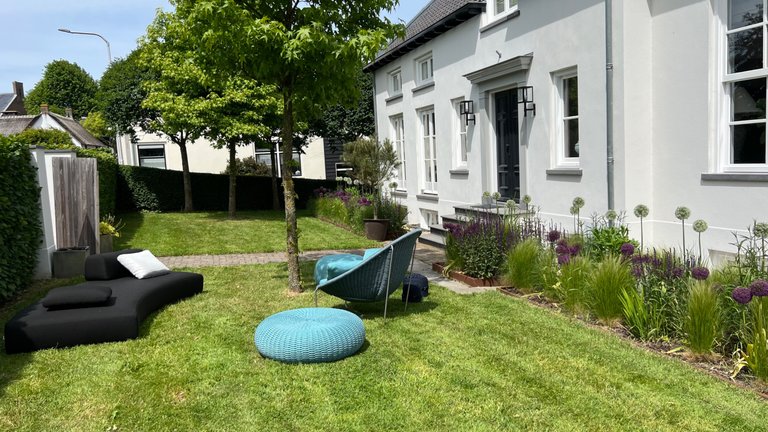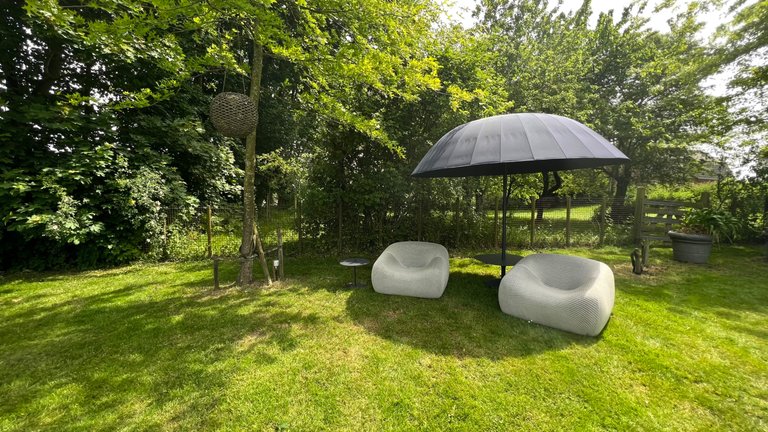 The dog lounger, I know the dogs would love that.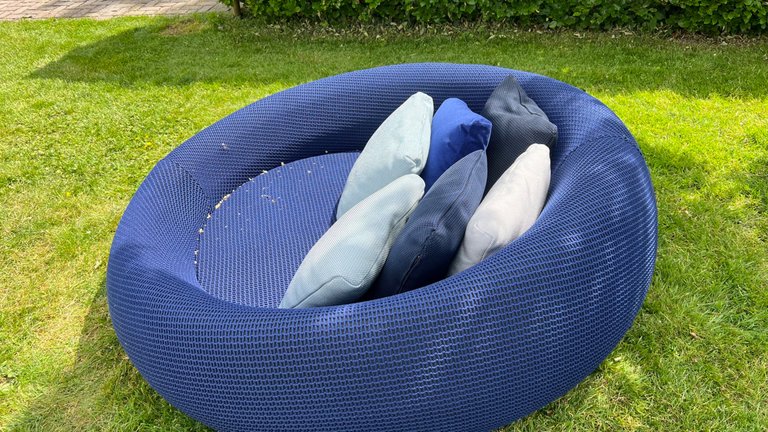 And the drinks were gone, no rose for me ,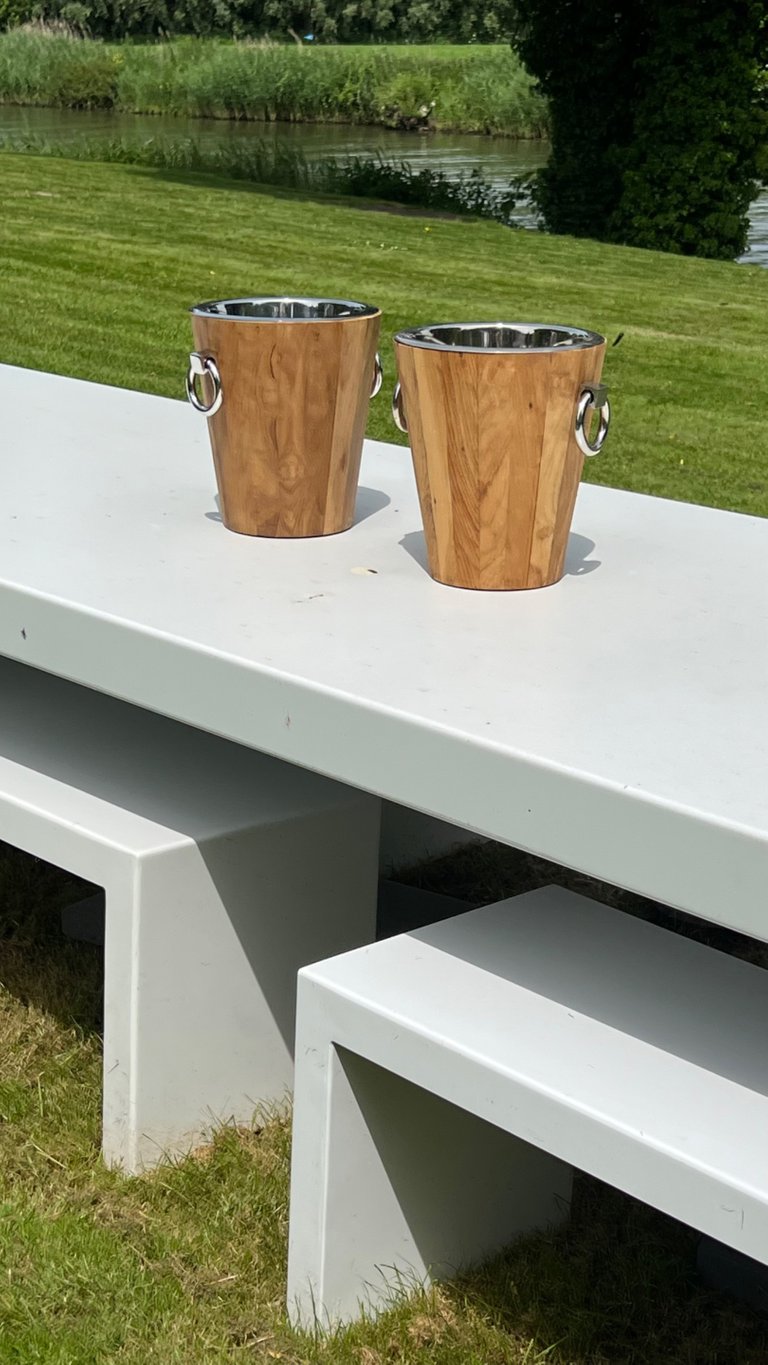 Cheers to the next time we will visit the Betuwe…..
I pinned ~Deil~ to my @pinmapple map.

❤️
Until we read again, Thanks for stopping by,
its appreciated and remember always focus on being creative instead of being bee-zy.
Consistent Actions Create Consistent Results.
Not everyone is a blogger but everyone has something great to offer.
Lover of Life and L❤️ve in General - @brittandjosie

I am a proud member of DISCORD #theTerminal
#ladiesofhive and #amazingnature but also
Co founder for @theterminal, @heyhaveyamet @rc-assist and @steem-aide
All images and photographs are created and owned by me
so @brittandjosie originals otherwise it will be specified.
Sources used : It is mentioned in my blog, this time its
https://nl.m.wikipedia.org/wiki/Betuwe
When the source is missing, please tell me I am only human and don't want to do anything wrong or even plagiarise. I do make mistakes. I only use a canon camera and my iPhone 13 pro max for my images.
I would like to thank you for reading my blog, feel free to leave me any feedback, if not, read you next time. #BENICE

Your personal Discord terminal invite : https://discord.gg/XZGPGpz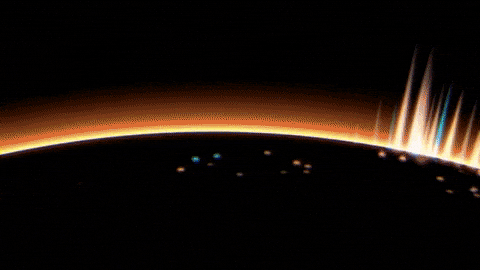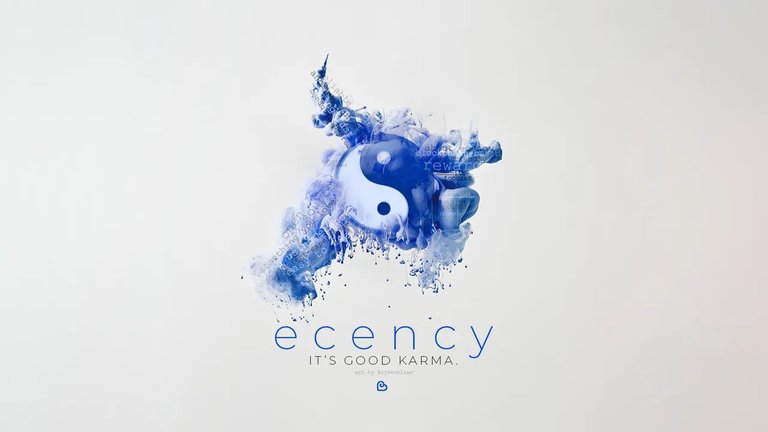 Date : 29 may 2023
---
---