Friday Market Musings | 18 | 2023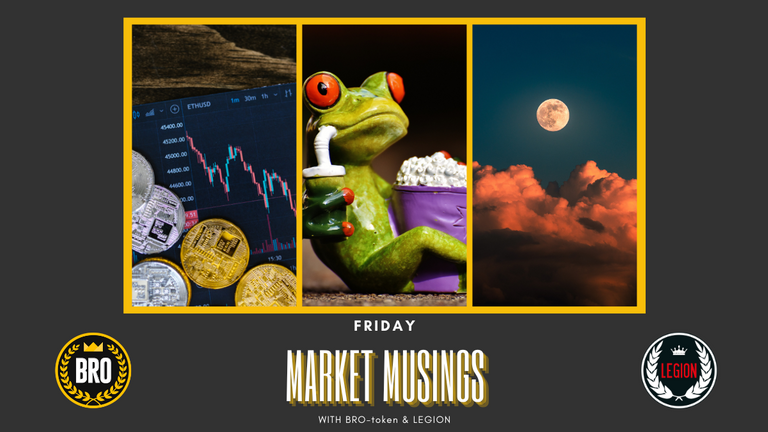 Image Created with Canva


Back with some musings
After you had to miss the market musings last week because I took a week off, I'm back. And what a week, it seems that I better not take time off, the market immediately collapses. Not that I really believe my week off had anything to do with this, but still. It's not that I can change anything if the market collapses again, but well ... maybe you understand my feeling. It all seemed to be moving in the right direction with crypto for a while, and then such a next blow to the price might hit just a little harder. Not sure if I'm the only one who feels this way. How are you feeling this right now?
I wrote it just yesterday in a blog on my own @hetty-rowan account, "I'll keep hanging on", but this bear market that seems to never end has really made me question whether it is really worth all the time and effort, especially in the last few weeks. Eventually I came to the conclusion that I ended up in crypto without even immediately realizing that I was getting into crypto. But when that realization had sunk into my blond brain, then I made the choice with my full blond consciousness to continue on the chosen path because I believe in a future of decentralized finance. And hopefully there are more and more people who believe in that and step into it. Because the alternative, in which the government increasingly controls your finances, is far from attractive.
Let's check the market
After these thoughts and conclusion, shall we take a quick look at the state of the market? And by fast train I mean really fast...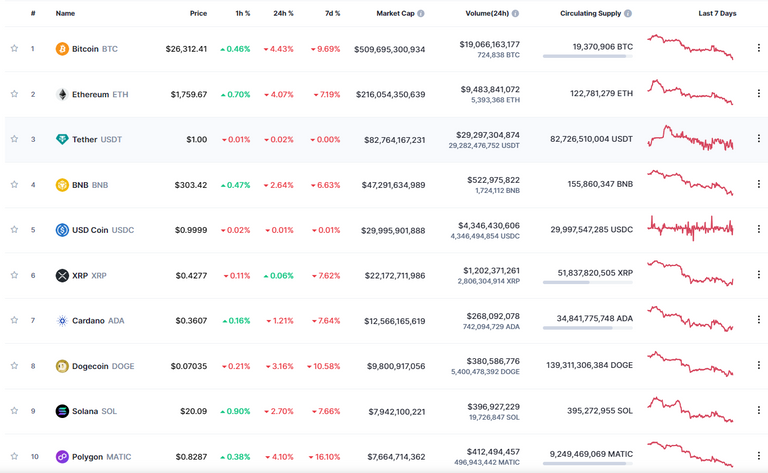 All RED
Taking a quick look at the screenshot I made of CoinmarketCap, I already see the entire top 10 in the red over the past 7 days. Then you don't have to look much further to estimate that all other 9629 coins that CoinMarketCap has in their list also show red numbers over the past 7 days.



Save the best for last?
However, a second quick look, but now at the last tokens in CoinMarketCap's long list, shows me that the very last token in this list, the number 9639, has just seen an 18% increase in the last 7 days. This token probably just launched, I haven't looked into it further yet, but that's what I expect when I think logically.
Want to be a bag-hodler too?
Let's move on to another token that has kept people busy, where I thought ... "Does the crypto world really have enough money to throw it away?" Meme tokens, they continue to attract investors and drive them crazy. Take a Pepe now, everyone flew in to buy the largest possible bag of Pepe to, ... well, to think they were going to become millionaires? The gas fees of ETH did go up nicely, amounts of $ 40 in fees on a $ 100 swap were considered normal again. Pepe saw a nice rise, which actually made it more and more risky, and now we see that the interest of the many 'investors' has already flown to another coin, with which Pepe has started a decline that is currently so' n is 31%. I hope for everyone who got in that they did this in time ... To cover the gas fairs and also have a profit, you must have a decent profit if you want to really benefit.
The next hype
If you're interested in hype, MiLady Meme Coin (Ladies) seemed to have taken over from Pepe. But this hype also seems to die an untimely death. If I take a quick look at the Meme coins, I now see an upward trend in Capybara (CAPY). Could this be the next hype that leaves a lot of bagholders behind?
Now I may sound very sensible, like I never feel any hype to get my crypto moonshot. Well make no mistake, I can tell you that I felt quite disappointed when I realized that I had no liquids at all to dive into Pepe, that I was disappointed that the hype was on the ETH chain with the ridiculously high fees. That was seriously the only reason I didn't buy a bag of Pepe. Fortunately in hindsight, because I would have arrived at the party really TOO late.
Crypto MoonShots ahead?
But maybe another hype will start soon that will hopefully last longer, and new millionaires will be born soon. The long awaited PulseChain is about to launch! Expectations are high. I don't have a chance for a crypto moonshot here either, but I'll wait my chances, and hope my L1X gives me a chance for a crypto moonshot. L1X is expected to launch in August, becoming the first interoperable blockchain. And I happened to be able to buy in the presale once. Just a little patience, and make sure I don't go under before then. Hopefully my crypto moonshot is coming, what about your crypto moonshot?
---
---