Friday Market Musings | 22 | 2023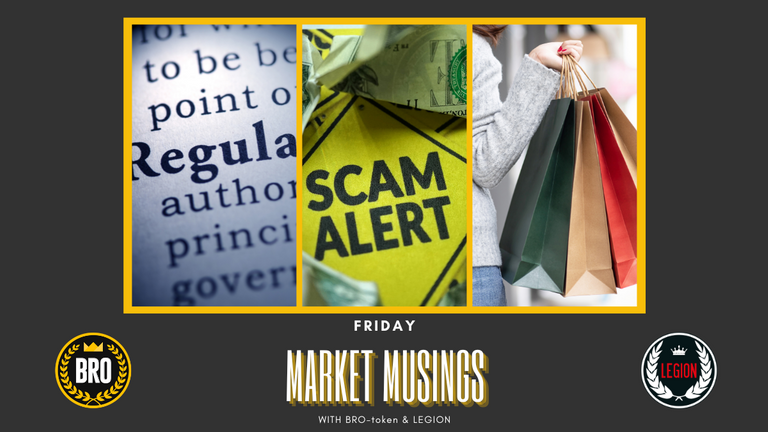 I'm back!
After a week of eating painkillers I try to stop and get some more clear thoughts. Getting clear thoughts is necessary to navigate the crypto markets these days. The first thing I noticed was that a week seems like an eternity, and the prices reflect this eternity… Unfortunately, in this case. I would have preferred coming back after a week of "Not paying attention to crypto" with prices skyrocketing. Well, unfortunately... keep on dreaming. The opposite appears to be happening again.


First month of Summer life, still Winter in crypto
Was there actually anyone who had already seriously thought that the crypto winter was over? Damn it! We're in the first month of summer here, and crypto is pretty much going back below zero. It's a good thing that the temperatures outside have risen a bit, although they can't be called that great here in the Netherlands either. Oh, they are nice enough to spend some time outside, but I can count on one hand the days when the temperature rises above 25 degrees. Gosh... nothing in this world seems normal anymore. And that seems to be reflected in crypto.


Europes MiCA law
Europe has passed the MiCA law, which will come into effect from 2024. Hello Regulation of the Crypto Markets! You can read exactly what the MiCA law is here. It's nicely explained for you, if you don't feel like reading through a 571-page law, this article should suffice. But rest assured that your privacy can go even further into the trash. The exchanges are allowed to offer their services, but your privacy will be dumped in the trash. Europe is once again leading the way with this regulation and what I've seen while poking around the internet is that crypto companies are happy with it ... and that the rest of the world is watching tensely. There is even talk that MiCA could be a guideline for the rest of the world to regulate crypto. Let's wait and see if really EVERYONE will be so happy...


Rug Pulls are popular again
What is striking... is that people in crypto have lost more in the past month from EXIT SCAMS than from DeFi exploits. Yes, the rug pull is very popular again. It seems that people never really research who is behind a project, the markets are down, people are bored and apparently see a 100x or so in every new token. I can't explain it any other way. And yes, of course those who do the rug pulls, well, it is striking that this is observed in May. Apparently they are looking for a bit of holiday money or something?
So in any case ... for the umpteenth time again. DO YOUR RESEARCH before you throw yourself head over heels into something. And when you do your research, you don't get blinded by the tokenomics. Tokenomics can often be adjusted according to the situation. But the person, or team, behind a project... THAT is definitely worth a closer look. You want to know what the reputation of those people is. The more transparent they are, the better. You may be able to trust Hankie on his beautiful blue eyes, but if Hankie has been fired from his boss in the past because he couldn't keep his fingers out of the socket...then it's not as handy if Hankie is the team lead of a new cryptotoken. And then the chances are pretty slim that this will be a 100x token. Before it has come to this, Hankie has probably already lifted his heels to drink milk from a coconut with his bare balls somewhere on a sunny beach from your hard-earned money.
Maybe an extreme example, but I think you get my point, right?


Shopping News!
And then news about Uncle Ali, let's just call it that. Perhaps the more familiar name for everyone is of course AliExpress. Now you may be wondering what AliExpress has to do with crypto now. Well that has everything to do with a particular dog!
Oh gosh no! Not THAT dog again? Um yes, and also… No! It is of course a Shiba Inu dog that I mean, but I am not talking about SHIB and also not about DOGE. No no, this time it's a smaller group of users' turn to maybe get happy.
Their virtually worthless token, FLOKI, can now be used to shop on Ali Express!. Look, you didn't expect that, right! FLOKI has got a new use case, and it just might be a popular use case. Whether it will directly lead to an increase in the value of FLOKI, I honestly doubt that... but nevertheless, I just found a use case for the $50 FLOKI tokens I once bought on a whim (and which are now only worth something like 7 dollars).



Who ever said that HODLing is rewarded? Whether I also go straight to Ome Ali for shopping, mwah, that is still doubtful. Even there, there is not much for sale for this mega amount that I can't get anywhere else and really need.
But okay, anyway, nice news for the FLOKI users among us. Shopping on AliExpress with FLOKI. Oh, for the techies among us, of course this was implemented via shopping.io.
Well, you get it... I'm going to poke around on AliExpress even though I don't have any capital on Floki to see if there's something I can spend my Floki on, I'll let you know one time somewhere in the distant future.
Have a great Friday, and see you next week with new Market Musings!
---
---