NEWSPAPER BROFUND | ISSUE 1 | 2023
NEWSPAPER BROFUND | ISSUE 1 | 2023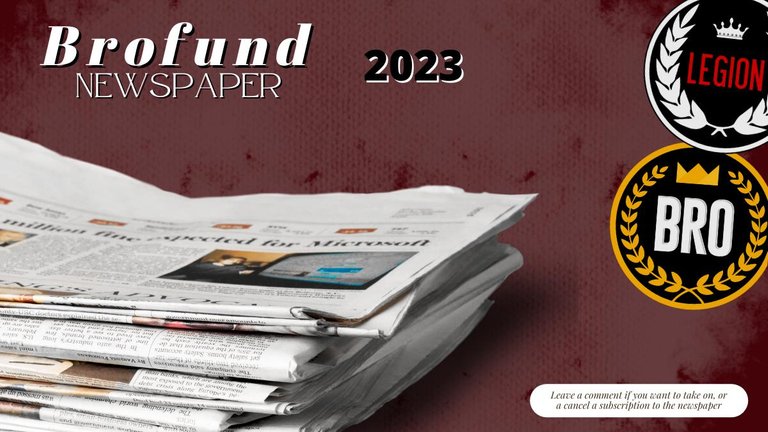 Image created with Canva Pro


Happy New Year
So cavemen, how are you? Welcome to the first issue of the Newspaper of the fresh year 2023. A great time to say it one final time, Happy New Year to all of you! Will this be the year @raymondspeaks will make us rich? I already saw a lot of comments in Discord that desire exactly that. Imagine, the year has only just begun! And Ray, of course, has yet to get going. Legion has only just been launched, the bears are still dancing around and the bulls are nowhere to be seen. And then people are already talking about getting rich. On the one hand it makes me laugh, on the other hand ... it is a fact that wealth is created in the bear market! So in that respect, this is an excellent time right?
LEGION FUND BUILDING
Let's take a look at some of the secrets of building the assets for Legion. When I asked @raymondspeaks what is currently going on for that, he told me that Legion is currently building wealth through three other projects. This will probably increase as time goes by, but for now EDSMM, BXT and DRIP are important pawns for Legion to build capital. I'm not here to give you the exact numbers, we'll leave that up to @raymondspeaks himself!
Now I am actually convinced that most of you will now know what DRIP is. And then you also know that DRIP took a deep dive last year. It could therefore be a wise decision to actually buy into DRIP now, so that Legion can immediately benefit from the smallest upward movement of the DRIP price.
But then, 2 tokens built on the 2nd layer of Hive. EDSMM and BXT! And that's an interesting choice. Because what is EDSMM and what is BXT? Why was it decided to buy into these two tokens?
To find out, let's take a look at the nature of both tokens. Let's start with BXT. You probably also know that BXT is the token of BEE-SWAP. Each BXT that is staked earns a share of the fees that Bee-swap earns. I will leave the exact figures to others, but it is important to know that Legion is working on obtaining a passive income by staking BXT!
EDSMM is a bit a different token. This token mines EDS, and EDS is paying dividends. So even when this is a different token, the end game is still the same. Building for a passive income for Legion.


OTHER NEWS
Also in this year we occasionally make a trip to news that is not directly related to brofund or our investments. And one of the news items I want to bring to your attention comes from @psyberx.
Their game is rapidly approaching the ALPHA stage. People who have been patient for a long time might get very excited about this. But even if you haven't done anything with it yet, it can be interesting to take a look now.
With the offer they now have for a limited time you can buy a position in the game at a very affordable price, and also secure yourself a spot in the ALPHA testing phase, where a very interesting referral system will come into effect.
For the exact details, read @psyberx's blog ... and take advantage if you're interested!


HIVE FUN QUESTION
Also in this new year, we really love to get to know your thoughts, and engage with our followers. So we continu with the Fun Hive Question. Are you ready for the first one in 2023?
Let's not get around it for long. I'm just dropping the question here. You'll think about it, and whoever gives the answer we're most attracted to wins 20 Hive! Do we have a deal?
Alright! Here we go!


It's only just 2023, of course, so bring on all those good intentions for this year. What are your resolutions for this year, and have you kept to them so far, or have you returned to your normal behavior?

And what do you expect for crypto in 2023?
Wish you all good luck, entertain us, make us laugh or make us cry with your answer and maybe you are the one who wins the first 20 Hive of 2023 next week!


GOSSIP
Did you know that @themarkymark sends messages to Khal at least once a week? Unfortunately, the love is pretty one sided and Khal doesn't answer. Hopefully that will change soon.
If it doesn't change, it could be that Marky will soon have a blackout just like @bozz and no longer know where he stores his data. This happened to @bozz when he burned copies of DVDs, but now can't remember where he put them. Of course it makes it difficult to watch. Maybe the memory will come back in 2023. He has a whole new year to look for the copies.
Whoever is never so busy with copies, or rather, who is busy with copies every day is of course @traciyork. Only the copies she finds are not so much labeled as copies, then it is immediately called plagiarism! And if there's one thing our Traci can't stand, it's plagiarism. Be warned! She has had two weeks of vacation, and is rested again!
Someone who immediately received a big shock in this new year was @silverstackeruk. He was looking at some numbers regarding inflation. What turns out now? The inflation that we are currently experiencing around the world is actually turning out to be a joke. 15% or more in some countries, within Europe alone! It's nothing if we look at Leo's inflation. With 46% we can call Leo the absolute winner when it comes to inflation! Congratulations! Or is this not what it seems?
Someone else who can be called a winner, but now we´re talking about a winner in losing money, is of course @melbourneswest. He was trying to convince himself once again. And we all know he would win to lose again. But thank god, we don´t have to worry about that because @melbourneswest found himself a guardian angel. Not that we should make any mistake by thinking that @votebetting is actually an angel, but this one time he was kind enough to prevent Melbourneswest from another adventure in losing money. I guess Melbourneswest´s wife will be thankful for this.
We will have to wait and see what this new year will bring, but it will certainly be interesting.


CRYPTO NEWS
Of course there is a lot more news regarding the crypto world. Every week I will highlight some interesting news for you.
I hope you enjoyed the first issue of the Brofund Newspaper of 2023.
Don't forget that you can subscribe by simply letting us know in a comment. If you want to cancel the subscription, you can do so in the same simple way.
If you feel there's something in this newspaper you'd like to chat about with us?
You can find us here;
Make sure to also give our TWITTER a follow
As always I wish everyone a great week and see you again next week.
---
---