NEWSPAPER BROFUND | ISSUE 2 | 2023

NEWSPAPER BROFUND | ISSUE 2 | 2023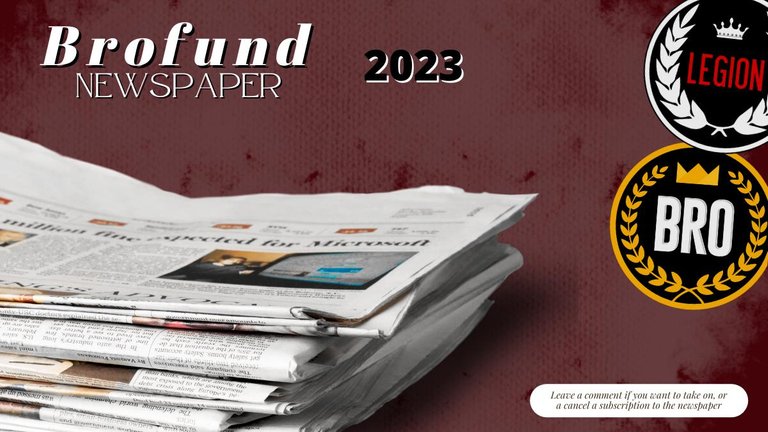 Image created with Canva Pro


New week
A new week. End of the turn of the year talk, we are all back in the crypto and the daily routine has us completely under control again. Hopefully you all had a good week and are you ready for a new week? And hopefully you're also ready to start the new week with a relaxing Newspaper.
BRO & LEGION NEWS
You probably noticed my choice of words here. A relaxing newspaper. And I mean that seriously. Because I seriously have NOTHING new to say about BRO or LEGION. Everything is going according to expectations, and the past week was just downright BORING. Nothing really happened, Ray just about fell asleep. And I sat with my hands in my hair. How on earth can I be expected to bring an interesting newspaper in a week in which nothing happens for BRO or LEGION? Let's hope there's more to tell next week!


HIVE RELATED NEWS
While scrolling through all the blogs that were posted I came across a new community. It may not be a community that I have much to post in, but I think there are people who might find it interesting. There are, as far as I can judge, many lovers of Horror & SciFi. Feel free to read @shinoxl's blog that tells you what you can post in this community ... it could just be the case that it can tie in with one of your future blogs.
HIVE FUN QUESTION
Ready to move on to the next part of our short newspaper this week? We're going to check our Hive Fun Question from last week.
Alright! Here we go!


It's only just 2023, of course, so bring on all those good intentions for this year. What are your resolutions for this year, and have you kept to them so far, or have you returned to your normal behavior?
And what do you expect for crypto in 2023?
Apparently we didn't have many people really reading the newspaper last week, or nobody felt attracted to answer the question. So the only answer we had, given by @noctury wins the 20 Hive. Let's do that a bit better this week, shall we?
The question I'm asking you this week is as follows:


Let's take a look at something many of us do every day. Which way doesn't really matter. But have you ever asked yourself WHY and WHAT you actually work for? And following that... HOW do you think you can achieve financial freedom?
Since you guys seem more interested in financial related questions, I hope to get more answers this week. If you're reading this for the first time, by just answering the question in the comments below you have a chance to win 20 Hive. If you're reading this every week ... well, you know the drill!
The answer that attracts us most wins the 20 Hive.
Go get'm!
GOSSIP
CRYPTO NEWS
Of course there is a lot more news regarding the crypto world. Every week I will highlight some interesting news for you.
I hope you enjoyed this issue of the Brofund Newspaper.
Don't forget that you can subscribe by simply letting us know in a comment. If you want to cancel the subscription, you can do so in the same simple way.
If you feel there's something in this newspaper you'd like to chat about with us?
You can find us here;
Make sure to also give our TWITTER a follow
As always I wish everyone a great week and see you again next week.
---
---