NEWSPAPER BROFUND | ISSUE 20 | 2023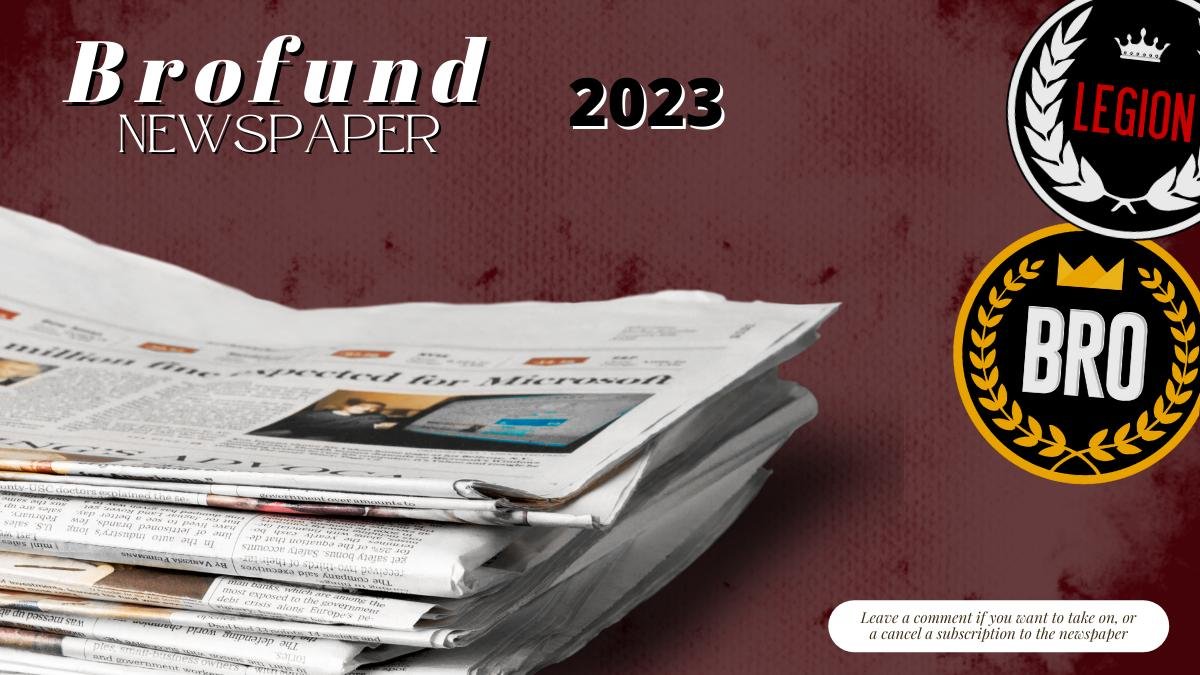 Image created with Canva Pro
BRO & LEGION NEWS
Welcome to the BRO Newspaper this Sunday. Today we bring you the smallest news, with the biggest laugh. As you already have been able to see, we started to have much more activity from our official account @brofund. And all this activity contains a lot of news, but also thoughts and tiny things you maybe didn't know, but should know about BRO.
This week you were of course able to enjoy the Bro Cast again, the second one already. And if you've listened, you now also know that Brofund is up to the neck in Splinterlands. Ray's vision has become clearer, Bring on the land! Aside from this information, there is of course the chemistry between Ray and Stickupboys that you enjoyed. Tomorrow you can enjoy the third Bro Cast.
Of course, Ray also shined the spotlight on PIMP, explaining why Brofund invested in Ethereum.
Next week you can enjoy a new Community Spotlight, which will most likely be Crypto Company! And that's one you should seriously look into because that's super interesting! I really see it as a game that could turn Hive upside down, in the positive sense of the word. Keep your eyes peeled for the blog that will shine a spotlight on that project.
But if you're not that interested in the Hive communities, you can keep your eyes peeled for a blog that will tell you more about Polygon. Why do we find Polygon interesting at Brofund?
And even if you're only interested in BRO and Legion, which is what connects us all, this week you can read what owning BRO can do for you. You see, there is some content on the program, and little by little we are becoming wiser of the goals Ray has for BRO and Legion.
The last, but not the least, announcement I want to share with you is the one impacts EVERY BRO Holder out here. Today, will be the last day that you will receive the Legion airdrop. Circumstances, (heavy selling), forced us to rethink and halt the airdrop to protect our investors and to protect the growth of the project. If you want to read all there is to know about our decision I recommend you to read our blog, which will explain all you need to know about this decision!


NUMBERS DON'T LIE
We all know that BRO holders get Hive dividends every week! Don't worry, it's not a secret code language, it's just very simple. The more BRO you have in your wallet, the higher your share of the dividend pool will be. Of course everyone likes a graph from time to time, so in this graph I have made the total dividends per week visible to you. Enjoy!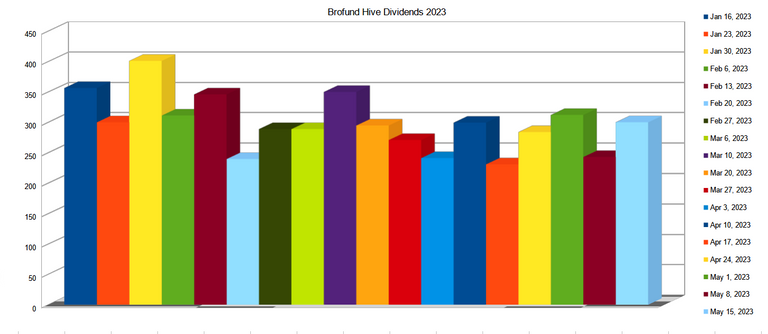 LGN Divs
No LGN divs this week, but we do have an important reminder. If you want to keep receiving those juicy LGN divs, remember to STAKE your LGN.


If you are reading this, and don't own BRO or LGN but also want a piece of the pie, the only thing you need to do is holding BRO and/or Legion in your wallet. Of course you can buy both tokens from the market.
If your pockets are not that deep, there is also a way to earn them. You can also earn BRO by delegating Hive to @brofi. If you want to earn Legion you can delegate Hive to @stickupcurator.


BURL'S BROWARRIOR SPLINTER UPDATE
The Splinterlands season ended last Monday, and our BROWARRIOR player @burlarj was kind enough to immediately send the updates to my mailbox, for which my thanks to Burl!


BROWARRIOR had a good season, earning 40K DEC in the Champion League with a 20th spot. But that was not all, we ended at the 3th spot in de Diamond League, earning another 50K DEC.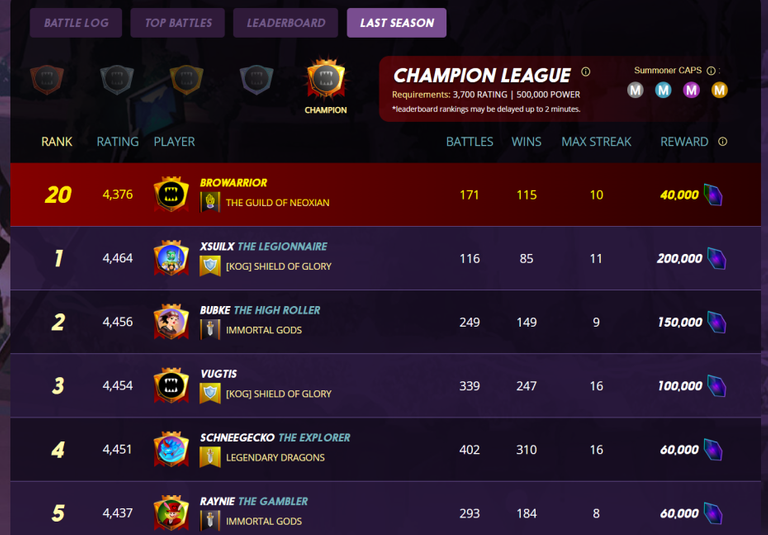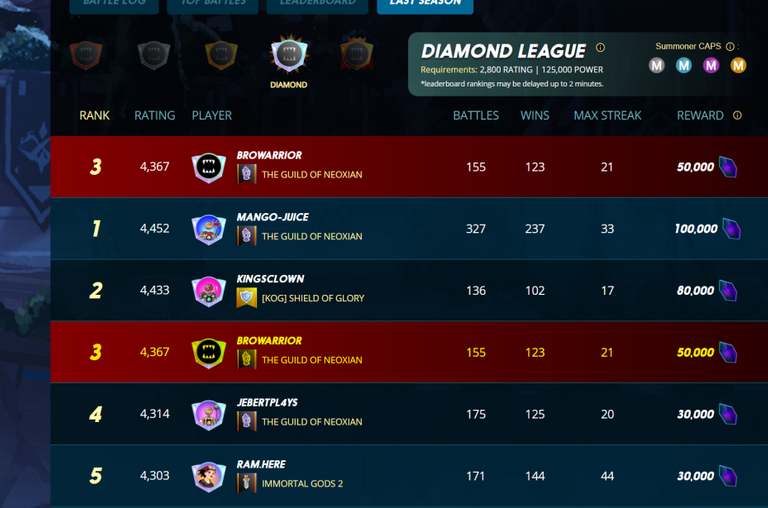 And yes, we also won some SPS as you can see in the next screenshot!



We have also earned some new Soulbound cards, and all this together is what makes it overall a good last season.
Here's wishing @burlarj all the luck and succes for the current season!


HIVE RELATED NEWS
If you didn't get it. Last week on May 15th it was @theycallmedan's birthday! To celebrate this with the community, a real community has been set up. This community will only be active with special events, such as Dan's birthday for example. In addition, there is also a community initiative to celebrate Dan's birthday. Do you feel like a VIKING? Or have you always wanted to be a viking? Here's your chance!
Please read @aliento's blog, written by @eddiespino, and don't forget that you can still participate in this initiative to celebrate Dan's 36th birthday. Until Sunday, May 28, you have the chance to get your creative juices flowing and make an outstanding entry showing Dan and the entire Hive community what you are capable of, and how you value Dan and the entire Hive community!
Congratulations on your 36th birthday Dan!
WHO ARE THOSE DRAGONS
Last time we spotlighted @enforcer48, but of course we have many more Dragons in the Mancave! If you are also curious to who they are, just read on and you'll get to know the next BRO Dragon.
None of the answers given by the Dragons can be considered financial advice. Always do your own research!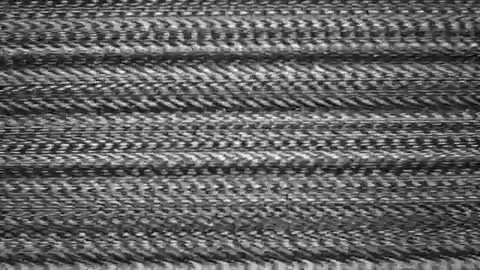 Today we asked @bearbear613 to answer some questions. Are you also curious if he is the same Bear in an interview, or that his answers will show you a completely different man as the man you always see in discord?


1.) If you were a cartoon character, what type of character would you be?
Cool Bear wtf kind of stupid question is this
2.) If you could only listen to one song for the rest of your life, what would it be?
Stairway to heaven, which will become torture
3.) What's the most meaningful gift you've ever received?
Grandmothers Golden Torah pendant
4.) If you could have any talent, what would it be, and why exactly that one talent?
Photographic memory would help with everything
5.) If you could make the entire world go back in time, which era would you choose and why?
Back to the 80s where women were women and men were men
6.) What made you decide to go all in with us BROs and how do you see the future for BRO and Legion?
I like Ray
7.) What would be the most important thing you'd want to say to everyone here on Hive?
You're all going to die one day, so be nice
If there's anything you want to shill to the BRO's and everyone out here on Hive, go ahead! Here's your chance to do so.
I have nothing to shill, I'm crypto stupid!


That was another Dragon Interview. Thank you @bearbear613! Who would be the next BRO-Dragon in the spotlight?


GOSSIP
@themarkymark, a local celebrity in The Mancave Discord community decided to completely disappear from the scene. Tired of all the endless nonsense and drama in the virtual world. But suddenly, yes from nowhere we see an announcement that there is something to be released soon, Hive Punks Land! Would this be a reality? Will it really happen? Or is the announcement of this virtual Hive Punk world a dream that only exists in the Discord Community who does appreciate him being there? We'll have to keep up our hopes, wait and see...



It really seems like we need to reconsider one more thing. Our weekly gossip column in this newspaper. You will probably wonder, WHY? Well, it turns out that @raymondspeaks, and some others, for example @dbooster, really hate GOSSIP! That makes me think about this section of the paper. Until I come up with a new format, those who do like it can continue to enjoy it. And in the meantime I will argue with Ray, because as you know he is the boss who finally decided that this gossip column should appear in the newspaper ...

Hmmm, he doesn't like it ... but he definitely wants it in the newspaper. I prepare for a discussion....



If you've ever been in the Mancave discord during the day and thought "What nonsense is being spewed out here", then it might be advisable to check it out at night. (European night time). At that time, when many Europeans are normally asleep anyway ... @bearbear613, @enforcer48, @beardoin, @silverstackeruk and @raymondspeaks suddenly emerge with more serious topics. And many people can learn from these topics… What about Bitcoin insights from @silverstackeruk, how to invest your wealth to keep up with inflation, brought to you by @bearbear613 and @enforcer48.

If you want to learn about these kinds of important topics, The Mancave Discord is for you. Just be prepared that if you have a European schedule, you'll have to stay awake, or dream that you'll be there live to talk to!


CRYPTO NEWS
Of course there is a lot more news regarding the crypto world. Every week I will highlight some interesting news for you.
I hope you enjoyed this issue of the Brofund Newspaper.
Don't forget that you can subscribe by simply letting us know in a comment. If you want to cancel the subscription, you can do so in the same simple way.
If you feel there's something in this newspaper you'd like to chat about with us?
You can find us here;
Make sure to also give our TWITTER a follow
Thanks for tuning in, and as always, have an awesome week and Stay crypto!
---
---