Showcasing our achievements over the last year. We are a project that builds others up.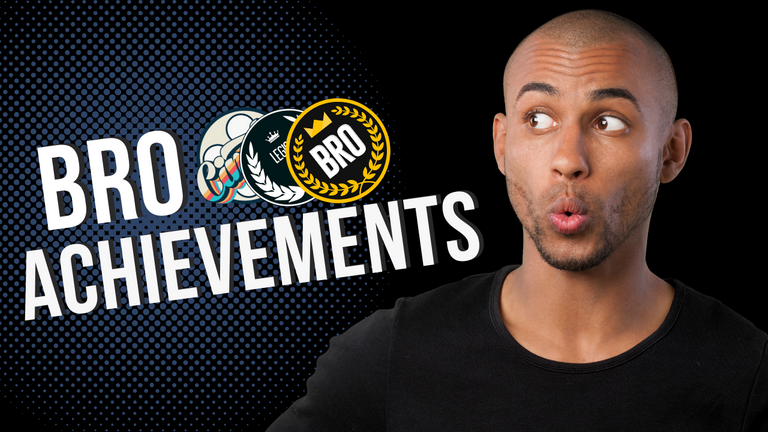 It has been suggested to us that we should be shouting about all that we have achieved in a relatively short space of time.
For a project that was born out of a 300,000 HP delegation that lasted only a few weeks we have done really well. I can remember the day when I saw that we had lost it, and the fact that the community decided to soldier on regardless speaks massively to the type of community we have been growing!
In the whole time that we have existed, we have given our holders at the very least over 30,000 worth of Hive reflections over the last three years. That is not including any airdrops such as NFT's and the current Legion drop.
At the beginning we decided to go to the second layer route as a way for rewarding and incentivising holders of BRO. We noticed very early on that us making big stakes in smaller projects seems to give them that extra financial kick that they needed. We've seen some prospects truly flourish at the beginning when we took the time to invest and spread the rewards around.
Sadly, when hive takes a leap forward and does 400% of its normal price then a lot of liquidity exits hive-engine, and consequently our own coffers too. Sadly we saw a lot of projects be decimated and demoralized last crypto season as they saw their tokens be mercilessly swapped into swap.hive and taken out of the system for the crypto season.
That's why we decided to reward our holders in hive each week. We could no longer rely on the good will of token holders when the time comes. It's not their fault either because it is their money, their time, and their investment.
This is why we devised hive in a box. By now we already had built a successful project and could add this experience and help to other projects that needed it. Sometimes it's not just about a big cash injection but seeing where the problems are and where they need fixing in teams, workflow, and organization. One thing @stickupboys has been instrumental for under the BRO fold is creating a flow of systems, procedure, and recording. As I am an artist then I would normally just do and create as I feel, but now because of his influence we are slowly smoothing out into a well oiled machine.
So we've taken this to other projects. We thought that by scoping out interesting projects and ones that we might be interested in investing in, then we could go in and offer some of our resources. We are piloting this of course, and so far we have been quite successful. Currently we are working with @cryptocompany and diverting quite a bit of our resources to them. We think this one may be a winner.
This is but a glint on what we have achieved though.
Last year @silverstackeruk and @brofund were responsible for the creation and launch of at least three new hive projects with our Venture Capital incentive. Basically, you come to @silverstackerUK with your idea, and then he decides whether or not we fund it. We go in 50% with him.
Then you have the Dragons Den which is like what I mentioned above, but the project is scrutinised a lot heavier, and you may leave with your tail between your legs if you shill us a flat tyre. But there is a lot of money in the Dragons Den, so bring us a potential winner and the chances that you have your idea funded and more is good.
The beginning of this year saw the final launch of the new @cinetv front end, which in all honesty looks like one of the nicest front ends out there. You can check it out for yourself here: https://www.cinetv.blog/ - with proper search functionality too. Something that doesn't exist on hive yet. Maybe we can be a torchbearer for hope.
Then there's our team
We got an anonymous donation last year. I know who it was, but I'm not allowed to tell anyone else about it, and that has helped me keep our team alive during the bear, which in all honesty has sucked more dollars out of the ecosystem than I've ever seen before. At no point did I think this year we would have seen Hive drop to 20c, but we nearly did. Some people were projecting lower. That being said, thanks to the good will of some, I've been able to keep my team afloat and in jobs for the foreseeable winter. I'd by lying if I said I did it all of my own back, but no, we had some good help from a few good people. I do believe in that train of positivity and it seems to work so far.
So far there has been extremely low retention in our team, and we've only had to fire one person. Everyone else has kept their positions since we hired them. Good job folks!
And our tokens.
So far BRO is the only token that's actually held it's hive weighted price, and not only have we held it, but it's grown. People that bought BRO in the beginning have seen a massive massive (sometimes 10x) growth.
And last but not least, the people that hold it all together..
.. The Dragons. We have over 35,000 BRO that's never once been placed on the market since it was taken off. Well done Sirs (and Madame), you've really outshined yourselves there holding our price together for a good three years. Next stop, 20 Hive a piece :)
Legion has a whole year to go
With all this, legion has a year to go. The earlier you buy it, the cheaper it will be. But I'm warning you now we won't be sitting still!
Peace out,
mic drop
---
---