2 Seconds

Hello everyone. I'm back again. This time Posting prompts - Weekend-Engagement: WEEK 143 I wanted to join. I hope you are like my post.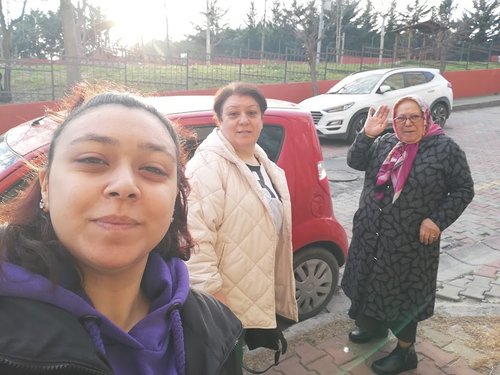 me, my mother and my grandmother.
You only have two seconds to end your life. Only two. You look at it in the blink of an eye and you are in another world.
Between Death and life, men are on a long thin rope that lies only between two cliffs. Your death will see you fall over that rope. Where below? It is eternal life below.
Have you ever thought that this world we live in is actually a paradise of another world?
Death makes all things equal. Death is another source of life.
There was an event in which I was caught between life and death, but when I remember that day, my whole body reacts involuntarily.
one morning when i was a high school student at the age of 16-17, i left home to go to school. It was raining a lot that day, so I decided to take the bus instead of walking to school. I started walking down the street to get to the bus stop from the opposite sidewalk of the bus stop. As always, I was walking with headphones in my ear, but the music was very hoarse. As I walked down the street, I saw a car hit me right at my hip, and I was dragged on the floor like in the movies. People started to come around me in the street, the driver of the car was very scared because something was happening to me, I was very scared. They immediately took me to the hospital and at first they took x-rays and told me that I had a fracture in my hip bone. Then they looked at the x-ray carefully and was told that it was not so, I was told to rest for three days and take pain medication. I can't forget those bone pains all my life. As I was dragging on the ground when the car hit, what I had done all my life, my joys and my sorrows, all came alive one by one as a scene.
Another thing I remember is my grandmother, whom I loved dearly, who raised me to this age.
2 years ago, at the beginning of covid-19, my grandmother came to us to stay with us for a while. One day, while sitting and chatting, she kept saying, "My chest and back have been hurting for a week, I must have caught a cold." It was a coincidence that my aunt was going to the doctor the next day, we talked among ourselves and decided that my grandmother should go to the emergency room. The next morning, I went to work and in the afternoon I got a call from my mother and learned that my grandmother had had a heart attack in the hospital. I immediately took leave from my workplace and went to the hospital where my grandmother was. Heri condition was good, they put a stent on his heart and opened the clogged arteries. She was hospitalized for a week, then he came to our house. I looked after him for 1 month. Now she is much better. If anything happened to my grandmother, I think I would have had one of the worst days of my life.

Thanks for reading my article.
---
---