QOTW 10.7/ Las Protestas y las Personas (Esp/ Eng)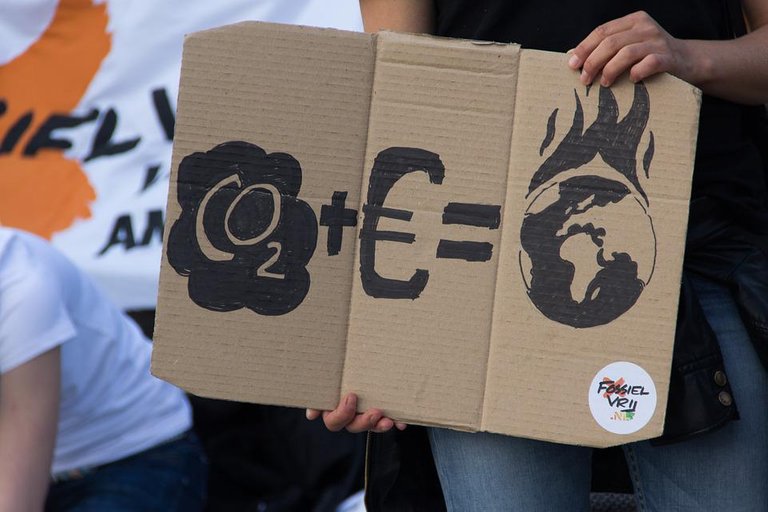 Fuente/ Source

Español


"¿ESTÁN JUSTIFICADOS LOS ACTIVISTAS QUE INCOMODAN AL PÚBLICO EN GENERAL?"

Vaya esta si es que una pregunta interesante y que nos pone a reflexionar..., en mi caso, cuando veo estas manifestaciones, pienso en varios puntos de vista:
Que si hacen estas manifestaciones públicas, es con el objetivo de llamar la atención y para eso se valen de diferentes medios para hacerlo. Medios que incomodan a las personas precisamente para que centren su atención en lo que se está manifestando.
Pienso que en ocasiones hay que hacer una parada, una pausa ante una situación que se está saliendo de las manos y estas manifestaciones son necesarias, para que las personas volteen a ver lo que está pasando y para lograr eso lamentablemente hay que interrumpir la cotidianidad de las personas, causando muchas veces molestias.
Que de otra manera, las personas no están al tanto, de algunas situaciones y esta es una de las maneras de darlas a conocer, de forma más directamente, manifestando e informando públicamente.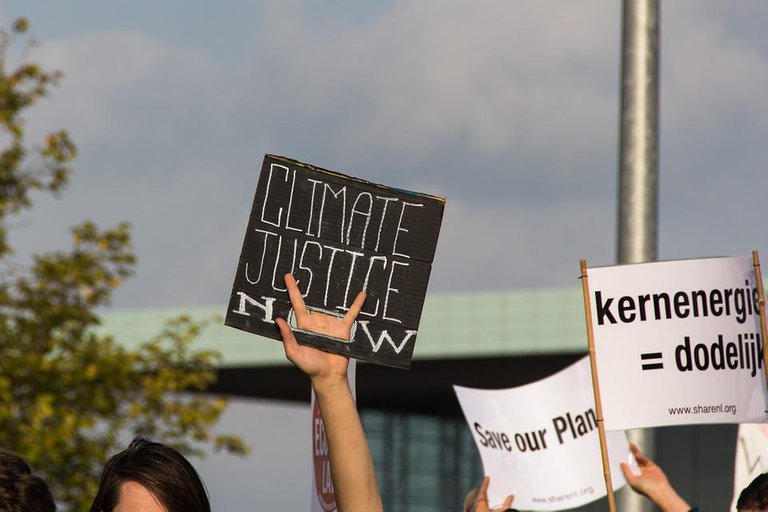 Fuente/ Source
Entonces, por un lado, es positivo hacer manifestaciones públicas, pero por otro también son negativas por algunas consecuencias que causan en el ir y venir de las personas, por ejemplo:
Cuando se dan estas manifestaciones, generalmente hay cierres de calles, por lo tanto, no hay paso vehicular a veces ni de personas. En consecuencia, puede acontecer que venga alguna ambulancia que necesite el paso y no se le ceda, atrasando una emergencia al momento, eso no es bueno.
Puede suceder cualquier eventualidad, que bomberos o policías necesiten transitar por el lugar y se vean imposibilitados de llegar a tiempo al siniestro, accidente o emergencia como tal a tiempo, poniendo en riesgo a otras personas.
Atentar contra bienes e inmuebles, en ocasiones contra obras de arte, no me parece que sea lo idóneo, pues afectan a toda una comunidad y a personas que muchas veces no tienen nada que ver, contra lo que se esté manifestando, dejando vulnerables en ocasiones a muchos, ocasionando otros problemas.
Pienso, que todo parte del respeto por las personas, hacia las religiones, símbolos patrios y comunidad. Todo debe tener un límite, enmarcado en el respeto mutuo. En ocasiones se traspasan más allá de estos, poniendo de motivo, una manifestación, no se puede crear un problema, basado en otro.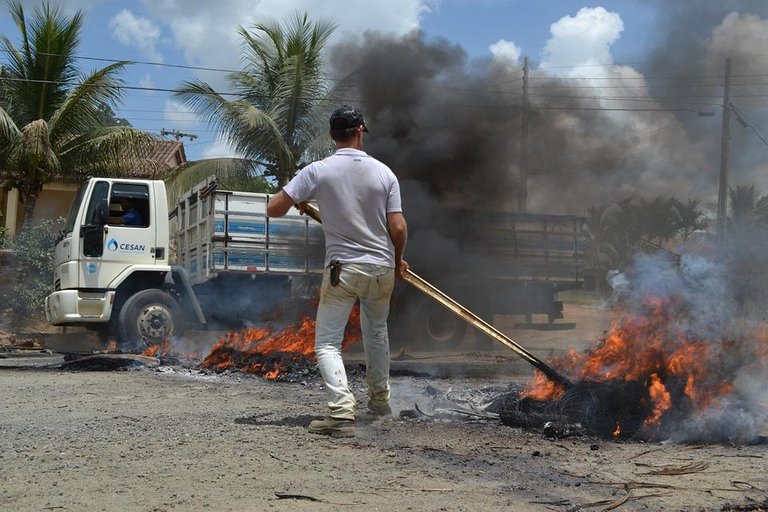 Fuente/ Source
Es por eso que considero que lo primero que hay que hacer es priorizar, el motivo de la manifestación, es decir, si es algo en verdad de vida o muerte, hay que buscar de llamar la atención públicamente, pero debería considerarse, en que espacios hacerlos. Se debería tomar en cuenta:
Lugares donde sean claves para las protestas, ejemplo si se está protestando en contra de la mala atención en cuanto a la salud, frente al ministerio de salud o frente o cerca de algún hospital, pero sin entorpecer emergencias y el libre paso. Es una sugerencia.

Una alternativa sería, hacer actividades que vayan enfocadas a lo que se quiere lograr, ejemplo; si queremos protestar en contra la tala de árboles, podríamos hacer una campaña para la siembra de árboles en sitios donde no haya árboles y sembrar allí. Predicar con el ejemplo.
Si quieres protestar contra el bote de basura indebido, organizar una campaña de limpieza en tu comunidad y ubicar puntos para la recolección de la basura debidamente y buscar de que tu iniciativa se haga pública, ahora con la cuestión de las redes, es más fácil lograr este propósito y es algo que muchos al igual que tú, querrán hacer en sus comunidades. Sería algo digno de copiar.
También se pueden organizar eventos deportivos, de comidas, de teatro, de tantas cosas en pro de lo que se quiera lograr, si es para que por medio de estas actividades se recaben fondos económicos para mejorar o contribuir con algo a lo que queramos sacar hacia delante. Es una propuesta, todo es cuestión de organizarse y trabajar por lo que se quiere.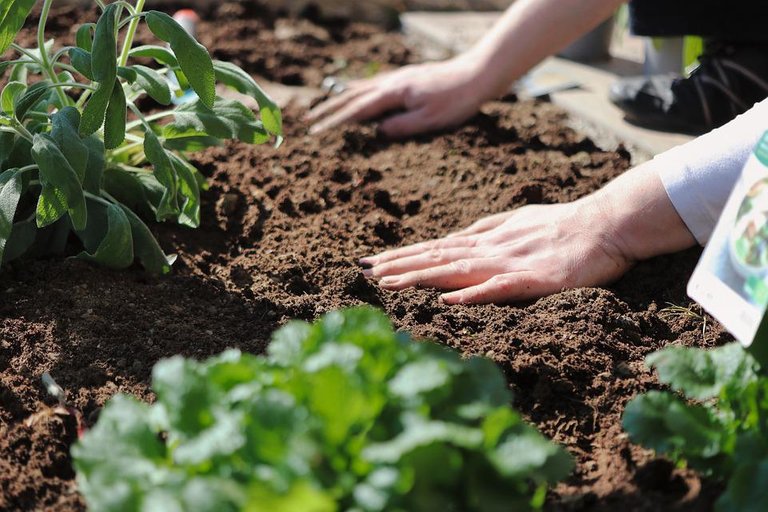 Fuente/ Source
Creo fervientemente en que todos podemos poner nuestro granito de arena, en lo que queremos mejorar, buscar las mejores opciones en beneficio de todos y a tiempo para que no sean en vano; es tiempo de ponernos manos a la obra, aparte de gritar consignas y hacer pancartas, creo sinceramente que así haríamos más y "sembraríamos" una cultura de trabajo, proyectos y de enseñanza a los más pequeños, sería nuestro legado, todos debiéramos participar según nuestras posibilidades, pues este mundo es de todos.
Visitando como siempre mis comunidades consentidas, me consigo con la Pregunta de la Semana de esta hermosa comunidad y de una vez me puse a escribir para compartir con ustedes amigos. Invito a mis lindas amigas @popurri y @mercmarg.

English


"ARE ACTIVISTS WHO MAKE THE GENERAL PUBLIC UNCOMFORTABLE JUSTIFIED?"

Boy is this an interesting question and one that makes us reflect..., in my case, when I see these demonstrations, I think of several points of view:
That if they make these public demonstrations, it is with the aim of attracting attention and for that they use different means to do so. Means that make people uncomfortable precisely so that they focus their attention on what is being demonstrated.
I think that sometimes it is necessary to make a stop, a pause before a situation that is getting out of hand and these demonstrations are necessary, so that people turn to see what is happening and to achieve that unfortunately it is necessary to interrupt the daily life of people, often causing discomfort.
Otherwise, people are not aware of some situations and this is one of the ways to make them known, in a more direct way, demonstrating and informing publicly.
So, on the one hand, it is positive to make public demonstrations, but on the other hand they are also negative because of some consequences they cause in the comings and goings of people, for example:
When these demonstrations take place, there are usually street closures, therefore, sometimes there are no vehicles or people. As a result, it may happen that an ambulance comes and needs to pass and is not allowed to do so, delaying an emergency at the moment, which is not good.
Any eventuality can happen, firemen or policemen may need to pass through the place and find it impossible to arrive in time to the accident, accident or emergency as such in time, putting other people at risk.
Attacking property and real estate, sometimes works of art, does not seem to me to be ideal, because it affects an entire community and people who often have nothing to do with what is being demonstrated, sometimes leaving many vulnerable, causing other problems.
I think that everything starts with respect for people, religions, patriotic symbols and community. Everything must have a limit, framed in mutual respect. Sometimes they go beyond these, putting as a reason, a demonstration, you can not create a problem, based on another.
That is why I believe that the first thing to do is to prioritize the reason for the demonstration, i.e., if it is really something of life or death, we must seek to draw public attention, but it should be considered, in which spaces to do them. It should be taken into account:
Places where they are key for protests, for example if you are protesting against poor health care, in front of the ministry of health or in front of or near a hospital, but without hindering emergencies and free passage. This is a suggestion.

An alternative would be to carry out activities that are focused on what we want to achieve, for example, if we want to protest against the cutting down of trees, we could carry out a campaign for the planting of trees in places where there are no trees and plant them there. Lead by example.
If you want to protest against improper garbage dumping, organize a cleanup campaign in your community and locate points for garbage collection properly and seek to make your initiative public, now with the issue of networks, it is easier to achieve this purpose and it is something that many like you, will want to do in their communities. It would be something worth copying.
You can also organize sporting events, food, theater, so many things in favor of what you want to achieve, if it is through these activities to raise funds to improve or contribute to something that we want to take forward. It is a proposal, it is all a matter of getting organized and working for what we want.
I fervently believe that we can all do our bit, in what we want to improve, look for the best options for the benefit of all and in time so that they are not in vain; it is time to get down to work, apart from shouting slogans and making banners, I sincerely believe that this way we would do more and "sow" a culture of work, projects and teaching the little ones, it would be our legacy, we should all participate according to our possibilities, because this world belongs to all of us.
Visiting as always my favorite communities, I came across the Question of the Week of this beautiful community and at once I started writing to share with you friends. I invite my beautiful friends @popurri and @mercmarg.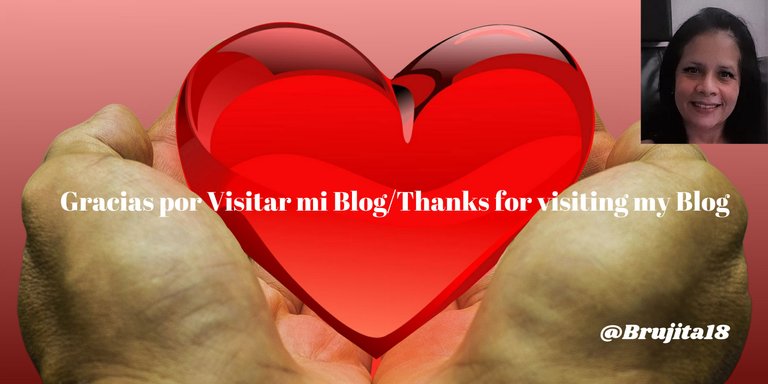 Translated with www.DeepL.com/Translator (free version)
Separadores/ Separators @MayVileros
---
---