A Picture is Worth a Thousand Words | | The Next Day
Describe what you see:
Two people under the sun, outside on the fields enjoying the brightness of the day. the older is the lady and the younger a boy. Both are dressed casually in white long sleeve and white short sleeve, meaning they're not far from home.
Describe what you feel:
A bond shared between mother and son, or sister and brother. An understanding accompanied with love, a tenderness one feels in the presence of their mother or sister or brother.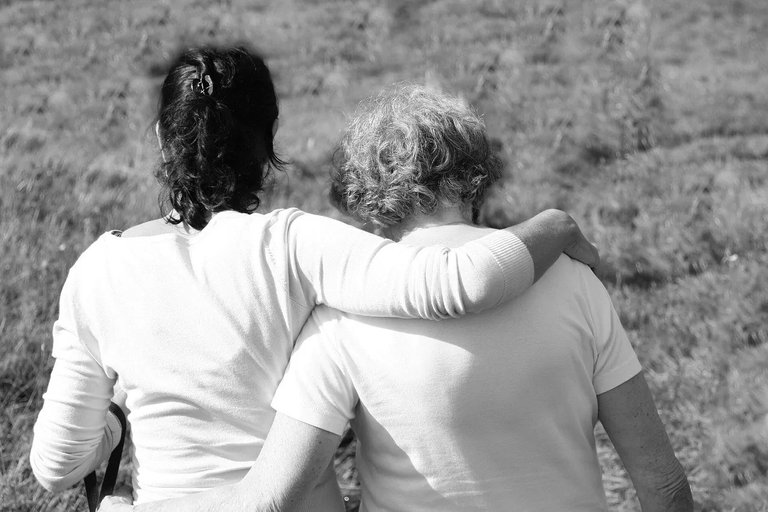 Write a Story about what you think is going on:
The next day was Sunday, neither Clara or Eric went to church. They had left over food from the food brought in by neighbours and friends.
"I don't want any of those" Eric said standing beside the fridge, he had just woken up. "Ok, I'll make sandwiches for us then" Clara replied she was now packing the plastic packs of food back into the fridge. Clara couldn't really sleep the night before, even with her friend Alicia staying over and helping with the cleaning.
The day before had been demanding both emotional and physically, Clara didn't want to remember and start the whole episode of crying again. As she started making the sandwich, all she could think about was yesterday, the sounds of crying, the deafening silence that took the church as she stepped out of the pew and ascended the few low stairs that led to the lectern.
Clara was nervous while reading her tribute. She tried as much as possible to fend the floods that waited at the gates of her eyes. Both her parents are gone now and Eric is all that's left for her. Each time she raised her head up from the paper all she saw were eyes, sorry eyes staring at her. She managed to complete the little she wrote down as she had not really gotten over the lurid details of her parent's demise.
The sandwich was now ready, so Clara went upstairs to get Eric but he wasn't there. She panicked a little but held it within, as she stepped out to the porch. She saw Eric sitting alone on the hewed tree trunk that was in front of the compound.
Eric's white short sleeve shone brighter under the sun, Clara joined him and he simply embraced her, she held him close too. Words couldn't say what they felt at that moment under the sun and in each others arms.
---
---