REVIEW: Chucky: Season 1 (2021): An unexpected migration to the small screen.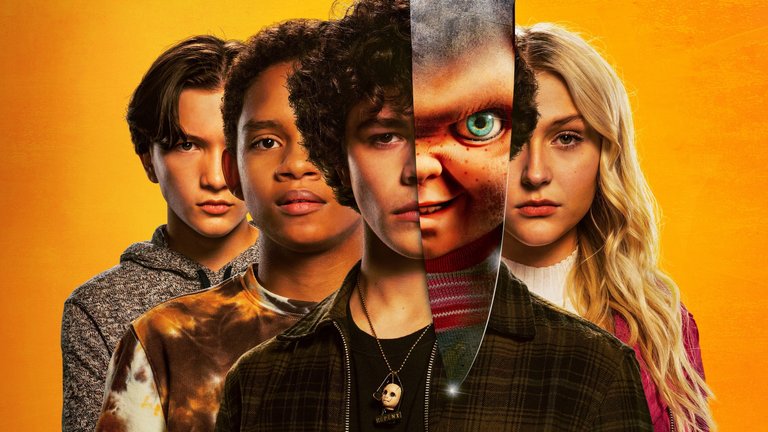 source
The next generation is here.
Hi, I'm Chucky. Wanna play?
This line is seared in the minds of any Child's Play fan. A long running horror franchise that started back in 1988 starring Brad Dourif. An accomplished character actor that has been around for many decades within the industry. You may not recognize his face but you'll certainly recognize his voice.
For those unaware of Chucky, he's a horror icon. Up there with Freddy Krueger, Jason Voorhees and Michael Myers. Although his small stature might have him dismissed, his ferocity is unmatched. Chucky is THE killer doll.
His origin story is as follows and is no surprise to longtime viewers. No spoilers here but we need to know a little backstory before we begin this discussion.
Charles Lee Ray otherwise known as the Lakeshore Strangler is shot fatally by a pursuing detective and ends up in a toy store. Luckily, good old Charles knows a little something about voodoo. He finds a toy doll called a Good Guy and is able to transfer his essence into it. From here on out we have the start of a franchise.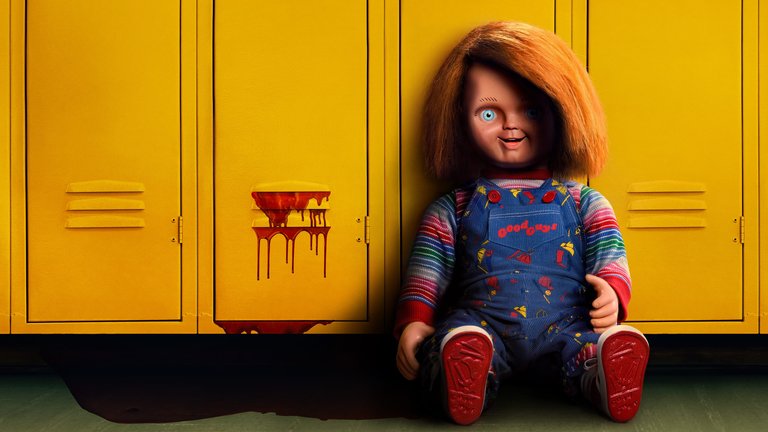 source
I'm a little shorter, made of of plastic and homicidal. Let's be friends.
The original film as with most long standing franchises leans heavily on the scare factor and it does have its moments. As we progress in time and the sequels start to materialize we learn more about Chucky and his situation. Inevitably humor enters the equation and the horror factor starts to diminish. The bizarre kills usually emerge with one-liners. The series has plenty but veers into very different territory for the standard horror franchises that began in the 1980's.
This television series came out of nowhere as I wasn't aware it was a thing until I found it recently. Binged watched the entire eight part series in an almost single sitting. I haven't done this in awhile.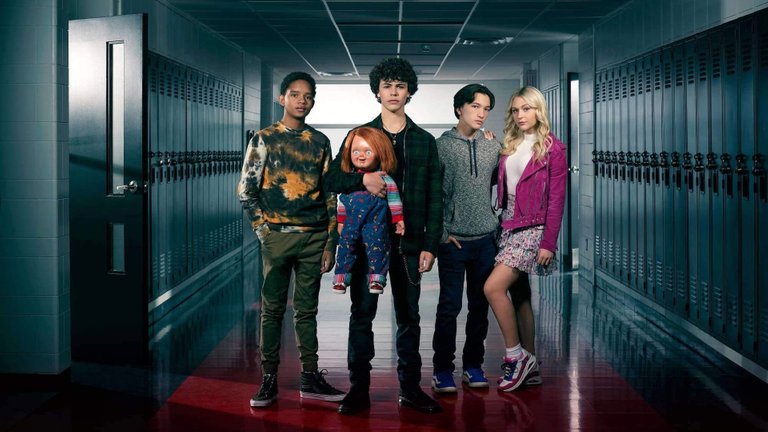 source
Middle school is the new setting and is an interesting decision.
The films are now transplanted into Hackensack, New Jersey. A pre-teen boy finds the Good Guy doll at a yard sale and our new series begins. The story focuses around a group of kids and their discovery of Chucky. I went into this with tempered expectations as film to television translations often fall flat. A teen drama isn't the way to go with this and not something I want to be involved with either. Luckily the writers have managed to craft something unique while maintaining a link to the past for those that have enjoyed the misadventures of Chucky through the years.
Don Mancini, the longtime writer of the series is involved here and that's what I wanted to hear. He's been overseeing the franchise since the beginning and has always made a big effort trying to keep the series new and fresh. How many scenarios can we put this killer doll in? Many apparently.
My big reserve in this outing was concerning how'd they represent Chucky. He's a puppet and it's only been recently that computer graphics have been used to bring him to so-called life in the newer films. This is huge deal to me because I thought he looked awful and I'm not the only one. Mancini agrees as I see over five puppeteers in the credits using their skills to breathe life into Chucky. I also see actors used in some parts too. All of these tricks were used in the early films and it's nice to see it once again.
Practical effects will always outperform cg in situations like this. The movements of the doll can look janky and strange at times, this is how it's supposedly to be. I'm so pleased they took the time, money and effort to go practical here. Save the cg for crafting things humans cannot.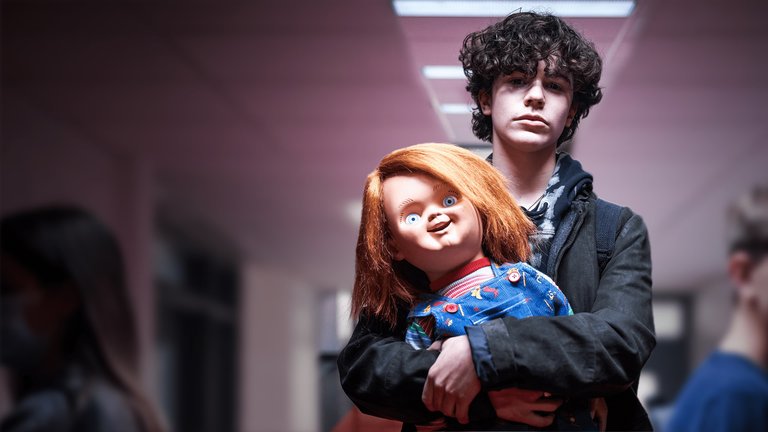 source
Best buds always stick together and they're friends till the end.
This is an eight part series delving into a new generation of killer doll mayhem. Mancini has always pushed social issues and this is no exception. Big themes brought to the forefront are LGBTQ+ awareness, bullying and inclusion. This is no surprise if you've watched some of the entries within the franchise.
The thrills and kills are present too. This level of blood and violence should satiate any fan. I was surprised at some of the language that passed on what I'd still consider traditional tv. There is one part in episode three where there is an actual censor bleep that did ruin the moment. You still can't c-word on television and I've heard it's still censored on the Blu-ray release too.
This type of censorship is still annoying to see considering graphic violence is accepted without a batting of an eye while nudity and language can still be considered taboo. A discussion that will rage on until the end of time it seems.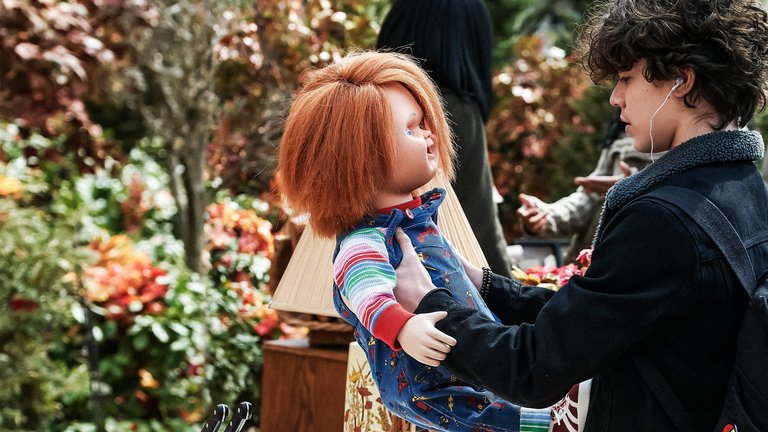 source
Antique, vintage or retro. Whatever the case may be Chucky is a force to be reckoned with.
The newcomer or the longtime fan can enjoy this if they understand what they're getting into here. This is based on a horror slasher and the most cursory of searches should let you know this. A little harder edged in scenes but given The Walking Dead is or was considered mainstream television this will fit in nicely.
The longtime fan will have a blast here. Many characters from previous entries make an appearance in one form or another. They're not all used up in a single throwaway scene either. Those looking for more lore will also get their fill. We learn much more about Charles Lee Ray in his formative years and it leads nicely up to the events where the first film began.
The series was enjoyable. The first half is a setup of the town, the kids, parents and the setting. Each character has their purpose while at the same time adds something interesting to the story. No filler, all killer as they say. The tropes of jock, princess and outsider are flipped on their heads here. We never really get away from this deep down but the variation put forth by the writers are clear to see.
The writers how to craft in some throwbacks and jabs about the series. The entire filmography has become quite absurd over the years and you're never really sure what's in store for the next entry. Chucky is still doing his thing and thankfully is also voiced by Brad Dourif, without him there is no Chucky. The kills, thrills and spills are plenty.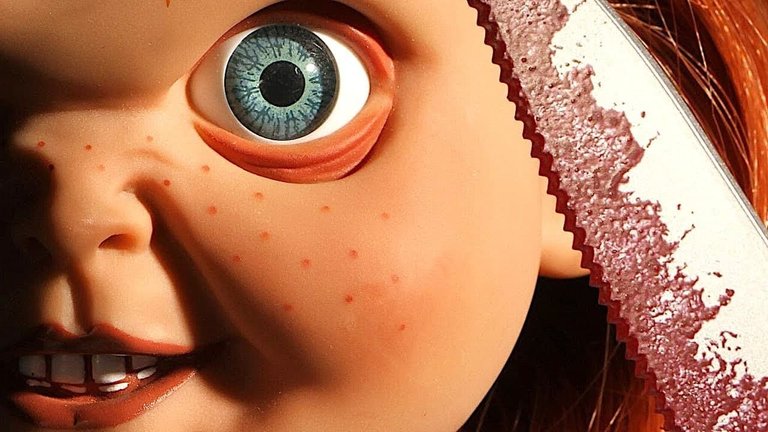 source
There is no substitute for Brad Dourif. He is Chucky.
There is an episode that performs a callback to a film remade by Martin Scorsese. Can you guess? I'll leave that one to the potential viewer. An homage to this film works so well in the context of Chucky coming for you. There's even a scene where a character is watching a scene from the film within the tv show. Very meta and riffs on aspects of the film. I love it!
The series ends with an actual body count. No spoilers as usual but this needs to be mentioned. They go through all the bizarre deaths and leave it at this. I wasn't sure what they'd do with series given such a large body count. Luckily the writers appear to have this figured out and the seeds for future seasons can be done. The audience agrees with a combined critic and audience score that breaches 85% on Rotten Tomatoes.
This is definitely worth a watch by those that know the series and I think new people will enjoy it too as long as you enjoy horror. The encapsulation of middle school life of a 14 year is right on point. Played by actors that look like regular kids and not fashion models. Believability at least in this sense of the word is paramount, save the suspension of disbelief for the killer doll and all he brings to the show.
Thanks for the read 🙂
All media sourced from themoviedb.org. Thank you.
---
---