REVIEW: Eternals (2021): The runtime certainly lives up to its name.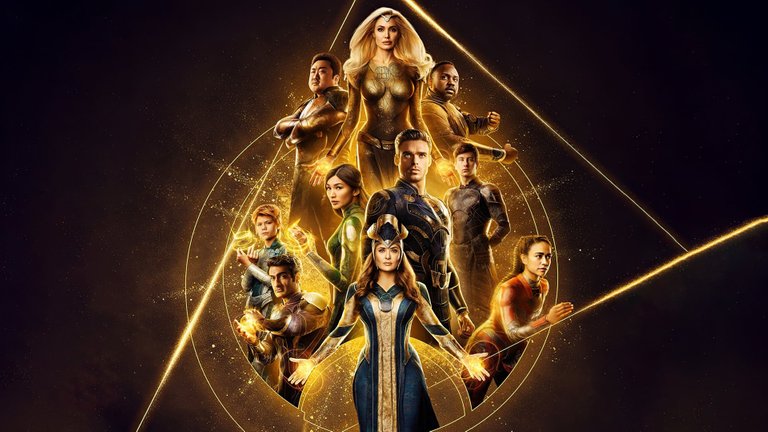 source
The Eternals in all their glory.
One more entry in the Marvel Cinematic Universe otherwise known as the MCU. Directed by Chloé Zhao, a interesting choice for director given her Oscar winning film Nomadland in 2020. A varied ensemble cast with the mains Gemma Chan, Richard Madden while including Salma Hayek and Angelina Jolie among the cast.
The opening of the film includes exposition in the form scrolling text and I immediately take notice. This film can go either way at this point. The basic plot involves a group of beings each with their own unique power. They are sent in this instance to Earth to protect the population against Deviants, a race of predators that wish to do humans harm. The eternals appear to be based off Greek mythological figures such as Icarus and Athena with their actual names misspelled.
We leap between all different times periods throughout the film while they are protecting Earth against the ever menacing Deviants. To be honest, this was jarring to say the least.
Let's get this out of the way early. This film is mediocre in my opinion and the runtime does not help. Clocking in at a very long 156 minutes, this is too much. Many scenes do not need to be here and the exposition dumps at times are overkill. We don't need to know every minute detail here and this could have been split into an entire other film. Whether or not people would watch that is another question. Based on what I've seen so far I don't think this will resonate as much with people, it did not with me.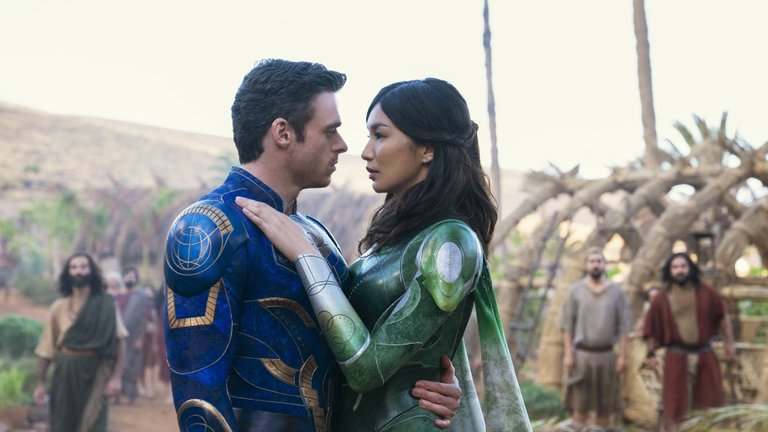 source
The thrill is gone. I feel no passion between these characters.
I believe this is the first MCU with a sex scene if you would call it that. Laughably brief and could have been excised completely. I felt no passion in this scene whatsoever.
Inclusion appears to be very present and in your face in this film. I commend it but it does ring somewhat hollow as some scenes make me cringe in their presentation. A deaf woman and an openly gay man are part of the eternal troupe. They scratch the surface ever so slightly and more than likely ticked some boxes that people were wanting or thought they wanted. I hope these characters get more screen time and expand their character arcs as they seem afterthoughts while needing to be fleshed out more fully.
The cg deviants didn't do much for me. An animal type form with flowing tendrils that don't evoke fear at least for myself. Their alien look simply didn't work for me and there's not much else to say about that.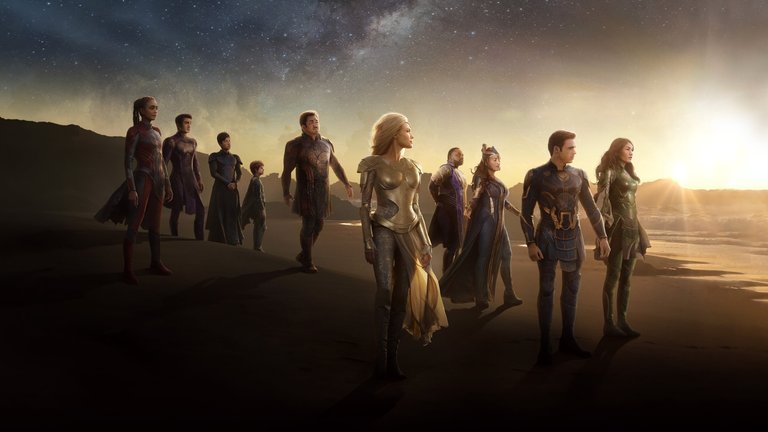 source
Gazing off into the future pondering a sequel? I don't know about that.
No spoilers here but we have another setup for the next entry. This is often common in these type of movies and make it feel like a serial. I feel like I wasted my time with how this film ended. Come back for your next installment faithful viewer is what they seem to be telling myself and others. What can you do? This a formula that works.
As for the music, I was surprised to hear Pink Floyd's Time at the start of the film. A great choice and might set the tone for the film. Sorry to say it's just a brief sample until the logos disappear.
There are some interesting questions asked by these eternals. One member is able to possess the body of multiple humans within their vicinity. For example, a bar brawl is happening and he possesses everyone and makes them stop fighting and hug each other in the end. This character soon becomes disillusioned with humanity with all the power struggles, killing and war. He mentions simply taking control of everyone and making them play nice. An eternal question that would be nice to see fulfilled but in the end would destroy the freewill of man. Sitting back and watching the same scenarios play out over thousands of years will make anyone jaded and I can't help but sympathize with his plight.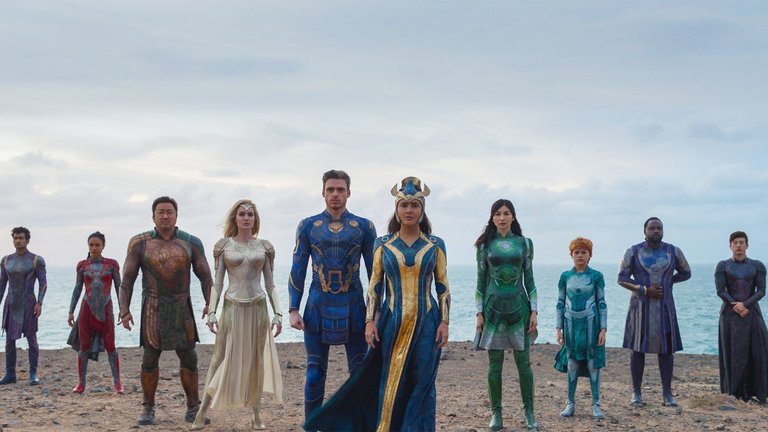 source
We are The Eternals. Good for you!
In the end this film is not high point for me. Overly long with some interesting ideas here and there but with a large amount of filler. The director, Chloé Zhao appears to be over her head in this one. Hollywood loves to give big budget movies to what I would call indie directors. They usually flounder in the end and this is no exception while the cycle continues.
This film appears to be split according to Rotten Tomatoes. Critics panning it while the audience loves it. You'll have to make up your own mind on this one.
Thanks for the read 🙂
---
---