REVIEW: Inside (2018)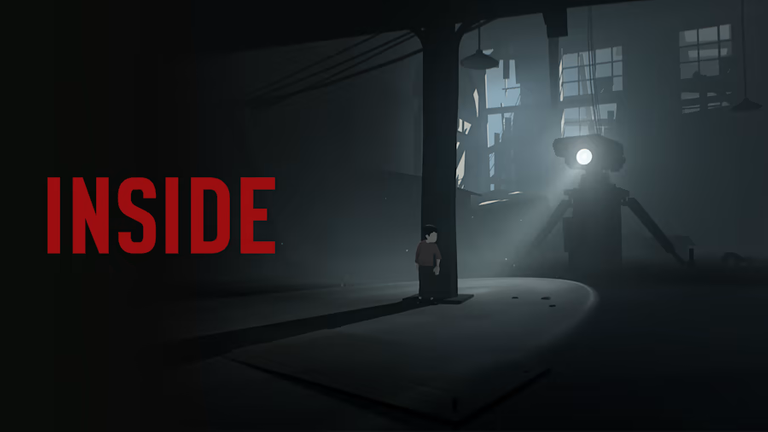 Our journey inside is about to begin.
The developer Playdead is back with their followup game after their excellent first game Limbo. Inside was released 6 years later in 2016 to critical acclaim. The Nintendo Switch port that I played was released later in 2018. The wait was definitely worth it as I just finished this title recently.
This is a narrative driven game set in a scary futuristic world. The color of the game is mostly monochrome with dashes of color throughout. The use of light and shadow is heavily used for atmospheric purposes and gameplay elements. The game itself contains puzzle sections along with platform gaming.
You control an unknown boy thrust out into the world. Hunted by guards, dogs, the elements and eventually much sinister entities. You run, jump, pull, push and start to interact in many different ways as you progress in this strange world.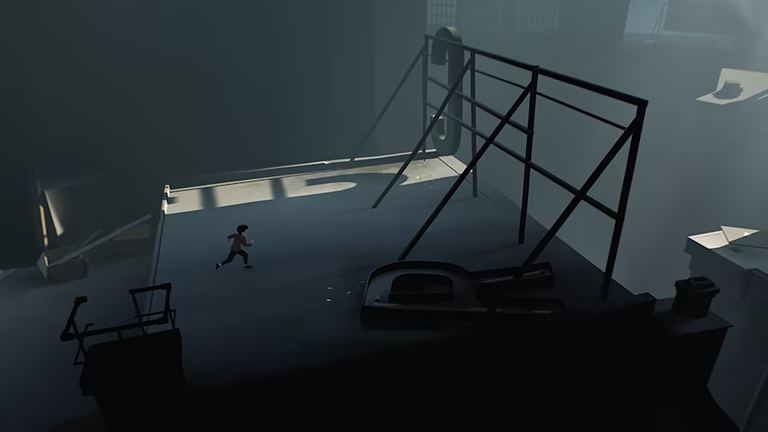 Make a run for it.
Something or someone is always pursuing you.
The score of the game is almost completely atmospheric. The barking of dogs, footsteps, rain drops while some instrumental bits appear rarely throughout this adventure. Letting the character rest in a spot while you soak in the sights and sounds is something I ended up doing often.
The puzzle elements can be downright devious at times. I found myself sitting on the couch racking my brain trying to figure out different sections of this game and that's part of the fun. Nobody wants a game you can blast through on autopilot. My rules is this, if I can't figure out the problem in 15 minutes I'll do a search for a hint online to guide me past the section. There were a couple and they usually involve a mechanic I wasn't aware I could do.
This is what I would consider an experience game much in a similar style to an experience film. This is best met with little or no information about it. I went in blind as usual only knowing the previous output from the Playdead studio.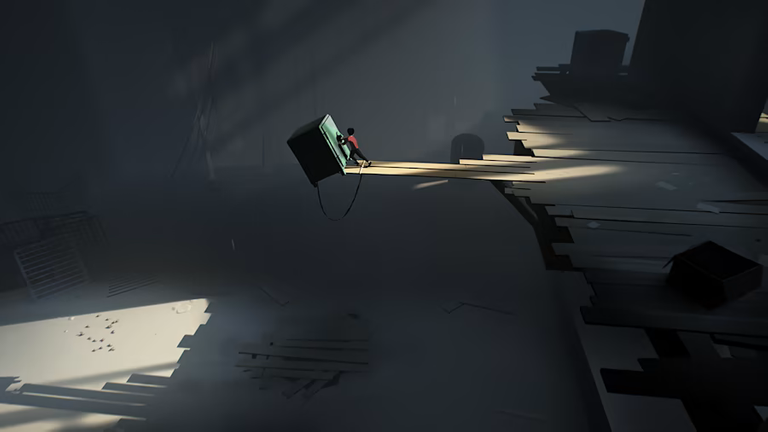 Let's break those floorboards below with this big safe. That should work.
There are no voiceovers, no dialogue text boxes and most importantly no exposition dumps. You start in the world and must figure out everything yourself.
The story is very engaging and told through gameplay. Cutscenes in the traditional sense are not here and what are I would consider brief interludes to guide the character further into the plot.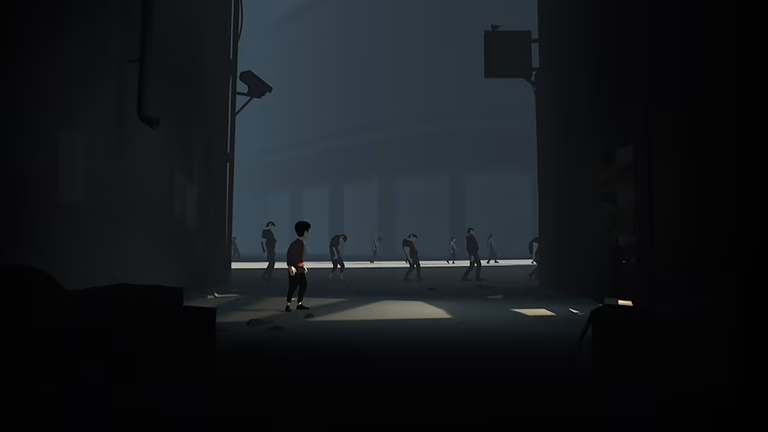 Start experiencing random dystopian feelings. The drones are walking along in the background oblivious to their plight.
The sparse use of color is an interesting choice the art department uses in their games. The one dash of color that the boy wears is his blood red shirt. The idea of red is usually associated with love and hate. The black pants and that color which permeates the world can be equated with elegance, death or mystery. The world itself is bathed in dark tones, usually black and grays. The combination itself in the main character might indicate a form of duality of the self. Confident and afraid, powerful and weak. These all work so well together and you can never really know the true intentions of those that crafted this work.
We know nothing about the boy you play. The lack of features on his face and all characters is a great choice. He is the ultimate empty vessel and the player can put themselves directly into this character.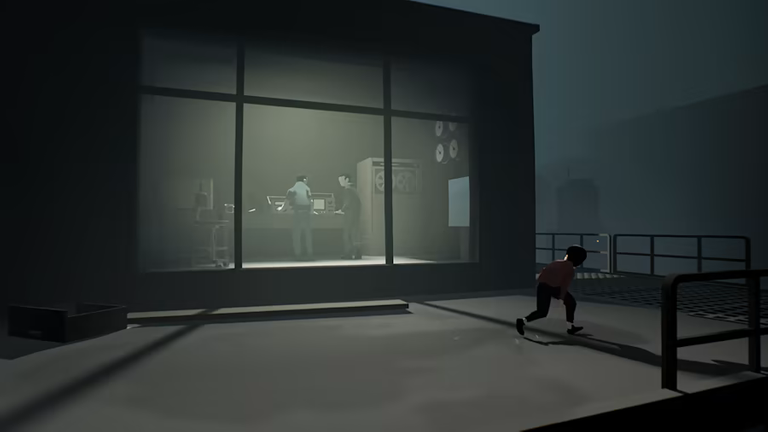 Phew, we made it past without alerting them.
While playing I had many different feelings. Having a game evoke such things is the sign of excellent game design. Despair, joy, relief and panic were only some of the feelings that were evoked by the game designers.
Many types of media started rushing to the forefront of my brain from the strangest recesses. George Orwell's Animal Farm and 1984, David Lynch's Eraserhead and William Blake's The Great Red Dragon and the Woman Clothed in Sun. This is very rare for a game to evoke such things in me and are signs of a good one.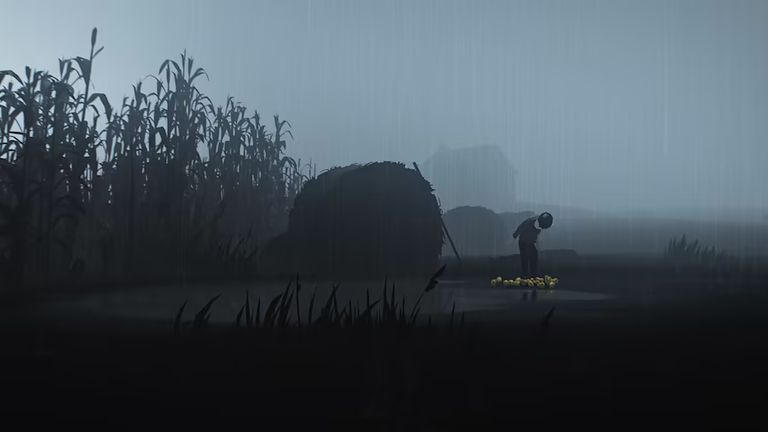 One of the few moments where a splash of color presents itself. The ducklings came by for a visit.
Gameplay is relatively short, I know I put in less than 3 hours total. This may not sit well with some but it's perfect for me. The experience is what I will remember and there is no time limit in this area. The shorter games are very welcome to me.
This is no spoiler but the ending scene reminds me of great film ending, at least to me. A static shot that lingers for a good amount of time to let the player bask in the moment. A time for reflection of the journey completed.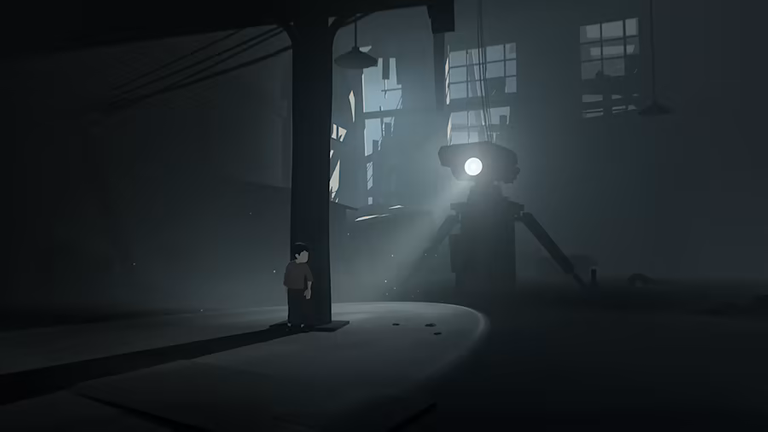 You are hunted at every turn. Hiding in the shadows becomes one of the many tools you'll use.
Inside is a game that's welcome into the gaming space and not only by myself. Numerous awards have been given to the team in terms of gameplay, story telling, art direction and sound design. Crafting an artisinal single player experience that resonates with an audience is a tough formula to get right. So far this team has done it twice in a row. Putting out a mere 2 titles since 2006 is a rarity within the business and this is one of the reasons I will play anything they release in the future. I'm curious to see what they are in fact working on next.
This is highly recommended by me and is a gameplay experience that will not be forgotten.
All media courtesy of Nintendo. Thank you very much.
---
---