REVIEW: Kholat (2015): A test of your patience.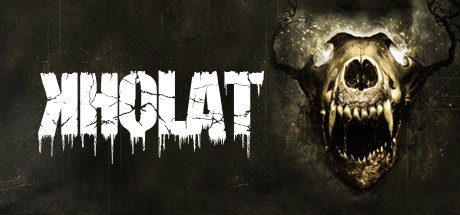 Hello Kholat.
Are you a bear or a gorilla? Your maw piques my interest. You're so much more.
Kholat caught my attention as it's a survival horror video game with an interesting cover. The old days of going by the cover art alone with a short amount of text was in full swing in this case. You never know what you're going to get in the end. The cover looks like skeletal bear maw up to no good when I look at it.
Steam greeted me with the following synopsis that only further intrigued me.
The most terrifying journey of your life set in the beautiful winter scenery of the Ural Mountains. Uncover the horrific mystery behind the Dyatlov Pass Incident. Narrated by the famous Sean Bean.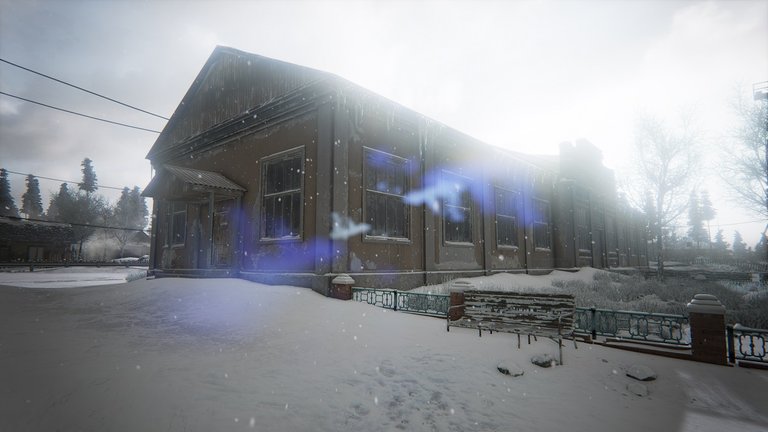 Merry Christmas and Happy Holidays everyone. This is an idyllic spot to start off. I'm ready to start my adventure and I've come prepared... or at least I think I have.
Sean Bean? You mean 006 from Goldeneye or maybe Boromir from the Lord of the Rings films? His voice makes an appearance as the narrator and adds immensely when he is delivering dialogue.
I'm in, it's time to load this up and give it a go.
I was not aware of the Dyatlov Pass Incident until I finished the game. This is what I soon discovered playing through the game. Their take on it and the expansion of what happened must be discussed.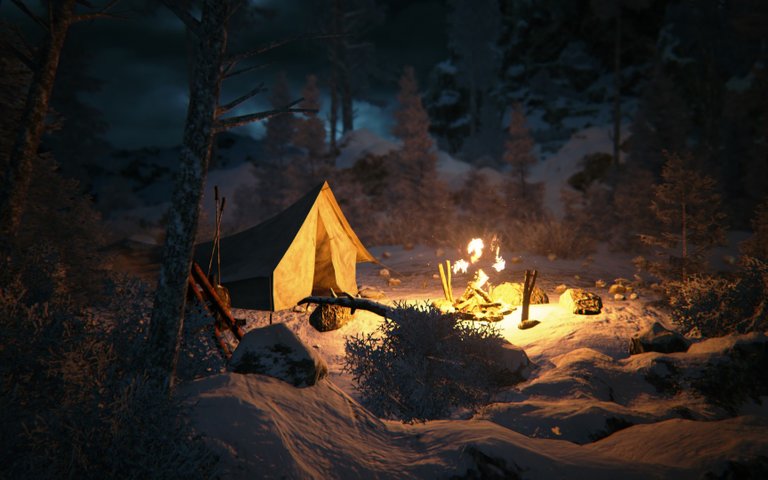 In a harsh winter climate setting of this game a warm campfire will keep you safe and allow you to save your game. These are surprisingly tough to find in my playthrough and always a point of joy when stumbling across them.
The incident occurred in 1959 where a group of experienced mountaineers died in the northern Ural Mountains of the Soviet Union by known but at the same time unknown causes.
Wikipedia also does a better summation than I in this these mysterious circumstances.
Overnight, something caused them to cut their way out of their tent and flee the campsite while inadequately dressed for the heavy snowfall and sub-zero temperatures.

After the group's bodies were discovered, an investigation by Soviet authorities determined that six of them had died from hypothermia while the other three had been killed by physical trauma. One victim had major skull damage, two had severe chest trauma, and another had a small crack in his skull. Four of the bodies were found lying in running water in a creek, and three of these four had damaged soft tissue of the head and face – two of the bodies had missing eyes, one had a missing tongue, and one had missing eyebrows. The investigation concluded that a "compelling natural force" had caused the deaths. Numerous theories have been put forward to account for the unexplained deaths, including animal attacks, hypothermia, an avalanche, katabatic winds, infrasound-induced panic, military involvement, or some combination of these factors.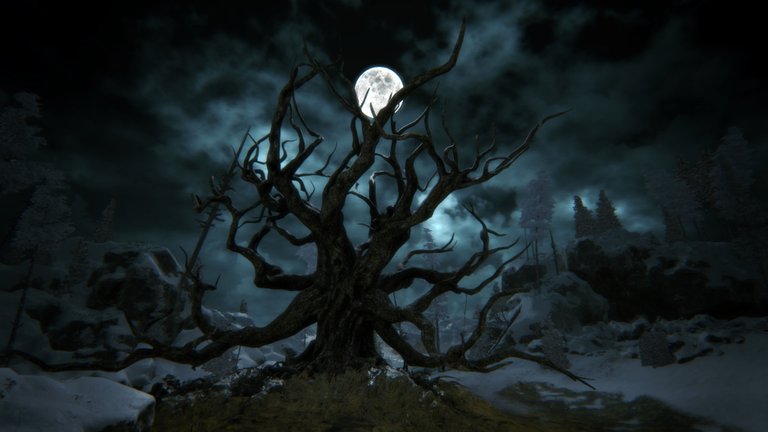 There are many memorable landmarks that will dot your travels. A creepy tree of life or death? You'll find it eventually as it seems to manifest itself out of thin air.
A truly unfortunate event is the basis for this game. The developers took this event and ran with it coming up with their own version of events on such a sad tale.
You are retracing the steps for some reason or another. I'm still not sure why you're here doing this other than pure curiosity. This is one of the many inconsistencies I've found throughout my gameplay with this title.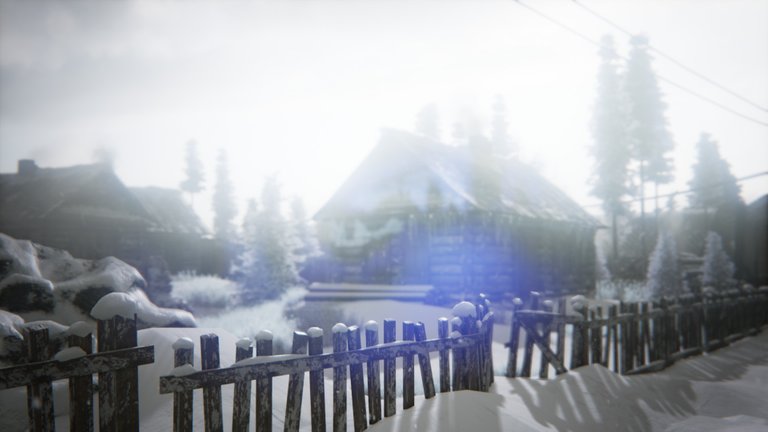 Civilization does exist in this world but only near the start. You'll soon be wandering around in mountains wishing for any semblance of home.
A train station is the first big set piece of the game along with Sean Bean's narration at the start. You start off with nothing cluttering the screen in the form of a user interface. The weather is cold and snowing as you wander around the area. Eventually you'll find a path and venture forward until you fall through a hole in the ground.
You seem to have been transported somewhere else, some sort of crater. Small rocks start to levitate off the ground, you also see some huge boulders going further up into the sky.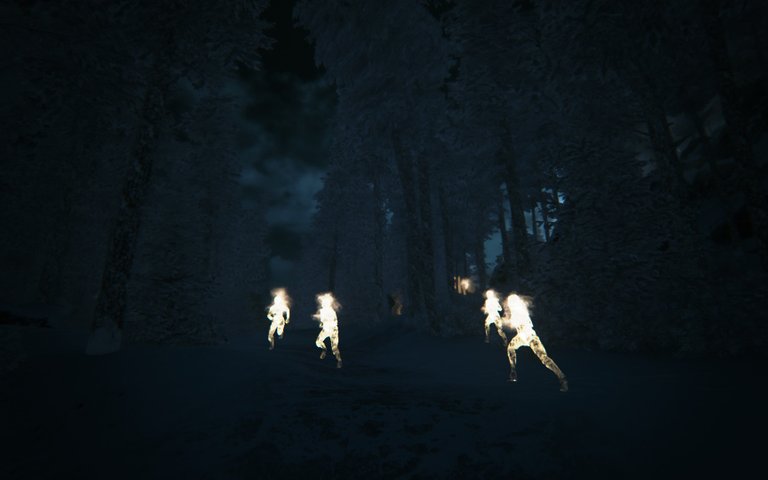 Strange encounters are found throughout this world. Echoes of events from the past will creep up as with these humans running for their life through the woods. What are they running from? Did they make it? We never really know.
This was my first of many deaths as I sat there and stared at the incident in awe. I'm sure my in-game character's jaw was wide open wondering what was happening until the inevitable. Everything came down and crushed me. Oh right, I really should move myself out of this massive crater haha.
The game has begun and we know next to nothing. This seems to be the main crux of the game if you play for 20 minutes or several hours.
You have a map available to you with gps coordinates written on it. A compass is also available that you can look at. There are red and black markers to denote North and South but the text is written in Russian on your compass since you are in Russia after all. Thanks Google translate.
A flashlight accompanies you with what seems to have dying batteries all the time. This thing is generally useless along with compass. I never even used it during my entire gameplay experience.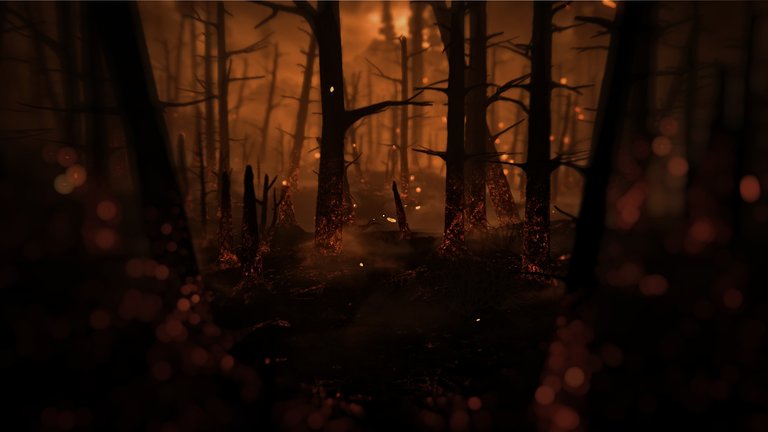 The smoldering forest is a memorable piece of land you end up wandering through. You're not alone in this spot so you better walk slowly with your eyes peeled. Strange things are afoot.
The developers have a strange idea with the entire development of this title. You are given no explanation about most of what occurs throughout the game. You'll soon discover on your own that you must navigate to the gps coordinates by any means necessary. One of the biggest issues is that the map is not particularly accurate at all for most points. Weather or the environment will often block your path as you wonder in frustration how you can get from point A to B.
Throughout your journey you will run across notes strewn about the map. The gps markers often point you to structures that help further progress the story. In these areas you'll often find more notes that tell you about the people involved with this incident.
The story if you can call it one is extremely poorly fleshed out. You can tell a great story simply though the use of notes if it's a strong one and this isn't that. Sean Bean, our narrator delivers excellent reads but his material is often nonsensical and has nothing to do with the plot. The notes themselves are often forgettable and I often skipped right through them as my patience started to wear in the later half of the game.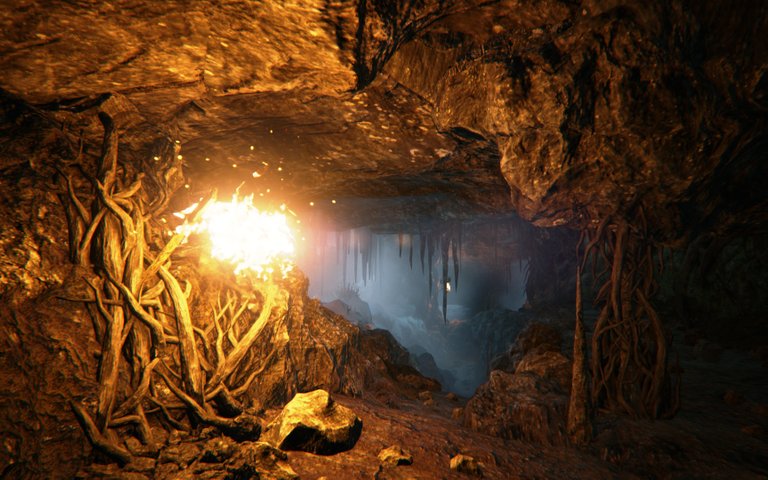 Creepy caves are a must especially those lit by torches. A respite from the freezing weather? That's one of the advantages yet these enclosed spaces also prove troublesome especially if you're not alone.
You must have some enemies in the game to keep the tension even further ratcheted up and you do have one. A strange creature that you run across in certain areas of the game. An orange humanoid type character that you can faintly see. I appreciated the orange footsteps in the snow to further illustrate when the character is around.
Disturbing this individual will start the hunt. Be sure not to shine your flashlight in their face and if you do see them be quiet. Crouching and remaining silent may work for you as they pass by but this doesn't always work. They give you a big hug but instead of feeling great you are greeted with a game over you're dead screen.
This character can be a real pain because of the save point system in the game.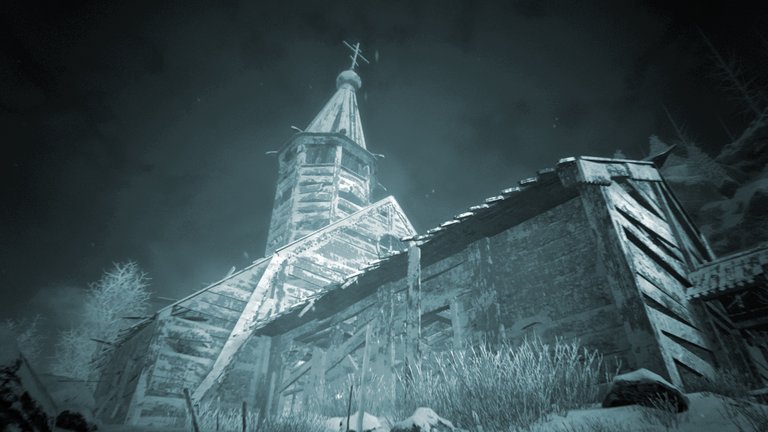 I must be able to seek refuge in a church right? You can wander around in here to your heart's content but you will not find a save point.
I'm sure the developers thought of this in advance but did they think about the audience that would be playing this game? I would not be surprised that many did not make it through the first 20 minutes of the game as you wander nearly completely blind through a snowstorm to what appears to be a glowing fire in the distance. This is not short and I know for a fact people are asking themselves why they are bothering with this title.
Atmosphere is the name of the game and that is what you will get. The bleak landscape set in winter with the wind howling is spectacular. Memories of John Carpenter's The Thing rushed over me as I played throughout the game not knowing what would be around the bend. The isolation is palpable and the strong point that the developers nailed perfectly.
The audio design is equally impressive with the environmental effects. You're wandering through the mountains and heavily wooded areas. The wind and especially the chilling howls of the wolves in the surrounding area only further added to the mood of dread.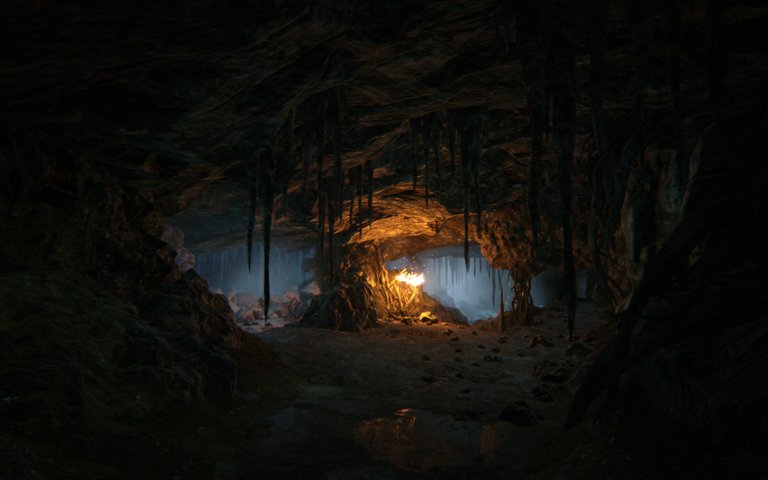 The atmosphere and sound design are top notch. The story on the other hand is sparse and generally uninteresting. I'm not sure what happened here?
The length of the game is another plus in my book as I finished this in several hours. I know this one could be finished even quicker because I became terribly lost as usual. You could consider this part of the game as the developers clearly are trying to immerse the player in a hostile environment with little information. I wonder if it was the same for the real expedition?
In reality, this is going to turn off a huge portion of the game playing audience. I understand this especially when it gets to the point that a player feels like their precious time is being wasted. Measurable progress in small bursts of gameplay is extremely important for myself.
The save point system can be a big issue and cost me a lot of time and aggravation. Saves are created when you reach a campsite or pick up things such as notes. The space between these occurrences can be immense at times especially if you turn a bend and hit our antagonist or fall off a cliff. Both of these things happened several times to me.
Other times I became so intensely lost that I could not find my tent again while I wandered around aimlessly in the snow looking for respite. "This is how it is" the developers would say, while I would tell them otherwise.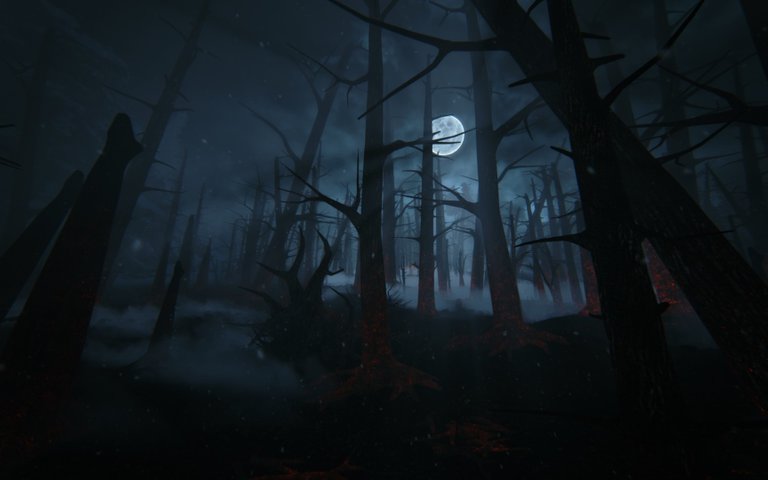 Did I pass through these creepy woods before? Maybe I should be making my own map to aid myself in this often confusing game.
Eventually I did find all the required notes and the game did roll the credits. Not much of an ending there not that I expected much. I get the impression from other players that they wanted a true explanation of what occurred during the real Dyatlov Pass Incident.
You're not going to get this. The Russian government apparently did open the case recently to determine the true reason for the incident. An avalanche was most likely the cause as most people would surmise. A tragic event that has created a mythos around it. Part of that is the creation of the game with its quasi-supernatural events.
In its current form this game is a tough sell. They nailed the atmosphere, sound design and music. They failed miserably with game design.
Did I forget to mention that you can barely run? You run out of steam in mere seconds much like many of the players that attempt to play this one. I so wanted to like you more Kholat.
Thanks for the read 🙂
All media courtesy of Steam. Thank you very much.
---
---