REVIEW: This is Gwar (2021): That's a cuttlefish if you were wondering.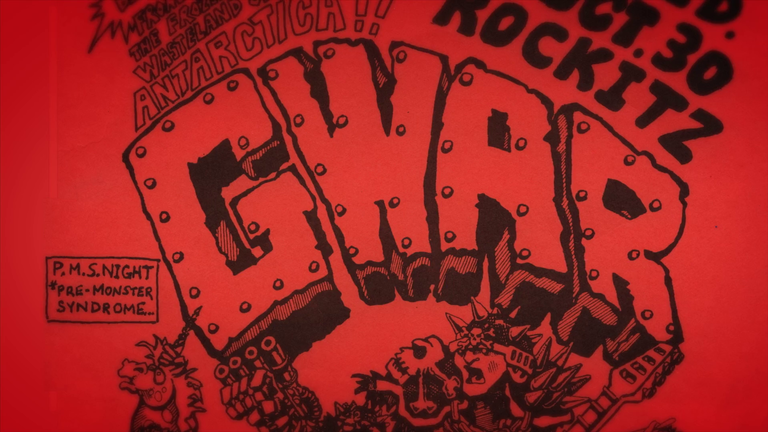 All hail GWAR!
GWAR!
Gwar doesn't actually mean anything from what the band members have stated. I see that certain people have tried to make sense of the name by thinking it was an acronym for something. God what an awful racket, took some thinking and might just be a good way of describing their music.
In all truth there is a lot more going on behind the mask of this iconic band. The band portion is only a subset of what Gwar could be considered. This is more of an ever growing and mutating collective of people brought together by their life travels.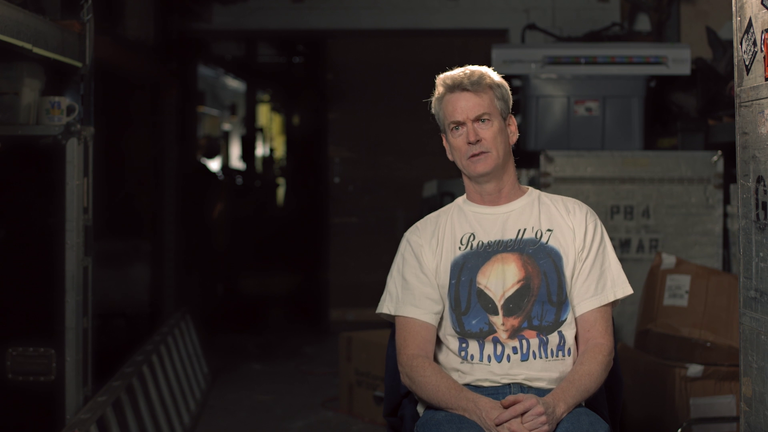 Talking heads abound and is hard to avoid in a documentary. Their stories are often legendary.
The band was initially formed in 1984 and is still going strong. People drop in and drop out as you'll soon see once you watch this documentary. This documentary is directed by Scott Barber and is currently streaming on Shudder for those interested.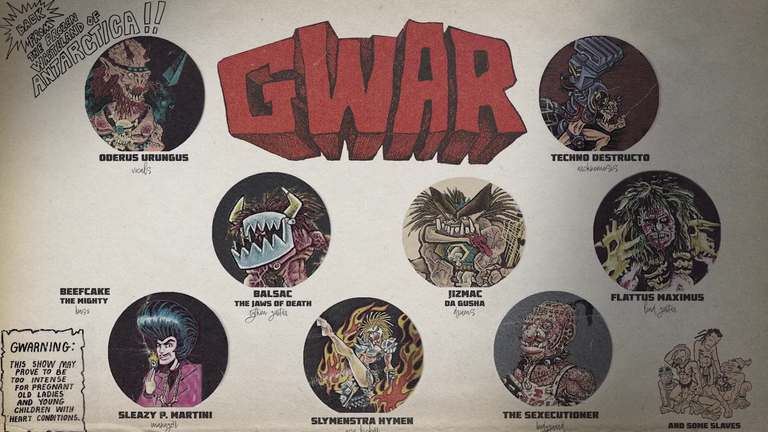 Good luck keeping track of all the members in their long life. They do a good job of crediting all those that have had a hand, foot or leg in the aid of continuing the long-running collective.
I knew of Gwar for years and have listened to some of their work but mostly know them from their stage shows. The costumes they made are absolutely crazy and over the top. This is a spectacle band and you as an audience member feel like you've been in a war zone. You'll be covered with blood and other material as you mosh in the pit to the crazy music Gwar is playing.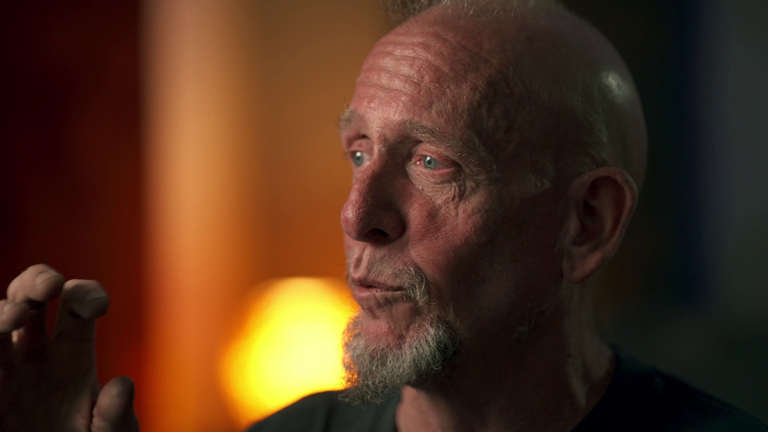 There are so many band members over the years. You'll meet almost every single one.
They hit the big time mostly due to Beavis and Butt-Head as they were always showing clips of the band when the show was on tv. This show alone has probably done more for Gwar than anything else.
The documentary is relatively long at close to two hours but packed with information about the band and art collective. As with any group of artists conflict is going to come up time and time again. There is a great deal of pathos through misunderstandings, jealously and the general stuff that comes up between people. At the height of their fame this was further intensified by drug and alcohol abuse that inevitably rears its ugly head when touring like they did.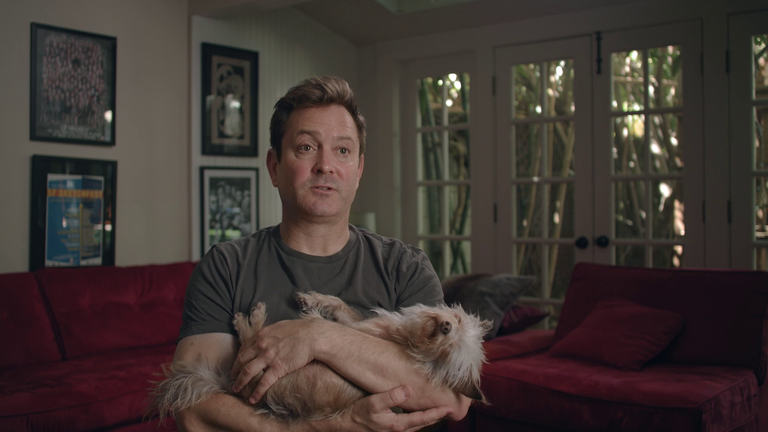 This documentary won't put you to sleep even with the runtime. You might recognize this fan. I would go to sleep in an instant like this dog if I was in that position too haha
Thankfully there is a lot of footage to see here as many were filming themselves at the time. Grainy footage dots the landscape against the freshly filmed hd spots of concert footage and interviews of those in the band along with others that the band has impacted.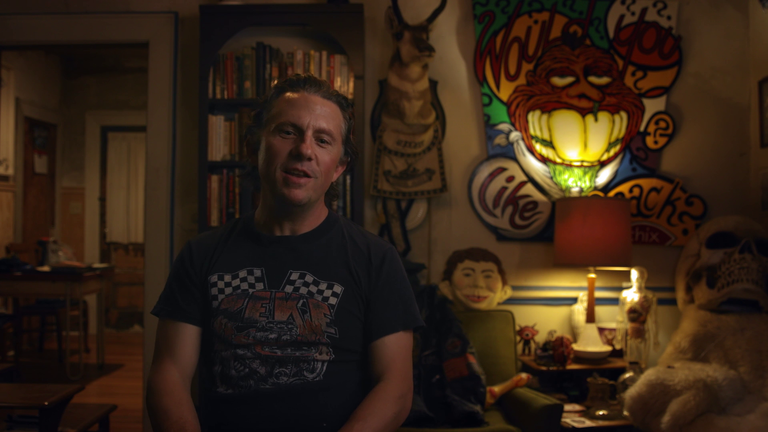 The anecdotes abound and that's one of the reasons I love these type of documentaries. I see Alfred E. Neuman in the background. What, me worry? I think not.
The anecdotes and cultural influence this group has made cannot be understated. You can tell those that have been touched by their participation have gained something worthwhile. The band over the years have made some awful business decisions due to friction between certain key members. The documentary delves deeply into this and you can see the toll it has taken on many of the members. I now see why the band has had some many people come and go over the years.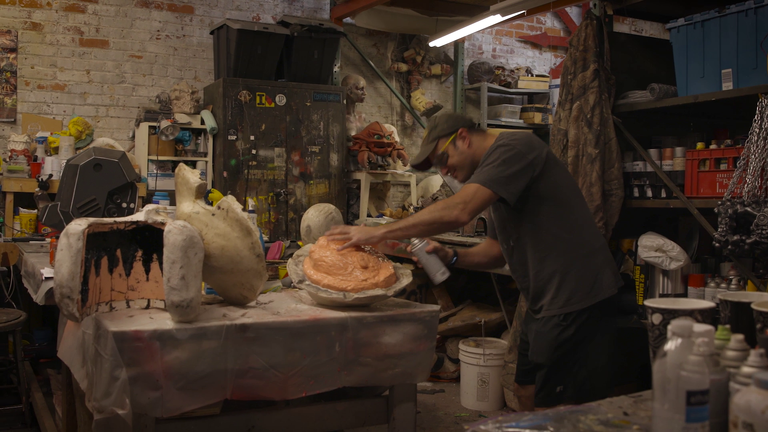 These costumes and creatures don't make themselves. The amount of love and care poured into these works of art is immense. Everyone works together for a common goal.
The creature creating lab is impressive. This is more akin to a special efx shop as certain members are highly skilled in creating the workable and wearable costumes. There are so many people involved that each stage show is like a traveling circus. The promoters while loving the shows know that not all the blood will be completely washed away from the fire hoses they spray on the crowd. This is Gwar and you will know when they've been here!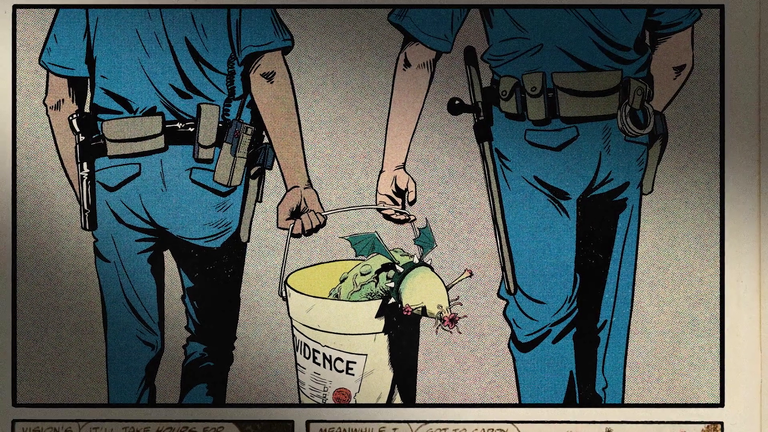 Animation can be found throughout this documentary. This is a welcome addition. In this case the police are carting off our dear cuttlefish on indecency charges. What else could it be?
As with any modern documentary we get all the trimmings here. Stock footage, talking heads and animation. They all combine to keep the user visually interested. This is less of an issue with a documentary about Gwar as you are bombarded with so much visual information you almost cannot process it all. Any good documentary will have you interested no matter the subject. Once I saw someone documenting Gwar I was very intrigued. What I knew was very surface level and thankfully that has been expanded upon.
The band has always been controversial. MTV wouldn't even play their videos and I believe the only time anything about the band was shown was when it was directly referenced within Beavis and Butt-Head episodes. The trash tv talk-show rounds were done by the band in full costume which is hilarious to see especially the old Jerry Springer episodes.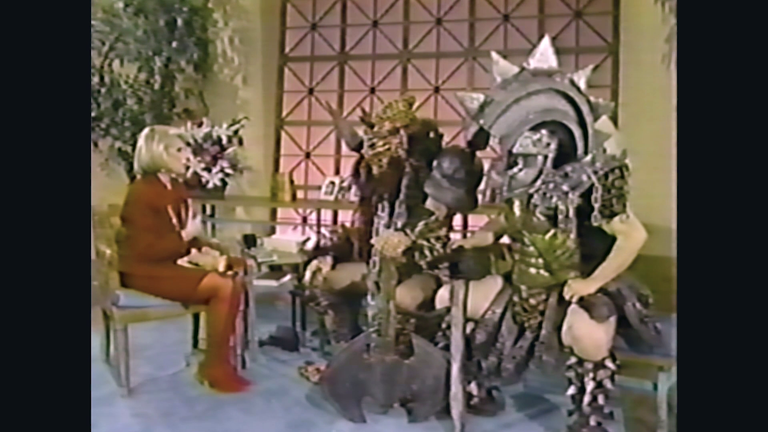 Joan Rivers looking fabulous all in red while having some fun with some of the members.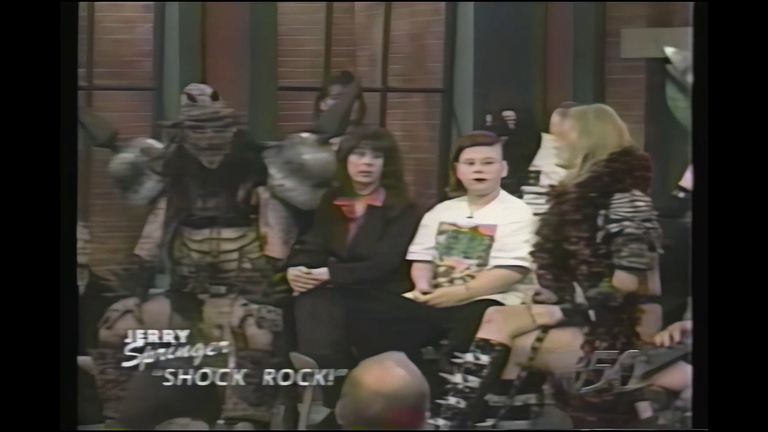 You know you've hit it big if you're on Jerry Springer or maybe not. The topic of the show will inform you. In this case it's all about shock rock.
A large timeline is shown throughout the documentary focusing mainly on music of the era. In comes Gwar to shake things up. The band was so well known yet to the mainstream they never really caught on. Thankfully I had a great trip through the years and have seen what it took to be a member of this crazy collective.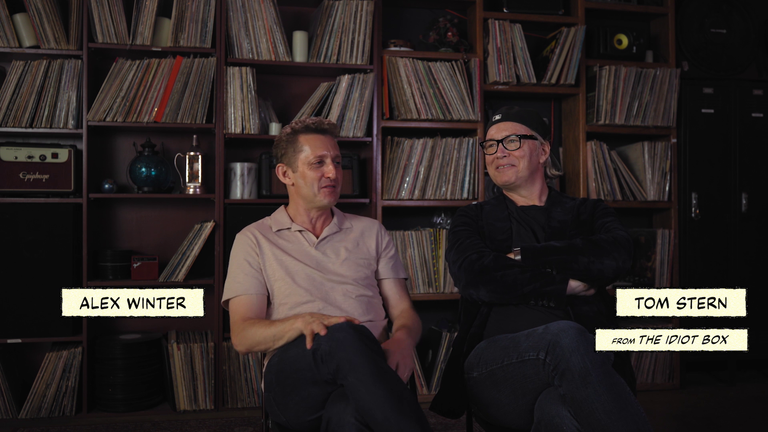 Even Alex Winter makes an appearance here to tell his stories. This is always a good sign and is a very interesting documentary film maker since graduating from the school of Bill & Ted. Wyld Stallyns rules as we all already know.
Art is what you make it. Some of it is repulsive and unsettling while others are uplifting and joyous. The choice is up to you on how you interpret it, this documentary has a little of everything thrown together documenting the band and collective known as GWAR! Have fun watching it as I did, it's worth your time.
Thanks for the read 🙂
All media captured by myself from the original source.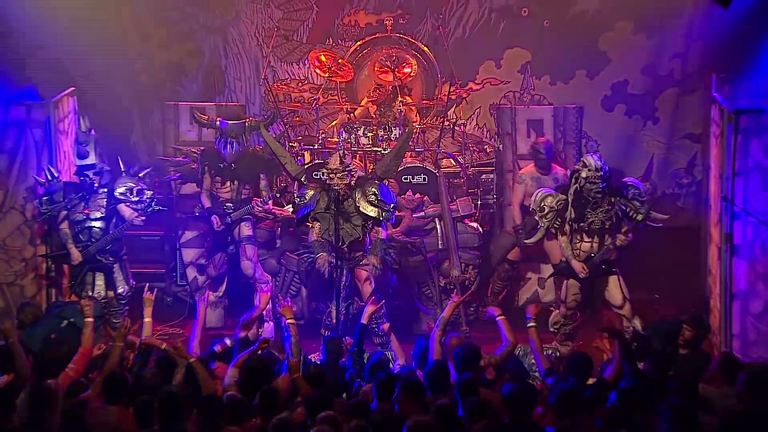 This is a sight to behold. All done up and rocking the stage.
---
---