Day 1621 | 80 Minute Walk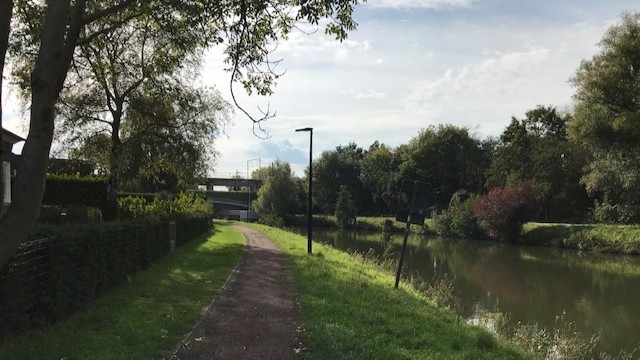 ---
I started a challenge of taking 100 days off to mainly focus on my health and overall personal development and used this account as a personal blog to keep track of all my activity. I enjoyed it and continued afterward trying to build better habits and find a good balance between health, fitness, work, and my personal life...
---
Friday was the last day of the month which I used as an excuse to eat too much again making Spaghetti. I however also went on a 80-minute Walk in the early evening and made sure my dishes were done and my appartment was clean for the start of Octover
September was a mixed months with 11 really good days going from 73kg to 70kg doing pretty much everything as I had set out to do only to fall back the 10 days after back getting up tp 72 kg again. I would say on the bright side that's 1 kg less and I'm ready to go at it again now in October with the intention to keep it up for 3 months. Daily exercise, eating healthy and sleeping well are the 3 main goals
Daily Food Journal Sunday September 12th
I did eat some bread again and made a lot of spaghetti which was amazingly good.
Today Goals
I will start the day with a morning run, eat a proteine smoothie in the morning and soup the rest of the day also planning to test doing Reps for 80 Bench Press, 80 Squats, 80 Knee Ups making that into a daily minimum habit going forward.
---
| Day | Weight | Bed Time | Awake | Expenses | Day Score |
| --- | --- | --- | --- | --- | --- |
| 01 Sep | 72.0 kg | 23:40 | 09:00 | 0.00€ | 7 |
| 02 Sep | 71.3 kg | 00:00 | 08:15 | 9.18€ | 6 |
| 03 Sep | 71.6 kg | 23:40 | 07:10 | 3.96€ | 7 |
| 04 Sep | 71.8 kg | 01:30 | 07/50 | 9.96€ | 6 |
| 05 Sep | 71.8 kg | 00:20 | 09:15 | 6.20€ | 7 |
| 06 Sep | 72.0 kg | 00:00 | 08:00 | 7.34€ | 8 |
| 07 Sep | 72.3 kg | 01:30 | 08:45 | 5.34€ | 6 |
| 08 Sep | 72.7 kg | 01:00 | 09:15 | 10.13€ | 4 |
| 09 Sep | 73.0 kg | 00:00 | 08:15 | 0€ | 7 |
| 10 Sep | 72.2 kg | 00:30 | 08:15 | 0€ | 7 |
| 11 Sep | 71.6 kg | 00:00 | 08:30 | 0€ | 7 |
| 12 Sep | 71.4 kg | 23:45 | 07:45 | 7.8€ | 7 |
| 13 Sep | 71.6 kg | 23:50 | 08:30 | 0€ | 7 |
| 14 Sep | 71.1 kg | 00:00 | 07:30 | 7.6€ | 7 |
| 15 Sep | 70.8 kg | 00:00 | 08:00 | 0€ | 7 |
| 16 Sep | 70.8 kg | 00:00 | 08:00 | 15,04€ | 7 |
| 17 Sep | 70.4 kg | 00:00 | 08:15 | 0€ | 7 |
| 18 Sep | 70.5 kg | 00:00 | 08:20 | 0€ | 7 |
| 19 Sep | 70.0 kg | 00:00 | 08:00 | 4.11€ | 8 |
| 20 Sep | 70.4 kg | 00:00 | 08:40 | 0€ | 7 |
| 21 Sep | 70.3 kg | 23:40 | 08:10 | 7.83€ | 7 |
| 22 Sep | 70.4 kg | 01:00 | 08:45 | 5.85€ | 5 |
| 23 Sep | 70.6 kg | 00:00 | 08:20 | 11.48€ | 5 |
| 24 Sep | 71.1 kg | 01:30 | 09:00 | 13.15€ | 6 |
| 25 Sep | 71.4 kg | 00:30 | 08:30 | 12.02€ | 5 |
| 26 Sep | 71.4 kg | 00:00 | 08:00 | 5.36€ | 6 |
| 27 Sep | 71.3 kg | 00:30 | 09:30 | 0€ | 7 |
| 28 Sep | 71.5 kg | 00:30 | 09:00 | 16.79€ | 5 |
| 29 Sep | 71.7 kg | 00:00 | 08:00 | 6.87€ | 6 |
| 30 Sep | 72.0 kg | 00:30 | 08:30 | 7.92€ | 5 |
---
365 Day Fit-at-40 Challenge
Day
Workout
Food
Sleep
Weight
021
80-Minute Walk

Bread, Spaghetti

8 Hours
72.0 kg
020
Short Walk
Soup,

Bread, Chips

8 Hours
71.7 kg
019
1-Hour Walk

Bread, Chips, Ice Cream

9 Hours
71.5 kg
018
Row Training
Smoothie, Soup, Melon
9 Hours
71.3 kg
017
Short Walk
Proteine Shake,Celary,

Cookies

8 Hours
71.4 kg
016
Short Walk

Bread, chips, Chocolate, Pita

8 Hours
71.4 kg
015
Short Walk, Bench Press

Bread

, peanuts, carrots
7.5 Hours
71.1 kg
014
Short Walk
Beans, Pasta Red Pesto,

Ice Cream

8.3 Hours
70.6 kg
013
Short Walk

Potato Chips, Bread Cucumber, White Chocolate

7.5 Hours
70.4 kg
012
3-Hour Walk
Brown Bread, Hazelnut Spread, Carrots
8.5 Hours
70.3 kg
011
Frisbee
Smoothie, soup, crackers, potato & Leek
8.8 hours
70.4 kg
010
Morning Run, 3-Hour Walk
Banana, Beans, Mais, Pair, Apple
8 Hours
70.0 kg
009
Morning Run
Smoothie, Vegan Pizza, Veggies in Oven, Pear
8.3 Hours
70.5 kg
008
Morning Run
Smoothie, Vegan Pizza
8,2 Hours
70.4 kg
007
Morning Run, Walk
Tofu, Vegan Pizza
8 Hours
70.8 kg
006
Morning Run
Oatmeal, Cauliflower
8 Hours
70.8 kg
005
Afternoon Walk
Green Peas, Soup, Peanuts
7.5 Hours
71.1 kg
004
Morning Run
Shake, Beans, Peas, Potatoes, Fruit
8.8 Hours
71.6 kg
003
3-Hour Walk
Paprika in Oven
8 Hours
71.4 kg
002
Morning Run
Seed Cracker + Hummus
8.5 Hours
71.6 kg
001
Morning Run
Proteine Shake
8 Hours
72.2 kg
000
-
-
-
73.0 kg
Posted using SportsTalkSocial
---
---