Day 1681 | Family Tuesday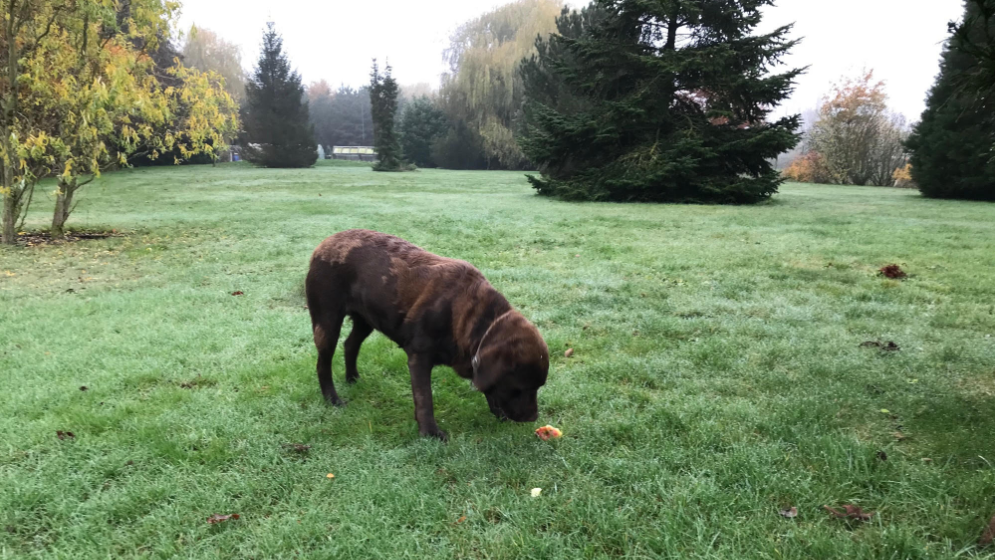 ---
I started a challenge of taking 100 days off to mainly focus on my health and overall personal development and used this account as a personal blog to keep track of all my activity. I enjoyed it and continued afterward trying to build better habits and find a good balance between health, fitness, work, and my personal life...
---
Tuesday was a regular afternoon family day helping my dad to get some foor for his chickens, taking a walk with our dog, spending time with my nieces also playing some chess again. So overall a fun day even though I kind of gave up on finishing the month with a lower weight compared to what I started with. I do aim to make december and the 3 months after that into good ones though as I will rejoin hot yoga classes and do a 4-Week gym membership likely going at least 3 times a week.
Daily Food Journal
I ate a banana, some chocolate, potatoes with beans and tomato sauce and some cake in the evening..
Today Goals
Wednesday will be all about limiting the damage on the last day of the month and gte ready for a good run in december.
---
| Day | Weight | Bed Time | Awake | Expenses | Day Score |
| --- | --- | --- | --- | --- | --- |
| 01 Nov | 70.5 kg | 00:00 | 08:00 | 12€ | 6 |
| 02 Nov | 70.6 kg | 00:00 | 08:30 | 8.13€ | 6 |
| 03 Nov | 70.7 kg | 00:30 | 08:00 | 12.04€ | 5 |
| 04 Nov | 70.6 kg | 00:00 | 08:00 | 14.14€ | 6 |
| 05 Nov | 70.8 kg | 00:00 | 08:99 | 5.43€ | 6 |
| 06 Nov | 71.0 kg | 00:30 | 08:30 | 11.45€ | 5 |
| 07 Nov | 70.4 kg | 00:30 | 09:00 | 0€ | 6 |
| 08 Nov | 70.3kg | 23:30 | 08:00 | 0€ | 7 |
| 09 Nov | 71.2 kg | 00:00 | 09:00 | 11.36€ | 4 |
| 10 Nov | 71.4 kg | 00:30 | 09:00 | 7.04€ | 6 |
| 11 Nov | 71.0 kg | 00:00 | 08:15 | 4.34€ | 5 |
| 12 Nov | 71.2 kg | 23:40 | 08:10 | 6.04€ | 6 |
| 13 Nov | 71.4 kg | 01:00 | 09:00 | 5.06€ | 6 |
| 14 Nov | 71.8 kg | 01:30 | 10:00 | 8.45€ | 4 |
| 15 Nov | 71.7 kg | 01:00 | 09:00 | 0€ | 7 |
| 16 Nov | 71.5 kg | 00:30 | 08:00 | 4.76€ | 5 |
| 17 Nov | 72.0 kg | 00:10 | 11:00 | 3.75€ | 7 |
| 18 Nov | 71.8 kg | 00:30 | 08:30 | 7.54€ | 6 |
| 19 Nov | 72.0 kg | 00:40 | 09:00 | 15.74€ | 5 |
| 20 Nov | 71.0 kg | 00:00 | 08:00 | 0€ | 6 |
| 21 Nov | 71.3 kg | 00:00 | 08:00 | 4€ | 5 |
| 22 Nov | 71.4 kg | 00:00 | 08:00 | 8,34€ | 5 |
| 23 Nov | 71.7 kg | 01:00 | 09:00 | 6.23€ | 7 |
| 24 Nov | 72.0 kg | 01:00 | 10:00 | 11.85€ | 4 |
| 25 Nov | 72.0 kg | 00:00 | 08:00 | 10.53€ | 5 |
| 26 Nov | 71.9 kg | 23:30 | 07:30 | 3.27€ | 6 |
| 27 Nov | 72.2 kg | 00:00 | 10:00 | 7.68€ | 5 |
| 28 Nov | 71.4 kg | 00:00 | 09:00 | 7.86€ | 6 |
| 29 Nov | 71.8 kg | 00:00 | 09:00 | 2.35€ | 6 |
---
365 Day Fit-at-40 Challenge
| Day | Workout | Food | Sleep | Weight |
| --- | --- | --- | --- | --- |
| 080 | Dog Walk | Banana, chocolate, potato, beans | 9 Hours | 71.8 kg |
| 079 | Walk | Spaghetti, Cookies | 9 Hours | 71.4 kg |
| 078 | - | Bread, Chips | 10 Hours | 72.2 kg |
| 077 | 2-Hour+ Walk | Soup, Apple, Pizza | 8 Hours | 71.9 kg |
| 076 | - | Eggs, Bread, Meatballs | 8 Hours | 72.0 kg |
| 075 | - | Bread, Meatballs, crisps | 9 Hours | 72.0 kg |
| 074 | - | Bread, Spaghetti | 8 Hours | 71.7 kg |
| 073 | - | Bread, Chips | 8 Hours | 71.4 kg |
| 072 | - | Chips, Cookies | 8 Hours | 71.3 kg |
| 071 | - | Smoothie, Nuts | 8 Hours | 71.0 kg |
| 070 | - | Bread, Pizza, Cookies | 8.2 Hours | 72.0 kg |
| 069 | Walk | Spaghetti | 8 Hours | 71.8 kg |
| 068 | Tennis | Bread & Spaghetti | 10 Hours | 72.0 kg |
| 067 | - | Bread & Eggs | 7.5 Hours | 71.5 kg |
| 066 | Walk | Soup, Potato, Veggies | 8 Hours | 71.7 kg |
| 065 | - | Bread, Pizza, Nuts | 8.5 Hours | 71.8 kg |
| 064 | - | Bread | 8 Hours | 71.4 kg |
| 064 | - | Bread, Eggs | 8.5 Hours | 71.2 kg |
| 063 | - | Bread, Spaghetti, Cookies | 8 Hours | 71.0 kg |
| 062 | Tennis | Bread | 8.5 Hours | 71.4 kg |
| 061 | - | Bread, Spaghetti | 9 Hours | 71.2 kg |
| 060 | Walk | Smootie, Carrot Potatoes | 8.5 Hours | 70.2 kg |
| 059 | - | Smoothie, Nuts | 8.5 Hours | 70.4 kg |
| 058 | - | Bread, Macaroni, Meatballs | 8 Hours | 71.0 kg |
| 057 | - | Bread & Fresh Pizza | 8 Hours | 70.8 kg |
| 056 | - | Fries | 9 Hours | 70.6 kg |
| 055 | Short Walk | Bread, Rice | 8 Hours | 70.7 kg |
| 054 | Short Walk | Bread, veggies, chocolate | 8.5 Hours | 70.6 kg |
| 053 | Walk | Veggies Oven, Cookies | 8 Hours | 70.5 kg |
| 052 | | - | | 70.6 kg |
---
Previous Months Progress
| Day | Month | Weight |
| --- | --- | --- |
| 052 | October | 70.6 kg |
| 021 | September | 72.0 kg |
| 000 | Start | 73.0 kg |
---
---