Share my battle using Kelya Frendul ( Water Summoner)

Hello. I like playing Splinterlands game. This post is for this week's share your battle. The SUMMONER Card to use for this week's Share Your Battle program is the GIANT ROC.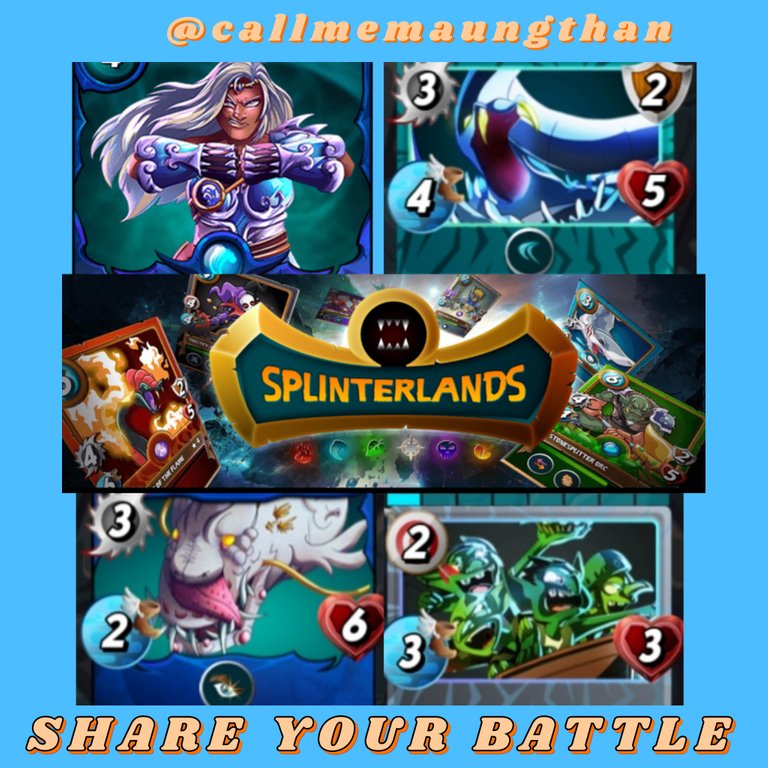 I do not have a GIANT ROC Card, so I used Water Summoner to complete the daily quest. I used Kelya Frendul, a Water Summoner Card. Kelya Frendul was chosen because it provides the partner monster with one speed and one armor. Increase the speed of all monsters one step at a time and give the armor monster one armor. This summonee with 4 MANA costs.
A total of 28 mana costs are allowed for this battle, 4 for summoner and 24 for monster. Here are some of the monsters that fought alongside Kelya Frendu.
| SUMMONER | STATS |
| --- | --- |
| KELYA FRENDU | MANA 4, ABILITY - ARMOR +1 , SPEED +1 |
| Monster | MANA | STATS |
| --- | --- | --- |
| SERPENT OF ELD | MANA 7 | MEELE 3 , SPEED 4, ARMOR 2,HEAL 5 |
| DEEPLURKER | MANA 6 | MEELE 3 , SPEED 2, HEAL 6 |
| GOBLIN CHARIOT | MANA 5 | ARMOR 2 , SPEED 3, HEAL 3 |
| ICE PIXIE | MANA 2 | MAGIC 1 , SPEED 3, HEAL 1 |

After showing SUMMONER and MONSTER for BATTLE, I would like to show you the BATTLE PHOTO and BATTLE VIDEO LINK I played. I only played this BATTLE until ROUND 3 and it ended without losing any of my MONSTERs. The enemy also used the FIRE SPLINTER. Below is the BATTLE VIDEO LINK shared.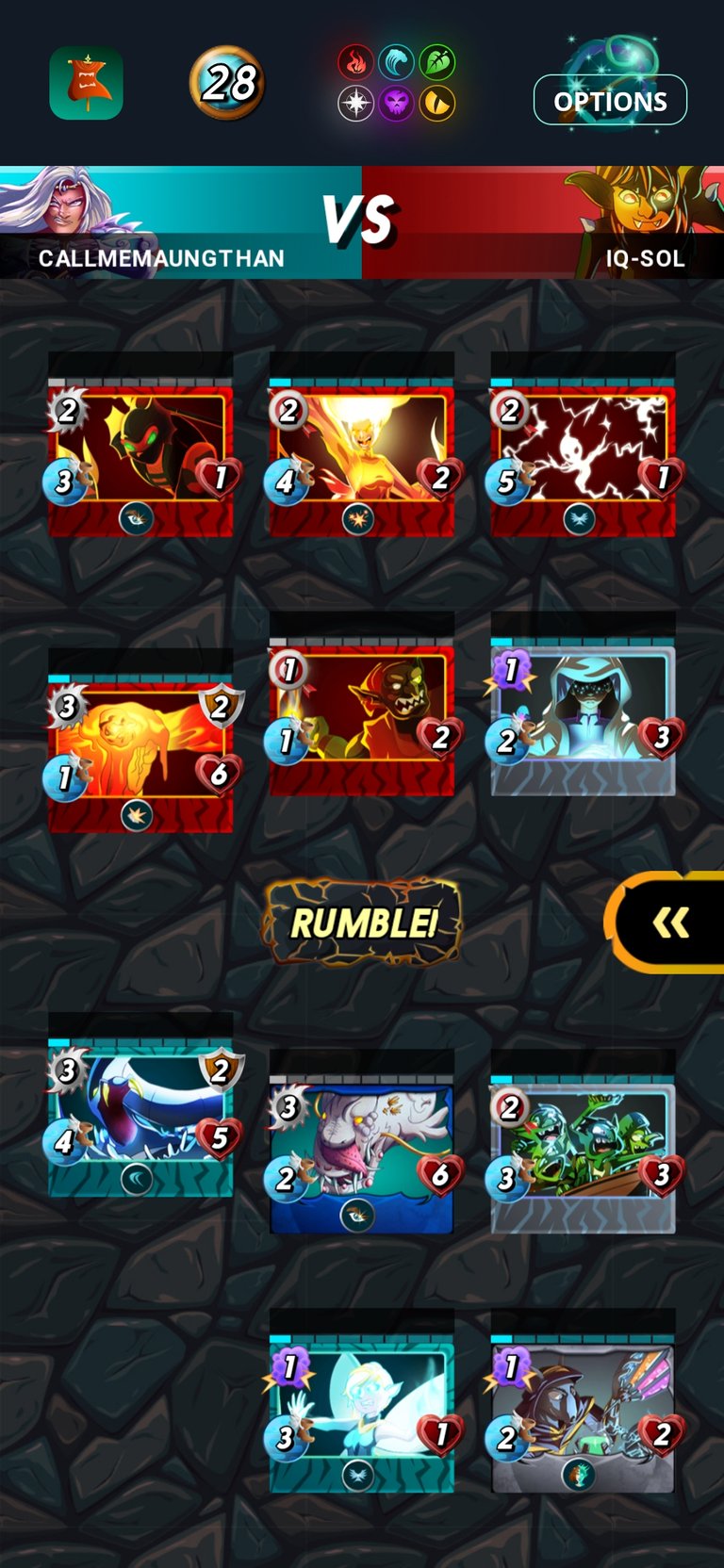 Here is my battle video link, click this blue words and go to see my video
This is my review battle for the Share Your Battle Challenge. If I have any needs or weaknesses, please let me know. If you have not play the Splinterlands game yet, you can start play with my referral link below. You can click this link to enter and play.

Thank for reading my post and your support "upvote"
မင်္ဂလာပါ။ ကျွန်တော်ကတော့ Splinterlands game ကို နှစ်သက်စွာ ကစားသူတစ်ယောက်ဖြစ်ပါတယ်။ ဒီ Post က တော့ ဒီအပတ်ရဲ့ share your battle ပြိုင်ပွဲအတွက် ဖြစ်ပါတယ်။ ဒီအပတ် Share Your Battle အစီအစဥ် အတွက် အသုံးပြုရမယ့် SUMMONER Card က GIANT ROC ပဲ ဖြစ်ပါတယ်။
GIANT ROC Card က ကျွန်တော့်ဆီမှာ မရှိပါ။ဒါကြောင့် daily quest လည်း ပြီးစီးရအောင် Water Summoner ကို အသုံးပြုပြီး ကစားခဲ့ပါတယ်။ Water Summoner Card ဖြစ်တဲ့ Kelya Frendul ကို အသုံးပြုခဲ့ပါတယ်။ Kelya Frendul ကို ရွေးချယ်ရခြင်းက မိတ်ဖက် monster ကို speed 1 ခုနဲ့ Armor တစ်ခု ထောက်ပံ့ပေးသောကြောင့်ဖြစ်ပါတယ်။ Monster အားလုံးရဲ့ speed ကို တစ်ဆင့့်ပိုတိုးစေပြီး Armor ပါ၀င်သော monster ကို Armor တစ်ခု ရရှိစေမှာဖြစ်ပါတယ်။ MANA ကုန်ကျမှု ၄ ခု ရှိသော SUMMONER ဖြစ်ပါတယ်။
ဒီ battle အတွက် စုစုပေါင်း mana ကုန်ကျမှု ၂၈ ခုအထိ ခွင့်ပြုထားပြီး summoner အတွက် ၄ခု monster အတွက် ၂၄ ခု အသုံးပြုထားပါတယ်။
Kelya Frendu နဲ့အတူ တိုက်ပွဲ၀င်ခဲ့တဲ့ မိတ်ဖက် Monster အချို့ကိုဖော်ပြပေးပါမယ်။
BATTLE အတွက် SUMMONER နဲ့ MONSTER ကိုဖော်ပြပြီးတဲ့အခါ ဆော့ကစားခဲ့တဲ့ BATTLE PHOTO နှင့် BATTLE VIDEO LINK ကို ဖော်ပြပေးချင်ပါတယ်။ ဒီ BATTLE ကို ROUND 3 အထိသာ ကစားခဲ့ရပြီး ငါ့ရဲ့ MONSTER တွေ တစ်ကောင်မှ မဆုံးရှုံးခဲ့ရပဲ ပြီးဆုံးခဲ့ပါတယ်။ ရန်သူ့ဘက်ကတော့ FIRE SPLINTER ကို အသုံးပြုတိုက်ခိုက်ခဲ့ခြင်းလည်း ဖြစ်ပါတယ်။ အောက်မှာ BATTLE VIDEO LINK ကို မျှဝေထားပါတယ်။
ဒါကတော့ ကျွန်တော့်ရဲ့ Share Your Battle အစီအစဥ်မှာ ပါ၀င်ခဲ့တဲ့ ပွဲစဥ်တစ်ခုကိုဖော်ပြပေးတာဖြစ်ပါတယ်။ ကျွန်တော်ရဲ့ လိုအပ်ချက် အားနည်းချက်များရှိခဲ့ရင် ဝေဖန် အကြံပြုပေးနိုင်ပါတယ်ခင်ဗျာ
။ မိတ်ဆွေ အနေနဲ့ ဒီစာကို ဖတ်ရင်း Splinterlands Game ကို မကစားရသေးဘူးဆိုရင်တော့ အောက်မှာ ကျွန်တော့်ရဲ့ Referral link ကို ဖော်ပြပေးထားပါတယ်။ ဒီ link ကို click နှိပ်ပြီး ၀င်ရောက် ဆော့ကစားနိုင်ပါတယ်ခင်ဗျာ။
https://splinterlands.com?ref=callmemaungthan
လေးစားစွာဖြင့်
---
---