Enola Holmes 2: Review and Opinion [ESP/ING]
¡Hola, Comunidad de Hive!
Hello, Hive Commnunity!
---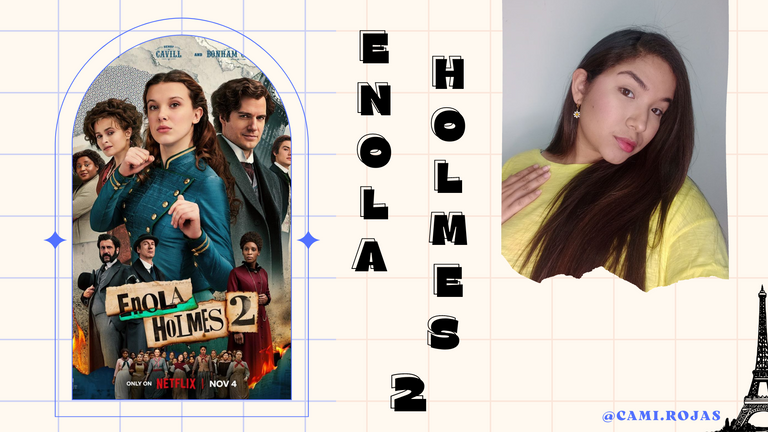 ---
Ya ustedes estarán acostumbrados a que llegue un poco tarde a las reseñas, pero en mi defensa siempre termino viendo muy tarde las películas, lo importante es que en este blog siempre encontraran una opinión honesta y desde mis gustos personales. Enola Holmes fue una película que me gusto mucho y que quizá siento que era muy peligroso hacer una segunda parte que fuera tan buena como la primera, así que cuando la universidad me dejo libre lo primero que hice fue ponerme al día con la duda sobre esta película.
La historia de Enola Holmes se retoma en el intento de poder ser una detective respetada y demostrar que es mucho más que una niña, por eso una nueva aventura y misterio empieza cuando la joven Bessi que trabaja en una fabrica de fosforos, le pide a Enola que la ayude a encontrar a su hermana Sarah Chapman, pareciera ser simple pero cuando Enola comienza a investigar descubre que hay cosas pasando mucho más allá de lo que ella pensaba y pronto estará envuelta en persecusiones de alto riesgo.
By now you are used to me being a little late with the reviews, but in my defense I always end up watching movies very late, the important thing is that in this blog you will always find an honest opinion and from my personal tastes. Enola Holmes was a movie that I liked a lot and maybe I feel it was too dangerous to make a sequel that was as good as the first one, so when college let me free the first thing I did was to catch up with the doubt about this movie.
The story of Enola Holmes picks up as she tries to become a respected detective and prove that she is much more than a girl, so a new adventure and mystery begins when young Bessi who works in a match factory, asks Enola to help her find her sister Sarah Chapman, it seems to be simple but when Enola begins to investigate she discovers that there are things going on far beyond what she thought and soon she will be involved in high risk pursuits.
---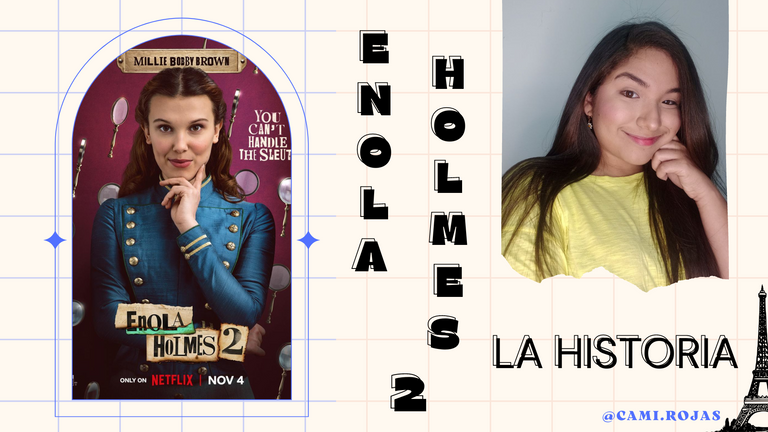 ---
Enola Holmes en su primera entrega me conquisto y esta segunda entrega me gustó, y es que si bien estamos un poco sobresaturados de Netflitx intentando llevar mensajes sociales, con esta película no me molesta y ya les voy a explicar porque; el primer factor: es la historia, aunque puede tener sus cliches y tardar un poco en tomar forma, cuando por fin se encamina se torna en una aventura que nos da pistas poco a poco de aquello que tanto estamos buscando.
Es curioso como dos casos que parecian estar separados dentro de esta historia toman un mismo camino y nuevamente tenemos a dos hermanos y detectives hilando dudas y dejando el misterio construyendo una historia muy divertida y que te deja enganchado hasta el final de la película; para mi la trama va de menos a más, porque al principio puede no atraparte pero después crece mucho y termina por conquistar al espectador, debo decir que esta no es el tipo de película que será impresionante o una genialidad y esto se debe a los vacios presentes, pero al final del día es una película entretenida y que en momentos retoma un poco de la historia para mostrarnos que hay temas que aunque parezcan sanados pueden ir más allá, en esta película claramente el mensaje principal va hacia el feminismo y al menos a mi no me pertuba.
El descenlace y final de esta película, me gustó, siento que la trama tuvo giros interesantes que lograron una conexión especial con la trama; al final todas las piezas encajan dejando resulto el misterio y también tengo que mencionar que nunca perdio el norte de dejar un mensaje poderoso que igualmente recalca estar basado en hechos reales por lo que haber tomado la decisión de ambientarse en la Londres Victoriana con la revolución de las mujeres exigiendo sus derechos laborales, le dio un toque especial al cierre de la historia.
Enola Holmes in its first installment conquered me and I liked this second installment, and although we are a little oversaturated with Netflitx trying to bring social messages, with this film I do not mind and I'll explain why; the first factor is the story, although it may have its clichés and take a while to take shape, when it finally gets on track it becomes an adventure that gives us clues little by little of what we are looking for.
It is curious how two cases that seemed to be separated within this story take the same path and again we have two brothers and detectives spinning doubts and leaving the mystery building a very funny story that leaves you hooked until the end of the film; for me the plot goes from less to more, because at first it may not catch you but then it grows a lot and ends up conquering the viewer, I must say that this is not the kind of movie that will be impressive or a genius and this is due to the gaps present, but at the end of the day is an entertaining movie and that at times picks up a little of the story to show us that there are issues that although they seem healed can go beyond, in this film clearly the main message goes towards feminism and at least to me it does not disturb me.
I liked the ending of this film, I feel that the plot had interesting twists that achieved a special connection with the plot; in the end all the pieces fit together leaving the mystery and I also have to mention that it never lost the north of leaving a powerful message that also emphasizes being based on real events so having taken the decision to be set in Victorian London with the revolution of women demanding their labor rights, gave a special touch to the closing of the story.
---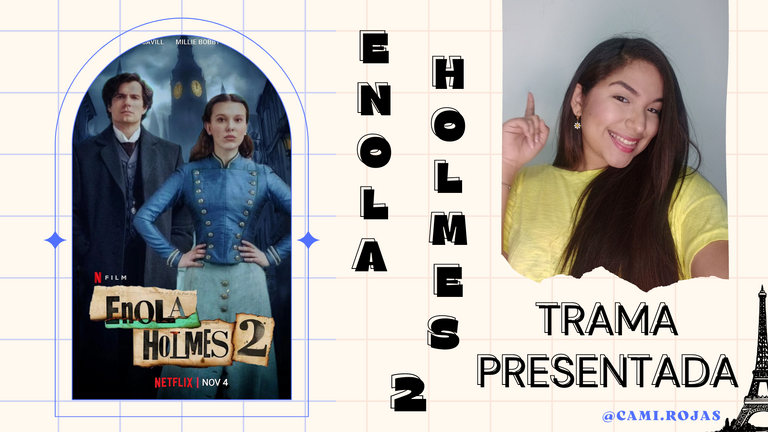 ---
En cuanto a los personajes, por lo menos Enola, me parecio genial, me gusta la manera en la que pudimos conocerla en esta entrega, la vimos derrotada pero también la vimos renacer y ponerse de pie en un misterio que la lleva a caminos que no se esperaban; nuevamente me gusta el carisma de su personaje y aunque tiene momentos en que parece ser testaruda son esos mismos los qaue le dan un toque de realidad y humanidad.
También tenemos a Sherlock Holmes, en esta secuela con mucha más participación que en la anterior y para mi más presencia escénica, me encantó, fue un personaje que tuvo un enorme crecimiento en cuanto a la esencia de detective y los matices que aporta este personaje a la trama; siento que además cautiva su forma de resolver la parte del misterio y unirse con Enola. En cuanto, a Lord Viscount Tewkesbury, fue la perfección ante la cámara, termina aprotando mucho al final de la trama y es un personaje masculino muy diferente que efectivamente retoma el factor romance en esta historia y como toda fan romantica me cautivó su personaje.
As for the characters, at least Enola, I thought she was great, I like the way we got to know her in this installment, we saw her defeated but we also saw her reborn and stand up in a mystery that leads her to unexpected paths; again I like the charisma of her character and although she has moments when she seems to be stubborn are those same ones that give her a touch of reality and humanity.
We also have Sherlock Holmes, in this sequel with much more participation than in the previous one and for me more stage presence, I loved it, it was a character that had a huge growth in terms of the essence of detective and the nuances that this character brings to the plot; I feel that also captivates his way of solving the part of the mystery and join with Enola. As for Lord Viscount Tewkesbury, he was perfection in front of the camera, he ends up being very appropriate at the end of the plot and is a very different male character that effectively retakes the romance factor in this story and as a romantic fan I was captivated by his character.
---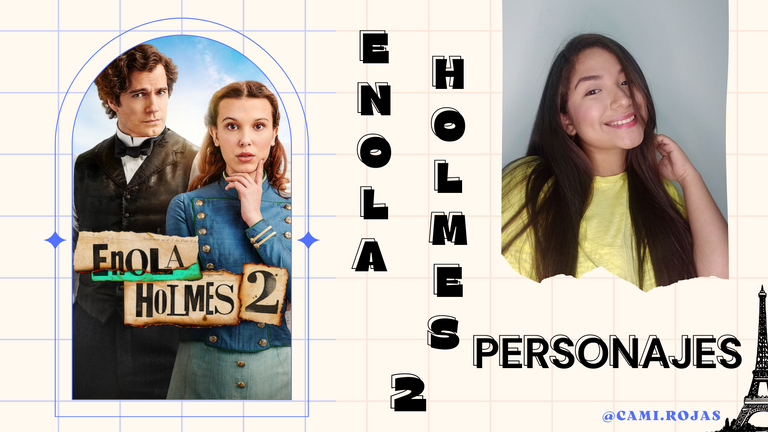 ---
Por otro lado, la parte fotografica o visual de la película es aeptable, nada que me robe el sueño, un aspecto importante son las escenas de acción, hay unas que sientes aceptables y otras que de plano no conquistan a nadie. Ahora bien, algo que si me gusto y que hizo que la película me gustará más fue que Enola rompia la cuarta pared de una manera torpe pero carismatica, al menos desde mi parecer aporta mucho.
En terminos generales, Enola Holmes 2 es una película entretenida, que logra cautivar al público y dar el cierre a un misterio pero también es una película que tiene algunas bajas que me hacen no quererla tanto como la primera, aunque no es perfecta y esta lejos de serla siento que cumple su objetivo; llegar a su público y ser entretenida; incluso al estar basada en libros abre la posibilidad de otras películas en un universo que va construyendose. Si vieron la primera película definitivamente, tienen que ver la segunda; si aún no ven ninguna, solo puedo decir que vale la pena para desconectarse un poco del mundo.
On the other hand, the photographic or visual part of the film is acceptable, nothing that robs me of sleep, an important aspect are the action scenes, there are some that you feel acceptable and others that flatly do not conquer anyone. However, something that I did like and that made me like the movie more was that Enola broke the fourth wall in a clumsy but charismatic way, at least from my point of view it contributes a lot.
In general terms, Enola Holmes 2 is an entertaining movie, that manages to captivate the audience and give closure to a mystery but it is also a movie that has some downfalls that make me not love it as much as the first one, although it is not perfect and it is far from being it, I feel that it fulfills its objective; to reach its audience and be entertaining; even being based on books opens the possibility of other movies in a universe that is being built. If you saw the first movie, you definitely have to see the second one; if you haven't seen any yet, I can only say that it's worth it to disconnect a little bit from the world.
---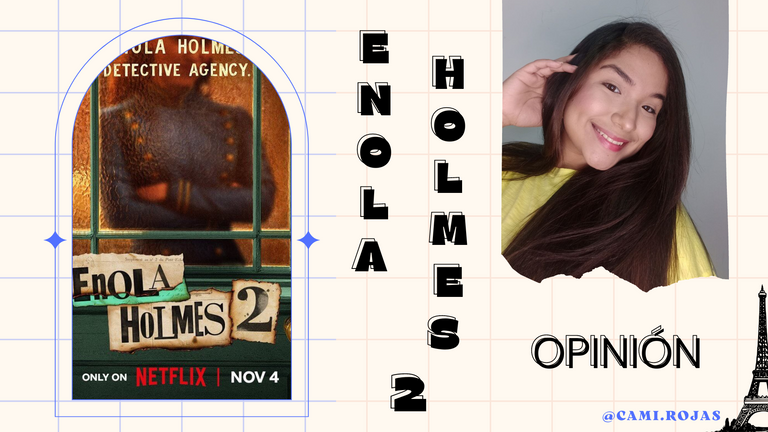 ---
---
Espero que les haya gustado este post. Nos vemos pronto.
I hope you liked this post. See you soon.
---
---

---
---
---