Battle Mage Secret: There is No Escape from Aim True
Hello Splinterlands and Hive community!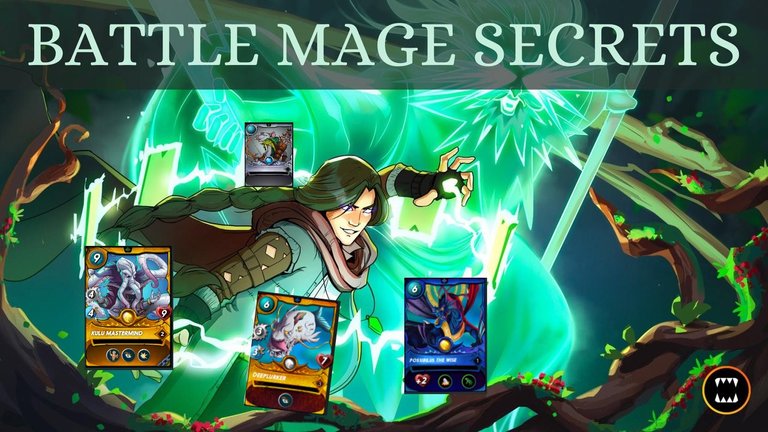 Sadly I've missed last week challenge but not this week's share your battle... Oh Wait! Here's the catcggh, the splinterlands team made it more interesting by focusing on a Specific Ruleset instead of a Monster as it turns out to become Battle Mage Secrets with the featured rule set Aim True

Aim True
Icon

Description

Melee, Ranged Attacks attacks always hit their target.

Magic Attacks can't miss against a monster with Phase
Every monster in the Arena will become Byzantine Kitty Buffed and everyone knows how strong, if not the most broken Summoner in the game!
Speed Difference is simultanously nerfed and buffed:
Nerf 👎: No longer missing because of speed diff
Buff 👍: We are in the Speed Meta and higher speed means higher chance of winning especially where no evasive abilities can stand in your way.
Abilities Nerf

Abilities Buff

Evasive Abilities:
Flying
Dodge
Blind
Phase
Backfire
Pierce
Inspire & Demoralize
Reflection Abilities
Swiftness & Slow
Shield
As shown in the table, Evasive Abilities become useless
You can play either Agressively by buffing the team's agression: Pierce, Inspire, Swiftness +/- Slow
Or Defensive by going for the tankiness: Shield, Demoralize, Reflection abilities: Thorns, Return Fire, Reflection Shield
This is not the kind of rules that needs are drastic adaptation but some little details can win you the battle!

Into The Battle!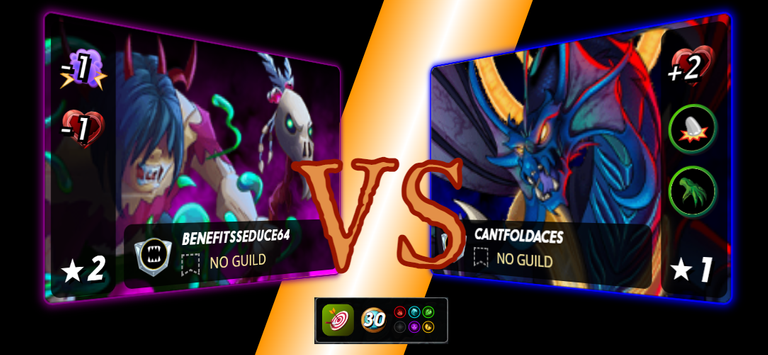 So we have a Mid-mana battle (30 Mana) with all elements available except Life (Man I hate the archery Sloan composition) and on the Aim True Ruleset, to be honest I didn't think through what my opponent might pick but I've wento for the following Team:
| Card | Description |
| --- | --- |
| | They call it the weakest, the most situational but for me it's the Summoner that brings me the most fun! +2 is always beneficial, Trample and Reach are Melee focused and will synergize well with Aim True |
| | We got a total of 7 hit point for 3 Mana which is not bad! Putting it to absorb some damage and let the latter monsters do the damage! |
| | One of the best low mana Reach Monster with high Speed and Decent Damage but still lacks the tankiness, I need to upgrade it to level 3 to unlock Reflection Shield |
| | Our First Damage Dealer: Opportunity + from Possibilus + Aim True to garantee wiping out the weakest enemy starting for the 1st round |
| | I couldn't believe I'd pull a Gold Foil Legendary on my season rewards! and Damn this Opportunity monster is a Beast! 4 Melee Damage + 4 Speed + Tanky enough 9 Health and I'm abusing the hell out of it in every situation I can put him in! |
| | That kind of smile you have you know enemy is f**ckd and he'll keep screwing your life even after death with Martyr Since it's Aim True Ruleset, enemy will probably go for some sneak monsters and I'll gladly wait for Kulu Mastermind to get that Martyr Buff |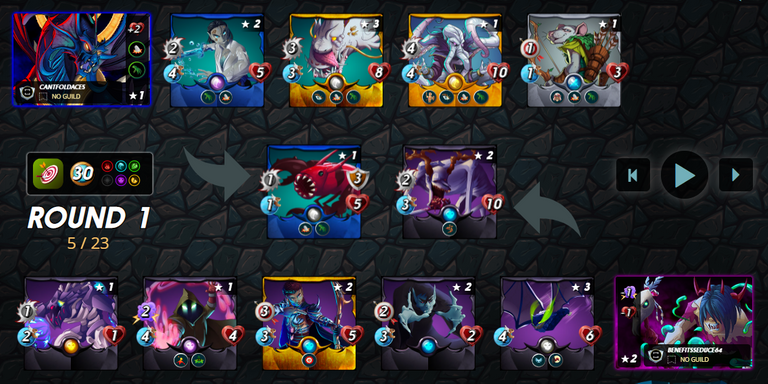 Pre-battle Buffs and Debuffs
Round 1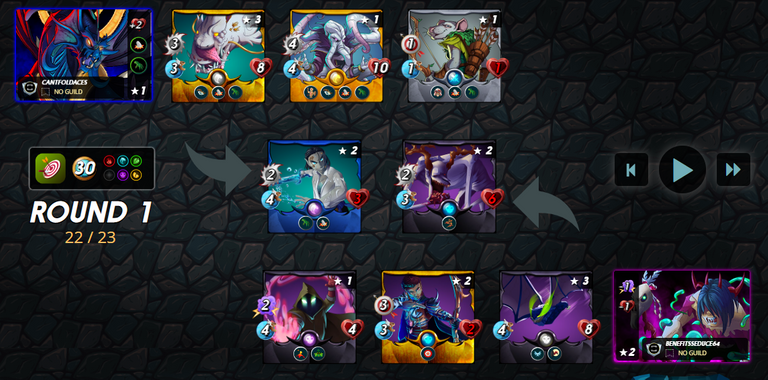 Luckily Enemy Team didn't have Armor so the battle should be on my favor!
First up, Magi Necrosi first attacked Venari Marksrat followed by Kulu Mastermind claiming the first blood on the Fiend
Tide Biter attack didn't do much to Cursed Windeku and ended up suffering Thorns Damage
Cruel Sethropod was left with a single Health after receiving damage from the remaining 3 attackers
Deeplurker living up to its name by eying Soul Strangler and Trample over to Dhampir Stalker
Cruel Sethropod didn't survive longer after taking Thorns damage from Windeku
Round 2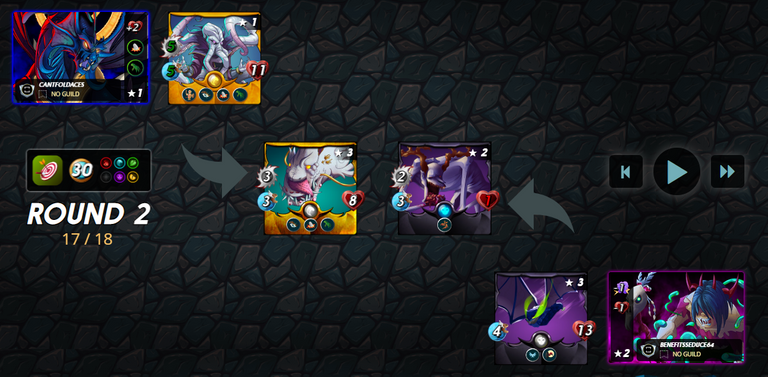 Magi Necrosi finally killed Venari Marksrat to trigger Martyr on Kulu Mastermind
Kulu Mastermind sitting on 5 Melee Damage + 5 Speed defeated Dhampir Stalker and Trample over the camouflage Magi Necrosi for the DOUBLE elimination!
Tide Biter was eliminated after taking Thorns damage and Cursed Windeku attack
**Cursed Windeku left only with 1 Health after Deeplurker final attack of this Round
Round 3
The battle is pretty much over after Kulu Mastermind Trample over Cursed Windeku
Since it's an Aim True Ruleset, there won't be those annoying misses on Riftwing and the battle should be over!

Battle's Takeaways
The combination of Opportunity + Trample () was even deadlier with the Aim True Ruleset
One of the hidden secrets of Trample is the ability to attack the camouflage enemy after taking down the enemy in the previous position
It would be perfect if Venari Marksrat was placed between Deeplurker and Kulu Mastermind => Double Martyr
Another alternative is putting Baakjira on the 1st position and Kulu on the 2nd to trigger Weapon Training on Baakjira
Instead for putting Riftwing, it would be better to max the damage output on this ruleset!

Good luck Have Fun on your Splinterlands Battles!
Make sure to take part in the Weekly battle Mage Secret here
Wanna take part in these exciting Splinterlands battles: Join me here

---
---