None is Safe from the Dragons Wrath! Share your Battle Weekly Challenge
Hello dear Hivians and Splinterlanders!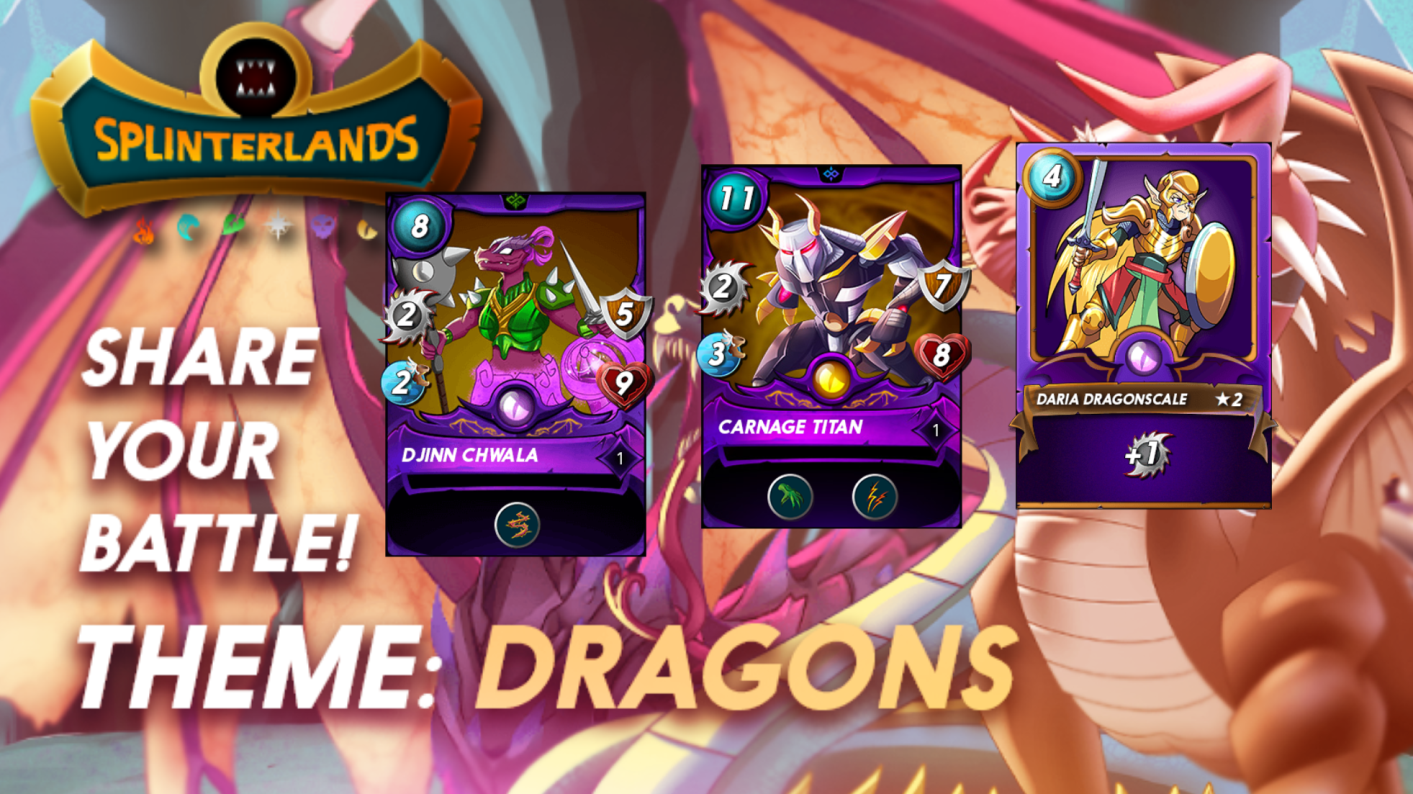 I hope you're having a wonderful day (or night). I'm really excited about the theme of this weekly Share your Battle challenge which is Dragons, my favourite splinter and the one who brings me the most victories on the Bronze and Silver league! For this week, I'll bring the combination that's I've recently dicovered:


---
The Combo
Summoner: Daria Dragonscale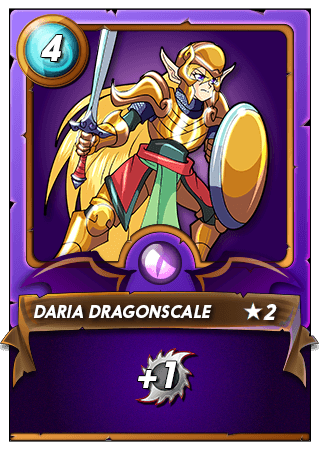 The Dragon Summoner that I'll be using for my battles:
It offers a +1 Melee Damage buff, ideal for my heavy Melee team composition.
A Level 2 Summoner to bring out the best of my leveled up monsters.
---
Djinn Chwala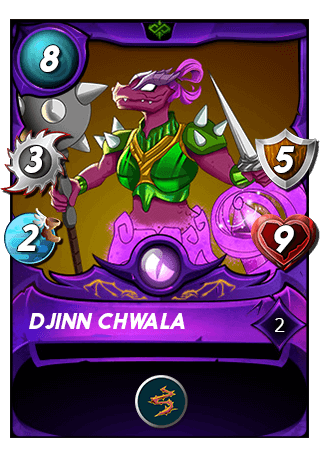 Djinn Chwala is Bae! It offers what a Tank really needs:
Solid 5 Armor
Beefy 9 Health

3 Melee Damage at level 2: (4 Melee damage with Daria Buff)
VS 2 Melee damage at level 1: that's why it's worth it to have Daria at level 2

Thorns is what makes Djinn Chwala so oppressive since most enemy monsters are heavy melee hitters and get punished for every hit.
---
Carnage Titan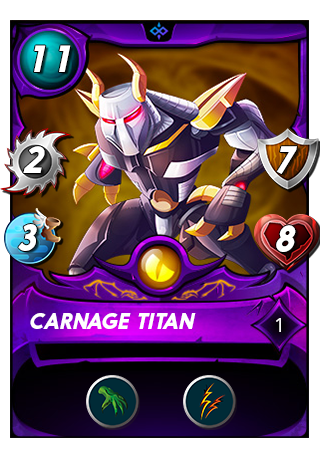 )
11 Mana is the right cost to summon this legendary dragon into the battle:
8 Health and 7 Armor makes it perfect for the secondary tank

2 Melee Attack is decent but even better when associated with these abilities:
Double Strike: Titan will be extremely dangerous and hits like a truck for a total of 4 damage:

Plus Daria Dragonscale +1 Melee Buff: Carnage Titan will be dealing a total of 6 damage per round!
Reach : that's why it can be placed at the second position making it less prone to direct attacks while dealing tons of damage!
---
Dhampir Infiltrator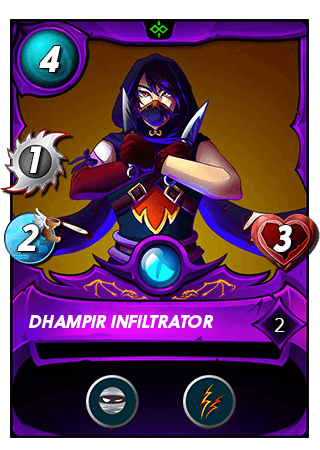 4 Mana Dragon from the new Rewards Edition, not the best base stats but decent abilities if used right:
1 Melee damage
3 Health at level 2 VS 2 Health at level 1: surviving a sneak/opportunity attack is crucial!
Sneak : Tagets the backline is the way to go to elimite the squishy enemy backline
Double Strike: same for Carnage Titan, this ability is the sweet deal!
1 Base Damage + 1 Daria Buff + Double Strike = 4 Damage per turn for only 4 Mana
---

The Battle

Ruleset: Fog of War
Mana cap: 24
All Elements available except Water

With No Water Element available and according to opponent's history, I expect to be faced against a Fire team and the prediction was right! Enemy lineup is scary as I have to get through living Lava before Djinn Chwala gets eliminated.
Round 1
The round starts with Creeping Ooze Slow which halts my monsters speed, Spark Pixies attacks first then Serpentine Spy wastes his attack on Chaos Agent (luckily I had 1 Mana to spare for Chaos Agent). Scorch Fiend attacks Djinn Chwala and gets eliminated by Thorns Damage. Now it's my turn, both Djinn Chwala and Carnage Titan attack Living Lava to reduce its health to 3 (Shield made it so Tanky!) . Luckily Djinn had 1 Armor left to absorb the full damage from Lava and lastly, Radiated Brute attacks for 3 damage while taking away 2 Thorns Damage.
Round 2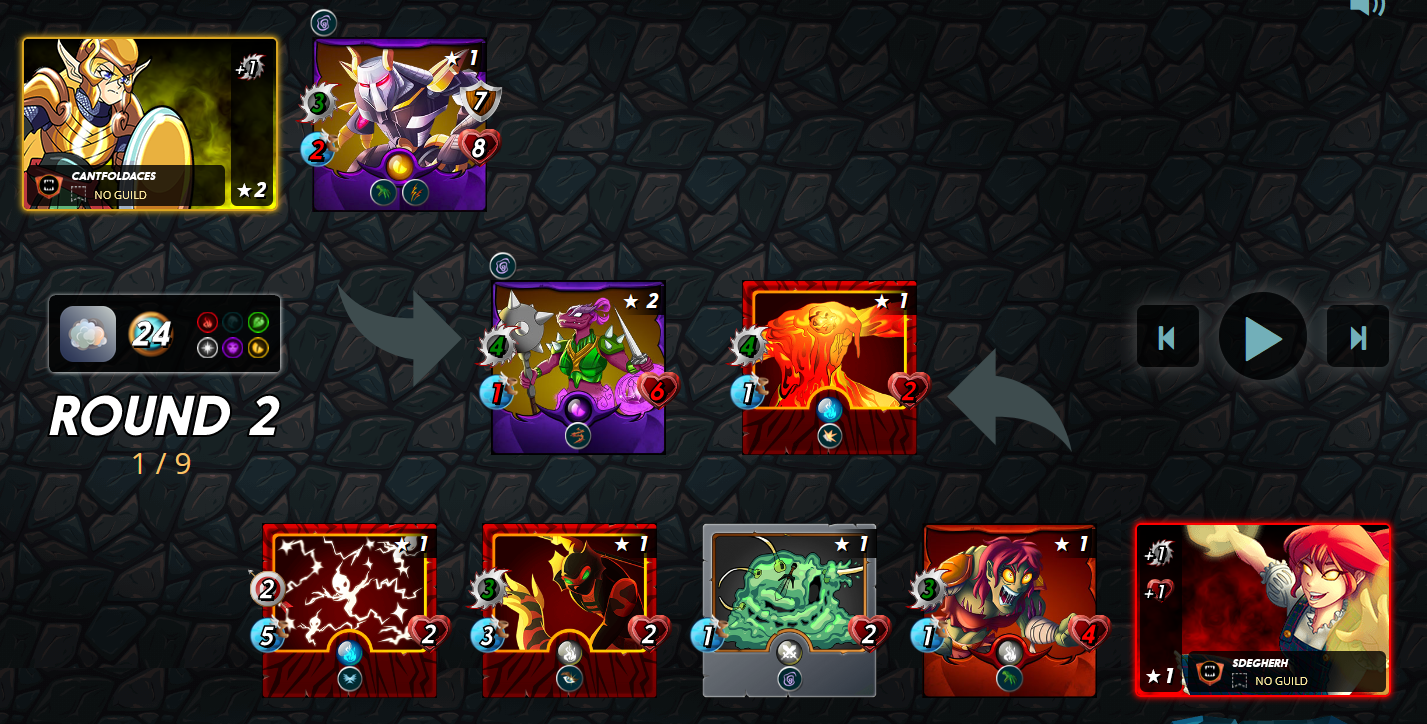 The battle not over yet as Pixies is first to launch its ranged arrow followed by Serpentine Spy Opportunity attack leaving Djinn with only 1 Health while Serpentine Spy is out thanks to thorns.
Witness Carnage Titan damage as it slay Living Lava on the first strike and left Radiated Brute with 1 Health on the second strike only to be finished by Djinn Chwala ruthless damage!
Round 3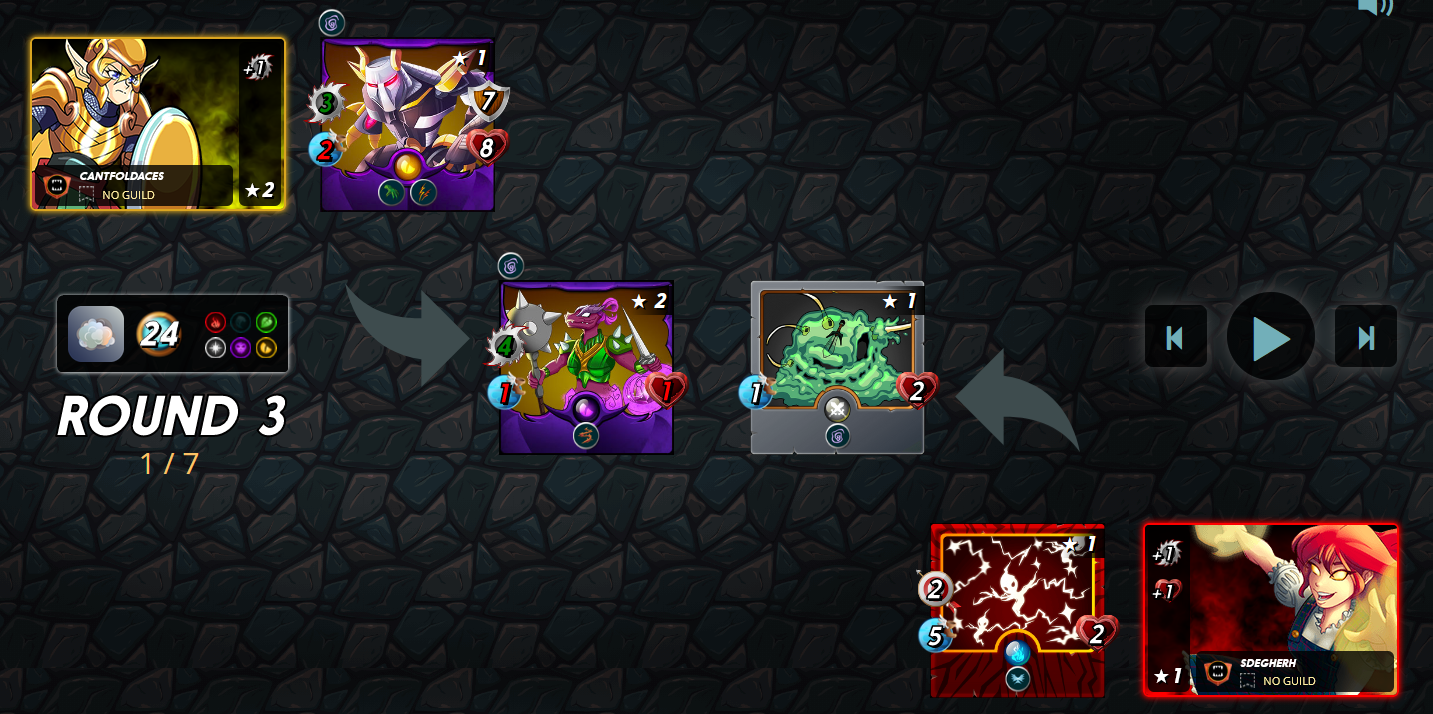 The battle is pretty much over, after Djinn elimination, Carnage Titan did clean up with the deadly Double Strike bringing again another Victory for the team!
Result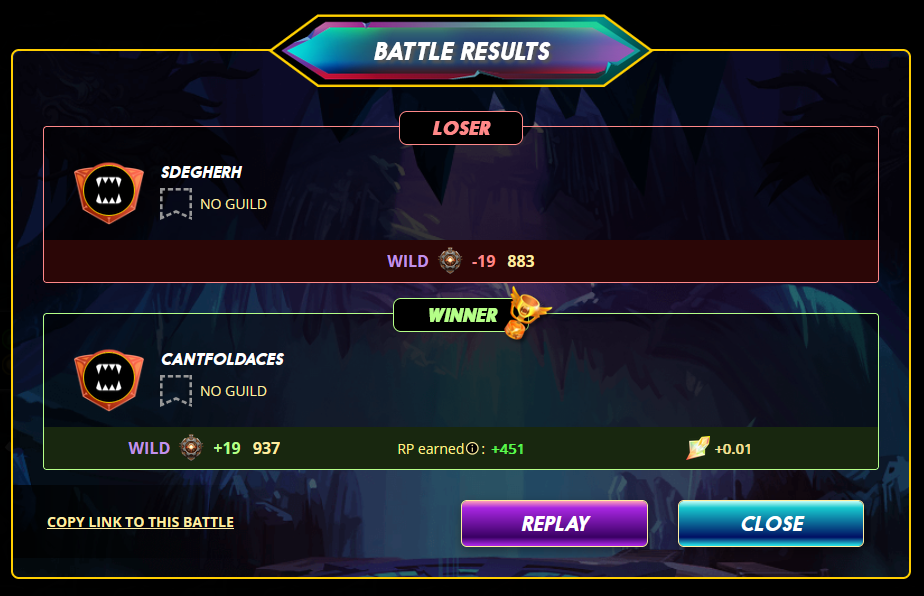 Fire Deck is really strong at the lower levels so I'm really glad I've found the way to beat it with this Dragons combination, Thank you for reading till the end and I hope you enjoyed watching this battle and hopefully I'll be comming up with more interesting battles!

Good luck Have Fun on your Splinterlands Battles
Make sure to take part in the Weekly battle Challenge Here
Wanna take part in these exciting Splinterlands battles: Join me here
Posted using Splintertalk
---
---