Federal Legislative Palace of Venezuela || [ESP- ENG]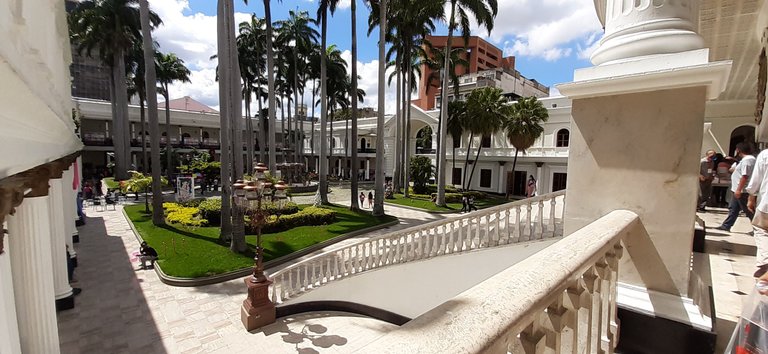 Palacio Federal Legislativo de Venezuela
Greetings dear Hivers!
To enter the National Assembly it is necessary to have some credential that accredits you as a deputy, member of the press or some other gadget, unknown to me, that allows you to circumvent the traps of protocol that has established the system of my country, I guess it is only to take care of this huge space that opens in the heart of Caracas.
This was not necessary the day they decided to open the building of the National Assembly to present within its walls the International Book Fair of Venezuela (FILVEN for its acronym in Spanish), this day we met dozens of Venezuelans, that in full pandemic, we came determined to contract the covid in order to enjoy its internal spaces. Which I'm sure everyone already knows from the outside.
Saludos queridos Hivers!

Para entrar a la Asamblea Nacional es necesario poseer alguna credencial que te acredite como diputado, miembro de la prensa o algún otro artilugio, desconocido para mi, que te permita sortear las trampas del protocolo que ha instaurado el sistema de mi país, intuyo que es solo para cuidar este inmenso espacio que se abre en pleno centro de Caracas.

Esto no hizo falta el día que decidieron abrir el edificio de la Asamblea nacional para presentar entre sus muros a la Feria Internacional del Libro de Venezuela(FILVEN por sus siglas en español), este día nos dimos cita decenas de venezolanos, que en plena pandemia, acudimos decididos a contraer el covid con el fin de disfrutar de sus espacios internos. Que seguro todos ya lo conocen por fuera.
| | |
| --- | --- |
A lot of history has passed through here, not only since its inauguration on February 20, 1873, but also in the last years of political life. The impossibility for the common citizen to enter resulted, at least for me, in a mysterious and hermetic building in spite of its white and beautiful walls and its manicured and green gardens.
It is a neoclassical building in its formal structure. And it has many halls and spaces little used, beyond the caryatids that adorn its exterior spaces. The highest point is its dome, which with its 26 meters, was already small for the subjects that are treated inside. At the time it would have been the tallest building, but those times are long gone. The architect in charge of the work was Luciano Urdaneta, who by orders of Antonio Guzmán Blanco rushed its construction, with the idea of modernizing the city, for this reason we find that its construction was executed in parts, first the south zone, which is the one we see in the following image almost touching my hair, and five years later the north zone in which its dome stands out.
Mucha historia ha pasado por aquí, no solo desde su inauguración el 20 de febrero de 1873, también en los últimos años de vida política. La imposibilidad de entrar del ciudadano común tuvo como resultado, por lo menos en mi, que se hiciera un edificio misterioso y hermético a pesar de sus blancos y hermosos muros y sus cuidados y verdes jardines.

Es un edificio neoclásico en su estructura formal. Y tiene muchos salones y espacios poco aprovechados, mas allá de las cariátides que adornan sus espacios exteriores. El punto más alto es su cúpula, que con sus 26 metros, ya quedó pequeña para los temas que se tratan dentro. En la época pasaría como el edificio mas alto, pero esos tiempos quedaron atrás. El arquitecto encargado de la obra fue Luciano Urdaneta, que por órdenes de Antonio Guzmán Blanco se apresuró su construcción, con la idea de modernizar la ciudad, por esta razón encontramos que su construcción se ejecutó por partes, primero la zona sur, que es la que vemos en la siguiente imagen casi rozando mi cabello, y cinco años más tarde la zona norte en la que destaca su cúpula.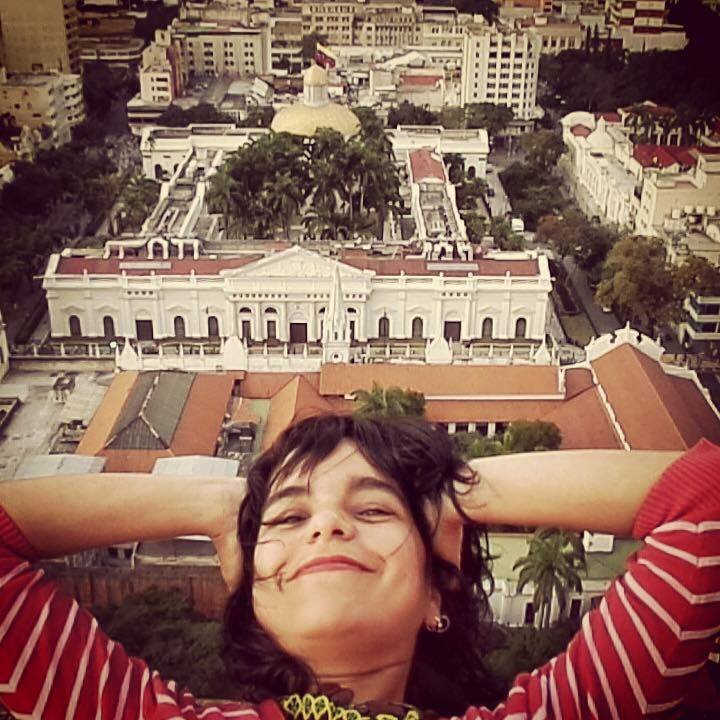 What is most impressive is the level of detail in every corner, making this place not only artistic heritage, but also cultural and historical, for these great contributions was declared National Heritage on August 22, 1997, a few years before its name changed. Previously the functions of the building used to be broader, including the Federal, Legislative and Judicial powers, until that changed in 1961 when it became the exclusive use of the Legislative Power in 1961. Another change took place years later when it ceased to be the seat of the National Congress and became the seat of the National Assembly with the repeal of the constitution in 1999.
Lo que mas impresiona es el nivel de detalle en cada rincón, haciendo de este lugar no solo patrimonio artístico, también cultural e histórico, por estos grandes aportes fue declarado Patrimonio Nacional el 22 de agosto de 1997, pocos años antes que su denominación cambiara. Ya que anteriormente las funciones de la edificación solían ser mas amplias, incluyendo los poderes Federal, Legislativo y Judicial, hasta que eso cambió en 1961 cuando pasó a ser de uso exclusivo del Poder Legislativo en 1961. Otro cambio pasó años después cuando de ser la sede del Congreso Nacional y pasó a recibir a la Asamblea Nacional con la derogación de la constitución en 1999.
| | |
| --- | --- |
When I was a teenager I used to ask my dad about the historical events taking place at that time, since my dad was a journalist and his source was precisely the politics of the country, I begged him back then to take me to know this space, to which he always responded with a grim smile. So when the time came, we did not think twice and happily went to the fair, my husband, a poet and writer, thinking of the books and events that would take place here, and I thinking of the reserved spaces of the Federal Legislative Palace. Of course the place I wanted to visit was its Hemicycle, but it was closed during our visit.
A solar is the area that supports the palace, and each of its four wings has different functions, as well as aesthetic variations. It has side buildings, to the east and west, destined for the offices of the National Assembly's rectory, but also the southern complex, where the Hemicycle is located, actually there are two, very similar in the Frenchified design, but with different functions (I swear I hardly noticed the difference between the two in television broadcasts, except for the size of the national coat of arms and the golden color of the box), one for the National Assembly sessions and the other for the Constituent Assembly.
In the central courtyard rests a sculptural fountain made in Great Britain that arrived in Venezuela in 1876, and is surrounded by large chaguaramos and is regularly visited by the famous macaws that inhabit Caracas.
Cuando era adolescente solía preguntar a mi papá sobre los acontecimientos históricos que se producían en ese momento, ya que mi papá era periodista y su fuente era precisamente la política del país, le rogaba en ese entonces que me llevara a conocer este espacio, a lo que siempre respondía con una sonrisa funesta. Así que cuando llegó el momento, no lo pensamos dos veces y acudimos felices a la feria, mi esposo, poeta y escritor pensando en los libros y eventos que se darían cita aquí, yo pensando en los reservados espacios del Palacio Federal Legislativo. Por supuesto que el lugar al que deseaba visitar era su Hemiciclo, pero estuvo cerrado en nuestra visita.

Un solar es el área que sostiene al palacio, y cada una de sus cuatro alas tiene distintas funciones. también variaciones estéticas. Tiene edificios laterales, al este y al oeste, destinados a los despachos de la rectoría de la Asamblea Nacional, pero también el complejo sur, donde se encuentra el Hemiciclo, en realidad son dos, muy parecidos en el diseño afrancesado, pero con funciones diferentes (juro que apenas noté la diferencia entre ambos en transmisiones televisadas, salvo por el tamaño del escudo nacional y el color dorado del palco), uno para las sesiones de la Asamblea Nacional y el otro para la Constituyente.

En el patio central reposa una fuente escultórica elaborada en Gran Bretaña que llegó a Venezuela en el año 1876, y está rodeada de grandes chaguaramos y que es visitada con regularidad por las famosas guacamayas que habitan en Caracas.
| | |
| --- | --- |
Great pictorial works also rest here, including frescoes famous in art history books, such as the Elliptical Hall, the most important of the palace, containing numerous historical treasures, such as the Act of Independence. This hall is also the base of the gold-plated dome that crowns the north building. Among the artists who graced the halls are Antonio Herrera Toro, Juan Lovera, Martín Tovar y Tovar, Pedro Centeno Vallenilla, Tito Salas, among other great artists. I was able to appreciate only a few of them, since the Salón Elíptico was open on the day of my visit, but they were filming a period movie so I could not appreciate its splendor.
I was struck by the panels that, as decoration, covered the walls of some of the halls open to the public. The design of these panels was replicated in the frosted glass of the access doors, a modern approach to the design of the time.
Grandes obras pictóricas también descansan aquí, estas incluyen los frescos famosos en libros de Historia del Arte, como el Salón Elíptico, el más importante del palacio, al contener numerosos tesoros históricos, como el Acta de Independencia. Además este salón es la base de la cúpula bañada en oro que corona el edificio norte. Entre las artistas que engalanaron los salones se encuentran Antonio Herrera Toro, Juan Lovera, Martín Tovar y Tovar, Pedro Centeno Vallenilla, Tito Salas, entre otros grandes artistas. Fueron pocas las que pude apreciar, pues el Salón Elíptico estuvo abierto el día de mi visita, pero estaban filmando una película de época por lo que no pude apreciar su esplendor.

Me llamó la atención los paneles que, a modo de decoración, recubrían las paredes de algunos salones abiertos al público. El diseño de estos paneles fueron replicados en el esmerilado del cristal de las puertas que dan acceso, una propuesta moderna al diseño de la época.
As this place has had so many stories of coups d'état and political revenge, when I peeked through the windows (in each of the ones I had access to I looked at), I noticed this detail that I don't know if I should call it creepy, it was like a kind of scratches made by an animal, the rambling began, if it was a persecuted politician who was locked in this room, or it was simply one of the many ghosts that have traveled through this country. Or maybe it was a dog locked in here while someone was finishing his work. I really don't know, but I have no doubt that it is a very interesting detail and worthy of study.
Cómo este lugar ha tenido tantas historias de golpes de estado y revanchas políticas, al asomarme por las ventanas (en cada una de las que tuve acceso posé la vista), noté este detalle que no se si llamarlo escalofriante, era como una especia de rasguños hechos por un animal, comenzó la divagación, si sería un perseguido político quien se encontraba encerrado en este salón, o simplemente fue un fantasma de los muchos que recorrieron este país. O quizás fue un perro encerrado aquí mientras alguien terminaba su trabajo. La verdad no lo se, pero no me cabe duda que es un detalle bastante interesante y digno de estudio.
In the Francisco de Miranda room there is a work inspired by another wonderful painting, Miranda en la Carraca by Arturo Michelena, which catches my attention, since Miranda is not found here. You can see the painting it refers to here.
There are also large paintings dedicated to Miranda, one of the sexiest independence heroes in Venezuelan history.
En el salón Francisco de Miranda destaca una obra inspirada en otra maravillosa pintura, Miranda en la Carraca de Arturo Michelena, me llama la atención, pues Miranda no se encuentra aquí. Pueden ver la pintura a la que hace referencia aquí.

También hay pinturas de gran formato dedicada a Miranda, uno de los héroes independentistas mas sexy de la historia venezolana.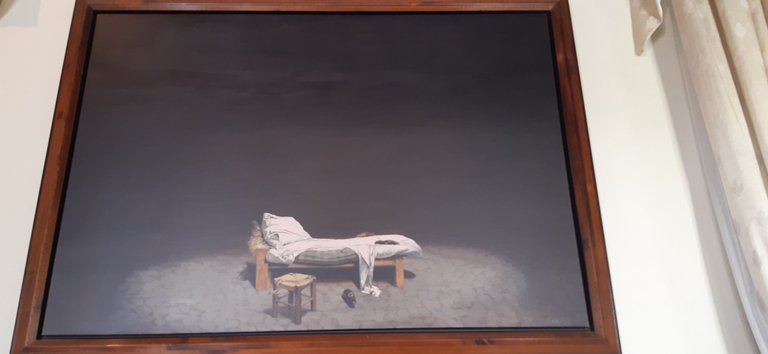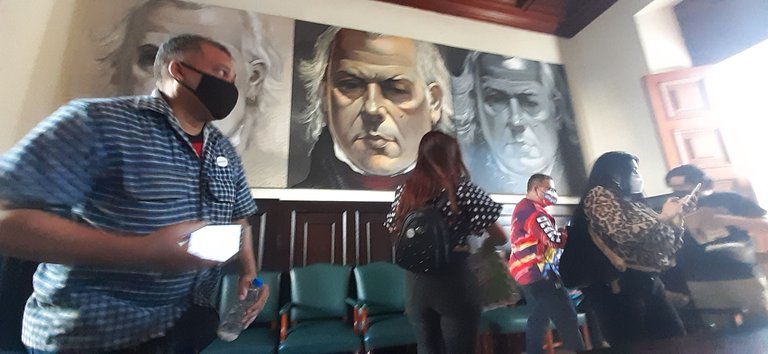 When the construction of the Federal Legislative Palace was finished, there was a general commotion among the people of Caracas at the time, after complaining for a long time due to the high cost of its construction, when it was unveiled to the public, the crowd could not but fall in surrender before the beauty of its forms and, as it did not have the checkpoints that grant access, and it is also located diagonally to the Plaza Bolivar, it was surely a must to walk through its gardens and make wishes to the fountain.
Even now, there is a tree in the vicinity of the land that is closed, because the Caraqueños used to bury coins in its trunk to make wishes. Until it was protected by a fence that prevents the hands of passers-by from continuing to deposit their coins here as a means to combat the crisis.
Al terminar la construcción del Palacio Federal Legislativo, se produjo una conmoción general entre los caraqueños de la época, después de quejarse por largo tiempo debido a la suma tan elevada que costó su construcción, al ser develada al público, la multitud no pudo sino caer rendida ante la belleza de sus formas y, como no tenía los puestos de control que otorgan el acceso, y además está ubicado diagonal a la Plaza Bolívar, seguro era paseo obligado transitar sus jardines y pedir deseos a la fuente.

Incluso, ahora hay un árbol, en las inmediaciones del terreno que está clausurado, pues los caraqueños solían enterrar monedas en su tronco para pedir deseos. Hasta que fue protegido por una cerca que impide que las manos de los transeúntes sigan depositando aquí sus monedas como medio para combatir la crisis.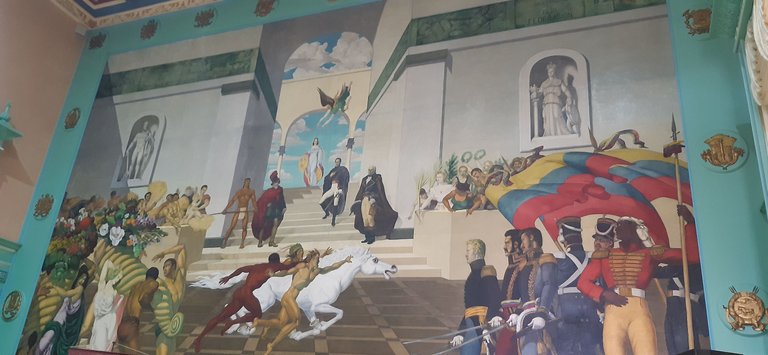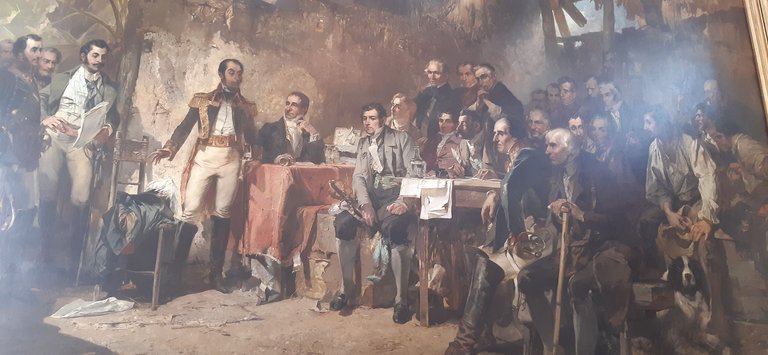 Even Marlon was entertained dreaming about what it would be like to dictate laws, issue decrees and generate anxiety from one of its balconies, because the visit was full of humor and the excitement of walking through its spaces, using its bathroom and going up and down its stairs freely, even if only for a day. Touching historical doors, looking at paintings that before we could only appreciate in books, and now being before our eyes, for the first time, makes us feel part of something absolutely bigger and richer than ourselves.
Incluso Marlon se entretuvo soñando como sería dictar leyes, emitir decretos y generar zozobra desde uno de sus balcones, pues la visita estuvo plagada de mucho humor y la emoción de transitar sus espacios, usar su baño y bajar y subir por sus escaleras libremente, aunque sea por un día. Tocar puertas históricas, Mirar pinturas que antes solo pudimos apreciar en los libros, y que ahora al estar ante nuestros ojos, por primera vez, nos hace sentir parte de algo absolutamente mas grande y rico que nosotros mismos.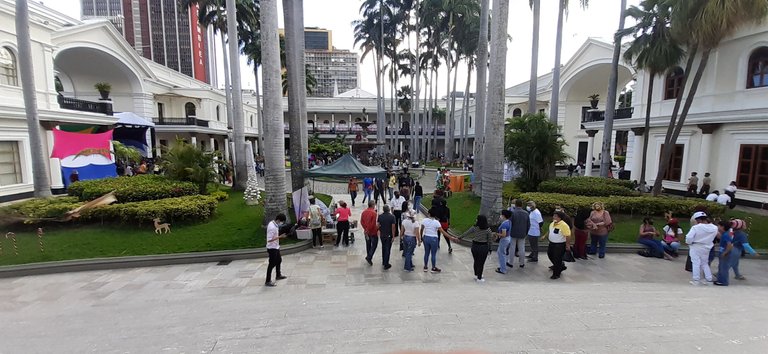 ---
El contenido aquí presentado es de mi autoría.

Las fotografías fueron tomadas con mi teléfono.
Los separadores y banner fueron hechos por mi en Illustrator
The content presented here is my own.

The photographs were taken with my phone.
The separators and banner were made by me in Illustrator.

Tu lectura es un gran honor para mi
Your reading is a great honor for me


Follow me




---
---