EN-ES☕ Brunch at Cafe Brasilero: cappuccino dessert and more🍰☕🍮
Hi hivers - Hola hivers
How is my dear Hive community? I hope that very well, yesterday, I had a medical consultation with the traumatologist to see how the recovery of my fracture has evolved, it was all good news but I will be telling you about it in another post, when I leave the Maciel medical center, Fran and I remember that some time ago we had wanted to visit the Brazilian cafe and luckily we were in the Ciudad Vieja area a few blocks from said place.
¿Cómo se encuentra mi querida comunidad de Hive? espero que muy bien, el dia de ayer, tuve una consulta médica con el traumatólogo para ver como ha evolucionado la recuperación de mi fractura, todas fueron buenas noticias pero se las estaré contando en otro post, al salir del centro medico Maciel, Fran y yo recordamos que hace un tiempo habiamos querido visitar el cafe Brasilero y por suerte nos encontrabamos en la zona de Ciudad Vieja a unas pocas cuadras de dicho local.
---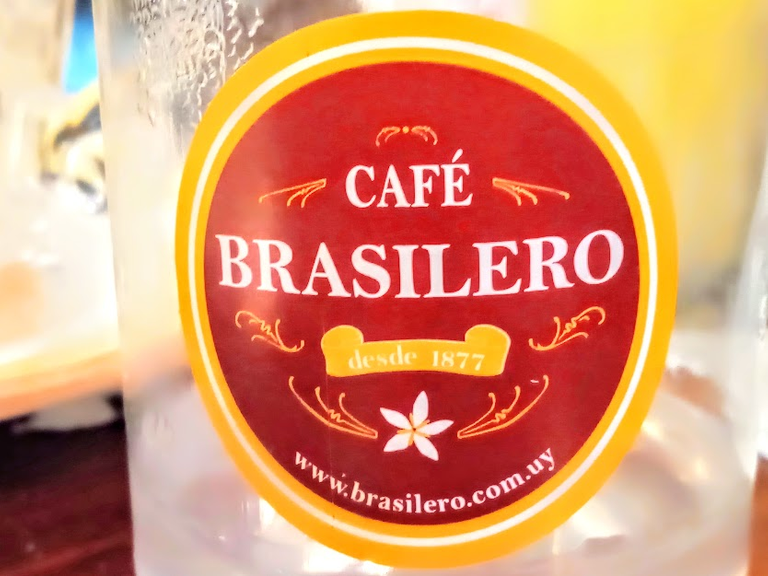 ---
Because we barely spent half the day, we wanted dessert more than lunch, although the place has a very varied menu of food and drinks, we decided to have a snack or brunch, two coffees and two desserts.
I want to start by talking about the flavor of the coffees, I ordered an iItalian Cappuccino at a cost of 165 pesos (4.12 USD) it came in a fairly abundant cup, half milk half coffee is served without stirring, it brought a chocolate medal to add if desired, a little foam on top, with a very nice presentation.
.
Debido a que a penas pasabamos medio dia, teníamos mas ganas de un postre que de un almuerzo, aunque local presenta una carta muy variada de comidas y bebidas, decidimos tomarnos una merienda o brunch, dos cafés y dos postres.
Quiero comenzar hablando del sabor de los cafés, yo pedí un Cappuccino iItaliano con un costo de 165 pesos (4.12 USD) este venía en una taza bastante abundante, mitad de leche mitad de café se sirve sin revolver, traía una medallita de chocolate para agregarle si se desea, en la parte superior un poco de espuma, con una presentación muy linda.
---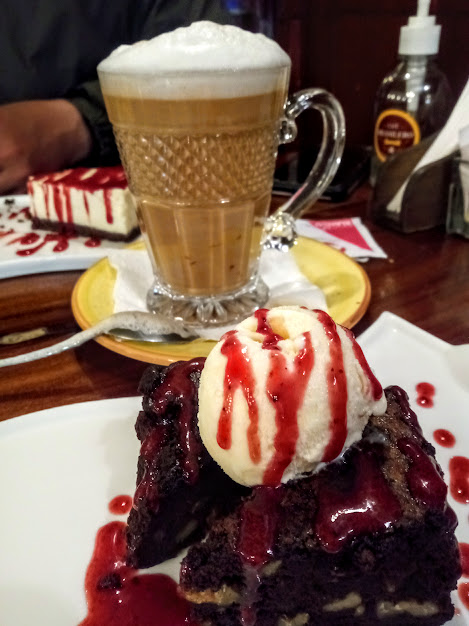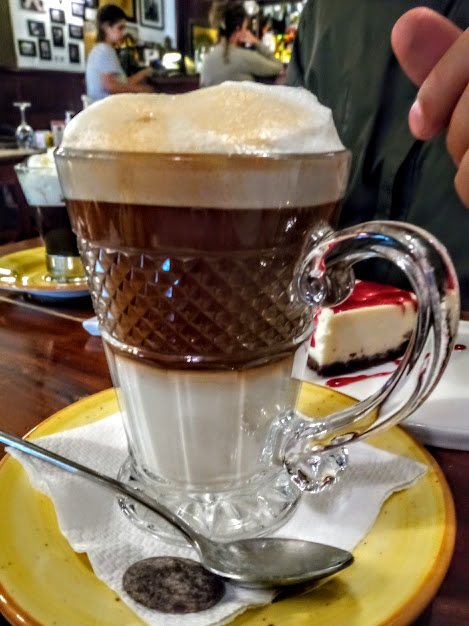 ---
However, when we talk about flavor, the coffee was very smooth, you can hardly feel it when mixed with milk, but although it is true that my palate could be capturing mainly the flavor of the dessert, even after drinking water, my coffee still seemed very smooth.
The @franqueff ordered a coffee with cream with a cost of 165 pesos (4.12 USD) this came in a smaller cup but had plenty of cream on top, the body of the coffee was more intense, but at Trying it I was surprised by the degree of acidity, a different touch was positive, however the cream lacked sweetness.
Sin embargo cuando hablamos de sabor este era muy suave el cafe, casi ni se siente al mezclar con la leche, pero aunque es cierto que mi paladar podría estar captando principalmente el sabor del postre, aún despues de tomar agua mi café me seguía pareciendo muy suave.
El @franqueff pidío un café con crema con un costo de 165 pesos (4.12 USD) este venía en una taza mas pequeña pero tenía abundante crema en la parte superior, el cuerpo del café era mas intenso, pero al probarlo me sorprendió el grado de acidez, era positivo un toque diferente sin embargo la crema le faltaba dulzor.
---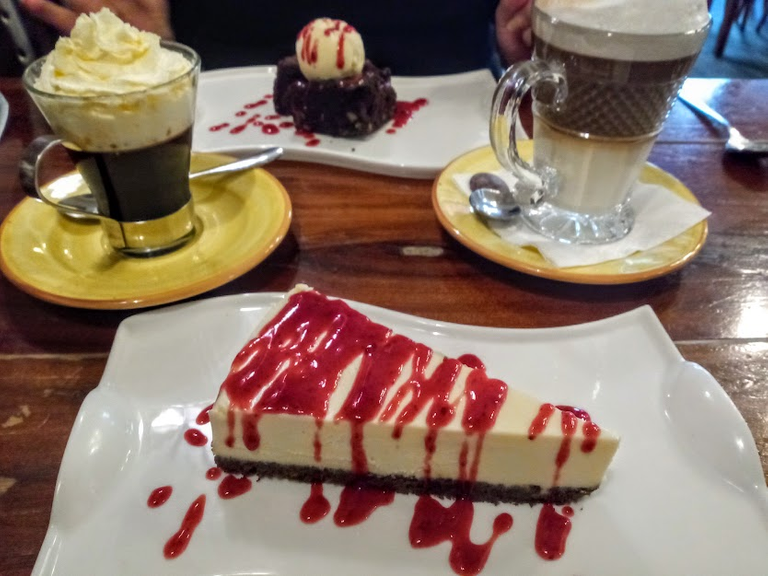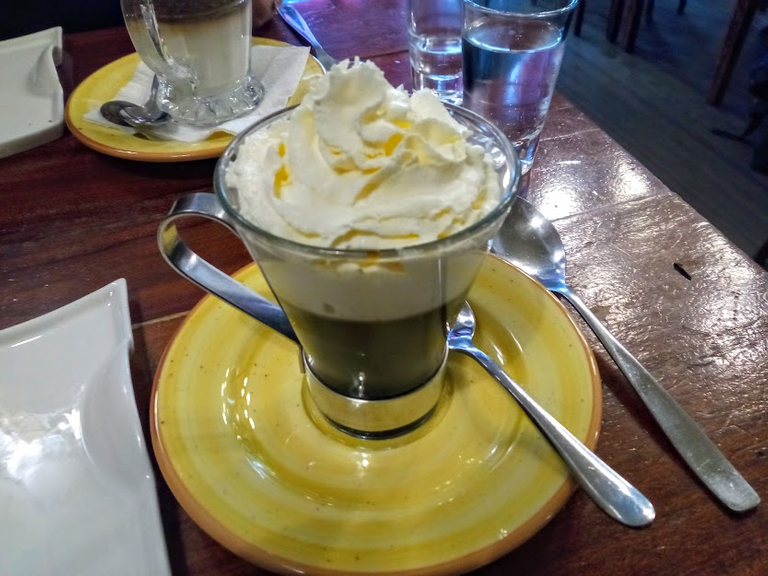 ---
When we talk about the desserts we decided on two different proposals but if they shared something (besides red fruits), it was the excellent quality of the dessert, without a doubt both were exquisite.
I decided on a pure chocolate brownie with cream ice cream and red fruit sauce at a cost of 285 pesos (7.11 USD). The ice cream was very creamy. The presentation was found with a small scoop of ice cream on top. a piece of brownie cut into two triangles covered with sauce, very nice in my opinion, but when we talk about flavor here the real protagonist in the brownie, an intense flavor of cocoa and with large pieces of nuts on the bottom, delicious in combination with the sauce.
Cuando hablamos de los postres nos decidimos por dos propuestas diferentes pero si algo compartían (ademas de frutos rojos), es la excelente calidad del postre, sin duda alguna ambos estaban exquisitos.
Yo me decidí por un brownie de chocolate puro con helado de crema y salsa de frutos rojos con un costo de 285 pesos (7.11 USD) el helado era muy cremoso la presentación la encontramos con una bola de helado pequeña sobre una porción de brownie picada en dos triángulos cubierta de salsa, muy bonita a mi parecer, pero cuando hablamos de sabor aquí el verdadero protagonista en el brownie, un intenso sabor a cacao y con grandes trozos de nueces en la parte inferior, delicioso en combinación con la salsa.
---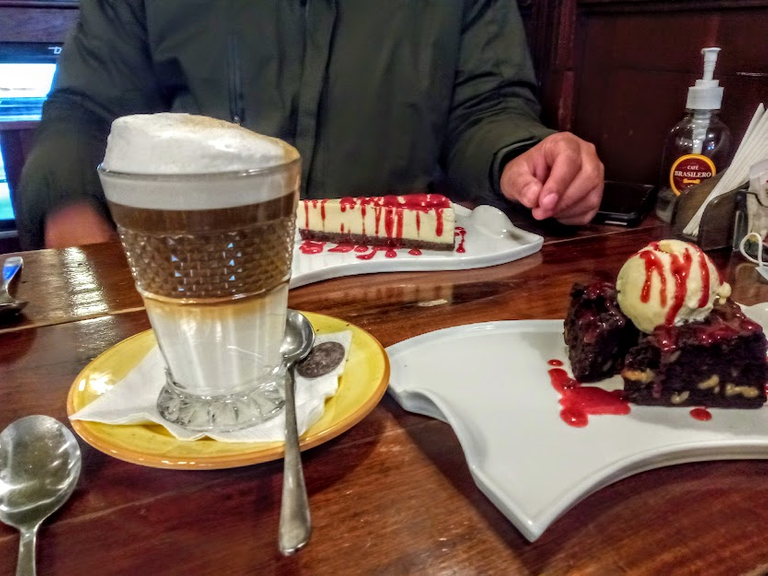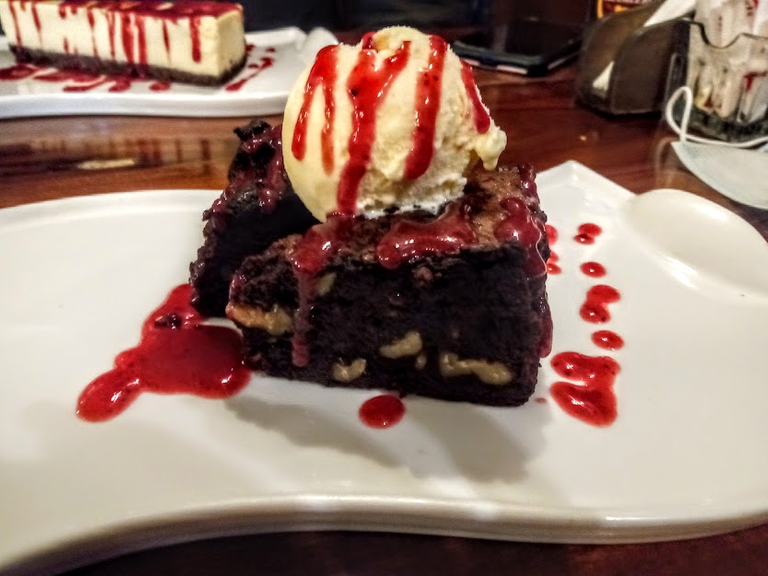 ---
For his part, @franqueff ordered a White chocolate cheesecake with red fruit sauce at a cost of 285 pesos (7.11 USD) I also ate this dessert since we shared our portions, the moment when you eat that cheesecake It is simply a moment of glory, very creamy, light, with traces of white chocolate flavor, along with the sauce that has that characteristic sweetness, I was pleased with these two desserts, a perfect combination of flavors and textures in both cases.
The place has great cultural and historical importance for the country, however I will be talking about it in a future post.
Por su parte @franqueff ordenó un Cheesecake de chocolate blanco con salsa de frutos rojos con un costo de 285 pesos (7.11 USD) este postre también lo probé dado que compartimos nuestras porciones, el momento cuando te comes ese cheesecake sencillamente es un momento de gloria, muy cremoso, ligero, con trazas de sabor de chocolate blanco, junto con la salsa que presenta ese dulzor característico, yo quede complacida con estos dos postres, combinación perfecta de sabores y texturas en ambos casos.
El local tiene una gran importancia cultural e histórica para el pais, sin embargo les estaré hablando de eso en un proximo post.
---
| Producto / product | Pesos | USD |
| --- | --- | --- |
| Cafés / coffees | 330 | 8,24$ |
| Postres / desserts | 570 | 14,22$ |
| 10% | 90 | 2,25$ |
| total | 990 | 24,71$ |
---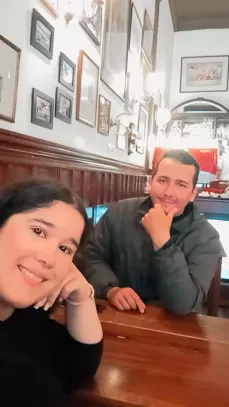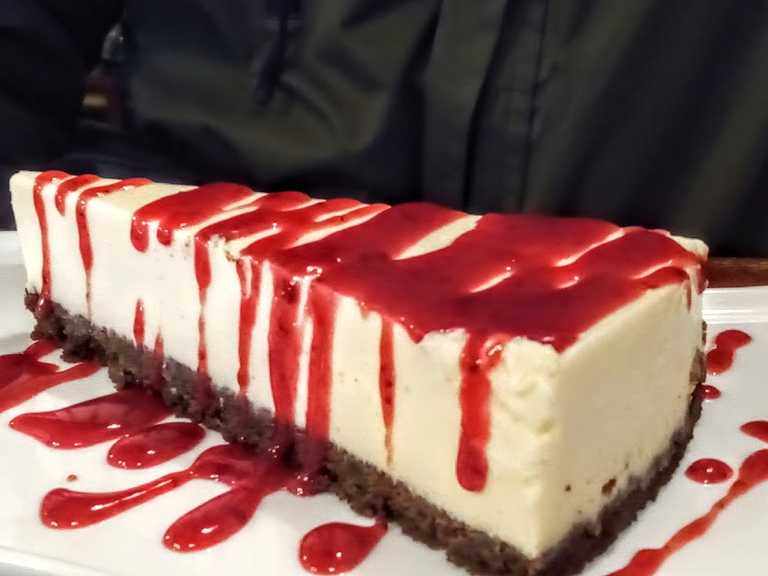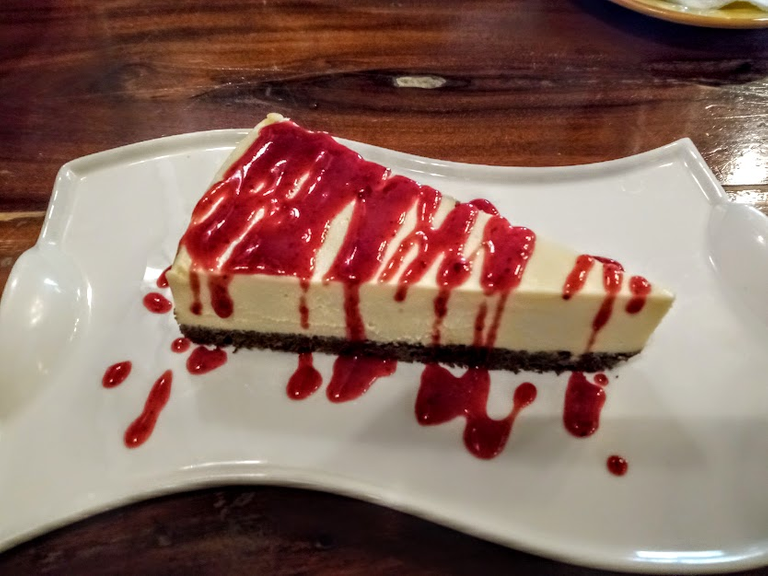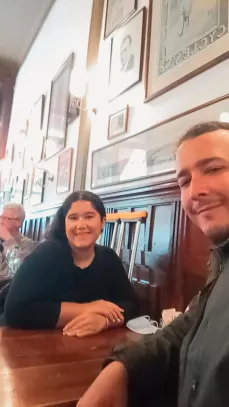 ---
Esto ha sido todo por hoy, si te gusta lo que hago, siente libertad de ayudarme a seguir
This has been all for today, if you like what I do, feel free to help me continue
Δ
https://www.paypal.me/carlidgonz
Δ
El inglés no es mi idioma natal, me ayudo de traductores para realizar estos post
Todas las fotos son de mi propiedad tomadas con Xiaomi redmi 9
English it is not my native language, I help myself with translators to make these posts
All photos are my property taken with Xiaomi redmi 9

Muchas gracias por leer
Ten un bonito y feliz día
Con amor Carla Gonzalez Venezolana en Uruguay
Thanks so much for reading
Have a nice and happy day
With love Carla Gonzalez Venezolana in Uruguay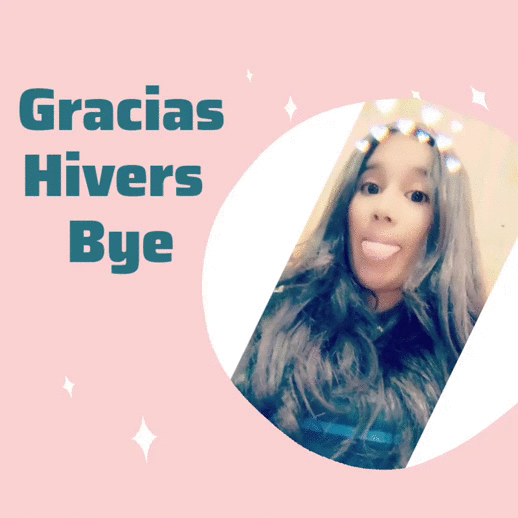 ---
---