Mi aventura en bicicleta por las costas Venezolanas (sucesos) - My cycling adventure along the Venezuelan coasts (events)🚲🏖️🇻🇪 [ESP-ENG]

Hola a todos mis queridos lectores de Hive Blog❤️, en especial a mi comunidad de Haveyoubeenhere.
En esta ocasión me gustaría compartir con ustedes un poco de lo que fue mi viaje post navideño hasta las costas de Ocumare, municipio Costa de Oro📍, ubicado en el estado Aragua🗺️, Venezuela🇻🇪. Esta viene siendo la segunda parte de esta maravillosa aventura, en la cual encontraran fotos únicas📸 y sorprendentes relatos📜 originales de mi viaje, acompañado como siempre de una reflexión personal💭.
Deseo de corazón que estén bien y que disfruten de esta aventura, un abrazo y saludo.
Hello to all my dear Hive Blog readers❤️, especially my Haveyoubeenhere community.
On this occasion I would like to share with you a little of what was my post-Christmas trip to the coasts of Ocumare, Costa de Oro municipality📍, located in the state of Aragua🗺️, Venezuela🇻🇪. This has been the second part of this wonderful adventure, in which you will find unique photos📸 and surprising stories📜 original of my trip, accompanied as always by a personal reflection💭.
I sincerely wish you well and enjoy this adventure, a hug and greeting.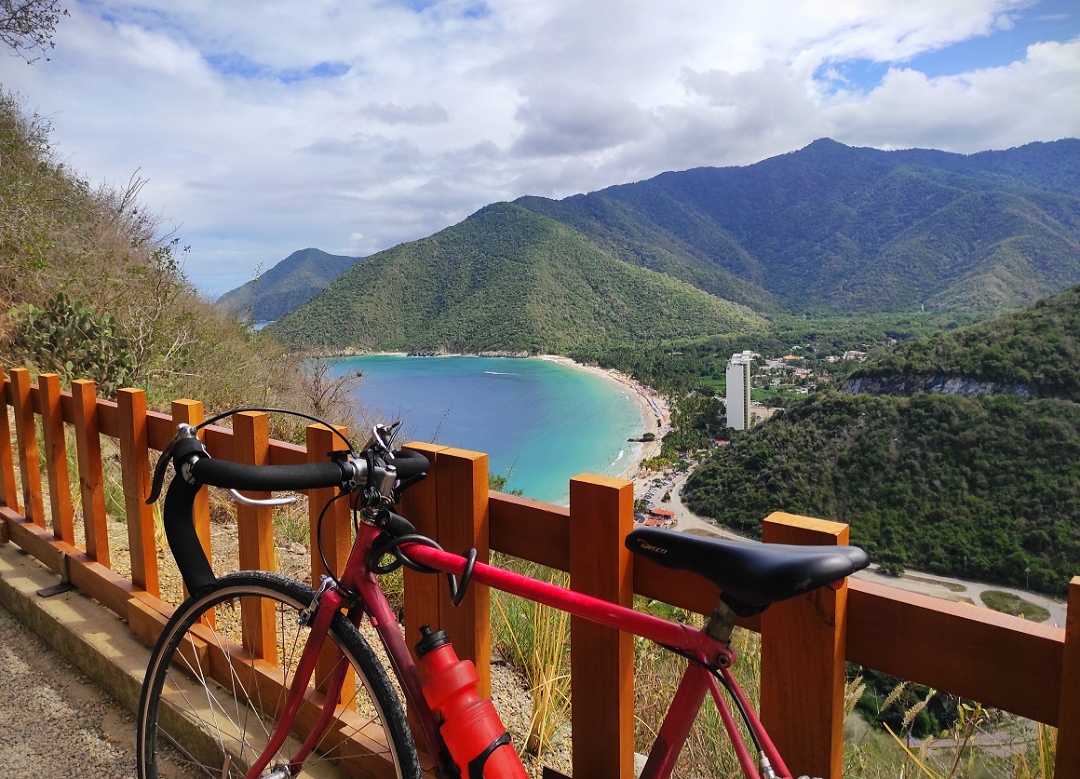 ...
De manera breve pero detallada me gustaría compartir un poco de lo que fue esta aventura que inició el 25 de diciembre del ahora año pasado 2021📆;
In a brief but detailed way I would like to share a little of what was this adventure that began on December 25 of now last year 2021📆;

En la primera parte de este viaje que esta disponible en mi perfil, aquí les dejo igualmente el enlace directo👉 Enlace del post👈, les mostré todas las circunstancias que nos acompañaron desde el inicio hasta nuestra llegada al pueblo de la trilla, ubicada unos kilómetros antes del pueblo de Ocumare.
In the first part of this trip that is available in my profile, here I also leave the direct link👉 Link of the post👈, I showed you all the circumstances that accompanied us from the beginning until our arrival at the village of la trilla, located a few kilometers before the town of Ocumare.
Luego de haber hecho una parada de desayuno🌯🥪 en dicho pueblo (el cual se caracteriza por la venta de comida típica en especial las empanadas);
After having made a breakfast stop🌯🥪 in this town (which is characterized by the sale of typical food especially empanadas);

Pedaleamos hasta llegar a la redoma que separa los caminos que llevan a las playas, ya que mi compañero Yanier y yo debíamos hacer una parada en la posada donde habíamos hecho la reservacion para dejar nuestras cosas ya que llevábamos mucho peso encima y para la subida a Cata (una bahía única y hermosa que verán a continuación), era necesario viajar un poco más ligero ya que son algunos kilómetros de ascenso empinado⛰️.
We pedaled until we reached the redoma that separates the roads that lead to the beaches, since my partner Yanier and I had to make a stop at the inn where we had made the reservation to leave our things since we carried a lot of weight on and for the ascent to Cata (a unique and beautiful bay that you will see below), it was necessary to travel a little lighter as it is a few kilometers of steep ascent⛰️.
Cuando llegamos a la posada pudimos notar la distancia que habíamos recorrido desde mi casa hasta el Playon🌊 (lugar donde nos hospedamos ese día);
When we arrived at the inn we could notice the distance we had traveled from my house to the Playon🌊 (where we stayed that day);



La cual fue una distancia hasta ese momento de 52 kilómetros de duras subidas, largas bajadas y planos bastante largos (sobre todo por el calor).
Which was a distance until that moment of 52 kilometers of hard climbs, long descents and quite long planes (especially because of the heat).
En la posada nos organizamos para llevar con nosotros lo necesario hasta la bahía de cata;
In the inn we organize to take with us what you need to the tasting bay;

Para poder recargar energías⚡ y pasarla bien en el mar🌊.
To be able to recharge energies⚡ and have fun at sea🌊.
Una vez tuvimos todo listo mi compañero y yo salimos de la posada en la que nos hospedamos la cual tiene por nombre San Bamar, es un lugar bastante acogedor y creativo por su decoración artística🖌️🎨🖼️ y su atención con los huéspedes;
Once we had everything ready my partner and I left the inn where we stayed which is called San Bamar, it is a very cozy and creative place for its artistic decoration🖌️🎨🖼️ and its attention with guests;




Yo realmente lo recomiendo ya que esa fue la segunda vez en la que me aloje allí y se mantuvo la calidad de todo, las habitaciones son limpias y ofrecen un menú con los mejores platos de la zona, sin embargo algo que tiene como debilidad este lindo lugar es que no posee una planta eléctrica, y esta es una pequeña desventaja a la hora de una falla eléctrica (las cuales son muy comunes aquí), como paso ese día en el que nos quedamos allí, sin embargo no le quita las virtudes y sus otras cosas.
I really recommend it since that was the second time I stayed there and the quality of everything was maintained, the rooms are clean and offer a menu with the best dishes in the area, however something that has as a weakness this nice place is that it does not have a power plant, and this is a small disadvantage at the time of an electrical failure (which are very common here), as happened that day in which we stayed there, however it does not take away the virtues and their other things.
Una vez salimos de la posada nos dirigimos hacia nuestro destino paradisíaco, la Bahía de Cata🌊🏖️🇻🇪
Once we leave the inn we head towards our paradisiacal destination, the Bay of Cata🌊🏖️🇻🇪




La cual es uno de mis lugares favoritos desde pequeña, y realmente el ir en bicicleta a este lugar es una experiencia inigualable y de esto me di cuenta el otro día ya que hace un par de días🔙📆 tuve la oportunidad de ir nuevamente a este lugar con unos amigos que me invitaron pero no fui en bicicleta🚲 sino en carro🚗 y sinceramente no se siente igual, no es ni la mitad de emocionante que cuando se llega en bicicleta😅🤣🤭.
Which is one of my favorite places since I was little, and really cycling to this place is an unparalleled experience and I realized this the other day since a couple of days ago🔙📆 🔙📆 I had the opportunity to go back to this place with some friends who invited me but I did not go by bicycle🚲 but by car🚗 and honestly it does not feel the same, it's not even half as exciting as when you arrive by bike😅🤣🤭.
Para mi poder hacer este tipo de viajes aunque sea un mayor esfuerzo físico es una bendición;
For me to be able to make this type of trip even if it is a greater physical effort is a blessing;

Ya que me ayuda a ver la vida desde otro punto de vista. Es sorprendente como viajar y conocer lugares nuevos o redescubrir algo bonito en lo rutinario puede cambiarte la vida por completo.
Since it helps me to see life from another point of view. It is amazing how traveling and knowing new places or rediscovering something beautiful in the routine can change your life completely.
Una vez que bajamos del mirador donde se podía apreciar la bahía nos encontramos con la señal🚏 que nos indica el camino🛣️ hasta Cata y el camino hasta Cuyagua;
Once we got off the viewpoint where you could see the bay we found the sign🚏 that indicates the way🛣️ to Cata and the road to Cuyagua;
Haciendo referencia a la última mencionada nunca he tenido la oportunidad de ir a ese lugar y según las referencias que me han dado de ella es aún más bonito que la bahía pero queda aún más arriba y más lejos que Cata, pero espero poder llegar en bicicleta para este año 2022📆 (es una de mis metas🤞).
Referring to the last mentioned I have never had the opportunity to go to that place and according to the references I have been given of it it is even more beautiful than the bay but it is even higher and further away than Cata, but I hope to be able to arrive by bicycle for this year 2022📆 (it is one of my goals🤞).
Finalmente mi compañero y yo llegamos a la playa🏖️ y nos dispusimos a buscar🔍 algunos de nuestros amigos que dijeron que estarían allí también;
Finally my partner and I got to the beach🏖️ and set out to look🔍 some of our friends who said they would be there too;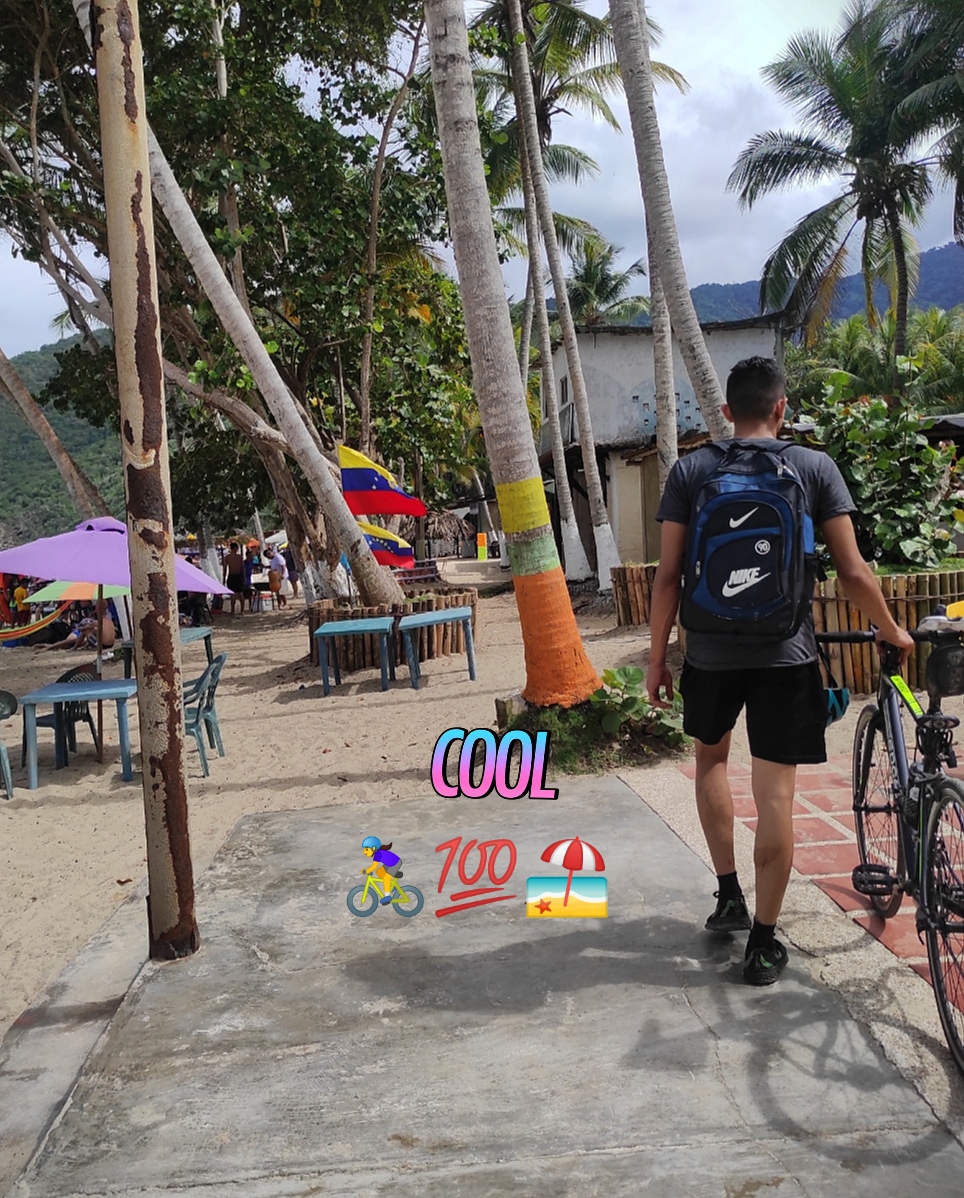 No se pueden perder la próxima parte de esta aventura donde les mostraré los detalles de nuestra llegada a la playa, nuestro reencuentro y algunos datos de nuestra aventura.
You can not miss the next part of this adventure where I will show you the details of our arrival at the beach, our reunion and some facts of our adventure.
⚡🇻🇪🚗🚲🛣️🔙📸🚏🤞🏖️📆🖌️🎨🖼️🌊🌯
Espero que les haya gustado esta segunda parte de mi viaje en bicicleta, y que de aquí se hayan podido llevar un poco de ese espíritu aventurero, recuerden que siempre hay tiempo y nunca es demasiado tarde para hacer eso que desean, la vida es un ratico y hay que vivirla lo mejor posible porque hasta donde sabemos (o por lo menos yo pienso así) hay solo una.
I hope you liked this second part of my bike trip, and that from here you have been able to take a little of that adventurous spirit, remember that there is always time and it is never too late to do what you want, life is a little bit and you have to live it as best as possible because as far as we know (or at least I think so) there is only one.
⚡🇻🇪🚗🚲🛣️🔙📸🚏🤞🏖️📆🖌️🎨🖼️🌊🌯
Muchas gracias por leer y por llegar hasta aquí❣️, espero que estén bien, con esto me despido una vez más, aquí para ustedes @Carlitazulay.
Thank you very much for reading and for getting here❣️, I hope you are well, with this I say goodbye once again, here for you @Carlitazulay.
Estas fotos fueron tomadas y editadas con mi teléfono Redmi Note pro 9📸
These photos were taken and edited with my Redmi Note pro 9 phone📸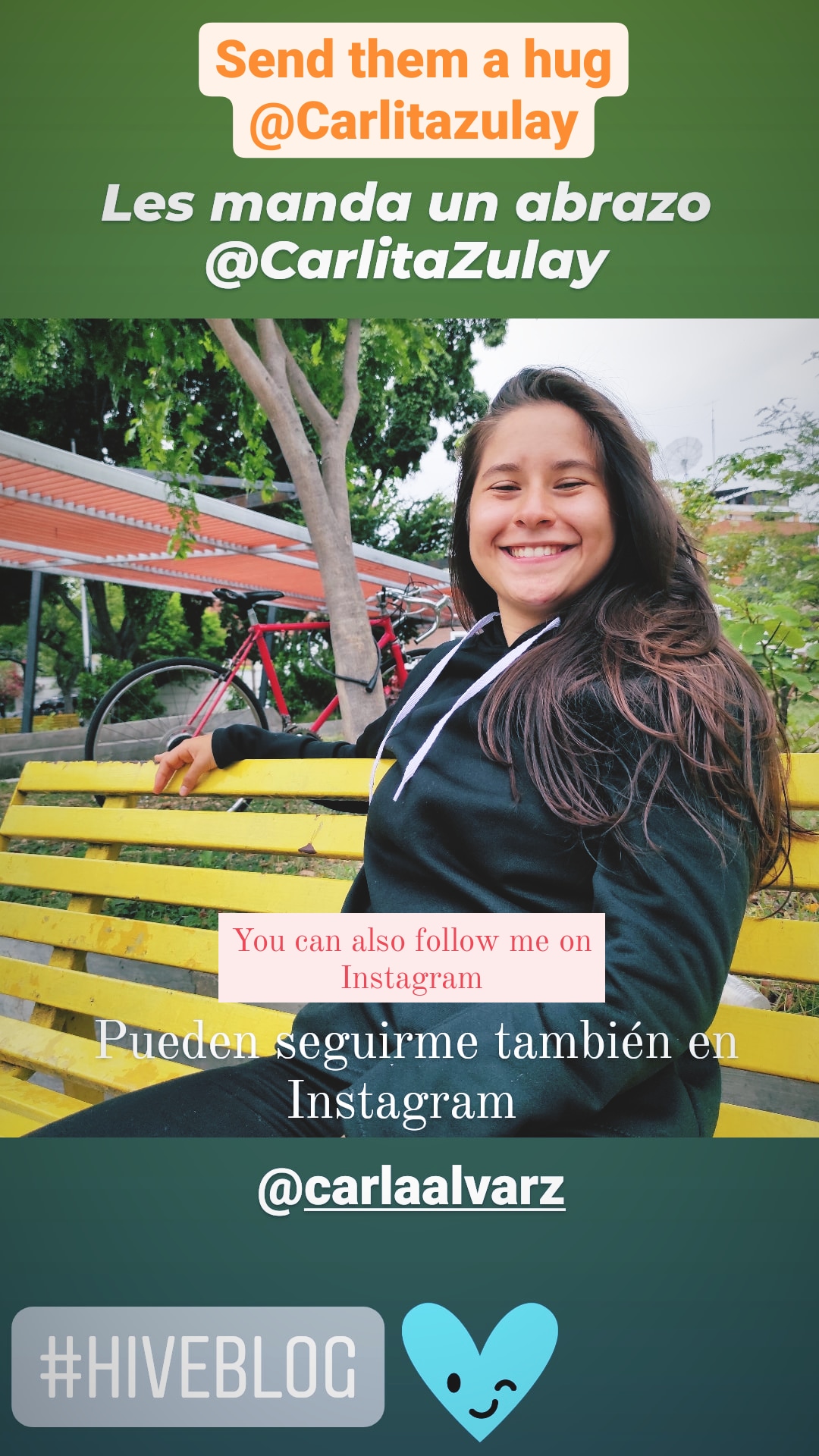 Hasta una próxima oportunidad
Until next time
---
---