Weekly Challenge (SHARE YOUR BATTLE) - DJINN INFERNI - [ENG/PT]

---ENGLISH VERSION---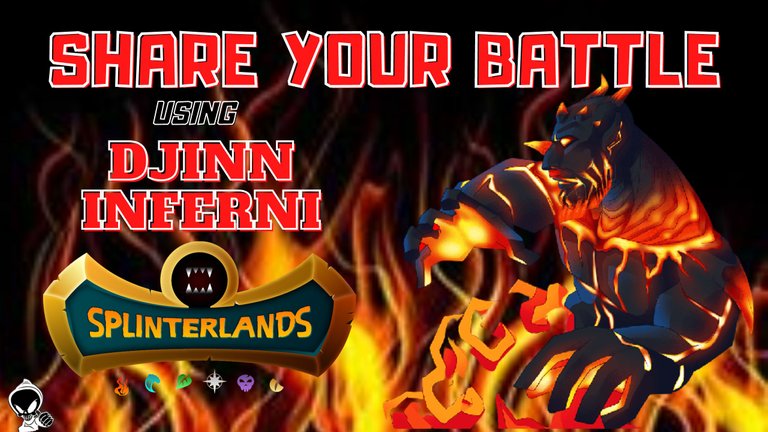 Ho hooo my friends,
Today I will share with you a battle that I used DJINN INFERNI to enter the
Weekly Challenge - SHARE YOUR BATTLE

CARD THEME: DJINN INFERNI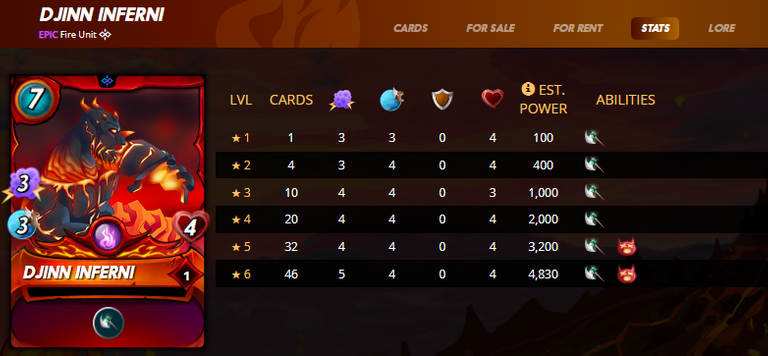 My opinion about DJINN INFERNI
DJINN INFERNI is a very strong fire element magic attack monster. Despite his very low health, he has two very coveted abilities in the Splinterlands world. The use of cards costing 10 MANA or more is very popular, which makes monsters like DJIN very popular to face them.
Do I have card DJINN INFERNI?
Yes, I have DJINN INFERNI at level 1. It is already very efficient at this lower level, but when unlocked the STUN skill becomes even more powerful. As in my league it is not possible to use it at this higher level, I am not interested in the short term to evolve in level.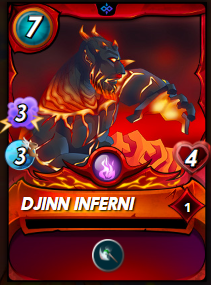 ------ RULES BATTLE------
| | MANA CAP |
| --- | --- |
| | Equalizer: The initial Health of all Monsters is equal to that of the Monster on either team with the highest base Health. |
| | Ferocity: All monsters have the Fury ability. |

------ CHOSEN ELEMENT ------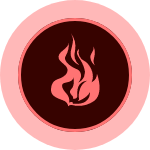 ------ SUMMONER ------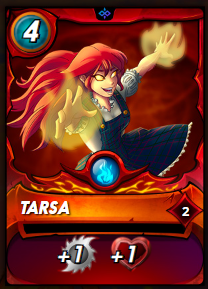 ------ MONSTERS AND POSITION ------
| | | | | | |
| --- | --- | --- | --- | --- | --- |
| 1ª POSITION | 2ª POSITION | 3ª POSITION | 4ª POSITION | 5ª POSITION | 6ª POSITION |

------- STRATEGY DETAILS ------
1ª POSITION: LIVING LAVA is a very strong tank as its melee and ranged damage reduction ability makes it a real solid wall protecting my team.
2ª POSITION: RADIATED BRUTE melee attacker who can attack from this position, doing more damage to the enemy tank.
3ª POSITION: CREEPING OOZE slows down the enemy team, which can make my monsters attack first.
4ª POSITION: SERPENTINE SPY is very fast and goes straight for the monster with fragile health, which can be the tank in this battle.
5ª POSITION: DJINN INFERNI the weekly challenge monster, which for this battle is very efficient, with its life increase.
6ª POSITION: HALFLING ALCHEMIST breaks any enemy attack in half, in addition to having armor that can protect it from SNAKE attacks.

------ BATTLE ------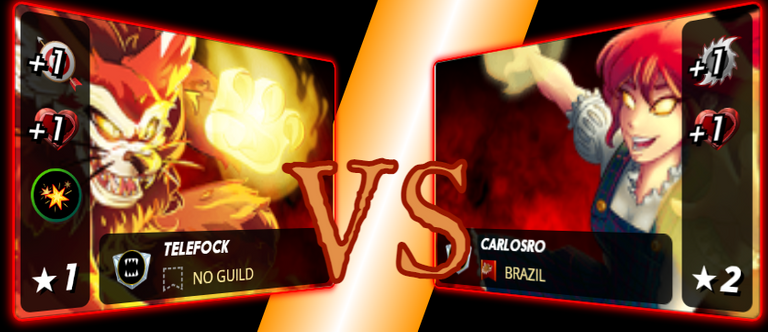 👆CLICK ON THE IMAGE TO SEE THE BATTLE 👆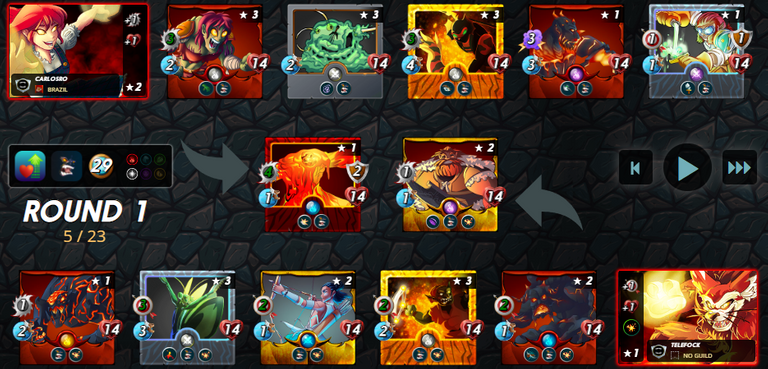 👆 My opponent chose the fearsome YODIN, the most fearsome summoner in the minor leagues. Prioritizing ranged attackers to use the summoner buff. Your team will do explosive damage which can get me into trouble.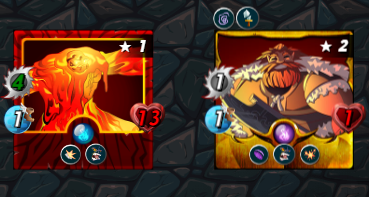 👆1º Round: Even with the increased attack of their ranged monsters, the enemy monsters don't have much attack strength, and they can't deal much damage to my tank, since it has damage reduction. Different from my team that beats the enemy tank leaving it with 1 life for the next round.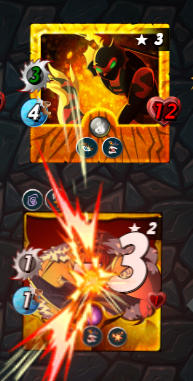 👆 2º round: SERPENTINE SPY wastes no time and already kills the enemy tank, leaving the freest path for my monsters to massacre the next target. The explosion caused now makes my secondary monsters suffer, but they remain firm sustaining another round.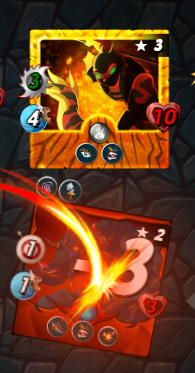 👆3º round: SERPENTINE SPY once again with its above average speed manages to annihilate one more monster right at the beginning. Unfortunately the explosion continues to do damage to me, and ends up killing RADIATED BRUTE, but as a solid mountain LIVING LAVA continues to hold the first position very well.
4º round: It became a SERPENTINE SPY ride in battle, giving it's quick and accurate attacks, kills another enemy without forgiveness.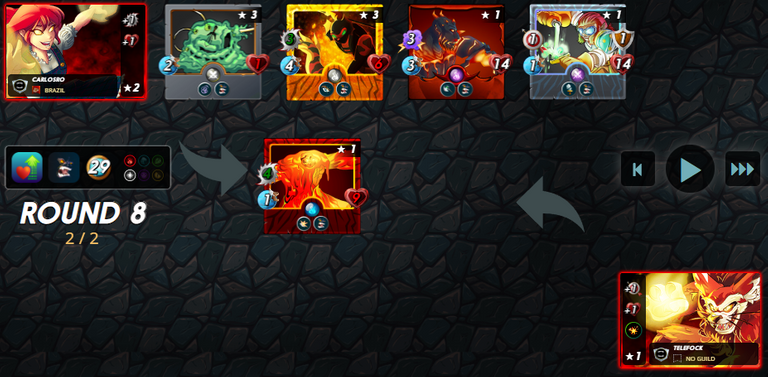 5º 6º 7º 8º round: It was the continuation of the massacre that my team caused in this battle, nullifying ranged attackers that were in the first position and not giving any chance to a strong team that is the composition with the legendary YODIN in minor leagues.

------ FINAL CONSIDERATIONS ------
My strategy was perfect. I managed to annihilate a team of the legendary summoner YODIN, and that is a very difficult feat in smaller leagues. My team had a lot of offensive power, in addition to speed being very important because it managed to surprise enemies without leaving a chance for defense.
The weekly challenge monster DJINN INFERNI played his role masterfully, using his high magic power to deal a lot of damage to his targets. About the use of the skill, I already imagined that there would be no monsters with a cost greater than 10 MANA, as this only happens in battles with a high MANA value as a rule.
♥️ Thanks for reading ♥️


---VERSÃO PORTUGUÊS BRASIL---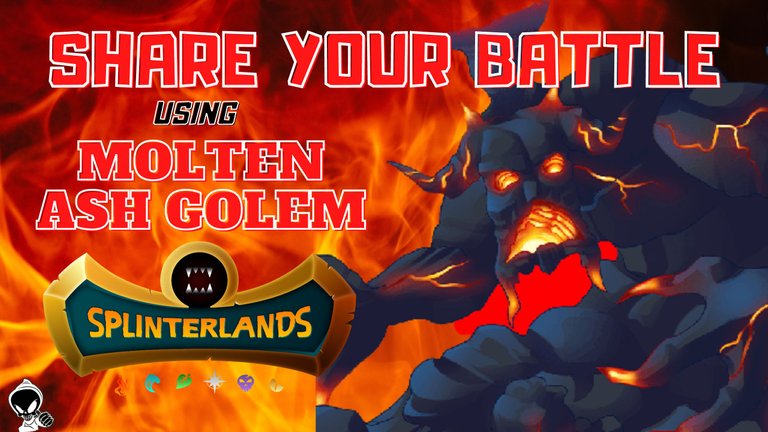 Olá meus amigos,
Hoje vou compartilhar com vocês uma batalha que usei DJINN INFERNI para entrar no
Weekly Challenge - SHARE YOUR BATTLE

TEMA: DJINN INFERNI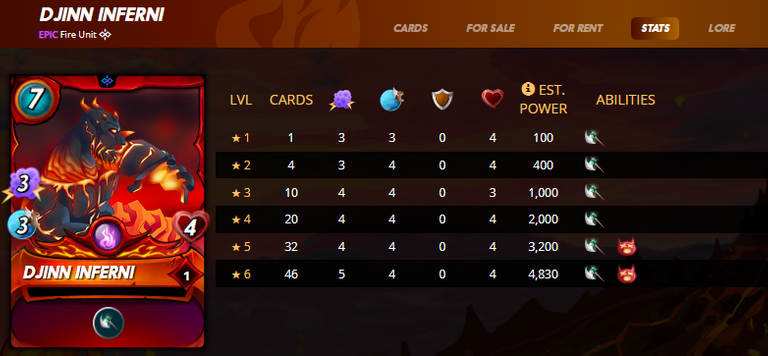 Minha opinião sobre DJINN INFERNI
DJINN INFERNI é um monstro atacante mágico do elemento fogo muito forte. Apesar de sua vida ser muito baixa, ele tem duas habilidades muito cobiçadas no mundo Splinterlands. O uso das cartas com custo 10 MANA ou mais está muito popular, o que faz monstros como DJIN ser muito utilizado para enfrenta-los.
Eu tenho a carta DJINN INFERNI?
Sim, eu tenho DJINN INFERNI no level 1.Yes, I have DJINN INFERNI at level 1. Já é muito eficiente neste menor level, mas quando desbloqueado a habilidade STUN fica ainda mais poderoso. Como na minha liga não é possivel usa-lo nesse maior nivel, não me interessa a curto prazo evoluir de level.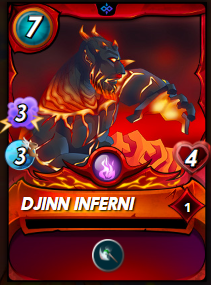 ------ REGRAS DA BATALHA ------
| | MANA CAP |
| --- | --- |
| | Equalizer: A Saúde inicial de todos os Monstros é igual à do Monstro em qualquer time com a maior Saúde base. |
| | Ferocity: Todos os monstros têm a habilidade Fury. |

------ ELEMENTO ESCOLHIDO ------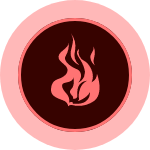 ------ INVOCADOR ------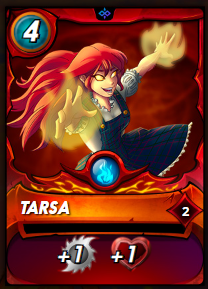 ------ MONSTROS E POSIÇÃO ------
| | | | | | |
| --- | --- | --- | --- | --- | --- |
| 1ª POSIÇÃO | 2ª POSIÇÃO | 3ª POSIÇÃO | 4ª POSIÇÃO | 5ª POSIÇÃO | 6ª POSIÇÃO |

------- DETALHES DA ESTRATÉGIA ------
1ª POSIÇÃO: LIVING LAVA é um tanque muito forte pois sua habilidade de redução de dano corpo a corpo e a distancia o torna uma verdadeira parede sólida protegendo meu time.
2ª POSIÇÃO: RADIATED BRUTE atacante corpo a corpo que consegue atacar desta posição, fazendo mais dano ao tanque inimigo.
3ª POSIÇÃO: CREEPING OOZE reduz a velocidade do time inimigo, o que pode fazer meus monstros atacarem primeiro.
4ª POSIÇÃO: SERPENTINE SPY é muito rápido e vai direto no monstro com vida fragil, que pode ser o tanque nessa batalha.
5ª POSIÇÃO: DJINN INFERNI o monstro do desafio semanal, que para essa batalha é muito eficiente, com seu aumento de vida.
6ª POSIÇÃO: HALFLING ALCHEMIST quebra qualquer ataque inimigo na metade, alem de ter armadura que pode protege-lo de ataques SNAKE.

------ BATALHA ------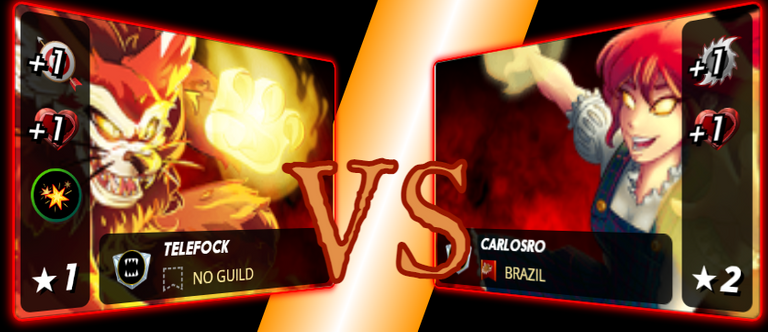 👆 CLIQUE NA IMAGEM PARA VER A BATALHA 👆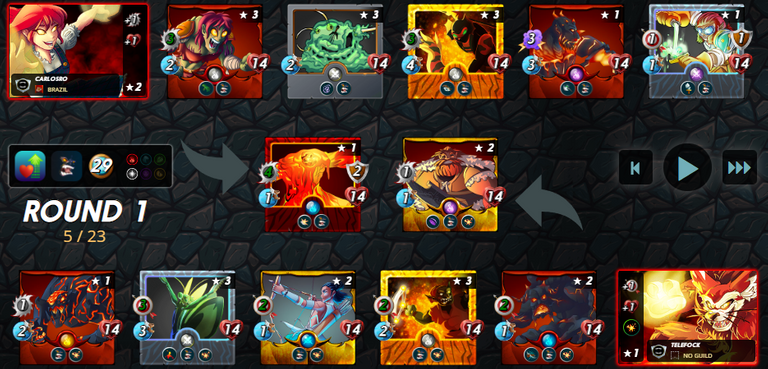 👆 Meu oponente escolheu o temível YODIN, o invocador mais temível nas ligas menores. Priorizando os atacantes a distancia para usar o buff do invocador. Seu time fará dano explosivo o que pode me dar problemas.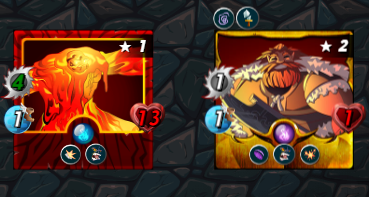 👆1º Round: Mesmo com o aumento de ataque de seus monstros a distancia, os monstros inimigos não tem muita força de ataque, e não consegue causar muito dano a meu tanque, já que o mesmo tem redução de dano. Diferente de meu time que espanca o tanque inimigo o deixando com 1 de vida para proxima rodada.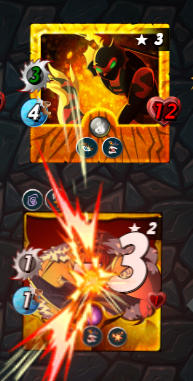 👆 2º round: SERPENTINE SPY não perde tempo e já mata o tanque inimigo, deixando o caminho mais livre para que meus monstros massacrem o próximo alvo. A explosão causada faz agora meus monstros secundários sofrerem, mas continuam firmes sustentando mais uma rodada.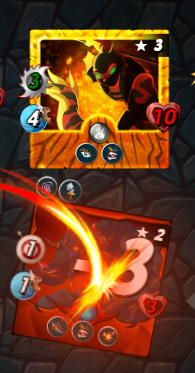 👆3º round: SERPENTINE SPY mais uma vez com sua velocidade acima da média consegue aniquilar mais um monstro logo no inicio. Infelismente a explosão continua a me fazer estragos, e acaba matando RADIATED BRUTE, mas como uma monstanha sólida LIVING LAVA continua segurar muito bem a primeira posição.
4º round: Virou um passeio de SERPENTINE SPY na batalha, dando seus ataques rápidos e precisos, mata mais um inimigo sem perdão.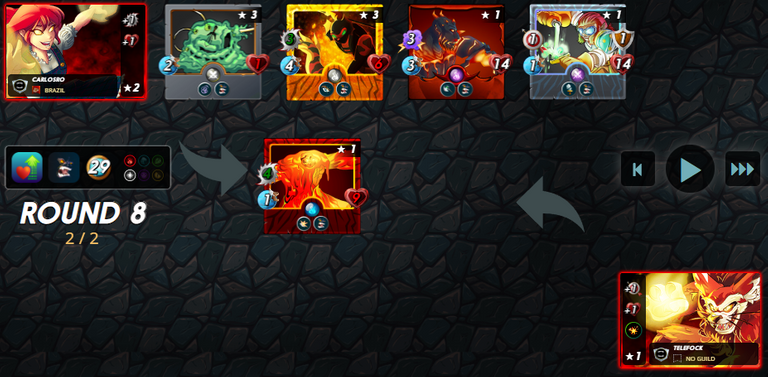 5º 6º 7º 8º round: Foi a continuação do massacre que meu time causou nessa batalha, anulando atacantes a distancia que ficaram na primeira posição e não dando nenhuma chance para um time forte que é a composição com o lendário YODIN em ligas menores.

------ CONSIDERAÇÕES FINAIS ------
Minha estratégia foi perfeita. Consegui aniquilar um time do invocador lendário YODIN, e isso é um feito muito dificil em ligas menores.Meu time tinha muito poder ofensivo, além da velocidade ser muito importante pois conseguiu surpreender inimigos sem o deixar chance para defesa.
O monstro do desafio semanal DJINN INFERNI fez seu papel com maestria, usando seu alto poder mágico para causar muito dano aos seus alvos. Sobre o uso da habilidade eu já imaginava que não iria ter monstro com custo maior que 10 de MANA pois isso acontece só em batalhas com alto valor de MANA como regra.
♥️ Obrigado por ler ♥️

Let's go on this adventure together?
Enter the Game Here: Splinterlands
Follow me on Social Media
Twiter
Instagram
Facebook

---
---