Weekly Challenge (SHARE YOUR BATTLE) - DRAGONS - [ENG/PT]

---ENGLISH VERSION---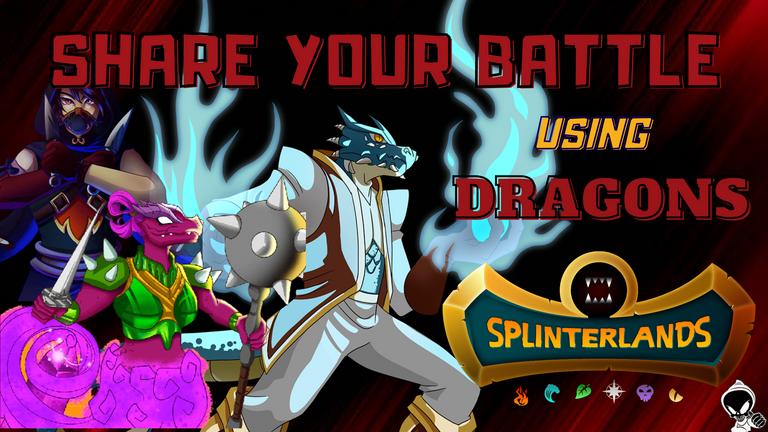 Lets go guys,
I will share with you a battle that I used DRAGONS to enter the
Weekly Challenge - SHARE YOUR BATTLE

THEME: DRAGONS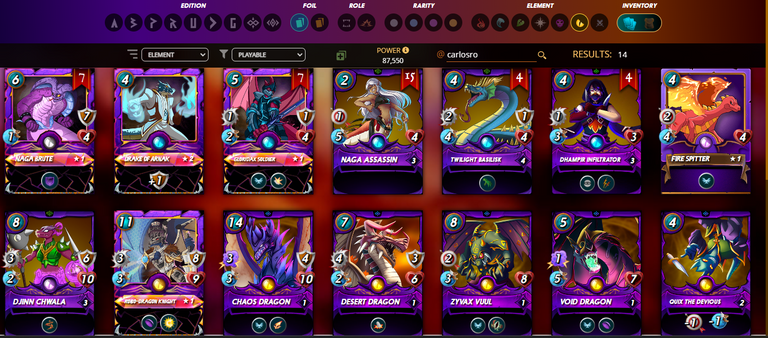 My opinion about DRAGONS
Dragons are the most powerful set of monsters in Splinterlands in my opinion. Its abilities are far superior to any other element and can surprise any strategy in battle.
Do I have card DRAGONS?
Yes I have many dragons. These three dragons are my choices for this battle that I will detail in this post.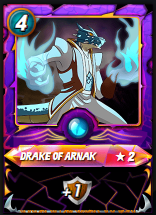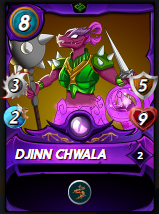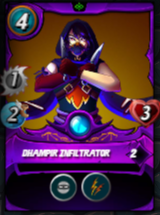 ------ RULES BATTLE------
MANA CAP
Counterspell: All Monsters have the Magic Reflect ability.
Broken Arrows: Ranged attack Monsters may not be used in battles.

------ CHOSEN ELEMENT ------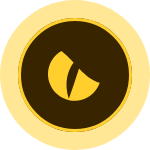 ------ SUMMONER ------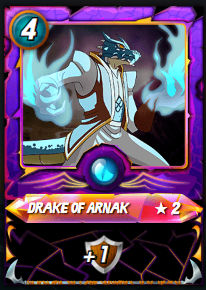 ------ MONSTERS AND POSITION ------
| | | | | |
| --- | --- | --- | --- | --- |
| 1ª POSITION | 2ª POSITION | 3ª POSITION | 4ª POSITION | 5ª POSITION |

------- STRATEGY DETAILS ------
For this battle I chose the summoner DRAKE OF ARNAK to further increase my team's defense power by increasing the armor.
1ª POSITION: DJINN CHWALA is a great tank and will be able to deal a lot of damage to the enemy tank with his attack power and also his THORNS ability.
2ª POSITION: SERPENTINE SPY is a fast attacker that will focus on lower health monsters, being able to finish them off without even attacking.
3ª POSITION: DHAMPIR INFILTRATOR a very feared monster for being able to attack twice in the same round, being able to destroy enemies from the back line.
4ª POSITION: KOBOLD MINER is more of an attacker focused on the enemy backline and can be lethal to defenseless enemies.
5ª POSITION: SCORCH FIEND will serve as a defense against enemy monsters with SNEAK or OPPORTUNITY.

------ BATTLE ------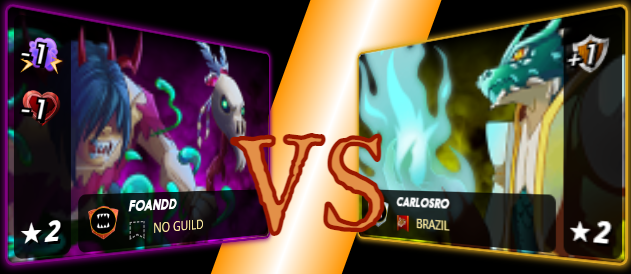 👆CLICK ON THE IMAGE TO SEE THE BATTLE 👆
👆 My opponent chose the Death element reducing my life and magic attack, but I don't care because my monsters are focused on melee attack.
👆1º Round: Perhaps my opponent made a mistake in his strategy to place CREEPING OOZE in the first position, since his tank was already fast, so he lost the opportunity to attack me, facilitating my strategy. I managed to finish two enemies from the back line already compromising my opponent's strategy.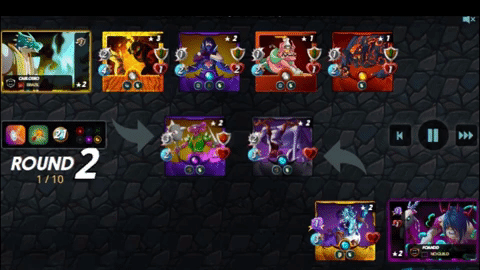 👆2º round: My attack being carried out first manages to finish off one more enemy, leaving only the tank alive, and even with its THORNS skill and its dodging of some attacks that it would receive, it is not able to defend all the attacks that my team carried out, making it suffer but still stand on the battlefield for one more round.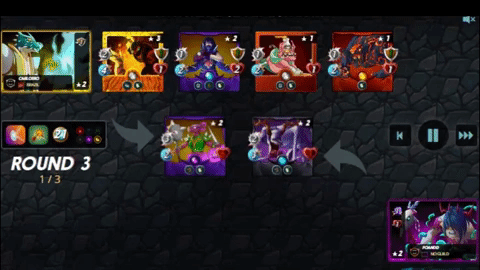 👆3º round: A quick and lethal attack, that's what SERPENTINE SPY dealt to the last enemy, concluding this battle crowning me with victory.


------ FINAL CONSIDERATIONS ------
A battle that became easy when choosing the summoners, because since I didn't have magic monsters, it didn't influence the Debuff of the enemy summoner on my team. The opponent made the mistake of putting his tank in second position, nullifying his attack in the first round, and the back row monsters were brutally killed with attacks from my team that focused on them.
Dragons are very powerful and fit into any strategy, being able to surprise with their great skills and statistics, making them highly valued and sought after by everyone, like me who loves and plays this wonderful game.

♥️ Thanks for reading ♥️


---VERSÃO PORTUGUÊS BRASIL---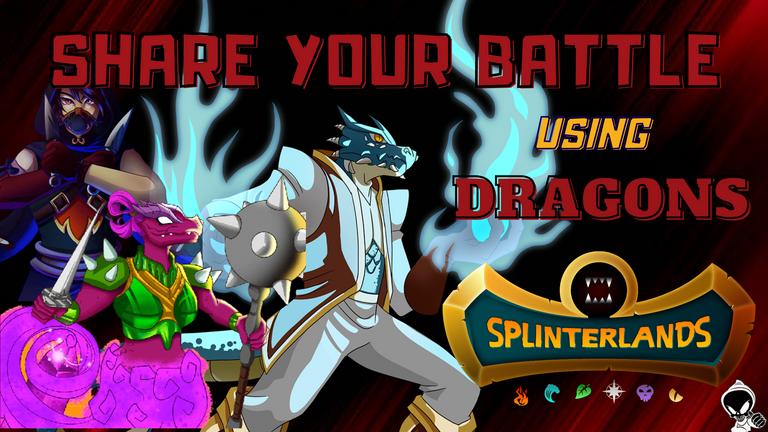 Vamos pessoal,
Vou compartilhar com vocês uma batalha que usei DRAGÕES para entrar no
Weekly Challenge - SHARE YOUR BATTLE

TEMA: DRAGONS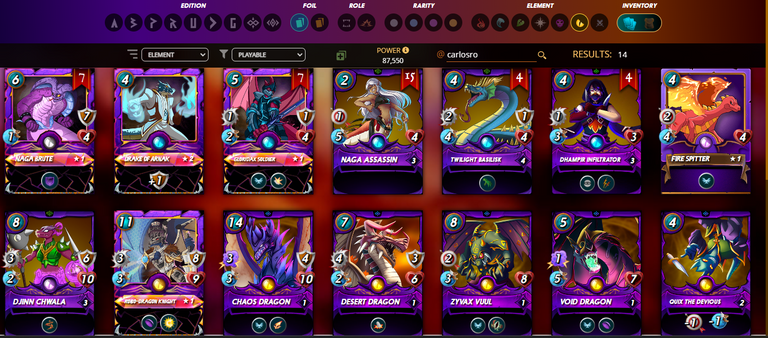 Minha opinião sobre DRAGÕES
Dragões são o conjunto de monstros mais poderosos de Splinterlands na minha opinião. Suas habilidades são muito superior a qualquer outro elemento podendo surpreender qualquer estratégia nas batalhas.
Eu tenho cartões DRAGÕES?
Sim, eu tenho muitos dragões. Esses três dragões são minhas escolhas para essa batalha que irei detalhar neste post.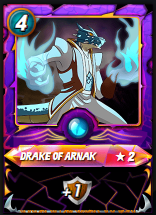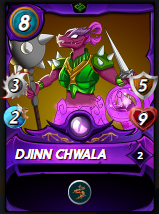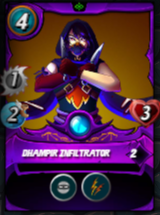 ------ REGRAS DA BATALHA ------
MANA CAP
Counterspell: Todos os Monstros têm a habilidade Magic Reflect.
Broken Arrows: Monstros de ataque à distância não podem ser usados em batalhas.

------ ELEMENTO ESCOLHIDO ------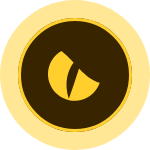 ------ INVOCADOR ------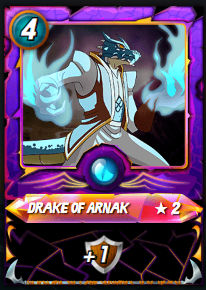 ------ MONSTROS E POSIÇÃO ------
| | | | | |
| --- | --- | --- | --- | --- |
| 1ª POSIÇÃO | 2ª POSIÇÃO | 3ª POSIÇÃO | 4ª POSIÇÃO | 5ª POSIÇÃO |

------- DETALHES DA ESTRATÉGIA ------
Para esta batalha escolhi o invocador DRAKE OF ARNAK para aumentar ainda mais o poder de defesa de minha equipe aumentando a armadura.
1ª POSIÇÃO: DJINN CHWALA é um ótimo tanque e poderá dar muito dano ao tanque inimigo com seu poder de ataque e também sua habilidade THORNS.
2ª POSIÇÃO: SERPENTINE SPY é um rápido atacante que terá como foco os monstros de menor vida, podendo finalizá-los sem ao menos atacar.
3ª POSIÇÃO: DHAMPIR INFILTRATOR um monstro muito temido por conseguir atacar duas vezes na mesma rodada, podendo destruir inimigos da linha de trás.
4ª POSITION: KOBOLD MINER é mais um atacante com foco na linha de trás inimiga e pode ser letal para inimigos indefesos.
5ª POSITION: SCORCH FIEND servirá como defesa contra monstros inimigos com a habilidade SNEAK ou OPPORTUNITY.

------ BATALHA ------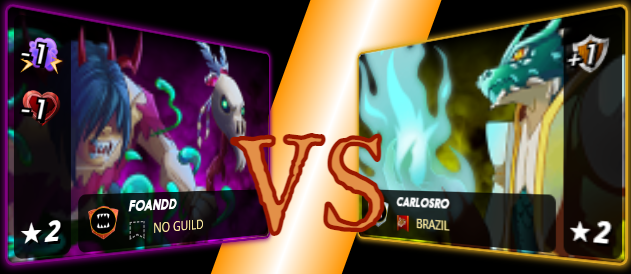 👆 CLIQUE NA IMAGEM PARA VER A BATALHA 👆
👆 Meu adversário escolheu o elemento Morte reduzindo minha vida e ataque mágico, mas não me preocupo porque meus monstros são focados em ataque corpo a corpo.
👆1º Rodada: Talvez meu adversário errou em sua estraté gia em colocar CREEPING OOZE na primeira posição, já que seu tanque já era rápido, então perdeu a oportunidade de me atacar facilitando minha estratégia. Consegui finalizar dois inimigo da linha de trás já compromentendo a estratégia do meu oponente.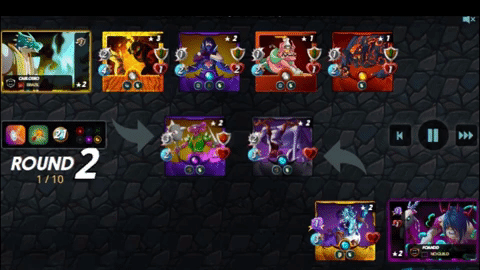 👆2º Rodada: Meu ataque sendo efetuado primeiro consigo finalizar mais um inimigo, deixando apenas o tanque vivo, e mesmo com sua habilidade THORNS e suas esquivas de alguns ataques que iria receber, não consegue ser capaz de defender todos os ataques que meu time efetuou, fazendo sofrer mas ainda se manter de pé no campo de batalha para mais uma rodada.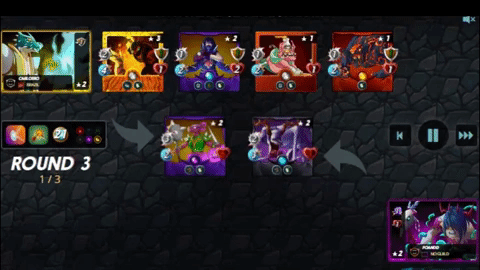 👆3º Rodada: Um ataque rápido e letal, foi o que SERPENTINE SPY causou no ultimo inimigo, concluindo esta batalha me coroando com a vitória.


------ CONSIDERAÇÕES FINAIS ------
Uma batalha que se tornou fácil já nas escolhas dos invocadores, pois como eu não tinha monstros mágicos, não influenciou o Debuff do invocador inimigo em meu time. O oponente se equivocou em colocar seu tanque na segunda posição anulando seu ataque na primeira rodada, e os monstros da linha de trás foi brutalmente mortos com ataques de minha equipe que os teve como foco.
Os dragões são muito poderosos e se encaixa em qualquer estratégia, podendo surpreender com suas ótimas habilidades e estatisticas, os fazendo ser muito valorizados e buscados por todos, como eu que ama e joga este maravilhoso jogo.

♥️ Obrigado por ler ♥️

Let's go on this adventure together?
Enter the Game Here: Splinterlands
Follow me on Social Media
Twiter
Instagram
Facebook

---
---