Weekly Challenge (SHARE YOUR BATTLE) - MOLTEN ASH GOLEM [ENG/PT]

---ENGLISH VERSION---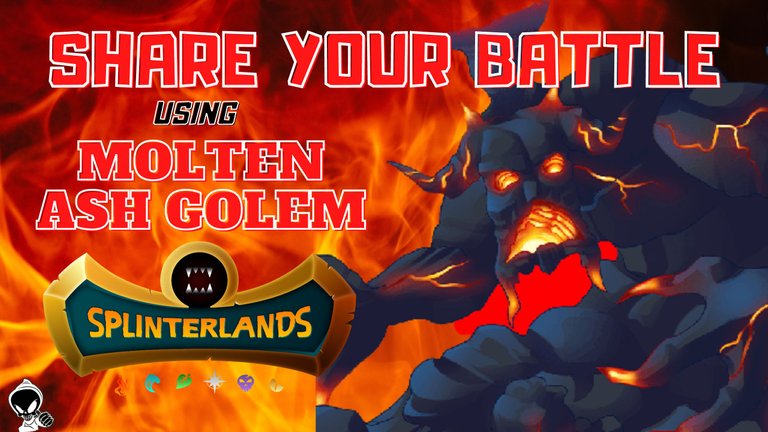 Hi my friends,
Today I will share with you a battle that I used MOLTEN ASH GOLEM to enter the
Weekly Challenge - SHARE YOUR BATTLE

CARD THEME: MOLTEN ASH GOLEM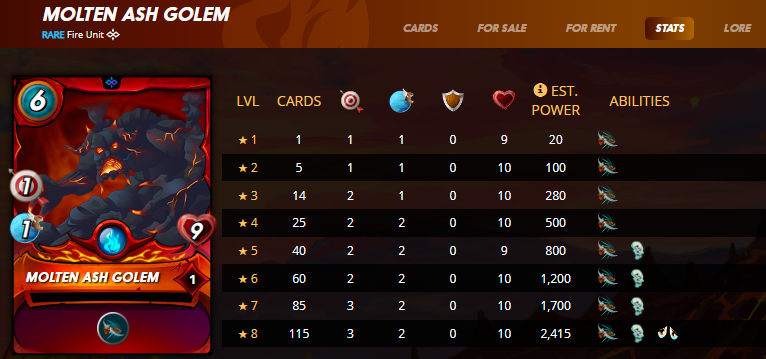 My opinion about MOLTEN ASH GOLEM
MOLTEN ASH GOLEM is a good monster, but not spectacular. He has high life, and can help the team to defend attacks and, if necessary, serves very well in the first position in the minor leagues. But he doesn't have good attack or speed, making him very limited to use.
Do I have card MOLTEN ASH GOLEM?
Yes, I have MOLTEN ASH GOLEM Gold Foil at level 2. I have no interest in leveling up, because in my view it won't help me in battles.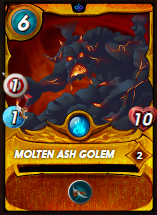 ------ RULES BATTLE------
| | MANA CAP |
| --- | --- |
| | Standard: No modification to the standard gameplay rules and mechanics. |

------ CHOSEN ELEMENT ------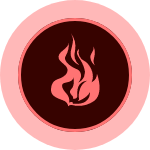 ------ SUMMONER ------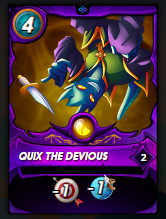 ------ MONSTERS AND POSITION ------
| | | | | | |
| --- | --- | --- | --- | --- | --- |
| 1ª POSITION | 2ª POSITION | 3ª POSITION | 4ª POSITION | 5ª POSITION | 6ª POSITION |

------- STRATEGY DETAILS ------
QUIX THE DEVIOUS dragon summoner who is very strong in bronze league
1ª POSITION: DJINN CHWALA dragon with high armor and with THORNS ability, can surprise melee attackers that attack it.
2ª POSITION: LAVA LAUNCHER ranged attacker that can attack in first position, has great armor that can defend many attacks.
3ª POSITION: CHAOS DRAGON another extraordinary dragon with its attack power and its explosion ability, it will deal a lot of damage to enemies.
4ª POSITION: DJINN INFERNI this magic attacker who can double his attack on monsters with high life, with the rule of this battle can have many monsters like that.
5ª POSITION: SAND WORM it will damage the farthest enemy and with its attack strength it can kill very easily.
6ª POSITION: MOLTEN ASH GOLEM is in the last position, because his health is very high and he can defend SNEAK attacks from the enemy team.

------ BATTLE ------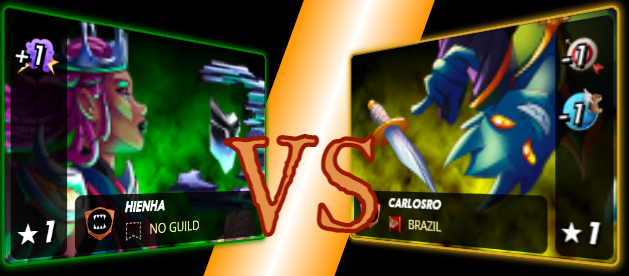 👆CLICK ON THE IMAGE TO SEE THE BATTLE 👆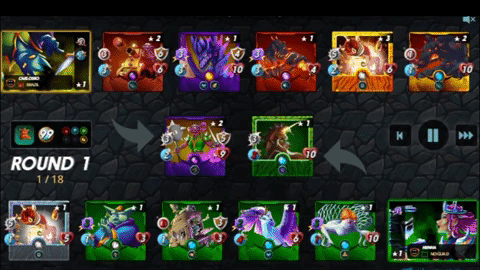 👆 My opponent chose earth element with a focus on magic monsters, and I can slow down all enemies and my monsters will mostly be able to attack first.
👆1º Round: MYCELIC SLIPSPAWN's Taunt served to target all of my initial attacks, and it couldn't handle the power of the damage my team dealt. Even with the cure, the enemy tank was weakened. MOLTEN ASH GOLEM withstood the fierce attack of the enemy SANDWORM very well.
👆2º round: My attacks punish enemies right at the start of the round. And with my tank's THORNS skill it made the enemy tank evaporate on the battlefield. And the enemy team was dying one by one. Leaving only a single monster alive for the next round.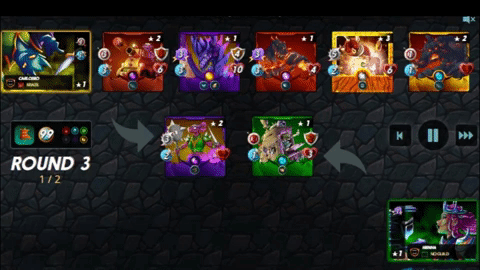 👆3º round: CHAOS DRAGON had no mercy and mercilessly finished off the last enemy.


------ FINAL CONSIDERATIONS ------
My strategy worked and I managed to beat the opponent without difficulty. In lower leagues using dragons to complement the compositions is very important to succeed in battles, as they are monsters with exceptional powers.
MOLTEN ASH GOLEM is very slow and has little attack power, it has a high life value but, many times it is not important, only in specific cases, making it a little used monster in my strategies.
Not that it's a bad monster, but for me it doesn't impress me.
♥️ Thanks for reading ♥️


---VERSÃO PORTUGUÊS BRASIL---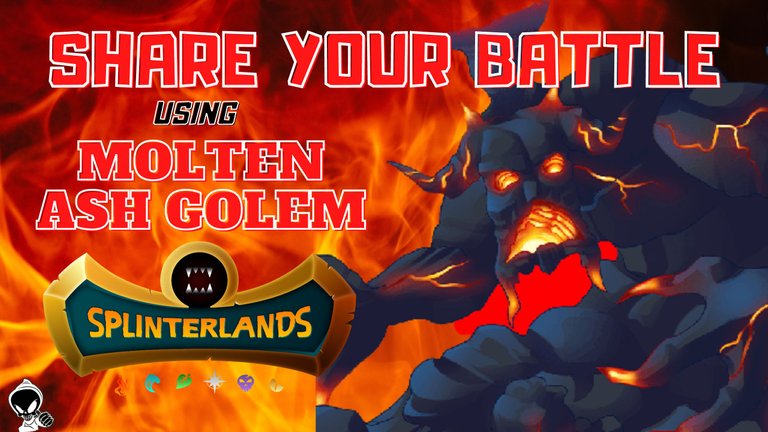 Olá meus amigos,
Hoje vou compartilhar com vocês uma batalha que usei MOLTEN ASH GOLEM para entrar no
Weekly Challenge - SHARE YOUR BATTLE

TEMA: MOLTEN ASH GOLEM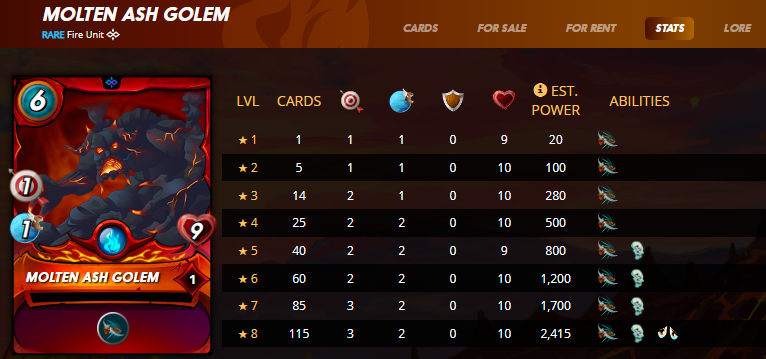 Minha opinião sobre MOLTEN ASH GOLEM
MOLTEN ASH GOLEM é um bom monstro, mas não expetacular. Tem vida elevada, e pode ajudar a equipe para defender ataques e caso precise serve muito bem na primeira posição nas ligas menores. Mas não tem ataque nem velocidade boas, o fazendo muito limitado para se usar.
Eu tenho a carta MOLTEN ASH GOLEM?
Sim, eu tenho MOLTEN ASH GOLEM Folha de Ouro no level 2. Não tenho interesse em aumentar de nivel, porque na minha visão não me servirá nas batalhas.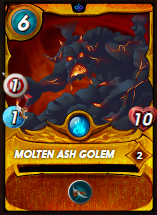 ------ REGRAS DA BATALHA ------
| | MANA CAP |
| --- | --- |
| | Standard: Nenhuma modificação nas regras e mecânicas de jogo padrão. |

------ ELEMENTO ESCOLHIDO ------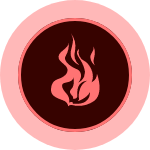 ------ INVOCADOR ------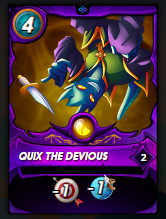 ------ MONSTROS E POSIÇÃO ------
| | | | | | |
| --- | --- | --- | --- | --- | --- |
| 1ª POSIÇÃO | 2ª POSIÇÃO | 3ª POSIÇÃO | 4ª POSIÇÃO | 5ª POSIÇÃO | 6ª POSIÇÃO |

------- DETALHES DA ESTRATÉGIA ------
QUIX THE DEVIOUS invocador dragão que é muito forte na liga bronze
1ª POSIÇÃO: DJINN CHWALA dragão com armadura elevada e com habilidade THORNS, pode surpreender atacantes corpo a corpo que atacá-lo.
2ª POSIÇÃO: LAVA LAUNCHER atacante a distancia que pode atacar na primeira posição, tem uma ótima armadura que pode defender muitos ataques.
3ª POSIÇÃO: CHAOS DRAGON mais um dragão extraordinário com seu poder de ataque e sua habilidade de explosão, vai dar muito dano nos inimigos.
4ª POSIÇÃO: DJINN INFERNI esse atacante magico que pode dobrar seu ataque em monstro com vida elevada, com a regra desta batalha pode ter muitos monstros assim.
5ª POSIÇÃO: SAND WORM vai dar dano no inimigo mais distante e com sua força de ataque pode matar com muita facilidade.
6ª POSIÇÃO: MOLTEN ASH GOLEM está na ultima posição, porque sua vida é muito alta e pode conseguir defender ataques SNEAK da equipe inimiga.

------ BATALHA ------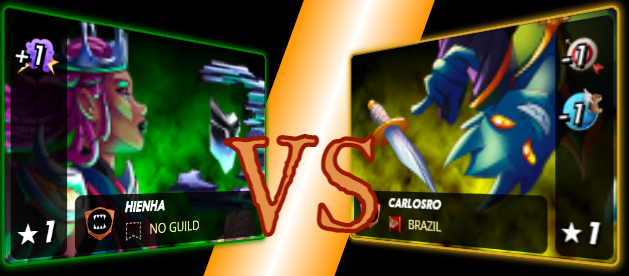 👆 CLIQUE NA IMAGEM PARA VER A BATALHA 👆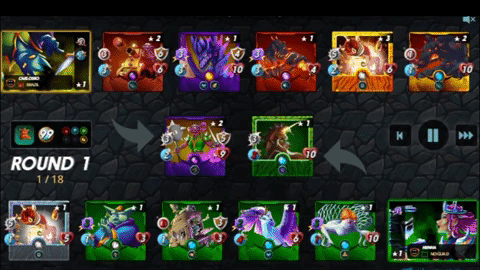 👆 Meu oponente escolheu o elemento terra com foco em monstro mágicos, e consigo diminuir a velocidade de todos inimigos e meus monstros vão conseguir na maioria atacar primeiro.
👆1º Rodada: O Taunt do MYCELIC SLIPSPAWN serviu para direcionar todos meus ataques iniciais, e não aguentou o poder do dano que meu time causou. Mesmo com a cura o tanque inimigo ficou fragilizado. MOLTEN ASH GOLEM aguentou muito bem o ataque feroz do SANDWORM inimigo.
👆2º Rodada: Meus ataques castigam os inimigos logo no inicio da rodada. E com a habilidade THORNS do meu tanque fez o tanque inimigo evaporar no campo de batalha. E a euipe inimiga foi morrendo um a um. Deixando apenas um unico monstro vivo para rodada seguinte.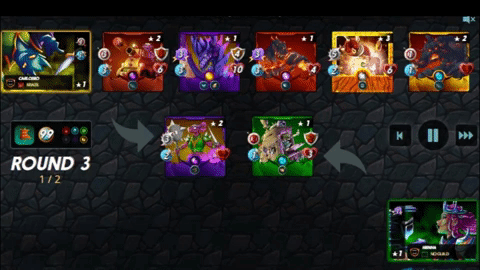 👆3º Rodada: CHAOS DRAGON não teve misericórdia e finalizou sem dó o ultimo inimigo.


------ CONSIDERAÇÕES FINAIS ------
Minha estratégia funcionou e consegui vencer o adversário sem dificuldades. Nas ligas mais baixas usar dragões para complementar as composições é muito importante para se ter sucesso nas batalhas, pois são monstros com poderes excepcionais.
MOLTEN ASH GOLEM é muito lento e tem pouco poder de ataque, tem um alto valor de vida mas, muitas vezes não é importante, só em casos especificos, o tornando um monstro pouco usado em minhas estratégias.
Não que seja um monstro ruim, mas para mim não me impressiona.
♥️ Obrigado por ler ♥️

Let's go on this adventure together?
Enter the Game Here: Splinterlands
Follow me on Social Media
Twiter
Instagram
Facebook

---
---