Weekly Challenge (SHARE YOUR BATTLE) - PRISMOLOGIST [ENG/PT]

---ENGLISH VERSION---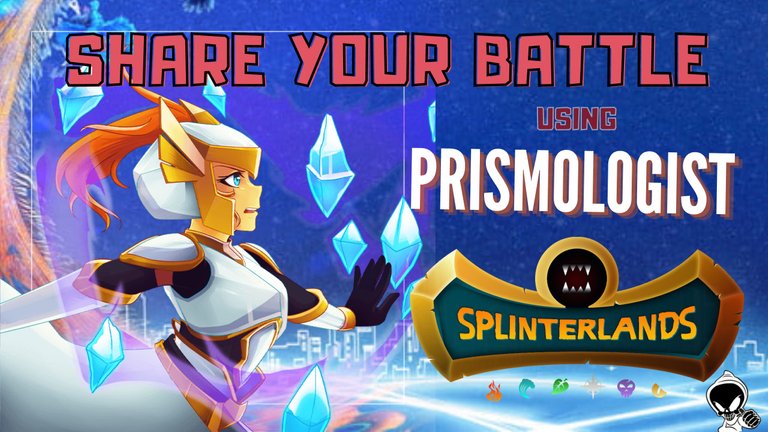 Hi guys,
Will share with you a battle that I used PRISMOLOGIST to enter the
Weekly Challenge - SHARE YOUR BATTLE

CARD THEME: PRISMOLOGIST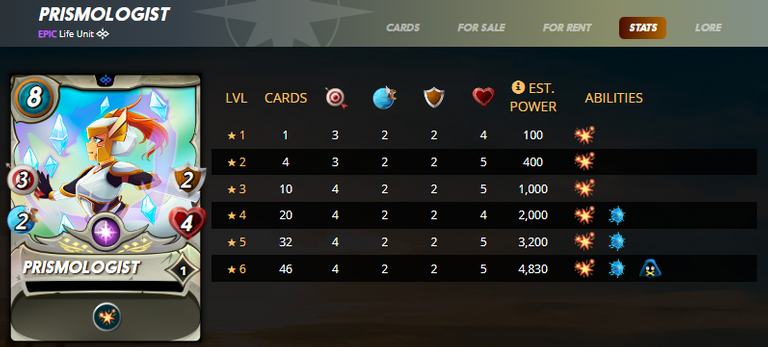 My opinion about PRISMOLOGIST
PRISMOLOGIST is a very strong monster, as its BLAST ability deals adjacent damage to the target. In addition to having armor managing to defend against possible attacks. At its high levels, it has abilities that I really appreciate for a backline monster like FORCEFIELD that protects from massive damage.
Do I have card PRISMOLOGIST?
Yes, I have PRISMOLOGIST at level 1. In the bronze league, this level is good, but I am definitely planning to evolve, as it will be very important to improve and increase your skills in the future, fighting in bigger leagues.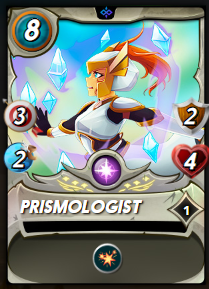 ------ RULES BATTLE------
| | MANA CAP |
| --- | --- |
| | Tis but Scratches: All Monsters have the Cripple ability. |

------ CHOSEN ELEMENT ------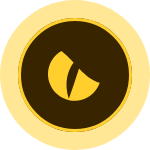 ------ SUMMONER ------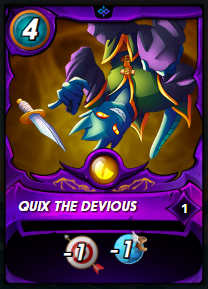 ------ MONSTERS AND POSITION ------
| | | | | | |
| --- | --- | --- | --- | --- | --- |
| 1ª POSITION | 2ª POSITION | 3ª POSITION | 4ª POSITION | 5ª POSITION | 6ª POSITION |

------- STRATEGY DETAILS ------
QUIX THE DEVIOUS chosen to be my summoner, very efficient because in addition to dragons I can choose the Life element of the monster of the week.
1ª POSITION: DJINN CHWALA will be my tank with high armor and the THORNS skill
2ª POSITION: CARNAGE TITAN is a very strong monster that can attack twice in the same round, despite having a high mana cost, it's great to put it in 99 MANA battles.
3ª POSITION: SAND WORM will focus on the farthest enemy monster and can surprise ranged attackers.
4ª POSITION: SPIRIT MINER Magic attacker who is fast and can dodge attacks if targeted.
5ª POSITION: CHAOS DRAGON is a legendary dragon with a magic attack that even I won't know what his target will be, making him unpredictable.
6ª POSITION: PRISMOLOGIST is the weekly challenge monster, and it can deal a lot of damage to enemies with its Explosion ability.

------ BATTLE ------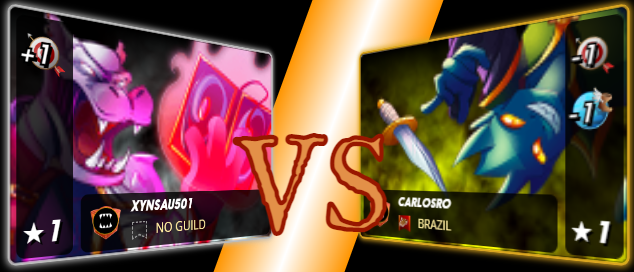 👆CLICK ON THE IMAGE TO SEE THE BATTLE 👆
👆 My opponent chose the element of life, but with a simple summoner with increased ranged attack but that does not benefit his monsters in level, leaving him with much lower power than my monsters, which come with a legendary summoner.
👆1º Round: My summoner nullifies the buff of the enemy summoner, in addition to decreasing its speed. This battle was clearly an annihilation, as my opponent made him focus my attacks on his tank, which took a lot of damage and didn't last long. Although his ranged attackers managed to punish my tank, it wasn't enough to kill him.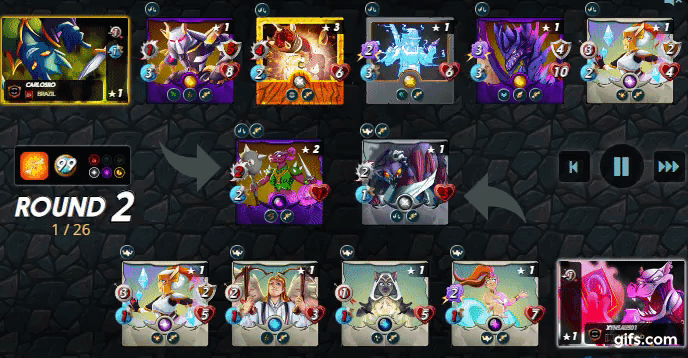 👆2º round: One more round and the enemy had no reaction to my fierce attacks, which killed one by one of the enemies. With a lot of fighting, they even killed my tank, which was the last breath and honor of the opposing team, which is already fragile.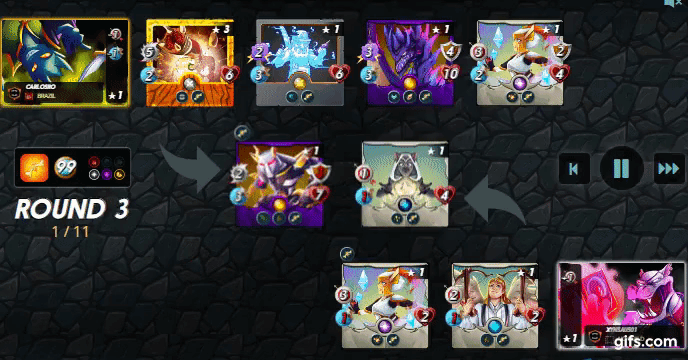 👆3º round: With quick and precise attacks, the enemy was unable to hold back the rain of damage that was imposed, and my superiority was confirmed.


------ FINAL CONSIDERATIONS ------
My chosen strategy for this battle was overwhelming, placing the strongest and most fearsome monsters in Splinterlands, the legendary dragons that stand out in any league, but it was only possible because we had 99 MANA as a rule so I could use them because their costs are high .
PRISMOLOGIST, which is the weekly challenge monster, had a great performance and I like to use it because it is a ranged attacker with armor and the BLAST ability, but it is only efficient when you have a lot of MANA to invoke, not compromising important frontline monsters .
My deck is very good for battles in the Bronze league, I'm going to try to be among the top ranks in WILD, I don't know if it will be possible by the end of the season, but the important thing is not to give up.

♥️ Thanks for reading ♥️


---VERSÃO PORTUGUÊS BRASIL---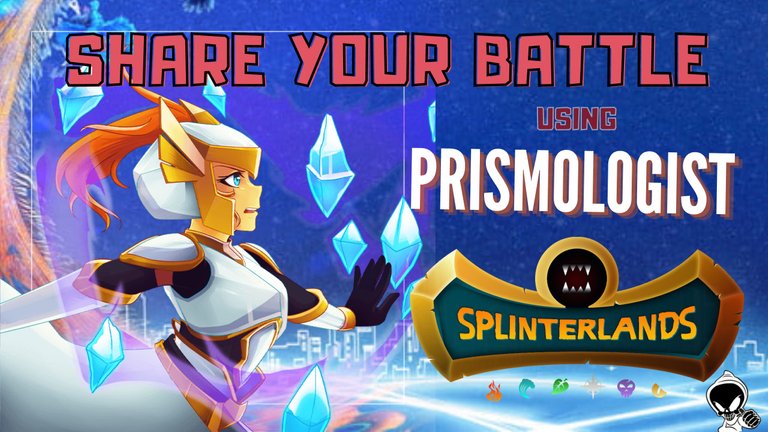 Oi, pessoal,
Vou compartilhar com vocês uma batalha que usei PRISMOLOGIST para entrar no
Weekly Challenge - SHARE YOUR BATTLE

CARD TEMA: PRISMOLOGIST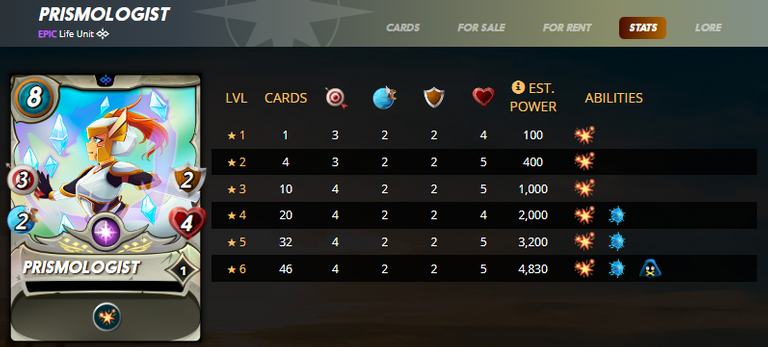 Minha opinião sobre PRISMOLOGIST
PRISMOLOGIST é um monstro muito forte, pois sua habilidade BLAST causa dano adjacente ao alvo. Além de ter armadura conseguindo defender de possiveis ataques. Em seus leveis altos possui habilidades que aprecio muito para um monstro da linha de trás como a FORCEFIELD que protege de danos gigantescos.
Eu tenho a carta PRISMOLOGIST?
Sim, eu tenho PRISMOLOGIST no nível 1. Na liga bronze está de bom tamanho esse nivel, mas com certeza tenho planejamento em evoluir, pois será muito importante ter melhorias e aumentar suas habilidades no futuro lutando em ligas maiores.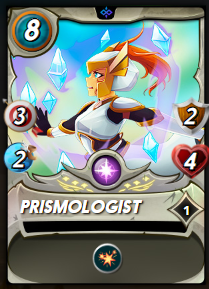 ------ REGRAS DA BATALHA ------
| | MANA CAP |
| --- | --- |
| | Tis but Scratches: Todos os monstros têm a habilidade Cripple. |

------ ELEMENTO ESCOLHIDO ------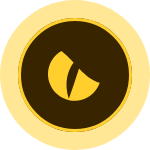 ------ INVOCADOR ------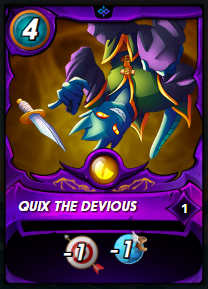 ------ MONSTROS E POSIÇÃO ------
| | | | | | |
| --- | --- | --- | --- | --- | --- |
| 1ª POSIÇÃO | 2ª POSIÇÃO | 3ª POSIÇÃO | 4ª POSIÇÃO | 5ª POSIÇÃO | 6ª POSIÇÃO |

------- DETALHES DA ESTRATÉGIA ------
QUIX THE DEVIOUS escolhido para ser meu invocador, muito eficiente pois além dos dragões posso escolher o elemento Vida do monstro da semana.
1ª POSIÇÃO: DJINN CHWALA será meu tanque com uma armadura alta e a habilidade THORNS
2ª POSIÇÃO: CARNAGE TITAN um monstro muito forte podendo atacar duas vezes na mesma rodada, apesar de ter um custo alto de mana, é ótimo coloca-lo nas batalhas 99 MANA.
3ª POSIÇÃO: SAND WORM vai focar no monstro mais distante inimigo e pode surpreender os atacantes a distancia.
4ª POSIÇÃO: SPIRIT MINER atacante mágico que é rápido e pode desviar de ataques caso for alvo de algum.
5ª POSIÇÃO: CHAOS DRAGON é um lendário dragão com ataque mágico que nem mesmo eu saberei qual será seu alvo, o tornando imprevisível.
6ª POSIÇÃO: PRISMOLOGIST é o monstro do desafio semanal, e pode dar muito dano aos inimigos com sua habilidade Explosão.

------ BATALHA ------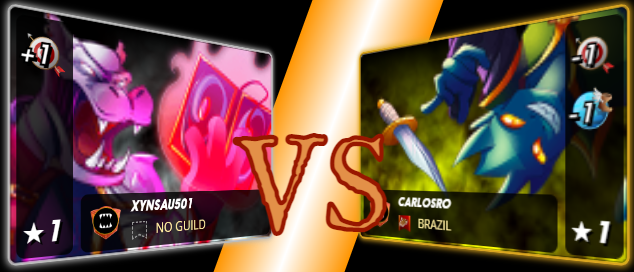 👆 CLIQUE NA IMAGEM PARA VER A BATALHA 👆
👆 Meu oponente escolheu o elemento vida, mas com um invocador simples com aumento de ataque a distancia mas que não beneficia seus monstros em level o deixando com poder muito inferior a meus monstros, que vem com invocador lendário.
👆1º Rodada: Meu invocador anula o buff do invocador inimigo, alem de diminuir sua velocidade. Nitidamente essa batalha foi uma aniquilação, pois o meu adversário o fez focar meus ataques em seu tanque, que levou muito dano e não aguentou por muito tempo. Apesar de conseguir com seus atacantes a distancia castigar meu tanque, não foi o bastante para mata-lo.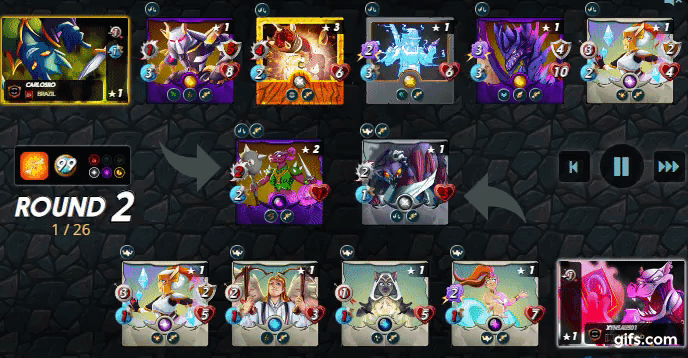 👆2º Rodada: Mais uma rodada e o inimigo não teve reação para meus violentos ataques, que mataram um por um dos inimigos. Com muita luta ainda mataram meu tanque que foi o ultimo suspiro e honra da equipe adversária, que já está fragilizada.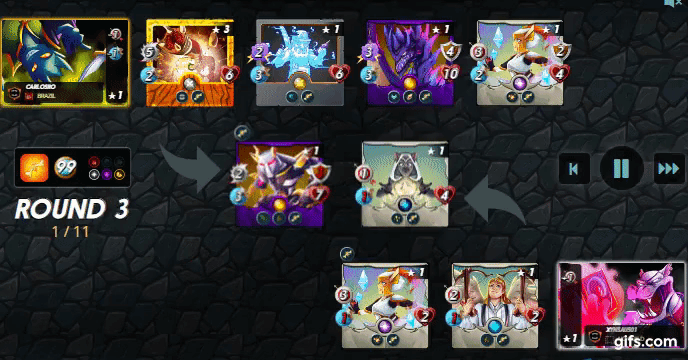 👆3º Rodada: Com ataques rápidos e precisos, o inimigo não teve como segurar a chuva de dano que foi imposta, e concretizando a minha superioridade.


------ CONSIDERAÇÕES FINAIS ------
Minha estratégia escolhida para esta batalha foi avassaladora, colocando os mais fortes e temíveis monstros de Splinterlands, os lendários dragões que se destacam em qualquer liga, mas só foi possivel pois tivemos como regra MANA 99 com isso pude usá-los pois seus custos são altos.
PRISMOLOGIST que é o monstro do desafio semanal, teve um ótimo desempenho e gosto de usar pois é um atacante a distancia com armadura e com a habilidade BLAST, mas é só eficiente quando tem muita MANA para invocar, não compromentendo monstros importantes da linha de frente.
Meu deck está muito bom para batalhas na liga Bronze, vou tentar ficar entre o top rank na WILD, não sei se vai ser possivel chegando no fim da temporada, mas o importante é não desistir.

♥️ Obrigado por ler ♥️

Let's go on this adventure together?
Enter the Game Here: Splinterlands
Follow me on Social Media
Twiter
Instagram
Facebook

---
---