🐈 La nueva integrante de la familia || The new member of the family 🐱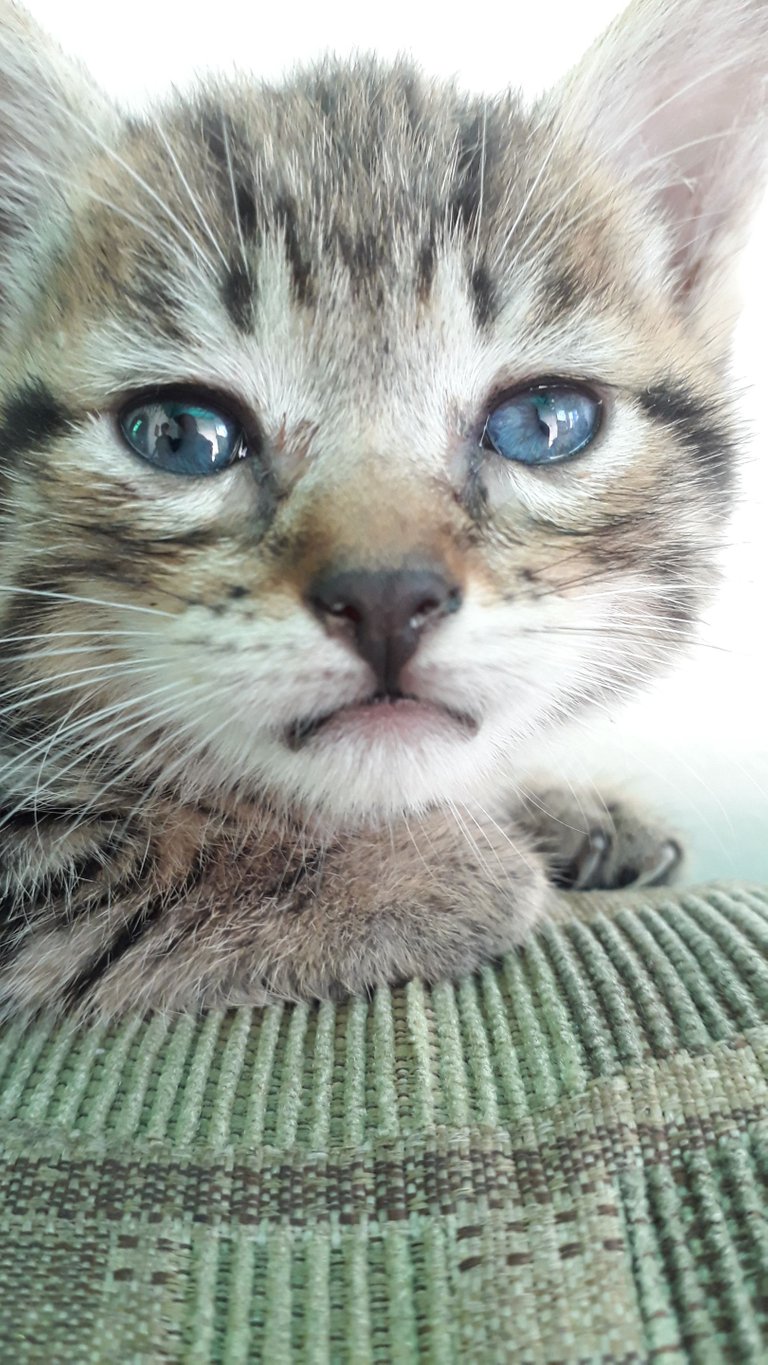 Hola mi gente de la comunidad de Hive, feliz de compartir con ustedes este post. Me tomo el atrevimiento de escribir algo que ha impactado mi vida en estos últimos días. Hace un mes aproximadamente, tenemos un nuevo integrante en la familia, y hemos decidido llamarle Prince o Missy, todavía no decidimos.
Hello my people of the Hive community, happy to share with you this post. I take the boldness to write something that has impacted my life in the last few days. About a month ago, we have a new member in the family, and we have decided to name him Prince or Missy, we haven't decided yet.
---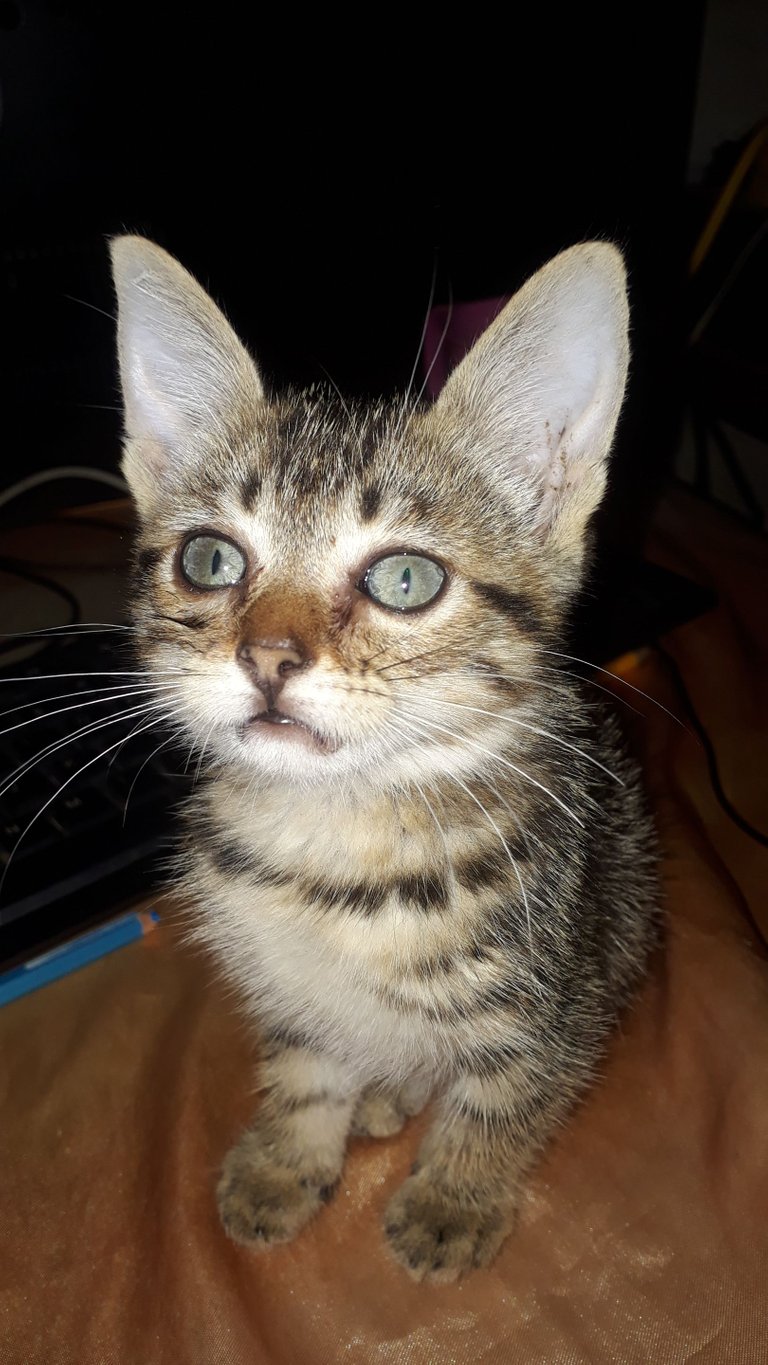 ---
Prince/Missy es una gatica particular. Ella nació con un defecto, y es que su cola es un poco corta, lo que implica que podría verse limitada en sus movimientos, al menos eso creíamos. Ahora ya tiene dos meses y corre, salta y es muy juguetona. Su sueño es dormir en mi cama y su pasión es saltar de lugares altos, y nos deja impresionados de la hiperactiva que es.
Prince/Missy is a particular kitty. She was born with a defect, and that is that her tail is a little short, which means that she could be limited in her movements, at least that's what we thought. Now she is two months old and she runs, jumps and is very playful. Her dream is to sleep in my bed and her passion is to jump from high places, and we are impressed by how hyperactive she is.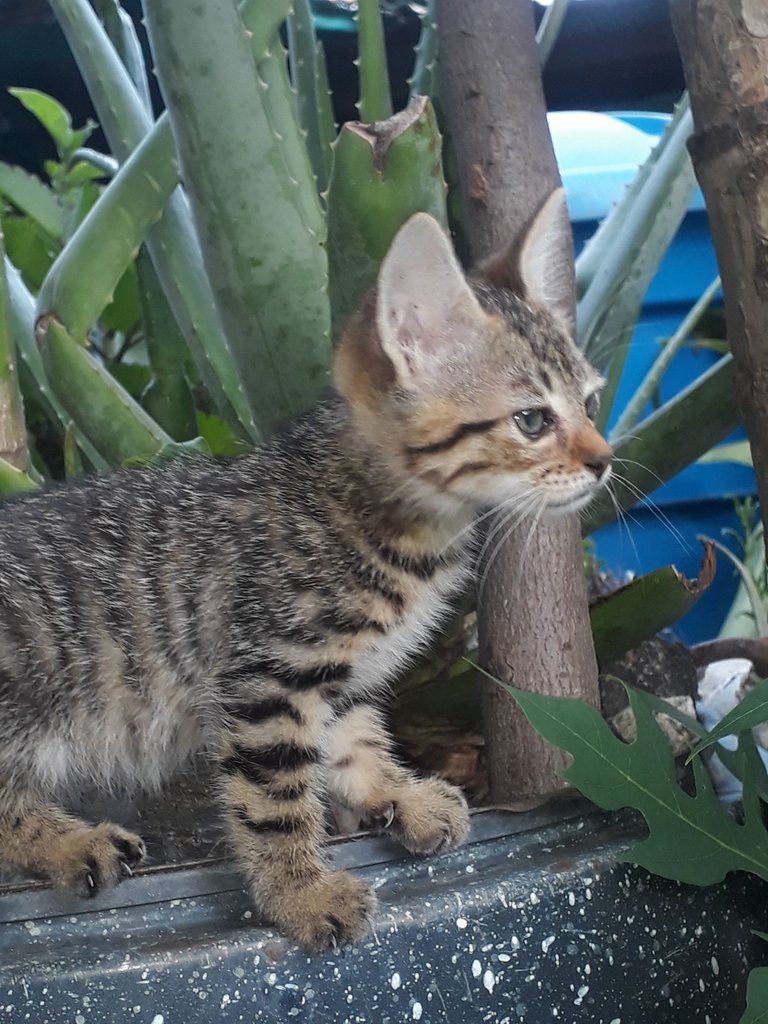 Aquí explorando el jardín.
Here exploring the garden.
---
Les confieso que no era fan ni amante de los gatos hasta hace poco, no me agradaban ya que consideraba que todos eran ladrones, traviesos o sucios. Cuando me casé, había un dilema, porque a @garybilbao le fascinan los gatos, pero yo decía que en mi casa: cero gatos, hasta hace poco que conocí a Prince/Missy y ella se fue metiendo poco a poco hasta robarnos el corazón a todos. Ahora estamos pendientes de cuidarla y protegerla, ya es parte de nuestra familia.
I confess I was not a fan or lover of cats, until recently, I didn't like them as I considered them all to be thieves, naughty or dirty. When I got married, there was a dilemma, because @garybilbao is fascinated by cats, but I said that in my house: zero cats, until recently I met Prince/Missy and she got in little by little until she stole all of our hearts. Now we are very concerned about taking care of her and protecting her, she is already part of our family.
---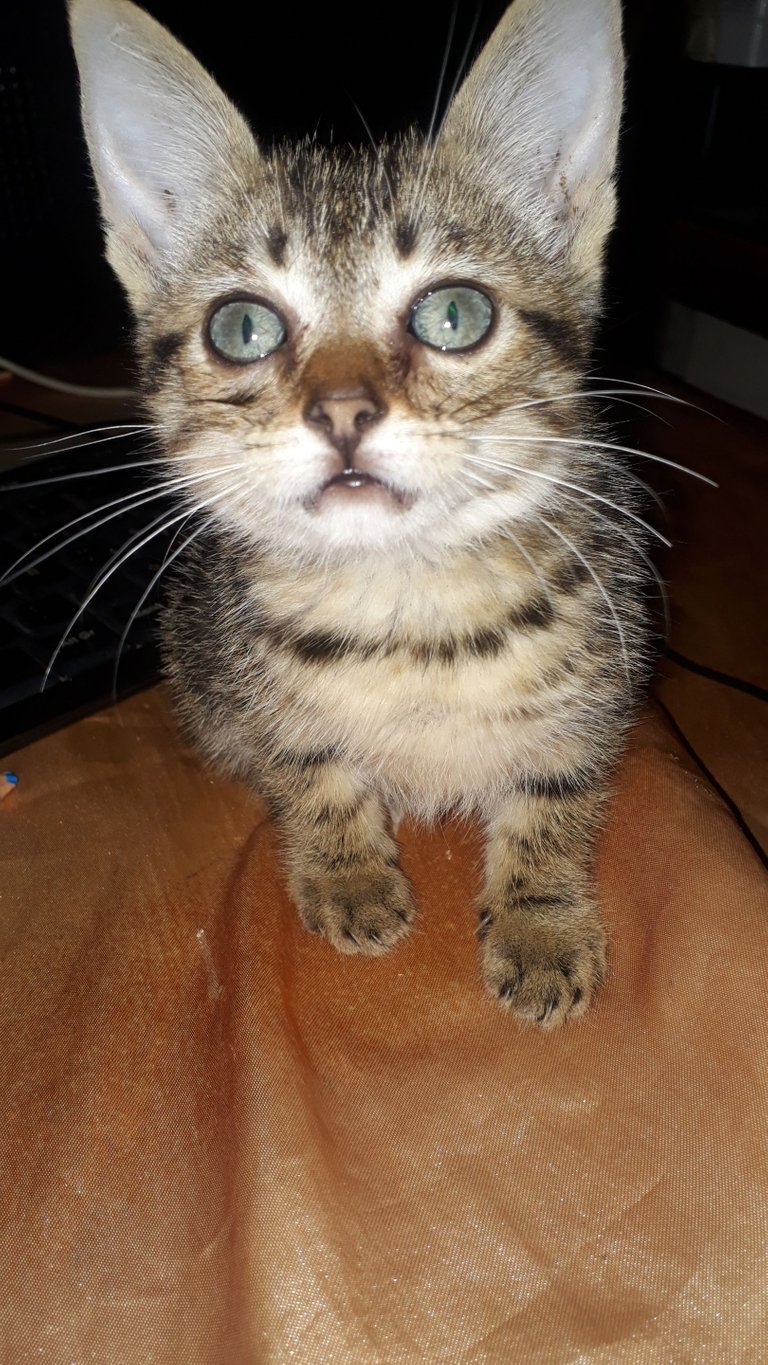 ---
Los animales están para cuidarlos, para hacerlos felices y ellos a nosotros. Me gusta el concepto de que son parte de la familia, eso intento enseñarle a mis hijos para que le cuiden, alimenten y jueguen con ella.
Gracias por visitar mi publicación.
The animals are there to take care of them, to make them happy and to make us happy. I like the concept that they are part of the family, that's what I try to teach my children to take care of her, feed her and play with her.
Thank you for visiting my publication.
---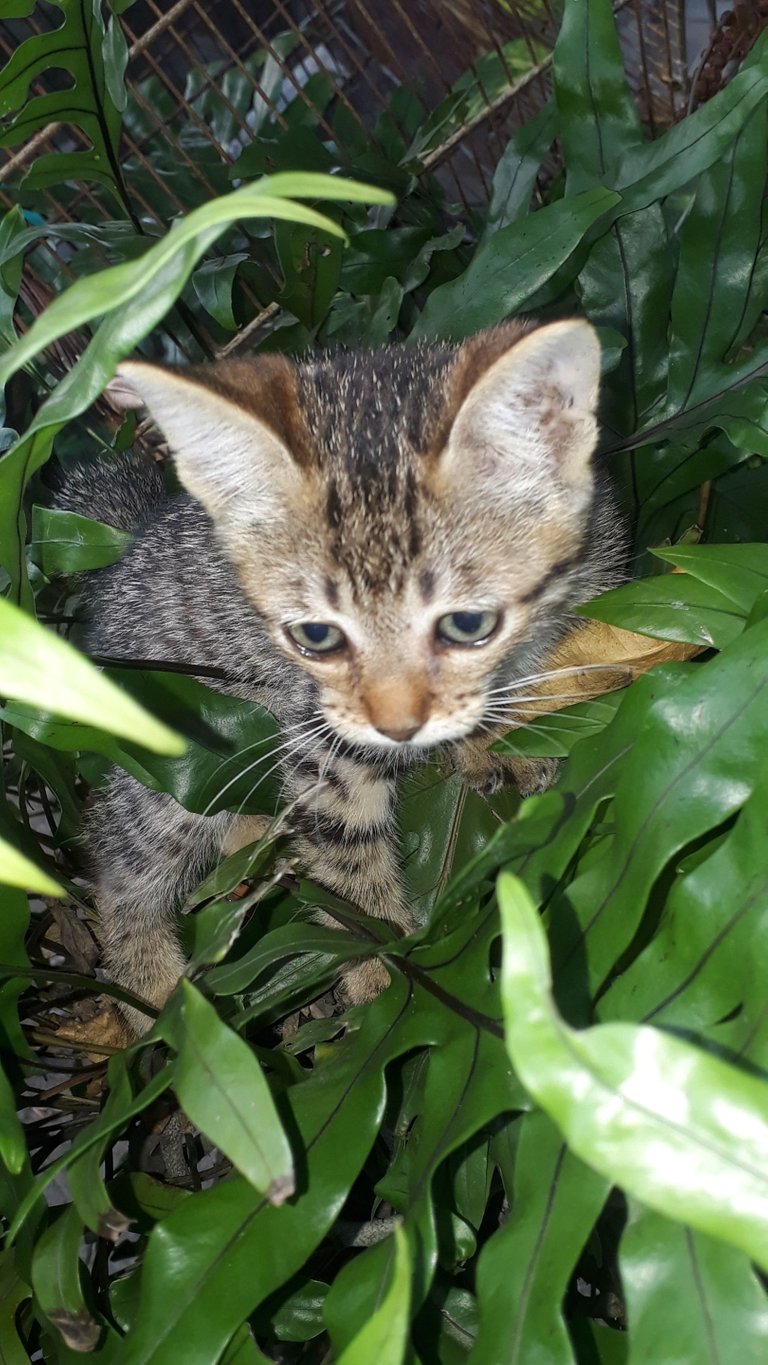 Otra de jardinera.
Another photo of her as a gardener.
---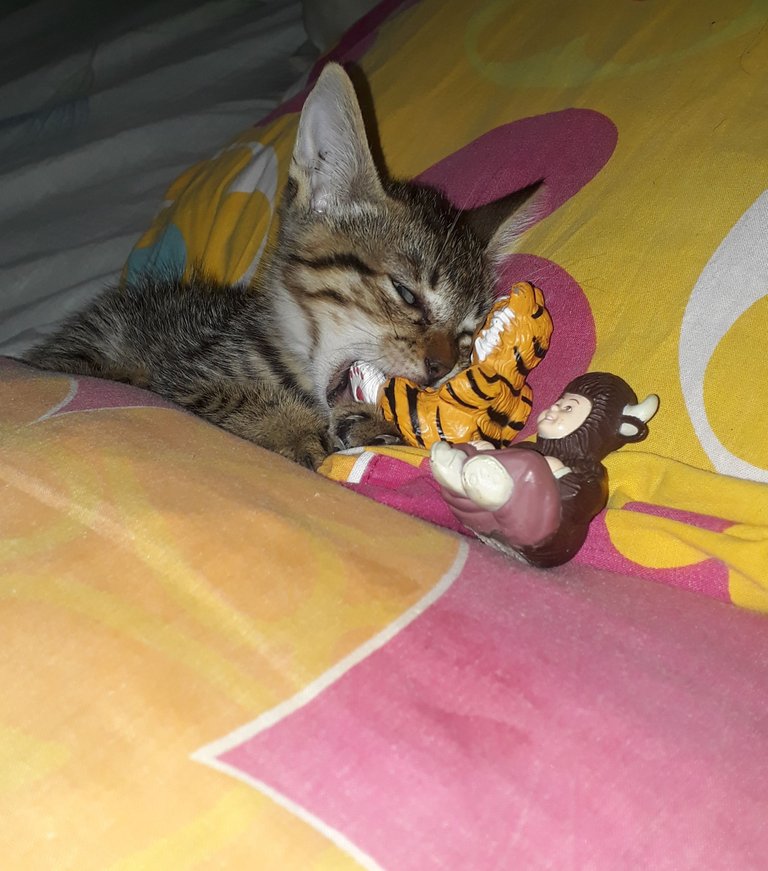 En mi cama peleando con las mascotas de Parmalat. ¿Los recuerdan?
In my bed fighting with the Parmalat mascots, remember them?
Translated with www.DeepL.com/Translator (free version)
---
---