Pink - Family Portrait (Vocal cover by @carminasalazarte) [ENG/ESP]

---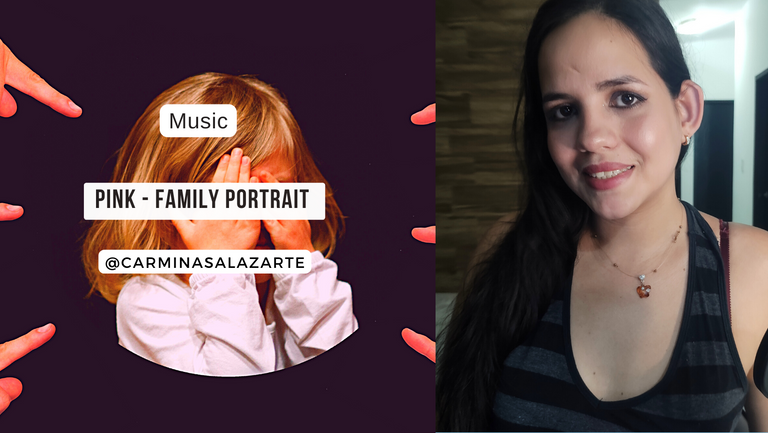 English Version
Hello to everyone in the Music community. Today I bring you for the first time a cover of the American singer pink, with her song titled "Family Portrait". One of the most touching songs and that to this day is still one of the best, even if the charts don't say so. This song belongs to the album M!ssundaztood and is the fourth single from the same album, which was released in 2002.
The lyrics of the song are significantly painful and one of the most personal themes of the singer because in it she tells us her story through some verses and choruses. Pink tells how the loss of her father, who abandoned her and her family, leaving home because of marital problems, had a great impact on her because although it seemed to have healed over the years where she became a woman, the wound was still there. Her father was irreplaceable and the desire for everything to be as it was before, as in the family portrait where everyone looked happy and united, is the longing of this little Pink.
The music video is just as powerful, where we see a younger version of her begging her parents to stop fighting and struggling with the impossibility of doing anything about her when her father also owed her love, respect and attention. A lyric that describes the problem of many homes where unfortunately children end up absorbing the consequences of their parents' actions in the worst way. I hope you like this video and this song, as always thank you very much for stopping by and supporting my work. I send you a big hug
Versión en Español
Hola a todos en la comunidad de Music. El día de hoy les traigo por primera vez un cover de la cantante estadounidense pink, con su canción titulada "Family Portrait". Esos temas más conmovedores y que hasta el día de hoy sigue siendo de los mejores, aunque la lista de éxitos no lo diga así. Esta canción pertenece al álbum M!ssundaztood y es el cuarto sencillo del mismo punto este fue del año 2002.
La letra de la canción es significativamente dolorosa y una de los temas más personales de la cantante pues en ella nos narra su historia a través de algunas estrofas y coros. Pink relata como la pérdida de su padre, quién la abandonó a ella y a su familia, dejando el hogar por problemas matrimoniales, género en ella un gran impacto pues aunque parecía haber estado sanado a lo largo de los años dónde se convirtió en toda una mujer, la herida seguía estando allí. Su padre fue irremplazable y el deseo de que todo fuera como antes, como en el retrato familiar donde todos lucian felices y unidos, es el anhelo de esa pequeña Pink.
El vídeo musical es igual de impactante, dónde vemos a una versión más joven de ella rogando a sus padres que dejarán de pelear y luchar contra la imposibilidad de hacer algo respecto a un cuando su padre le debía también a ella amor, respeto y atención. Una letra que describe el problema de muchos hogares donde lamentablemente los niños terminan absorbiendo de la peor forma las consecuencias de lo actos de sus padres. Espero que les guste este video y está canción, como siempre muchísimas gracias por pasar por aquí y apoyar mi trabajo. Les envío un fuerte abrazo
Lyrics/Letra
Some deep shit
Look away

Momma please stop crying, I can't stand the sound
Your pain is painful and it's tearin' me down
I hear glasses breaking as I sit up in my bed
I told dad you didn't mean those nasty things you said

You fight about money, 'bout me and my brother
And this I come home to, this is my shelter
It ain't easy growing up in World War III
Never knowing what love could be
You'll see
I don't want love to destroy me like it has done my family

Can we work it out? (Can we?) Can we be a family? (Can we?)
I promise I'll be better (I promise), Mommy I'll do anything (I'll do anything)
Can we work it out? Can we be a family?
I promise I'll be better, Daddy please don't leave

Daddy please stop yelling (Stop), I can't stand the sound (Can't stand the sound)
Make mama stop crying, 'cause I need you around
My mama she loves you, no matter what she says it's true
I know that she hurts you, but remember I love you, too

I ran away today, ran from the noise, ran away (Ran away)
Don't wanna go back to that place, but don't have no choice, no way
It ain't easy growing up in World War III
Never knowing what love could be
Well I've seen
I don't want love to destroy me like it did my family

Can we work it out? (Can we work it?) Can we be a family?
I promise I'll be better, Mommy I'll do anything
(I promise I'll do anything to keep you there)
Can we work it out? Can we be a family?
I promise I'll be better (I promise, I promise), Daddy please don't leave

In our family portrait (In our family portrait) we look pretty happy (We look pretty happy)
Let's play pretend, let's act like it comes naturally
I don't wanna have to split the holidays
I don't want two addresses
I don't want a step-brother anyways
And I don't want my mom to have to change her last name

In our family portrait we look pretty happy
We look pretty normal, let's go back to that
In our family portrait we look pretty happy
Let's play pretend, act like it goes naturally

In our family portrait we look pretty happy
(Can we work it out? Can we be a family?)
We look pretty normal, let's go back to that
(I promise I'll be better, Mommy I'll do anything)

In our family portrait we look pretty happy
(Can we work it out? Can we be a family?)
Let's play pretend and act like it comes so naturally
Oh, let's go back, oh, let's go back to that
(I promise I'll be better, Daddy please don't leave)

In our family portrait we look pretty happy
(Can we work it out? Can we be a family?)
Remember the day
We look pretty normal, let's go back to that
(I promise I'll be better, Daddy please don't leave)

In our family portrait we look pretty happy
(Can we work it out? Can we be a family?)
We look pretty normal, let's go back to that
(I promise I'll be better, Daddy please don't leave)

Daddy don't leave
Daddy don't leave
Daddy don't leave
Turn around please
Remember that the night you left you took my shining star?
Daddy don't leave
Daddy don't leave
Daddy don't leave
Don't leave us here alone

Mom will be nicer
I'll be so much better, I'll tell my brother
Oh, I won't spill the milk at dinner
I'll be so much better, I'll do everything right
I'll be your little girl forever
I'll go to sleep at night

Credits/Créditos

Artist/Artista: Pink
Song/Canción: Family Portrait
Album/Álbum: Missundaztood
Year/Año: 2001
---
▶️ 3Speak
---
---