Meet Gatina [ENG/ESP]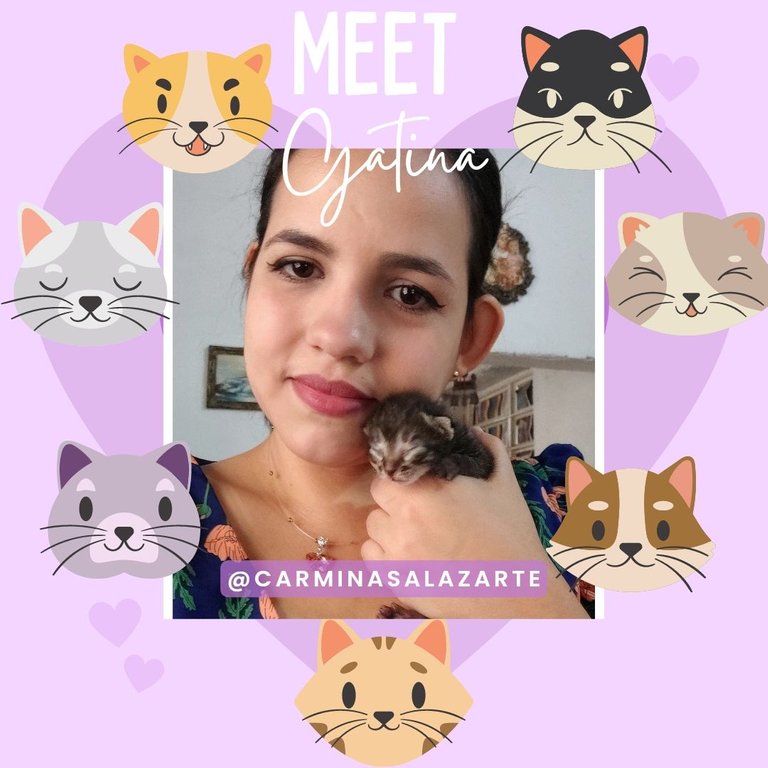 Hello to all dear users and friends of Hive! Today I bring you an article dedicated to one of the most adorable cats in our family, Gatina, my stepfather's kitty. So, let's get started.
¡Hola a todos queridos usuarios y amigos de Hive! El día de hoy les traigo un artículo dedicado a una de las gatas más adorables de nuestra familia, se trata pues de Gatina, la gatita de mi padrastro. Así que, comencemos con ello.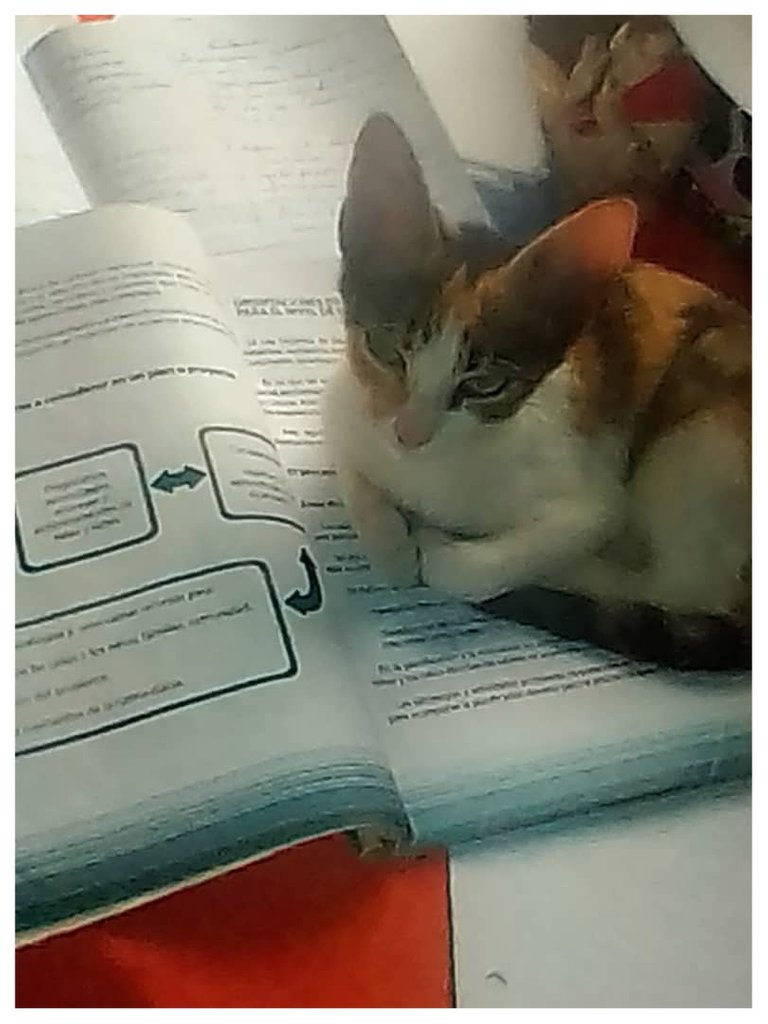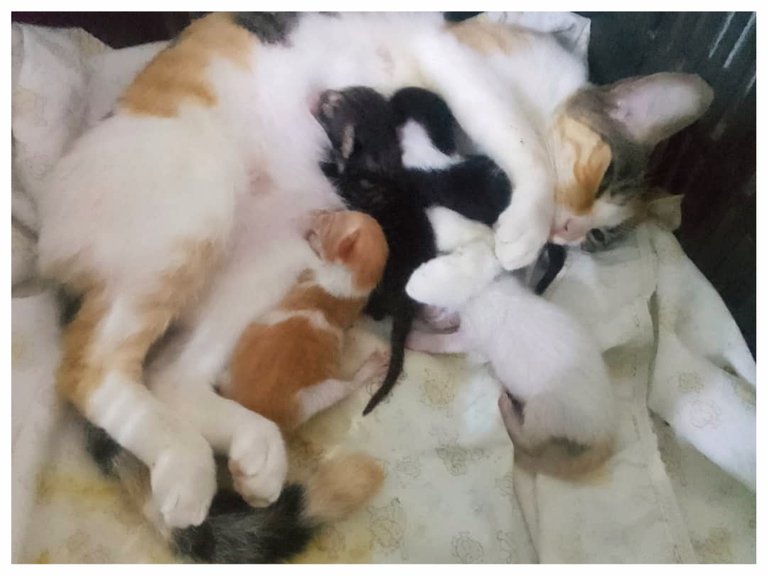 Gatina arrived at my mother's house a year and three months ago. My stepfather had the illusion of adopting a kitten for quite some time and one day he had the opportunity to have one. Near my mother's house there is a big market and there it is usual to find abandoned animals since people leave them there knowing that it is a busy place. Well, my stepfather found a mother and her offspring inside one of the stores. The cat and her children were being sheltered by the owner of the place and he offered her one of the kittens. He told her to wait until she stopped nursing so that she would grow up well and not have to be separated from her mother so soon.
Gatina llegó hace ya un año y tres meses, a la casa de mi madre. Mi padrastro tenía la ilusión de adoptar un gatito desde hace bastante tiempo y un día se le presento la oportunidad de tener una. Cerca de la casa de mi madre hay un gran mercado y allí es usual encontrar animales abandonados puesto que la gente los deja allí sabiendo que es un sitio concurrido. Pues mi padrastro encontró a una madre con sus crías dentro de uno de los locales. La gata y sus hijos estaban siendo resguardados por el dueño del local y le ofreció una de las gatitas. Eso sí, que esperara a que dejara de amamantar para que está creciera bien y no tuviera una separación tan pronta de su madre.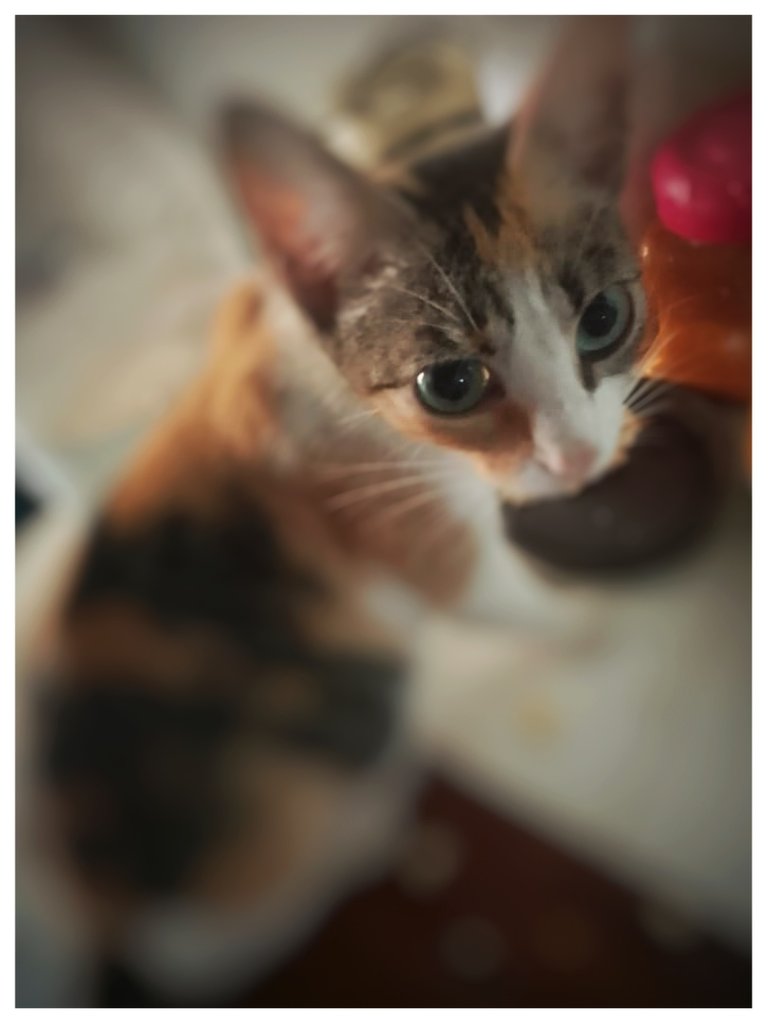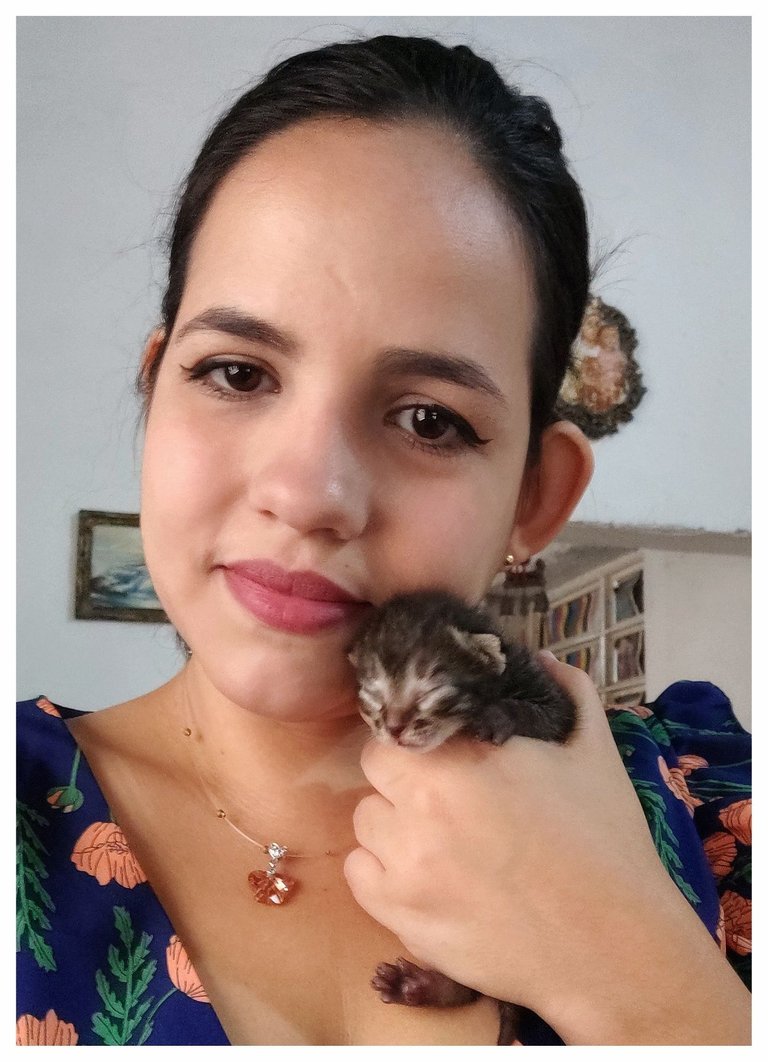 My stepfather was very excited about Gatina's arrival so he started to prepare everything for her arrival. He consulted with the vet who sees the Dubis (that's what we call the puppies in the house) and also asked me for some advice. She bought dewormer, bedding, baby cat, vitamins and gave her that funny and sweet name, Gatina. Everything went perfectly during the two months of waiting and finally Gatina arrived home. And although the puppies were uneasy about her presence, Gatina quickly adapted to the place thanks to my stepfather's care. Let's just say, she is his big pet and he defends her from anyone.
Mi padrastro estaba muy emocionado por la llegada de Gatina así que empezó a preparar todo para su llegada. Se asesoró con el veterinario que ve a los Dubis (así llamamos a los perritos de la casa) y también me pidió varios consejos. Compro desparasitante, camita, gatarina de bebé, vitaminas y le asignó ese nombre tan cómico y dulce, Gatina. Todo transcurrió perfectamente durante los dos meses de espera y finalmente Gatina llegó a casa. Y aunque los perritos estaban inquietos por su presencia, Gatina rápidamente se adapto al lugar gracias a los cuidados de mi padrastro. Digamos que, es su gran consentida y la defiende de cualquiera.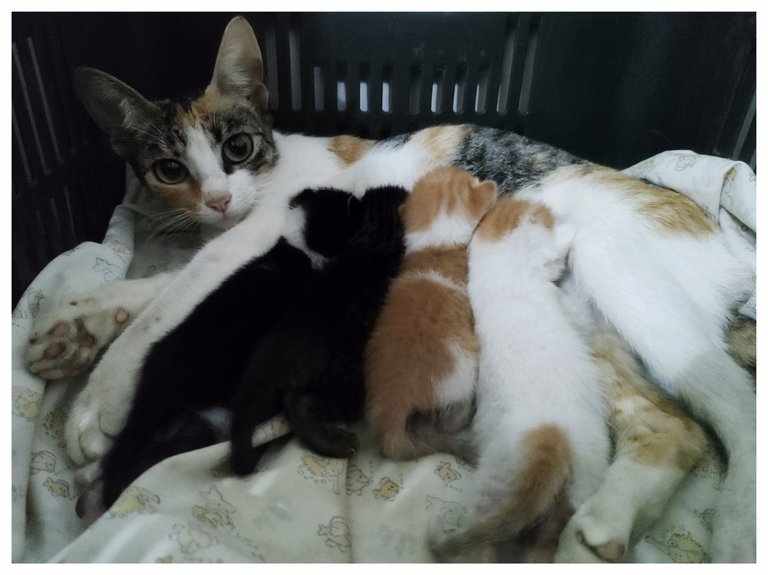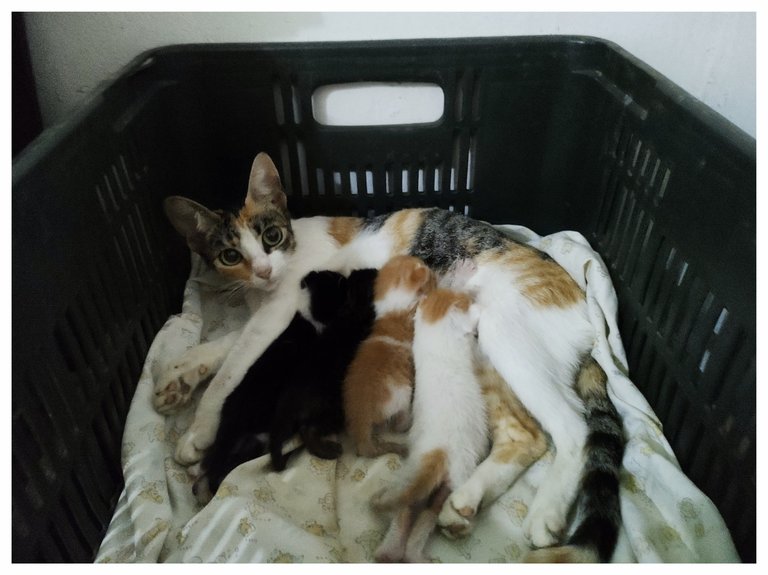 The thing was that as soon as Gatina reached a more adult age, she needed to be spayed, but the male cats visited the house faster. Gatina became pregnant and several changes had to be made. More complete feeding, being careful not to have her near the dogs, placing her in my mother's room and a lot of other things. As I said, Gatina is my stepfather's favorite cat and he took great care of her pregnancy. Until finally the little kittens were born. They were 4 healthy and safe kittens that so far are about two weeks old and they are just opening their eyes and learning to walk. They already have owners so I avoided any temptation to keep one of them since I already have many animals to take care of.
La cuestión fue que pronto que Gatina llegó a una edad más adulta, necesitaba esterilizarla pero fue más rápida la visita de los gatos machos a la casa. Gatina quedó embarazada y se tuvieron que hacer varios cambios. Alimentación más completa, cuidado con no tenerla cerca de los perros, ubicarla en el cuarto de mi madre y un montón de cosas más. Cómo dije, Gatina es la gata preferida de mi padrastro y este tuvo mucho cuidado de su embarazo. Hasta que finalmente nacieron los pequeños gatitos. Fueron 4 gatitos sanos y salvos que hasta ahora tienen ya alrededor dos semanas y apenas están abriendo sus ojos y aprendiendo a caminar. Ya tienen dueños por lo que evite toda tentación de quedarme con uno de ellos ya que ya tengo muchos animales que cuidar.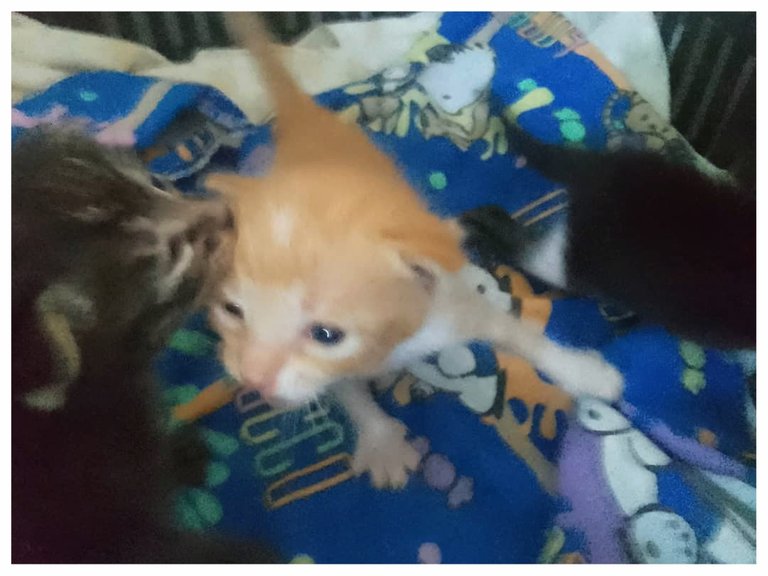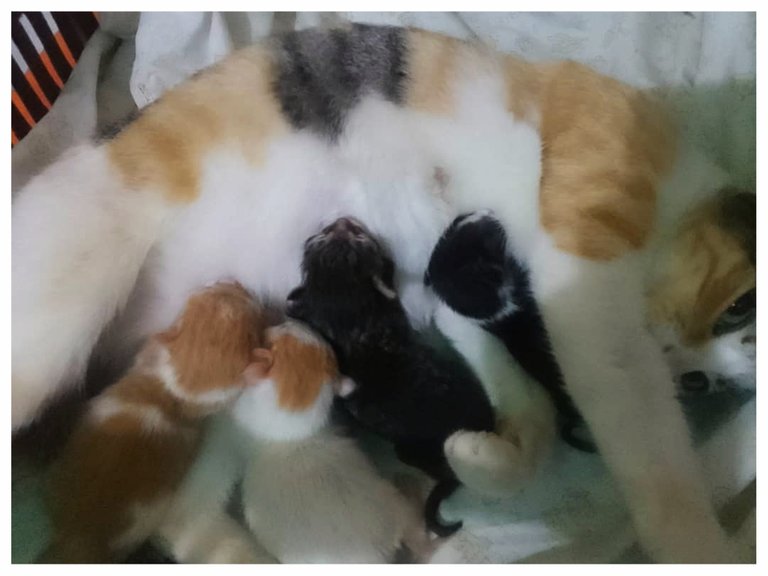 In the pictures I have left a record of what the babies look like and the cute Gatina nursing her little ones. Soon, according to the vet, for Gatina to be spayed it will take a few more months for her to return to her normal cycle and then proceed. So in the meantime we can enjoy the little kittens and their antics. Definitely having pets is not an easy thing but it is nice to see them growing up healthy and strong, and now my friends, I say goodbye with this short story about Gatina and her babies. I hope you liked it, without more to say, a hug and bye!
En las fotografías he dejado registro de como lucen los bebés y a la linda Gatina amamantando a sus pequeños. Pronto, según el veterinario, para que Gatina sea esterilizada deben pasar unos meses más para que vuelva a su ciclo normal y allí proceder. Por lo que mientras tanto podemos disfrutar de los pequeños gatitos y sus travesuras. Definitivamente tener mascotas no es cosa fácil pero si que es agradable verlos crecer sanos y fuertes.Y ahora sí amigos míos, me despido por aquí con esta breve historia acerca de Gatina y sus bebés. Espero que les haya gustado, sin más que decir, un abrazo y ¡Adiós!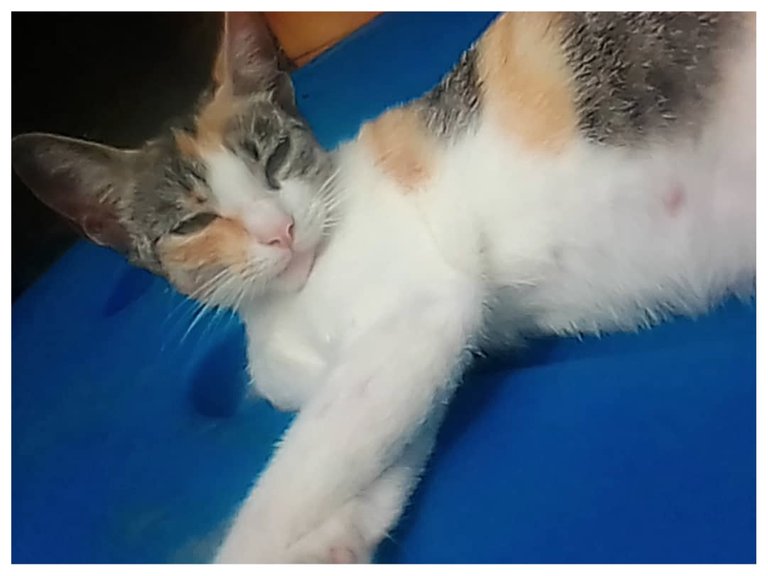 ---
---