Movie Review: Thelma and Louise, a classic [ENG/ESP]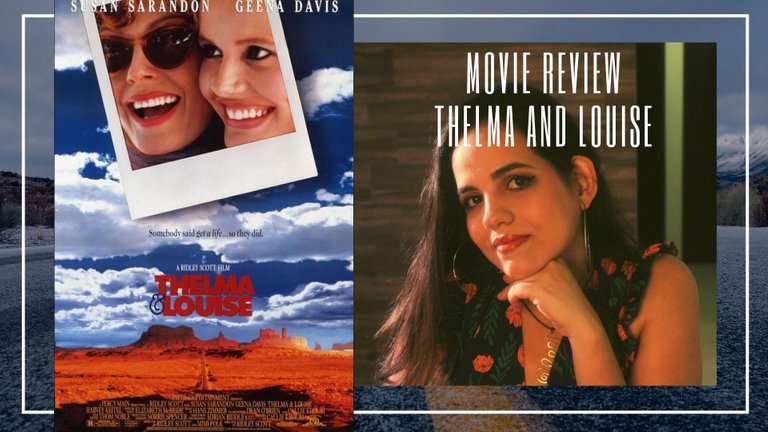 Hello everyone! Today I bring you a new review, of one of my favorite movies of all time, it is "Thelma and Louise", a movie that will leave you enchanted. I make a Spoiler alert. So let's get started!
"Thelma and Louise" is a film by director Ridley Scott, released in the year 1991 and caused great furor because of the themes discussed in it. It was sterilized by the great Susan Sarandon as Louise and Geena Davis as Thelma. With the special participation of Brad Pitt in one of his first important roles in the movies.
¡Hola a todos! El día de hoy les traigo una nueva reseña, de una de mis películas favoritas de todos los tiempos, se trata pues de "Thelma y Louise", una película que te dejará encantado. Hago una alerta de Spoiler. Así que ¡Comencemos!
"Thelma y Louise" es una película del director Ridley Scott, estrenada en el año 1991 y que causó gran furor por los temas tratados en ella. Fue esterilizada por la grandiosa Susan Sarandon como Louise y Geena Davis como Thelma. Con la participación especial de Brad Pitt en uno de sus primeros papeles importantes dentro del cine.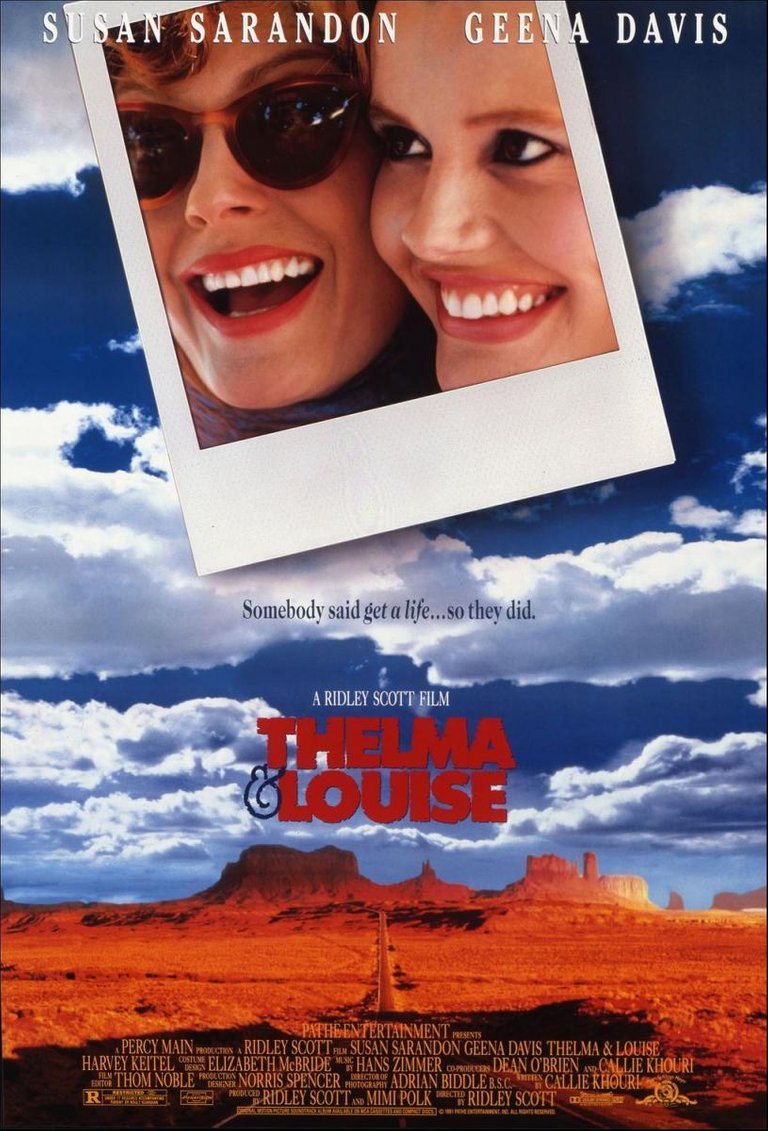 The plot of the film takes place in the middle of a highway and a couple of friends traveling by car. Thelma is a young woman, a housewife, who is married to Darryl, a violent, macho and domineering man. Thelma is submissive and does little or nothing to change this situation, as she believes that he loves her in spite of everything.
Louise, on the other hand, is an older woman in her forties and her outlook on life is much more open and fair. She works hard in a restaurant, has an informal relationship with her boyfriend (who is a musician) Jimmy, who is not looking for the commitment of marriage but who appreciates Louise very much. The latter decides to propose to Thelma the idea of a weekend trip out of town to escape for a moment from her obligations.
Thelma agrees with some misgivings, fearing that her husband will be angry with her but finally happy with the proposal. Thelma and Louise leave everything arranged at their homes so they can leave. And so they both set out on a road trip that will change their lives forever.
La trama de la película se produce en medio de una carretera y un par de amigas viajando en auto. Thelma es una joven mujer, ama de casa, que sostiene un matrimonio con Darryl, un hombre violento, machista y dominante. Thelma es sumisa y poco o nada hace para cambiar esta situación, pues cree que a pesar de todo él la quiere.
Por el contrario Louise es una mujer mayor, de cuarenta años y su visión sobre la vida es mucho más abierta y justa sobre las cosas. Trabaja duro en un restaurante, tiene una relación informal con su novio (qué es un músico) Jimmy, quién no busca el compromiso del matrimonio pero quién aprecia mucho a Louise. Esta última decide plantearle a Thelma la idea de un viaje de fin de semana fuera de la ciudad para escapar por un momento de sus obligaciones.
Thelma accede con un poco de recelo, por el miedo de que su esposo se enoje con ella pero finalmente feliz con la propuesta. Thelma y Louise dejan todo arreglado en sus hogares para poder partir. Y es así como ambas emprenden un viaje en carro que cambiará sus vidas para siempre.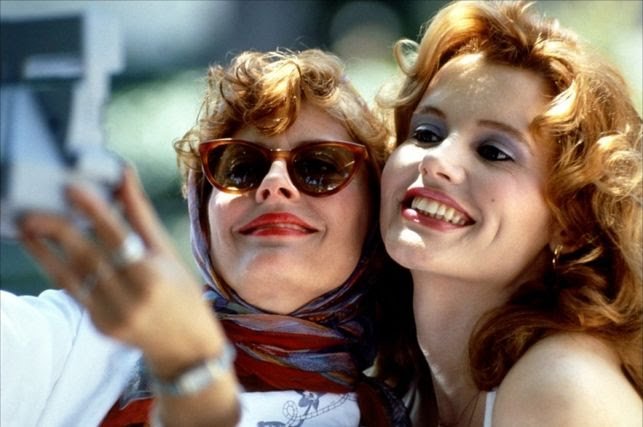 In the middle of the trip, they stop at an old bar where they decide to spend their first adventures dancing, chatting and drinking. So far so good, but things change when Louise notices that Thelma has had too much to drink and is about to leave with a man she was dancing with. The man takes Thelma to the parking lot and tries to molest her but Louise arrives to stop him. The man continues in his game, unwilling to stop and Louise pulls out a gun to finally shoot him. He drops dead.
Both very frightened and distressed by what has happened they debate on what to do about it. Thelma wants to call the police and explain what the man was doing (she had proof) but, Louise doesn't think so, she thinks they won't believe them because she was too drunk and most likely they won't do anything about it because 'sure Thelma provoked him'. They wouldn't believe that they were just trying to defend themselves against the man. So they decide not to go to the police and quickly escape to Mexico.
Louise contacts her boyfriend and asks him to send some money she had saved to the hotel where they were staying. They have a meeting, he asks her to commit and tells her that he will always be there for her. She rejects him under the circumstances. Then he leaves but, both friends meet a traveler who ends up messing with Thelma and steals all their money. Police investigations progress and they discover that Thelma and Louise are behind the death of the man in the bar.
En medio del viaje, paran en un viejo Bar dónde ambas deciden pasar sus primeras aventuras divirtiéndose bailando, charlando y tomando. Hasta aquí todo va bien, la cuestión cambiaría cuando Louise nota que Thelma ha tomado demasiado y se dispone a marcharse con un hombre con el que bailaba. El hombre lleva a Thelma hacia el estacionamiento e intenta abusar de ella pero Louise llega para impedirlo. El hombre sigue en su juego, no dispuesto a parar y Louise saca un arma para finalmente dispararle. Cae muerto.
Ambas muy asustadas y afligidas por lo sucedido se debaten en sobre qué deben hacer al respecto. Thelma quiere llamar a la policía y explicar lo que el hombre estaba haciendo (tenía pruebas) pero, Louise no piensa lo mismo, cree que no les creerán porque ella estaba muy bebida y lo más seguro es que no hagan nada al respecto porque 'seguro Thelma lo provocó'. No creerían que solo intentaban defenderse de aquel hombre. Por lo que deciden no recurrir a la policía y escapar rápidamente hacía México.
Louise contacta a su novio y le pide que le envié un dinero que había ahorrado hacia el hotel donde se alojaban. Tienen un encuentro, él le pide comprometerse y le dice que estará siempre para ella. Ella lo rechaza dadas las circunstancias. Luego se marcha pero, ambas amigas conocen a un viajero que termina por meterse con Thelma y roba todo el dinero de ellas. Las investigaciones policiales avanzan y descubren que Thelma y Louise están detrás de la muerte del hombre del bar.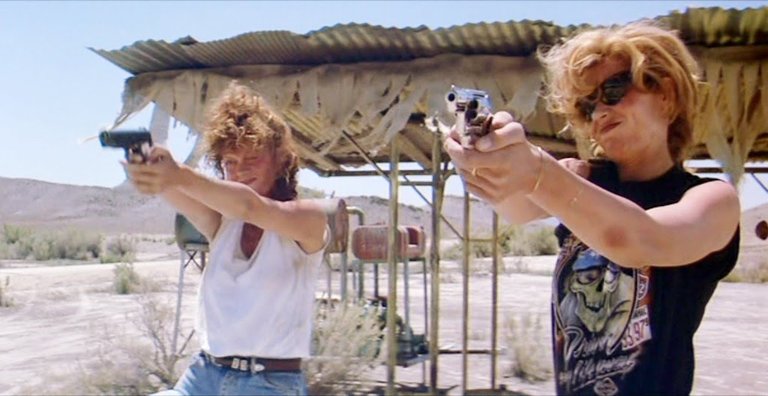 Things have changed. There is no turning back now. They must continue to Mexico at all costs because it is impossible for them to get out of this unscathed when they look like fugitives. Here, Louise confesses that she was abused by a man a few years ago and that is why she was not going to let the same thing happen to Thelma. More than ever, the friendship between the two grows into a sort of sisterhood and it's the two of them against the world.
They have a few more violent encounters. A policeman stops them for speeding, they attack him and lock him up. Then a truck driver seems to want to get out of line with them and you end up blowing up his truck. There's definitely no turning back now. They are not the same.
The police are on their heels. They are cornered when a series of police cars and helicopters appear in front of them. Thelma and Louise try to escape and do all sorts of things to avoid talking about what happened to the case officer who tells them he only wants to defend and help them. They ignore him and in the last scene, with no other way out, Thelma and Louise share glances in front of the only way out they had: a big cliff in front of the Grand Cayon. They speed up and we can only deduce that they both die.
Las cosas han cambiado. Ya no hay vuelta atrás. Deben seguir hasta México a toda costa pues es imposible que salgan ilesas de esto cuando lucen como unas fugitivos. Aquí, Louise confiesa que fue abusada por un hombre hace algunos años y por eso no iba a permitir que le sucediera lo mismo a Thelma. Más que nunca, la amistad entre las dos crece en una especie de hermandad y son las dos contra el mundo.
Tienen algunos encuentros violentos más. Un policía las para por exceso de velocidad, lo atacan y lo encierran. Luego un camionero parece querer pasarse de la raya con ellas y estás terminando explotando a balazos su camión. Definitivamente, ya no hay vuelta atrás. Ellas no son las mismas.
La policía les pisa los talones. Están se ven arrinconadas cuando una serie de patrullas y helicópteros policiales aparecen frente a ellas. Thelma y Louise tratan de escapar y hacen todo tipo de cosas al respecto para evitar hablar sobre lo sucedido con el oficial del caso quién les dice que solo quiere defenderlas y ayudarlas. Estás hacen caso omiso y en la última escena, sin más escapatoria, Thelma y Louise comparten miradas frente a la única salida que tenían: un gran precipicio frente al Gran Cayón. Aceleran y solo podemos deducir que ambas mueren.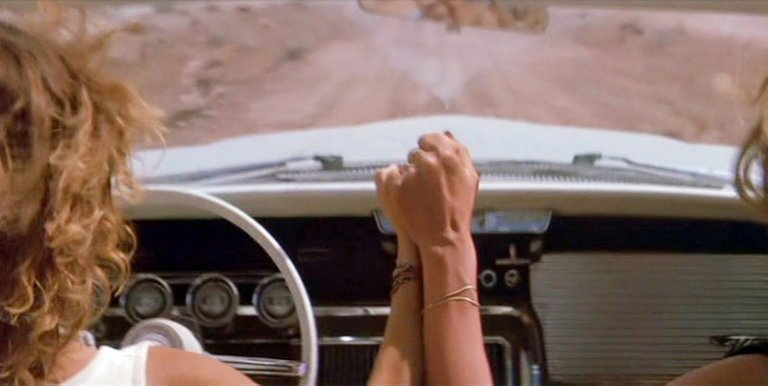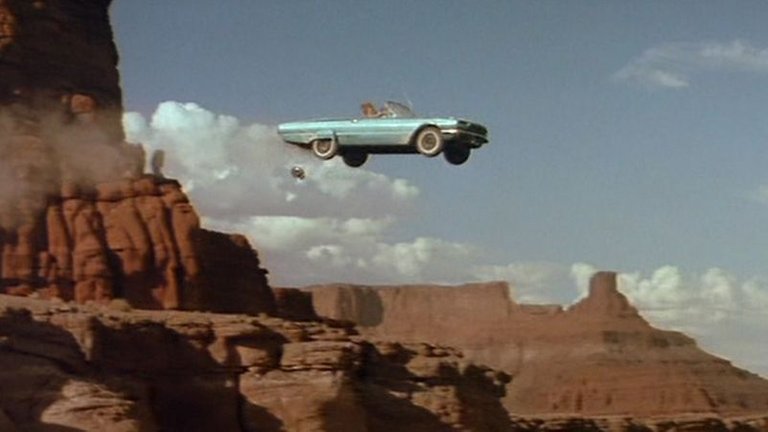 A strong film, full of a social demand in the face of violence against women and how little or nothing was done about such situations. The beautiful, strong and loyal friendship that exists throughout the plot between Thelma and Louise, touches and makes you feel it is true. How much we wish they could both be saved and never have gone through the tragedies that are pointed out in the film.
It is clear that it is a timeless film with a strong feminist charge. But without falling into extremism, I think that Thelma and Louise makes visible very real situations about abuse of power, domestic violence, sexual assault, injustice, among other things that make a victim can turn against those who corrupt her. A tough ending to watch and one that is hard to forget.
Without more to say (although we could talk for hours about this), I say goodbye and I hope you have the opportunity to see this gem of a film. I send you a big hug and thanks for stopping by. See you next time.
Una película fuerte, llena de una demanda social frente a la violencia contra la mujer y lo poco o nada que se hacía al respecto sobre dichas situaciones. La hermosa, fuerte y leal amistad que existe en toda la trama entre Thelma y Louise, conmueve y te hacen sentir que es verdadera. Lo mucho que quisiéramos que ambas pudieran salvarse y nunca haber pasado por las tragedias que se señalan en la película.
Queda claro que es una película atemporal y de una fuerte carga feminista. Pero sin caer en extremismos, creo que Thelma y Louise visibiliza situaciones muy reales sobre el abuso de poder, la violencia doméstica, las agresiones sexuales, la injusticia, entre otras cosas que hacen que una víctima pueda volverse contra aquellos que la corrompen. Un duro final de ver y que es difícil de olvidar.
Sin más que decir (aunque podríamos hablar por horas sobre esto), me despido y espero que tengan la oportunidad de poder ver esta joya de película. Les envío un fuerte abrazo y gracias por pasar por aqui. Nos vemos en la próxima.

---
---