Do you like or dislike cooking? 🍜🍽 ¿Te gusta o te disgusta cocinar?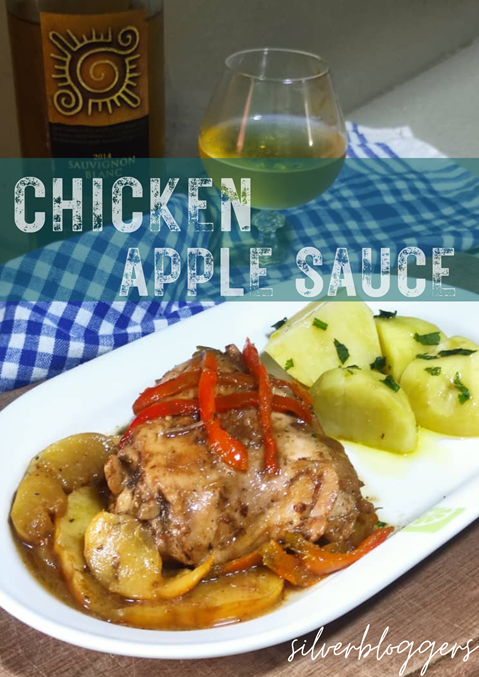 Do you like or dislike cooking?
This is a difficult question, not everyone likes to be in the kitchen, chopping seasonings, crying with the onion, washing utensils or in my case I like to cook but I do not like to serve.
At home I am always the one who cooks different things, I like to look for recipes on the internet and with them added to what I have in the fridge I develop recipes that have made my guests lick their fingers.
¿Te gusta o no te gusta cocinar?
Esta pregunta es difícil, no ha todo el mundo le gusta estar metidos en la cocina, picando aliños, llorando con la cebolla, lavando los utensilios o en mi caso que me gusta cocinar pero no me gusta servir.
En casa siempre soy la que cocino cosas distintas, me gusta buscar recetas en el internet y con ellas sumado a lo que tengo en la nevera desarrollo unas recetas que han hecho que mis comensales se chupen hasta los dedos.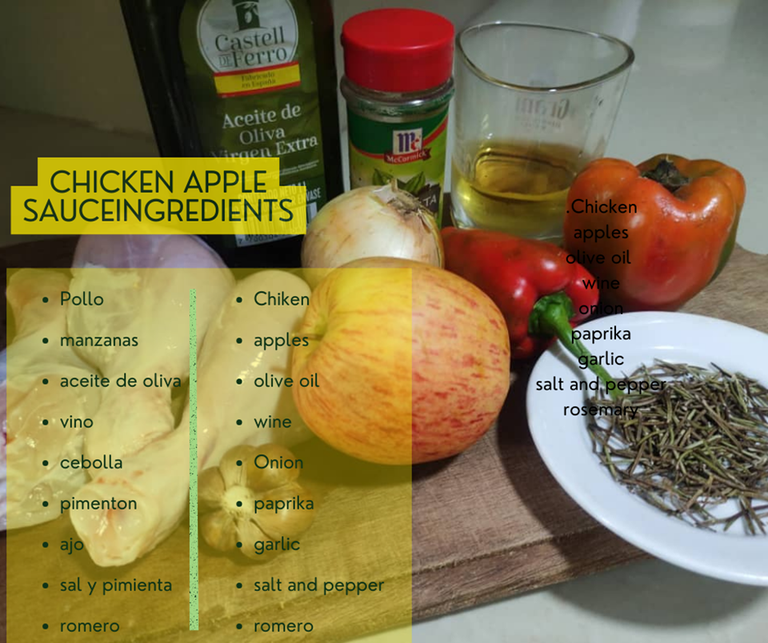 My passion for cooking comes from a very young age, since I used to walk around the kitchen watching my mom cooking for my dad and his employees. Or on Sundays when it was my sisters' cooking day and they would give me corn dough to make my mini arepas.
And what Venezuelan kid doesn't like to eat the dough while my mom cooks the arepas! Ufff! Too good!
Mi pasión por la cocina viene desde muy chica, desde que me paseaba por la cocina viendo a mi mama cocinar para mi papa y sus empleados. O los domingos que era el día de cocinar a mis hermanas y me daban masa de maíz para que me hiciera mis mini arepas.
¡Y que niño venezolano no le gusta comerse la masa mientras mamá cocina las arepas! ¡Ufff! ¡Demasiado rico!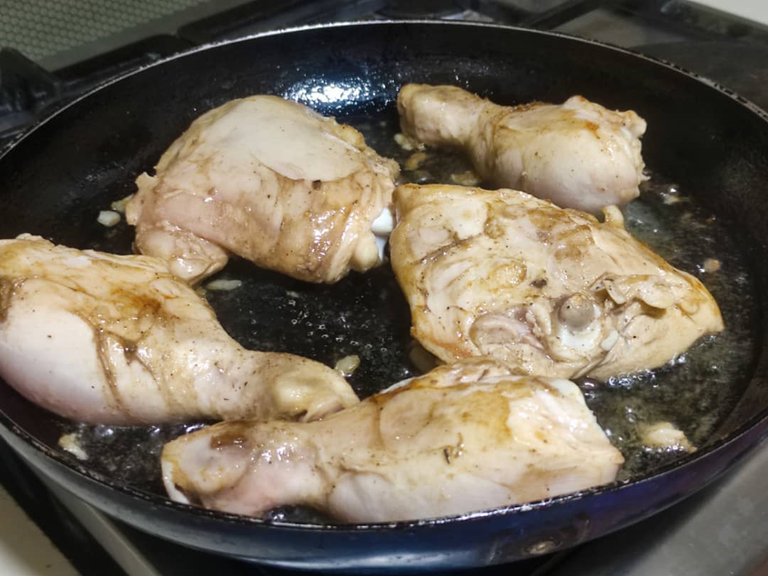 But it wasn't until I was 7 or 8 years old that I had my first beginnings in the kitchen, which by the way, were not good at all! Everything burned and at that time there was no cell phone, but there was already a television; so I would run out to take down the rice and if there was no one at home I would go to the chicken pen and throw everything at them to make the evidence disappear and I would make a new rice.
Pero solo fue hasta los 7 u 8 años que tengo mis primeros inicios en la cocina ¡que por cierto! ¡No son nada buenos! Todo se me quemaba y en ese tiempo no había celular, pero ya había televisión; así que salía corriendo a bajar el arroz y si no había nadie en casa iba al corral de las gallinas les tiraba todo aquello para desaparecer la evidencia y montaba un arroz nuevo.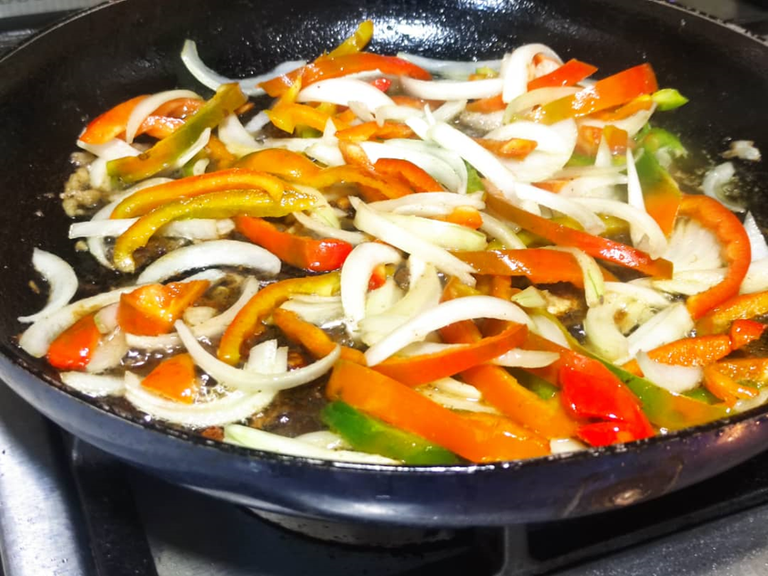 My mother and grandmothers were very good cooks and the best of all was that they made a lot of soups and salads, so thanks to them vegetables have been on my plates all my life.
My mother's specialty is pea or bean soup, every time I travel to her house I can't help but ask her to please make it for me, so I buy everything and together we start cooking and talking about topics from the past that we love.
Mi mama y mis abuelas eran muy buenas cocinando y lo mejor de todo era que hacían muchas sopas y ensaladas, por eso gracias a ellas los vegetales han estado servidos en mis platos toda a vida.
La especialidad de mi madre es la sopa de arveja o frijol, cada vez que viajo a su casa no puedo evitar pedirle que por favor me la haga, así que le compro todo y entre juntas nos ponemos a cocinar y a conversar temas del pasado que nos encantan.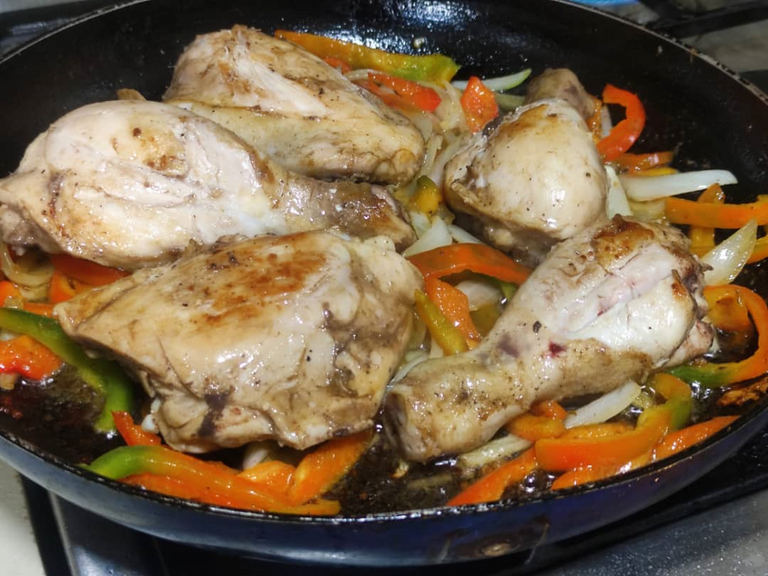 Little by little I had other teachers in the kitchen, from each of them I absorbed the good and discarded the bad. Now I remember recipes that even in my life I have not been able to replicate as is the case of the suspiros, a sweet recipe that is made with sugar and is supposed to rise in the oven like a cake and be fluffy; once I tried to make them and they just came out of the oven like rocks that were impossible to eat. I also remember my friend Estela's tuna pasta, the tastiest in the world, only she knows how to make it.
Poco a poco tuve otras maestras en la cocina, de cada una de ellas absorbí lo bueno y deseche lo malo. Ahora recuerdo recetas que aun en mi vida no he podido replicar como es el caso de los suspiros, una receta dulce que va hecha a base de azúcar y se supone que en el horno deben subir como una torta y quedar esponjosos; una vez los intenté hacer y solo salieron unas rocas del horno imposible de comer. También recuerdo la pasta de atún de mi amiga Estela, la más sabrosa de este mundo, solo ella la sabe hacer.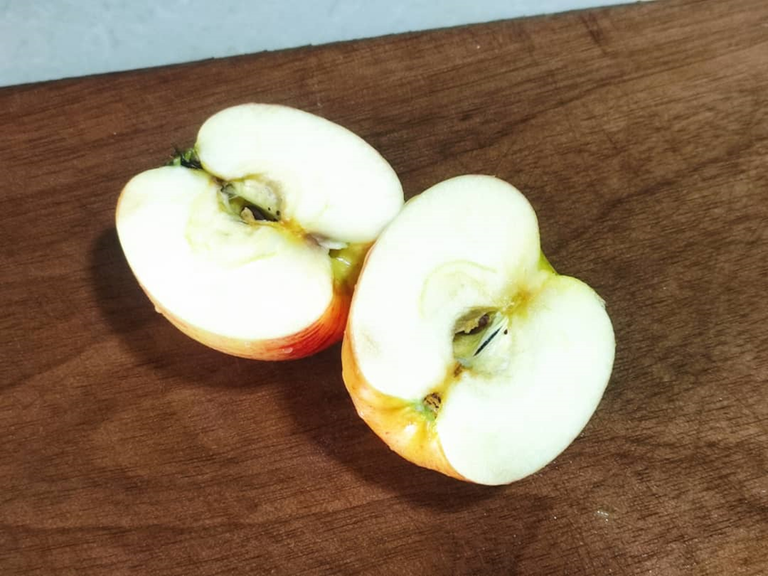 But I wasn't like that all my life... Noooo! Then I polished myself and learned more and more.
I like my dishes to burst with flavor and color. I like to have ingredients of all kinds in my kitchen, this is something that helps a lot and actually they are not very expensive. I remember that before I considered olive oil a luxury but then I started buying it and although it still costs an arm and a leg, I only use it in recipes like the ones I present today and of course it can't be missing in my salads. Another ingredient that I had never used before and that has become a habit to have and use is oyster sauce, which I use in oriental recipes.
¡Ah! Pero no fui así toda la vida ¡Nooo! Luego fui puliéndome y aprendiendo más y más.
Me gusta que en mis platos estalle el sabor y también el color. Me gusta tener ingredientes de todo tipo en mi cocina, esto es algo que ayuda mucho y en realidad no son muy costosos. Recuerdo que antes consideraba que tener aceite de oliva era un lujo pero luego la fui comprando y aunque sigue costando un ojo de la cara solo la utilizo en recetas como las que hoy les presento y por supuesto no puede faltar en mis ensaladas. Otro ingrediente que jamás había usado y que ya se ha vuelto costumbre tenerlo y usarlo es la salsa de ostras, el cual utilizo en las recetas orientales.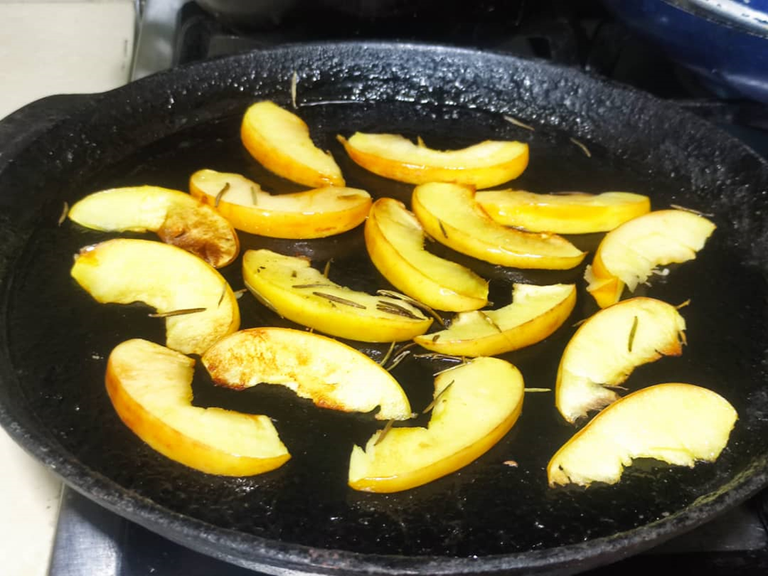 Little by little I passed on this passion to my children, both of whom like to cook and replicate old recipes or make their own inventions. But I will tell you about this chapter another time, maybe with a recipe from Fabian or Israel.
Before I go I have to tell you of course about this recipe that you see in my post, it is a chicken in apple sauce, as I told you before I like to invent, to combine new flavors to see how they turn out.
The chicken with apple has a mild flavor, delicious, it is not the dish of the year, but I liked making it, plus it is very fast and nothing complicated.
Poco a poco fui transmitiendo esta pasión a mis hijos, a ambos les gusta cocinar y replicar recetas viejas o hacer sus propios inventos. Pero este capítulo se los contaré en otra oportunidad, tal vez con alguna receta de Fabián o Israel.
Antes de irme les tengo que hablar por supuesto de esta receta que ven en mi post, se trata de un pollo en salsa de manzana, como les dije antes me gusta inventar, combinar sabores nuevos para ver que tal quedan.
El pollo con manzana tiene un sabor suave, delicioso, no es el platillo del año, pero me gustó hacerlo, además que es muy rápido y nada complicado.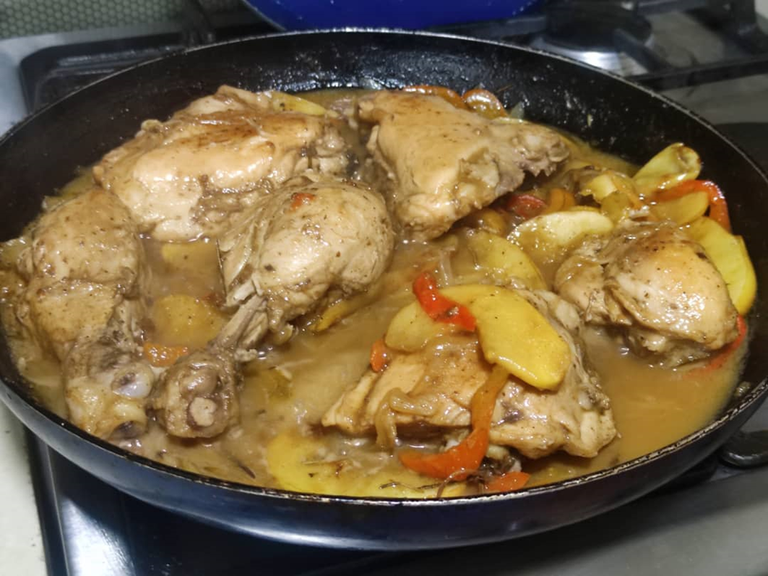 How to prepare it:
The first thing we do is clean the chicken well, we wash it for a few minutes with vinegar to remove any impurities it may have. Then we season it with garlic, salt and pepper.

We fry it on both sides and while we are frying we can chop the onion and the paprika.
Modo de prepararlo:
Lo primero que hacemos es limpiar bien el pollo, lo lavamos unos minutos con vinagre para eliminar las impurezas que pueda tener. Luego lo aliñamos con ajo, sal, pimienta.
Lo sofreímos por ambos lados y mientras vamos sofriendo podemos ir picando la cebolla y el pimentón.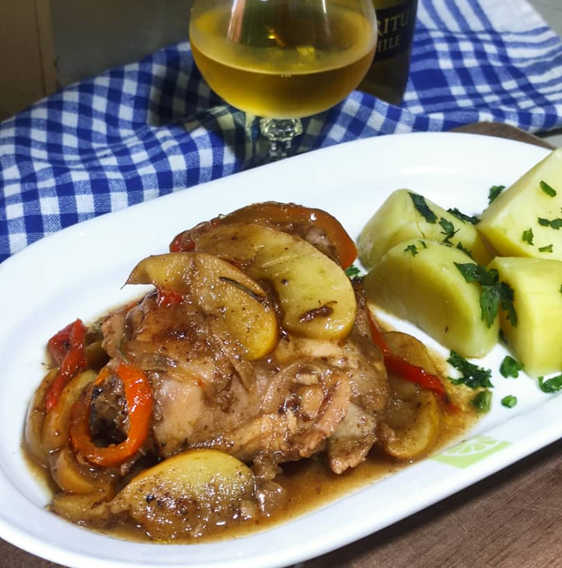 We take the chicken out of the pan and in the same oil we fry the onion and the paprika, season with whatever you have in the kitchen, then add the chicken, cover it so that the steam cooks it for a few minutes.

I thought that chopping the apple and giving it that roasted touch would enhance the flavor even more when it was added to the chicken, so I did it and then added it to the chicken with a cup of white wine. I added salt and pepper, added rosemary and let it cook for a few more minutes.
Sacamos el pollo del sartén y en ese mismo aceite sofreímos la cebolla y el pimentón, sazonamos con lo que tengas en la cocina, luego añadimos el pollo, lo tapamos para que el mismo vapor lo vaya cocinando por unos minutos.
Pensé que picar la manzana y darle ese toque asado potenciaría aún más el sabor al momento de unirlo con el pollo, lo hice y luego lo añadí al pollo con una taza de vino blanco. Retocamos la sal y la pimienta, colocamos romero y dejamos cocinar unos cuantos minutos más.

Basically this is what I did, but as they say in the recipe books, everyone can add their own touch.
I hope you liked my presentation and that you continue cooking, maybe someday this will awaken your hidden passion for gastronomy.
Básicamente esto fue lo que hice, pero como dicen en los libros de receta, cada quien puede darle su propio toque.
Espero que les haya gustado mi presentación y que sigan cocinando, tal vez algún día esto les despierte su pasión escondida por la gastronomía.

---
"Lo que hagas hoy puede mejorar el resto de tu mañana".
Ralph Marston.
---

Imágenes tomadas con mi cámara celular Redmi Poco X3/ https://www.deepl.com/es/translator, separadores https://fondosdepantallaymuchomas.wordpress.com/
---
---