Pastelitos andinos "Sabor y tradición de Venezuela" 😋 Andean pastries "Flavor and tradition of Venezuela"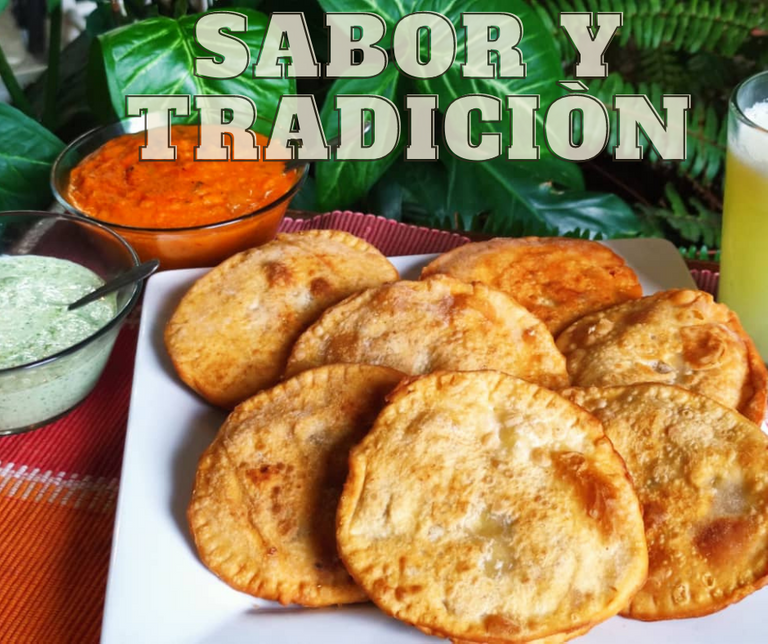 Venezuela es un país de sabor y tradición, cada rincón posee su propia cultura gastronómica y jamás ninguna se parecerá a la otra. Si te vas a tierra andina solo conseguirás frio y montaña, por tanto su comidas son muy calientes, desde el famoso calentadito que no es más que miche (Licor sacado de la caña de azúcar) con hierbas que al tomarlo de inmediato se te enciende la sangre y se te ponen rojas las orejas; también el café, el chocolate, la pisca andina o la famosa sopa de arveja. Mmmmmm, se me hizo agua la boca de solo pensar.
Venezuela is a country of flavor and tradition, each corner has its own gastronomic culture and none will ever resemble the other. If you go to Andean land you will only get cold and mountains, therefore their food is very hot, from the famous "calentadito" which is nothing more than miche (liquor made from sugar cane) with herbs that when you drink it immediately your blood lights up and your ears turn red; also coffee, chocolate, Andean pisca or the famous pea soup. Mmmmmm, my mouth is watering just thinking about it.

En cambio si te vas al norte del país, solo puedes conseguir mar y por tanto todo el mundo sale a pescar. En sitios como Margarita o Punto fijo comen pescado frito desayuno, almuerzo, cena y nadie se cansa de comerlo jamás. Más hacia el oriente del país también comen pescado pero tienden a perfeccionar más las recetas, es el caso del famoso pastel de chucho, también recetas con mariscos, o dulces con el chocolate venezolano. Cuando vamos al llano, solo podemos pensar en carne y nada más carne. El llano es el principal productor de carne de ganado en Venezuela y por tanto no hay fiesta sin una rica carne en vara.
On the other hand, if you go to the north of the country, you can only get sea and therefore everyone goes fishing. In places like Margarita or Punto fijo they eat fried fish for breakfast, lunch, dinner and nobody ever gets tired of eating it. Further to the east of the country they also eat fish but they tend to perfect the recipes more, this is the case of the famous pastel de chucho, also recipes with seafood, or sweets with Venezuelan chocolate. When we go to the plains, we can only think of meat and nothing but meat. The llano is the main producer of cattle meat in Venezuela and therefore there is no party without a delicious beef on a stick.

Hacia el centro o la capital del país solo saben comer arepa y pan. AHHHH! pero no son arepas cualquiera, de aquí es donde nace la famosa reina pepeada, la rellena de carne mechada (Peluda) o la de chicharrón. Los panes no tienen comparación, llevan relleno de todo, desde lechuga, tomate, chorizo, carne y salsas por montón.
Towards the center or the capital of the country they only know how to eat arepas and bread. AHHHH! but they are not just any arepas, this is where the famous reina pepeada, the one filled with mechada meat (Peluda) or the one with chicharrón (pork rinds) is born. The breads have no comparison, they are filled with everything from lettuce, tomato, chorizo, meat and sauces galore.
---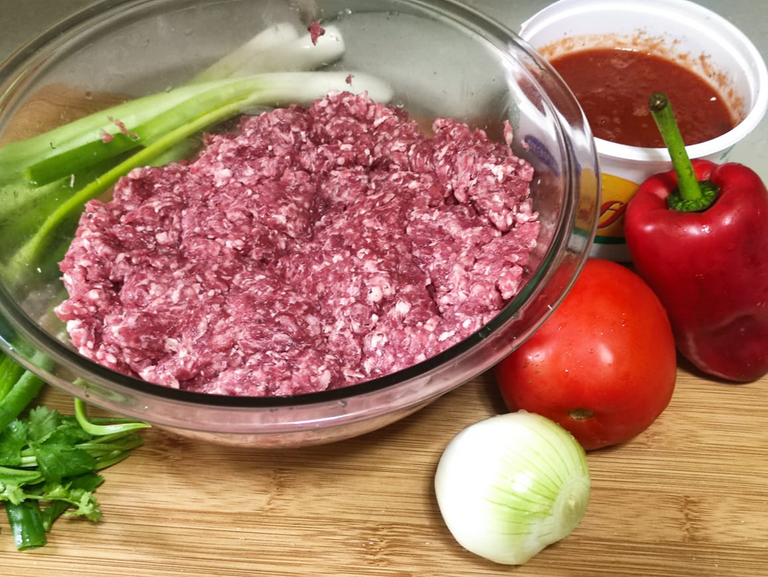 Hoy quiero hablarles de los famosos pastelitos andinos, receta tradicional del Estado Táchira y Mérida. ¡Como estos no hay nada igual! Es imposible visitar esta tierra y no comerse por lo menos unos 5 o hasta 10 pasteles, acompañados con un rico jugo o malta.
Today I want to tell you about the famous Andean pastries, a traditional recipe from the State of Táchira and Mérida. There is nothing like them! It is impossible to visit this land and not eat at least 5 or even 10 cakes, accompanied with a delicious juice or malt.
---
Ambos estados son 100 % turísticos es por eso que ir de visita y no comerlos es imperdonable, es como haber ido a México y no haberte comido un taco o tomado un tequila.
Both states are 100% touristy, that's why visiting and not eating them is unforgivable, it's like going to Mexico and not eating a taco or drinking a tequila.

Yo tengo recuerdo de estos pasteles en cada etapa de mi vida; en casa mi mamá los hacía para la venta y al medio día si quedaba alguno nos lo comíamos con inmenso gusto, si iba a casa de mi amiga Teresa los fines de semana su mamá era la que vendía, eran distintos porque estaban hechos con sardina, pero el guiso que le hacían era increíble y por eso resaltaba en sabor. Ah! pero también los vendían y siguen vendiendo en cada rincón, en cada parada de autobús, en cada cantina de escuela. Hoy en día cada vez que vamos a nuestro terruño nos dirigimos al mercado y allá nos sentamos a comer pasteles de carne acompañado con avena o masato.
I have memories of these cakes at every stage of my life; at home my mom made them for sale and at noon if there were any left we ate them with immense pleasure, if I went to my friend Teresa's house on weekends her mom was the one who sold them, they were different because they were made with sardines, but the stew they made was incredible and that's why the flavor stood out. Ah! but they also sold and continue to sell them in every corner, at every bus stop, in every school canteen. Nowadays every time we go to our homeland we go to the market and there we sit down to eat meat pies with oatmeal or masato.
---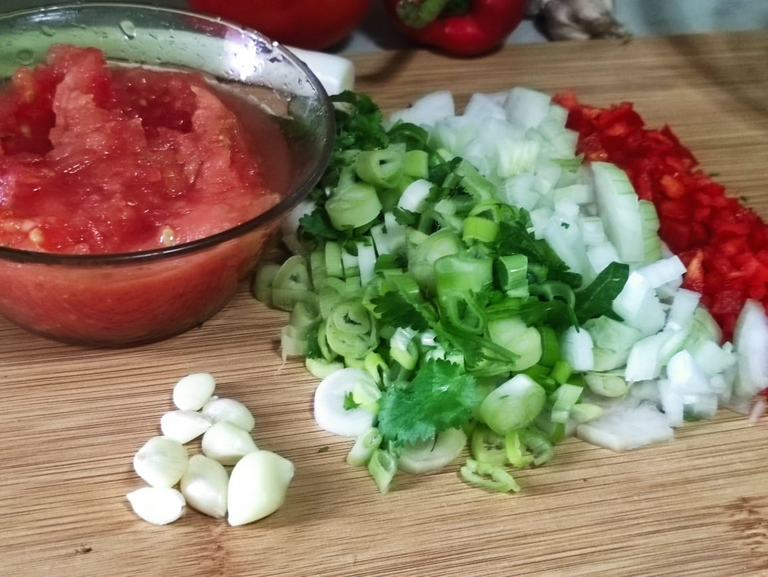 Preparar la carne molida es muy fácil, a esta salsa picada le puedes colocar tomate, cebolla, cebollín, pimentón, ajo y ají.
Preparing the ground beef is very easy, you can add tomato, onion, chives, paprika, garlic and chili to this minced sauce.
---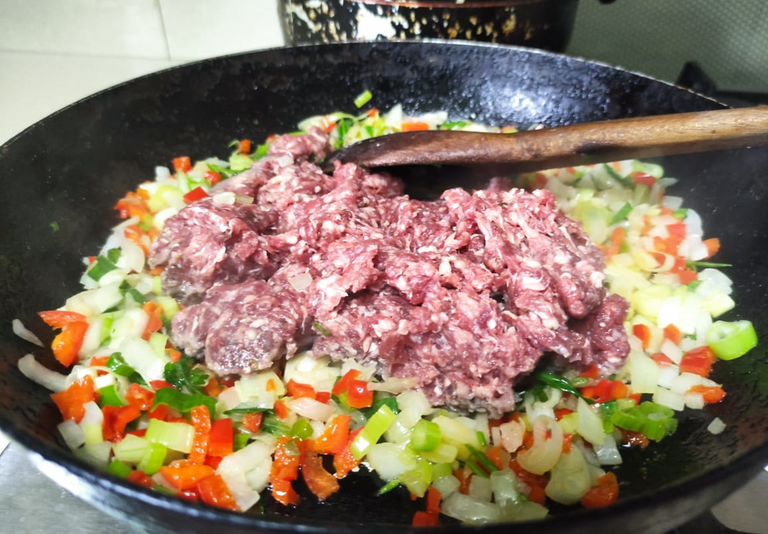 Cuando tenemos todo picado lo ponemos a sofreír, primero calentamos el aceite de onoto o aceite de color, añadimos primero la cebolla, el ajo y el cebollín, sofreímos unos minutos y añadimos el pimentón y el ají, agregamos la carne y por último la carne, removemos muy bien y condimentamos con adobo y orégano, sal y pimienta. Añadimos un poco de caldo de carne o pollo si tienes, sino agua y dejamos cocinar por unos 20 minutos, hasta que quede sin mucho líquido.
When we have everything chopped we put it to fry, first we heat the onoto oil or colored oil, first add the onion, garlic and chives, fry for a few minutes and add the paprika and chili, add the meat and finally the meat, stir well and season with adobo and oregano, salt and pepper. Add a little meat or chicken broth if you have it, if not, add water and let it cook for about 20 minutes, until it is without much liquid.
---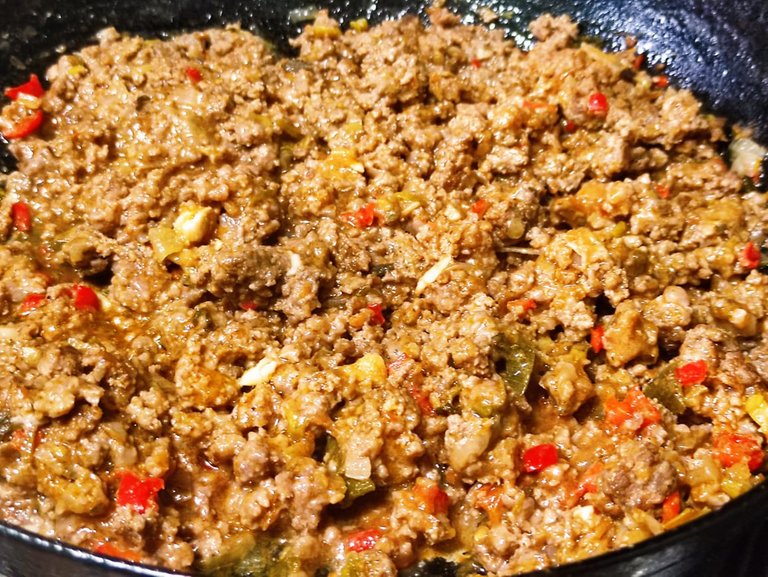 Mientras la carne cocina ponemos el arroz con un poquito de sal, que quede bien suelta así que trata d en ponerle mucha agua. Si tienes arroz hecho en la nevera es ideal, porque este tiende a estar más duro de lo normal. También ponemos a cocinar dos huevos.
While the meat is cooking we put the rice with a little bit of salt, it should be very loose so try to add a lot of water. If you have rice in the fridge it is ideal, because it tends to be harder than normal. We also cook two eggs.
---



En un bol colocamos medio kilo de harina de trigo, abrimos un hueco en medio de la harina y ahí agregamos una pisca de sal y una cucharada de azúcar, 300 cc de agua y media taza de aceite. Amasamos por un rato con una paleta o tus propias manos. Cuando ya se integran bien los ingredientes. Colocamos la masa en un mesón limpio y amasamos por unos minutos hasta que no se te pegue en las manos, colocamos en una taza y tapamos por un rato. Esta masa no tiene aumentar ni nada, así que no te ajustes si ves que ocurre esto.
In a bowl place half a kilo of wheat flour, open a hole in the middle of the flour and add a pinch of salt and a spoonful of sugar, 300 cc of water and half a cup of oil. Knead for a while with a paddle or your own hands. When the ingredients are well integrated. Place the dough on a clean counter and knead for a few minutes until it does not stick to your hands, place in a bowl and cover for a while. This dough does not rise or anything, so do not adjust if you see this happen.
---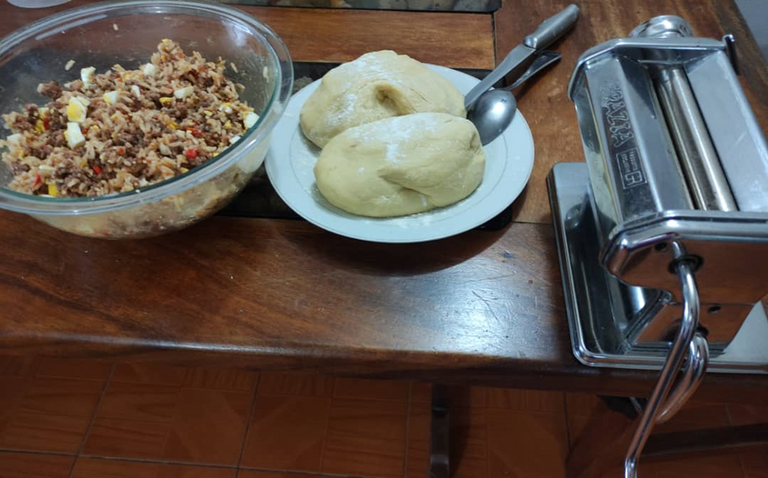 Cuando ya tenemos la carne lista, unimos con una cantidad adecuada de arroz y el huevo duro picado en cuadritos. Revolvemos y llevamos todo a la mesa para empezar a organizar.
When we have the meat ready, we add an adequate amount of rice and the diced hard boiled egg. Stir and take everything to the table to start organizing.
---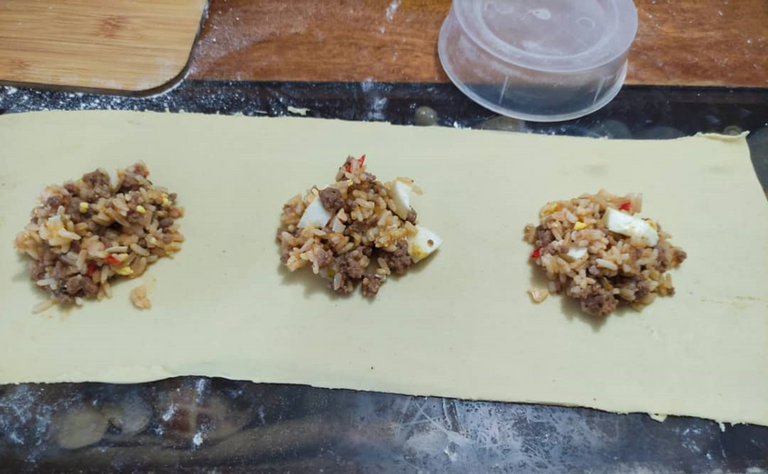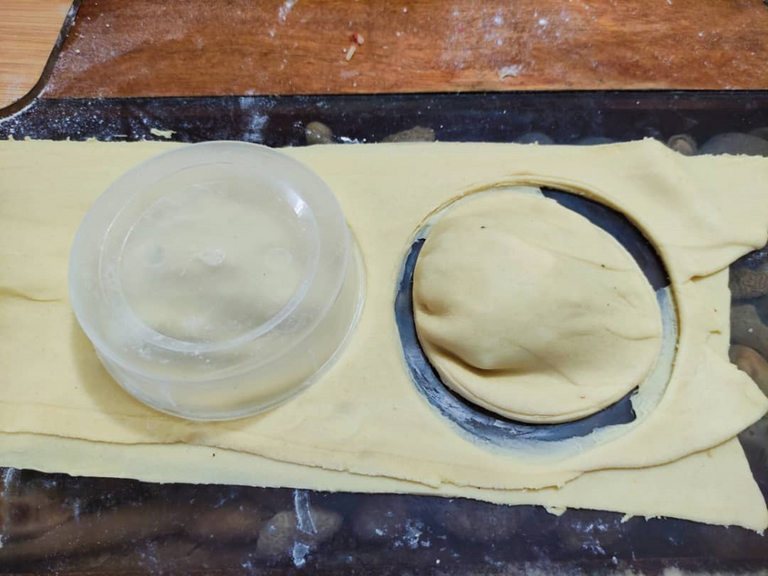 Gracias a Dios yo cuento con la máquina para extender la masa, pero sino la tienes puedes hacerlo con el famoso rodillo o una botella hasta que quede bien finita. Luego colocamos el relleno, extendemos otra capa de masa y cortamos con una medida adecuada, luego retiramos el excedente. Por ultimo sellamos la orilla con un tenedor.
Thank God I have a machine to roll out the dough, but if you don't, you can do it with the famous rolling pin or a bottle until it is very thin. Then we place the filling, extend another layer of dough and cut with a suitable measure, then remove the excess. Finally we seal the edge with a fork.
---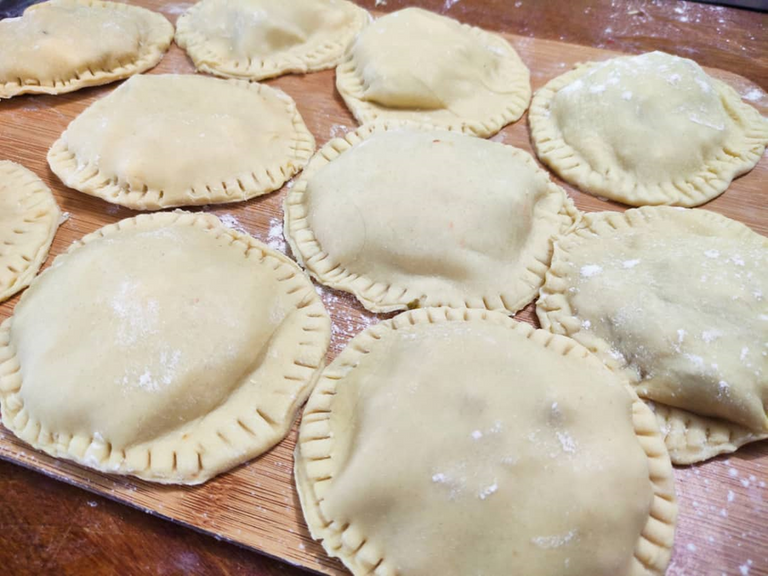 Amigos, yo les muestro la típica receta de las abuelas, la que ha pasado de generación en generación, desde que tengo uso de razón hemos hecho los pasteles así. Sé que hoy en día existen otros procedimientos, pero definitivamente no debemos dejar perder nuestras sanas y maravillosas costumbres.
Friends, I show you the typical recipe of the grandmothers, the one that has passed from generation to generation, since I can remember we have made the cakes like this. I know that nowadays there are other procedures, but we definitely should not lose our healthy and wonderful customs.
---
Luego de unos días en que tenía tantas ganas de comer estos pasteles y consentir con ellos a mi familia por fin puedo decir ¡Misión cumplida!
After a few days in which I wanted so much to eat these cakes and spoil my family with them, I can finally say Mission accomplished!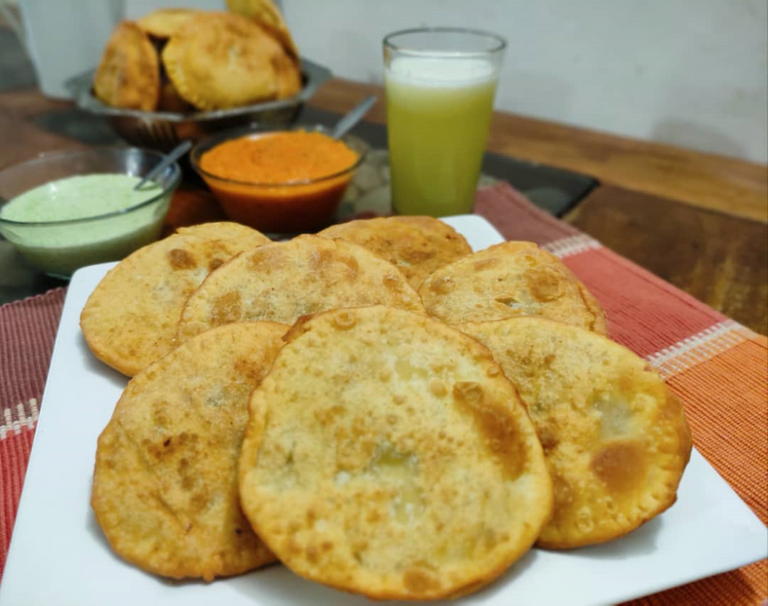 Yo soy de las personas que siento un profundo amor por la comida, ella y yo tenemos una hermosa relación, creo que pronto estaré contándoles más sobre este sentimiento que ha cambiado mi vida y me ha hecho ver la cocina de otra manera.
I am one of those people who feel a deep love for food, she and I have a beautiful relationship, I think soon I will be telling you more about this feeling that has changed my life and has made me see the kitchen in a different way.
---

Sé que muchos dirán que esto tiene mucho trabajo, pero si lo hacen como lo hacíamos y lo seguimos haciendo en casa de mi madre no hay problema. Mientras unos hacen los pasteles, otros sofríen, otros preparan ricas salsas y terminamos todos alrededor de la mesa, comiendo, riendo, disfrutando de nuestras historias de toda la vida.
I know many will say that this is a lot of work, but if you do it the way we used to do it and still do it at my mother's house there is no problem. While some make the cakes, others fry, others prepare delicious sauces and we all end up around the table, eating, laughing, enjoying our stories of a lifetime.
---

Recordar es vivir y que bueno es ponerle ¡sabor a la vida!
---
To remember is to live, and how good it is to add flavor to life!
---
---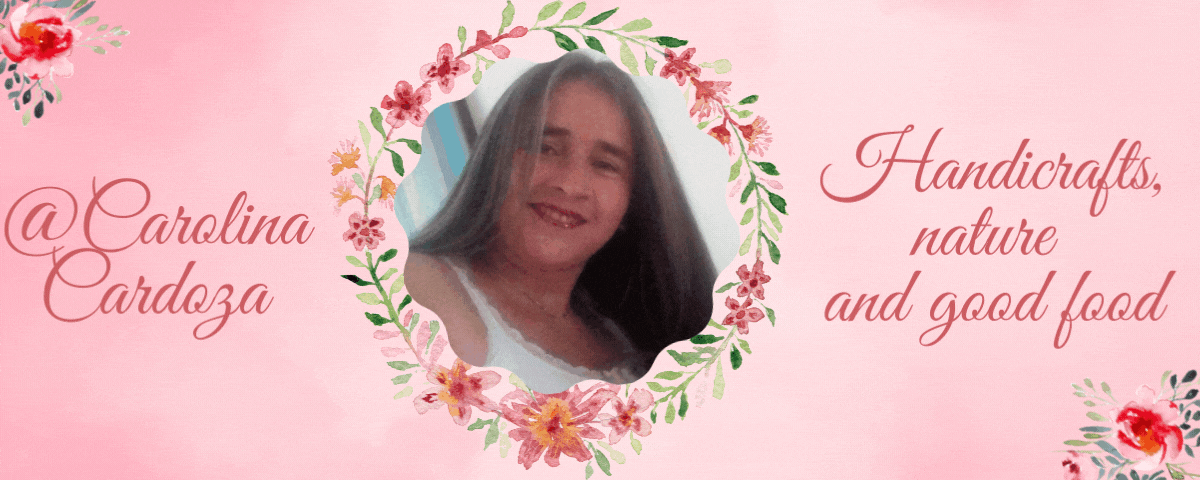 Imágenes tomadas con mi cámara celular Redmi Poco X3/ https://www.deepl.com/es/translator, imagenes editadas usando la aplicación de diseños Canva
---
---