Stories of a seamstress. "behind the scenes of a beautiful job". 😃✂️ Historias de una costurera. "tras cámara de un lindo trabajo"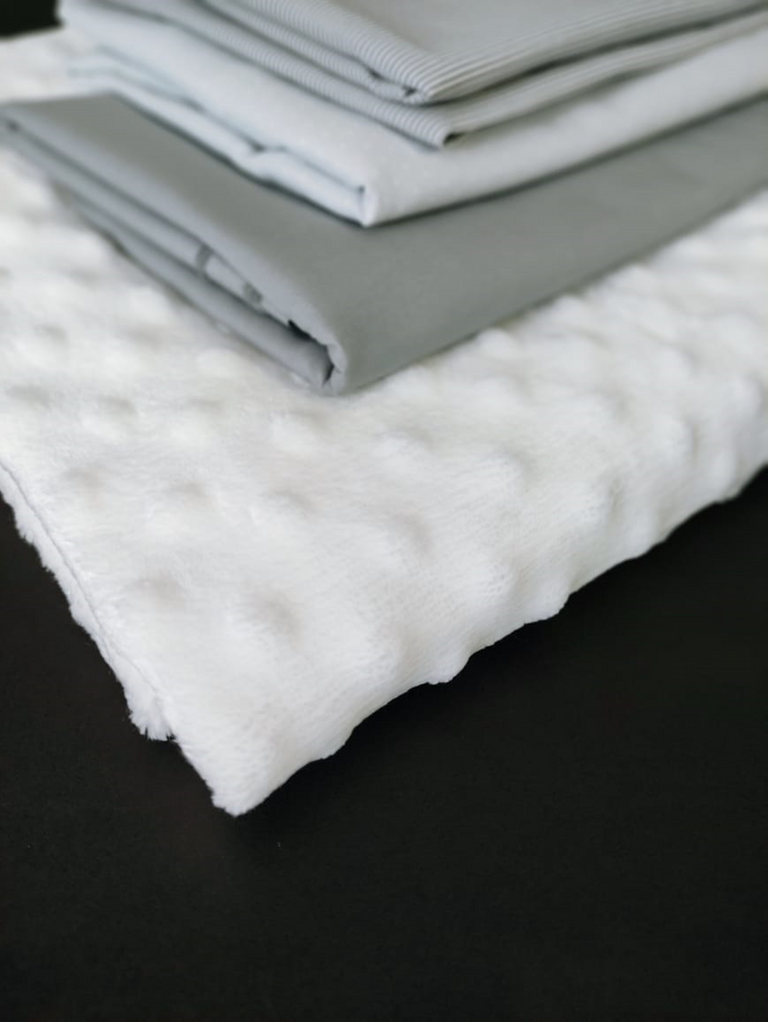 Warm greetings to all my dear friends in the #Needleworkmonday community; the days are flying by and we can't do everything we want to do. I wish I could work on my crafting, attend to my clients, post everyday on Hive, attend to my friends and spoil my family, but try as I might I can't do it all. I know many are just like me and will understand.
This weekend I tried to attend to everything and everyone and I was as sincere as possible, I spent some time with everyone and everything, maybe there was no quantity, but I can assure you that there was quality. Yesterday I felt happy, I woke up with my batteries recharged and continued my project with dedication and delicacy.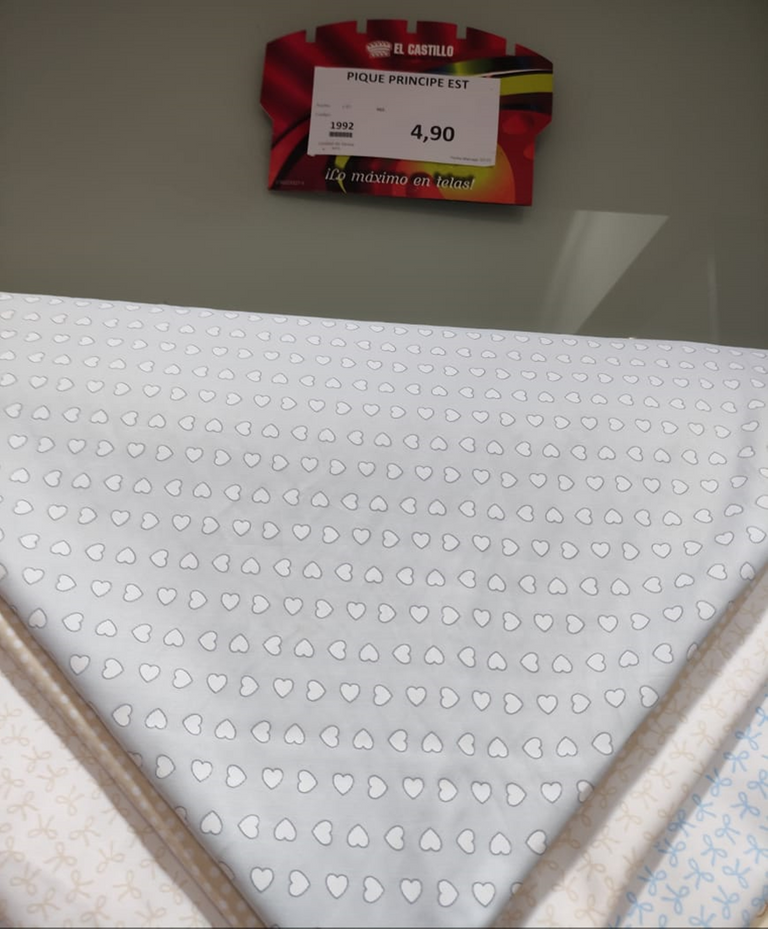 About a month ago my friend Lucia visited me, she is not only my good friend but also one of the best clients I have ever had. She is one of those people who trusts you and your work and leaves everything in your hands because as she always tells me "You always do things right" that phrase raises my self-esteem and inspires me to put 200% to my work. And who will not feel confident in what they do with these nice compliments? I wish more people would value what you do, no matter how small it is.
Lucia asked me to make many things for a niece who is pregnant and will give birth in July with God's favor and blessing. It will be a boy and his name is Liam. We were already on the right track because I love that name. That day we agreed that the range of colors they wanted for the trousseau was in gray tones. She also ordered me more bucheros but in other more cheerful tones and with little cross stitch embroidered dolls.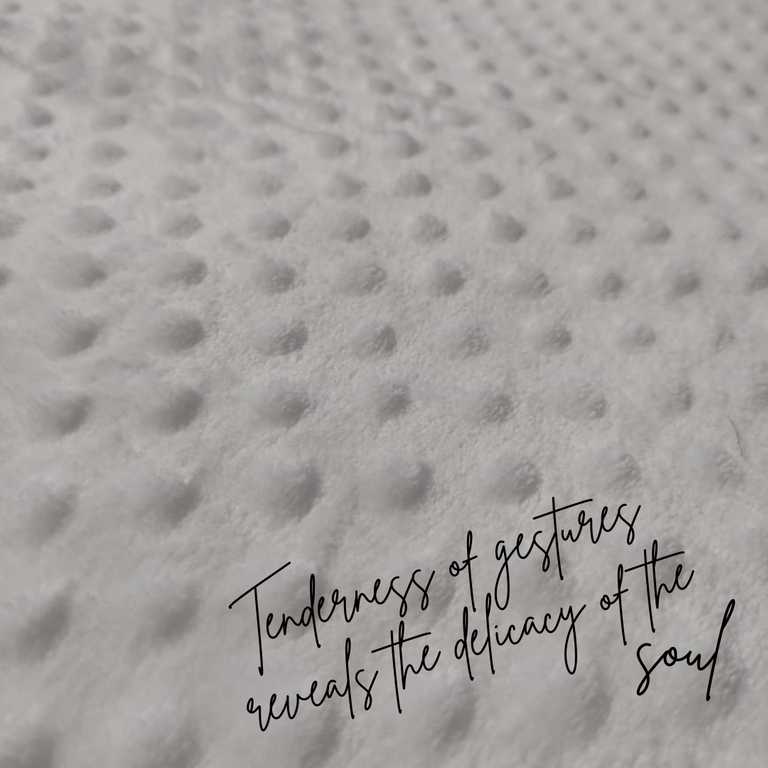 Everything started very well, I remember that a month ago I went out looking for the best fabrics to combine so I could make something beautiful without price limit; I had in mind the fabric Volver bubble, it is a new fabric in the market and everyone is using it to create things at home, especially for babies. The back is soft, warm and stands out in any piece you put it on.
With these ideas in mind I went out that first Saturday to visit the different stores, the first one I visited was the biggest of all "The Castle" but I could not believe that they had all the colors of the back bubble except white; I did not give up, I kept looking; I had to get first of all that fabric to then be able to buy the others, otherwise I had to completely change the design. My eternal shopping companion took me all over Caracas, but that day we came home with nothing in our hands.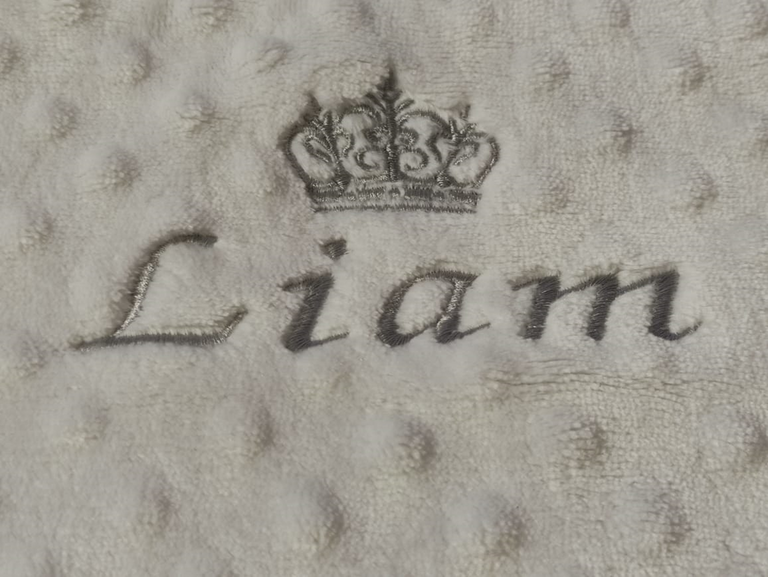 The following Saturday we went again, but with the idea of visiting small stores where maybe I could get the main fabric. Luckily and after visiting about 3 stores I was finally able to get what I wanted so much, the fabric back bubble in white. Happy and hopping on one foot I went to the Castle where I was able to buy the other fabrics to match. Doing this is not easy for me, as I have told you before I am a bit of a perfectionist and when I want something I am full of patience until I get it, luckily for me Lucia was not in a hurry and that gave me encouragement. The other fabric that caused me panic at some point was the striped fabric to combine, as much as I looked for it I could not get it, I wanted a wider striped fabric but here I had to settle for this one you see in the picture.
In the market there is everything, there are really a thousand things to choose from, if you don't like stripes, there are hearts, if you don't like hearts there are stars or dots. After 3 Saturdays I had my fabric cut complete, plus the wadding, embroidery fabrics, cloth fabric, threads, fishing lines and the stuffing for the cushion.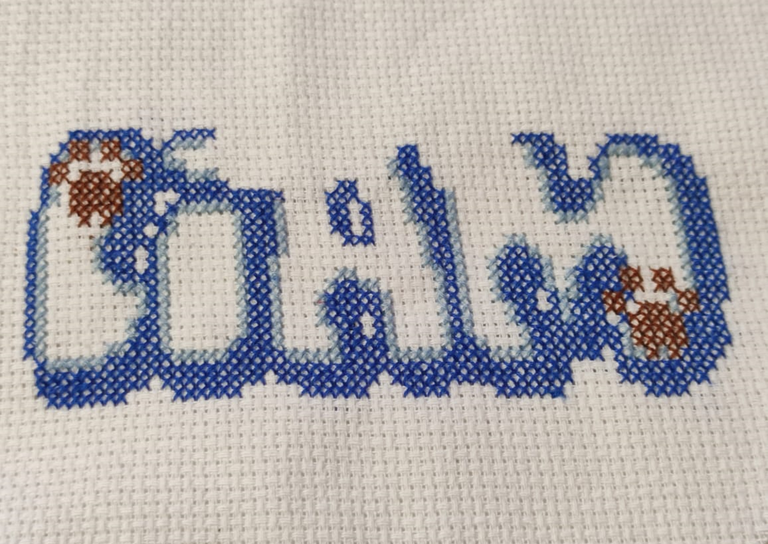 Many of you know that my cervical has not given me any problems this year, so sometimes it's hard for me to do everything I want to do because I have to rest. So this project I decided to do industrial embroidery, which is also very beautiful. Knowing beforehand that I wanted this type of embroidery was that I selected the fabric to return. For those who are interested in the cost of embroidery I tell you that it costs $2 if you have more than 6 pieces to embroider, otherwise it costs $2.50. Also if you are interested in doing this type of work I tell you that you must do it in advance because it takes 2 to 3 days to deliver it. If you want a specific design you should send it to them by whatsapp or take it on a flash drive to download it.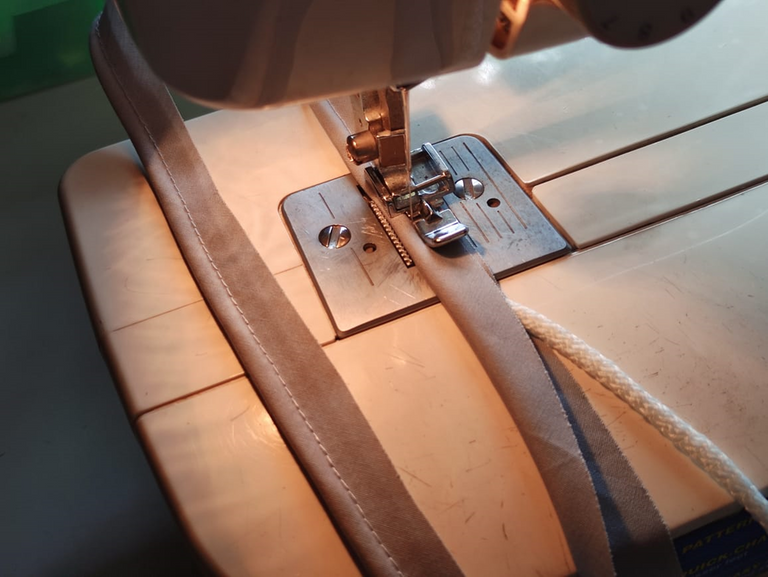 I had never done this before, but seeing the result I feel happy, since I got beauty and rest for my cervical. We should not reject industrial things, they are there for a reason and provide support when you need it most.
AHHH! but I also did my embroidery in cross stitch, don't think I'm going to leave my embroidery outside, I still like handmade things and as long as God gives me health I will continue doing them.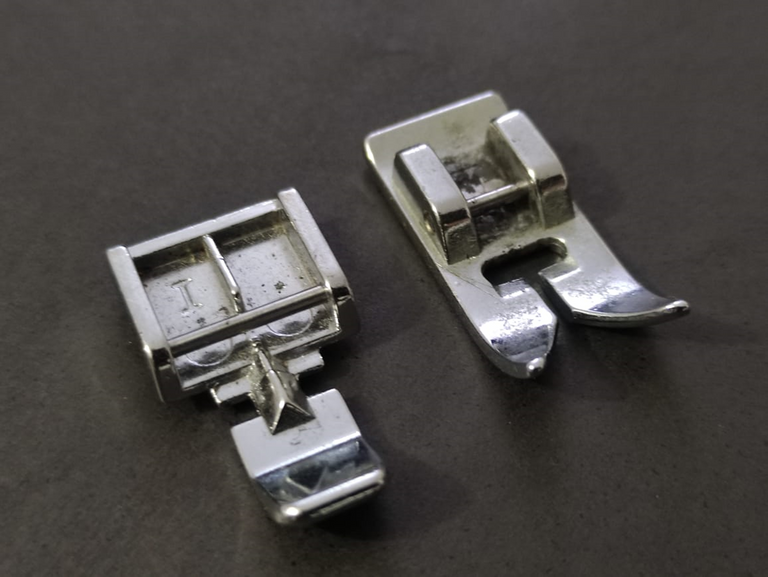 To take the fabric to be embroidered it is important to know where and how you want the embroidery to look on the fabric, the size, color and type of letter or drawing you are going to print. In my case I took everything coldly calculated, for that I had to cut each piece, assemble it as if I was going to sew it and see where it looked better. You will say I'm crazy, but it was really necessary since it was the first time I delegated part of my work to someone else. Confident that everything was fine, I continued to move forward from home with other things I had to do.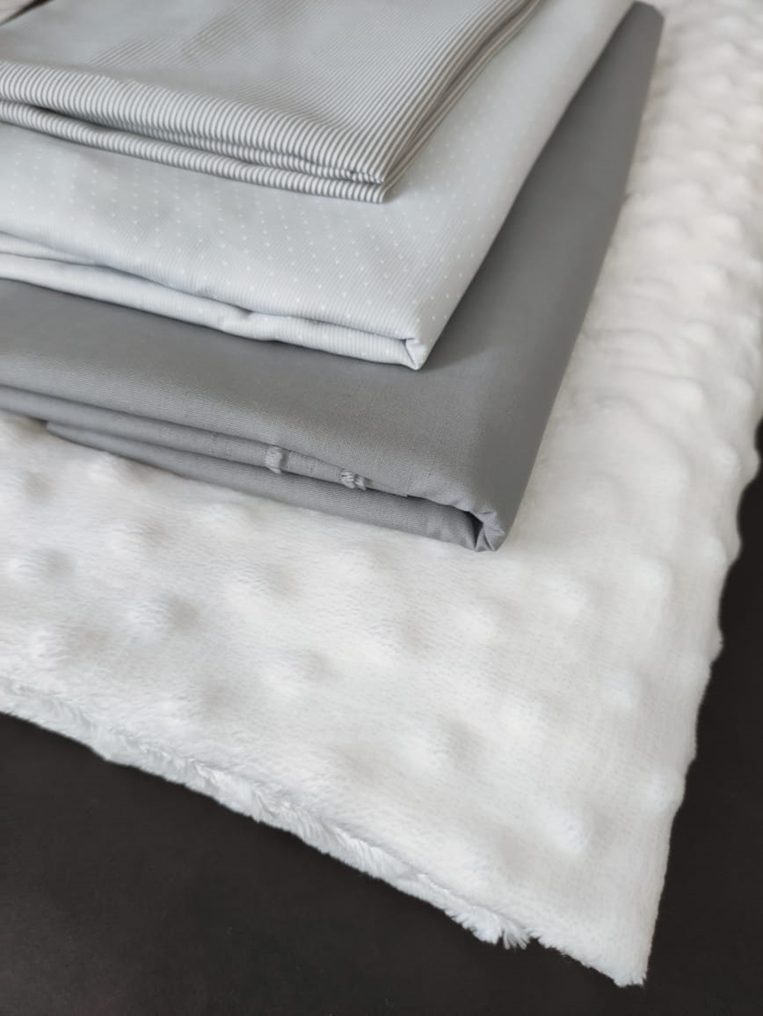 The filled bias was very important since it is a detail that stands out in the piece, divides spaces and marks the separation between one fabric and another. That's why I had to do it with the gray fabric. For those who can get it in their countries it is very easy, here in Venezuela it is hard to get it in the haberdasheries, that's why I don't have to look for it anymore and for some time now I have been making it myself. For that you must cut the fabric in bias, 3 centimeters and then join it in the form of bias. When you already have a number of strips cut we go to the machine and with the foot to make closures we pass straight seam and so it goes out perfectly and smoothly.
For now I wanted to let you know what I am working on this week and explain the reason for my absence. Soon I will show you the progress of this work hoping as always that it will be to your liking.

---
---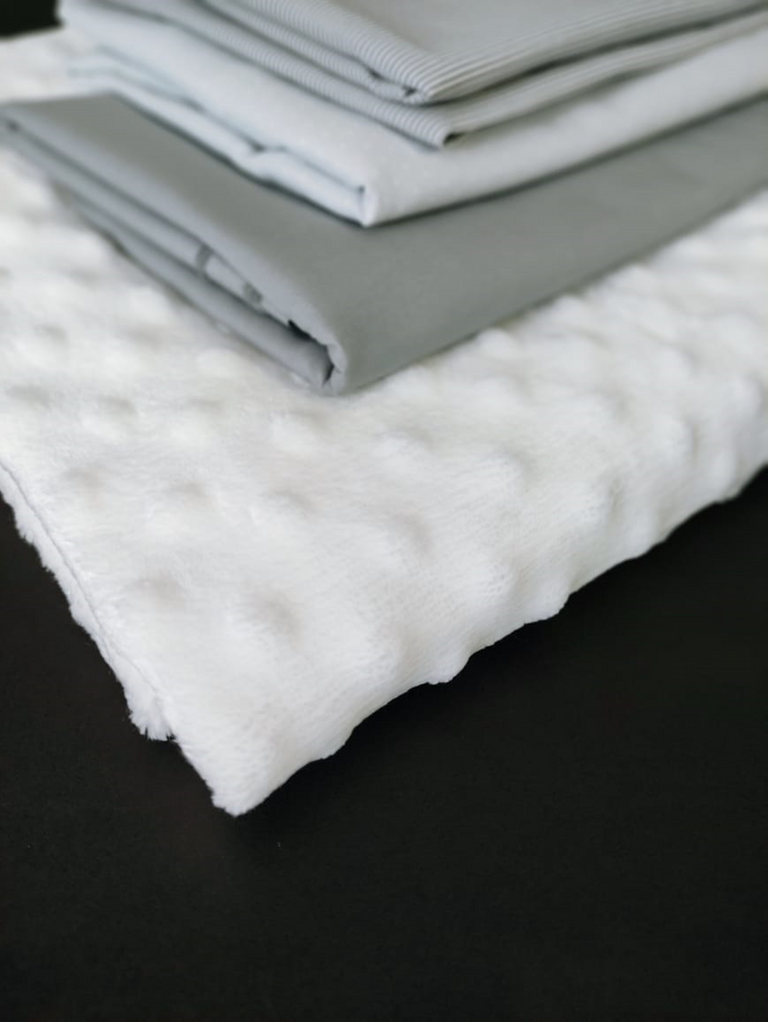 Un saludo cariñoso a todas mis queridas amigas y amigos de la comunidad #Needleworkmonday; los días se pasan volando y no nos alcanza para hacer todo lo que queremos. Quisiera poder trabajar mi manualidades, atender a mis clientes, publicar todos los días en Hive, atender a mis amigos y consentir a mi familia, pero por más que trato no puedo hacerlo todo. Sé que muchos están igual que yo y me van a entender.
Este fin de semana traté de atender todo y a todos y fui lo más sincera posible, a cada quien y a cada cosa le dediqué un rato, tal vez no hubo cantidad, pero si les puedo asegurar que hubo calidad. Ayer me sentí feliz, amanecí con las pilas recargadas y continué mi proyecto con dedicación y delicadeza.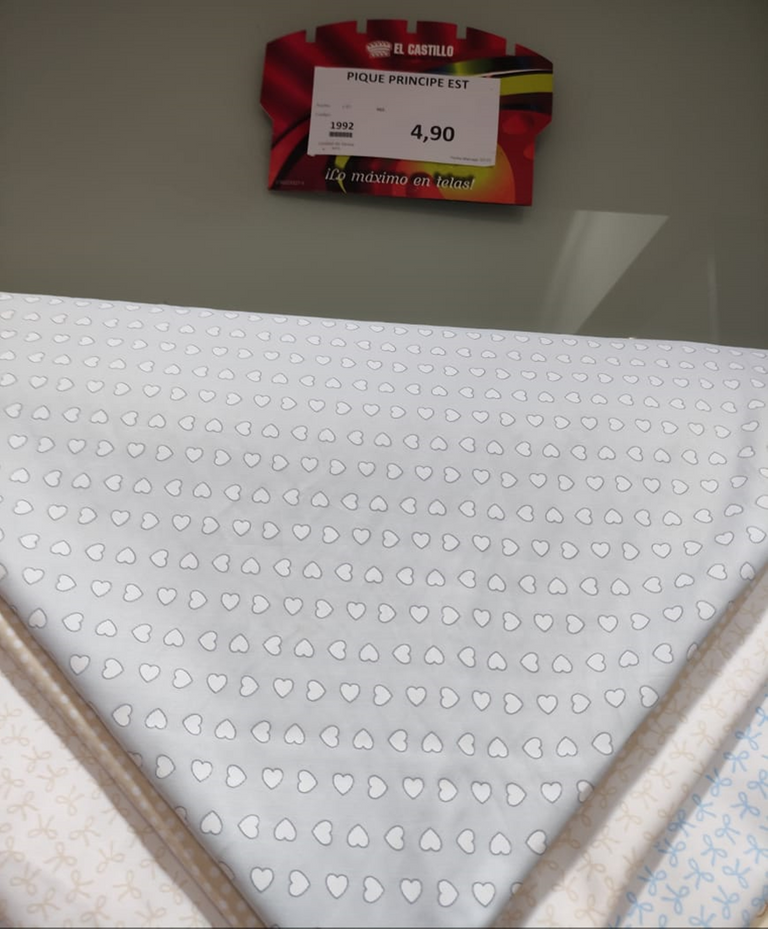 Desde hace un mes aproximadamente me visitó mi amiga Lucia, ella no solo es mi buena amiga sino que también es una delas mejores clientes que he tenido siempre. Es de estas personas que confía en ti y en tu trabajo y lo deja todo en tus manos porque como ella siempre me dice "Tú siempre haces bien las cosas" esa frase me eleva la autoestima y me inspira para ponerle el 200% a mis trabajos. ¿Y quién no va a sentir confianza en lo que hace con estos halagos tan bonitos? Ojala más personas valoraran lo que uno hace por pequeño que sea.
Lucia me encargó que le hiciera muchas cosas para una sobrina que está embarazada y da a luz en el mes de julio con el favor y la bendición de Dios. Será un varoncito y su nombre desde ya es Liam. Ya por ahí íbamos muy bien porque ese nombre me encanta. Ese día quedamos en que la gama de colores que querían para el ajuar era en tonos grises. También me encargó mas bucheros pero en otros tonos más alegres y con muñequitos bordados en punto de cruz.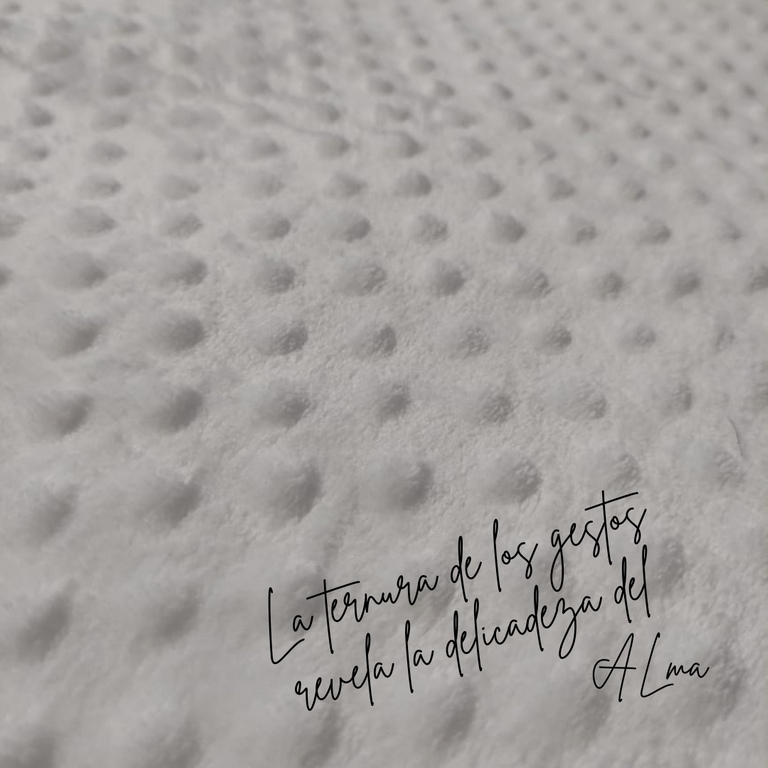 Todo comenzó muy bien, recuerdo que hace un mes salí en busca de las mejores telas para combinar y así poder realizar algo hermoso sin límite de precios; tenía en mente la tela Volver burbuja, es una tela nueva en el mercado y todo el mundo la está utilizando para crear cosas en casa, sobre todo para los bebés. La volver es suave, calorosa y resalta en cualquier pieza que la pongas.
Con estas ideas en mente Salí ese primer sábado a recorrer las distintas tiendas, la primera que visité fue la más grande de todas "El castillo" pero no podía creer que habían de todos los colores de la volver burbuja menos en blanco; No me rendí, seguí buscando; debía conseguir primero que nada esa tela para luego poder comprar las demás, de lo contrario debía cambiar completamente el diseño. Mi eterno compañero de compras me llevó por toda Caracas, pero ese día nos vinimos a casa sin nada en las manos.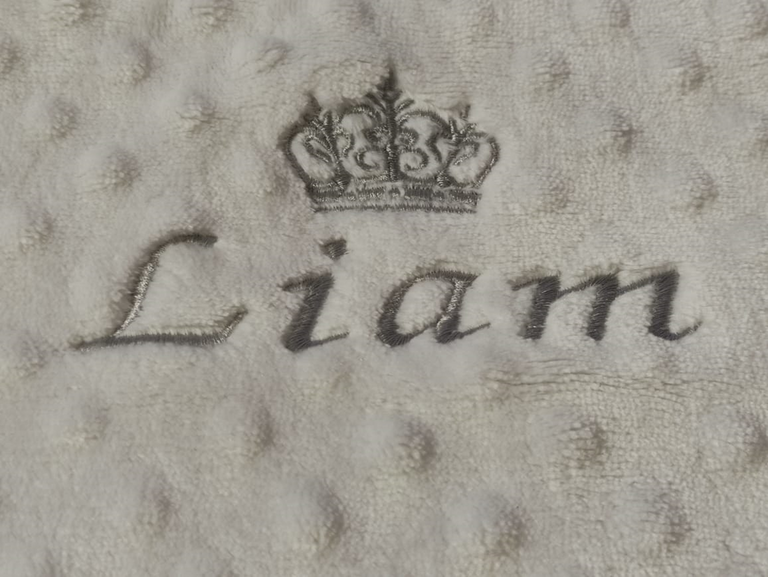 Al siguiente sábado volvimos a ir, pero con la idea de visitar tiendas pequeñas donde tal vez podría conseguir la tela principal. Por suerte y luego de unas 3 tiendas que visité por fin pude conseguir lo que tanto deseaba, la tela volver burbuja en blanco. Feliz y brincando en un pie me fui al Castillo donde pude comprar las demás Telas para combinar. Hacer esto no es fácil para mí, como les he comentado anteriormente soy un poco perfeccionista y cuando quiero algo me lleno de paciencia hasta que lo alcanzo, por suerte para mi Lucia no estaba apurada y eso me daba ánimo. La otra tela que me causó pánico en algún momento fue la tela de rayas para combinar, por más que la busque no la pude conseguir, yo quería una tela de rayas más ancha pero aquí si me tuve que conformar con esta que ves en la imagen.
En el mercado hay de todo, de verdad que hay mil cosas para escoger, sino te gustan las rayas, hay corazones, sino te gustan los corazones hay estrellas o puntos. Después de 3 sábados ya tenía mi corte de telas completo, además de la guata, telas de bordar, tela de paño, hilos, sedalinas y el relleno para el cojín.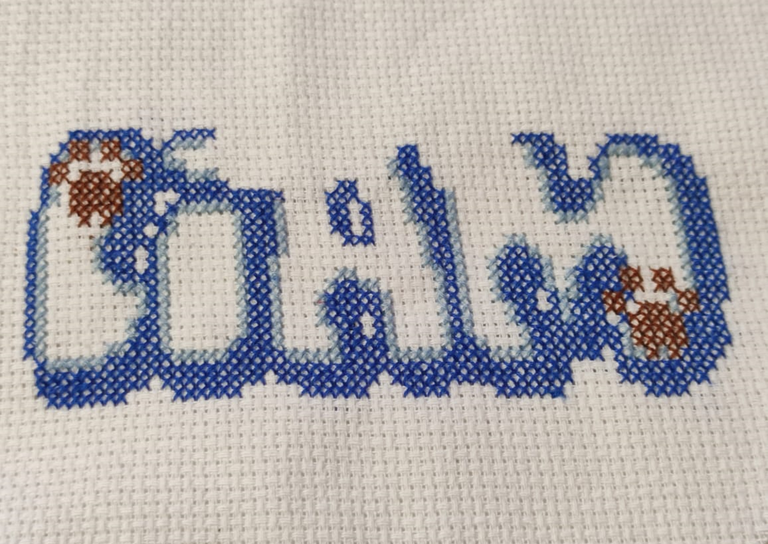 Muchas de ustedes saben que mi cervical este año no me ha dado problemas, por eso a veces me cuesta para hacer todo lo que quiero ya que debo guardar reposo. Así que este proyecto decidí hacerle bordado industrial, que también es muy hermoso. Sabiendo de antemano que quería este tipo de bordado fue que seleccioné la tela volver. Para las que estén interesadas en el costo del bordado les cuento que sale en $2 si llevas más de 6 pizas para bordar de lo contrario te sale en $2,50. Además si estas interesada en hacer este tipo de trabajos te digo que debes hacerlo con anticipación ya que tardan de 2 a 3 días en entregarlo. Si quieres algún diseño especifico debes enviárselo por whatsapp o llevarlo en algún pendrive para descargarlo.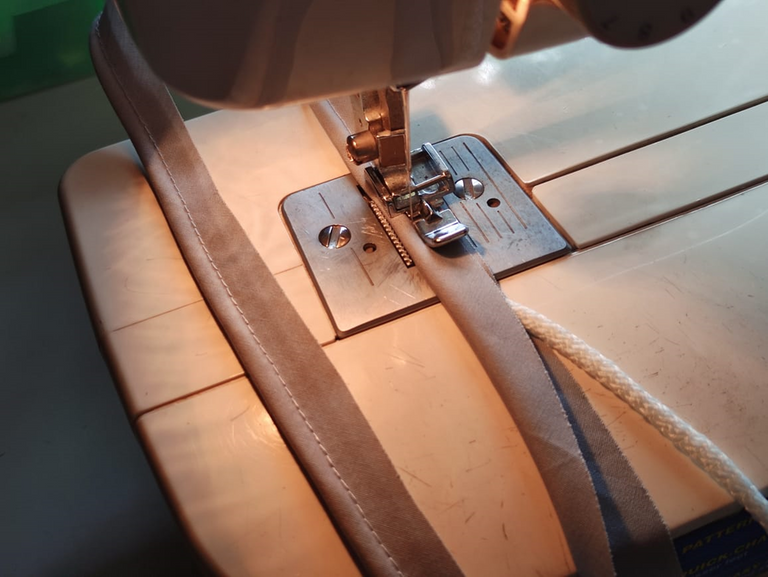 Nunca antes había hecho esto, pero viendo el resultado me siento contenta, ya que obtuve belleza y descanso para mi cervical. No debemos rechazar las cosas industriales, por algo están allí y nos brindan apoyo cuando más lo necesitas.
AHHH! Pero también hice mis bordados en punto de cruz, no crean que voy a dejar mis bordados por fuera, aun me sigue gustando más lo artesanal y mientras Dios me de salud los seguiré haciendo.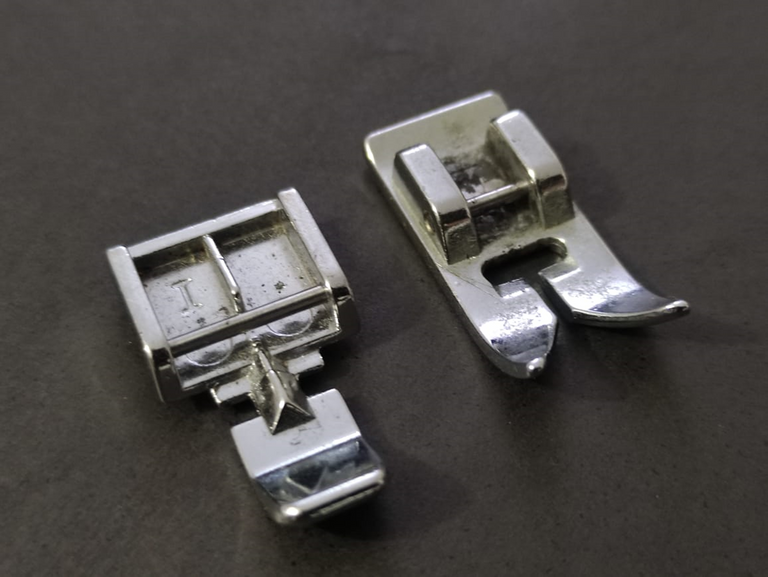 Para llevar la tela a bordar es importante saber dónde y cómo quieres que se vea el bordado en la tela, el tamaño, color y tipo de letra o dibujo que vas a imprimir. En mi caso lleve todo fríamente calculado, para eso tuve que cortar cada pieza, armarlo como si ya lo fuese coser y ver donde quedaba mejor. Ustedes dirán que estoy loca, pero de verdad era necesario ya que era la primera vez que delegaba en otra persona parte de mi trabajo. Con la confianza que todo estaba bien seguí avanzando desde casa con otras cosas que tenía que hacer.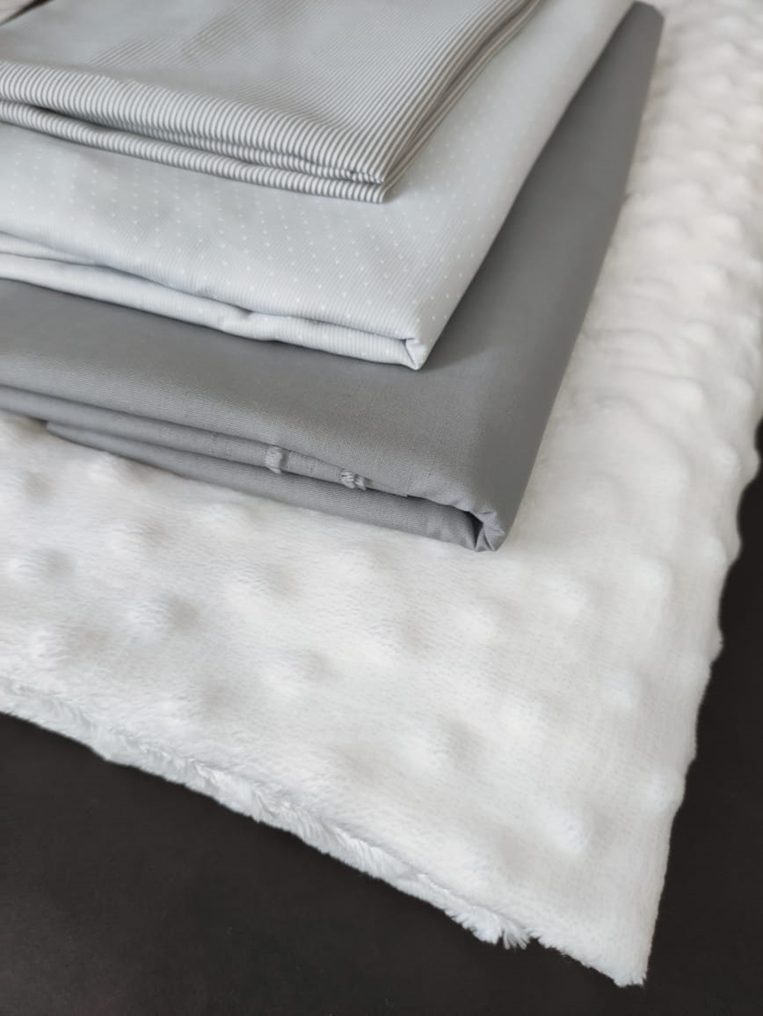 El sesgo relleno era muy importante ya que es un detalle que resalta en la pieza, divide espacios y marca la separación entre una tela y otra. Es por eso que tuve que hacerlo con la tela gris. Para los que lo consiguen en sus países en muy fácil, aquí en Venezuela cuesta conseguirlo en las mercerías, es por eso que ya no me complico en buscarlo y desde hace un tiempo yo misma lo elaboro. Para eso se debe corta la tela en bies, de 3 centímetros y luego unirlo en forma de sesgo. Cuando ya tienes una cantidad de tiras cortadas vamos a la máquina y con el pie de hacer cierres pasamos costura recta y así va saliendo de manera perfecta y sin contratiempos.
Por ahora quise adelantarles en que estoy metida esta semana y explicarles el porqué de mi ausencia. Pronto les mostraré los avances de este trabajo esperando como siempre que sea de su agrado.
---
---

---
---
E♥v♥i♥s♥ ♥C♥a♥r♥o♥l♥i♥n♥a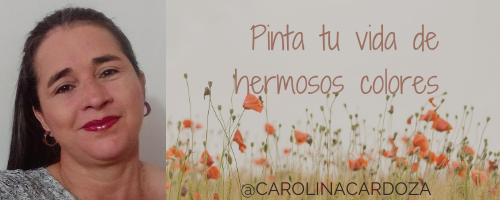 Imágenes tomadas con mi cámara celular /https://www.deepl.com/es/translator
---
---