Beautiful set of bracelet and tendrils of flowers with beads. 🌼// Hermoso juego de pulsera y zarcillos de florecitas con mostacillas. 🌼
Saludos y bendiciones para toda la comunidad de jewelry, esperando se encuentren con mucha salud.
Greetings and blessings to the entire jewelry community, hoping you are in good health.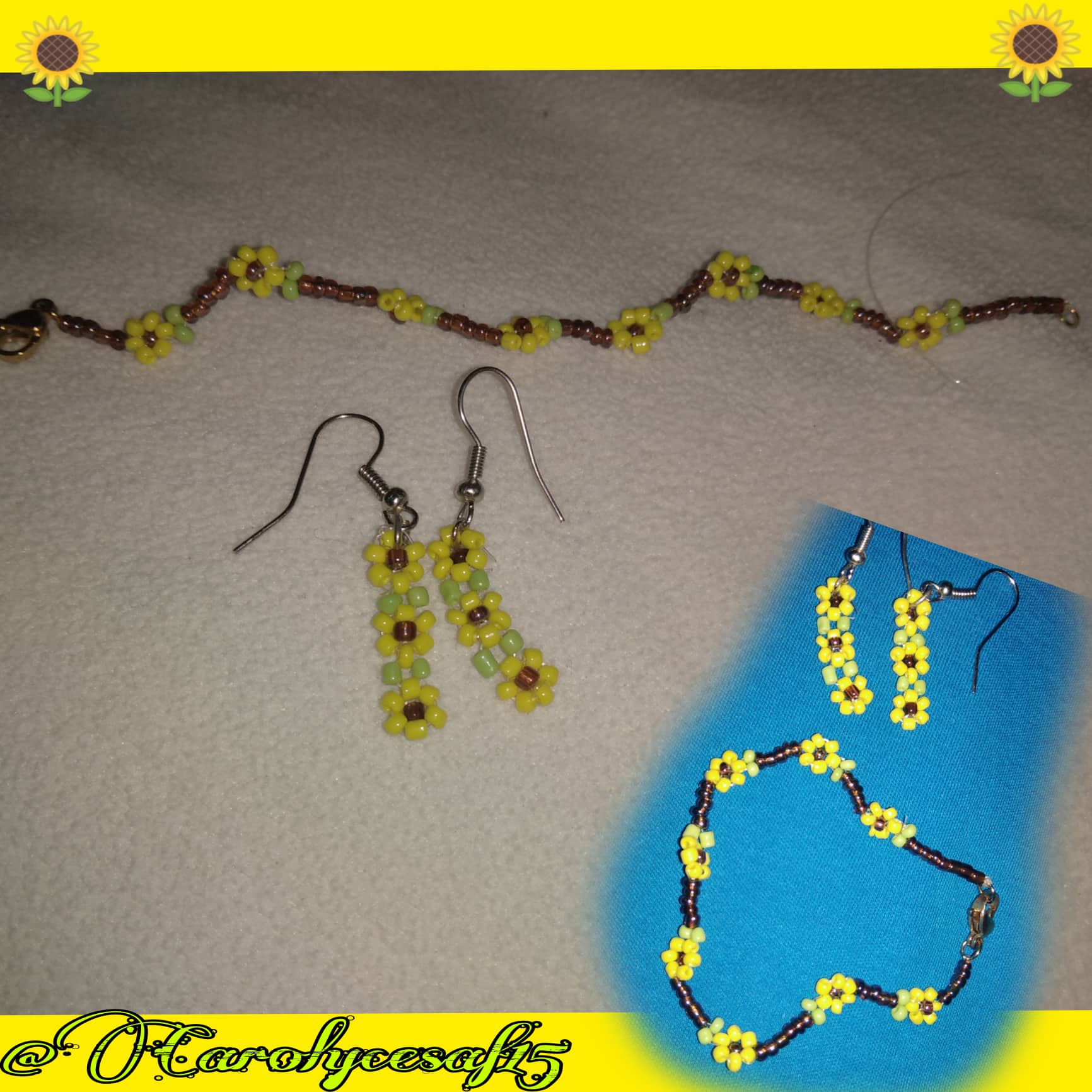 En esta oportunidad les quiero compartir este lindo juego de pulsera y zarcillos, realizado con mostacillas y dándoles forma de hermosas y delicadas florecitas. Me encantan todas esas manualidades y joyerías que hacen con este material, todas esos diseños diversos, donde la creatividad y el amor que le ponen las personas a la hora de hacer todas esa bellezas.
This time I want to share with you this beautiful set of bracelets and earrings, made with beads and shaped into beautiful and delicate flowers. I love all those crafts and jewelry that they make with this material, all those diverse designs, where the creativity and love that people put into making all those beauties.
Les digo esto porque al revisar parte porque no puedo decir que las veo todas, porque creo que me llevaría bastante tiempo, ver todas esa creatividad en infinidades de creaciones, incluso hasta las aplicaciones que hacen en telas…de verdad me maravillas ver las habilidades y creatividad de todas esos artesanos.
I tell you this because when reviewing part because I can't say that I see all of them, because I think it would take me a long time, to see all that creativity in countless creations, even even the applications they make on fabrics... it really amazes me to see the skills and creativity of all those artisans.
En lo particular es muy poco lo que hago y puedo hacer, debido a mis capacidades tanto visuales como articulares o motoras. ( sufro desde hace años de artrosis ) por lo que ahora se me dificulta un poco, sobre todo cuando son piezas pequeñas…pero aunque me costó un poco, cosas que antes la hacía de manera rápida, hoy tarde un poquito más en hacerla .
Incluso solo iba hacer la pulserita, pero como me sobro hilo, no quise desperdiciarlo. Y resultar que me salieron estos zarcillos, por lo que así aproveche todo el hilo.
In particular, there is very little that I do and can do, due to my visual, joint or motor skills. (I have suffered from osteoarthritis for years) so now it is a bit difficult for me, especially when they are small pieces...but although it cost me a bit, things that I used to do quickly, today it takes a little longer to do it.
I was even just going to make the bracelet, but since I have leftover yarn, I didn't want to waste it. And it turned out that these tendrils came out, so I took advantage of the whole thread.
Se las hice a mi sobrinita, que se apareció con esas mostacillas porque quería que le hiciera una pulserita de flores de girasol…y bueno aunque no sé si son de girasol, salieron unas florecitas muy bonitas y delicadas.
I made them for my little niece, who showed up with those beads because she wanted me to make her a sunflower flower bracelet… and well, although I don't know if they are sunflower, some very pretty and delicate flowers came out.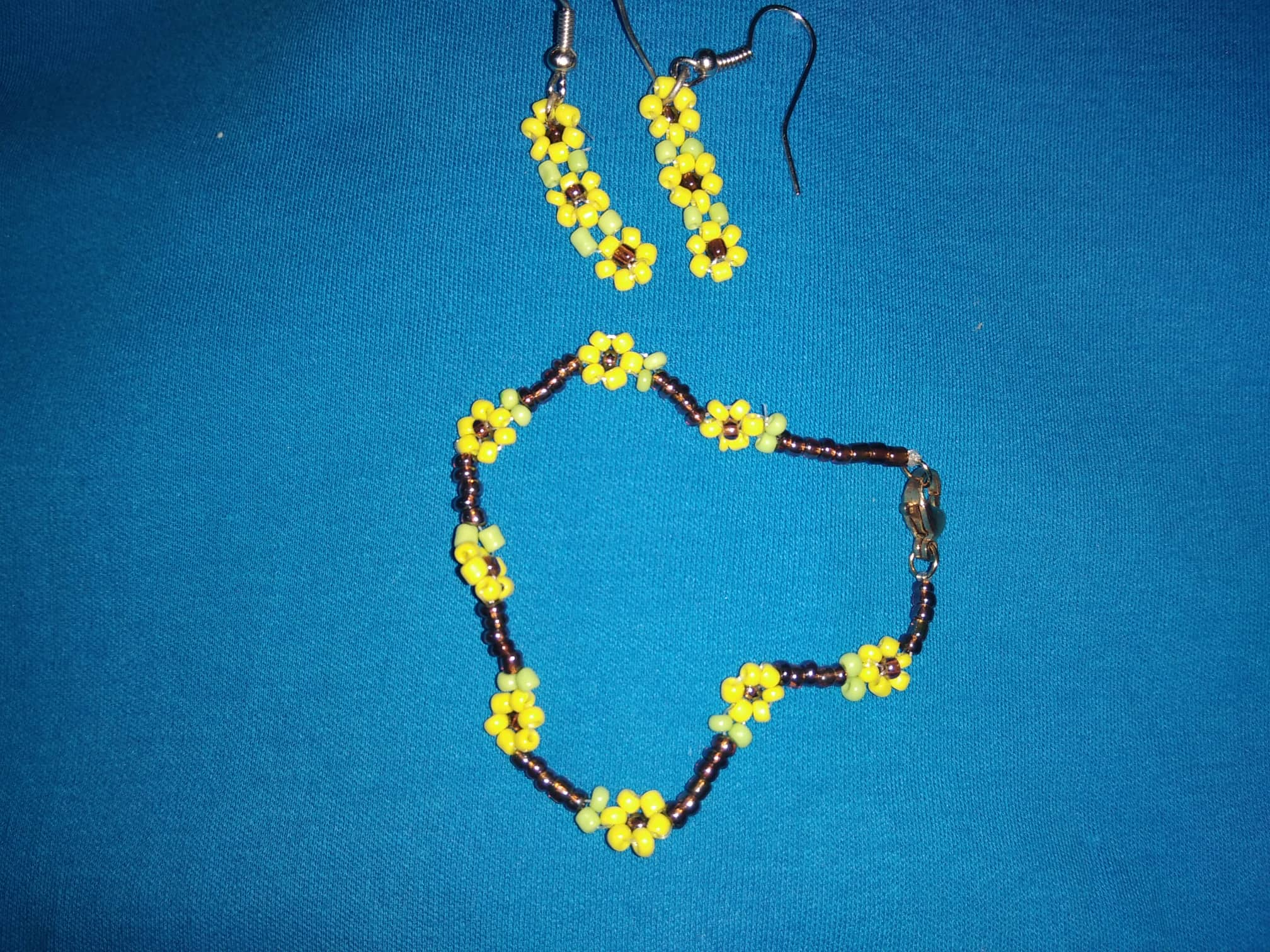 Para su elaboración utilice los siguientes materiales:
Un metro de hilo tranparente de nailon.
Mostacillas de color marrón, amarillas y verdes.
Dos argollas y un trancadero pico de loro.
Tijeras y corta uñas( ya que no tengo las pinzas que se utilizan en bisuterías) por lo tanto hay que buscar sustitutos.
For its elaboration use the following materials:
One meter of transparent nylon thread.
Brown, yellow and green beads.
Two rings and a parrot beak lock.
Scissors and nail clippers (since I don't have the tweezers used in >costume jewelry) therefore we have to find substitutes.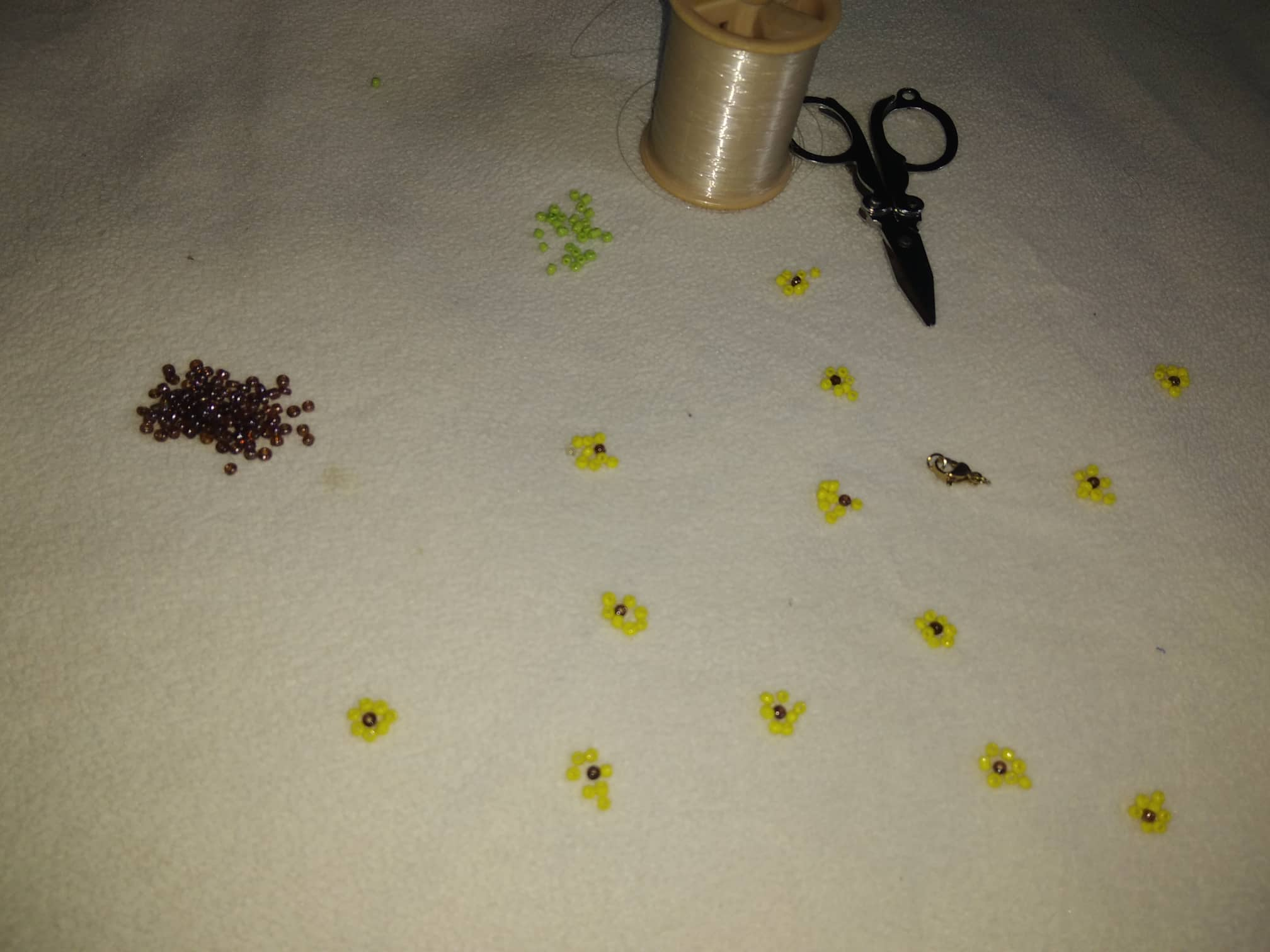 Procedimientos:
Procedures:
Una vez ordenado todos los materiales lo primero que hice fue tomar el hilo y amarrarlo en una de las argollas que ya estaba puesta en uno de los extremos del trancadero, le hice varios nudos.
Once I ordered all the materials, the first thing I did was take the thread and tie it in one of the rings that was already placed at one of the ends of the trancadero, I made several knots.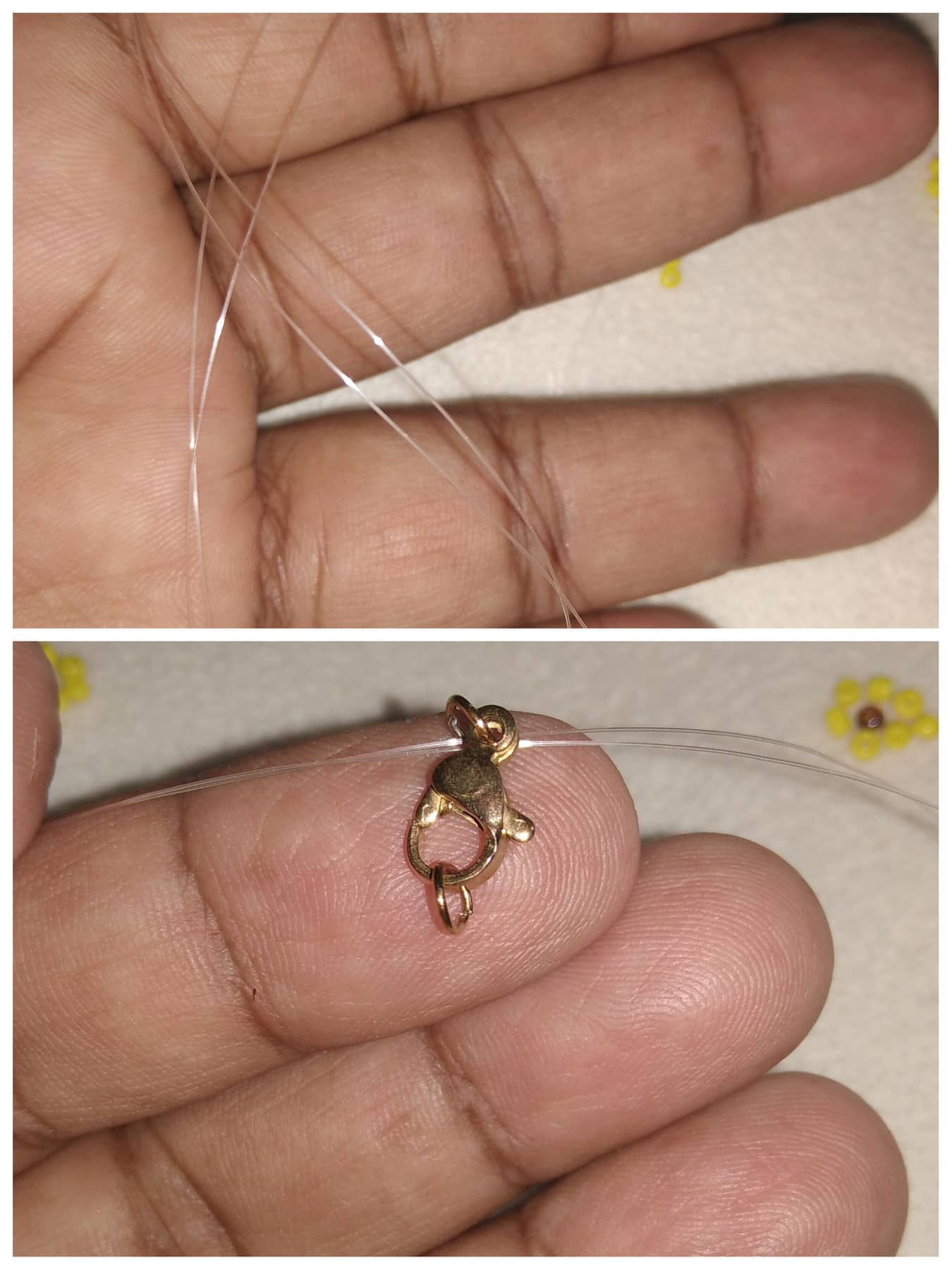 Luego juntando las dos puntas de los hilos, pase cinco mostacillas marrones.
Then joining the two ends of the threads, pass five brown beads.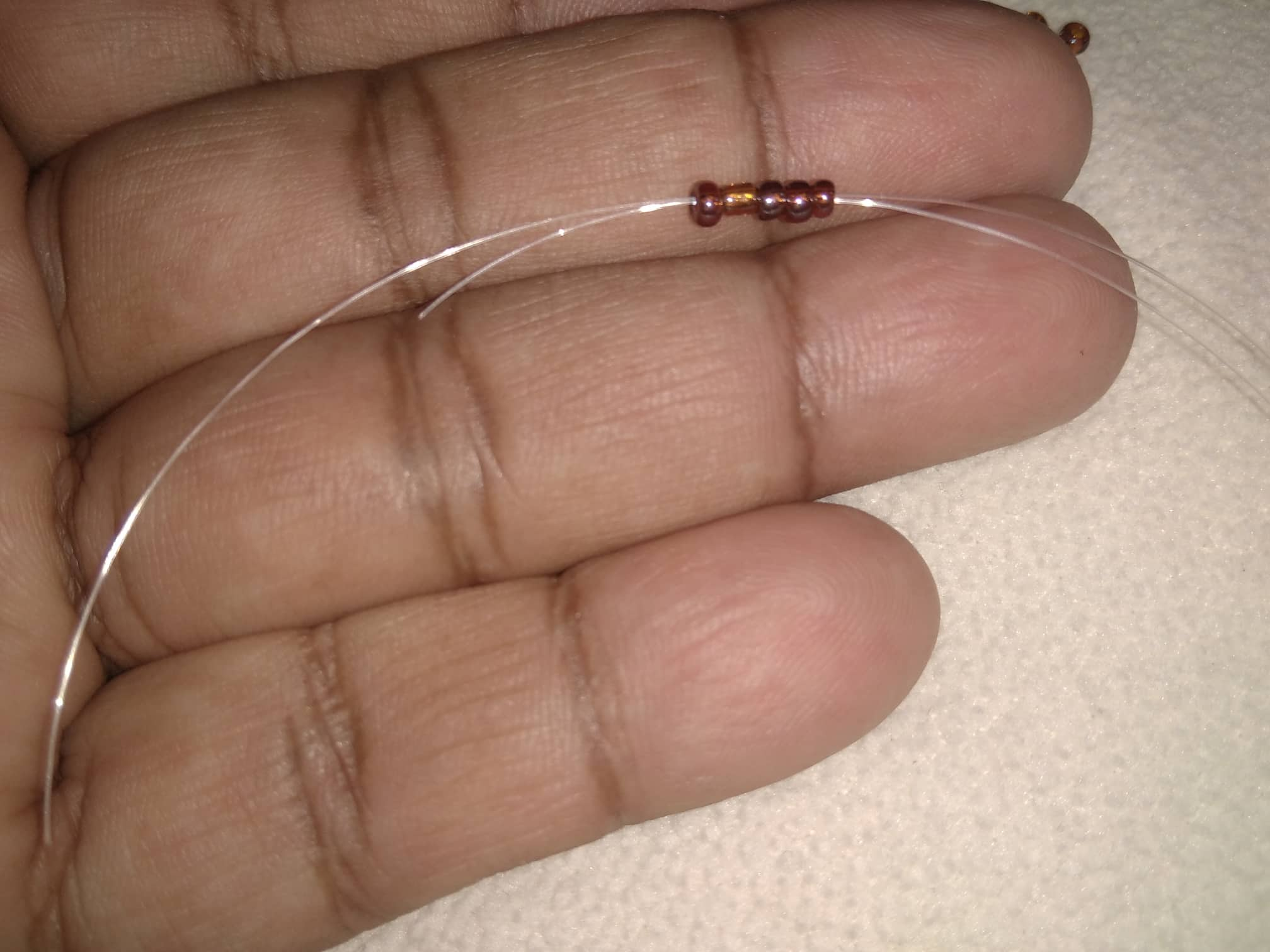 Después tome una mostacilla amarilla y pase amabas puntas de los hilos ( cruzando los hilos por dentro de la mostacillas) y luego la hale hasta llegar a la última de las cinco mostacillas marrón.
Then take a yellow bead and pass both ends of the threads (crossing the threads inside the beads) and then pull it until you reach the last of the five brown beads.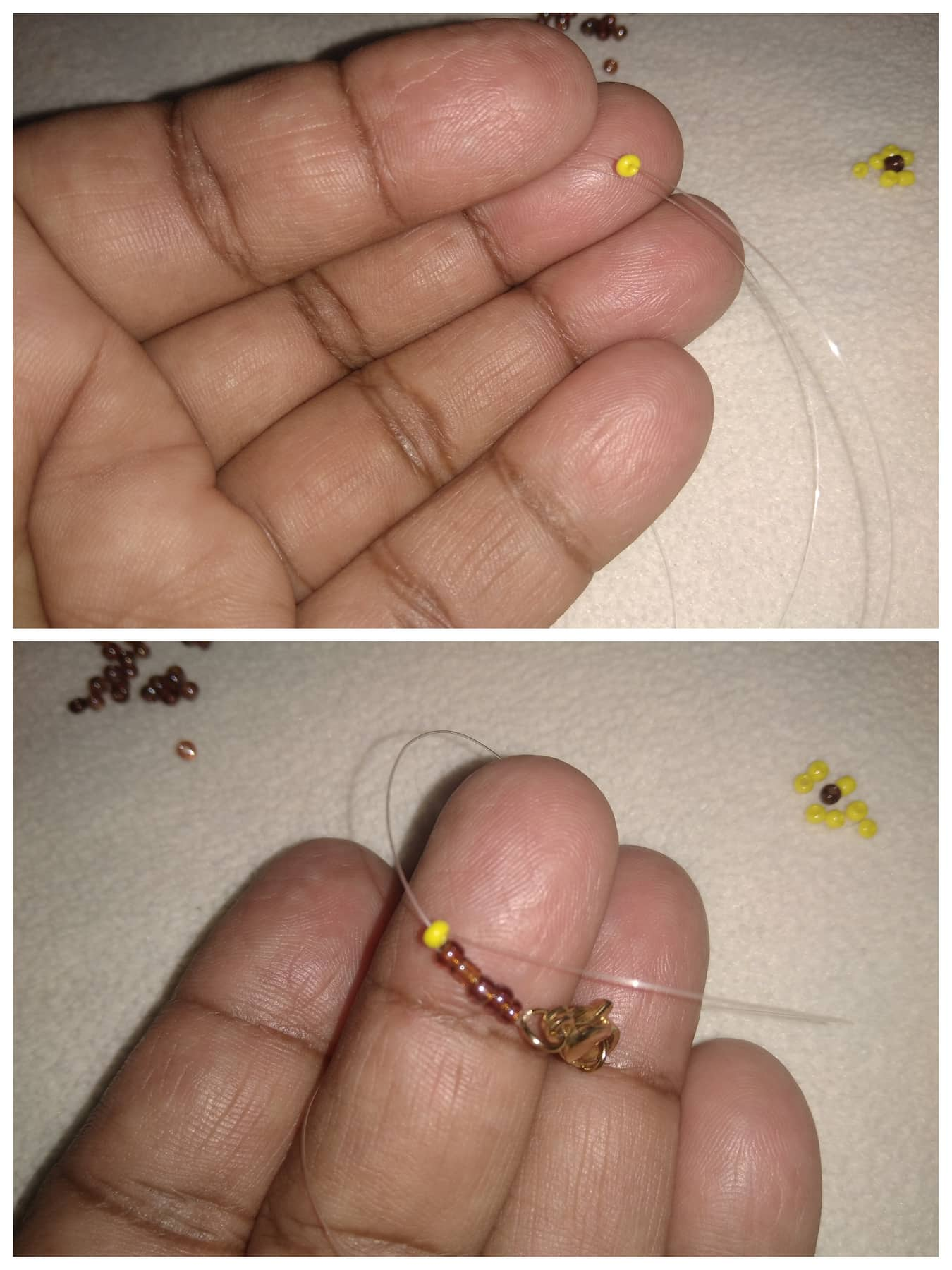 Ahora en cada punta coloque dos mostacillas amarillas y las lleve hasta el final. Para después tomar una mostacilla marrón y pasarla por las dos puntas.
Now on each end place two yellow beads and take them to the end. Then take a brown mustacilla and pass it through the two ends.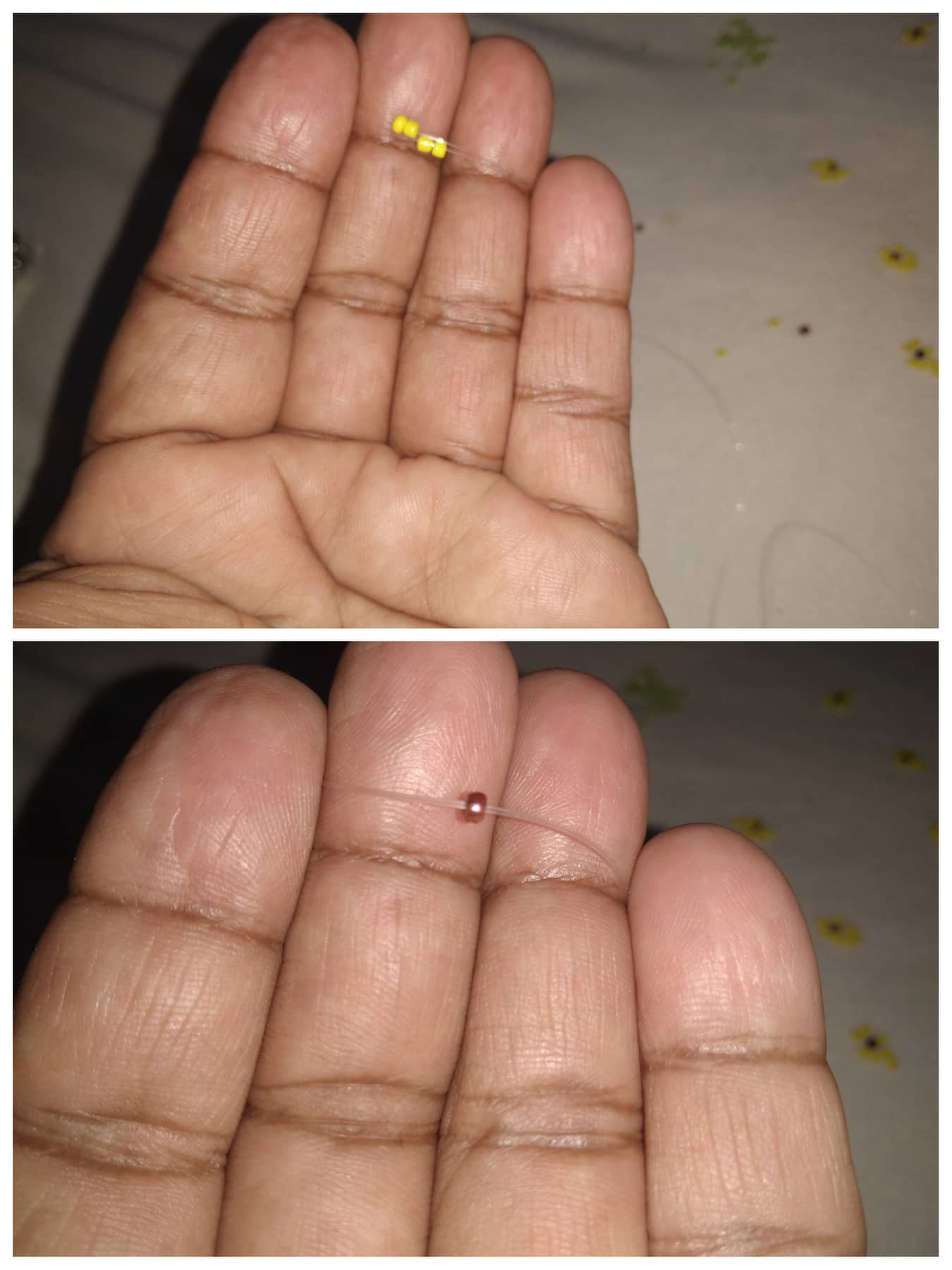 Y una vez que la lleve hasta las mostacillas amarillas, abrí los hilos y la coloque en el centro, colocando los hilos a ambos lados. Para luego pasarla por las dos mostacillas amarillas y halar y acomodarlas.
And once I took it to the yellow beads, I opened the threads and placed it in the center, placing the threads on both sides. To then pass it through the two yellow beads and pull and accommodate them.
Después tome una mostacilla amarilla y pase ambos hilos por ella, hale ambos hilos llevándola hasta las otras …y así formando la florecita.
Then take a yellow bead and pass both threads through it, pull both threads taking it to the others...and thus forming the little flower.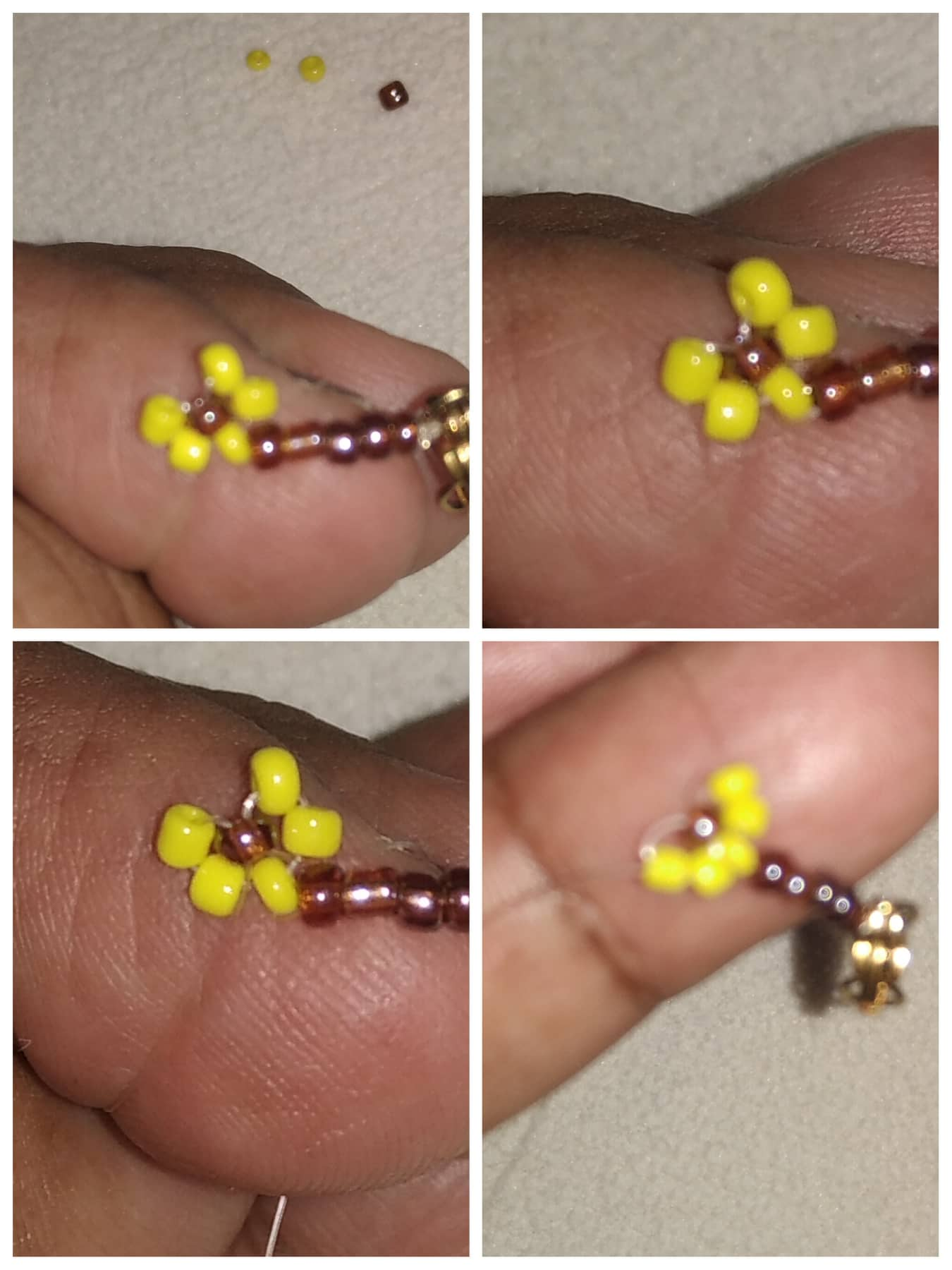 Luego por cada hilo se paso una mostacilla verde, que representarían las hojas de la flor.
Then a green mustacilla was passed through each thread, which would represent the leaves of the flower.
Y así se repitió el procedimiento hasta tener el largo deseado de la pulsera. Y una vez terminada, se amarro el hilo a la otra argolla con nudo simple, pero asegurando que no se fuera a soltar.
And so the procedure was repeated until the desired length of the bracelet was obtained. And once finished, the thread was tied to the other ring with a simple knot, but ensuring that it would not come loose.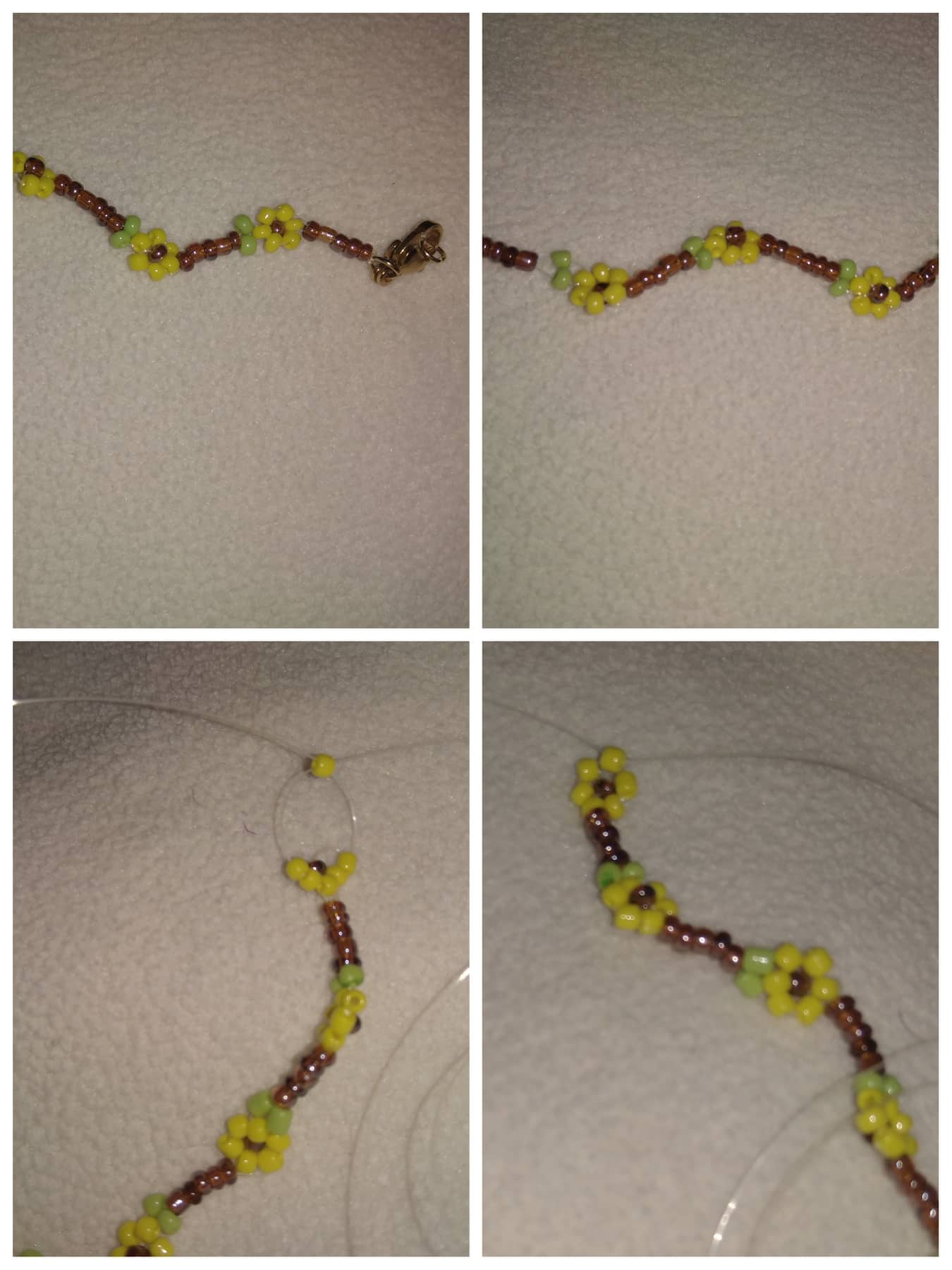 Quedando así esta linda pulsera de florecita. Y sin haberlo metido en el proyecto, me salieron estos hermosos zarcillos.
This is how this pretty little flower bracelet remains. And without having put it into the project, I got these beautiful tendrils.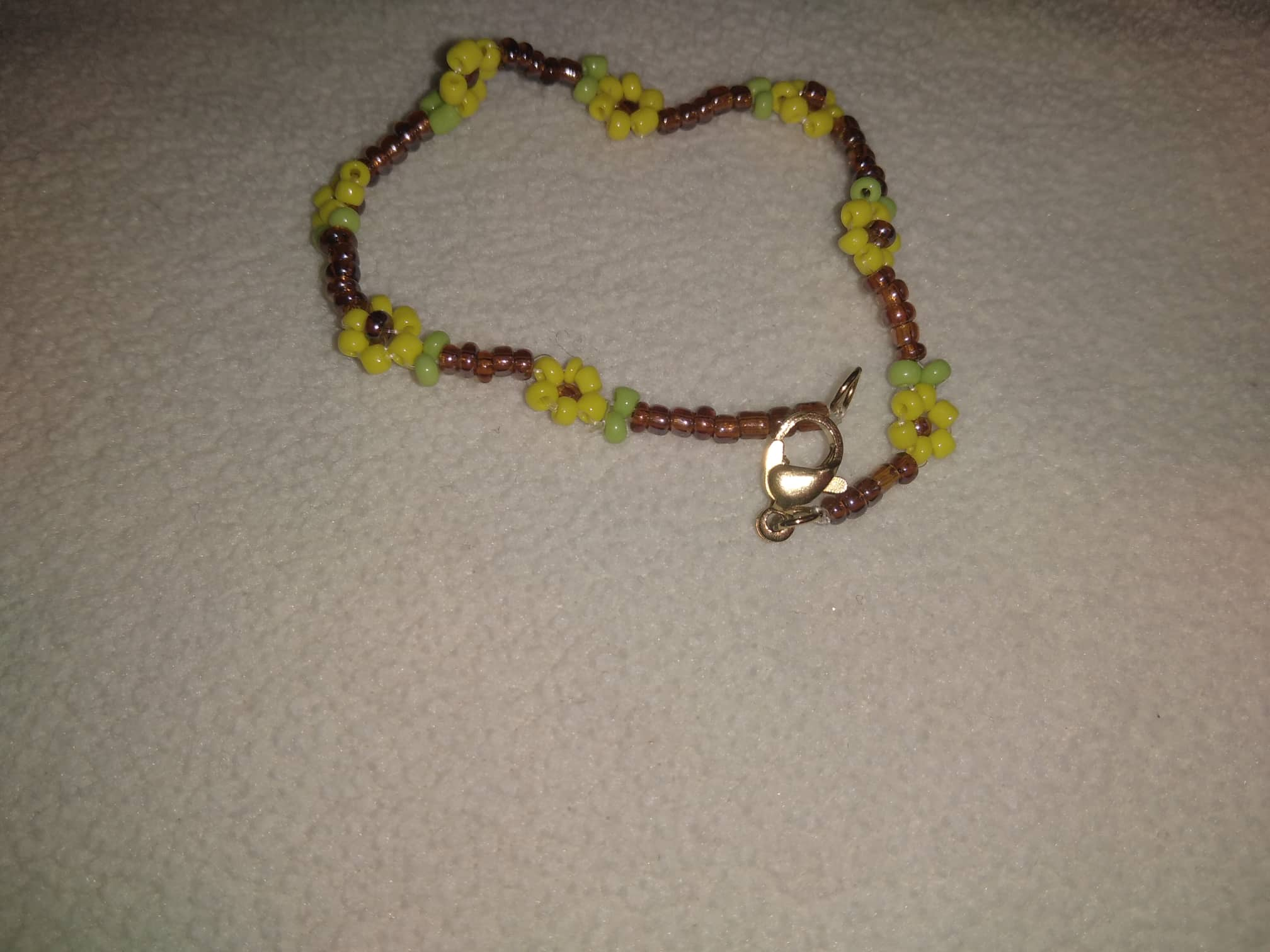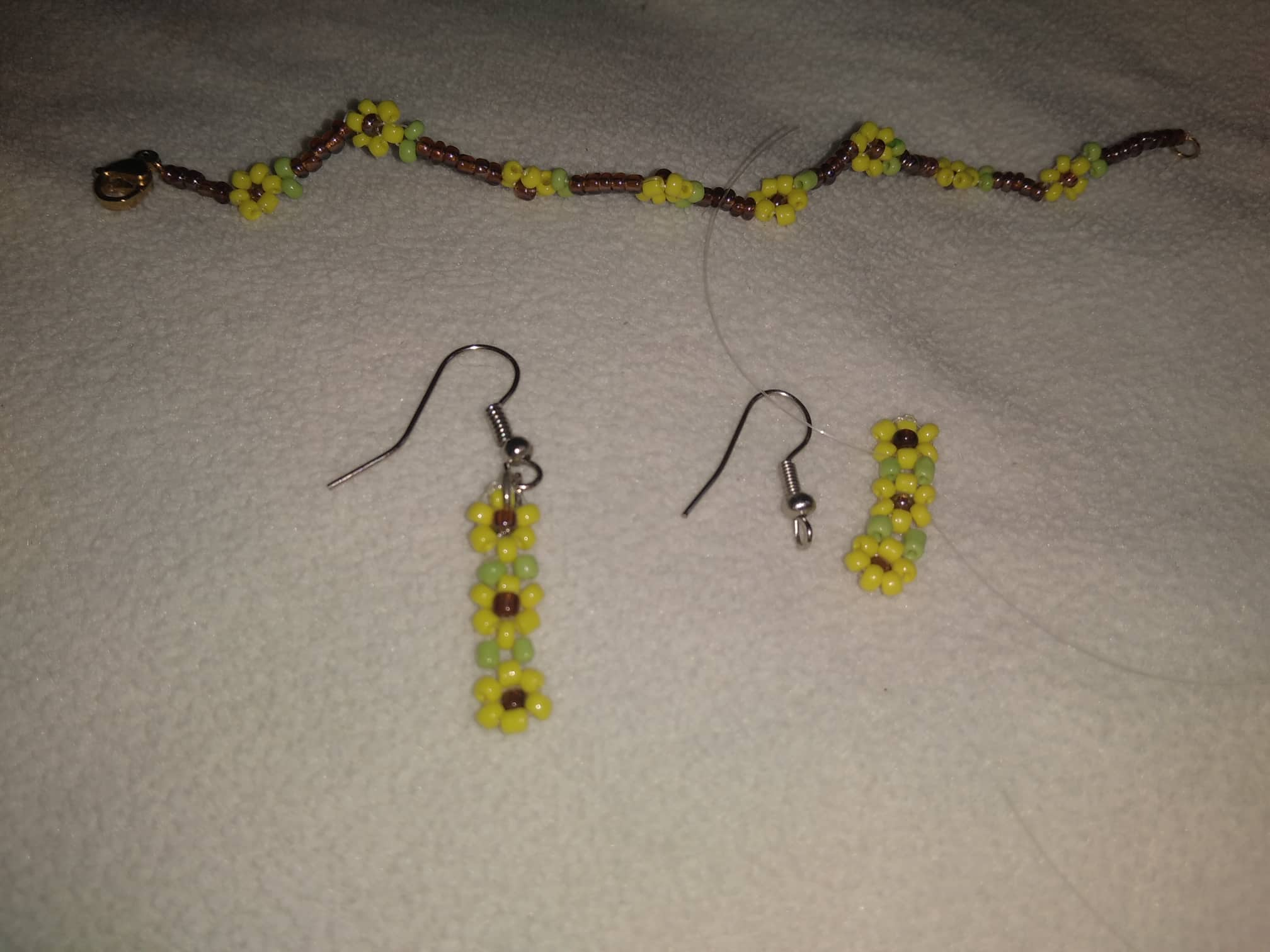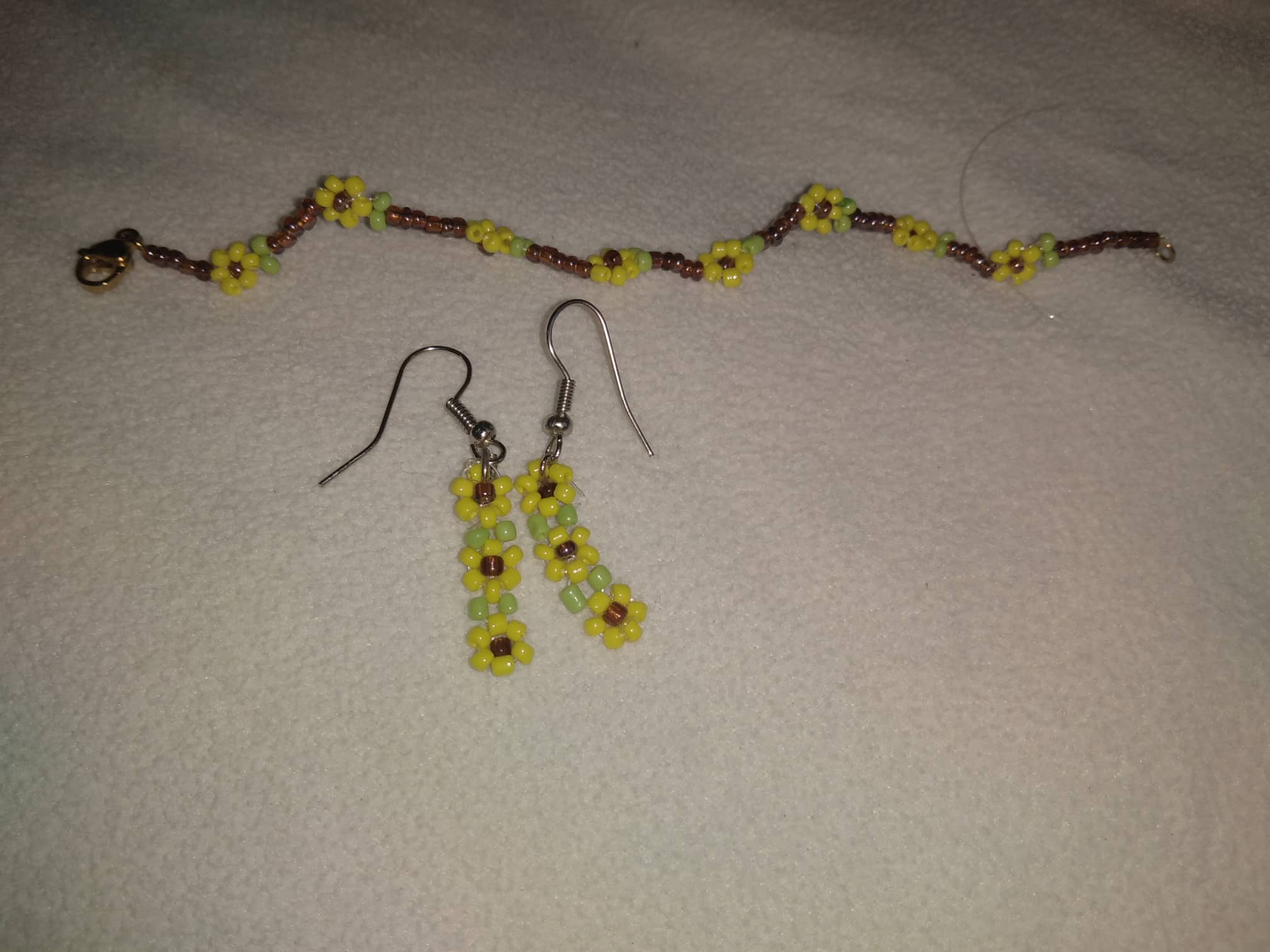 Deseándoles siempre lo mejor queridos amigos, espero poder seguir compartiendo con todos ustedes.
Wishing you always the best dear friends, I hope to continue sharing with all of you.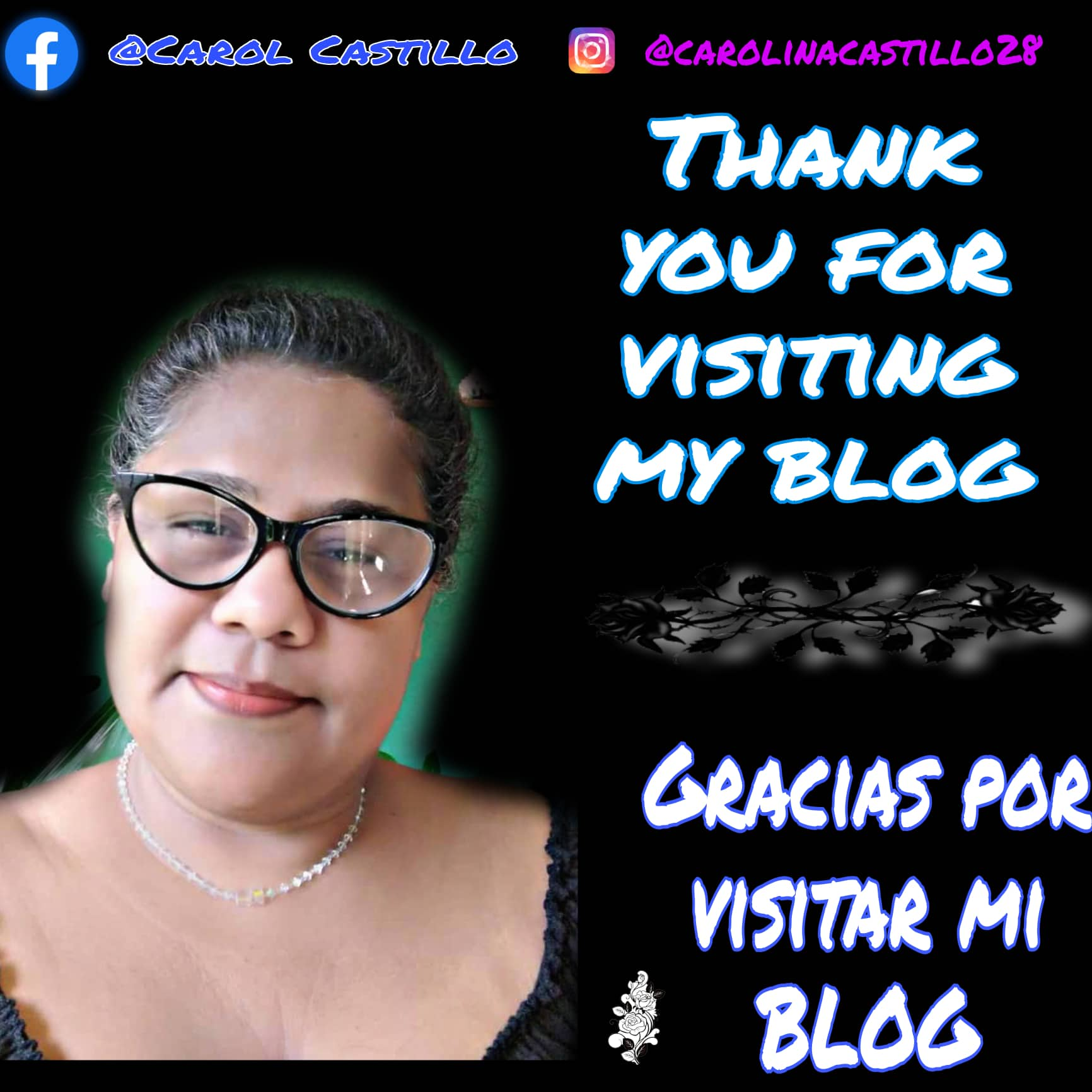 ---
---