ESP/ENG:I love my quartz stones when making my accessories. // Mis piedras de cuarzos, me encantan a la hora de hacer mis accesorios.
Un saludo cargado de toda la buena energía que nos dan estás piedras maravillosas que nos regala la naturaleza, para todos mis queridos amigos de esta hermosa comunidad de #Jewelry.
A greeting loaded with all the good energy that these wonderful stones that nature gives us give us, for all my dear friends of this beautiful community of #Jewelry.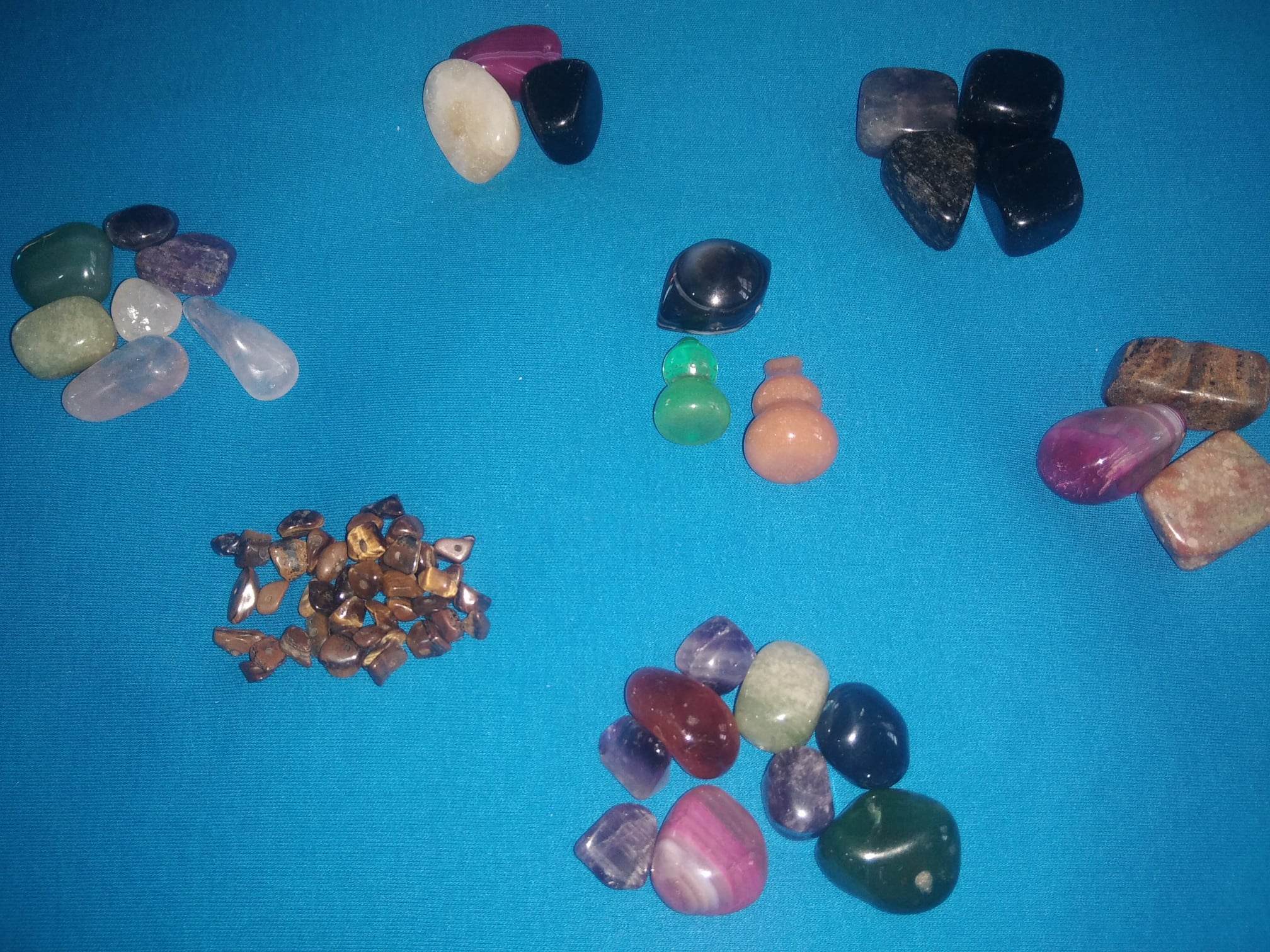 Siempre deseándoles lo mejor, hoy les quiero compartir este post sobre un tema que desde hace muchos años atrapó mi atención y desde entonces no he dejado de apasionarme por conocer todo acerca de estás creaciones tan hermosa que nos regala nuestra madre tierra
Always wishing you the best, today I want to share this post on a topic that caught my attention for many years and since then I have not stopped being passionate about knowing everything about these beautiful creations that our mother earth gives us.
Así como el llegar a tener varias, según el color y sus propiedades tanto curativas como protectoras.
As well as having several, depending on the color and its healing and protective properties.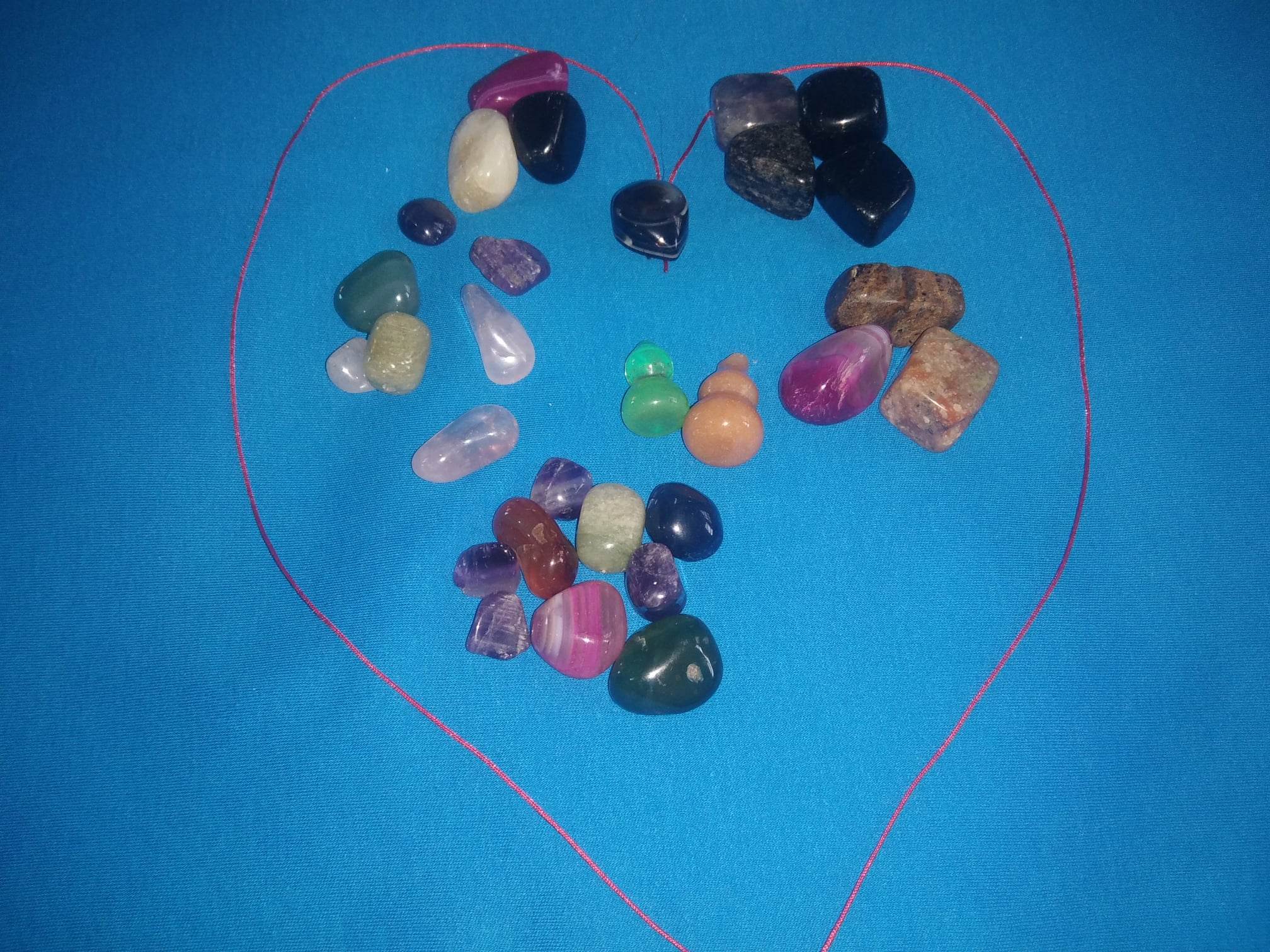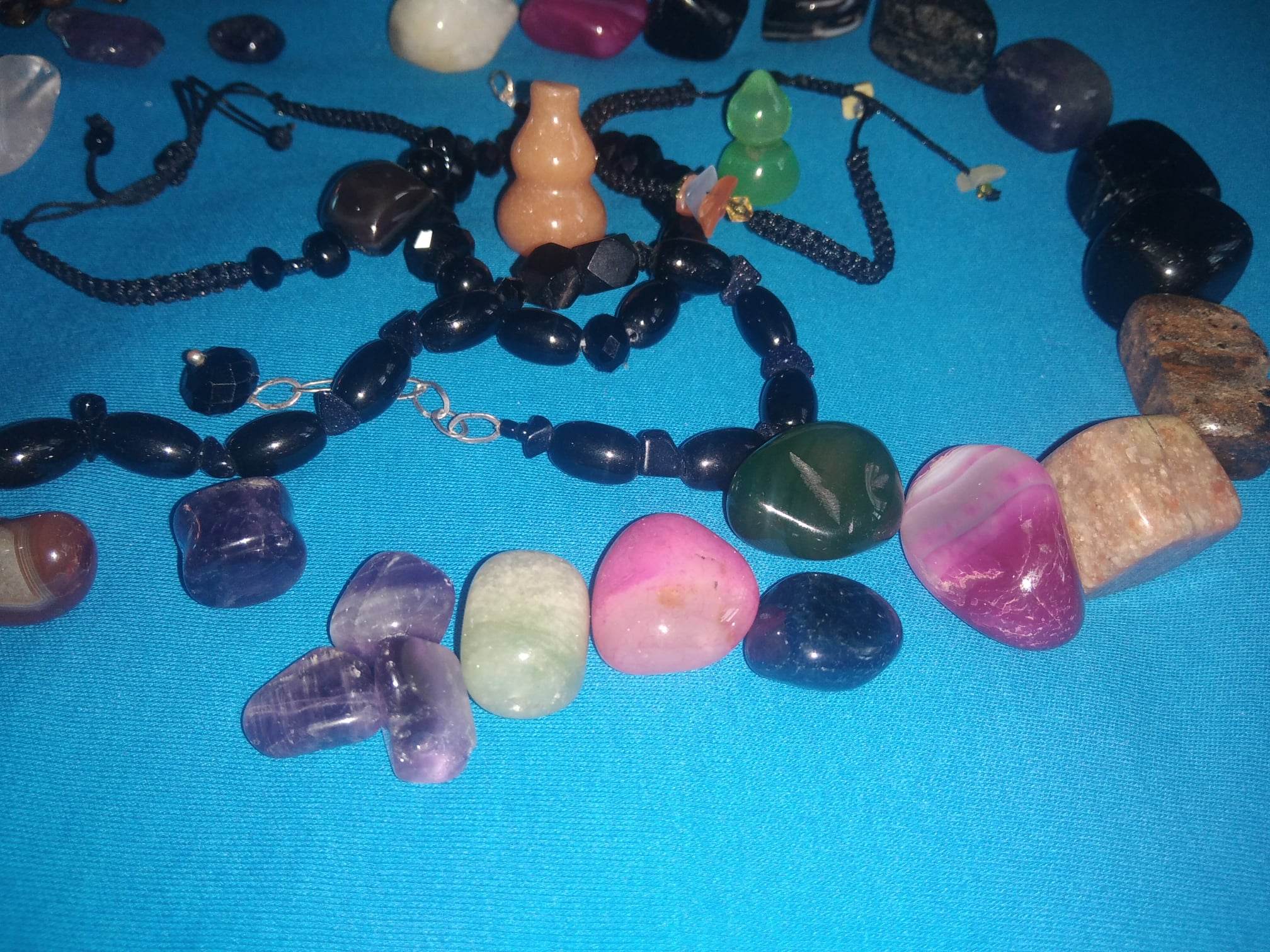 Recuerdo que mucho antes de saber de estás piedras de cuarzos. Siempre como parte de nuestra cultura acostumbramos a usar como amuletos o para protección del mal de ojo, sobre todo en los niños, se le hacían pulseras con " retama" o " peonia " que son semillas. A las cuales se le abrían los orificios y así se hacían en collares o pulseras.
I remember long before I knew about these quartz stones. Always as part of our culture we used to use as amulets or to protect against the evil eye, especially in children, bracelets were made with "broom" or "peony" which are seeds. To which the holes were opened and thus they were made into necklaces or bracelets.
De niña como me gustaba tejer mis cadenetas, recuerdo que le hacía a los bebés de la familia, las pulseritas con su pepa o semilla de retama. Siempre había esa mata ( la de retama ) muy cerca por dónde vivíamos y cuando iba hacer una pulsera escogía la más pequeña, la trituraba con los pies, la lavaba y luego mi mamá le abría el orificio por dónde se le colocaba el hilo rojo para usarlo en la muñeca. Y otras veces se hacía con hilo negro y se le ponía a los niños en el tobillo y así quedaba bien protegido contra el mal de ojo.
As a child, as I liked to knit my chains, I remember that I used to make bracelets for the babies in the family with their seed or broom seed. There was always that plant (the broom) very close to where we lived and when I was going to make a bracelet, I chose the smallest one, crushed it with my feet, washed it and then my mother opened the hole through which the red thread was placed to wear it on the wrist. And other times it was made with black thread and it was put on the children's ankles and thus they were well protected against the evil eye.
Cómo les comenté esto forma parte de nuestra cultura , por lo que es costumbre regalar pulseras de protección sobretodo a los niños de la familia o amigos.
Tanto las retamas como las ponía se montaba" en oro o plata. Acompañada de un azabache, todo eso formaba un escudo de protección.
How I told you this is part of our culture, so it is customary to give protection bracelets, especially to children of family or friends.
Both the brooms and the pons were mounted" in gold or silver. Accompanied by a jet, all of this formed a shield of protection.
No faltaban en un hilo rojo, pero también se podía llevar en una pulsera de plata o de oro, como también en cadenas. Y el azabache eran los más usados.
Aquí les muestro parte de piezas que eran las usadas...hasta una pulsera qué de verdad no recordaba y la tenía mi madrina de hace muchos años. Pero esa se la había comprado a mis hermanos indígenas de la etnia " Kariña", ellos hacen collares con diferentes semillas de árboles.
Aunque para colaborarles le compraba sobretodo collares, luego los convertia en pulseras a mi estilo, pero aprovechaba al máximo todas esas " pepitas" como las llamo o cuetas.
They were not lacking in a red thread, but it could also be worn on a silver or gold bracelet, as well as on chains. And jet were the most used.
Here I show you part of the pieces that were used...even a bracelet that I really did not remember and that my godmother had many years ago. But that one I had bought from my indigenous brothers of the "Kariña" ethnic group, they make necklaces with different tree seeds.
Although to help them I bought necklaces, especially necklaces, then I turned them into bracelets in my style, but I made the most of all those "nuggets" as I call them or cuetas.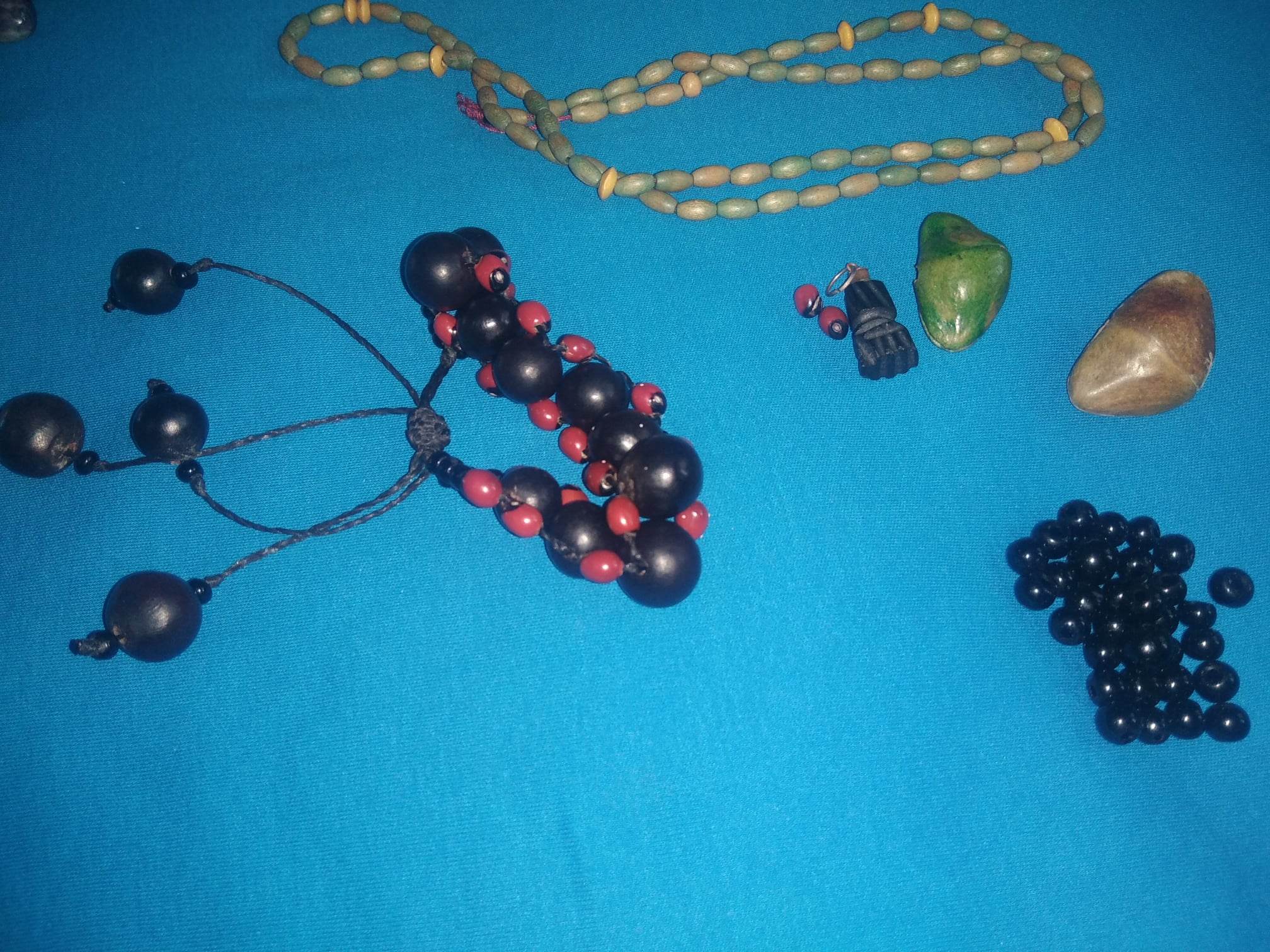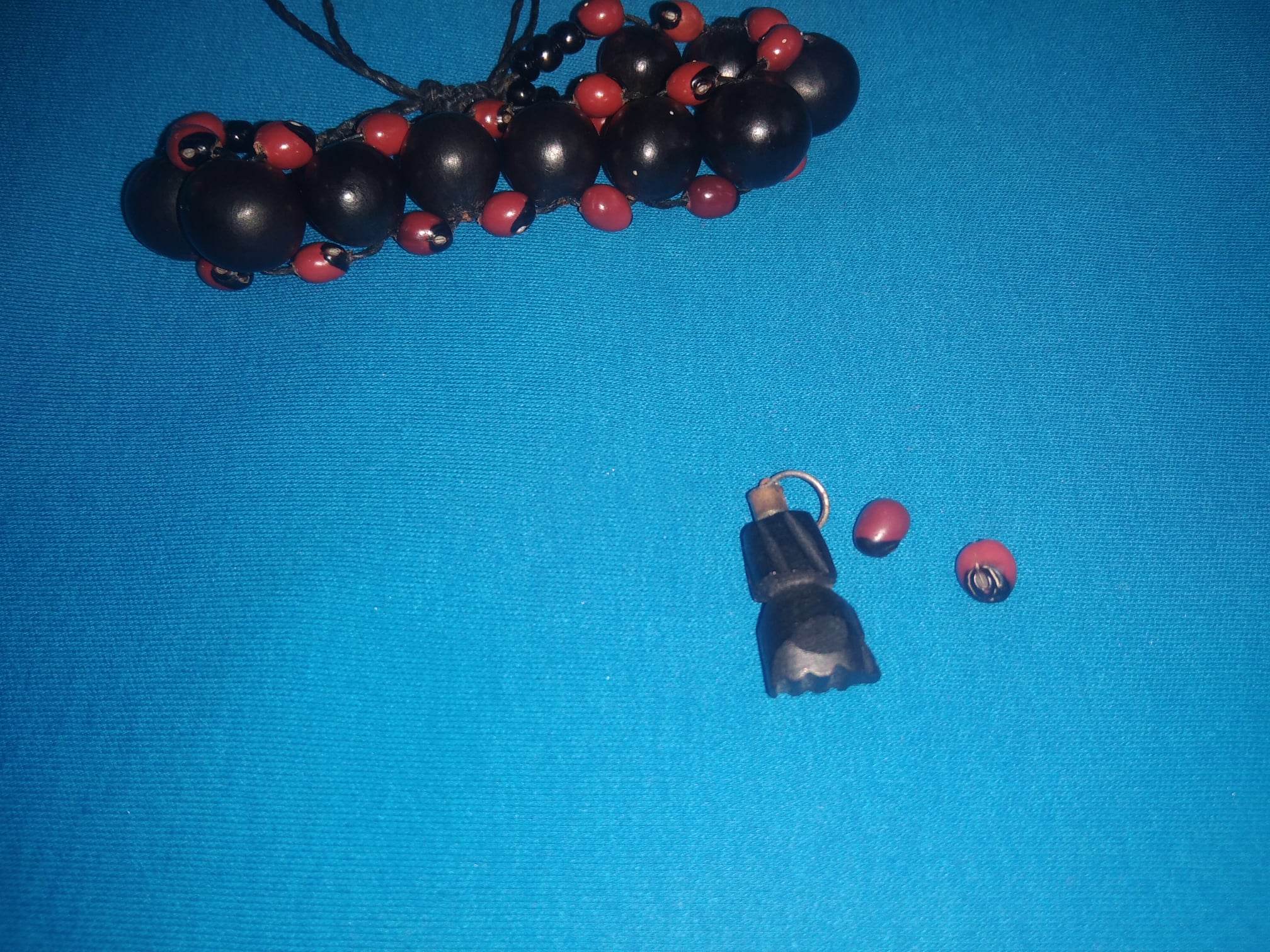 Hasta que se empezó a conocer más acerca de estás otra piedras y de sus propiedades...yo supe de ellas hace en unas feria que hacían en mi pueblo, donde venían artesanos de otro estados y ofrecían sus mercancías con diferentes cuarzos.
Desde que las ví llamaron mi atención y compraba collares que después los desarmaba y así sacar varias pulseras para mis hijas y hermanas.
Until more was known about these other stones and their properties... I learned about them a few years ago at a fair that was held in my town, where artisans from other states came and offered their wares with different quartz.
From the moment I saw them, they caught my attention and I bought necklaces that I later took apart and made several bracelets for my daughters and sisters.
Los artesanos explicaban para que servían cada una, los beneficios que aportaban...y recuerdo a una señora mayor muy amable que me dijo: míralas primero y deja que ellas te elijan. Luego me preguntó cuál me había llamado más la atención y le dije que la " morada intensa" La Amatista esa es tu piedra, ellas, las piedras son las que eligen a las personas.
The artisans explained what each one was used for, the benefits they provided... and I remember a very kind old lady who told me: look at them first and let them choose you. Then he asked me which one had caught my attention the most and I told him that the "intense purple" The Amethyst that is your stone, they, the stones are the ones that choose people.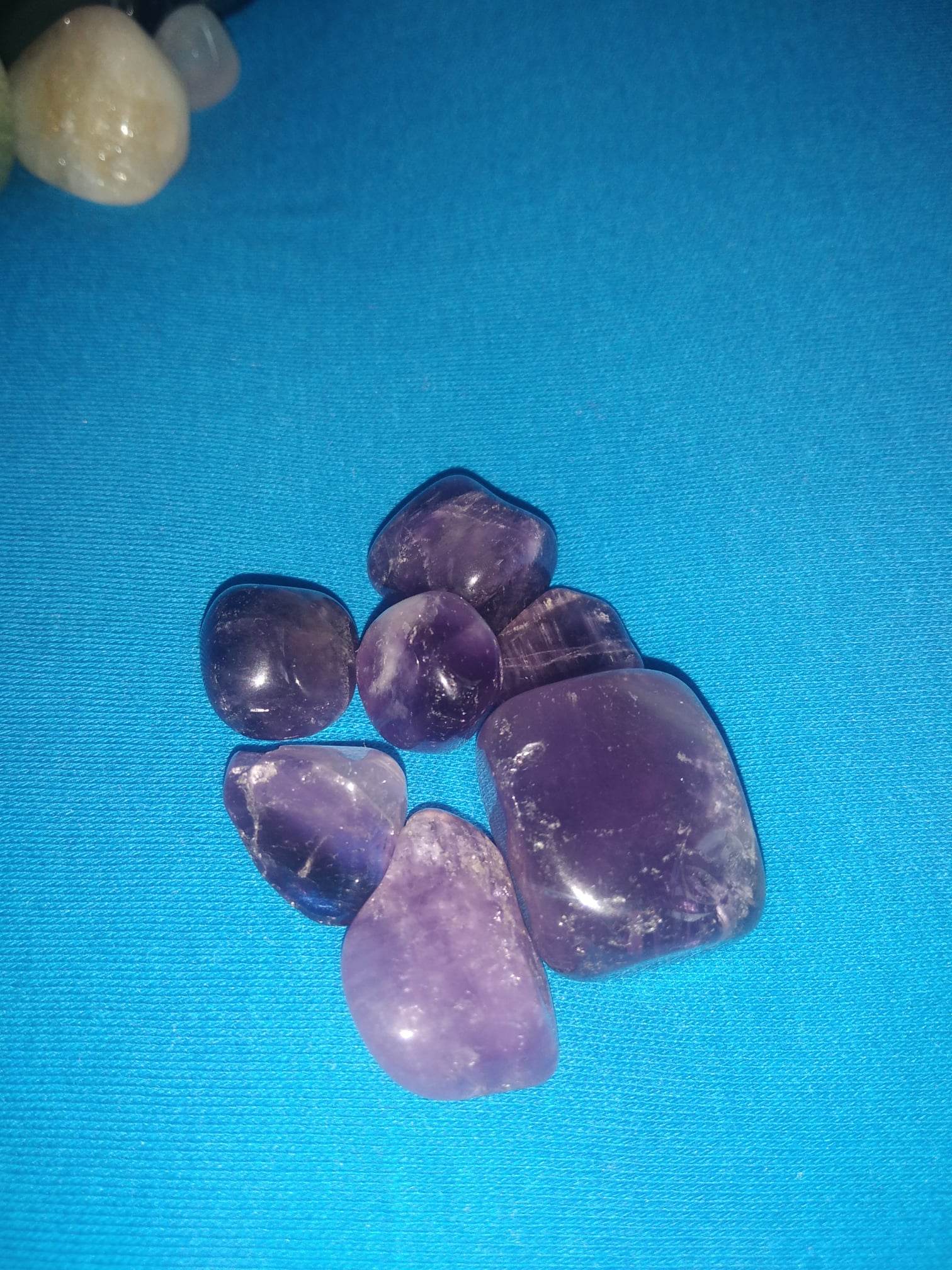 Aparte de ella, los cuarzo rosa💗, ojo de tigre 😸y la turmelina negra 🖤son los que siempre me acompañan en mi cartera, en un collar o pulsera.
Apart from her, rose quartz 💗, tiger eye 😸 and black tourmelin 🖤 are the ones that always accompany me in my wallet, in a necklace or bracelet.
Siempre a la hora de salir no me puede faltar llevar algunas de mis piedras. Y también las he usado como colocándolas en mi frente y ojos para relajarme...me encanta el frío de las piedras de cuarzos.
When it's time to go out, I can't miss taking some of my stones. And I have also used them as placing them on my forehead and eyes to relax... I love the cold of the quartz stones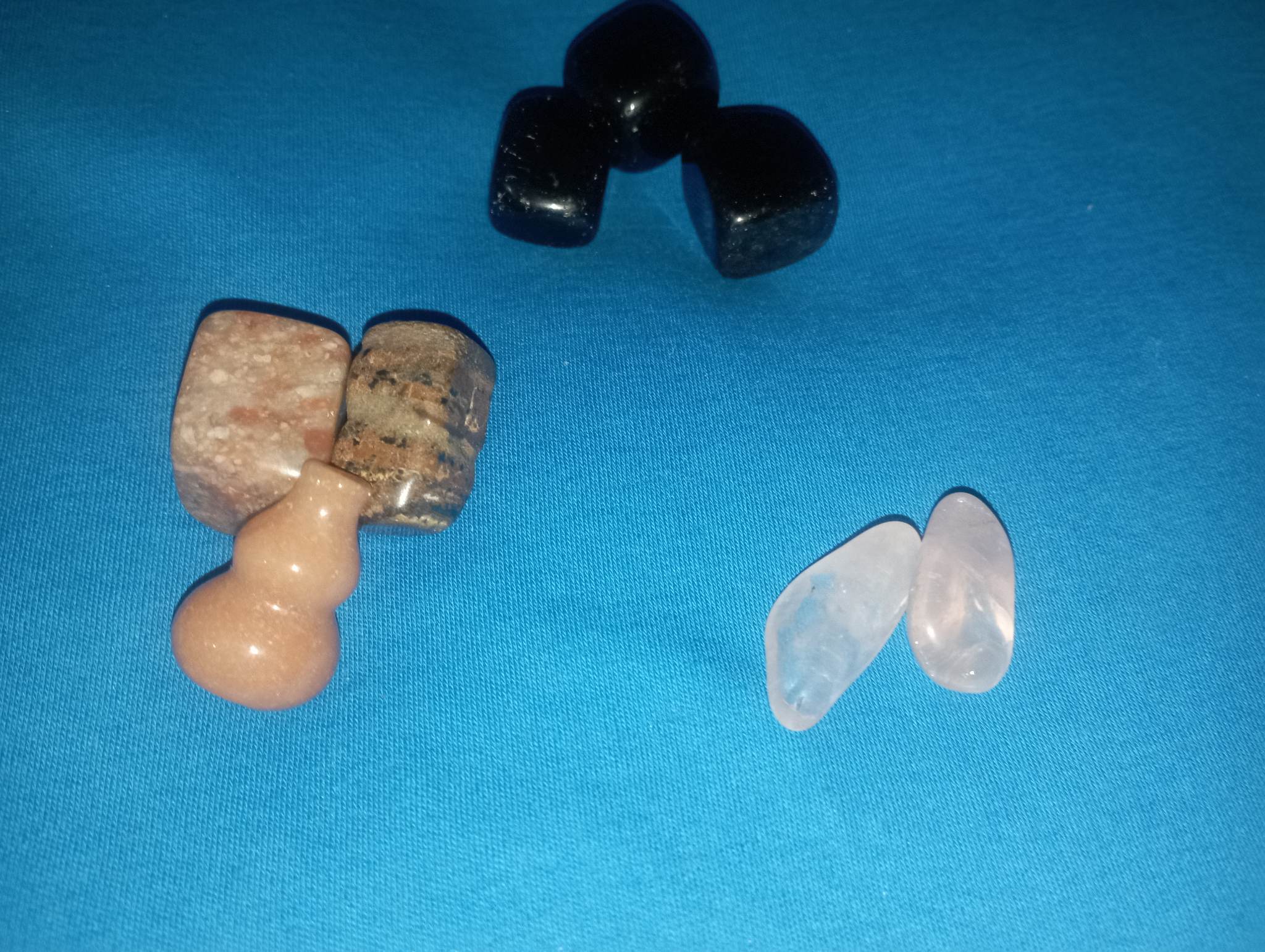 Son muchos los accesorios que realizado con estás piedras ☺️ obsequiarlos a las personas que amo son mi marca, ya que me gusta regalar cosas que representen lo bueno de la vida. Con mucho significado, claro siempre y cuando creas en él. Las piedras están cargadas con esa buenas energías y si ellas ayuden tanto en la sanación y protección del cuerpo y espíritu, me hace feliz.
There are many accessories that I made with these stones ☺️ giving them to the people I love are my brand, since I like to give things that represent the good things in life. With a lot of meaning, of course as long as you believe in it. The stones are charged with these good energies and if they help so much in the healing and protection of the body and spirit, it makes me happy.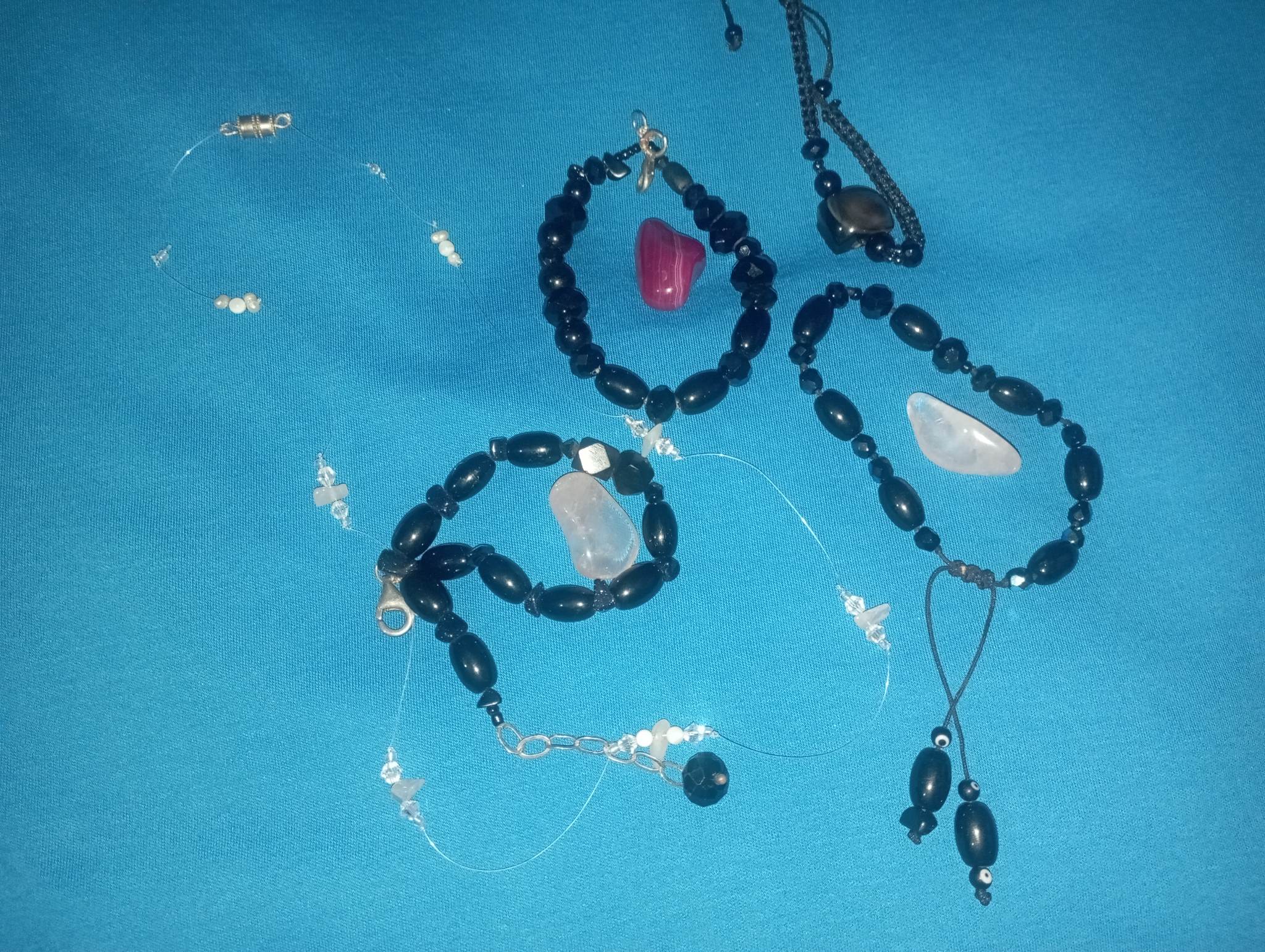 Muchos no creen en el poder que tienen, pero las llevan por moda o simplemente porque con ellas crean piezas hermosas de bisutería o adornos para el hogar.
Many do not believe in the power they have, but wear them for fashion or simply because they create beautiful pieces of jewelry or decorations for the home.
Existen una gran variedad, una más hermosa que la otra, sus matices. De verdad soy una fanática admiradora de los cuarzos..
There is a great variety, one more beautiful than the other, its nuances. I'm really a fanatic admirer of quartz.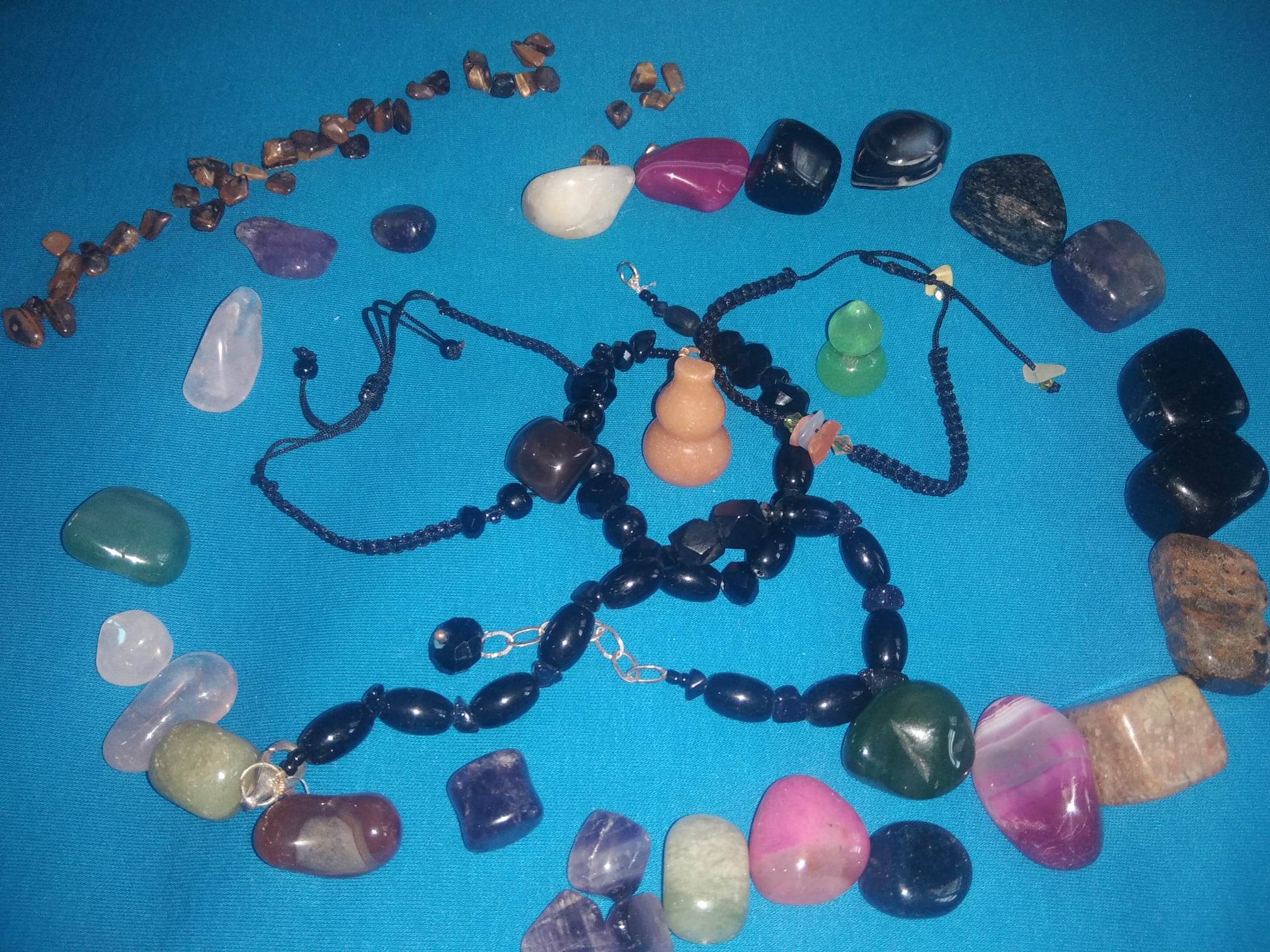 Me complace compartir con todos ustedes 😘 uno de materiales favorito a la hora de hacer mis manualidades, porque a la hora de hacerlo van entrelazaExisten una gran variedad, una más hermosa que la otra, sus matices. De verdad soy una fanática admiradora de los cuarzos..
dos en cada pieza los mejores deseos de bienestar y amor.
I am pleased to share with all of you 😘 one of my favorite materials when making my crafts, because when doing so they intertwine. There is a great variety, one more beautiful than the other, its nuances. I'm really a fanatic admirer of quartz.
two in each piece the best wishes of well-being and love.
Siempre me hace feliz 💕 compartir con esta linda comunidad...nos vemos pronto y que Dios nos bendiga.
It always makes me happy 💕 to share with this beautiful community...see you soon and God bless us.
---
---