My Happiest Memory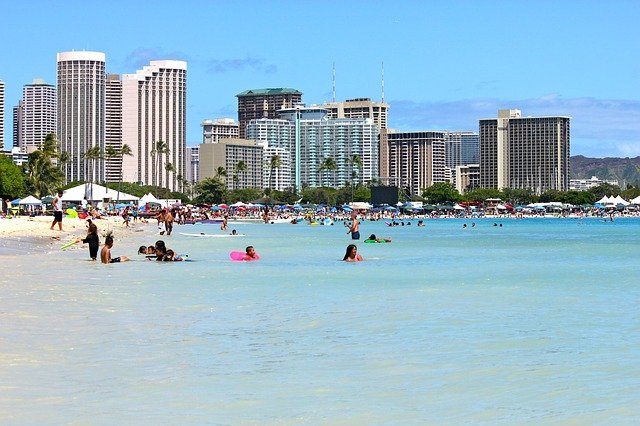 Source:
Which Memory? I am so Blessed!
I have been very fortunate, and when I look back on my life, it is difficult to pick out just one memory as my happiest. However, I think the happiest was probably when my parents took me and my little sister to Hawaii on holiday way back when I was 12. Did we get sunburnt? Yes. Nonetheless, it was lovely to be by the sea in the sun with my family.
No Internet or Cell Phones. Just Beach.
Those were simpler times. There was no internet or cell phones to constantly divert our focus from life, so we just lived it instead. I buried my sister in the sand. She was a laughing, happy participant in this. We dug the trench together. Then she lay down and I covered her up to her neck and sculpted the sand to make it look like she was a mermaid. She could easily free herself. I don't want you to think there was cruelty involved!
Coming from such a cold place, we accidentally got sunburnt because we didn't know any better. Although we now know it is wise to wear sunscreen even on a cloudy, cold day, back then, we knew less. It was and is almost impossible to get a sunburn where I live. You have to stand outside in midsummer for several hours if you want to ruin your skin. We didn't know it was so easy elsewhere!
Trap this tourist!
The ocean was warm, blue, and inviting. We stayed in Oahu, on Waikiki beach. My father said it was a tourist trap. I was so happy to be trapped! The water was warm and swimmable. There was a sort of tide break. Was it to prevent the waves from getting too high? I don'tknow, but the sea was quite calm.
I had a zebra striped bathing suit. When I took it off after a day in the hot sun, I discovered, to my childish delight, that the sun had tanned zebra stripes on my skin. My father explained that the dark attracts light and light reflects it. Thanks for the science lesson. I didn't care because I was a cool zebra now!
Nostalgia
Because it is so cold here, we don't get wonderful fruit, so Hawaii was also the first time I had a sweet, sweet pineapple. I had had pineapple before and since, but it was never so sweet and juicy. And the coconuts! Maybe not a fruit, arguably, but so delicious and unexpectedly tender. There have been many happy memories in my life, but being on the beach, spending time in the sun with my whole family is by far the best.
---
---