Share Your Battle Challenge Dragons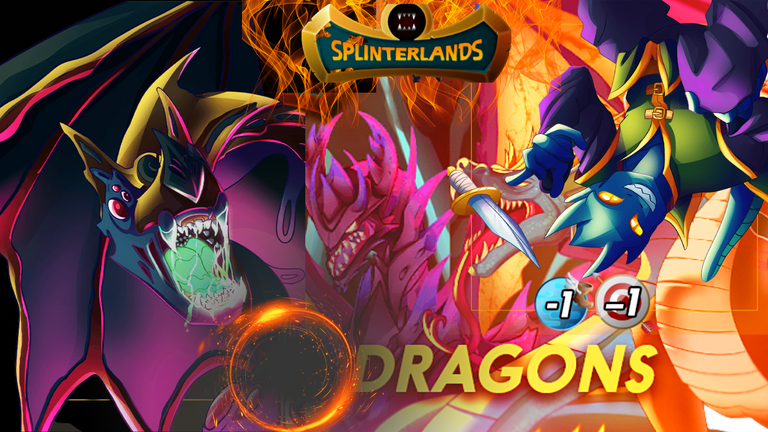 This week's challenge is to show off a battle where we used ANY Dragon card.
In this post, I want to highlight the power of Void Dragon.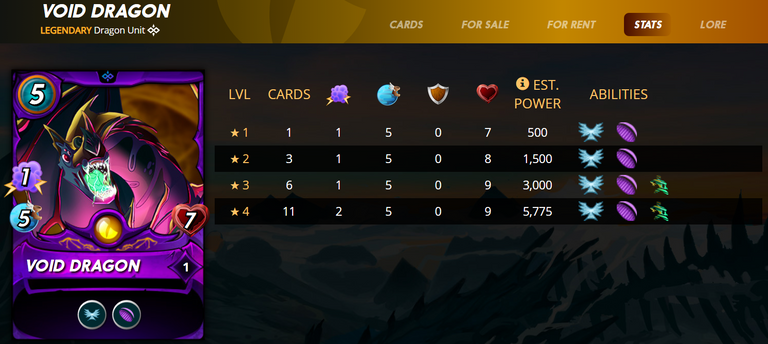 You can check out this Share Your Battle link if you also want to participate.
---
Rulesets:
Counterspell
Target Practice
Keep Your Distance
Mana Cap: 28
Elements: Water, Earth, Dragon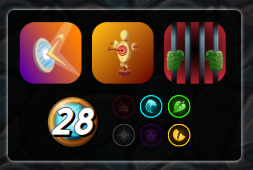 All Monsters have the Magic Reflect ability.
When hit with Magic damage, deals damage equivalent to the magic attacker's damage divided by 2 (rounded up) damage back to the attacker

All Range and Magic monsters have the Snipe ability. Targets enemy Monsters with Ranged, Magic, or no attack that are not in the first position

Monsters with Melee attack may not be used in this battle.

---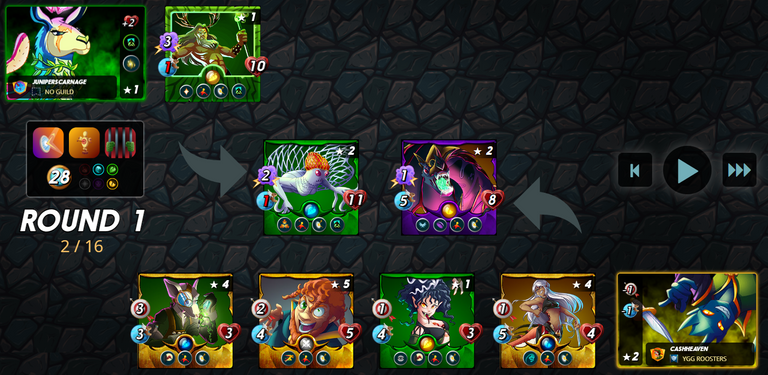 You may also watch battle here.
---
Summoner: Quix the Devious
Abilities:
All enemy monsters lose 1 ranged attack damage
All enemy monsters lose 1 speed
This game has Counterspell and Keep Your Distance rulesets, the only viable option to play here is Ranged and Harmless monsters.
This summoner's less 1 ranged attack debuff should go a long way.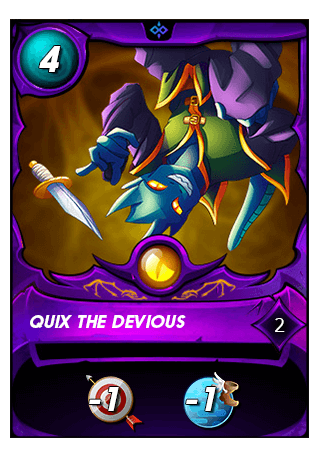 ---
Pos 1 Monster: Void Dragon
Abilities:
Flying - Has an increased +25% chance of evading Melee or Ranged attacks from Monsters who do not have the Flying ability
Quix debuff of less 1 speed on enemies makes Void Dragon a good Pos 1 for its evasiveness
Void - Reduced (halved rounded up, except attack 1 which deals 0 damage) damage from Magic attacks
I just said above that Magic monsters are not good in Counterspell ruleset, but since it has Void and it only has 1 damage, it will not feel any reflect damage.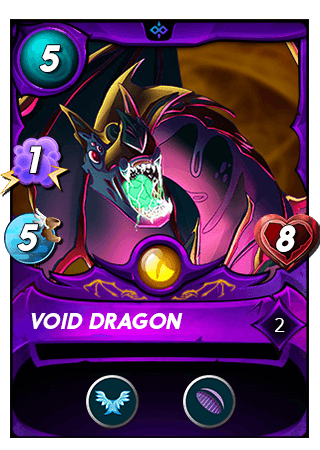 ---
Pos 2 Monster: Naga Assassin
Abilities:
Backfire - If an enemy misses this Monster with an attack, the enemy attacker takes 2 damage
I chose Naga Assassin as my pos 2 monster as this is the next best thing to tank enemy ranged hits. Since we all have Snipe ability, enemy ranged attacks will target Naga Assassin first. With high speed of 5 and Quix -1 speed debuff to enemies, enemies would have a high chance of missing attacks.
If Void Dragon dies easily, Naga Assassin goes to pos 1 and she can't attack anymore. Good thing with Backfire is she can still deal damage even though she does not hit with attacks.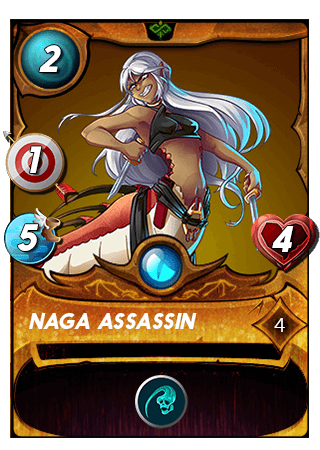 ---
Pos 3 Monster: Iza the Fanged
Abilities:
Sneak - Targets the last Monster on the enemy Team instead of the first Monster
Scavenger - Gains 1 max health each time any monster dies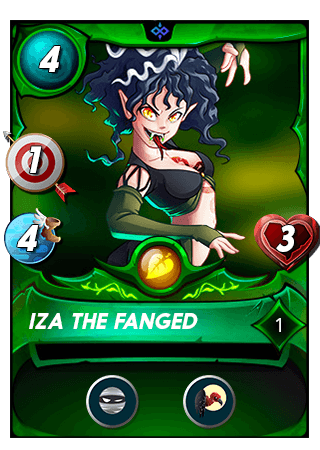 ---
Pos 4 Monster: Supply Runner
Abilities:
Swiftness - All friendly Monsters have increased +1 Speed
this helps my monsters to attack first and also helps Void Dragon and Naga Assassin to be more evasive and last longer in the battlefield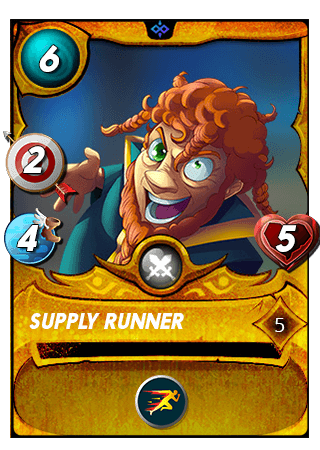 ---
Pos 5 Monster: Venari Seedsmith
Abilities:
Scavenger - Gains 1 max health each time any monster dies
I chose it solely for the 3 damage it deals per round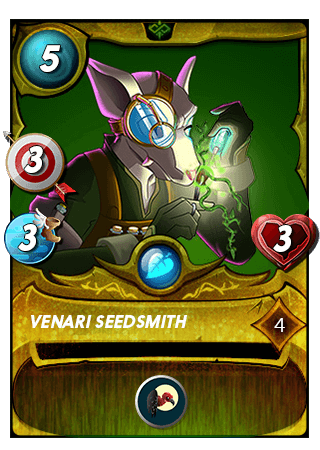 ---
Can't wait to see them in action? Let's watch the game.
You may also watch battle here.
Did your strategy work?
It worked perfectly.
Void Dragon is the MVP in this game for standing on the battle field for long.
It dealt 4 damage per round in total (3 from Magic Reflect and 1 from its hit).
Naga Assassin also proved her worth as it withstood 1 beating from Kron which further helped the team last deal more damage.
This line-up beat even a nasty Llama-Kron line-up. I am proud of coming up with this line-up.
What will you try differently next time?
Honestly, I chose Iza the Fanged and Venari Seedsmith for their durability because of their Scavenger ability.
If I knew my opponent would play Llama Kron, I would change these 2 monsters with these 3 monsters:
Acid Shooter - would deal 2 damage
Swamp Thing - would deal 1 damage, plus its Weaken and Slow ability would also help the team.
Vampiric Blossom - would deal 4 damage because of its Deathblow ability
That's a total of 7 damage per round compared to the 4 damage of Iza the Fanged and Venari Seedsmith. This would have been easier win with these 3 monsters for sure.
Note: My Swamp Thing is still level 4 so it only has 1 damage.
Do you like DRAGONS?
Oh yes definitely. These Quix, Void Dragon and Naga Assassin combo in this ruleset modification is a big WIN for sure.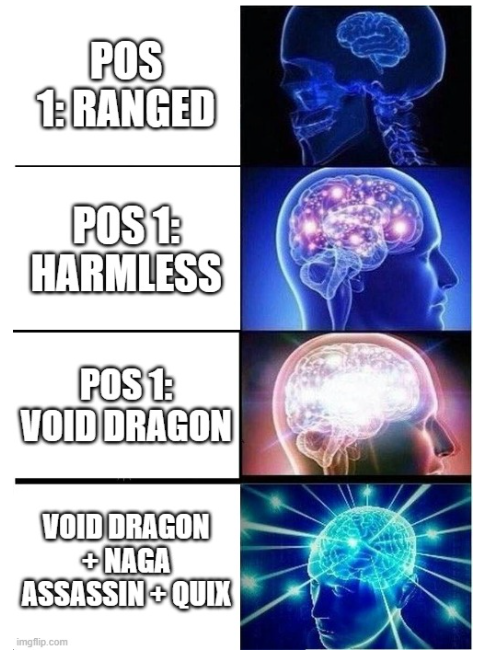 ---
Hope you learned something from my game and how I came up with this lineup.
What would you have done differently given the same ruleset, mana cap and active elements? Let us know by dropping a comment.
---
Want to play Splinterlands with me? Play with me
Make passive income by renting out your card collection in peakmonsters.
Earn on your blogs. Blog with us here in Hive
Join me in my @actifit journey. Let's stay fit while earning.
Card images are owned and open-sourced by Splinterlands.io
Thumbnail is made in Canva
---
---