BNB/EUR fluctuation 280 - 265 ( and 290 - 240) (ENG/FR)
BNB/EUR fluctuation
Currently the BNB/EUR pair is fluctuating between 265 and 280.
For those like me who buy and sell BNB against EUR, it is possible to do:
micro trading between 270 and 275
to place orders bought at the lowest and resell at the highest
Note I still have positions open for expected declines to 265, 260, 250 and 240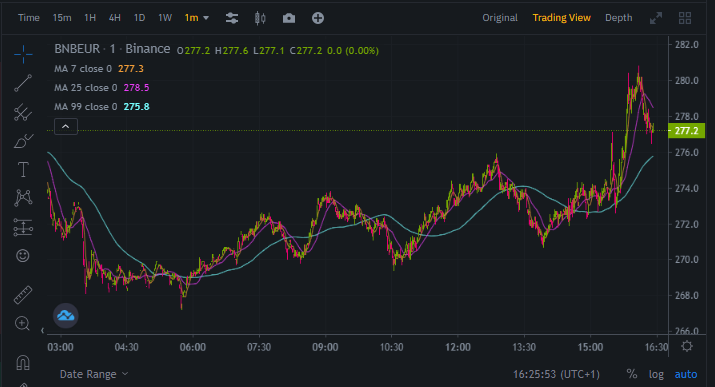 Fluctuation de BNB/EUR
Actuellement la paire BNB/EUR fluctue entre 265 et 280.
Pour ceux qui comme moi Achète et Revende des BNB contre des EUR, il est possible de faire:
des micro trading entre 270 et 275;
de placer des ordres d'achat au plus bas, puis de revendre au plus haut.
Remarque j'ai encore des placements ouverts pour des baissent prévus à 265, 260, 250 et 240.
---
---