ALMA VIVA! 🌟 Living soul!
Hola comunidad querida!! 👋😉🌷❤️😙 Les doy la bienvenida a este nuevo post que comparto para todos ustedes! Excelente día para todos!🌹💕
Hello dear community! 👋😉🌷❤️😙 I welcome you to this new post that I share for all of you! Excellent day to all!🌹💕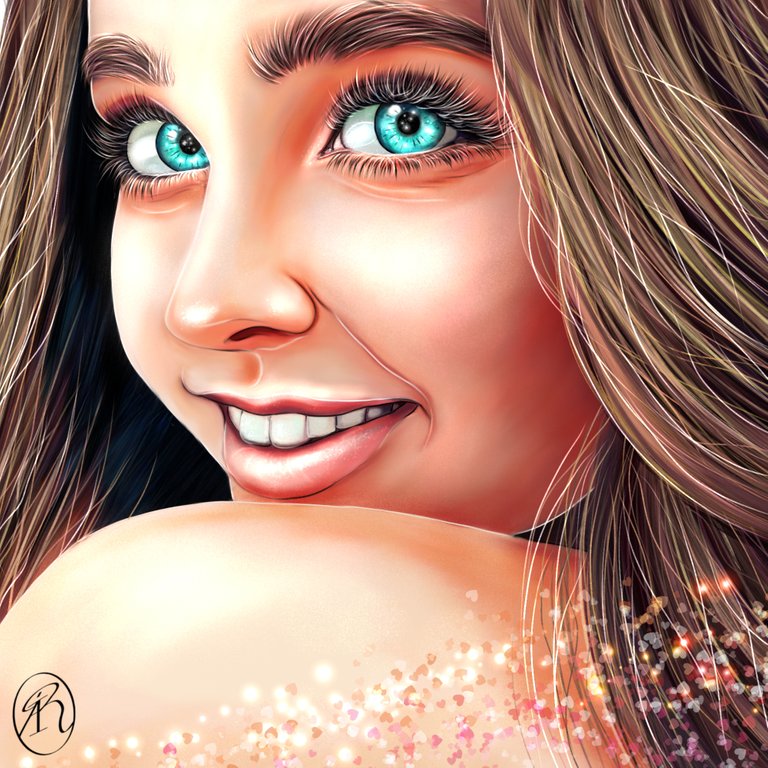 Contenta estoy de compartirles esta pieza en esta mañana, desde ayer que estuve trabajando en ella y pensando sobre lo que representa la mirada en uno y en cada uno de nosotros. Como esa velita en nuestro interior a veces se puede poner tenue o apagar, en algún momento de nuestras vidas nos pasa. Esta pieza la he titulado de una forma maravillosa que reflejamos cuando nuestro interior recupera la fuerza y las ganas de vivir, las ganas devolver a brillar. Y realmente nuestra alma se refleja en la ventana de nuestros ojos con ese brillo y alegría, esa que tenemos desde nuestra niñez y en nuestra juventud y que puede apagarse cuando despertamos a la realidad, a una realidad de muchas cosas y que sin duda puede volver aparecer cuando nos libramos de cargar, rencores y tenemos nuevas oportunidades!!! Que viva el Alma Viva!! Con alegría y libertad!! 😉😄😄💞💖❤️ Disfruten esta pieza y deseo que siempre recuerden que en medio de lo difícil es una oportunidad para recobrar o renovar la luz de nuestro interior!
I am happy to share this piece with you this morning, since yesterday when I was working on it and thinking about what the gaze represents in one and in each one of us. As that little candle inside us can sometimes dim or go out, at some point in our lives it happens to us. I have titled this piece in a wonderful way that we reflect when our interior regains strength and the desire to live, the desire to shine again. And really our soul is reflected in the window of our eyes with that brightness and joy, the one that we have from our childhood and in our youth and that can go out when we wake up to reality, to a reality of many things and that can undoubtedly return appear when we get rid of burdens, grudges and have new opportunities!!! Long live the Living Soul!! With joy and freedom!! 😉😄😄💞💖❤️ Enjoy this piece and I want you to always remember that in the midst of what is difficult is an opportunity to recover or renew the light within us!

Etapas del Dibujo/Drawing Stages
Utilice para este boceto de delineado el pincel tipo pluma Maru, y también la brocha tipo pelo para recrear el cabello, pestañas y cejas. Seguí en una nueva capa y con método de mezcla normal la aplicación de un color base para luego con la brocha tipo plano real ir matizando con varios tonos carmesí. Luego pase a la fase de difumino para mezclar y suavizar los trazos cuestión de conseguir la transición desde lo más iluminado a lo más sombreado para la profundidad. Use este pincel tipo tiza para mezclar, dejando una leve textura grumosa muy muy leve.
Use the Maru pen brush for this outline sketch, and also the hair brush to recreate the hair, eyelashes and eyebrows. I continued in a new layer and with the normal mixing method, applying a base color and then with the real flat brush, tinting with various crimson tones. Then move on to the smudge phase to blend and soften the strokes in order to transition from highlight to shadow for depth. Use this chalky brush to blend, leaving a very very light, light clumpy texture.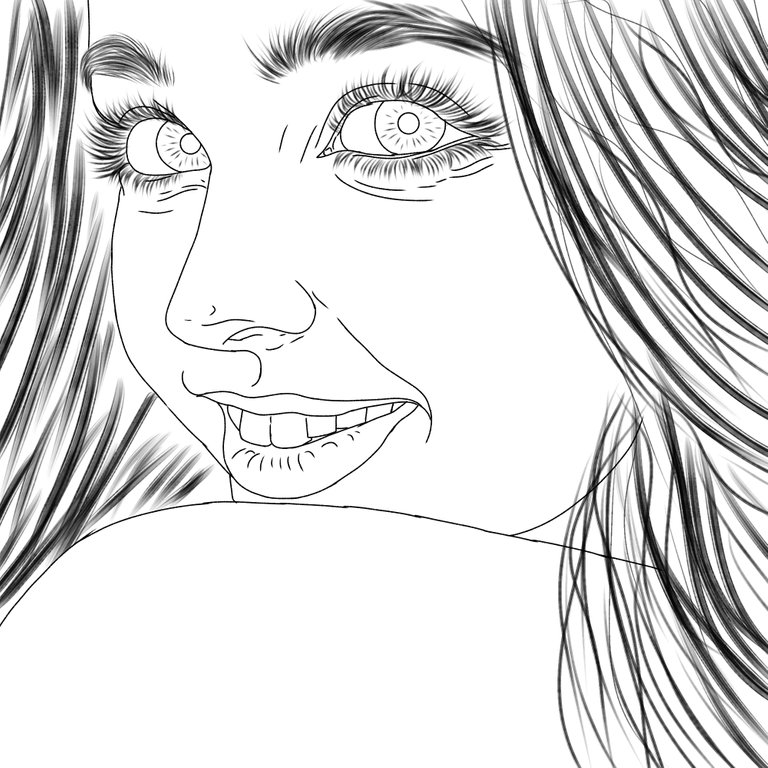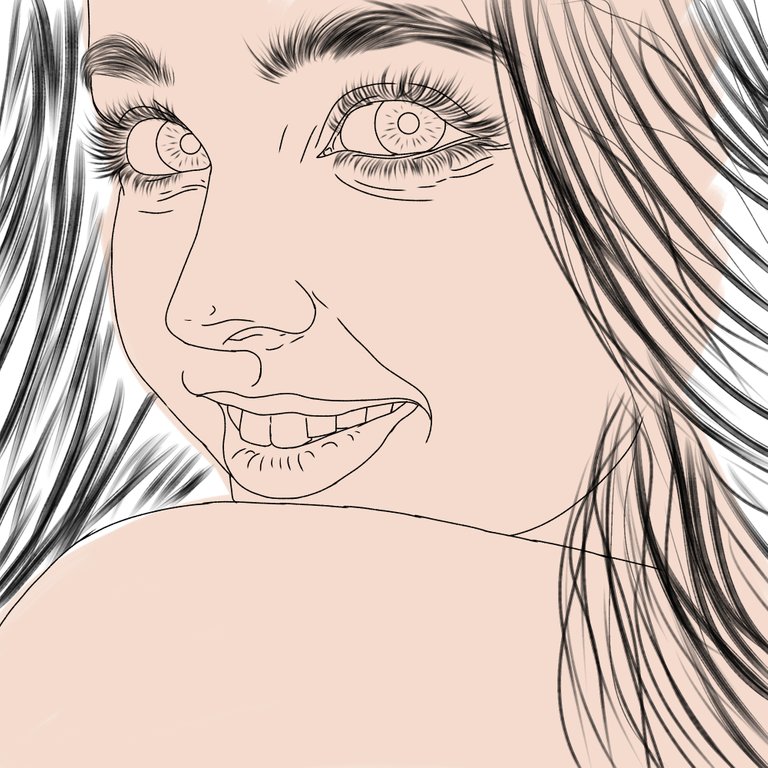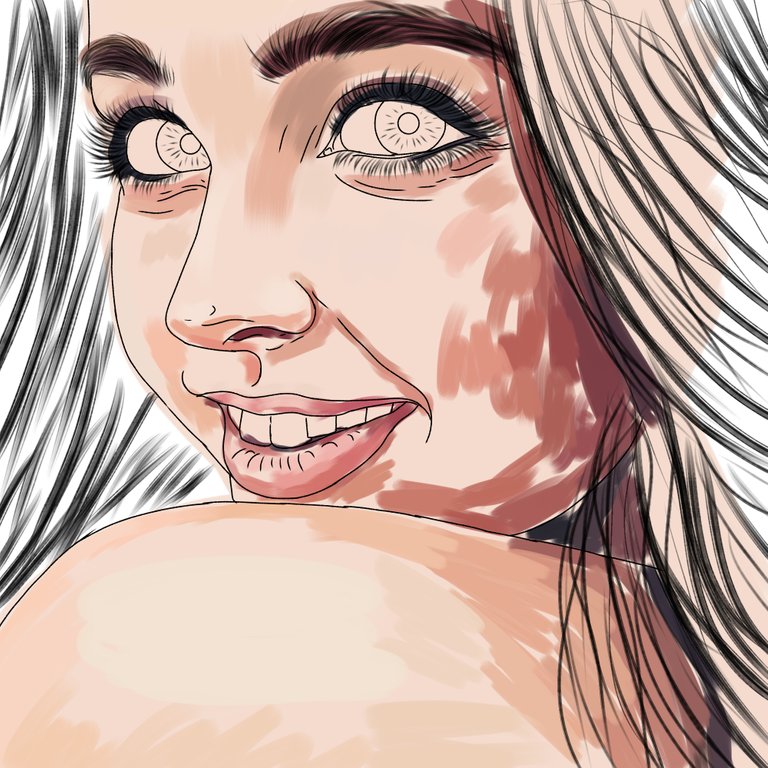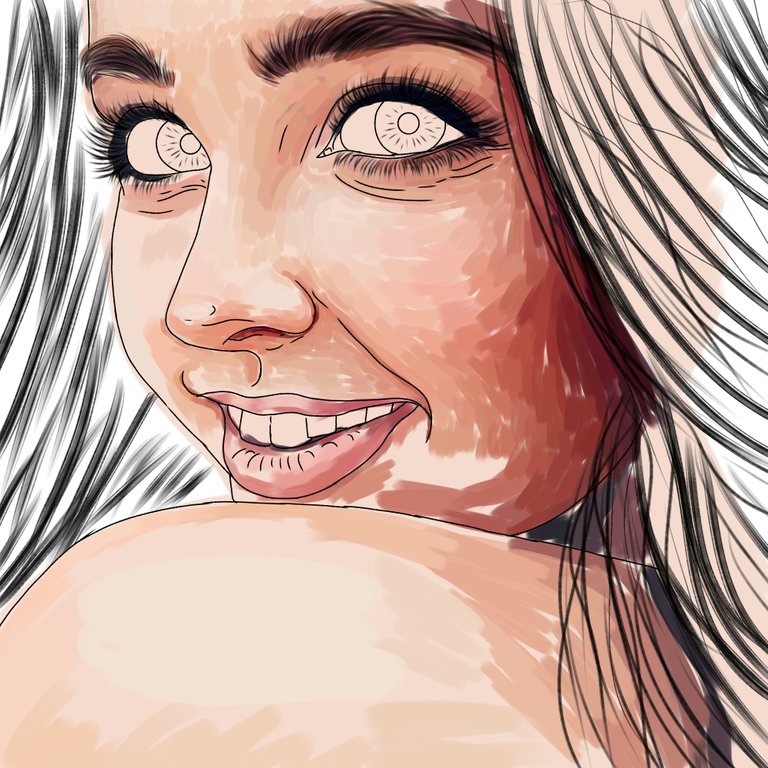 Luego, en esta etapa empecé a recrear el cabello con varios tonos para el castaño claro, usando la brocha tipo pelo que me gusta para conseguir diferentes mechones de color. Después, oculte la capa del delineado del cabello en negro para terminar de recrear el mismo en la capa de cabello a color con método de mezcla normal. De seguido, trabaje el delineado el cual difumine y luego con bloqueo alfa fui dándole tonalidades en partes iluminadas o para suavizar ciertas líneas, también trabaje en las cejas y pestañas con la misma brocha de pelo. Seguí con los ojos usando la misma brocha plano real y mezcle.
Then at this stage I started to recreate the hair with various shades for the light brown, using the hair brush that I like to get different strands of color. Then hide the black hairline layer to finish recreating the black hairline on the color hair layer with normal blend method. Next, I worked the outline which I blended and then with alpha blocking I gave it shades in illuminated parts or to soften certain lines, I also worked on the eyebrows and eyelashes with the same hair brush. I followed up with the eyes using the same real flat brush and blended.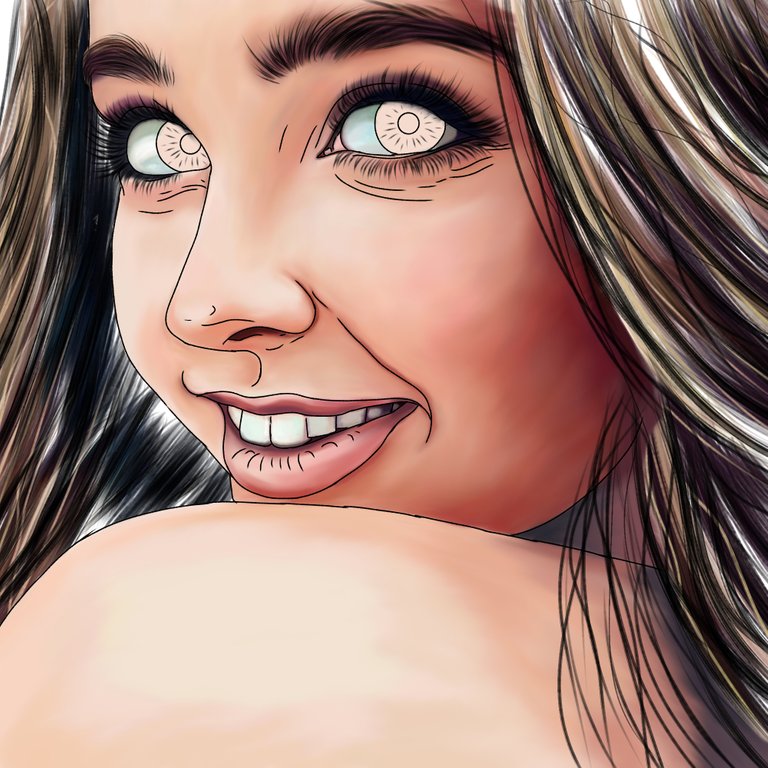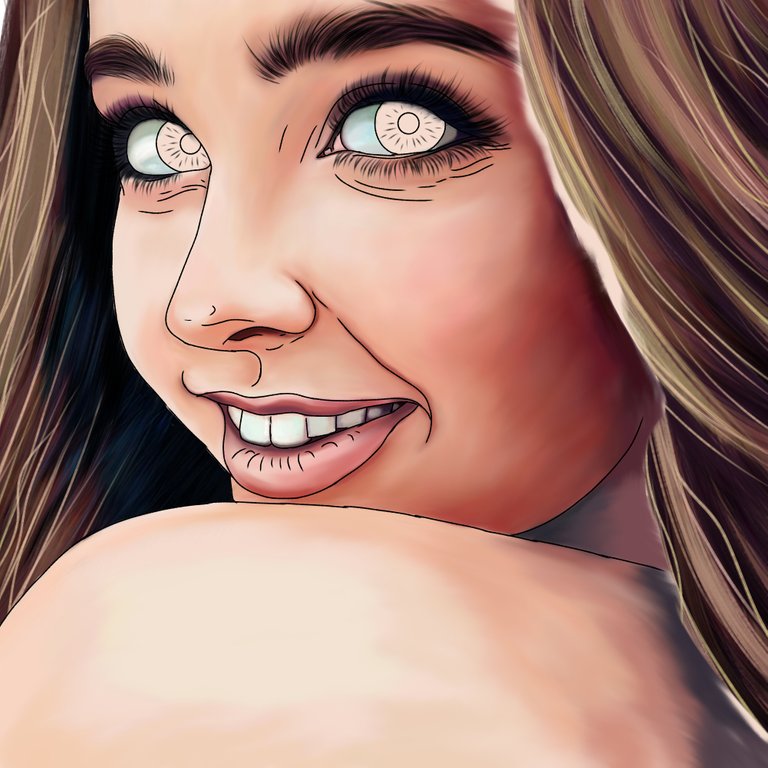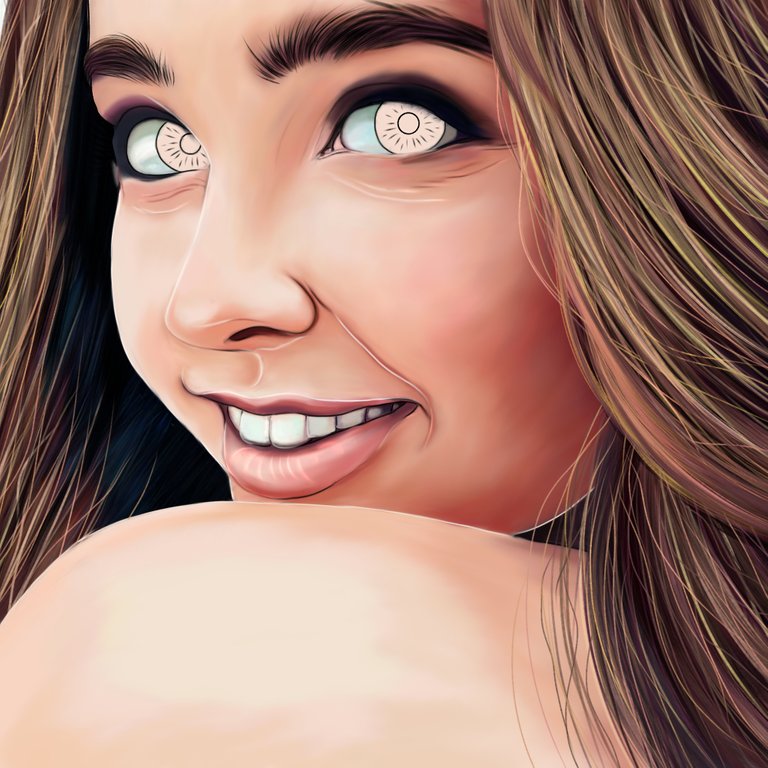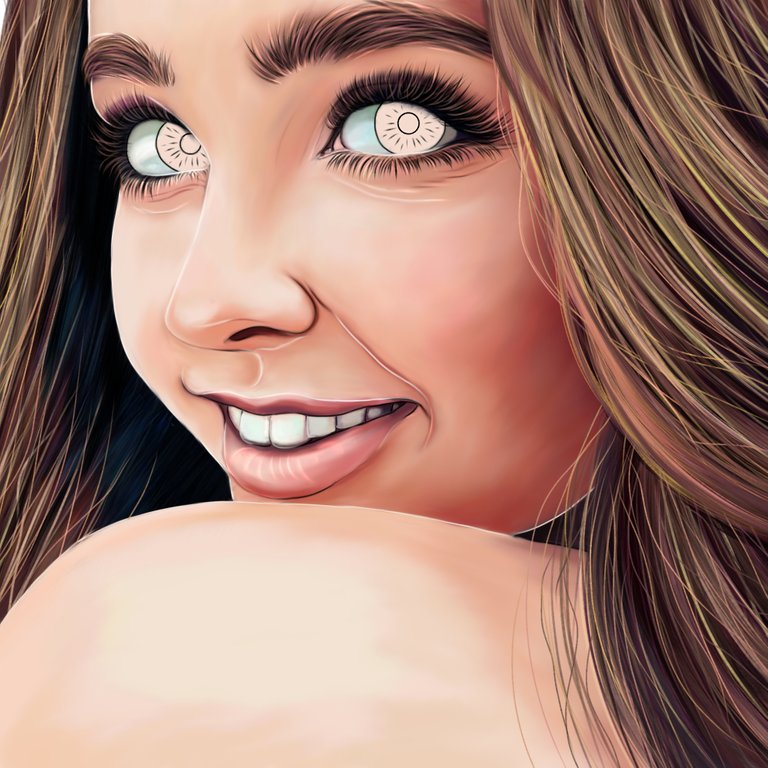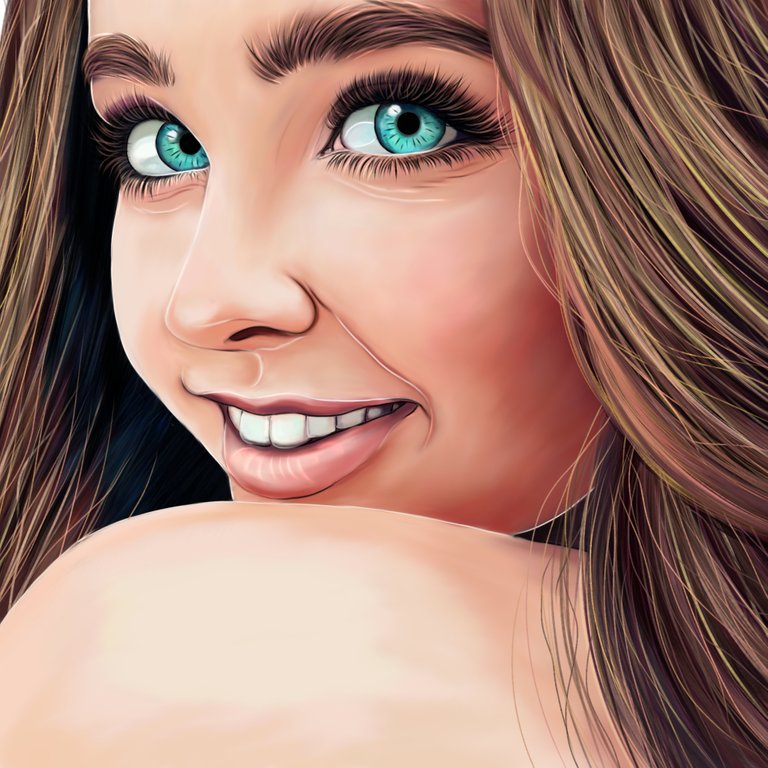 En esta última frase, empecé con los cambios de método de mezcla para agregar detalles de iluminación y profundidad,entre otros. Comenzando con una capa de superposición para resaltar el color de la piel, pase a una nueva capa con métodos de mezcla añadir y con pincel de Puntillismo opacidad baja texturice un poco la piel y de igual forma agregué algunos brillos a los ojos con el pincel de purpurina opacidad baja, agregue también en los labios y nariz, y usando la brocha tipo punto de brillo agregue a los ojos algunos de estos. En cabello y cejas como también en las pestañas agregue mechones con iluminación con una capa de añadir, agregando algunos corazones y brillos con punto de brillo para darle un aire de esa aura de amor y alegría que se nota en alguien con un brillo interior!😚🙂 Les agradezco su tiempo y poder contar con sus comentarios para esta especial pieza.😄👋❤️ Gracias por montón!
In this last sentence, I started with blending method changes to add lighting details, depth, and more. Starting with an overlay layer to bring out the skin color, move to a new layer with blend methods add and with the Pointillism brush low opacity I textured the skin a bit and likewise added some highlights to the eyes with the low opacity Pointillism brush. low opacity glitter, add also on the lips and nose, and using the glitter point brush add some of these to the eyes. On hair and brows as well as lashes add highlighted strands with an add-on layer, adding some hearts and glitter dots to give it an air of that aura of love and joy that comes from someone with an inner glow!😚 🙂 I appreciate your time and being able to count on your comments for this special piece. 😄👋❤️ Thanks a lot!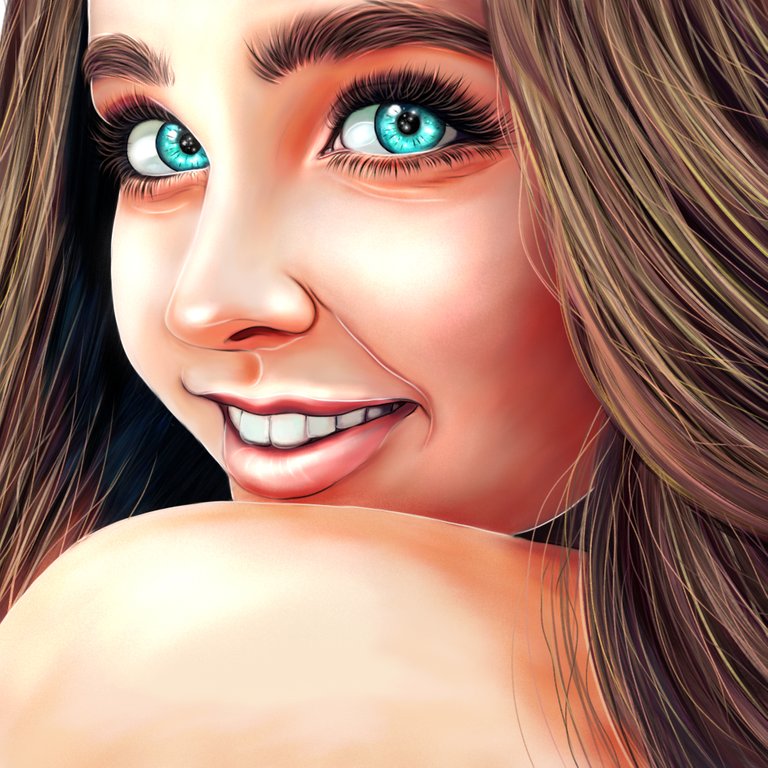 ILUSTRACIÓN FINAL/End Illustration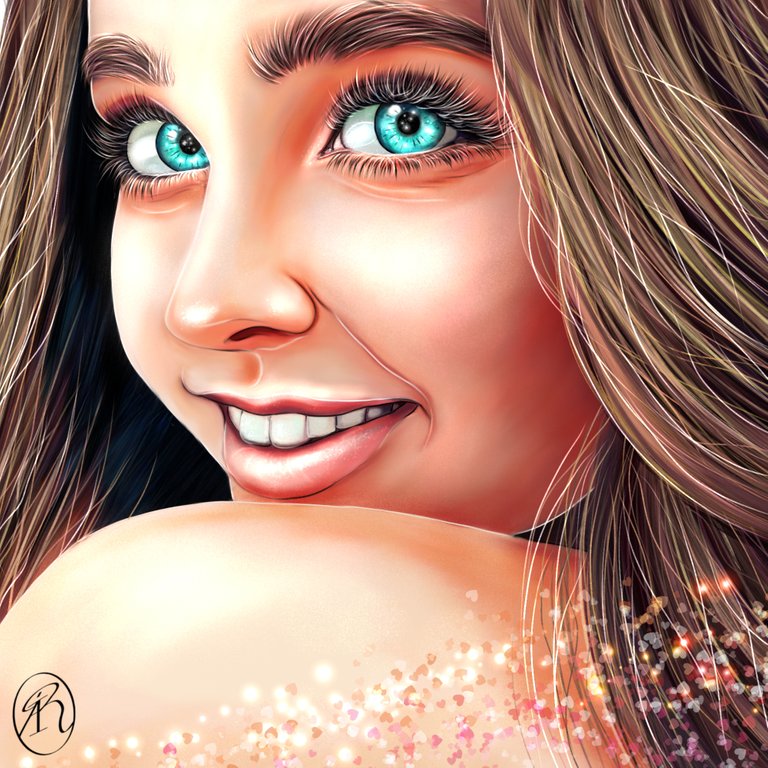 Redes Sociales/ Social Networks
Sigueme en/ Follow me in:
👉Instagram: @catrynart
👉 Twitter: @catrynart



Herramientas Usadas/Used Tools
Tablet Android/ Android Tablet
Programa Ibis Paint X/ Ibis Paint X Program
Traductor Deepl/ Deelp Translator
Servidor de Imagenes Imgbb/ Imgbb Image Server
Dactilopintura Digital/ Digital Fingerprint Painting



🌺¡HASTA EL PRÓXIMO POST!🌺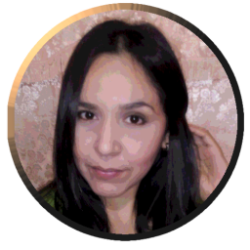 Detenerse es Retroceder
To Stop is to go Backwards
---
---