WATER ELEMENTAL🌊 Splinterlands Art Contest SPT W-228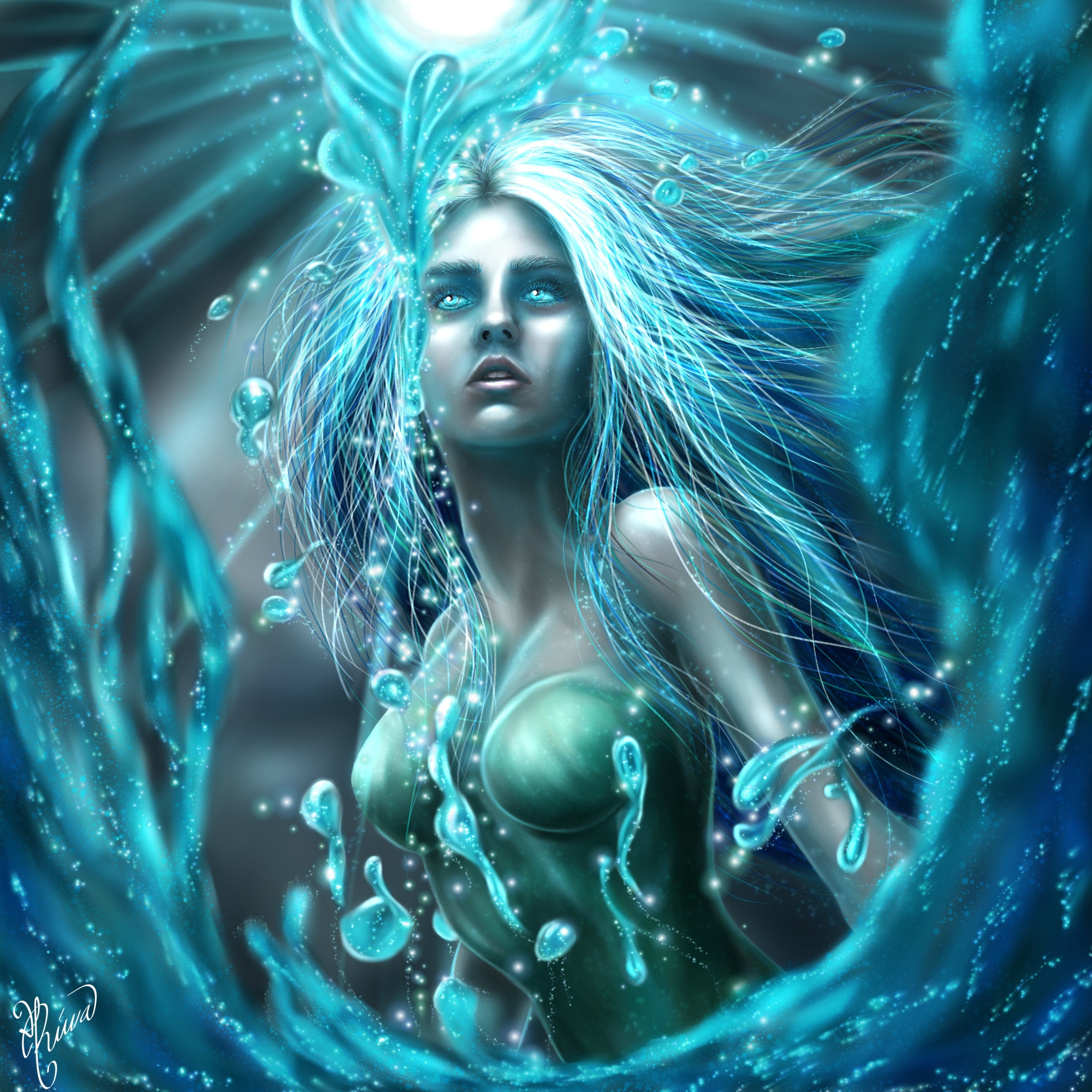 Hola mi querida comunidad de Alien Art Hive! ❤️👽😊👋 Mis saludos para todos esperando que se encuentren muy bien, fuertes, con salud y felices en donde quiera que se encuentren. En este día comparto junto a ustedes mi entrada para el nuevo concurso de esta semana de Splinterland. He estado algo enferma en estos últimos días, pero en medio de ello estuve realizando esta pieza que me llevo unas 13 horas realizarla, tomándome pausas de horas por el mismo malestar y dolor, el cual fue realmente un reto para mí a la hora de mantener una constante concentración mientras dibujaba, pero estoy muy feliz de haberla terminado y poder compartir junto a todos ustedes en este nuevo concurso, para el cual escogí la carta de WATER ELEMENTAL, que quise representar con una humanización femenina joven sobre la superficie marina, rodeada de un entorno con agua invocada por la misma magia característica de este personaje de su mismo elemento, para así combatir a los enemigos del momento. Muy feliz de este resultado logrado para esta carta y esperando les guste como a mí y queriendo que me cuenten aquí abajo en los comentarios que les pareció?! Disfrutenlo!😉👋
Hello my dear Alien Art Hive community! ❤️👽😊👋 My greetings to all of you hoping you are very well, strong, healthy and happy wherever you are. On this day I share with you my entry for this week's new Splinterland contest. I have been a bit sick these last few days, but in the middle of it I was doing this piece that took me about 13 hours to complete, taking breaks of hours because of the same discomfort and pain, which was really a challenge for me to keep a constant concentration while I was drawing, but I am very happy to have finished it and to be able to share it with all of you in this new contest, for which I chose the WATER ELEMENTAL card, which I wanted to represent with a young female humanization on the sea surface, surrounded by an environment with water invoked by the same characteristic magic of this character of the same element, in order to fight the enemies of the moment. Very happy with this result achieved for this card and hoping you like it as I do and wanting you to tell me down here in the comments what you thought?! Enjoy it!😉👋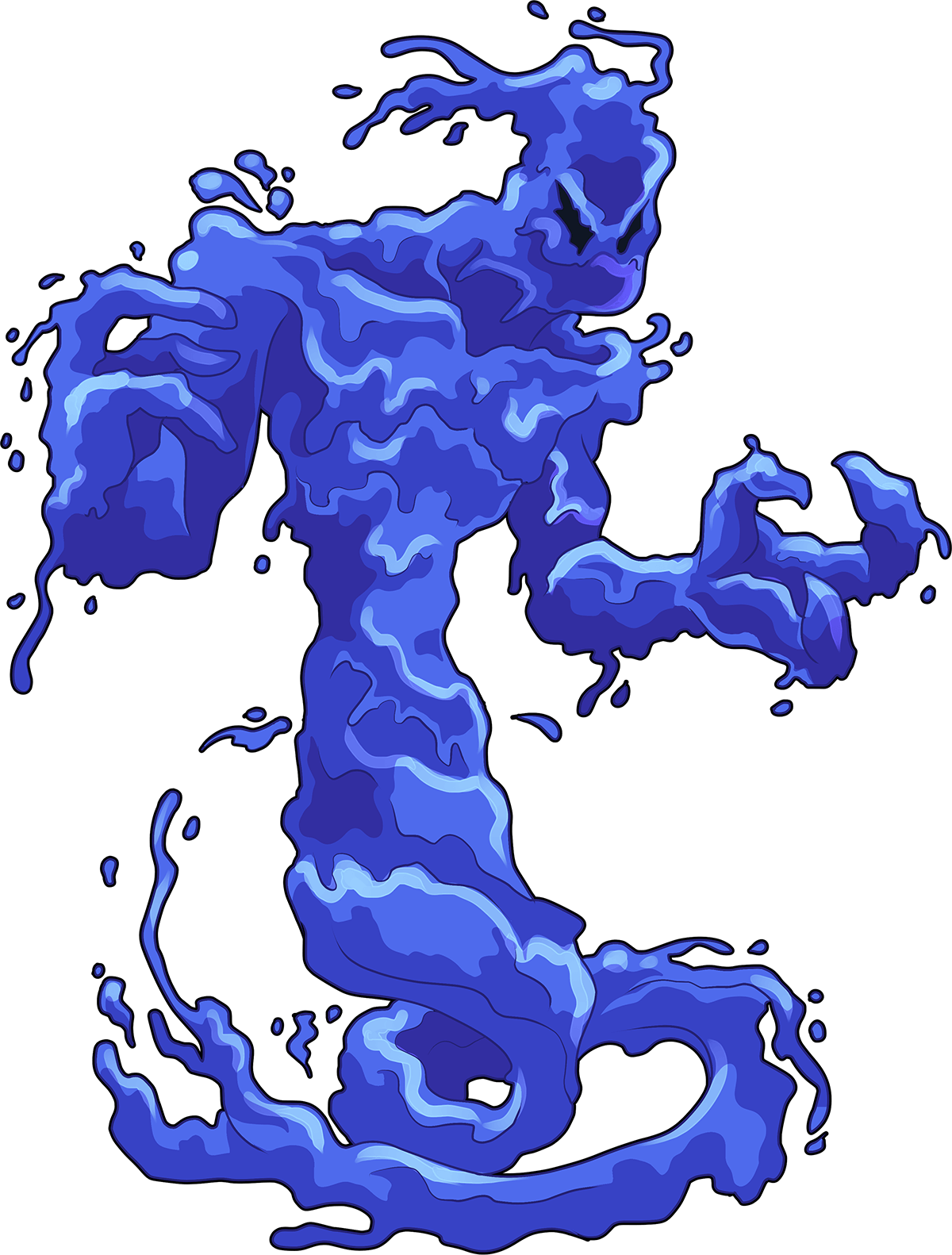 Etapas del Dibujo/Drawing Stages
Inicie en una capa el boceto guía para luego pasar hacer en una nueva capa el delineado, donde utilice para ambos una brocha tipo Lápiz #1, el boceto guía con el grosor del pincel más grueso, y para la capa del cabello use una brocha tipo Pelo para recrear un poco la forma del cabello y posición. De seguido, en una nueva capa por debajo del delineado aplique la capa de color base para piel y torso, usando una brocha tipo Rotulador fuerte, después fui aplicando varios matices de colores para la piel y otra variedad de verdes para el torso, entre claros y oscuros. Usando para la piel algunos azules y color piel claros y oscuros para reflejar el agua de su entorno. Usando un método de mezcla Normal y con una brocha tipo Rotulador fuerte para hacer los trazos más concisos. Oculte la capa del delineado del cabello.
I started in one layer the guide sketch and then I applied in a new layer the outline, where I used for both a Pencil type brush #1, the guide sketch with the thickest brush thickness, and for the hair layer I used a Hair type brush to recreate a little the shape of the hair and its position. Then, in a new layer below the outline I applied the base color layer for the skin and torso, using a strong marker brush, then I applied several shades of colors for the skin and a variety of greens for the torso, between light and dark. Using for the skin some light and dark blues and skin color to reflect the water of her surroundings. Using a Normal blending method and a strong marker brush to make the strokes more concise. Hide the outline layer of the hair.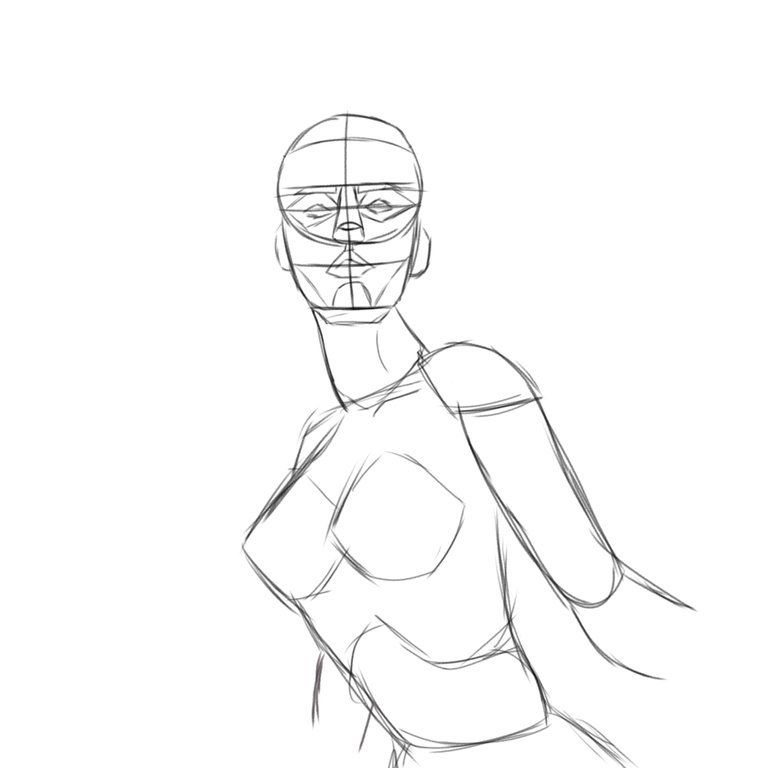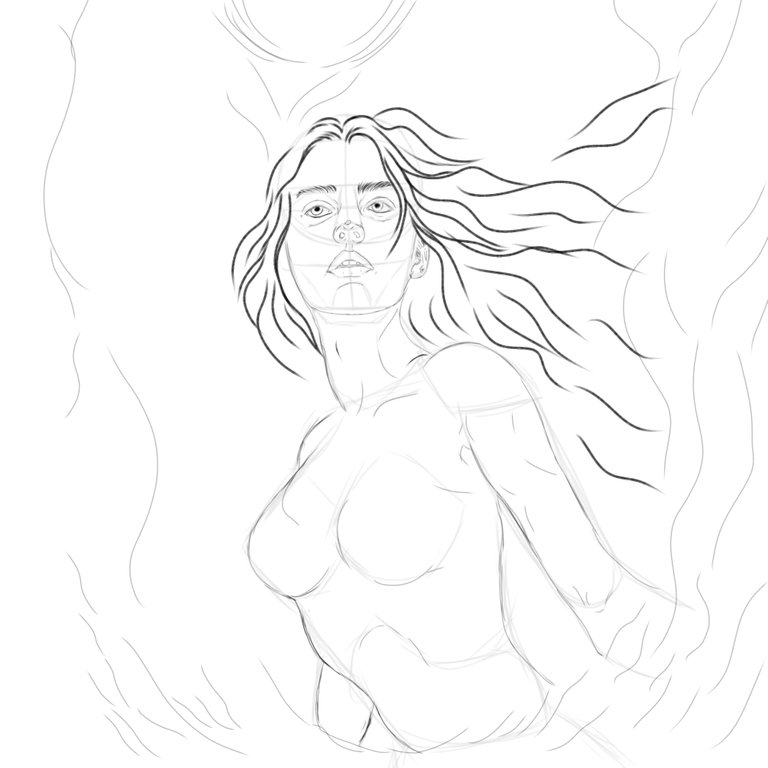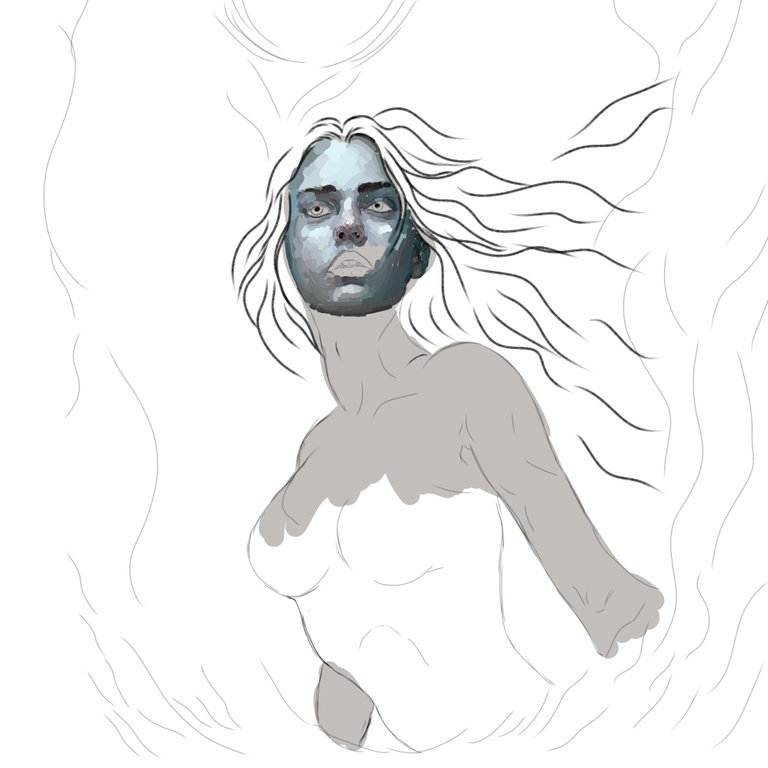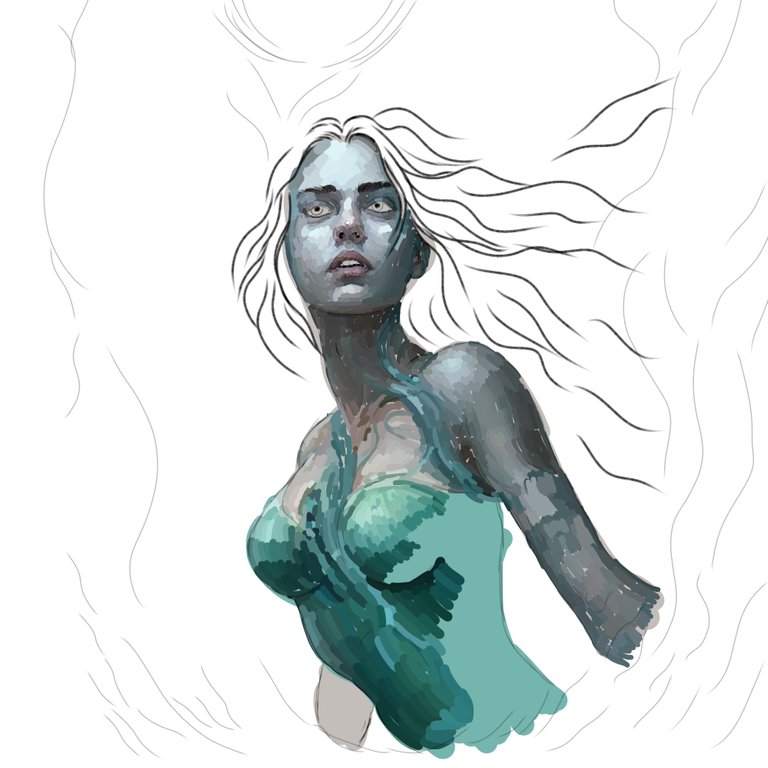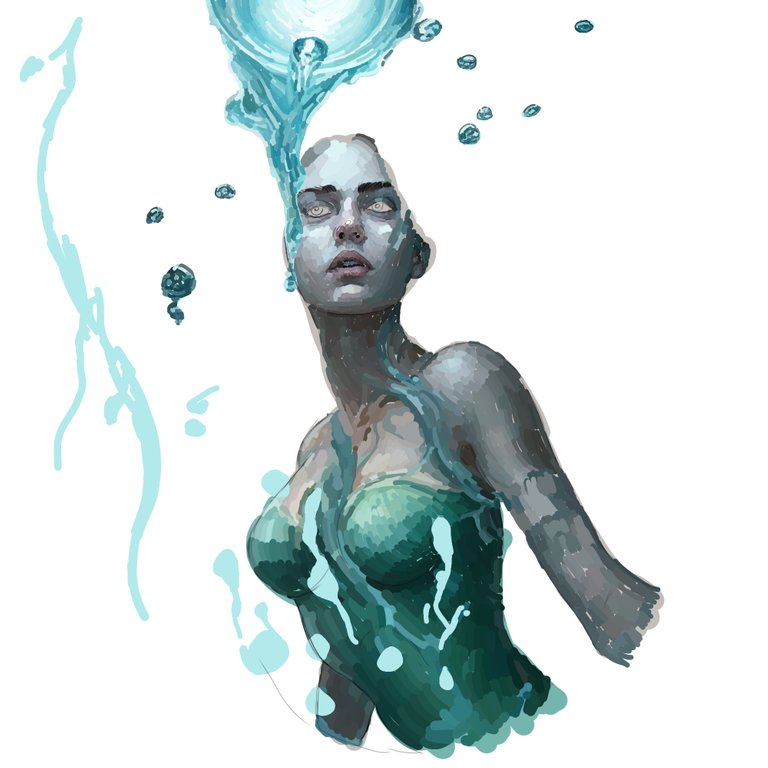 Para esta etapa termine de recrear el agua con los trazos de varios matices de azules y verdes, para luego pasar a iniciar el difuminado con pequeños toques y hacer la mezcla de los colores y suavizar los trazos. A medida que iba difuminando me incomodaba el fondo blanco, y entonces empecé a trabajar en un fondo con una nueva capa colocando colores azules oscuros, verdes oscuros y unos grises para formar el cielo en medio de una pronta tormenta, después pase a aplicarle un difuminado para mezclar y suavizar, luego le coloque un difuminado gauseano al máximo, para esto utilice un aerógrafo de partículas con un método de mezcla normal. Ya, después de terminar el difuminado del agua en una nueva capa utilizando una brocha tipo pelo y aumentando y disminuyendo su grosor fui trabajando el cabello con tonalidades verde agua y azules claros y oscuros y un poco de blanco con un método de mezcla normal, usando dos capas para el cabello; una para hacer los mechones que van frontales y la otra que coloque detrás de la capa del cuerpo para hacer los mechones de fondo. Luego, en una nueva capa realice los ojos usando un rotulador fuerte para luego difuminar un poco agregando algo de sombreado luego, seguidamente en esa misma capa con el mismo método de mezcla normal y con la brocha tipo pelo con grosor mínimo fui realizando las cejas variando los colores entre blanco, verde agua y un marrón. Pase a difuminar un poco el color marrón de base de las cejas que coloque en la primera capa de color para suavizar las sombras de las cejas. Aplique difuminado gauseano a la capa del cabello de fondo para darle una perspectiva más de fondo.
For this stage I finished recreating the water with the strokes of various shades of blues and greens, and then I started blurring with small touches to blend the colors and soften the strokes. As I was blurring I was uncomfortable with the white background, and then I started to work on a background with a new layer placing dark blue, dark green and some grays to form the sky in the middle of a storm soon, then I applied a blur to blend and soften, then I placed a gausean blur to the maximum, for this I used a particle airbrush with a normal blending method. Now, after finishing the water blur in a new layer using a hair type brush and increasing and decreasing its thickness I was working the hair with water green and light and dark blue tones and a little white with a normal blending method, using two layers for the hair; one to make the locks that go in front and the other that I placed behind the body layer to make the background locks. Then, in a new layer make the eyes using a strong marker and then blur a little adding some shading then, then in that same layer with the same method of normal mixing and with the brush type hair with minimum thickness I was making the eyebrows varying the colors between white, green water and a brown. I blurred a little the brown base color of the eyebrows that I placed in the first layer of color to soften the shadows of the eyebrows. Apply gauzy blending to the background hair layer to give it a more background perspective.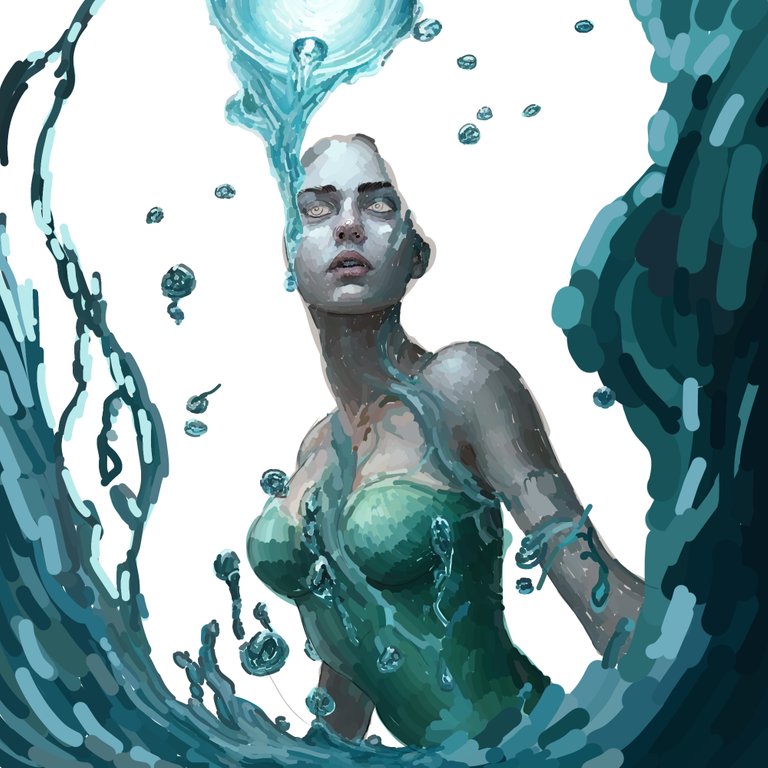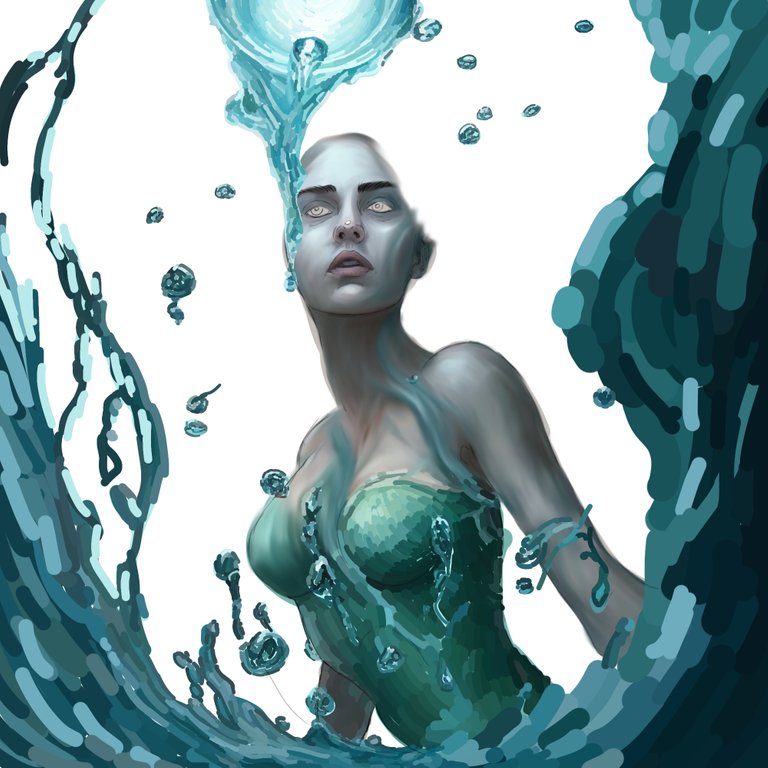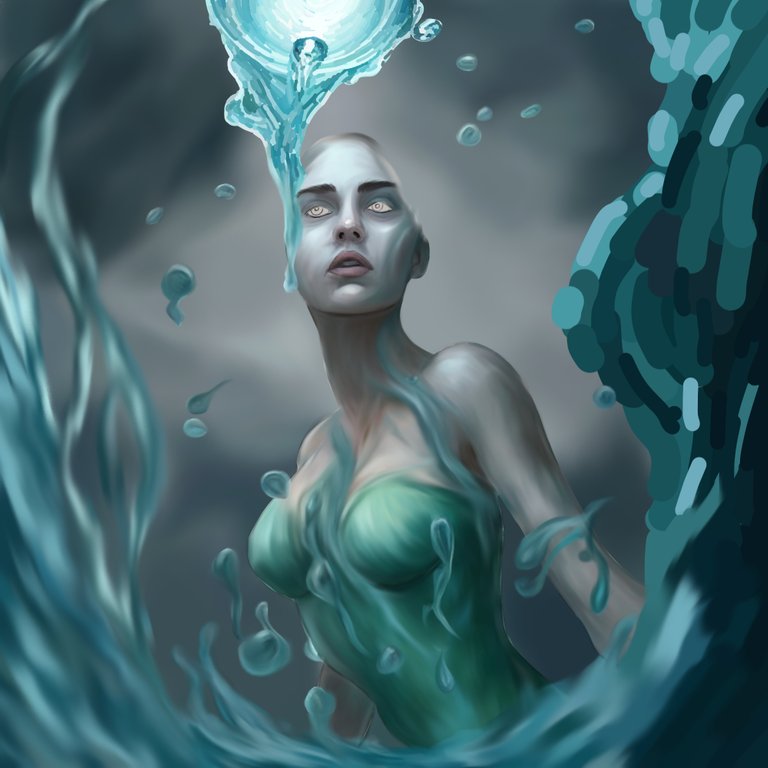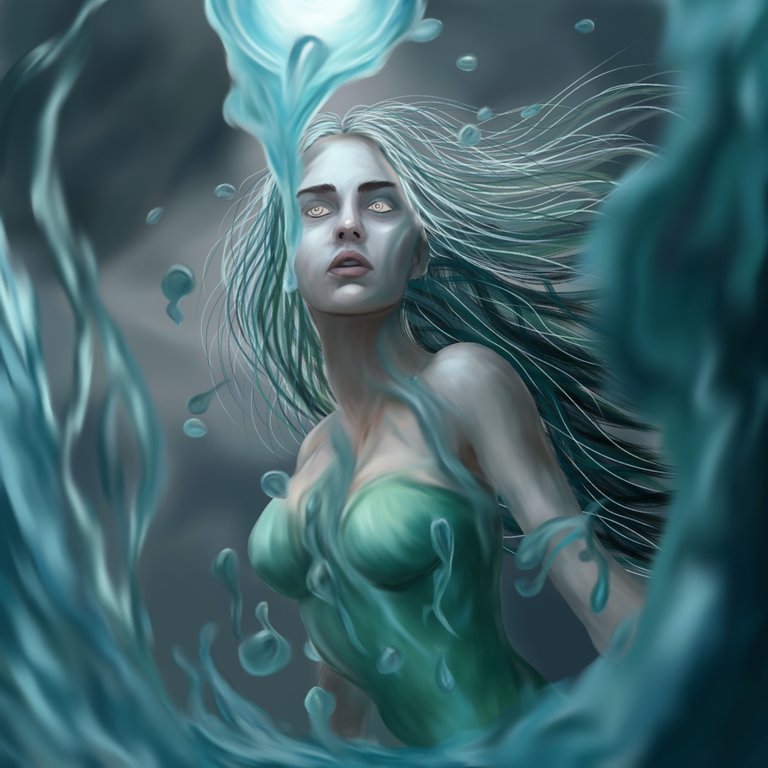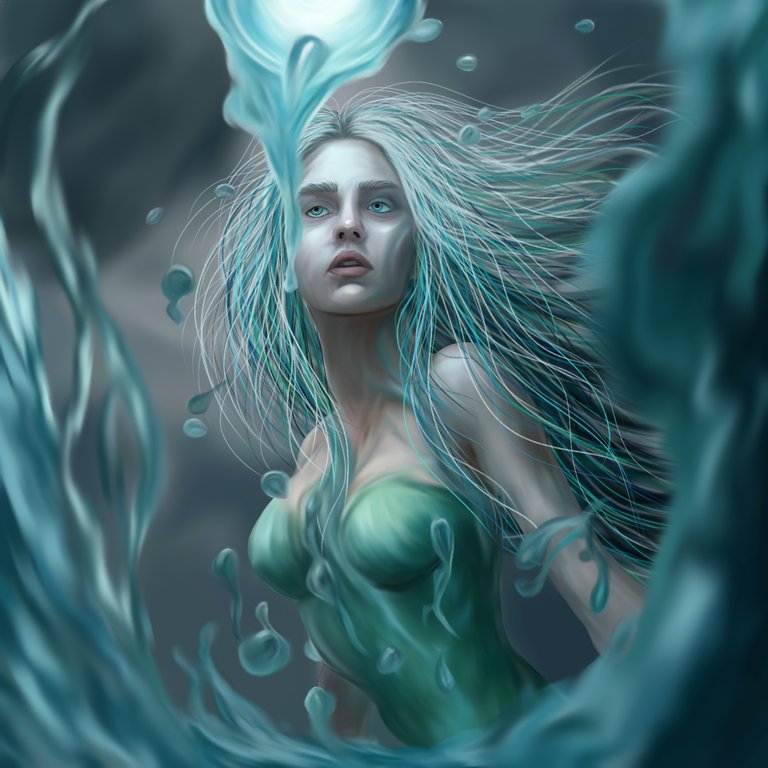 Para esta etapa final, termine las pestañas para darle más cuerpo a los ojos con la brocha tipo pelo usando colores marrón, azules y verdes. Luego, en una nueva capa usando un método de mezcla de superposición, fui aplicando luminosidad al rostro resultando una tes algo perlada, y así mismo fui aplicando a algunas partes del cuerpo y difuminando para suavizar. Después, fui agregando este mismo método de mezcla al agua para resaltar el color sin agregarle tanta luminosidad, y de igual forma en la misma capa con un pincel tipo pulverizado agregue como a especie de pequeños círculos característico de este tipo de pincel para darle ese efecto de pequeñas burbujas entre el agua. Luego, prosegui a agregar los brillos a los ojos en una nueva capa con método de mezcla normal utilizando un rotulador fuerte y la brocha tipo punto de brillo, y en la misma capa fui agregando mechones para iluminar el cabello con la brocha tipo pelo. Reforcé con un color azul rey la profundidad del cabello y algunas partes del agua para darle más contraste, y en una nueva capa con método de mezcla añadir fui agregando los brillos al agua con opacidad media usando la brocha tipo punto de brillo y medio aplicando el difuminado con pequeños toques para darle como una perspectiva de movilidad, también agregue brillos a la parte del torso que está cubierto con un agua color verde. Seguidamente, en una nueva capa agregue el resplandor color turquesa usando un aerógrafo normal, difuminando después algunas partes del resplandor para el cual use un aerógrafo normal con opacidad media. Y de esta manera culmine esta representación surrealista para esta carta, deseando les haya gustado y poder contar como siempre con sus especiales comentarios y también sus especiales apoyo! 😄🙌💞 Gracias!!😌💖
For this final stage, I finished the lashes to give more body to the eyes with the hair brush using brown, blue and green colors. Then, in a new layer using an overlay blending method, I was applying luminosity to the face resulting in a somewhat pearly tes, and likewise I was applying to some parts of the body and blending to soften. Then, I added this same mixing method to the water to highlight the color without adding so much luminosity, and also in the same layer with a spray type brush I added a kind of small circles characteristic of this type of brush to give that effect of small bubbles in the water. Then, I proceeded to add the glitters to the eyes in a new layer with a normal blending method using a strong marker and the glitter dot brush, and in the same layer I added highlights to illuminate the hair with the hair brush. I reinforced with a royal blue color the depth of the hair and some parts of the water to give it more contrast, and in a new layer with a blending method I added the shines to the water with medium opacity using the glossy dot brush and half applying the blur with small touches to give it a perspective of mobility, I also added shines to the part of the torso that is covered with a green colored water. Next, in a new layer add the turquoise glow using a normal airbrush, then blurring some parts of the glow for which I used a normal airbrush with medium opacity. And thus culminate this surrealistic rendering for this letter, wishing you liked it and to be able to count as always with your special comments and also your special support! 😄🙌💞 Thank you!!!😌💖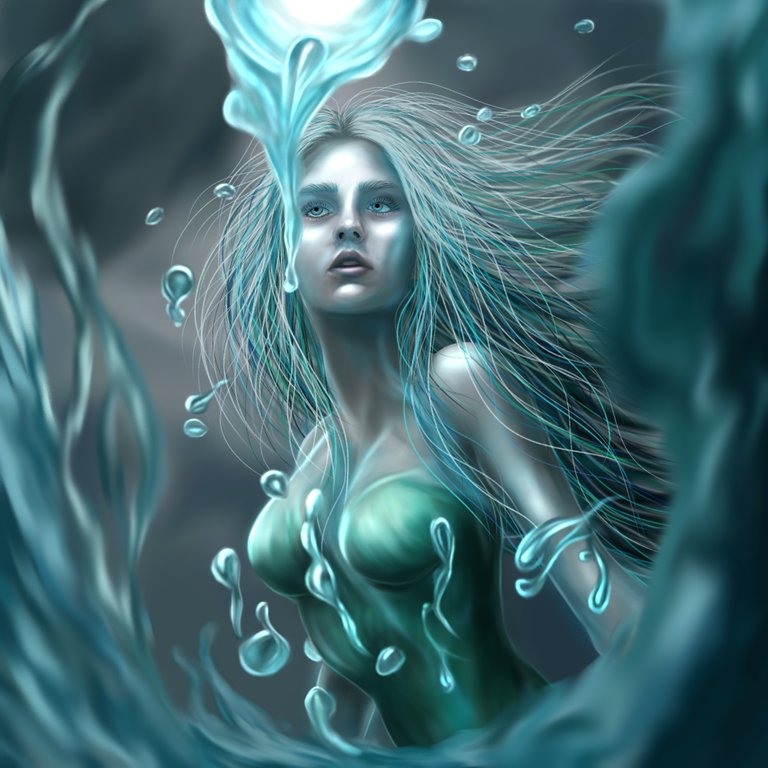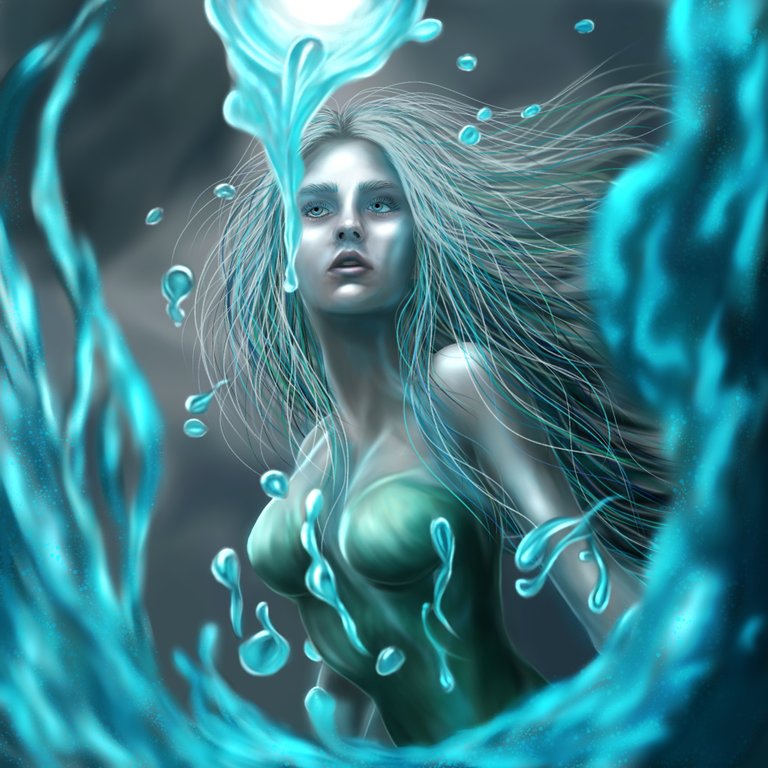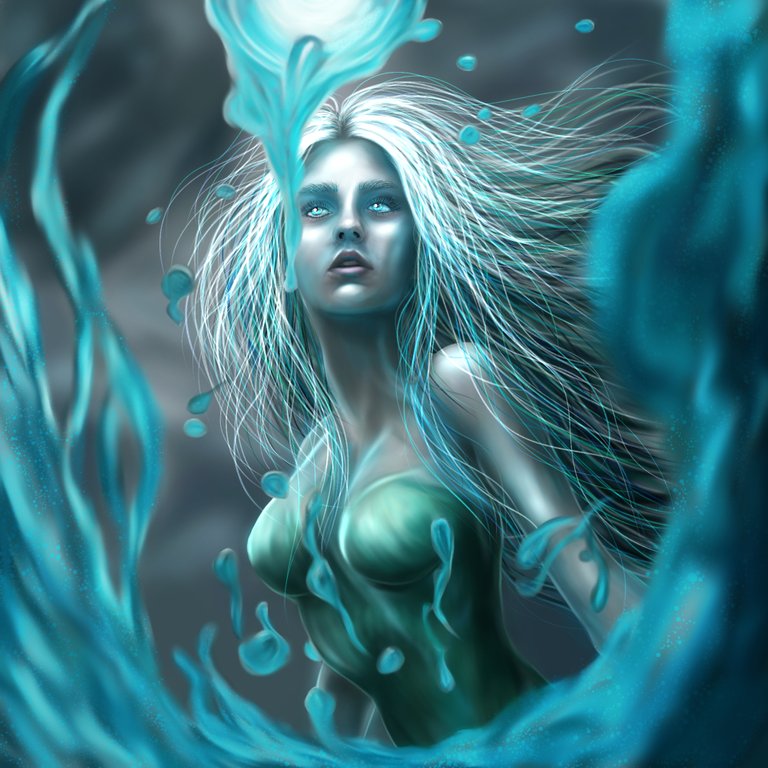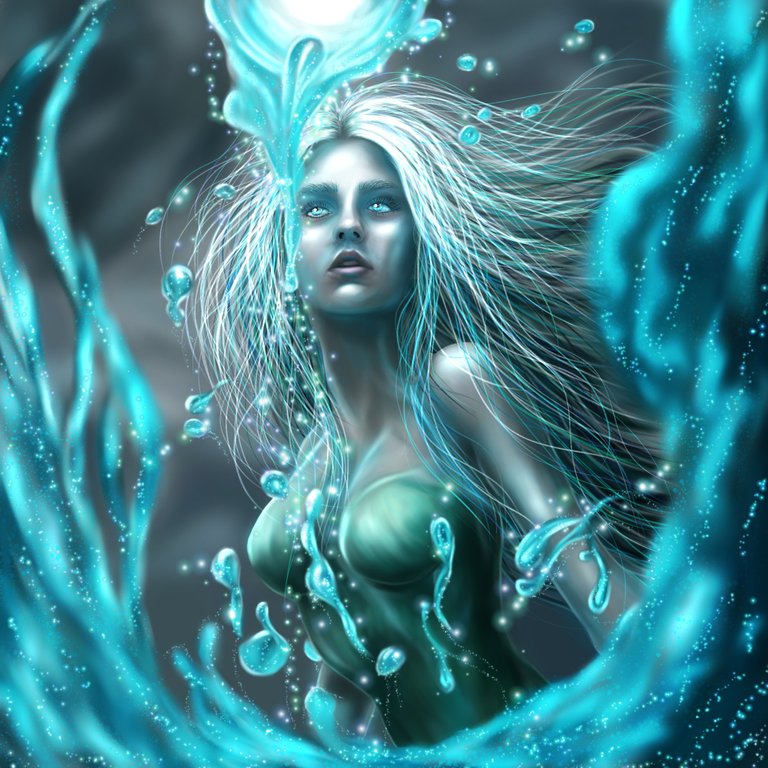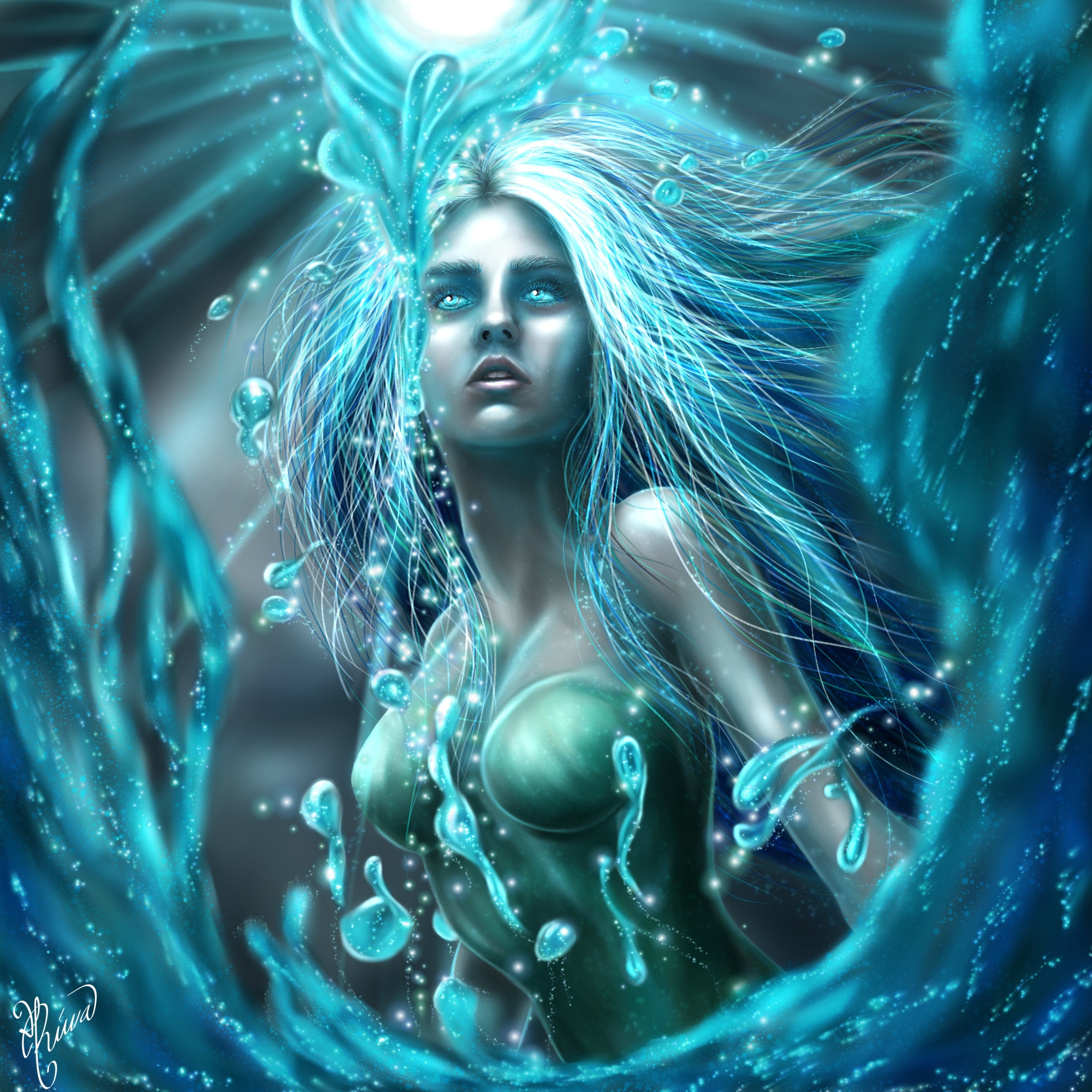 Redes Sociales/ Social Networks
Sigueme en/ Follow me in:
👉Instagram: @catrynart



Herramientas Usadas/Used Tools
Tablet Android/ Android Tablet
Programa Ibis Paint X/ Ibis Paint X Program
Traductor Deepl/ Deelp Translator
Servidor de Imagenes Imgbb/ Imgbb Image Server
Dactilopintura Digital/ Digital Fingerprint Painting



🌺¡HASTA EL PRÓXIMO POST!🌺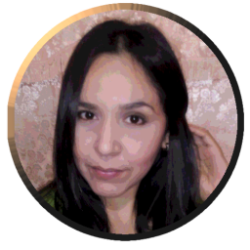 Detenerse es Retroceder
To Stop is to go Backwards
---
---