Elon Musk is stepping down from Twitter amid Tesla stock plummeting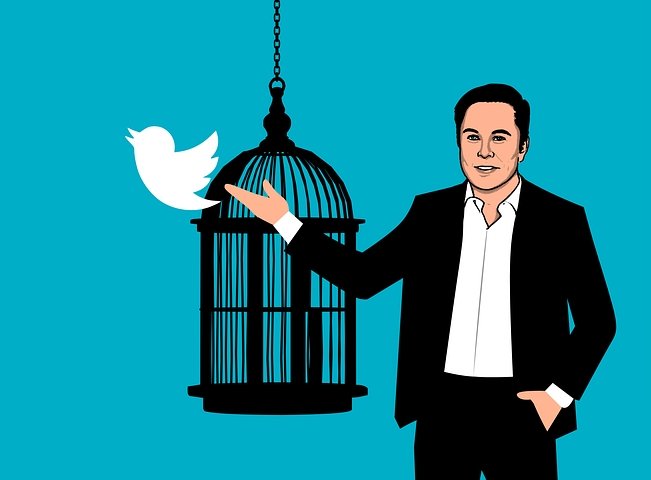 Elon Musk is most probably stepping down as Twitter CEO after an eventful month marred with revelations, Twitter policy changes, and controversies.
First, it was Tesla shareholders who pushed for Musk to step down as Twitter CEO and devote his focus to Tesla Inc as its stock has been crashing since Musk's intention to buy Twitter became public last April. It was either that, or remove Musk and appoint a new Twitter CEO.
Tesla's stock has plummeted more than 60% from $410 to $150 since November 3rd, when Musk took over Twitter. Tesla's third largest shareholder, Leo KoGuan, went to post on Twitter that Tesla had no working CEO. Ross Gerber, another seasoned Tesla investor challenged Musk publicly and expressed his intention to run for the Tesla Board of Directors and make a move to remove Elon as CEO if he didn't step down from Twitter.

Then, Twitter tried to slide in new policy changes during the World Cup final. The New update policy would ban accounts linking or sharing content of other competing social media channels including Facebook, Instagram, Mastodon, Truth Social, Nostr, and Post.
Interestingly, Chinese owned Tik Tok or Russian owned VKontakte were not part of the social media list that could get you banned. The reason behind that could be Musk's China business endeavour, with the Tesla Shanghai factory.
The pushback to those changes was unprecedented, with the likes of Jack Dorsey and Vitalik Buterin publicly questioning the new policy. It should be noted Jack came forward to support Elon's bid some months back, claiming that he was the only person he trusted who could run Twitter.
Seeing how badly things were going, Twitter had to hastily delete their post relating to the latest Twitter changes. Elon, apologized for it and created a poll for his followers to vote if he should continue or step down as Twitter CEO.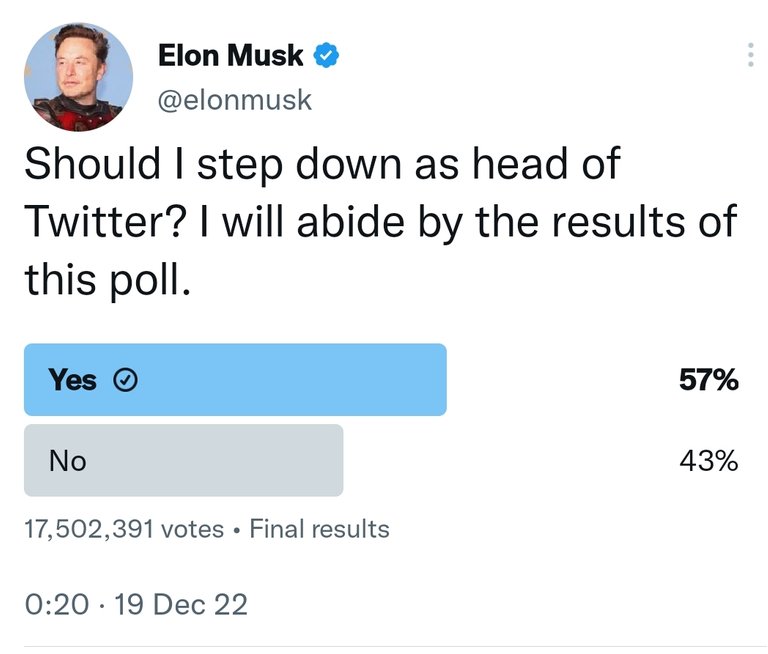 The results are in, and even his followers voted overwhelmingly for Elon to step down as Twitter CEO. If we take face value Elon's world then he will have to abide by the results of the poll.
This would be a win - win scenario. It would require Elon to hire a competent Twitter CEO with solid experience in running social media companies. This would take the heat away from Elon regarding Twitter. It would also allow him to refocus on Tesla and turn things around before shareholders turn their words into actions and remove him.
Let's see what happens.
(Image courtesy of Pixabay.com under fair use)
---
---