A touch of Blue 💙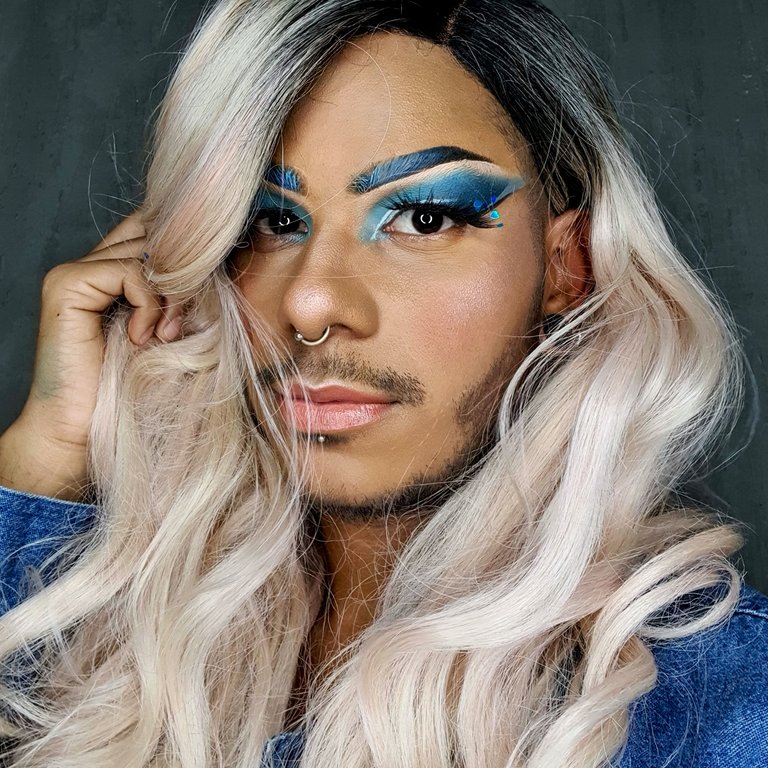 /center/ENGLISH/<center/
Hello hivers I missed you, but im back, a few days ago my beautiful friend @Charliefix came to visit me and we did a quick makeup look for hive but I've been so busy that I now getting making time to do this post... This day was so much fun because we supposed to leave home at 3:00pm and we started to do our makeup at 1:00 pm I wasn't to sure how it was going to turn out because what I had in mind was alot but we ended up finishing on time, here is the process of this beautiful blue makeup 💙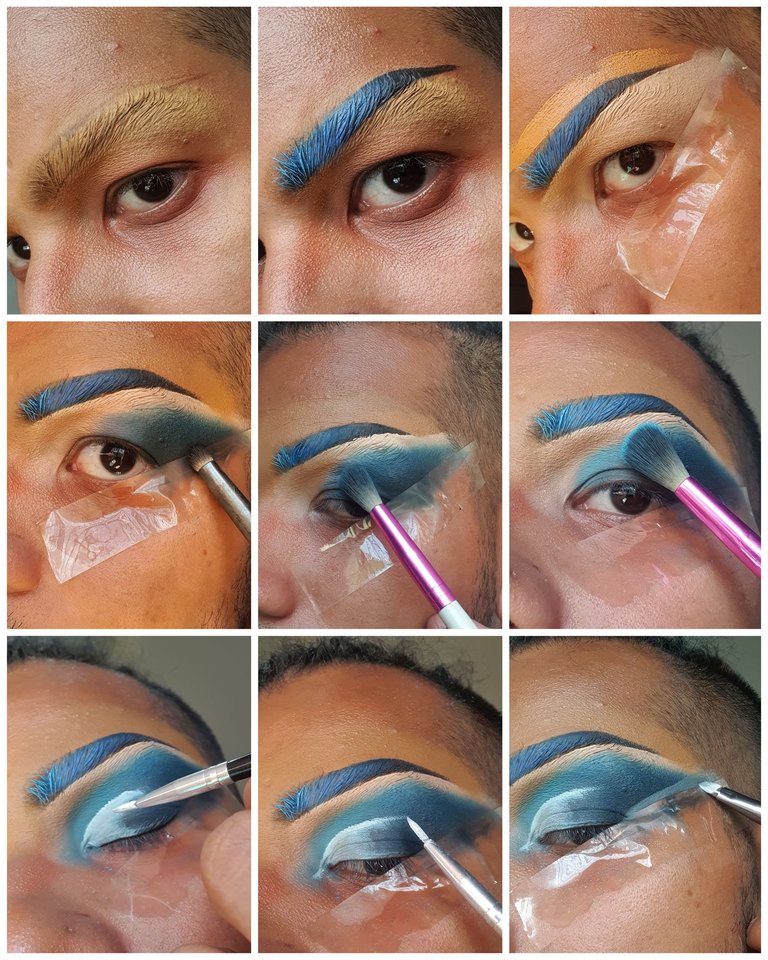 /center/💙/<center/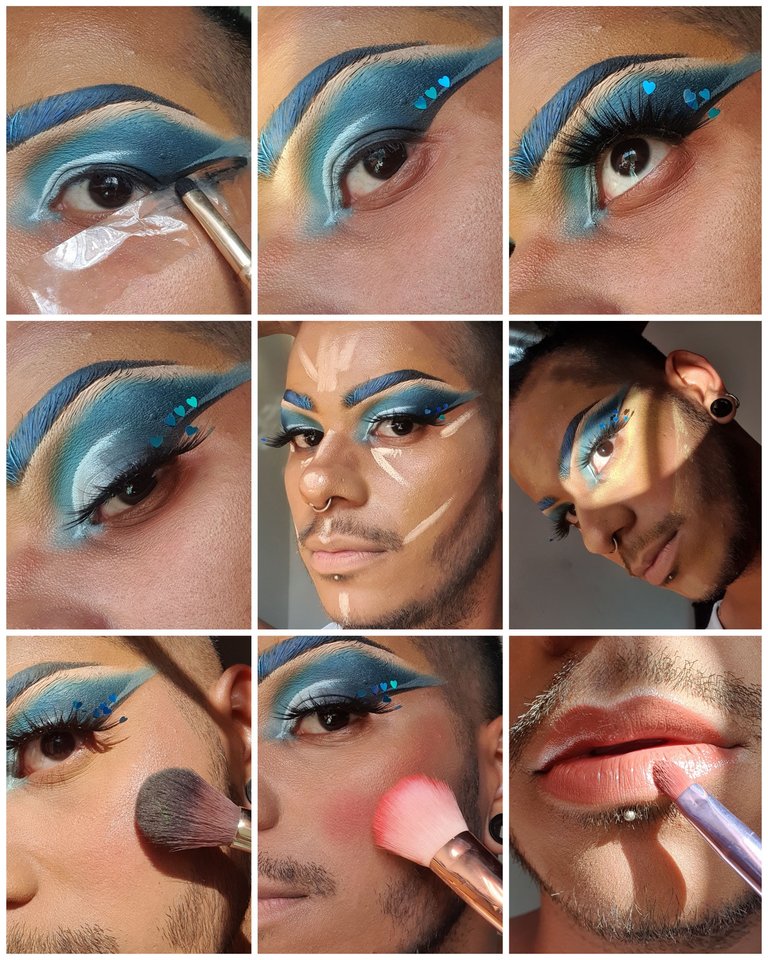 Well as is usual now I cover up my whole eyebrows, because, I have hooded eyes and by doing that I get more space to work and paint 🎨 (to know how I cover my eyebrows check the previous posts)
I started to draw the lines of mu new eyebrows and I was feeling for a challenge so I decided to do a ombre eyebrow from black (on the tail of the brow) to light blue **(front or head of the brow) then I use the same eyepallet for my eyes, put some tape to help me with the wing and started with black, continue with dark blue and light blue ..
Used the eyeshadow white primer to cut the crease and blended the eyeshadow on the middle of the eyelid towars the primer
Also use the same white primer tu make ans inverse wing ( im not sure if that make sense but on the picture you can see what I'm talking about) Using a black eyeliner to make a long sharp wing... final touches with blue hearts 💙💙💙 on the wing and on the false eyelashes and eyes done.
Then I did my face as usual, and I this is the final result.
Thank you for visiting my Blog and lemme know in the comments if you need me to explain better something that you liked or if you want me to make a post with a specific technique that you prefer 🥰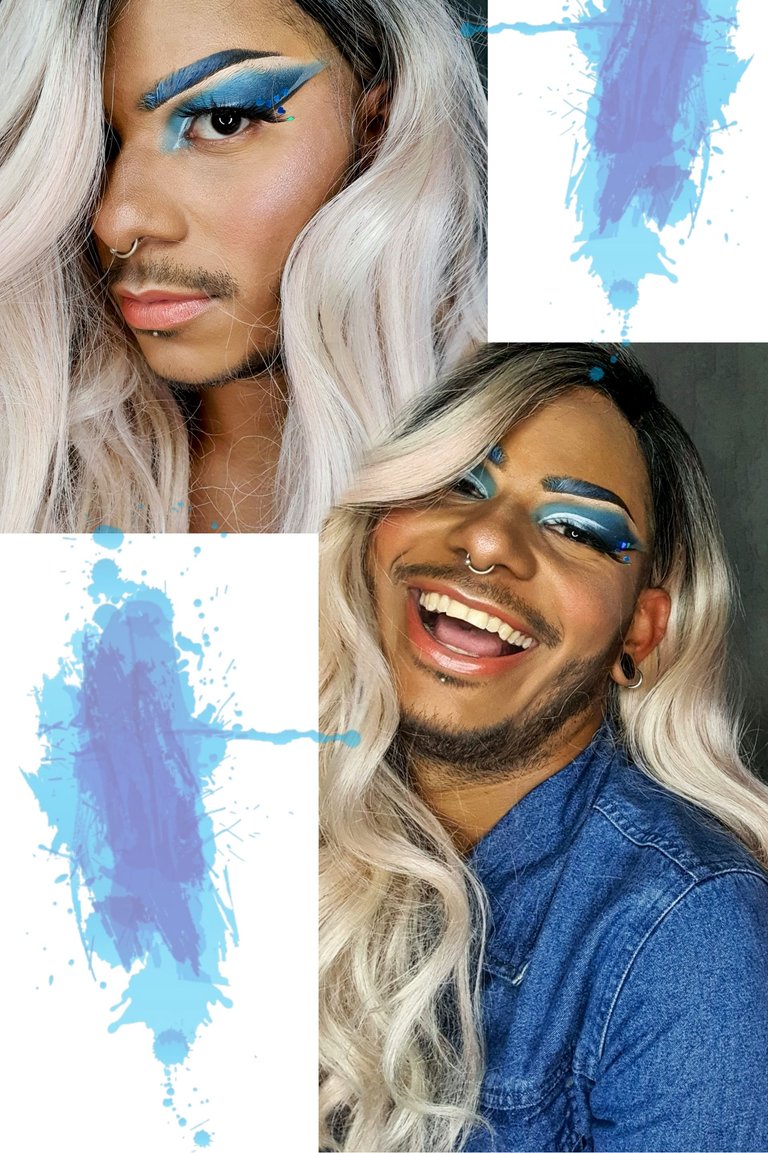 /center/ESPAÑOL/<center/
Hola hivers, los extrañé, pero ya regresé, hace unos días mi hermosa amiga @Charliefix vino a visitarme e hicimos un maquillaje rápido para hive, pero he estado tan ocupado qué ahora tengo tiempo para hacer esta publicación. .. Ése día fue muy divertido porqué se suponía que saldríamos de casa a las 3:00 pm y empezamos a maquillarnos a la 1:00 pm No estaba seguro de cómo iba a quedar porque lo que tenía en mente era mucho pero terminamos a tiempo, aquí está el proceso de este hermoso maquillaje azul 💙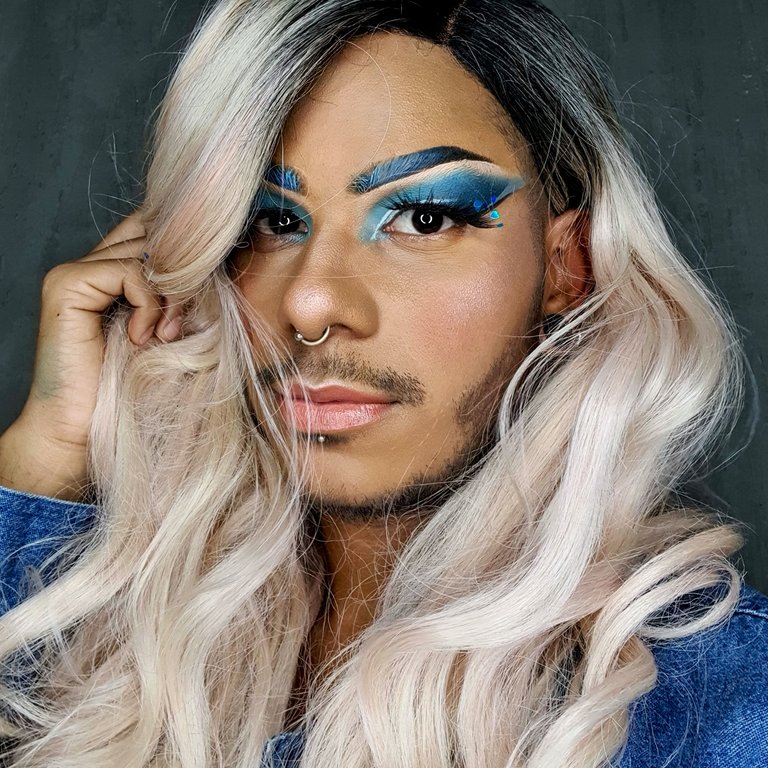 Bueno como ya es costumbre, ahora me cubro las cejas enteras, porque tengo los ojos entrecerrados y al hacerlo tengo más espacio para trabajar y pintar 🎨 (para saber cómo me cubro las cejas mira los posts anteriores)
Comencé a dibujar las líneas de mis nuevas cejas y sentí un desafío, así que decidí hacer un degradé de negro (en la cola de la ceja) a azul claro **(frente o cabeza de la ceja). ceja) luego uso la misma paleta de colores para mis ojos, puse un poco de cinta para ayudarme con el ala y comencé con negro, sigo con azul oscuro y azul claro..
Usé un primer blanco para sombra de ojos para cortar el pliegue y difumine la sombra de ojos en el medio del párpado hacia el primer
También use él mismo primer blanco para hacer un ala inversa (no estoy seguro de si eso tiene sentido, pero en la imagen puedes ver de lo que estoy hablando) Usando un delineador de ojos negro para hacer un ala larga y afilada... Toques finales con corazones azules 💙💙💙 en el ala y en las pestañas postizas y voila.
Luego me termine de maquillar como siempre lo hago y este es el resultado final.
Gracias por visitar mi Blog y déjame saber en los comentarios si necesitas que te explique mejor algo que te gustó o si quieres que haga un post con una técnica específica que prefieras 🥰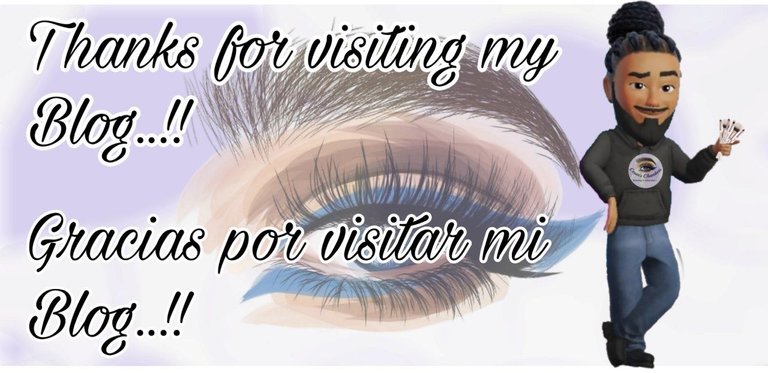 ---
---