I'm Addicted To A Play2Earn Game That Isn't Splinterlands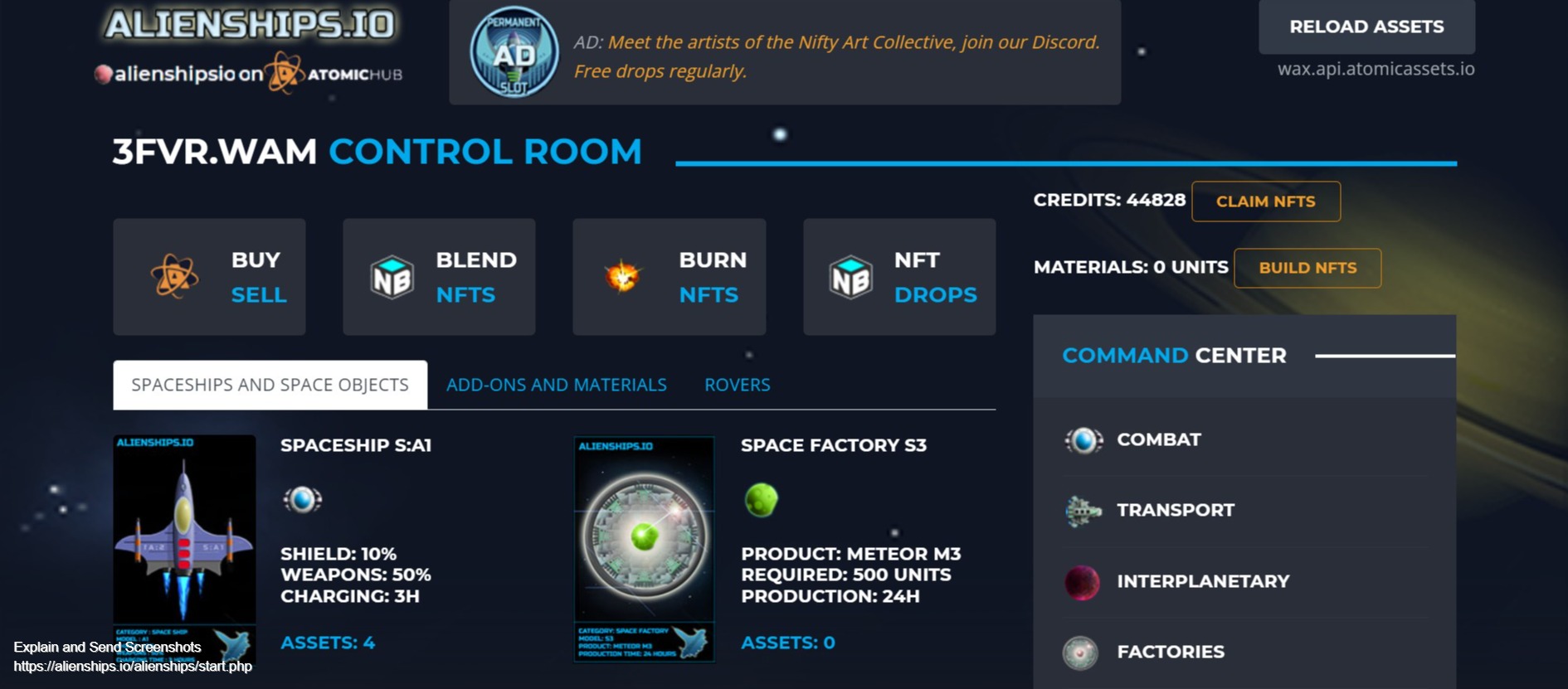 There are worse things to be addicted to than a game but addiction is gruesome lol. I can't stop playing AlienShips.
My sorted tail started a few months ago when reading about it in one of @chubb149 's posts. He's always got the lastest and greatest news on NFTs so give him a follow.
At it's core AlienShips is a simple flash style Space Invaders clone where you kill enemy ships and earn credits. That seemed easy enough for me because as the self-proclaimed world's worst gamer, I needed something easy on the mind.
It was perfect except that I sucked and couldn't kill the ships. At the time, you needed to spend a little money to buy a ship on Wax and use it in the game. Of course I bought the cheapest one ($1.67) and started blasting away.
At first it was really hard for me to get through the mission because I was really bad controlling things with my arrow keys. But I got better.
With the cheap ship (Model SA:1) there are limited weapons, shields, speed and there is a 3 hour charging time between battles. So not thinking about buying an upgraded ship to make everything easier, I bought tree more SA:1 ships and set out to conquer space.
Eventually I got really good and played 4 missions every 3 hours. But then, things got better.
I noticed an upgrade to the dashboard about Renting ships and playing for free! There is actually no rental fee but you only earn 20% of the credits for the mission. But when I did the math it was way more productive than playing with and waiting out my crappy ships.
So now Alienships.io is technically a free Play2earn game. The thing is you only earn credits which can then be used to buy more stuff.
However, "the stuff" can be sold on wax because players need the materials to create better and better NFTs.
I'm completely addicted to this game and I realize I barely play splinterlands anymore and instead find myself shooting down ships in space for credits so I'm not telling you to invest anything in this game.
But I think there is some nice development going on in AlienShips and I suspect there may be some cross chain things happening in the future so I'm going chase my dragon a little longer. I would love this to end up on hive some how with the credits becoming a tribe token. That would be awesome!
But until then you'll find me in space shooting down some enemy ships
Posted Using LeoFinance Beta
---
---