Bizcocho de chocolate con cobertura de helado de chocolate, Doble chocolate [Esp-Eng]

¡Saludos amigos amantes de los dulces postres! Hoy me sumo al Foodie Contest: CHOCOLATE CAKES para presentar una deliciosa receta que en lo personal me encanta, es un bizcocho de chocolate con cobertura de helado de chocolate al que llamo Doble chocolate. Acompáñenme y les enseño el paso a paso de elaboración.
Para la elaboración de este postre haremos 2 partes: la cobertura de helado y el bizcocho.
! [Click here to read in english]
Greetings sweet dessert lovers! Today I join the Foodie Contest: CHOCOLATE CAKES to present a delicious recipe that I personally love, it is a chocolate cake with chocolate ice cream topping that I call Double Chocolate. Join me and I will show you step by step how to make it.

For the preparation of this dessert we will make 2 parts: the ice cream topping and the sponge cake.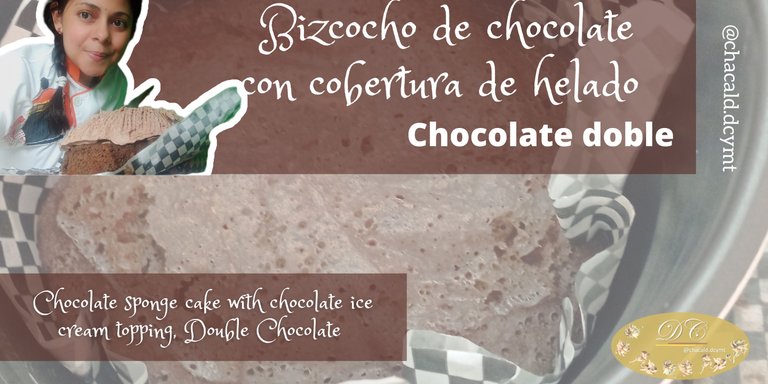 Para la preparación de la cobertura de helado necesitamos: 200 gramos de crema Chantilly en polvo, 1 taza de leche líquida, 1.25 mililitros de extracto de vainilla, una barra de chocolate amargo sin azúcar de 125 gramos.
! [Click here to read in english]
For the preparation of the ice cream topping we need: 200 grams of powdered whipped cream, 1 cup of liquid milk, 1.25 milliliters of vanilla extract, a 125-gram bar of unsweetened dark chocolate.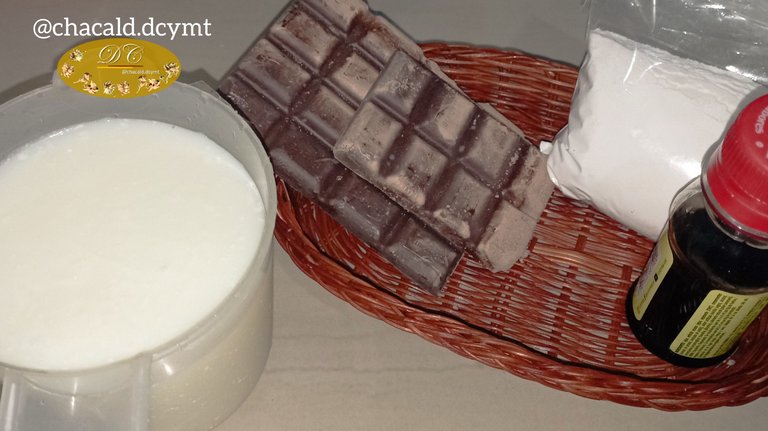 En una olla colocamos la mitad de la leche y la barra de chocolate. La llevamos a fuego medio hasta que se derrita totalmente el chocolate y quede una crema.
! [Click here to read in english]
Place half the milk and the chocolate bar in a saucepan. Heat it over medium heat until the chocolate is completely melted and the mixture is creamy.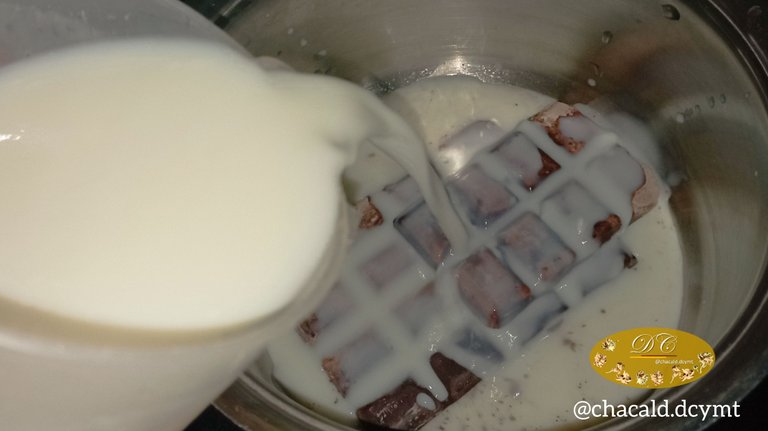 Mientras se derrite el chocolate, vamos a tomar el polvo de la Chantilly y lo colocamos en un recipiente. Agregamos el restante de la leche y la vainilla, con la batidora vamos a cremar la mezcla hasta que forme picos.
! [Click here to read in english]
While the chocolate is melting, we are going to take the Chantilly powder and place it in a bowl. Add the remaining milk and the vanilla, with the mixer we are going to cream the mixture until it forms peaks.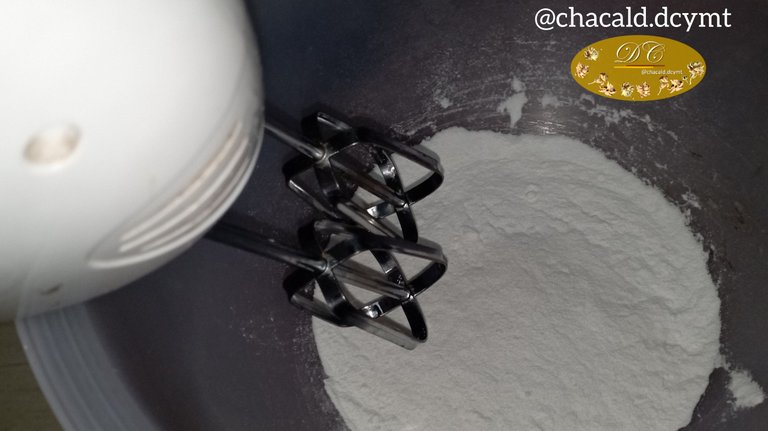 Agregamos el chocolate derretido dejando una pequeña reserva para el final. Y mezclamos muy bien con la batidora hasta que la Chantilly se integre totalmente al chocolate.
! [Click here to read in english]
Add the melted chocolate leaving a small reserve for the end. And mix very well with the mixer until the Chantilly is fully integrated with the chocolate.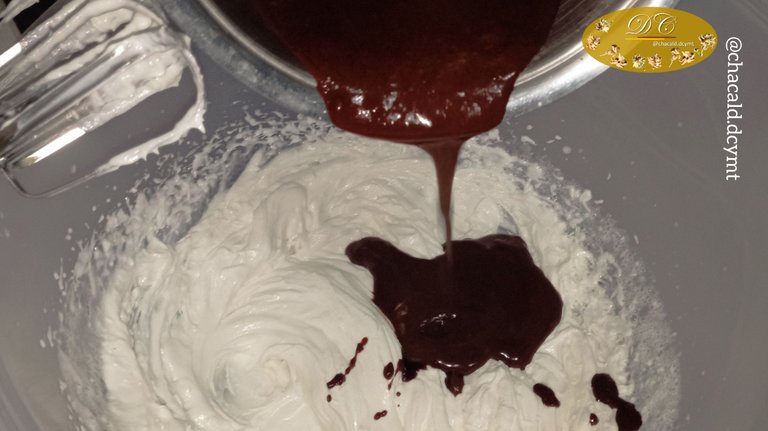 Cuando tenemos lista la mezcla, vamos a colocar en un recipiente con forma redonda, agregamos el chocolate derretido que reservamos y llevamos al congelador por 4 horas.
! [Click here to read in english]
When the mixture is ready, place it in a round container, add the melted chocolate that we have set aside and place in the freezer for 4 hours.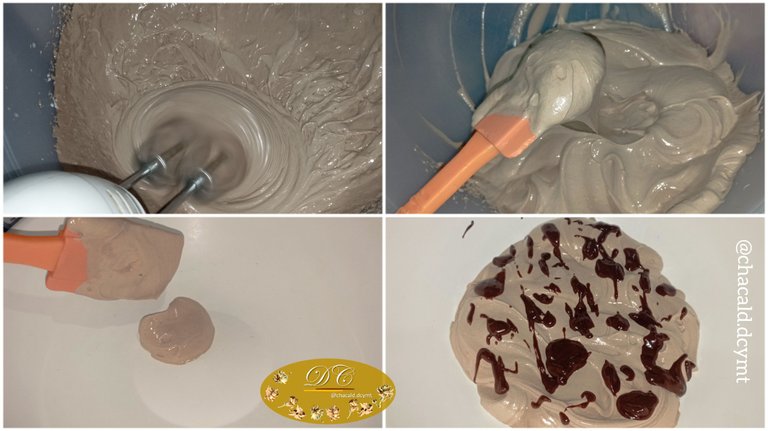 Para la preparación del bizcocho de chocolate necesitamos: 1 taza de leche líquida, 1.25 mililitros de extracto de vainilla, 250 gramos de mantequilla sin sal, 400 gramos de harina leudante, 100 gramos de cacao en polvo sin azúcar, 150 gramos de azúcar, 6 huevos, 3 gramos de polvo para hornear, 25 gramos de chocolate amargo en tableta.
! [Click here to read in english]
For the preparation of the chocolate cake we need: 1 cup of liquid milk, 1.25 milliliters of vanilla extract, 250 grams of unsalted butter, 400 grams of leavening flour, 100 grams of unsweetened cocoa powder, 150 grams of sugar, 6 eggs, 3 grams of baking powder, 25 grams of bitter chocolate in tablet.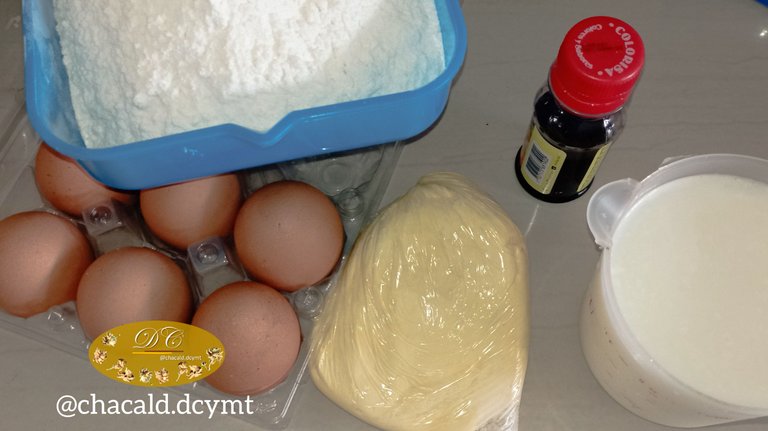 Lo primero que haremos será separar las claras de los huevos en un recipiente y reservamos las yemas aparte y las claras.
! [Click here to read in english]
The first thing to do is to separate the egg whites in a bowl and set the yolks and whites aside.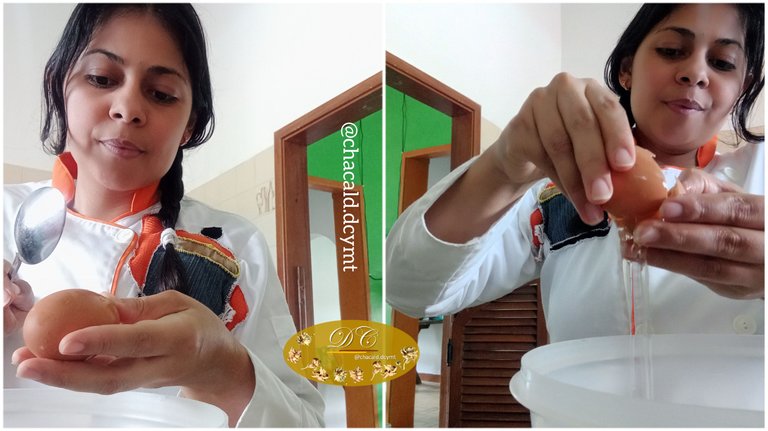 En otro recipiente colocamos la mantequilla y el azúcar, con la batidora mezclamos hasta que se integren muy bien los ingredientes y desaparezcan los granos de azúcar.
! [Click here to read in english]
In another bowl, place the butter and sugar and mix with a mixer until the ingredients are well blended and the sugar grains disappear.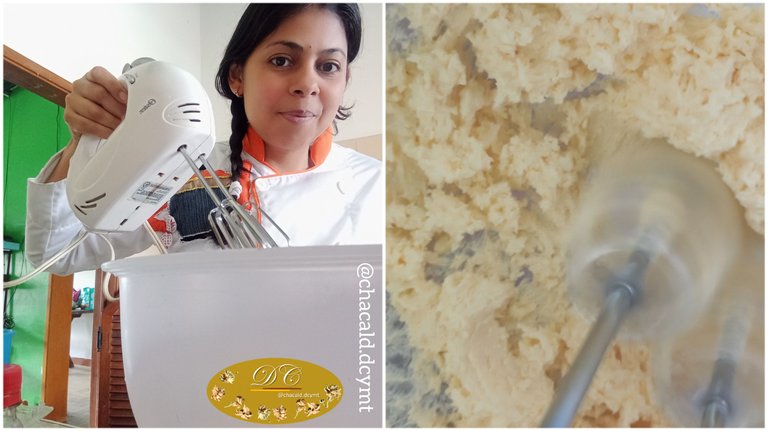 Tomamos las claras que separamos de las yemas y batimos hasta lograr el punto de nieve. Sabemos cuando estan listas porque los rodillos de la batidora forman picos en la mezcla. Entonces integramos a la mantequilla con azúcar que acabamos de mezclar.
! [Click here to read in english]
We take the egg whites that we separate from the yolks and beat until stiff peaks are reached. We know when they are ready because the rollers of the mixer form peaks in the mixture. Then we add the butter and sugar that we have just mixed.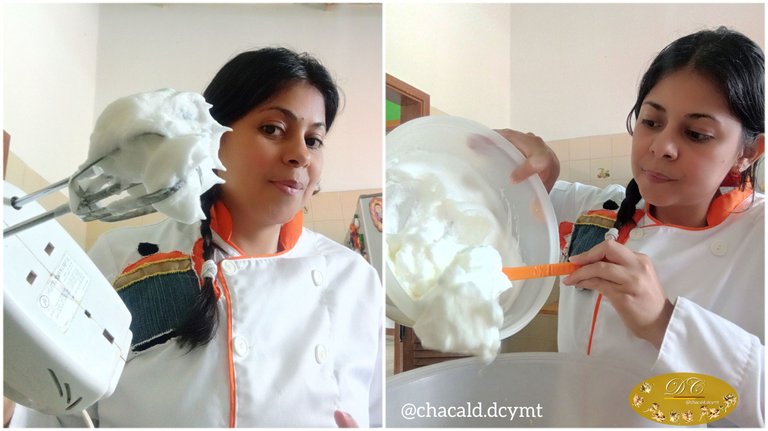 Seguimos incorporando poco a poco los ingredientes y batiendo con una espatula para evitar perder el aire del biscocho. Así hasta que se mezcle bien.
! [Click here to read in english]
Continue incorporating the ingredients little by little and beating with a spatula to avoid losing the air in the cake. This way until it is well mixed.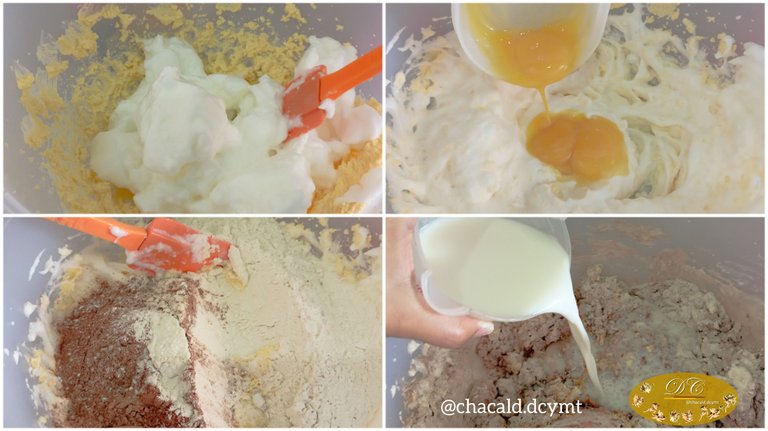 En esta oportunidad no utilicé el horno, hice mi bizcocho en la olla de presión eléctrica. Coloqué papel encerado en el fondo de la olla y agregué la mezcla. Le di 30 minutos en presión media. Antes de tapar la olla, agregue la barra de chocolate pequeña triturada y cerré.
! [Click here to read in english]
This time I did not use the oven, I made my cake in the electric pressure cooker. I placed wax paper in the bottom of the pan and added the mixture. I gave it 30 minutes on medium pressure. Before I put the lid on the pan, I added the small crushed chocolate bar and closed it.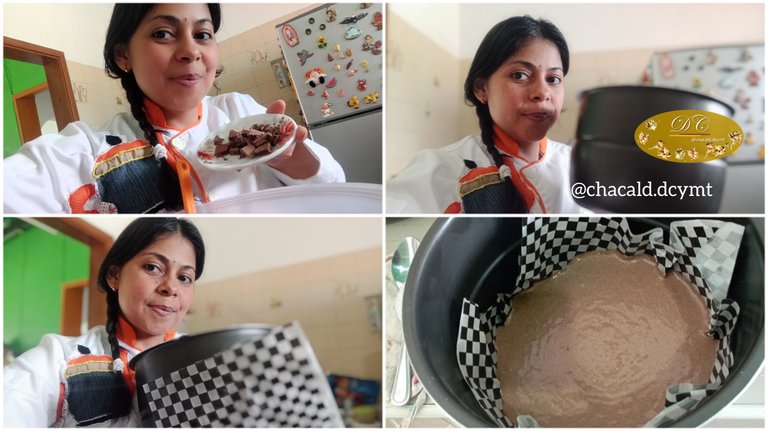 Cuando pasa el tiempo, sacamos el papel y nuestro bizcocho estará listo para colocar la cobertura.
Sacamos el helado del congelador y pasamos por agua tibia. Y volteamos el recipiente sobre el bizcocho para que quede la cobertura.
! [Click here to read in english]
When the time has elapsed, remove the paper and our cake is ready to put the topping.

Remove the ice cream from the freezer and run it under warm water. And turn the container over the cake so that the topping remains.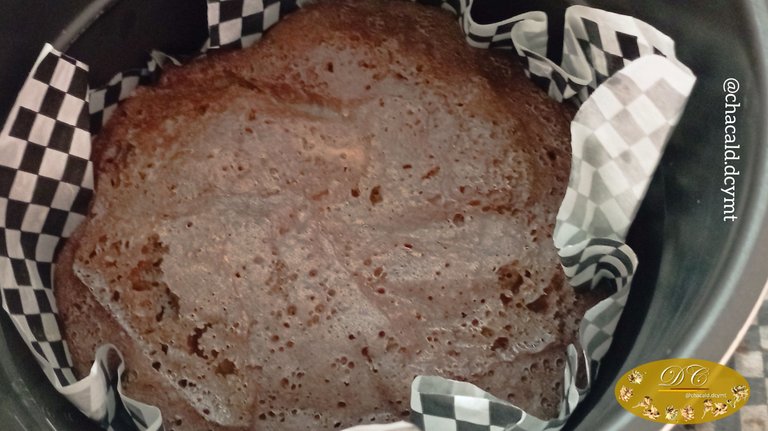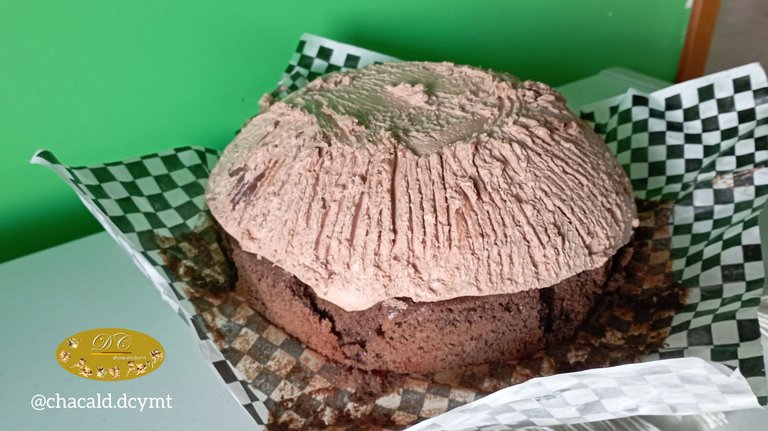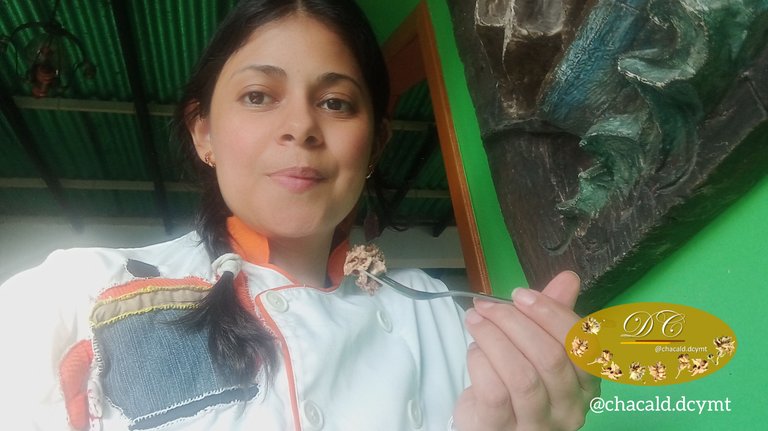 En casa nos encanta el helado de chocolate, es el favorito de todos. Por ser un producto que las personas prefieren siempre es costoso comprar helado para la familia entera, por eso aprendí a preparar helado con diferentes recetas y este es el mes de mi cumpleaños, me gusta celebrar un año más de vida todo el mes, entonces está preparación de bizcocho de chocolate, que aprendí a prepararla de mi madre y ella de mi abuela, es ideal para celebrar mi cumpleaños. Agregué cobertura de helado cremoso porque me encanta y no había compartido antes esta receta.
La torta con cobertura, pesó 800 gramos y es posible sacar 12 porciones muy generosas de esta delicia. El costo aproximado de los ingredientes fue de 9$.
Espero se animen a preparar esta delicia en casa y compartir con una buena compañía. Gracias por visitar mi publicación, nos vemos en una próxima oportunidad. Chao!
! [Click here to read in english]
At home we love chocolate ice cream, it is everyone's favorite. Because it is a product that people prefer it is always expensive to buy ice cream for the whole family, so I learned to prepare ice cream with different recipes and this is the month of my birthday, I like to celebrate one more year of life all month, then this preparation of chocolate cake, which I learned to prepare it from my mother and she from my grandmother, is ideal to celebrate my birthday. I added creamy ice cream frosting because I love it and I had not shared this recipe before.

The cake with frosting weighed 800 grams and it is possible to make 12 very generous portions of this delight. The approximate cost of the ingredients was 9$.

I hope you are encouraged to prepare this delicacy at home and share it with good company. Thanks for visiting my publication, see you next time. Bye!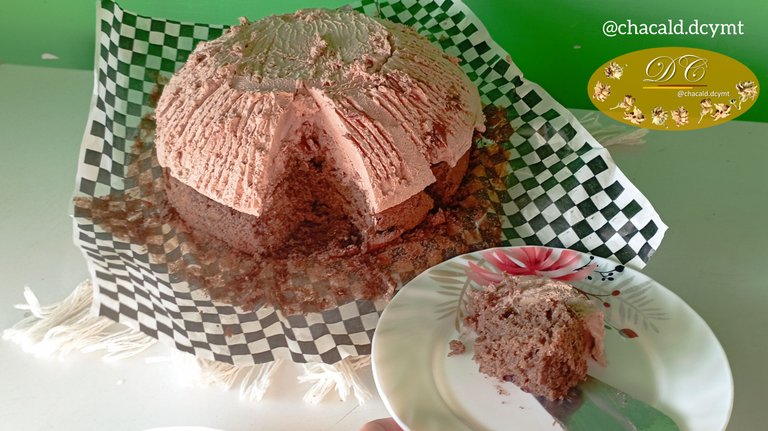 ---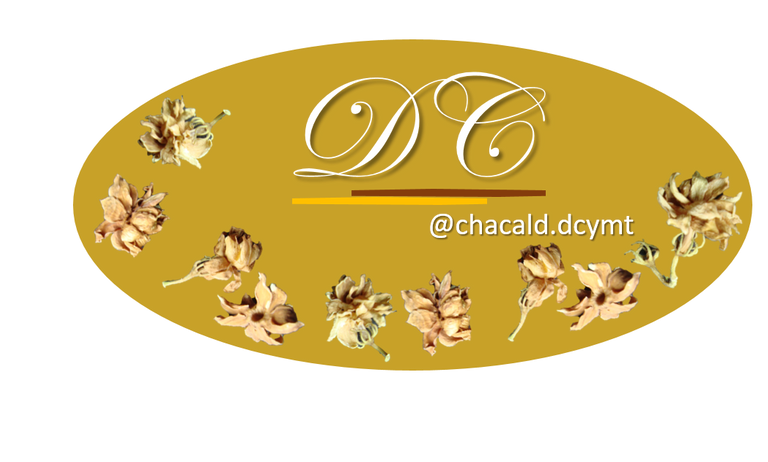 Original content by the author.
Resources: App: Canva / Giphy / Inshot
📷 Redmi 10 Smartphone
Translation done with Deepl.com
✿ All Rights Reserved || © @chacald.dcymt 2023 ✿
💌 Discord: chacald.dcymt#3549
Twitter @chacald1
_
Contenido original del autor.
Recursos: App: Canva / Giphy / Inshot
📷 Redmi 10 Smartphone
Traducido con Deepl.com
✿ Todos los Derechos Reservados || © @chacald.dcymt 2023 ✿
💌 Discord: chacald.dcymt#3549
Twitter @chacald1
---
---