Aretes y colgante primavera|| Reciclando ♻️ blíster de medicamentos [Esp-Eng]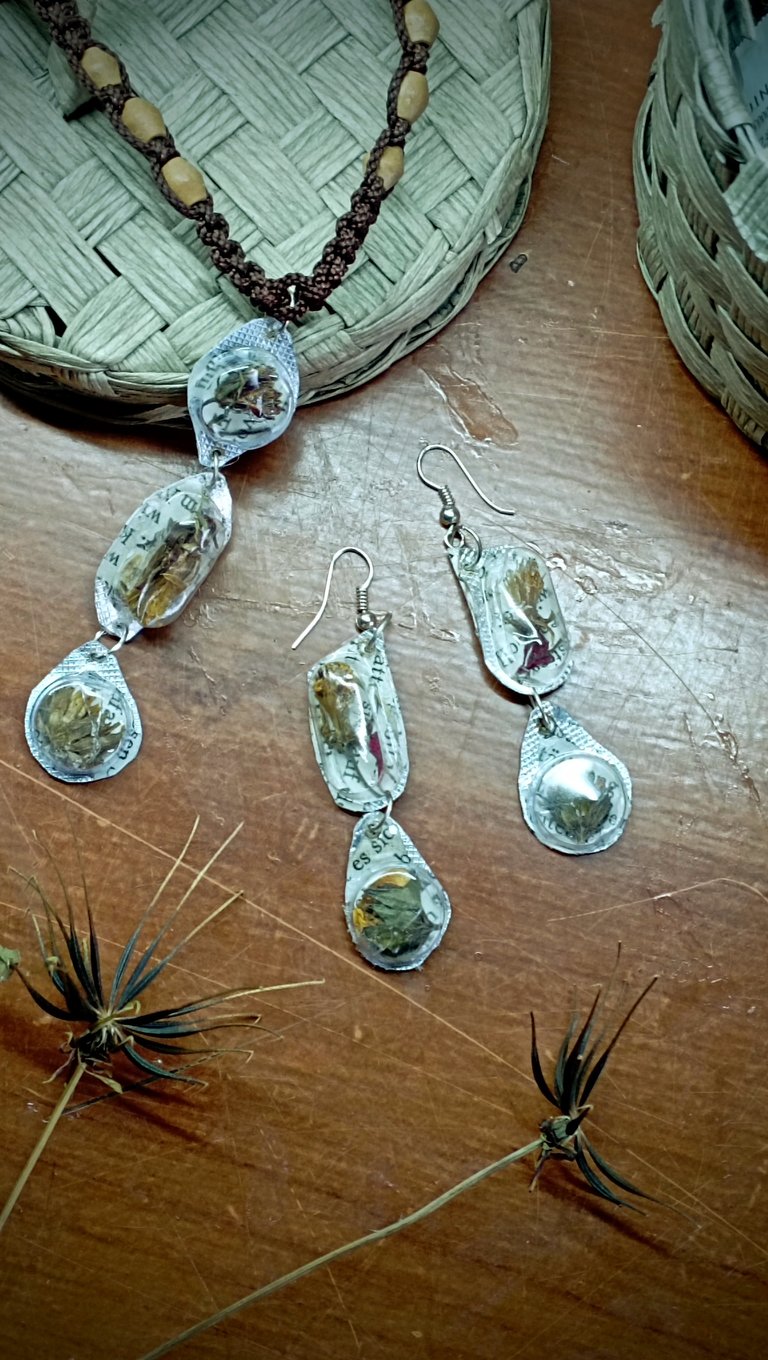 ---
Saludos a todos los amantes de las artes manuales! Hoy les traigo una propuesta de reciclaje que me ha parecido muy atractiva en donde podemos aprovechar los blíster de los medicamentos y hacer un juego de aretes y colgante.
Greetings to all handicraft lovers! Today I bring you a recycling proposal that I found very attractive where we can take advantage of the blister packs of medicines and make a set of earrings and pendant.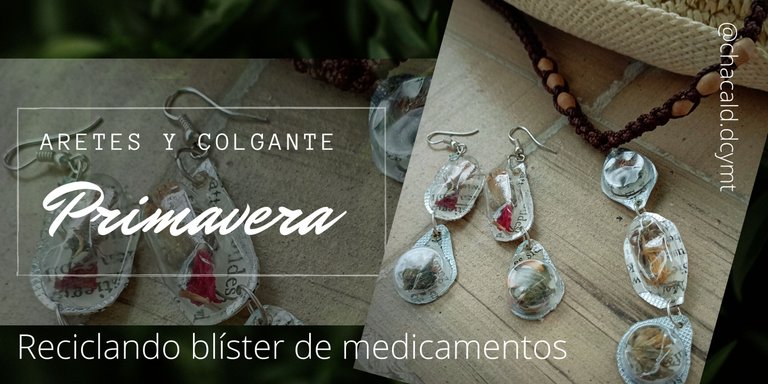 Para este proyecto, vamos a utilizar blíster de medicamentos de diferentes formas. Tengo varios en casa ya que tengo un tratamiento paliativo y seleccioné en forma de óvalo y círculo. También necesitamos algunas flores secas, me gusta guardar todas las flores que mi esposo me trae a casa y después las utilizo en mis manualidades. Utilizaremos una hoja de papel impresa, ya sea de periódico o de un libro, yo utilicé un libro que tengo para manualidades que está en un idioma que no entiendo. Y vamos a usar 7 argollas de alambre, 2 enganches de aretes, cordon de collar, tijera, encendedor, pistola de silicón.
For this project, we are going to use medicine blister packs of different shapes. I have several at home since I have a palliative treatment and I selected oval and circle shapes. We also need some dried flowers, I like to save all the flowers that my husband brings home and then I use them in my crafts. We will use a printed sheet of paper, either from newspaper or from a book, I used a book I have for crafts that is in a language I don't understand. And we are going to use 7 wire rings, 2 earring hooks, necklace cord, scissors, lighter, silicone gun.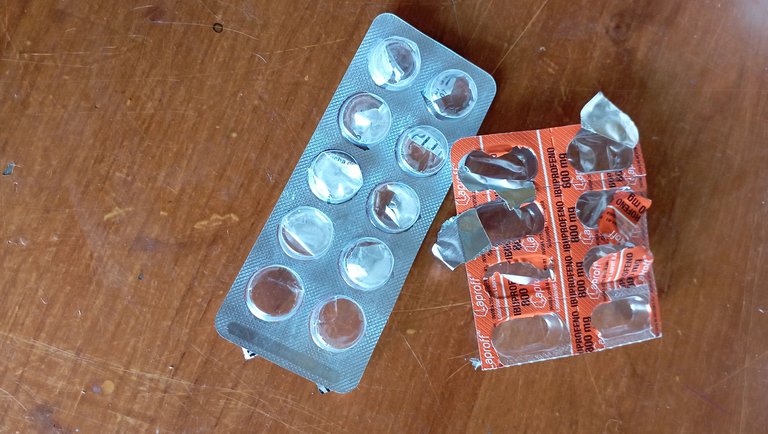 Elaboración:
-Lo primero que haremos será retirar el papel de atrás del blíster y recortar cada una de las pequeñas capsulitas transparents donde vienen las pastillas.
Elaboration:

-The first thing to do is to remove the paper from the back of the blister pack and cut out each of the small transparent capsules containing the tablets.
-Luego seleccionamos las flores secas más pequeñas que tenemos para que puedan entrar en esa cápsula transparente.
-Con la silicón, vamos a pegar las flores para que no se muevan.
-Pegamos cada capsula transparente con su flor adentro sobre la hoja impresa y recortamos el borde dejando una pestaña para colgar la argolla.
-Then we select the smallest dried flowers we have so that they can fit into the transparent capsule.

-With the silicone, we are going to glue the flowers so that they do not move.

-We glue each transparent capsule with its flower inside on the printed sheet and cut the edge leaving a tab to hang the ring.

-Vamos a perforar la pestaña para que quede un pequeño orificio, yo lo hice con un clavo caliente.
-Con el encendedor, vamos a quemar los bordes de los blister para evitar que nos lastimemos con el plástico.
-Introducimos las argollas y luego los enganches para los aretes y una argolla para el colgante.
-Ponemos una argolla del cordón del collar al colgante.
-We are going to pierce the tab so that there is a small hole, I did it with a hot nail.

-With the lighter, we are going to burn the edges of the blister to avoid hurting ourselves with the plastic.

-We insert the rings and then the hooks for the earrings and a ring for the pendant.

-We put a ring from the necklace cord to the pendant.

Nota: Para los aretes yo utilicé 2 cápsulas transparentes, una ovalada y una circular. Mientras que para el colgante utilicé 3 piezas una ovalada y 2 circulares. Pero esto puede variar a gusto y diseño de cada quien. También utilicé enganches y argollas de color plateado.
Note: For the earrings I used 2 transparent capsules, one oval and one circular. While for the pendant I used 3 pieces, one oval and 2 circular. But this can vary according to your taste and design. I also used silver colored hooks and rings.

Y de esta manera tenemos un bonito juego de aretes y colgante primavera reciclando los blíster de los medicamentos. Podemos utilizarlo con un atuendo casual ya que se presta para combinar con diferentes colores de ropa por su estilo vintage.
También podemos introducir otro tipo de cosas dentro de cada cápsula, como por ejemplo: mostacillas, lentejuelas y escarcha. El objetivo es reciclar y ser creativos.
Espero que les guste mi trabajo. Les invito a ver el video del paso a paso para tener más claro cada indicación. Les agradezco mucho que pasen a ver mi publicación, espero realicen este bonito proyecto y nos vemos en una próxima oportunidad. Saludos!
And this way we have a nice set of earrings and spring pendant recycling the blister packs of medicines. We can use it with a casual outfit as it lends itself to combine with different colors of clothing for its vintage style.

We can also insert other types of things inside each capsule, such as: beads, sequins and glitter. The goal is to recycle and be creative.

I hope you like my work. I invite you to watch the step-by-step video to have a clearer understanding of each indication. Thank you very much for stopping by to see my publication, I hope you make this beautiful project and I'll see you next time. Greetings!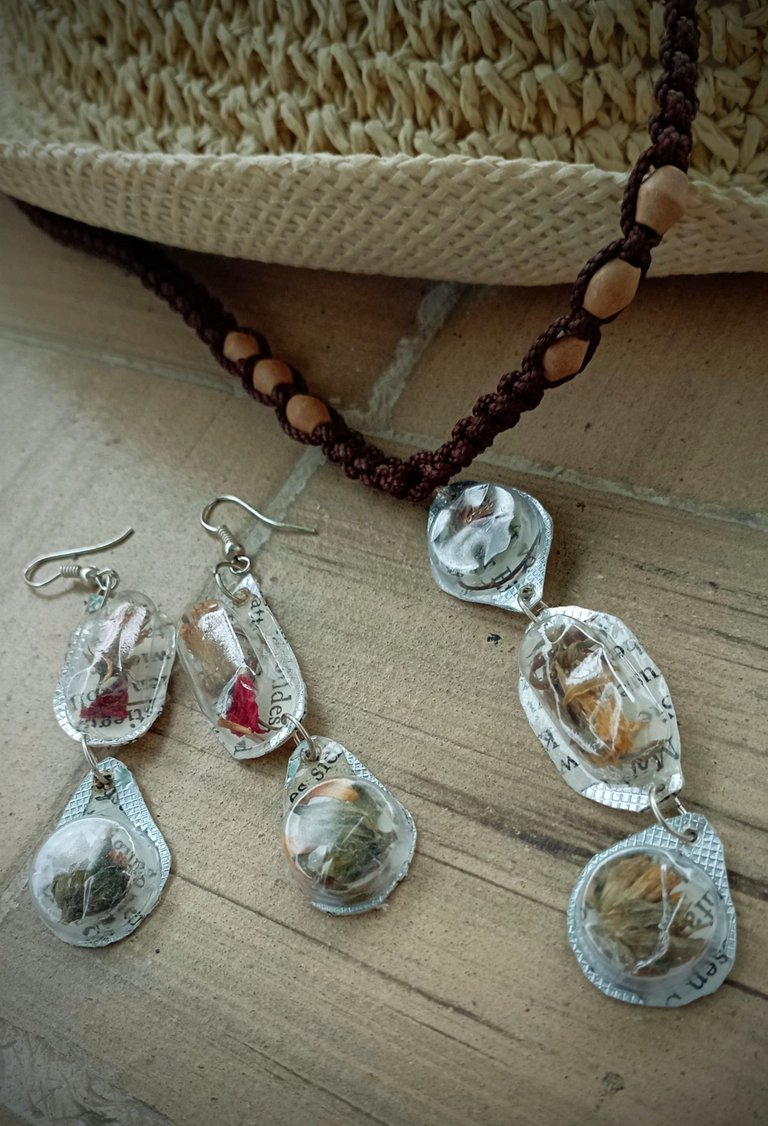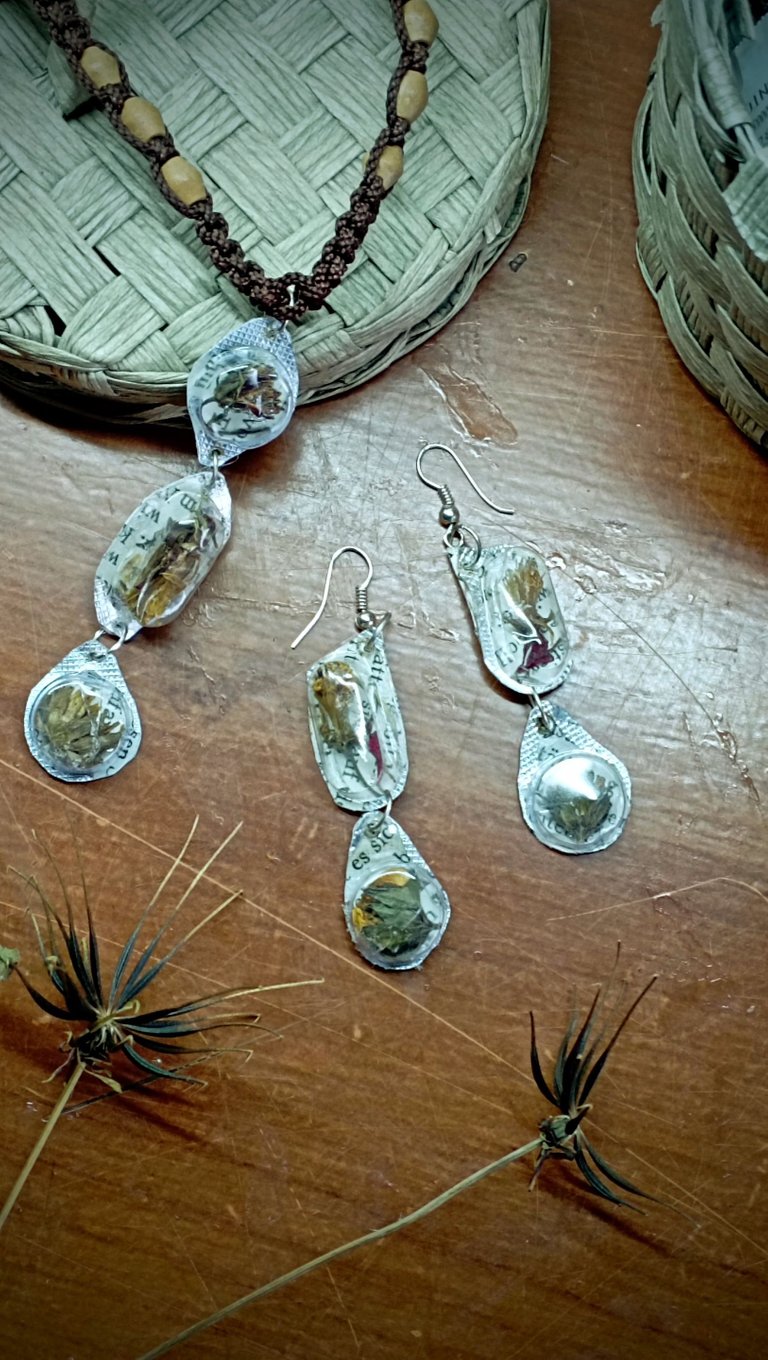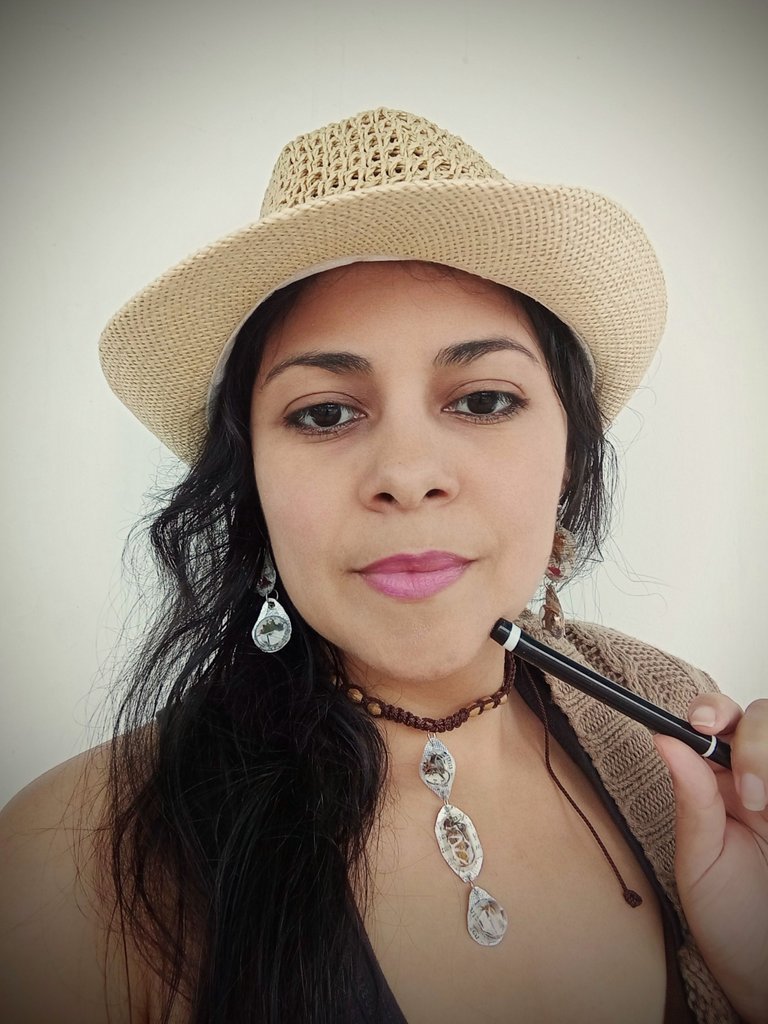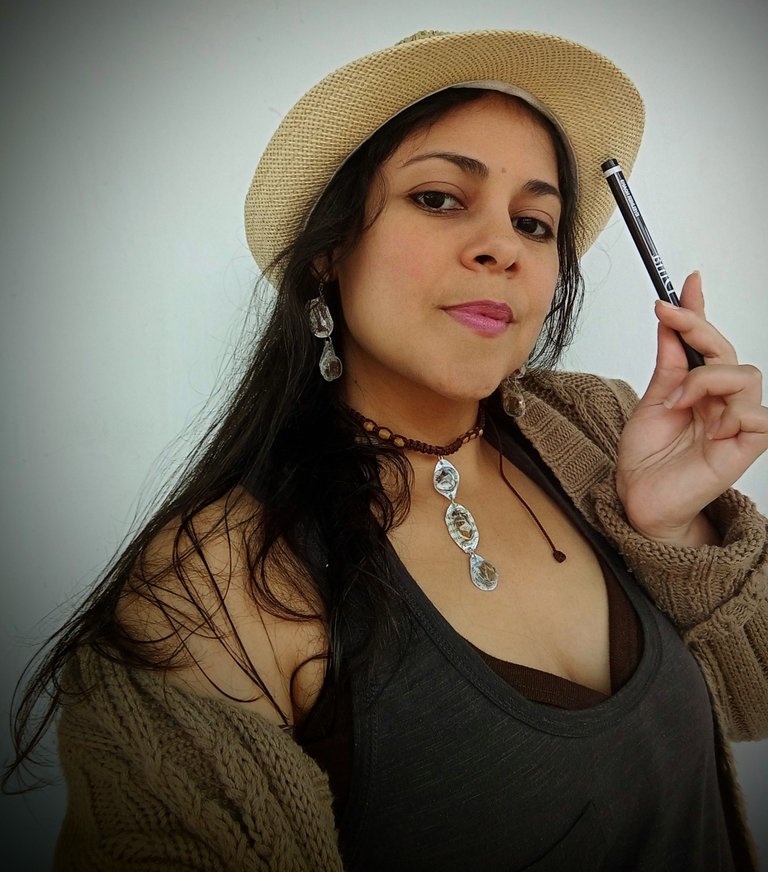 ---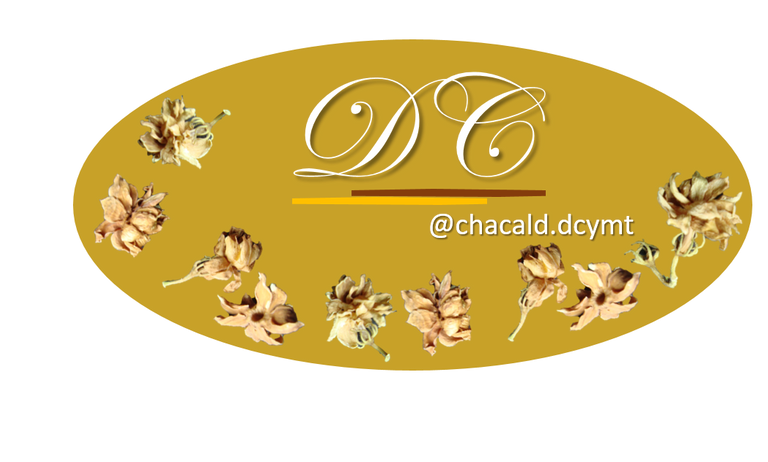 Original content by the author.
Resources: App: Canva / Giphy / Inshot
📷 Redmi 10 Smartphone
Translation done with Deepl.com
✿ All Rights Reserved || © @chacald.dcymt // 2020-2022 ✿
💌 Discord: chacald.dcymt#3549
_
Contenido original del autor.
Recursos: App: Canva / Giphy / Inshot
📷 Redmi 10 Smartphone
Traducido con Deepl.com
✿ Todos los Derechos Reservados || © @chacald.dcymt // 2020-2022 ✿
💌 Discord: chacald.dcymt#3549
---
▶️ 3Speak
---
---