Siren in cold porcelain for decorative hanging [Eng-Esp]
Greetings friends who love handicrafts! Once again I welcome you to my DC DIY Workshop, this time to make a small cold porcelain mermaid. Join me and I will show you the step by step.
¡Saludos amigos amantes de las artes manuales! Una vez más les doy la bienvenida a mi Taller Bricolaje DC en esta oportunidad para elaborar una pequeña sirena en porcelana fría*. Acompáñenme y les mostraré el paso a paso.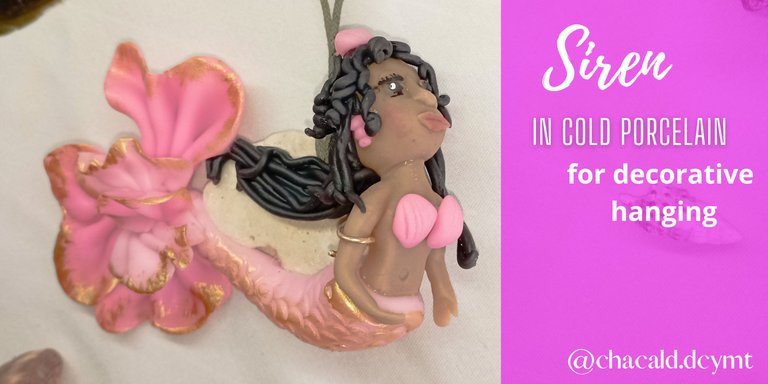 Last month we went to the beach for the first time as a family. Spending some time enjoying the sea with my husband and my daughter I loved it, especially because Maria Teresa, my 2 year old daughter, enjoyed the water and sand like never before. One of the activities we did as a family was collecting seashells, colorful shells. My little mermaid, that's what we call her because she doesn't want to get out of the water, brought me a beautiful coral and I wanted to make something meaningful to remember this trip. I came up with a mermaid on the coral and put a string with stones to hang on the wall.
El mes pasado fuimos a la playa por primera vez en familia. Pasar un tiempo disfrutando del mar con mi esposo y mi hija me encantó, especialmente porque María Teresa, mi hija de 2 años, disfrutó del agua y la arena como nunca. Una de las actividades que realizamos en familia fue recolectar conchas marinas, caracolas de colores. Mi pequeña sirena, así le decimos porque no quiere salir del agua, me trajo un bonito coral y quise hacer algo significativo para recordar este viaje. Se me ocurrió una sirena sobre el coral y colocarle un cordon con piedras para colgar en la pared.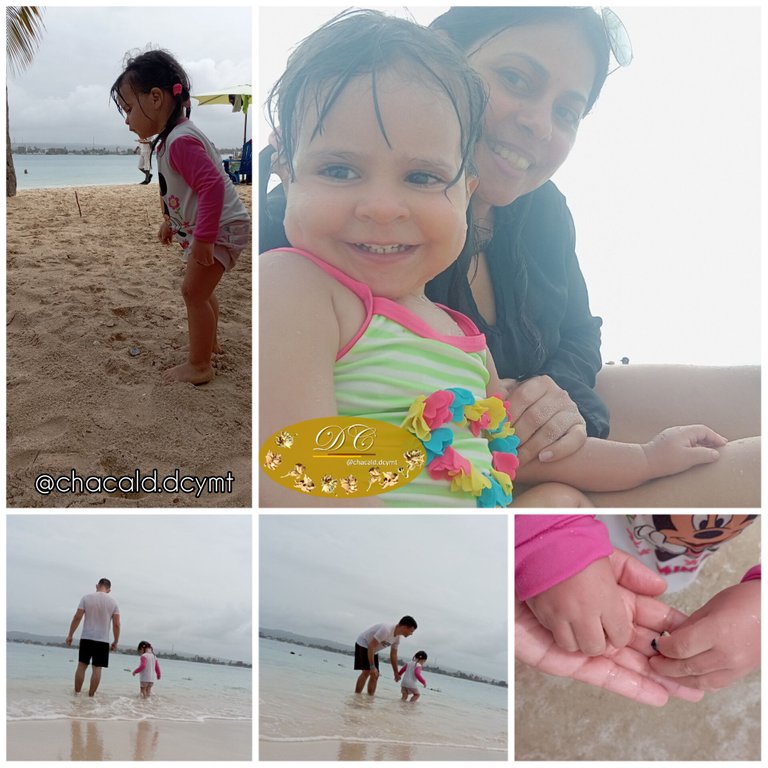 Materials:
-1 coral
-1/2 meter of cord
-6 wooden spheres for costume jewelry
-Cold porcelain dough in skin color, neon pink, black fuchsia and white.
-Candy
-Brushes
-Small scissors
-Sheets
-Modeling tools
-Hollow plastic stick
Acrylic paint in gold color -Gold colored paint
-Woodworking glue
A piece of bijouterie wire -Resin and hardener
-Resin and hardener
Materiales:

-1 coral
-1/2 metro de cordón
-6 esferas de madera para bisutería
-Masa de porcelana fría de color piel, rosa neon, fucsia negro y blanco
-Acuarela
-Pinceles
-Tijera pequeña
-hojilla
-Estecas para modelar
-Palito de plástico hueco
-Pintura acrílica color dorado
-Pegamento para carpintería
-Un trozo de alambre de bisutería
-Resina y endurecedor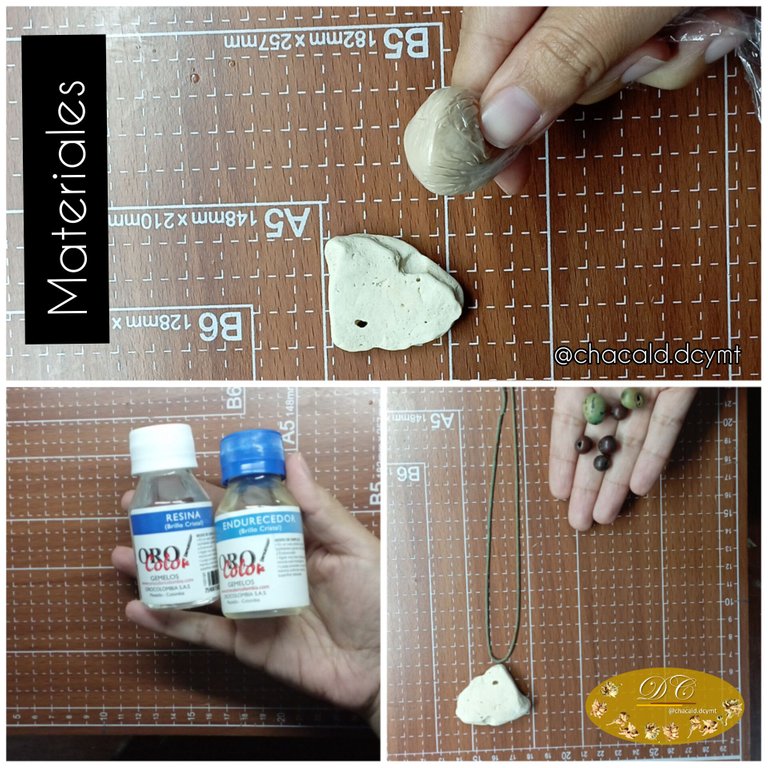 Procedure:
-First we are going to model the human trunk of the mermaid. We take the skin color dough, I like brown skin so I used beige watercolor to achieve that perfect tone.
Note: When we work the cold porcelain with color, we must know that when the dough dries its color tone becomes stronger. For example, a dark gray will be black when it dries.
-We mold the neck, the waist and with 2 small balls we will make the bust of the mermaid. Her arms will be small cylinders and we flatten the ends to make her hands. With the blade we mark the fingers and with scissors we cut to make the thumb. Finally with the stick we mark the navel.
Procedimiento:

-Primero vamos a modelar el tronco humano de la sirena. Tomamos la masa de color piel, me gusta la piel morena asi que utilicé acuarela color beige para lograr ese tono perfecto.

Nota: Cuando trabajamos la porcelana fría con color, debemos saber que cuando la masa se seca su tono de color se hace más fuerte. Ejemplo, un gris oscuro será negro al secar.

-Moldeamos en cuello, la cintura y con 2 pequeñas bolitas haremos el busto de la sirena. Sus brazos serán pequeños cilindros y aplanamos las puntas para hacer sus manos. Con la hojilla marcamos los dedos y con tijera cortamos para hacer el pulgar. Finalmente con el palito marcamos el ombligo.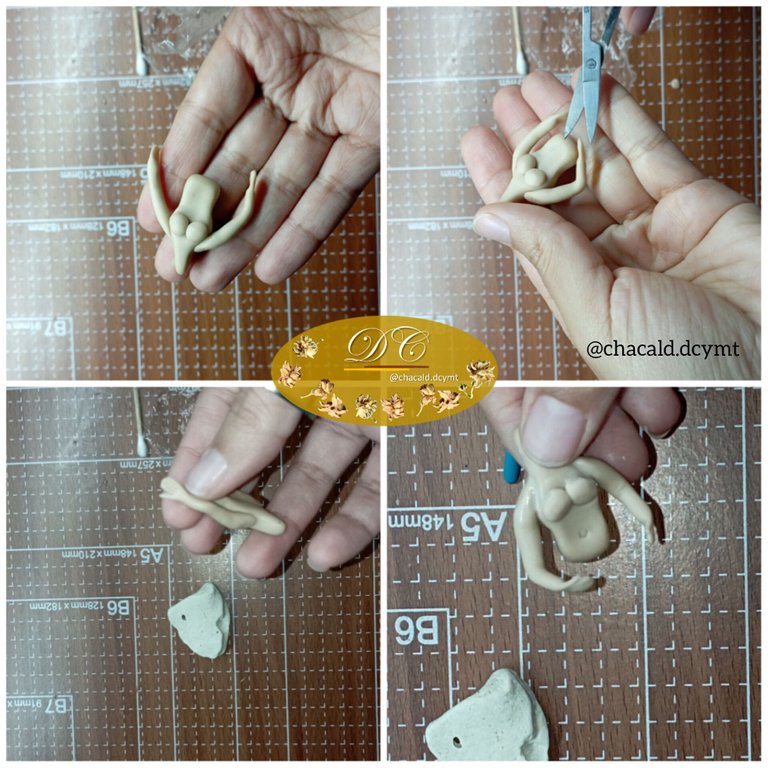 -We always take the size of the coral as a reference since the mermaid is glued on it.
Personally, I had a hard time deciding on the face, I wanted to make a real but animated face since this mermaid will probably be in my daughter's room.
-We modeled the lips with a tiny piece of dough and let it dry. Then we took a little ball for the head.
-Siempre tomamos de referencia el tamaño del coral ya que la sirena va pegada sobre este.

En lo personal, me costó un poco decidirme por el rostro, quería hacer una cara real pero animada ya que probablemente esta sirena esté en el cuarto de mi hija.

-Modelamos los labios con un trozo diminuto de masa y dejamos secar. Luego tomamos una bolita para la cabeza.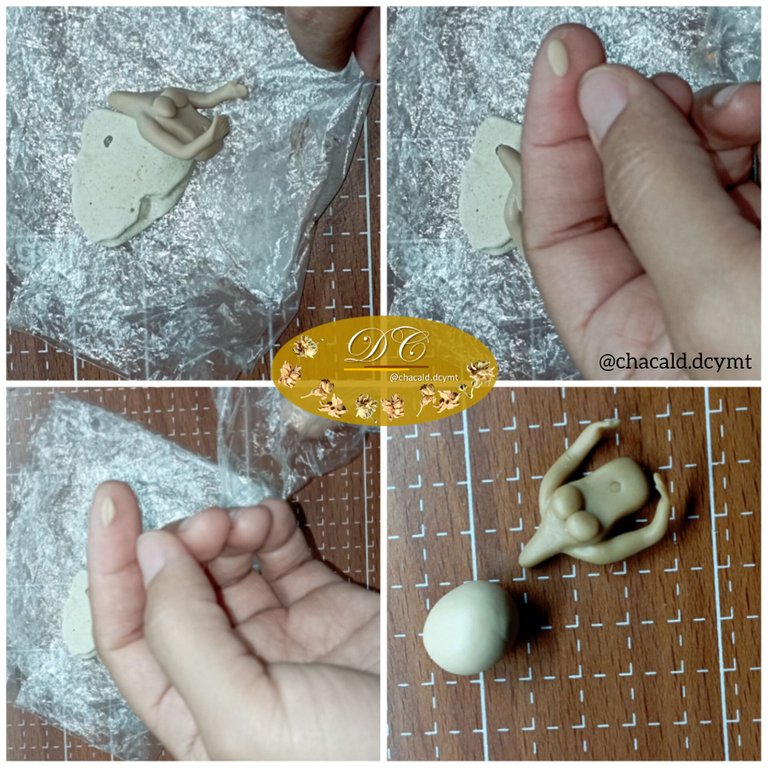 -With a stake we are going to make an indentation in the head, this will separate the mouth from the eyes and will give us a position for the nose.
-With the head of a swab, we are going to mark the end of the eyes.
-We place a drop of glue and we are going to embed the lips. Mold the nose with a small ball of dough and with the tip of a brush, we disappear the joint.
-Apply glue on the neck and press hard on the head.
-Let it dry.
-Con una esteca vamos a hacer una endidura en la cabeza, esto va a separar la boca de los ojos y nos dará una posición para la nariz.

-Con la cabeza de un hisopo, vamos a marcar la endidura de los ojos.

-Colocamos una gota de pegamento y vamos a incrustar los labios. Moldeamos la nariz con una pequeña bolita de masa y con la punta de un pincel desaparecemos la unión.

-Aplicamos pegamento en el cuello y vamos a presionar fuerte la cabeza.

-Dejamos secar.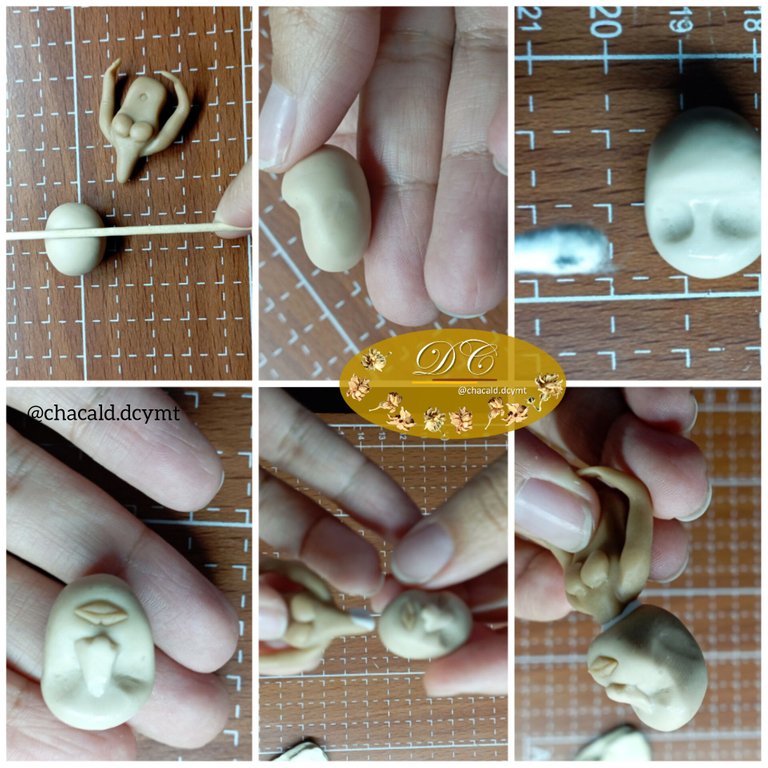 -I glued the ears with half leather-colored beads and the earrings with fuchsia beads.
-Pegué las orejas con media bolita color piel y los aretes con bolitas de color fucsia.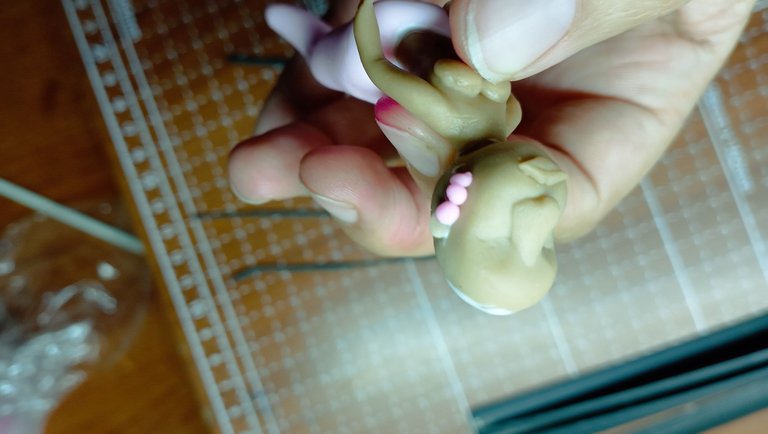 -To make the tail, we are going to take a neon pink ball of dough and we are going to make a cone by pressing it with our fingers.
-Stretch it until it is the length of the coral and apply glue on the bust to embed it in the tail.
-Para hacer la cola, vamos a tomar una bolita de masa color rosa neón y vamos a hacer un cono presionando con los dedos.

-Estiramos hasta que quede del largo del coral y vamos a aplicar pegamento en el busto para incrustar en la cola.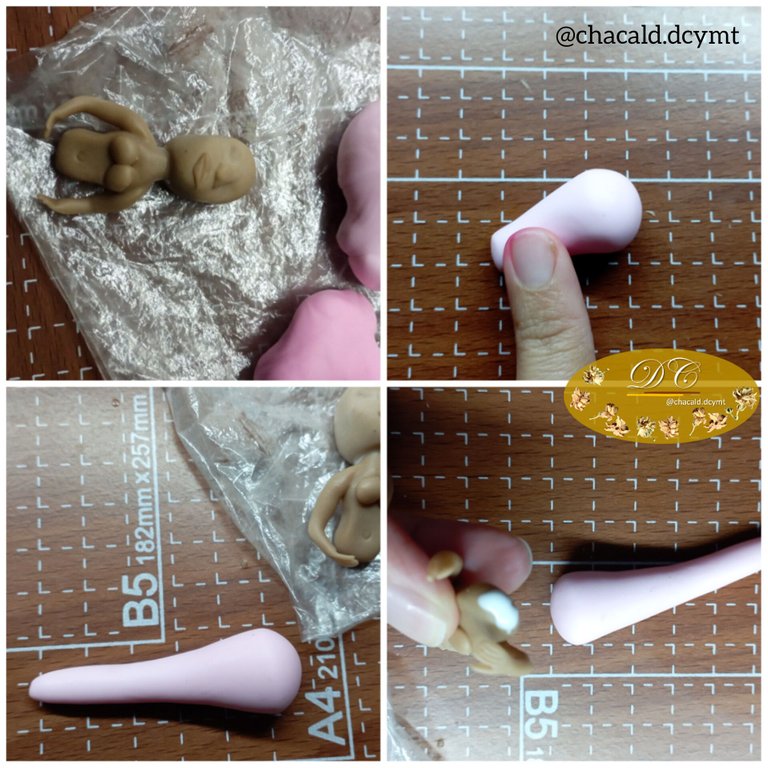 -For the hair we are going to take black dough and stretch small cylinders, depending on the length we want to give it. We apply glue on the head and place the strands of dough to form all the hair.
-Para el cabello vamos a tomar masa de color negro y estiraremos pequeños cilindros, depende del largo que queremos darle. Aplicamos pegamento sobre la cabeza y colocamos las hebras de masa para formar todo el pelo.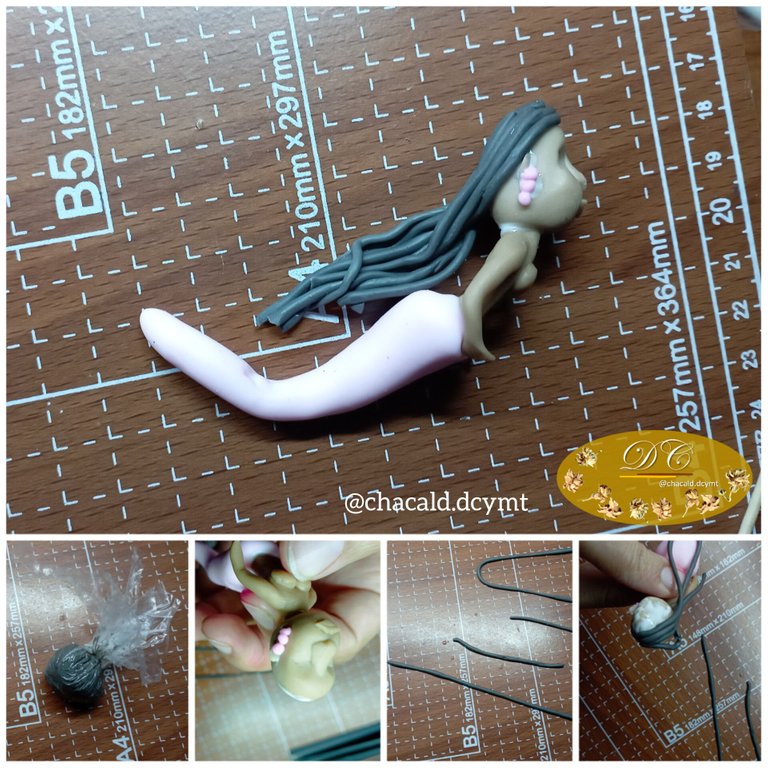 -We take the coral and open a hole to pass the cord. Arrange the wooden spheres and knot the cord.
-Tomamos el coral y abrimos un agujero para pasar el cordón. Acomodamos las esferas de madera y anudamos el cordón.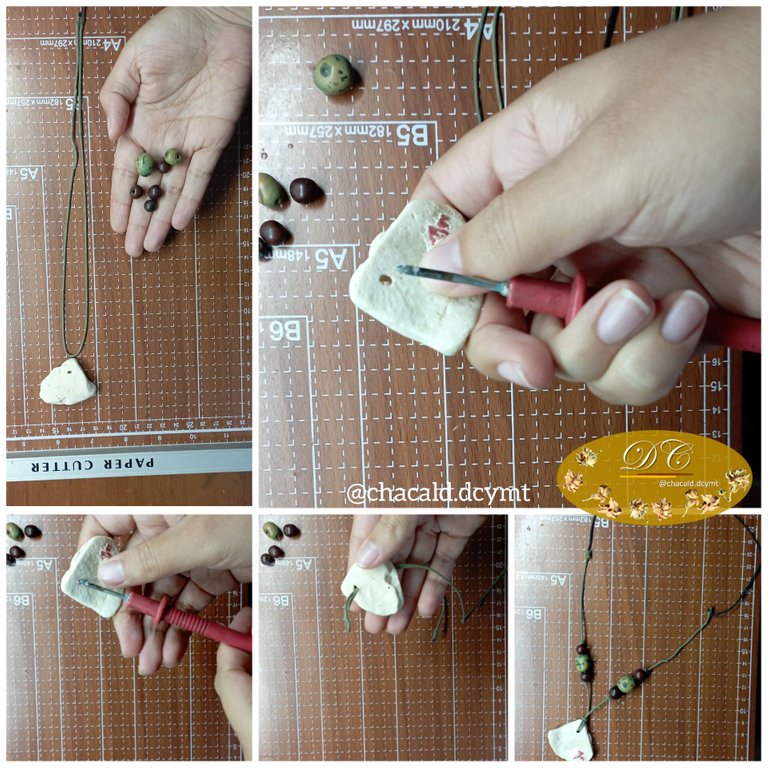 -Let's cover with glue the edge of the coral where the mermaid will be glued. Press to fix it.
We can work on plastic wrap to prevent the dough from sticking to the surface when drying.
-With the hollow stick we will mark the scales all over the glue.
-Vamos a cubrir de pegamento el borde del coral donde quedará pegada la sirena. Presionamos para que quede fija.

Podemos trabajar sobre un papel plástico para evitar que se pegue a la superficie la masa al secar.

-Con el palito hueco vamos a marcar las escamas por toda la cola.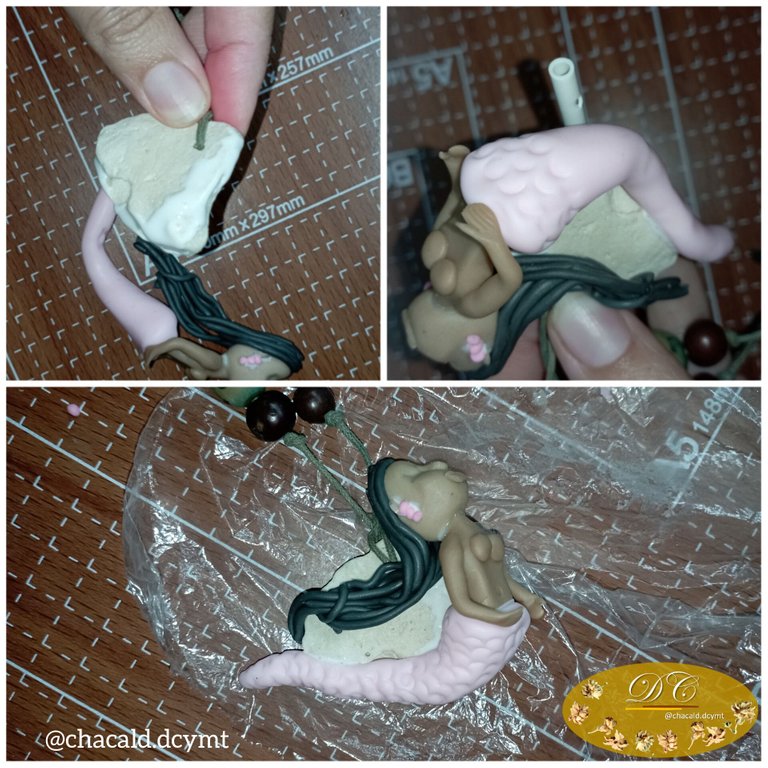 -We make small oysters to cover the mermaid's chest. With the help of the blade we mark the texture and glue.
-Hacemos unas pequeñas ostras para cubrir el pecho de la sirena. Con ayuda de la hojilla marcamos la textura y pegamos.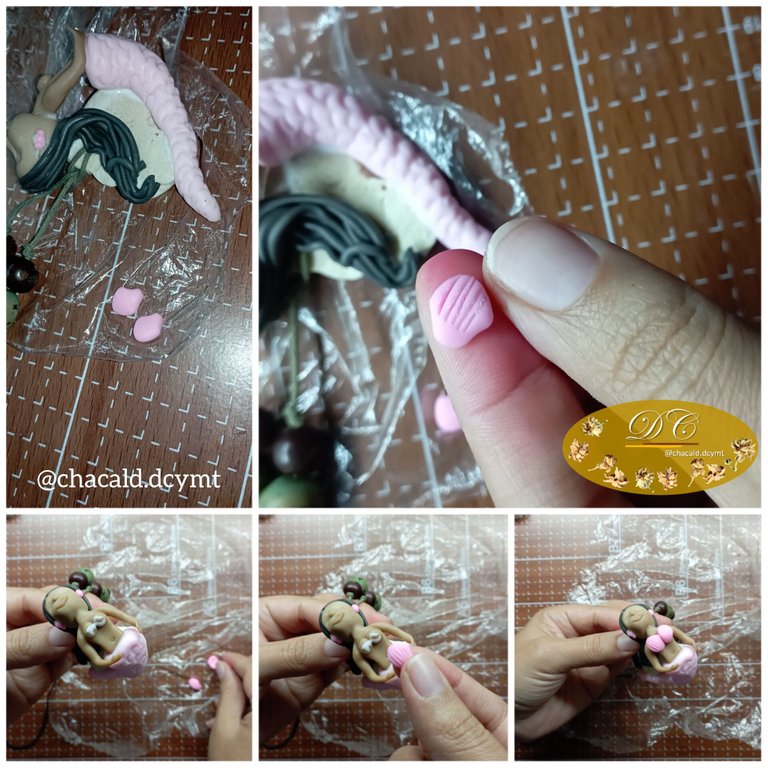 -With a piece of fuchsia colored dough we are going to make the fins of the tip of the tail. We glue. Then on these, we make some small neon pink fins to place on top.
-Con un trozo de masa color fucsia vamos a hacer las aletas de la punta de la cola. Pegamos. Después sobre estas, hacemos unas pequeñas aletas en color rosa neón para colocar encima.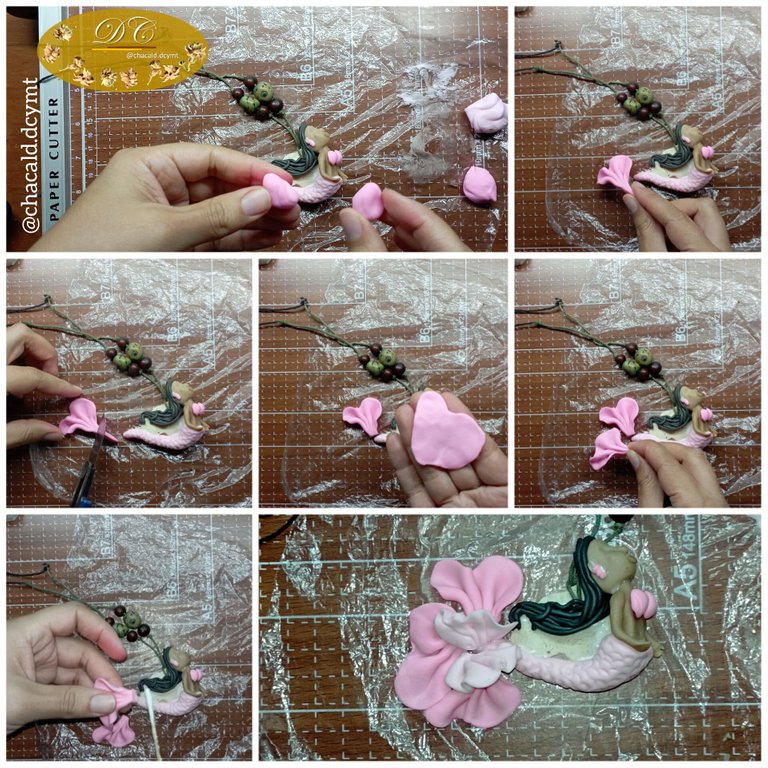 With a fine brush we make the center of the eyes and place eyelids with a small piece of skin-colored dough.
-With the wire we are going to make a bracelet for the mermaid.
-We paint the scales with gold paint. We also give a touch to the edges of the fins.
-Con un pincel fino hacemos el centro del ojos y colocamos parpados con un trocito de masa color piel.

-Con el alambre vamos a hacer un brazalete para la sirena.

-Pintamos las escamas con pintura dorada. También le damos un toque a los bordes de las aletas.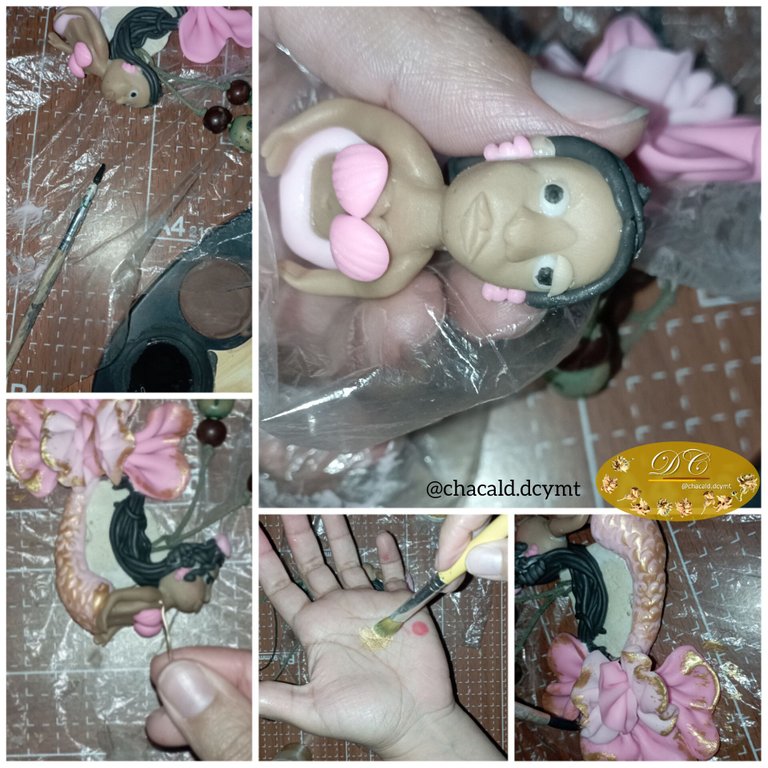 -Let it dry for 48 hours to give it a layer of resin so it will be more resistant and will be preserved for a long time. Our pretty mermaid is ready.
-Dejamos secar por 48 para darle una capa de resina asi quedará más resistente y se conservara mucho tiempo. Está lista nuestra bonita sirena.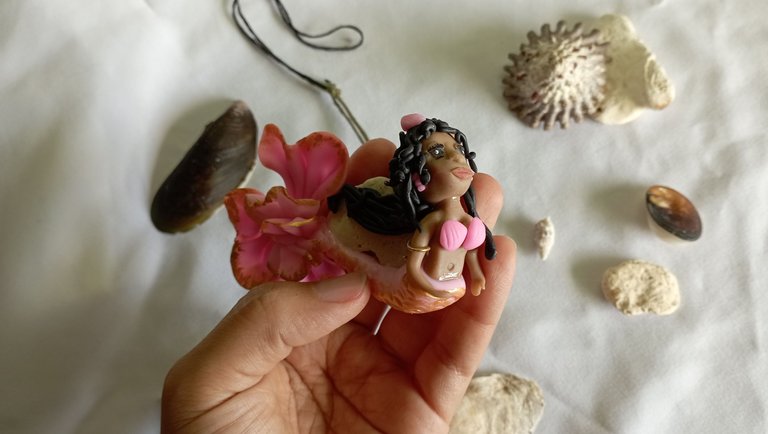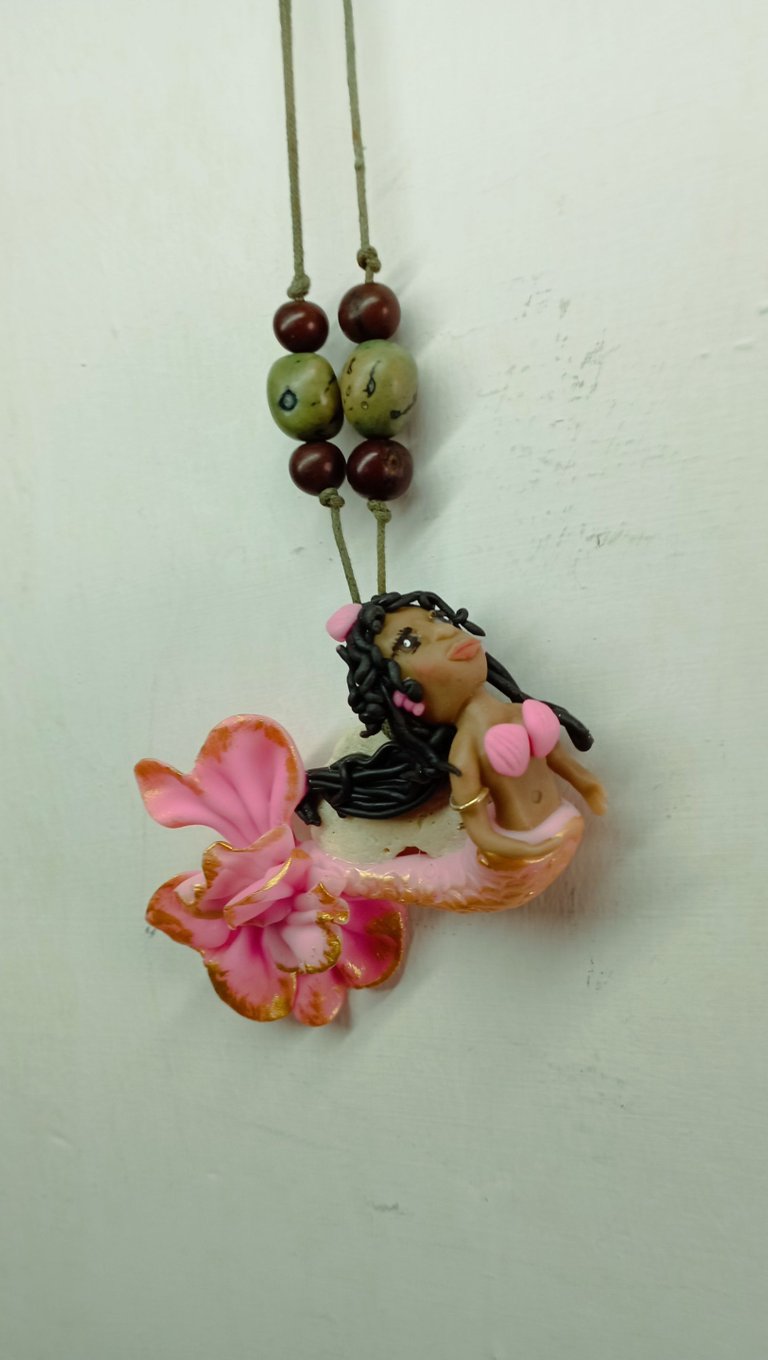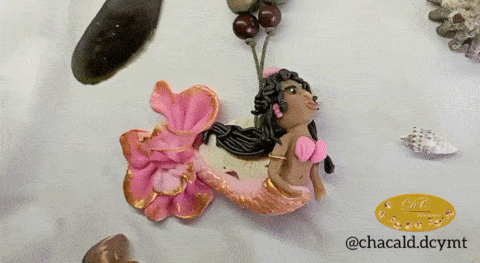 This was my entry to the DIYHUB- Sea Life contest unfortunately due to technical difficulties with electricity and internet I couldn't publish it on time. Even so I wanted to share this beautiful work that I made with much affection. I hope you like it, see you next time. Bye!
Esta era mi entrada al concurso de DIYHUB- Vida Marina lamentablemente por dificultades técnicas con la electricidad y el internet no pude publicar a tiempo. Aun así quise compartir este bonito trabajo que hice con mucho cariño. Espero les guste, nos vemos en una próxima oportunidad. Chao!
---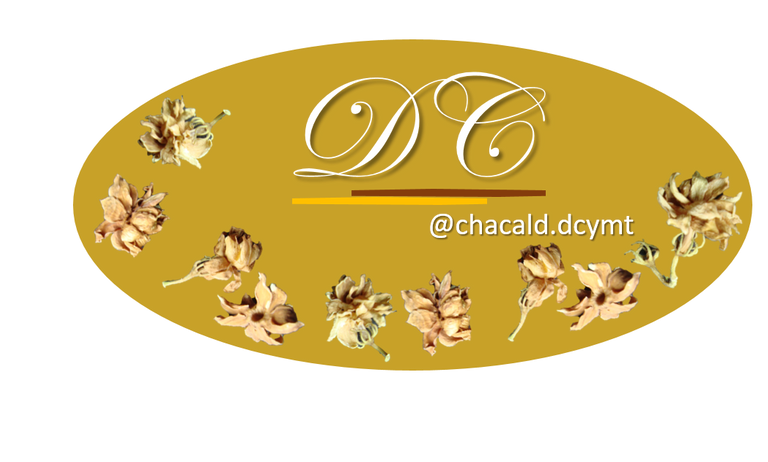 Original content by the author.
Resources: App: Canva / Giphy / Inshot
📷 Redmi 10 Smartphone
Translation done with Deepl.com
✿ All Rights Reserved || © @chacald.dcymt 2023 ✿
💌 Discord: chacald.dcymt#3549
Twitter @chacald1
_
Contenido original del autor.
Recursos: App: Canva / Giphy / Inshot
📷 Redmi 10 Smartphone
Traducido con Deepl.com
✿ Todos los Derechos Reservados || © @chacald.dcymt 2023 ✿
💌 Discord: chacald.dcymt#3549
Twitter @chacald1
---
---